Survival.
It's the aim of any living, breathing thing – and any business too. You don't have to be a SaaS company to know the market is competitive.
Can you imagine trying to survive in an environment with no exposure to light and none of the resources you need to live? You couldn't!
The same goes for SaaS companies – like those flowers in your yard. Your business needs to be watered and nourished so you can watch it blossom.
Suppose you're wondering what you need to do to inject a little life into your SaaS social media accounts. Never fear, we're revealing a few surefire tips and tricks.
Intercom
These guys really know how to make their mark. A glance at their Facebook cover photos shows their stunning curation of funky, punchy graphics: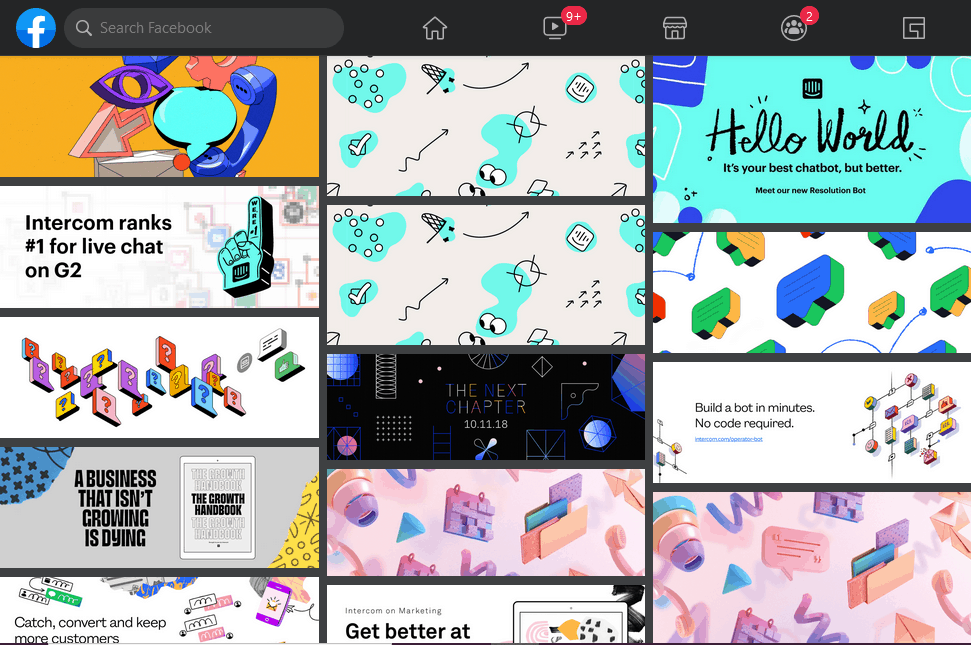 And if you were to scroll past their Twitter page, you'd need a lot of self-control to avoid browsing their complete profile. These guys really know what they're doing when it comes to making captivating graphics.
Who's Intercom?
Intercom describes itself as "The world's first customer platform helping internet businesses accelerate growth." They provide several solutions for their customers, including live chat, chatbots, product tours, and more. They cater to several different industries, including small businesses, eCommerce, education, and healthcare.
As of October 2018, Intercom had over 30,000 paying customers and a huge social media following: 38,124 Facebook likes, and 41k Twitter followers.
What are the key features of Intercom's social media accounts?
Intercom's graphic design is one of its key social media selling points – it's what separates them from their competitors and helps them with lead generation. Visually, they're in a league of their own. You'd be hard-pressed to find another SaaS company that uses such stunning graphic design the way Intercom does.
In addition, Intercom appears to use a lot of 'color psychology' tactics. Purple is associated with sophistication while yellow is considered masculine. These are the most common colors used by Intercom.
As a side point, Intercom knows its audience really well. They consistently post links to blog posts on their accounts with tips, reviews, and opinion pieces on the latest tech news and marketing advice. Not only does this provide followers with tons of value, but it also helps position Intercom as an industry leader, which works wonders for boosting their credibility.
Intercom also has a well-established brand identity. Everything they post reinforces this. It's not just about the graphics, either – the type of content they post is consistent, it's informative but not overly complex. Their whole purpose is to be a 'conversational relationship platform' and they do a great job at connecting with their customers through social media.
Lastly, they're progressive and vocal about it. For instance, Intercom also shows their support for cultural holidays and events on their socials – pride month, international women's day, etc.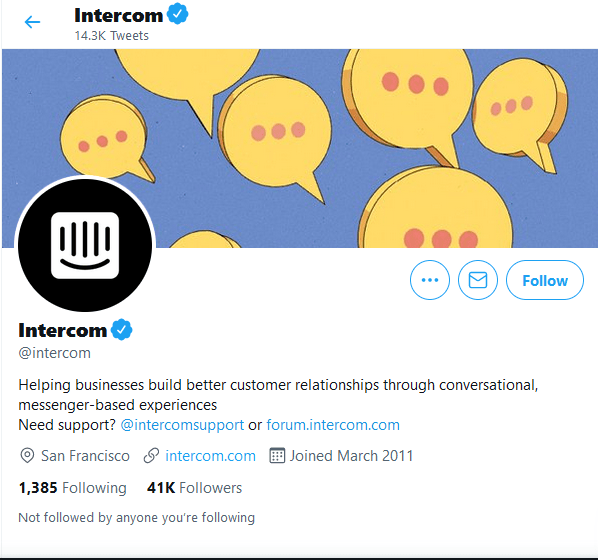 MailChimp
Again, these guys have got their visual appeal down.
If you take a look at their Twitter feed, you'll see it's packed full of valuable marketing tips and tricks. You might just learn some helpful tidbits here to help with your SaaS conversion rate optimization!
The best bit? It's all delivered in a catchy, punchy way, making it easy to understand. But, it still looks professional without being 'intimidating.'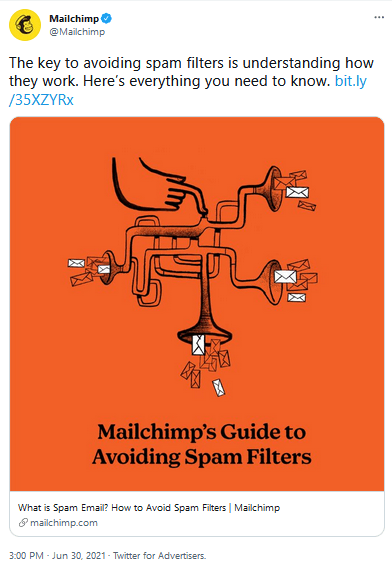 Who's Mailchimp?
Mailchimp is an email marketing platform that provides solutions for businesses looking to talk to clients, customers, and anyone interested in their services. They're one of the most recognizable names in the email industry, with G2 naming them one of the best global software companies of 2021.
So clearly, their SaaS marketing is based on strong foundations!
What are the key features of Mailchimp's social media accounts?
These guys go out of their way to educate their customers. Their social media accounts are littered with helpful information. They've basically published a comprehensive marketing guide in sporadic, bite-sized chunks over social media.
On top of that, Mailchimp is constantly reinforcing its brand identity. They pride themselves on their culture of "building a more diverse, inclusive and equitable organization," and they love to get this point across on social media, too.
Lastly, Mailchimp knows how to keep people engaged using different content types. For example, take a look at their Facebook page, you'll see a mixture of blog posts, videos, photos, and live videos. How-to videos are one of the main content types they create and share. We all know video marketing is hot right now, and Mailchimp has done an excellent job of taking advantage of this.
Like Intercom, Mailchimp knows how to capitalize on visual appeal. They use a lot of bold, bright colors to keep users engaged. By using ink-like illustrations in their visual language, they also retain an authentic old-timey feel that reminds one of scribbling letters for the post. As a result, the brand feels playful, down-to-earth, and creative.
All of the above has enabled Mailchimp to create an 'authentic' and consistent brand identity – We know customers want more of this, and they market it well.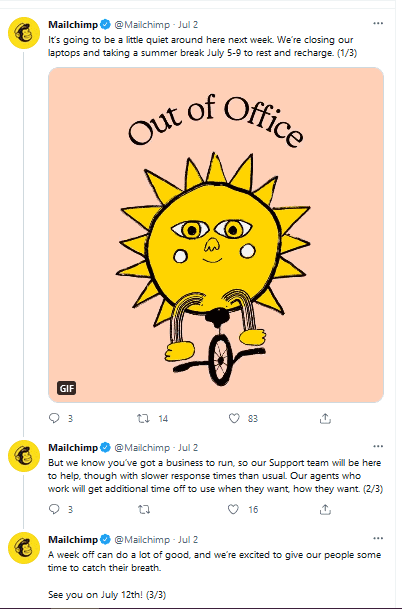 Grammarly
Education and grammar assistant Grammarly is a great example of how sometimes, less is more. With their incredibly clean visuals and intuitive value proposition, they've successfully attracted more than 30 million users.
Grammarly helps people enhance their English – so you'd think that their own social media would be full of snappy, educational, super-useful content.
…And you'd be right!
Here's how Grammarly keeps its millions of followers hooked.
Who's Grammarly?
Grammarly is a digital writing assistant that helps customers improve their grammar, punctuation, spelling. Even as we're writing this very article, Grammarly is in the corner of our browser, ready to give us helpful suggestions.
What's Key to Grammarly's Social Media Accounts?
Grammarly's social media does exactly what you'd expect it to do.
The SaaS platform is an incredibly educational content creator, and as such, it's made its social media feeds absolutely invaluable to customers that would use its services: writers, English-language learners, academics, – you name it.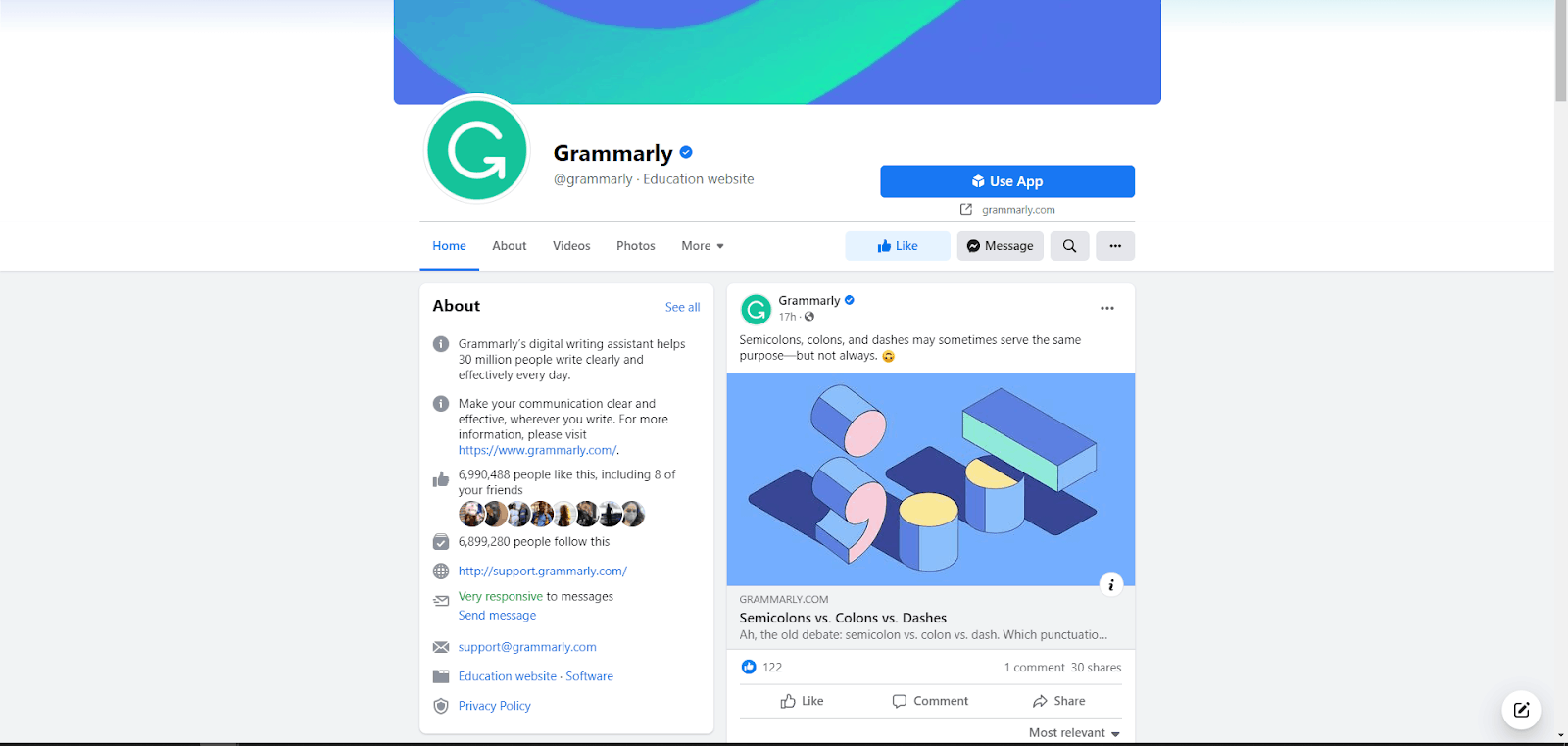 On Facebook, Grammarly has built a community of nearly seven million followers. However, their Facebook graphics deviate from those on their website significantly. Here, they've opted for clear-cut vector illustrations with straight, thin lines and bold writing. The graphics have a technical appeal while reminding you of vintage pop-up art with an edge of mathematical precision.
In terms of content, their Facebook page provides the kinds of guides anyone would have jumped at in their essay-writing youth. For instance, articles on how to write better sentences, when to use a colon or semi-colon, etc.
But Grammarly's writing memes are even more popular than their educational content. With winners like "My best fiction writing is my daily to-do list," inspiring hundreds of shares on Facebook alone.
Their posts come with tongue-in-cheek captions. After all, Grammarly is well aware that your content workflow is just another thing they can help you with.
The bottom line is that Grammarly knows its audience and understands exactly what it provides them with. Even for Grammarly's free users, Grammarly's Facebook and Twitter feeds are a never-ending source of writing resources, tips and tricks, and humorous writing memes.
With their funky color scheme of purples, mint greens, and blues Grammarly's socials exude creativity and modernity. See how Grammarly jumbles together several conservative colors? It's almost as if they're saying: Know the rules so you can break them! A motto their writing tips certainly help to make possible.
Gong
Gong's social media presence is one of the biggest reasons for its success. They've broken down barriers, burst through the social media noise, and came out on top.
Here's why:
Firstly when we say social media, we don't mean Twitter, Facebook, or your Instagram feed. We mean Linkedin.
Yes, you heard us right.
You'd be forgiven for thinking that LinkedIn might not be the most effective social platform to grow your business.
Their follower count is truly staggering – over 86K. Gong's main competitor is Chorus, and their Linkedin follower count looks measly in comparison, standing at just above 22K.
Who's Gong?
Gong offers companies a "real-time view of their market and buyers." Their intelligence platform can capture customer interactions across the phone, web conferences, and email to help you maximize customer retention.
What are the key features of Gong's social media accounts?
Gong's socials boast unparalleled authenticity. Their image is incredibly unique, which goes a long way to ensure Gong stands out from the crowd. This even extends to their CEO and Co-founder Amit Bendov fashion taste. As you can tell by his profile picture, he's not afraid to flaunt it. Those glasses are really cooking up some kind of magic. One thing's for sure: Gong isn't afraid to go against the tide.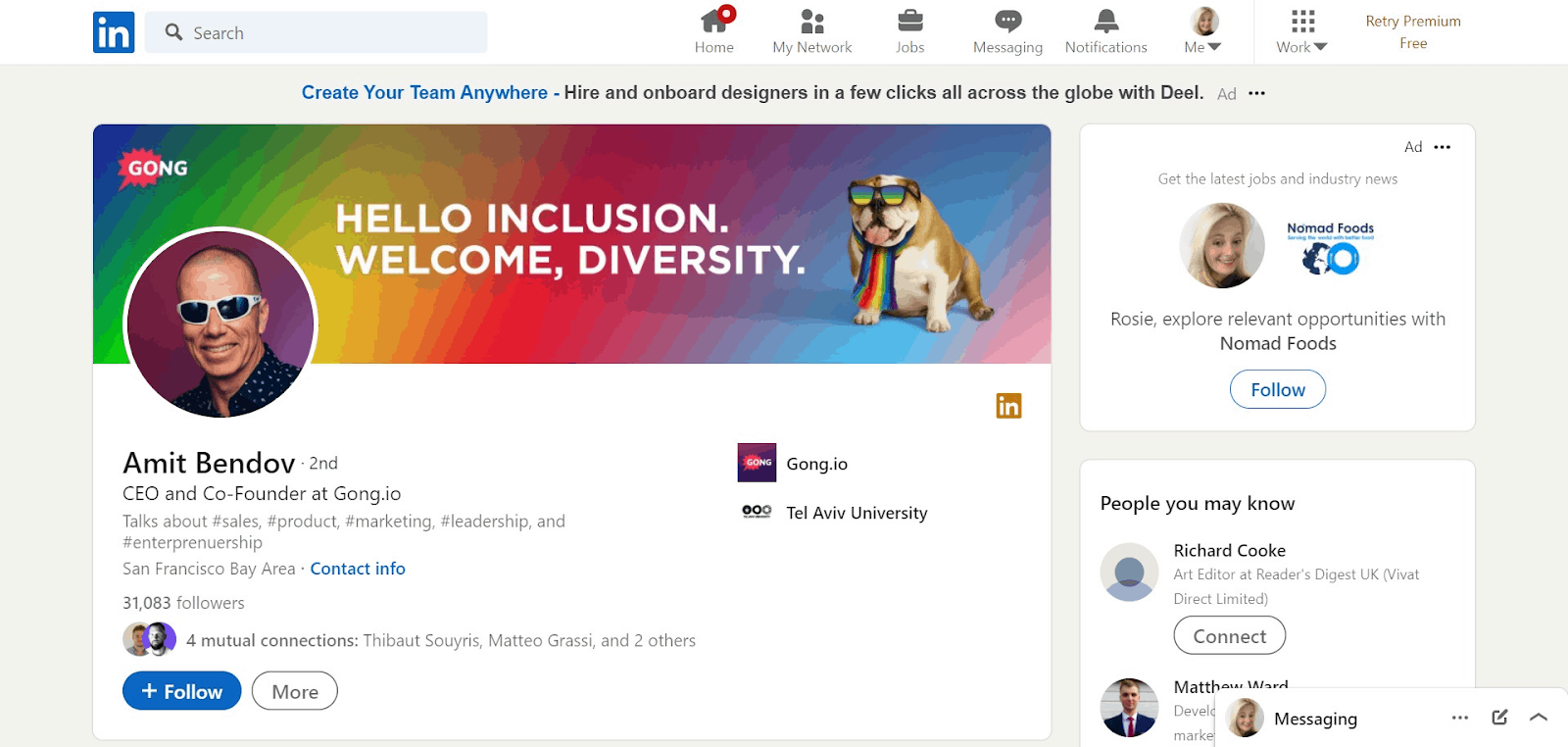 Gong also benefits from a top-notch Linkedin strategy. This focuses on generating organic traffic.. You'll notice that most of their CTA's take you directly to their Linkedin page. This is pretty unconventional; however, it's done for a good reason. LinkedIn is a great platform to build relationships with customers. Gong has a firm idea of the sort of content that performs well there (e.g., data-driven content). This is a match made in heaven, and it's allowed Gong to generate around 7.4 million visits a year to their Linkedin.
Graphics, Graphics, Graphics. Lastly, Gong also uses their graphics really well (just take a look at our above example – a dog wearing glasses? irresistible). The colors are bold, and they understand the power of emotion. Just take a look at this image: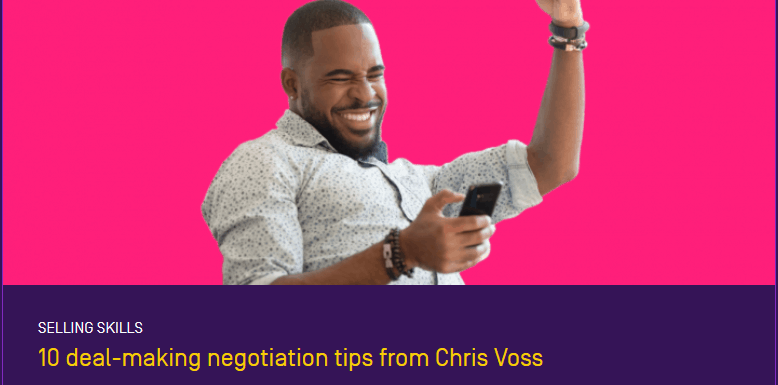 It's actually pretty clever. Not only does it catch your attention immediately, but it plants a bit of subliminal seed about Gong. Chances are, you've never read this article before, but you're already under the impression it's going to be positive. Will it paint Gong in a good light, too? Absolutely. Emotion-driven marketing at its finest. Be sure to take inspiration from Gong when it comes to your community marketing for SaaS.
Shopify
If you head over to Shopify's Twitter page, you'll notice that humour is their most significant standout feature – immediately.
Unlike other SaaS social media accounts like Buffer, Shopify doesn't rely heavily on its actual product to generate success. Instead, they lean into witty and humorous posts crafted to complement their target audience.
Take a look at this: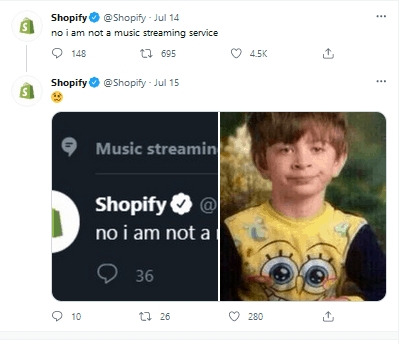 Pretty funny, right? There are a few important things to note here. First, Shopify is working hard to target more Gen Z users. For example, Shopify recently went into partnership with TikTok, offering an official TikTok sales channel on Shopify to offer merchants a new way to target these demographics.
If you're a Gen Zer or Millennial, you'll probably recognize the meme above. Shopify's Twitter is filled with other social media meme posts like these, crafted to attract younger users' attention.
Shopify doesn't just rely on their humor, though. (However great it may be). Instead, we're also given a splattering of informative articles, videos, and reviews that appeal to users: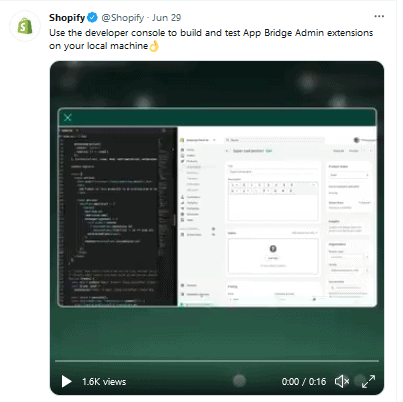 What's Shopify?
Shopify's an eCommerce platform that businesses can use to create and host an online store. You can organize and customize your store's layout and aesthetic with pre-made themes. The platform also offers a variety of payment processing options to accept customer payments.
Considering Shopify has been one of the most successful SaaS's for years now, it's worth watching them to keep an eye on the trends that will shape the SaaS industry.
What are the main features of Shopify's social media accounts?
Of course, humor is central to Shopify's social media strategy. But as well as that, Shopify switches marketing tactics to suit different social media channels. For example, their Twitter feed relies heavily on humor, whereas their Facebook page is focused more on informative content and announcements, primarily in video form.
Finishing Up:
Now that we've seen how five different SaaS companies approach social media, what have we learned?
There are a few clear strategies each brand uses to keep coming out on top:
For one, we've seen a lot of consistent, punchy graphics that target a specific demographic. Nothing about their visual identities is accidental. Platforms like Gong and Intercom have clearly understood that color improves brand recognition by 80%.
Another winning strategy is to know your customers incredibly well. That's how these five SaaS platforms continually post relevant, valuable, and snappy social media content that keeps their followers educated and entertained.
The bottom line? If you want to evolve your SaaS business, do as the Apex predators would and adapt your strategy. Take inspiration from the experts, including the best Twitter Accounts to Follow for Entrepreneurs, and build your channel on the shoulders of these giants!