Do you want to know how to set up a Facebook Shop? You're not alone. But before you decide, let's see if it makes business sense for you.
In the surprisingly long history of eCommerce, Facebook is both David and Goliath. It was relatively late to adding shopping, playing catchup to major marketplaces like Amazon, eBay, and Walmart. But it's a heavyweight in terms of users and traffic, consistently ranking in the top ten globally.
Facebook is a legacy player in the social media realm, and its large audience and widespread influence are appealing to many business owners. However, the road to selling on Facebook has not always been smooth. They've gone through so many iterations of business pages and selling functions that it can make it confusing for businesses to decide if Facebook is worth pursuing as a selling channel.
What is a Facebook Shop, and how is it different from other business page options? Is it easy to set up? Is it worth it? Read on to find out.
What is a Facebook Shop?
Facebook has a confusing array of options for selling goods, and it's hard to know at first glance which one is best for your business. Let's break them down:
Facebook Business Page
First, if you want any sort of business presence you will need to create a Facebook Business page. This acts as the face of your business on the platform, and even if you end up not selling on Facebook at all it's still good to have one set up.
This is where you can communicate the basics to your potential customers, like who you are, what you sell, where you're based, and how to get to your website. You can even use that page to join or create a group, which is where a huge percentage of Facebook's engagement comes from.
Facebook Marketplace
On its face, a marketplace would seem like the perfect place to list your goods – however, on Facebook, the Marketplace is not actually for businesses. The best way to think of Facebook Marketplace is like a goods-only version of Craigslist, where individual sellers sell to other users. You could still use it for your business, but it's almost certainly not a good fit.
Users browse by individual listings, not shops. If they want to buy through the marketplace, they can only do so if the seller has Facebook Pay set up. There is no shopping cart to hold items, and they can't browse through the rest of your shop without leaving the Marketplace.
The Marketplace can be a great fit for vintage resellers, people who are moving and want to hold a sort of virtual yard sale, or even small arts and crafts sellers. However, for most businesses it's not the right choice.
Now, there is a difference between creating a listing on the Marketplace, and having your products show up in the Marketplace. We'll get into that in the next section.
Facebook Shop
In most cases, if you end up selling on Facebook, this is where you'll want to end up. A Facebook Shop is the closest you'll get to an actual virtual storefront where you can upload products, update inventory, and most importantly, sell to your customers.
It does, of course, come with a few downsides. You're limited to completing transactions on Facebook to customers that live in the United States, because you can only accept payments through Facebook Pay. If an international customer wants to purchase from you, they're redirected to your website to purchase.
Of course, you have to pay a selling fee for every sale you make – 5%.
However, it can still be a great choice for some businesses. A good way is that you can choose a Facebook Integration for your online store to manage all of your data such as products, customers, orders easily from a single dashboard. For instance, a Shopify Facebook Integration will help you take care of all data and sync at the same time without interrupting your sales performance.
Let's go through how to set up a Facebook Shop.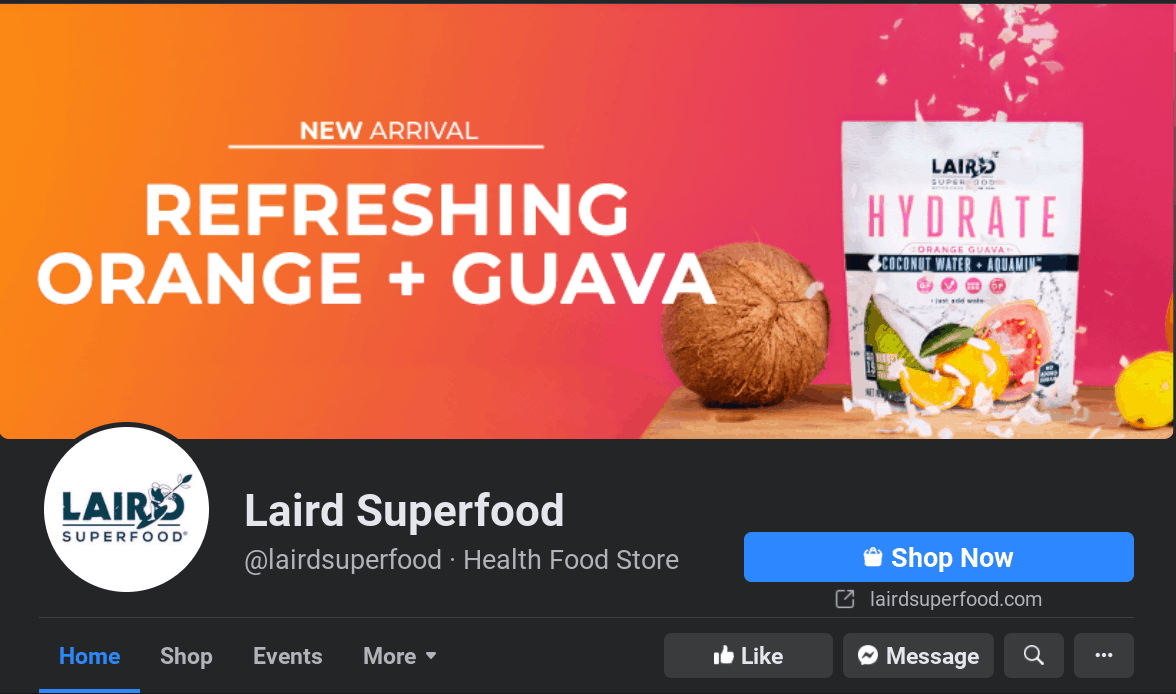 Source: Laird Superfood, Facebook (Desktop).
How to set up a Facebook Shop
How you set up your Facebook Shop will depend on where you are already selling. Once you have your Facebook account and business page set up, you'll head to the Shop tab and configure your shop. After you give them your shop information, decide on your shipping and return policies, and set up your payment account, it's time to add products.
This is where your experience may differ. If you aren't selling on any other platforms, you'll need to do everything manually. You'll add products, fill out product information, and manage them within the Facebook Shop app.
However, if you are already selling using a platform that integrates with Facebook, it becomes a lot easier. The two biggest platforms that have this functionality are Shopify and BigCommerce.
If you're already selling using a major eCommerce software like Shopify, BigCommerce, or X-Cart, you can simply head to your panel there and add a Facebook Channel. They then do all the work of exporting your existing products onto your Facebook Shop, and you can continue to manage your orders the way you have been, and all your orders through Facebook will be integrated with your existing order management system.
This ease of setup can be extremely attractive to businesses that have already invested time and money into setting up their store through one of the big eCommerce software solutions. But the question remains: is it worth it?
What are the Pros and Cons of a Facebook Shop?
So far all we've covered is where and how to get your business and products set up within Facebook. Now, we'll get into the "why" – why you should, or shouldn't, bother with setting up a Facebook Shop to begin with.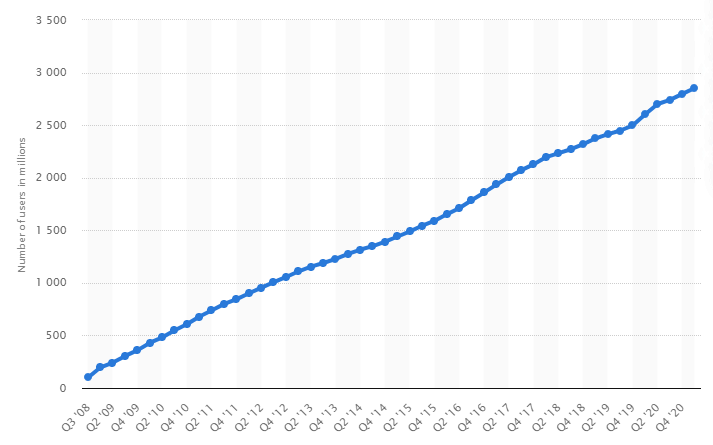 Pro: Facebook Provides An Enormous Audience
Facebook boasts an incredible 2.7 billion active users a month. It's hard not to look at that number and think that if the tiniest fraction of that audience saw your products you'd be able to retire rich tomorrow.
Facebook also has the highest percentage of users in the coveted 25-34 year old age range, and if that's your target audience, it can be a match made in heaven. But also, it can be more complicated than that.
Despite having 30m followers on Facebook, IKEA's videos typically hit only 10,000 or so views.
Con: It Is Very, Very Hard To Reach Facebook's Enormous Audience
The belief that because the audience available is large, it will be easy for you to build your own audience from just a small portion of it, is a tempting trap to fall into. But it's a trap! It's so much more complicated than just thinking all you have to do is access .1% of the user base and you'll be set (which, for the record, would be a cool 2.7 million people).
Not only are there hundreds of thousands of other businesses with the same mindset, you have to put in a lot of work to actually reach anybody. Not only that, many users are not there to buy, they're there to see what their friends and family are up to.
This was made explicitly clear by Mark Zuckerberg's announcement three years ago that Facebook would prioritize feed posts from friends and family, not from businesses, and Facebook has stayed true to that mission. That's great for users, but not so great for companies looking to engage with their followers.
The mistake many businesses make is by approaching social selling, on Facebook and other social media platforms, as an eCommerce platform. While it does offer eCommerce functionality, that is not it's main purpose.
Let's illustrate that point with an example: when a shopper heads to Amazon, they are explicitly going with the intention to at least do research, if not buy a product during that visit. If they input a search for hair brushes, and see an advertisement for hair ties, they are unlikely to be annoyed by that advertisement.
On the flip side, while people do visit Facebook to browse products, they largely visit with the purpose of catching up on their friends and family's social lives. Will they get annoyed if they see an ad from you for hair ties? Or even if they see a post from your business, not necessarily promoting any product in particular, but it still feels like an ad because you're a business?
The key is to build a relationship with your followers and create engaging content that they'll appreciate and want to interact with, not be annoyed by. And that takes a lot of work. You'll need to create a social media content marketing strategy that works to build brand awareness, encourage audience engagement, and ultimately funnel that audience to buying your products.
Pro: Facebook Provides A Consistent, User-Friendly Experience
While you may lose some of your brand identity in the process, browsing the products for sale on Facebook is a pleasant experience for the user. When products are easy to search for and compare there is much less friction in the buying process. Facebook shows your potential customers all the relevant product information and makes it easy for them to swipe through.
Facebook also provides a fairly consistent shipping experience. They require that all businesses ship using a service that provides tracking information, that you ship within 3 days of the sale, and that the item arrives within 10 days of shipment. It's not quite the world class 2-day shipping guarantee that Amazon provides, but it is still very enticing to users.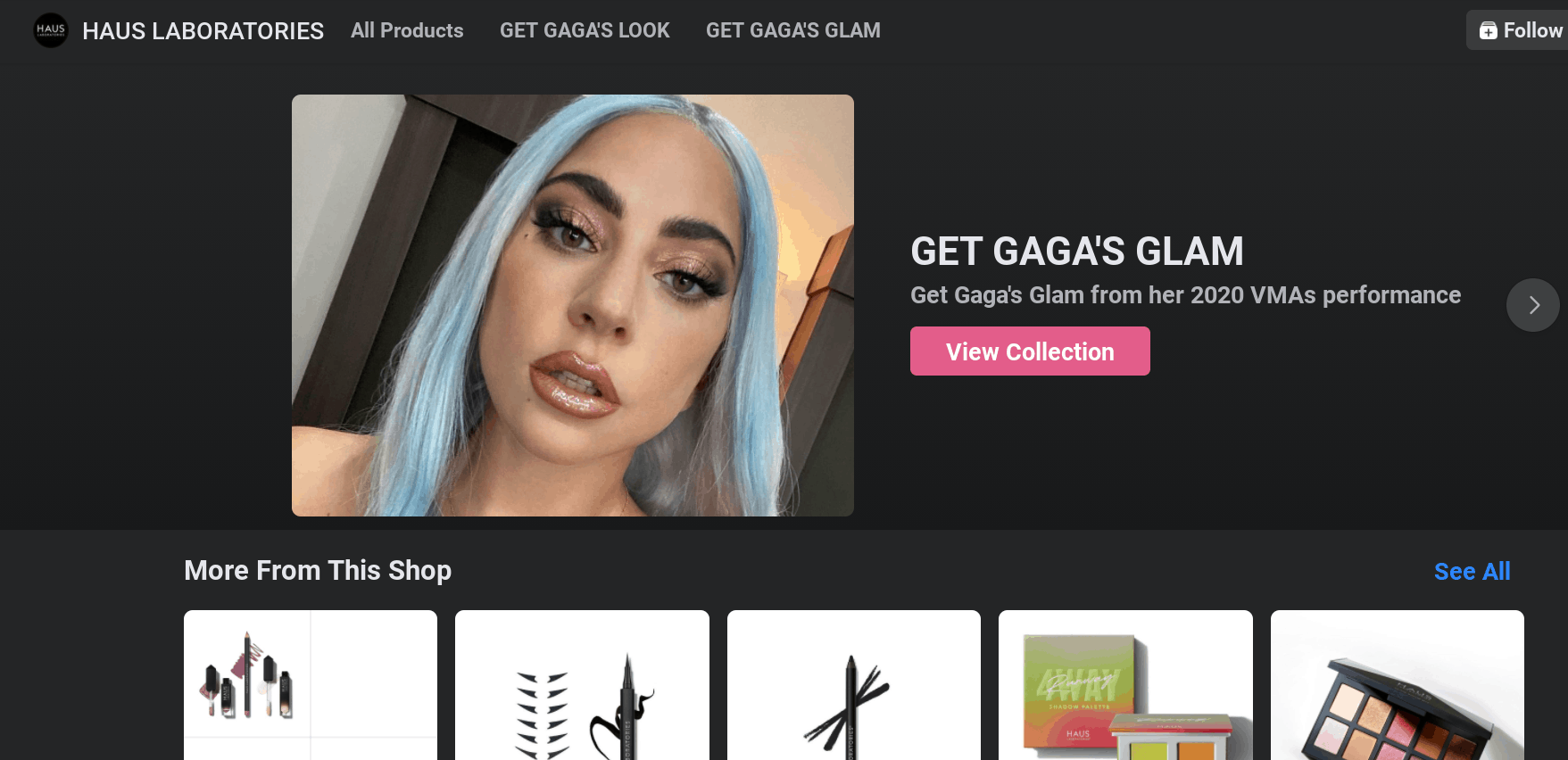 Source: Haus Laboratories, Facebook (Desktop).
Con: There Are Limited Branding Opportunities
When you compare the experience of shopping in a branded Amazon store versus doing so on Facebook, it's pretty clear that the social media behemoth isn't straying far from the goal of providing shoppers with what they need while limiting what brands can do to stand out.
Facebook is not an eCommerce platform like Shopify or Magento, and like Amazon, it doesn't pretend to be something it's not. Shopping for a product directly on Facebook isn't necessarily that much more difficult than it would be on a company's website, but it lacks personal touches or branding.
Product pages are utilitarian, with clean white backgrounds similar to Amazon. That's great for Facebook, because it reminds shoppers where they are. But it's not an ideal look for individual brands and sellers.
Pro: Facebook Allows for a Seamless Omnichannel Experience
Social media has democratized a lot of hierarchies that previously reigned over our society, and one of the major ones was the inaccessibility of brands. Brands are now held accountable over public social media posts – have a problem with a brand? Air out your grievances on Twitter and tag them so they feel obligated to respond.
However, this can also be a positive for businesses. Whereas on traditional ecommerce platforms your visitors are almost entirely inaccessible, on social selling platforms like Facebook, it becomes easier for them to contact you, and vice versa. Not only can they send you a private message if they have a question about a product, you can reach out to your followers personally with coupon codes, and even host giveaways for them.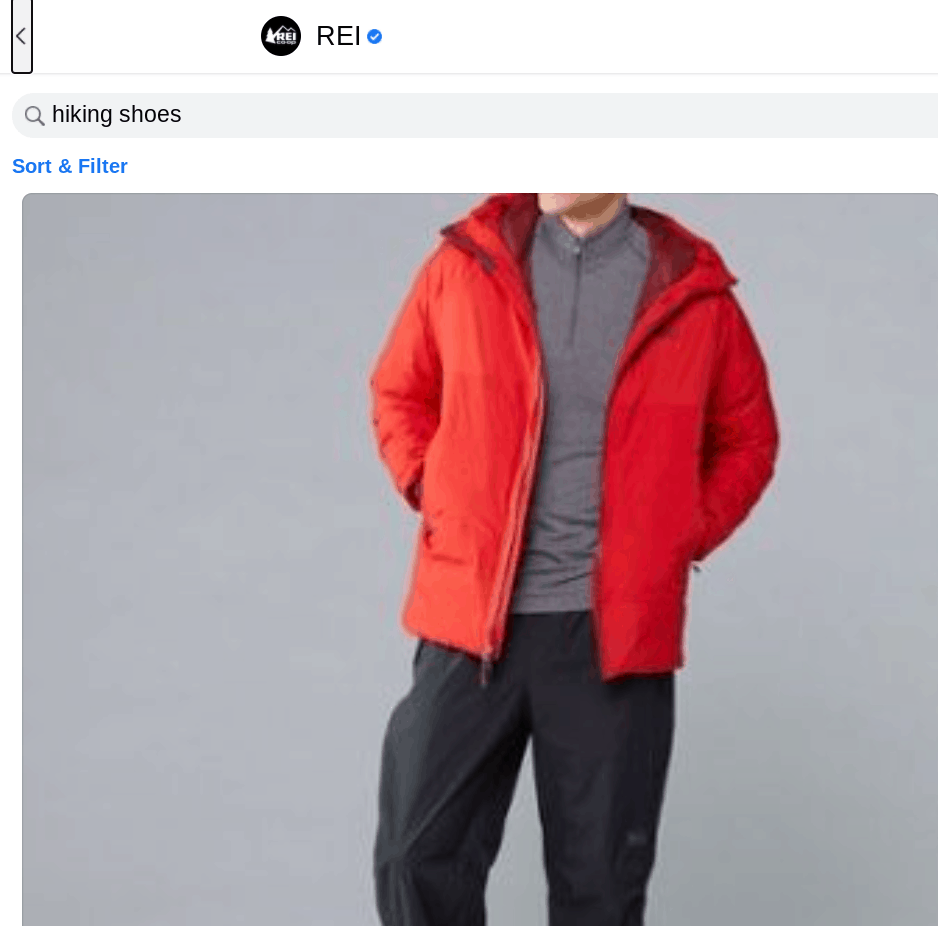 Source: REI Store, Facebook (Mobile).
Con: Facebook Is In Control
When you run your own website, you are in complete control of it. You can set up smart search features to help customers find what they are looking for (something that Facebook could probably do better at, as evidenced by the screenshot above). You can set up marketing channels from Pinterest and other social media that link directly with power pages on your website.
However, when you sell on another platform, it will have a lot of control over you and what you can sell. Not only can they affect who can see your posts, they can restrict you from selling certain products, and shut you down if they think you're violating their guidelines. That problem isn't unique to Facebook; Amazon restricted sellers due to increased demand during the peak of the pandemic last year.
The question for your business becomes a matter of asking: Is it worth sacrificing control for access to a user base? Only you can answer that.
The Verdict: Is Facebook Shops The Right Fit For Your Business?
You're never going to get a definitive "yes" or "no" answer to a question like that, because every business is at a different stage, has a different audience, and has different needs. However, after running through the pros and cons, you should have an idea of how your business fits into the picture.
For example: if you are already set up on Shopify, your target demographic largely uses Facebook, and you're ready to expand your online presence onto a social media platform, Facebook Shops could be an amazing fit for you. Your audience is already on the platform, and you can use Facebook to kickstart your social media presence and try to bring in new customers at the same time.
Another example: if you're a brand new business and you're intimidated by the upfront cost and time it would take to set up your own website, invest in an inventory management system, and figure out shipping, Facebook Shops could be a good way to ease into the process.
On the other hand, if you're a large business with an existing presence on Instagram, your own commerce website is already set up (maybe even with a software that doesn't integrate with Facebook), and you don't have the time and money to invest into another social media platform, Facebook Shops is likely not worth your time.
Even if it's easy to set up, it's not going to be easy to reach customers, and it will be yet another channel you need to manage and create content for. It's better to focus on creating great content for your existing channels than recycle old content half-heartedly onto new ones.
The Bottom Line on How to Set Up a Facebook Page
No new selling channel is going to be a quick fix for your business, or a set-it-and-forget-it process. Every time you expand it's going to take time and money invested to learn the new channel and invest in growing your presence there, whether it's SEO for your website or content for social media. Only you can decide if it's the right fit.