Modern people are tired of paid ads, and they seek out word-of-mouth recommendations, making a living on Instagram.
Living in the digital era, when every person can become a social media influencer, it's no wonder that influencer marketing is growing in popularity. In fact, the influencer marketing industry is predicted to reach $15 billion by 2022.
Believe it or not, Instagram has become the most popular influencer marketing channel.
Want to know how to make money on Instagram as an influencer?
Keep reading.
Back in 2010, when Instagram was launched as a photo and video sharing social media network, no one could have predicted it would allow common people to become opinion leaders and make money online.
The platform has 1 billion monthly active users and 90% of them follow at least one business in-app. Instagrammers find and follow opinion leaders, so the era of Instagram influencers is officially here.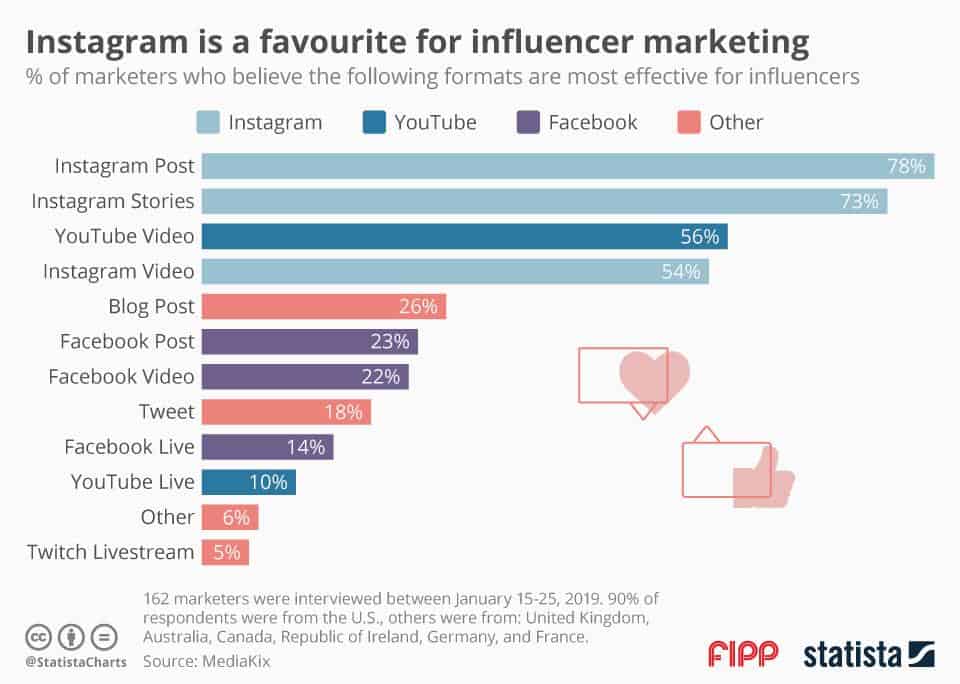 The popularity of Instagram influencers is also proved by the actions of hackers who want to gain control of high-profile accounts. In 2019, 49 million records of Instagram influencers were leaked, including personal information and the estimated worth of each account by the number of its followers, reach, and engagement.
No matter how many followers you have, whether an army of fans or just several hundreds of people you know in the real world, now people with a loyal following on Instagram have an opportunity to monetize their accounts and make money online. If you're looking to boost your Instagram followers and increase your reach and engagement, you can consider buying loyal Instagram followers.
How Much Money Can You Make as an Instagram Influencer?
How influencers make money? Do they get a surplus amount from social media presence? Well, confused. Instagram influencers can make big money on the platform.
Just imagine: Dwanye 'The Rock' Johnson gets $1,015,000 per Instagram post, according to The Instagram Rich List.
The good news? If you're not one of the most popular actors in the world, you can still make money on the platform. Why? Brands pay close attention to social media ROI which means practically every Instagram influencer can earn money in-app.
Influencer rates depend on a variety of factors like the number of social media followers, engagement rates, niche, and reputation. As specified in the recent report by eMarketer, brands pay from $43 for a story to $3,138 for a video post.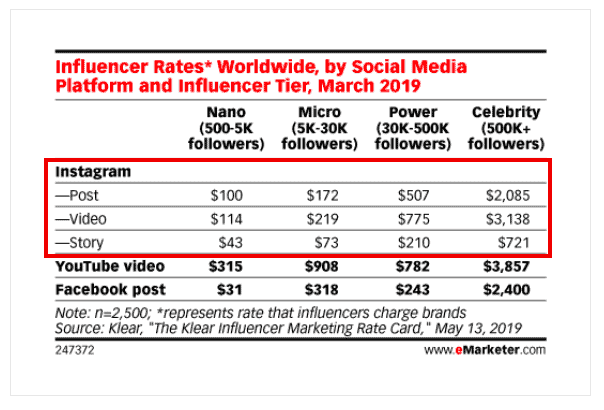 So, wouldn't it be great if you could monetize your Instagram account?
The more options you know, the more money you can earn. In this article, we're going to take a look at 9 ways to make money as an Instagram influencer.
9 Ways to Make Money on Instagram as an Influencer in 2023
Become a Brand Ambassador
The number of ads is constantly growing and people don't trust paid ads, so they choose to use ad blockers.
Most brands know the power of influencer marketing, so they are looking for social media influencers who can spread the word about the company and its products.
Representing products in a positive light is beneficial for any company. The more people share their good customer experiences on social media, the better. In other words, brand ambassadors are in demand.
Many brands run ambassador programs when they reach out to influencers who can increase brand awareness and drive sales. These brands even give their brand ambassadors products to showcase them in your posts as well as personalized discounts to track sales and pay for each acquired customer. Win-win!
If you're a popular Instagram influencer like Normani, it's more likely you're a member of an ambassador program: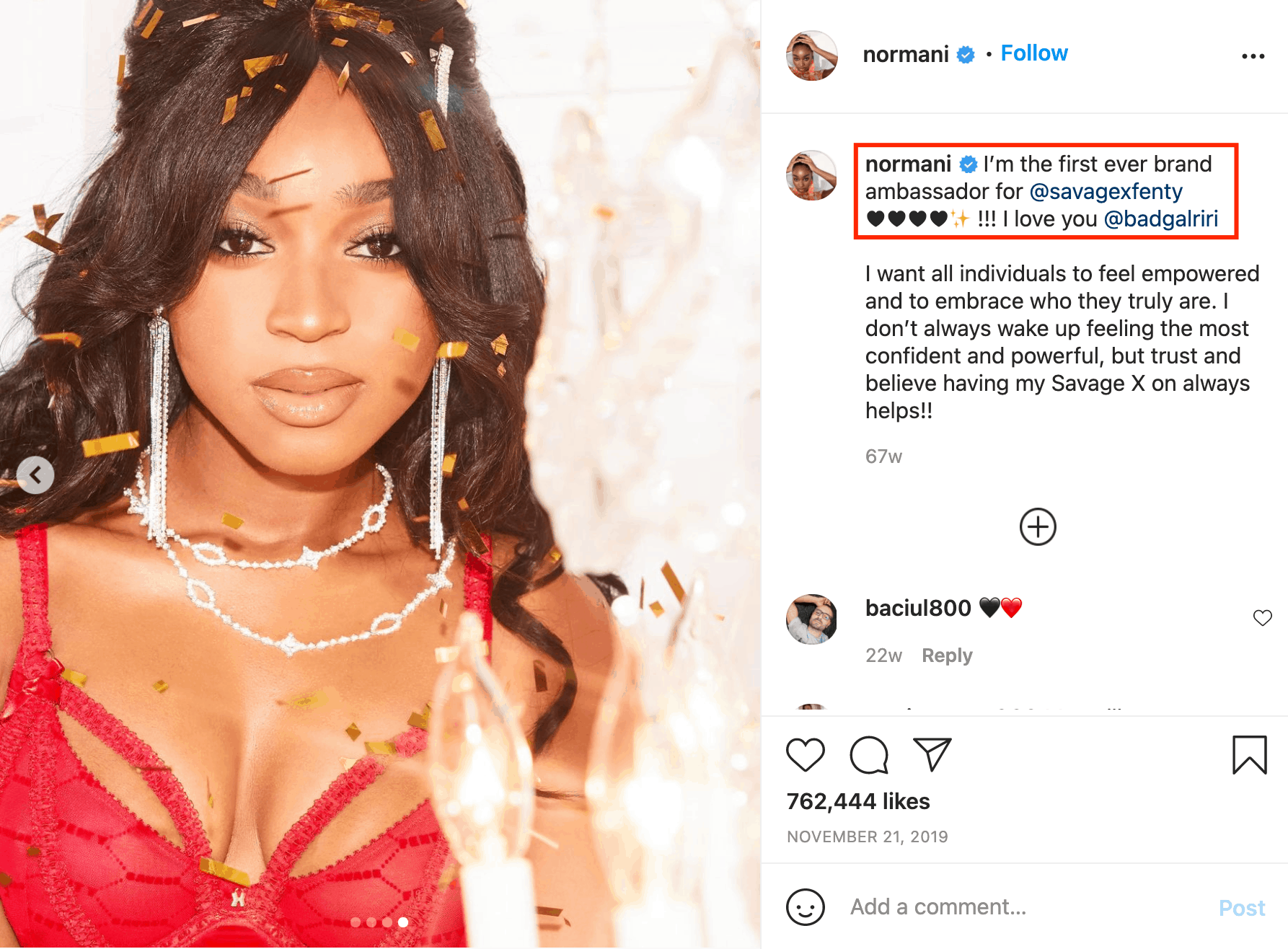 Having 5.9 million followers on Instagram, it's no wonder that brands want to encourage the influencer to show off their products and tell about them on social media, just like in the example below:
Source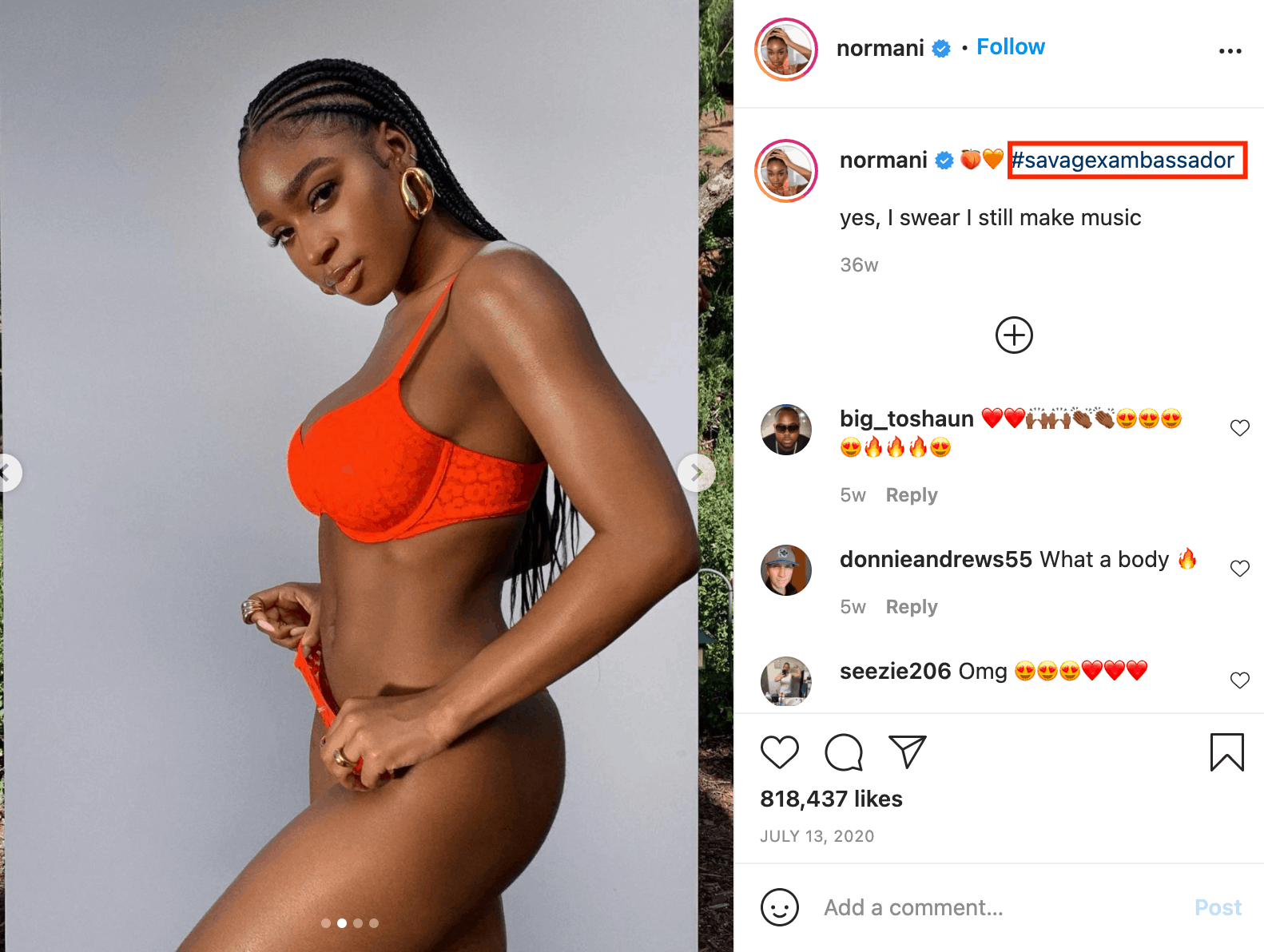 But if you're an aspiring Instagram influencer with a smaller following, you can still become a brand ambassador as different companies have different demands and there are many brands who want to team up with nano- or micro-influencers to get authentic endorsements on the platform.
To become a brand ambassador, check out brands' Instagram profiles as many companies invite social media users to apply for their ambassador programs.
Promote Products and Services
Being a brand ambassador is great, but it limits you to working with one company.
If you want to find more collaboration opportunities, get brand freebies, and make money on Instagram, it's a good idea to work with several companies that share the same target audience as your following. Simply put, promote products and services that resonate with your theme, principles, and preferences.
For example, if you're a lifestyle influencer like Tyla Lauren, you can promote a great number of products and services: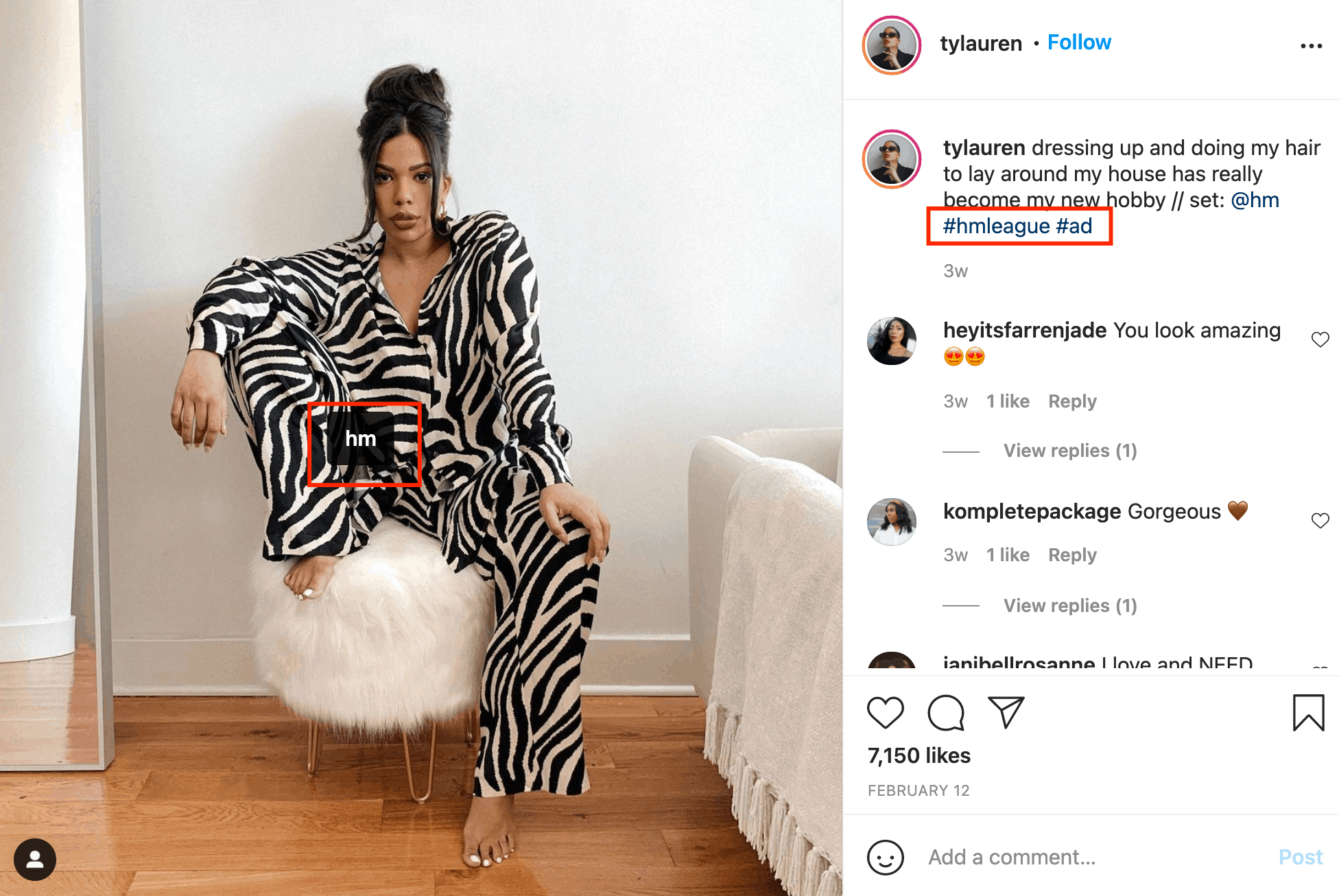 When it comes to discussing the rates with brands for product promotion, most companies want to send their products or give free access to their services in exchange for endorsements. If it suits you, that's great.
But if you want to make money as an Instagram influencer, you can always determine the rate you plan to charge for advertising the company on your profile. After all, brands make money when your audience sees their products as your recommendation, so you can get your percentage, too.
Co-Create Product Lines
If you're a popular Instagram influencer with a solid following on the platform, this option might be right for you. Since more and more brands are looking for new ways to attract more customers, some of them are open to product co-creation.
For influencers, this means an opportunity to bring personal brand awareness to the next level and give your fans an opportunity to buy something from their favorite influencer which also allows you to make extra money.
Case in point:
Back in 2018, when Tommy Hilfiger decided to raise brand awareness and incorporate upcycled textiles into their collections, the company reached out to Lewis Hamilton, the six-time Mercedes-AMG Petronas Formula One World Drivers' Champion.
Moreover, Lewis Hamilton adds his personal touches to the line, so it's no wonder that he promotes the campaign on his Instagram profile which leads to higher engagement rates as his following is interested in the latest updates: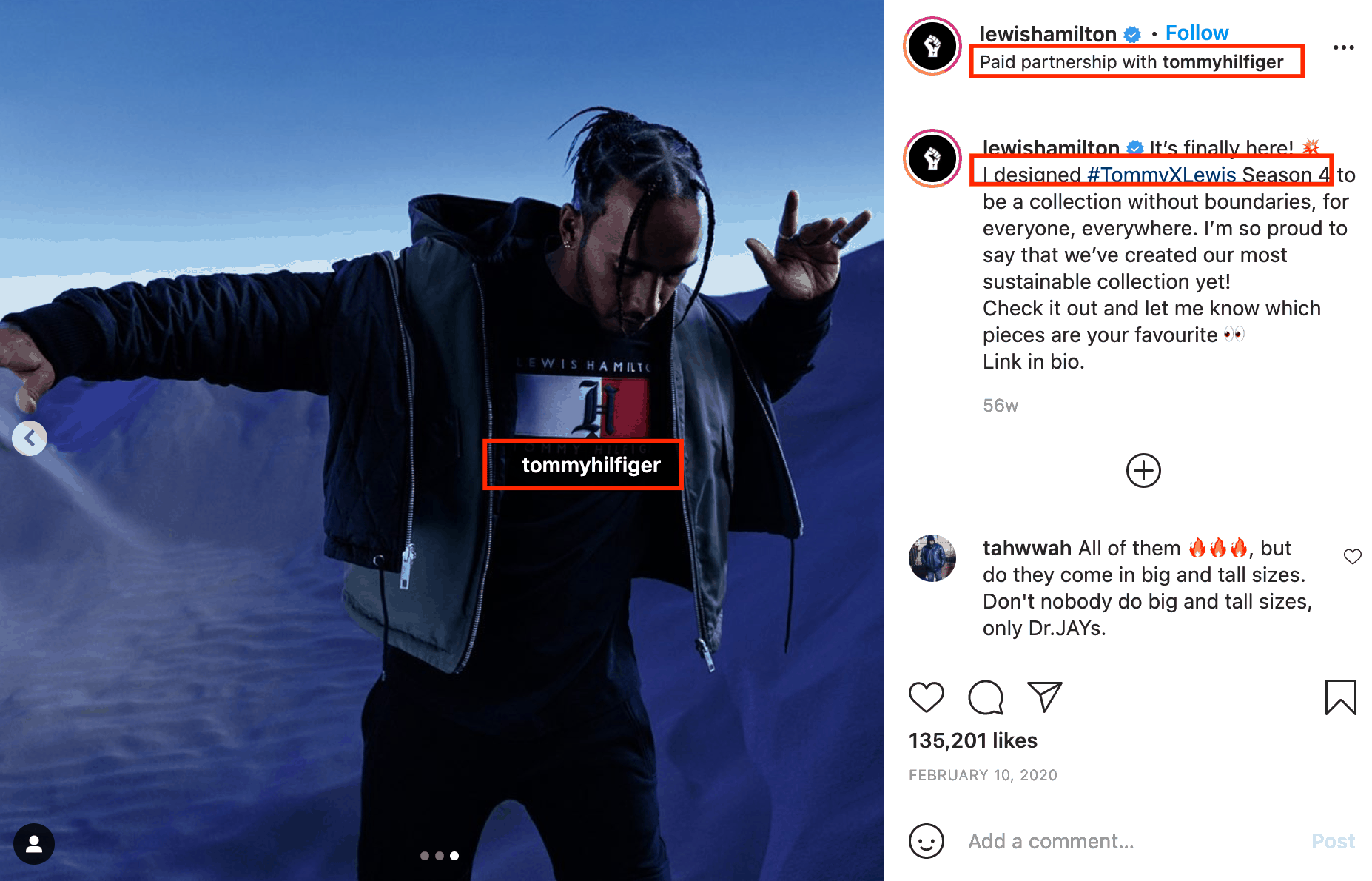 The influencer and the company worked together on TommyXLewis collection that went popular among users. As a result, the duo has launched five collections in the last few years.
Make and Sell Custom Merch
Influencers are content creators and your audience loves your content if they follow you on Instagram.
So, wouldn't it be great if you could create a sense of community and make money?
With custom merch, it is no longer a problem. You can make and sell branded merchandise that represents your online personality. Whether you use the same slogan/phrases or people simply love your visual content, it's a good idea to create recognizable T-shirts, bags, or mugs.
Look: 70% of people trust recommendations from influencers as much (or even more) than their real-world friends. This means you have an enthusiastic fan base and your followers are happy to buy from you.
What is more, you can always create an online store and start promoting your items, just like in the example from Emily Oberg:
Organize Your Online Courses
Being an Instagram influencer means you have an audience of fans who believe in your knowledge and experience. If you get requests from your followers to share your experience with them, you can organize online courses to monetize your skills.
Living in the era of social distancing, when people are forced to do everything online, the popularity of e-learning is on its rise. Plus, most modern people are interested in self-growth, so you can organize and promote online courses.
Let's take a look at Natacha Einat's example. She's an Adobe Photoshop partner with advanced Photoshop skills, so it's no wonder that many followers ask the influencer to share her tips and tricks. As a result, Natacha Einat has decided to launch her online courses to help all interested followers improve their Photoshop skills: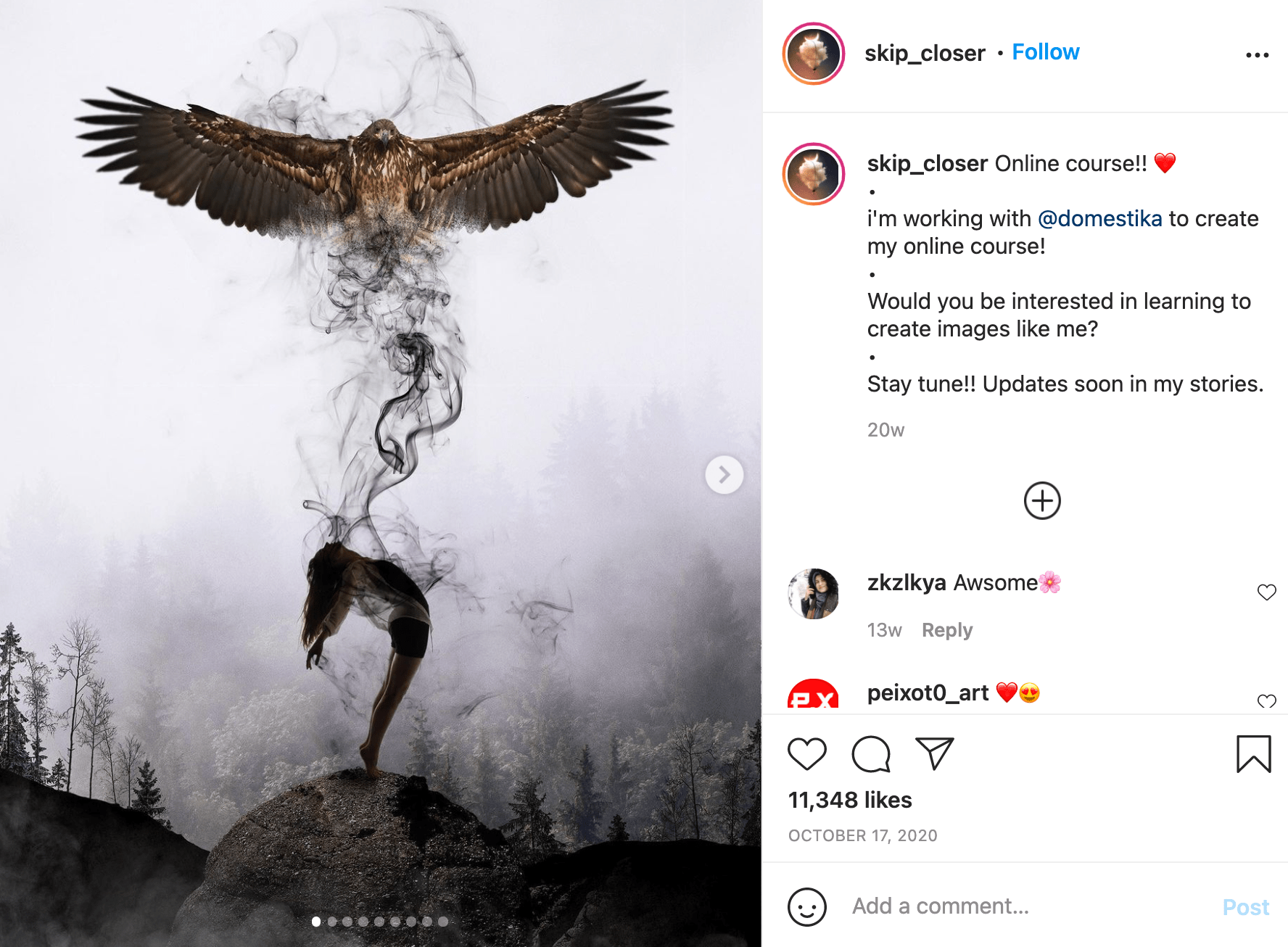 If you believe that you don't have specific knowledge to share, we have the good news for you. Practically every Instagram influencer is good at social media marketing.
Why? If you are an influencer, you've built a strong community on Instagram as your followers are interested in your personality, thoughts, and ideas. This means you know how to promote your personal brand on Instagram, so you're more likely to have tips and tricks on social media marketing to share.
Sell Your Visual Content
Visual content is in demand, especially if you're an Instagram influencer who can produce high-quality and eye-catching photos or videos.
Moreover, the report on user-generated content says that 93% of marketers agree that modern customers trust other customers more than branded content, so fan-made visuals are popular among social media users. At the same time, 43% of marketers say that it's difficult to manually find engaging user-generated content, so they turn to influencers when they need to get eye-catching visuals.
The bottom line? As an influencer, you can sell your visual content. Moreover, more and more companies seek out bloggers who can take great photos or make videos for their brand.
According to Sellfy, Instagram is a great representation and marketing channel as it targets photo enthusiasts. What is more, the platform allows you to show your style on the feed, connect with fans, and turn them into buyers.
Here's an example of this strategy from one travel blogger: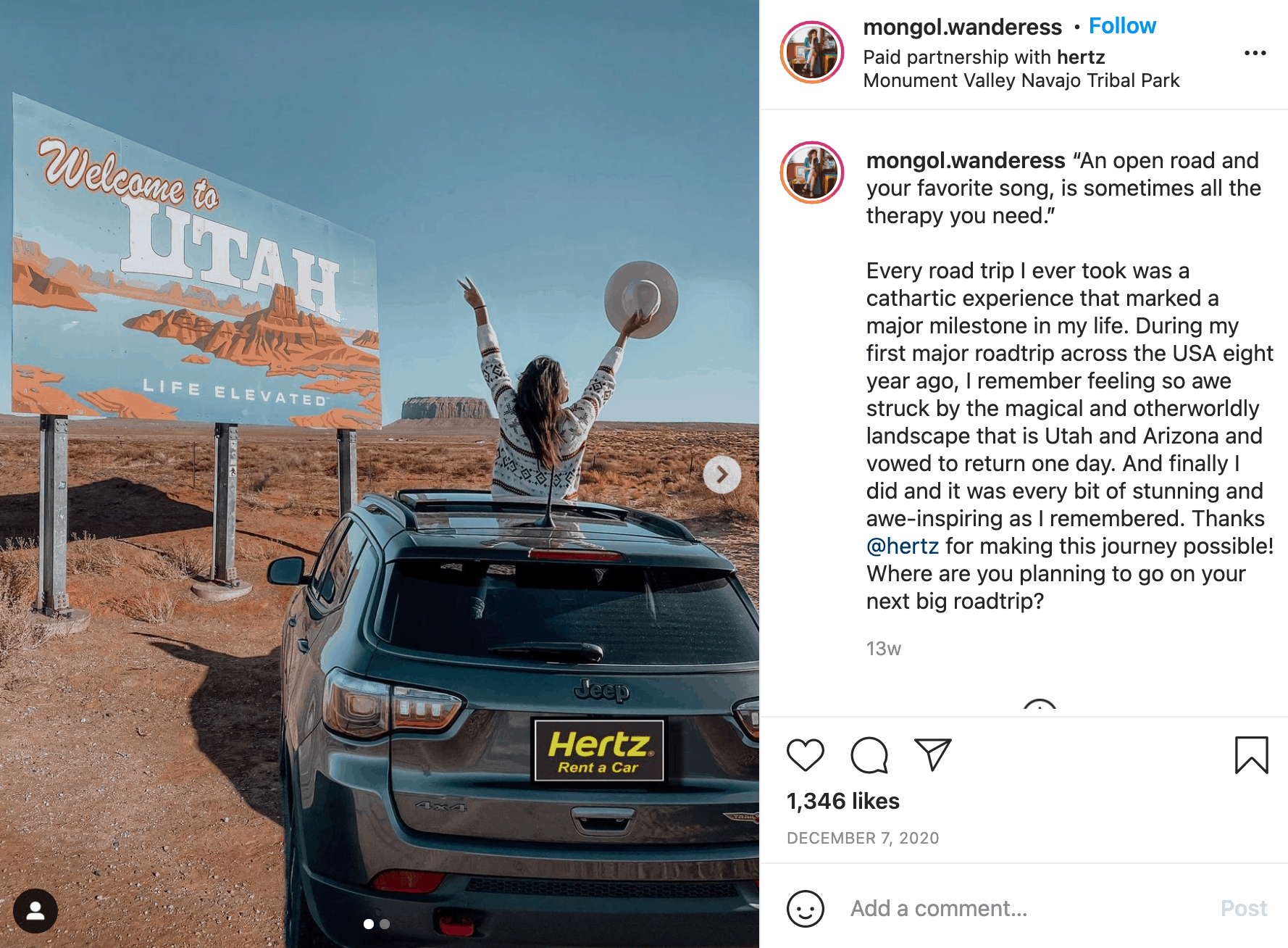 Before you have businesses that invite you to create visual content for them, you can promote and sell photo presets if your Instagram feed is eye-catching and cohesive.
Create Instagram Filters and Masks
The era of ephemeral content is here. With a short attention span of 8 seconds, when people quickly lose interest in content, it's no wonder that short-lived content is popular among users. When it comes to Instagram, 500 million Instagrammers use Stories daily.
As a result, both influencers and brands jump on the bandwagon and start implementing Instagram Stories in their Instagram marketing campaigns.
Since most influencers are content creators, another great way to make money on the platform and boost personal brand awareness is to create Instagram filters and masks. Why? Companies are looking for influencers who can create branded filters and therefore help them hook the audience's attention.
For example, Pelayo Diaz is one of the content creators with a solid Instagram following who creates Instagram filters and masks. It's not just about showing off your creativity; it's also about making more money on the platform.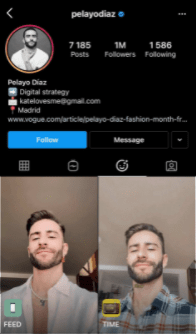 Add Affiliate Coupons to Your Content
With the popularity of social media platforms, when customers seek out product recommendations in-app, word-of-mouth marketing is flourishing. Brands leverage the power of word-of-mouth marketing and create referral programs to turn their loyal customers into brand advocates in exchange for incentives.
However, many companies also create affiliate programs. Want to know the best part? There's no need to be a customer to sign up for an affiliate program. For influencers, this means an opportunity to make money when promoting products or services that resonate with your audience's preferences.
Case in point:
Ashley Spivey is a lifestyle influencer who reads a lot. She is a real bookworm, so it's no wonder that she promotes an Amazon affiliate link for books in the bio section on Instagram.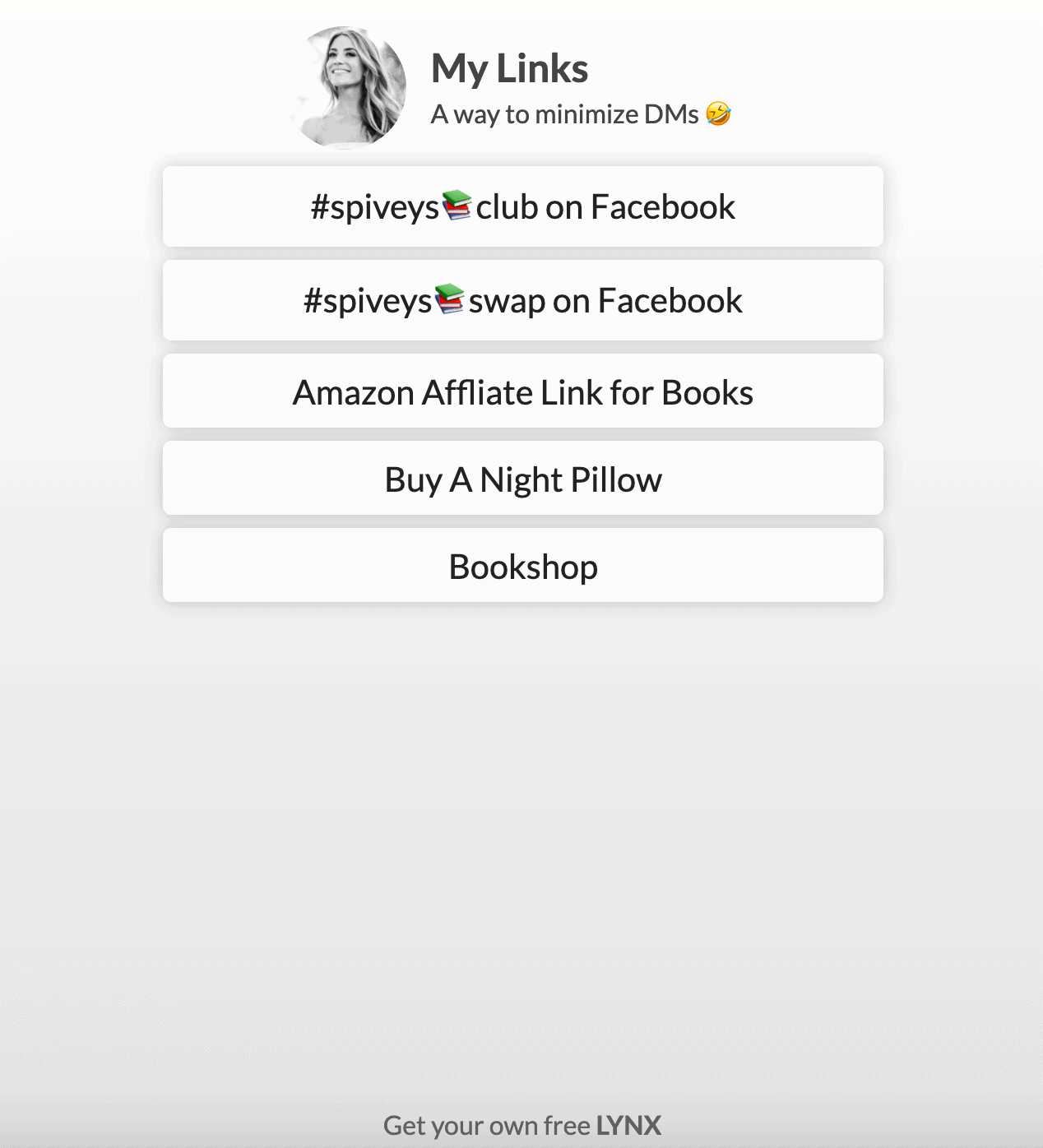 What is more, the influencer has over 77k followers on Instagram, so Ashley has a possibility to include an Instagram Story link and therefore promote her affiliate links when posting Stories which allows her to redirect interested visitors to the right page using her custom link.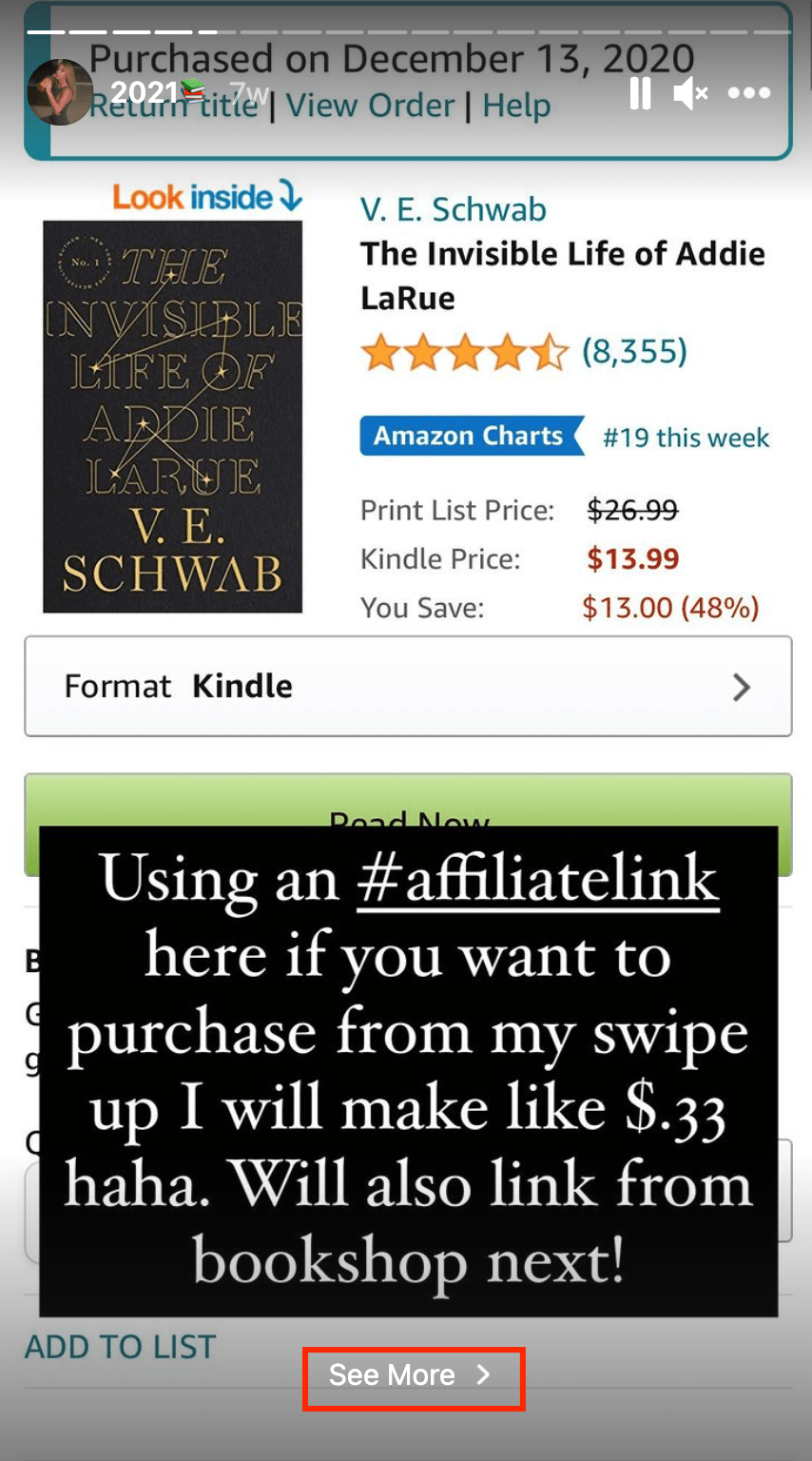 Become a Commercial Model
Influencer marketing is extremely popular on Instagram. It's one of the most effective ad strategies for brands. However, over 2 million advertisers use Instagram to run paid ad campaigns and reach a wider audience of potential customers.
Instagram has decided to help both brands and influencers to bring their collaborations to the next level, so the platform offers branded content ads.
Now brands have an opportunity to promote creators' organic branded content feed and Stories posts as ads on Instagram which means reaching more people on the platform.
Check out this example from a Korean fashion influencer in partnership with StyleShare: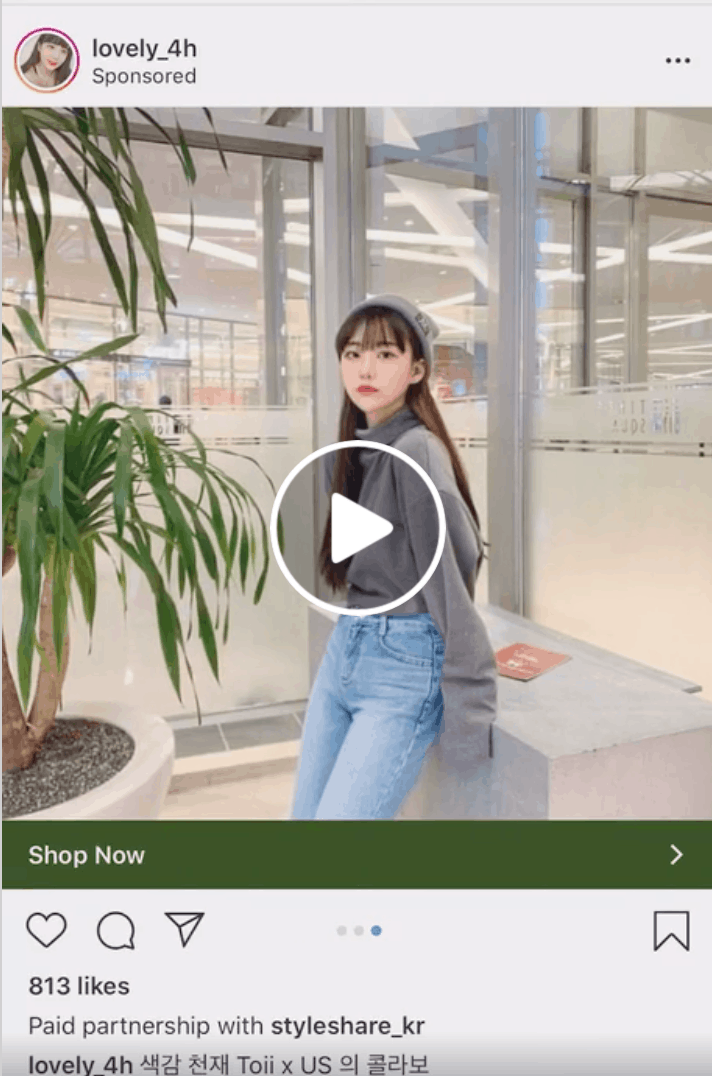 Branded content ads are more trustworthy and creative for customers, so more and more companies are looking for relevant niche influencers who can become their commercial models. It gives Instagram influencers a new option to monetize their following and make money on the platform.
Know How to Make Money on Instagram as an Influencer
Instagram is a preferable channel for influencer marketing campaigns. Both opinion leaders and brands use this platform to collaborate, promote products, and help each other. In the last few years, Instagram has become one of the most popular monetization platforms for influencers. Plus, you'll be shocked about how do influencers make money on Instagram.
No matter how popular as an Instagram influencer you are, whether you have a small or big following on the platform, you can still monetize your influence and make money on the platform.
Now that you know 9 proven ways to make money as an Instagram influencer in 2023, it's your turn to choose the best option that suits your needs and wants.
So, how do you make money on Instagram as an influencer? Let us know your tips and tricks in the comments below.