It's not a surprise that brands are getting more serious about selling on Instagram.
With 1 billion active monthly users and 500 million active daily stories, Instagram is one of the top-ranked social media apps in the world — and the US is the app's leading market to date.
If you dream of becoming successful on Instagram and even turning your account into a money-bringing platform, let's find out how to sell on Instagram.
We hope this article brings your brand tremendous value.
Instagram housekeeping duties
Before you can start selling on Instagram, make sure you take care of these housekeeping duties first: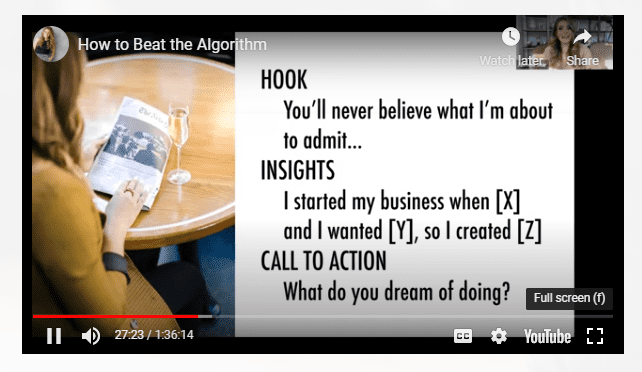 Once you've gotten a handle on your housekeeping duties, you're ready to start selling.
In the next section, we'll share our best tips.
11 Tips to Help You Sell on Instagram:
Here are our top 11 tips:
1. Add a Shopping Link in Your Instagram Bio
One of the easiest ways to sell more on Instagram is by simply adding a shopping link to your Instagram bio.
Here's an example from a sleep breathing company called Somnifix: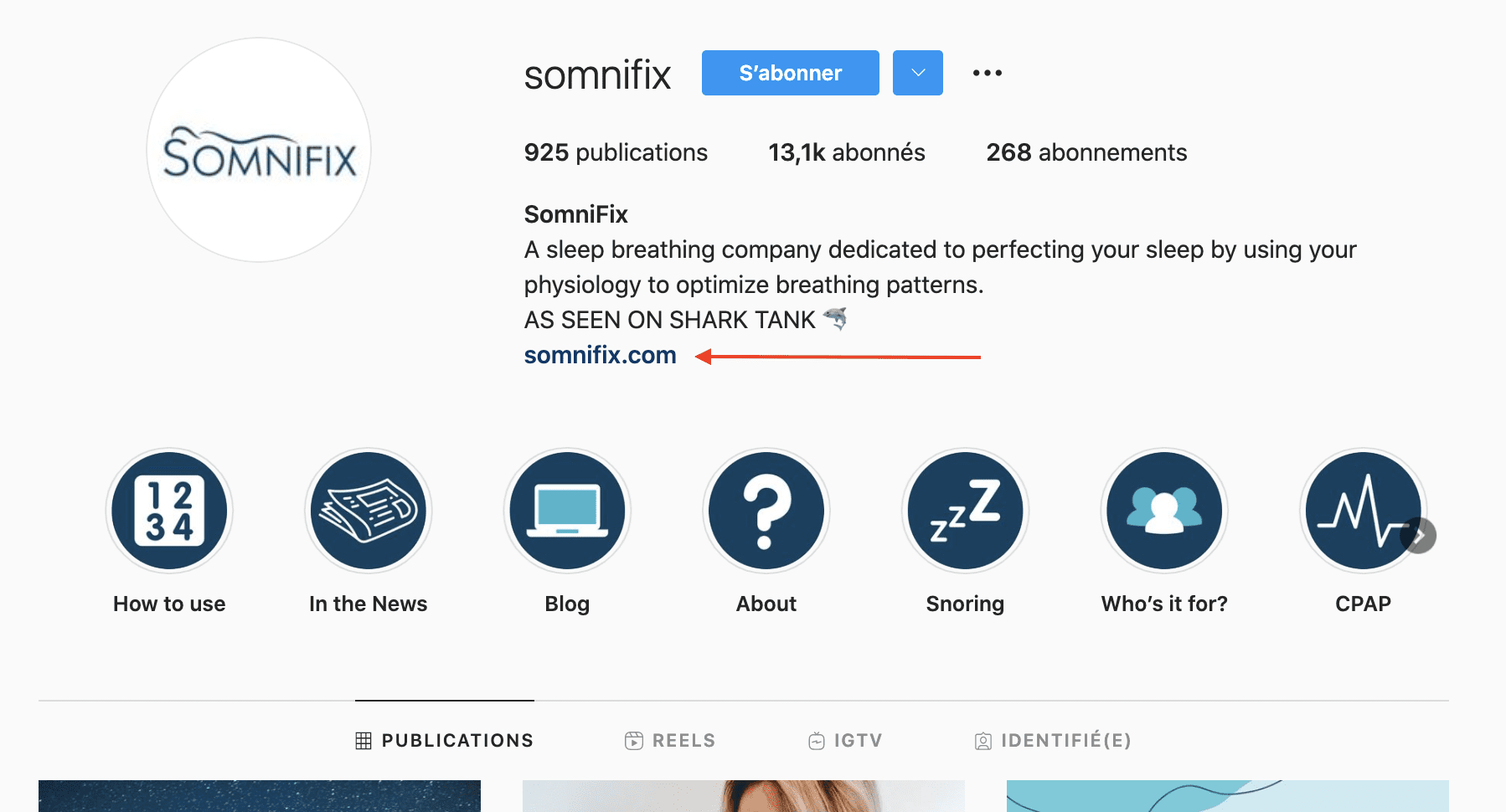 If you're on the Instagram home page, all you have to do is click on your profile picture, then click 'Profile,' and 'Edit Profile.' From there, you'll see a spot to add your link.
2. Enable Shoppable Posts and Create an Instagram Store
If you sell physical products, you'll love Instagram's shoppable posts and feeds. This feature allows you to tag your Instagram product photos to lead users back to your site, so they can quickly buy your products.
This is what shoppable posts look like: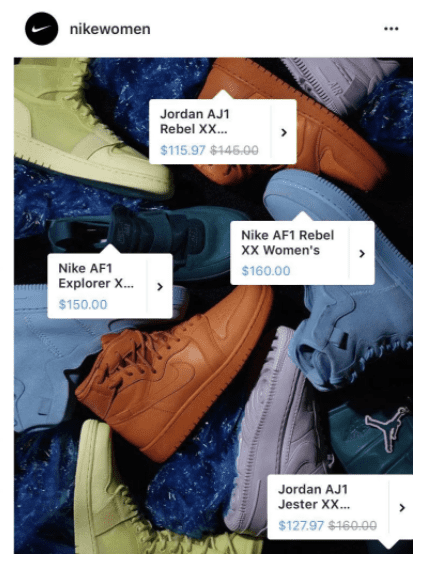 (Image Source).
To enable shoppable posts, you'll need:
An Instagram business profile with an Instagram shop
An up to date Instagram app
A Facebook business page with a Facebook shop
To set up your Instagram and Facebook shops, read this article in Facebook's business help center.
3. Create An Affiliate Program
To remove some of the pressure off of your marketing team, consider creating an affiliate program to help you sell on Instagram.
Affiliates are great because their main objective is to promote your products and services in exchange for a small commission. You simply provide them with special links that'll help you track what they've sold and how much revenue they've generated for your brand.
The good news? It only takes a few affiliates to increase tons of new sales.
4. Use Influencers
If you're not interested in starting an affiliate program, try to find instagram influencers and sponsor them to promote your products and services.
Here are some ways influencers can promote your brand on Instagram:
They can host IGTV videos demonstrating how to use your products/services
They can film Instagram reels showing off their favorite perks about your products/services
They can share Instagram stories of them using your products/services in their day-to-day life
They can host giveaways, contests, and challenges
They can collaborate with other key influencers to boost your brand's visibility
If your budget isn't high enough to use influencers, consider using micro-influencers or nano-influencers. They may have fewer followers, but their audience is niched down and they're a fraction of the cost.
Masterclass does an exceptional job with their video marketing on Instagram. They use celebrities who are teaching classes to create short, sponsored videos that grab users attention.
Look at this recent video featuring Nas, promoting his Hip Hop storytelling class: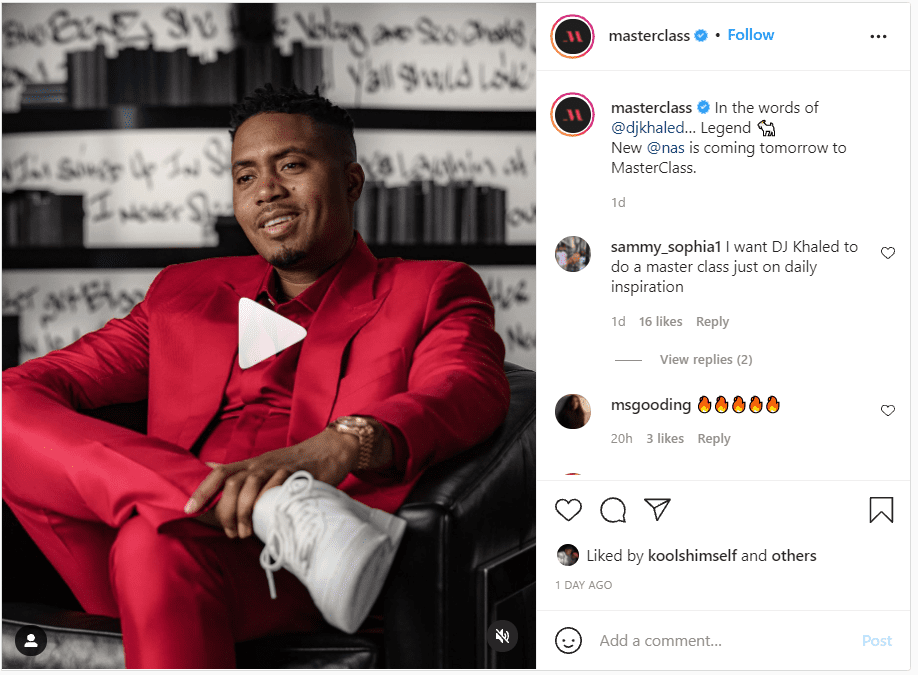 With 2.7 million followers on Instagram, they're clearly doing something right!
5. Host Contests, Giveaways, and Challenges
Speaking of contests, giveaways, and challenges, you don't need an influencer to host them — you can also run them yourself.
Here are some ideas to help you promote these kinds of posts:
Ask users to like your post, tag two or three friends, comment on it, and follow your page
Ask users to save your post
Use a contest app such as Woorise and give bonus entries to users who promote your post in their feed or stories
Give bonus entries for users who upload pictures of them using your products/services on their page
Use software to help you choose entries at random
Here's an example of a real giveaway on Instagram: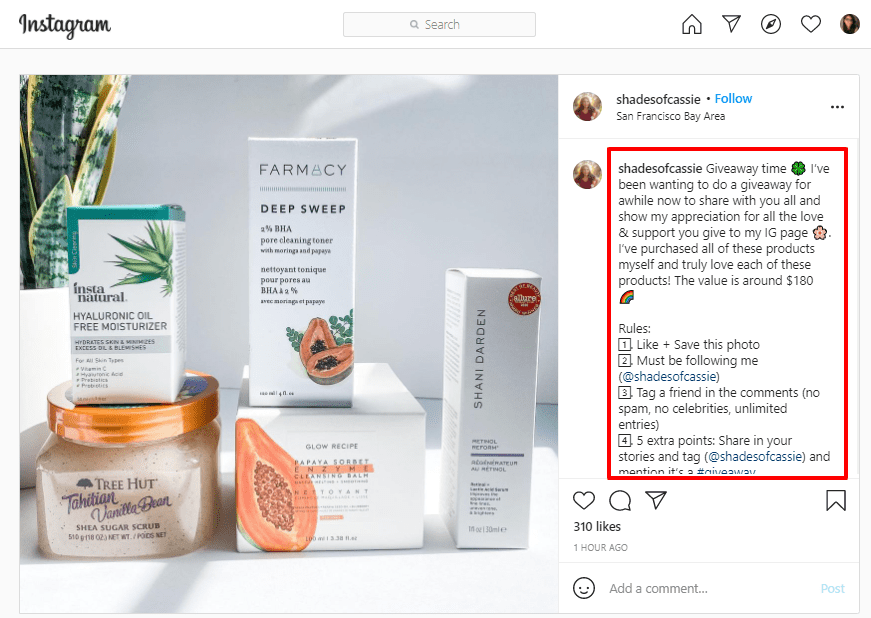 This brand is pulling out all the stops by using all of the tips we recommended above.
6. Test your audience's preferences
Keep an eye on your Instagram analytics to help you gauge which types of content your audience prefers by digging into your top-performing and most engaging posts. If you don't have enough posts yet, start by creating a variety to test what your audience responds to.
You may find that your audience prefers Instagram stories and reels, or you may find that they prefer IGTV videos and still photos.
Once you know what they engage with the most, plan your content around these preferences.
7. Use Instagram Ads
If you're interested in quicker marketing results, consider using Instagram ads to boost followers and orders in a shorter amount of time — but don't forget to grow your profile organically to get more engagement in the long-term.
Instagram offers several ad formats, like:
Carousel ads
Photo ads
Stories ads
Ads in explore
Collection ads
The ads you choose will depend on your goals. For example, if you're interested in introducing first-time buyers to your products and services, a brand video ad is a great option.
Or, if you're interested in closing a sale by offering a discount, a static image ad can work great.
Note that once an ad stops, you may see your engagement drop off and then re-calibrate. This is normal and nothing to be concerned about as long as you consistently focus on organic growth.
8. Use hashtags
Piggybacking on organic growth, using the right hashtags can help you grow your audience without spending a penny. Hashtags are a great way for new and ideal audiences to discover you.
Here are some Instagram hashtag tips:
Use location tags to generate more traffic to your profile
Only use hashtags that are relevant to your nice and topic
Create your own branded hashtag to boost user-generated content
Monitor popular hashtags by using tools like Hashtracking or Hashtagify.me
For example, Homestead Supplier, uses hashtags that are related to their business and industry on all their posts on Instagram. They write them at the end of each post, which are mostly homestead supplies and clothes, to avoid being too spammy in the eyes of their followers.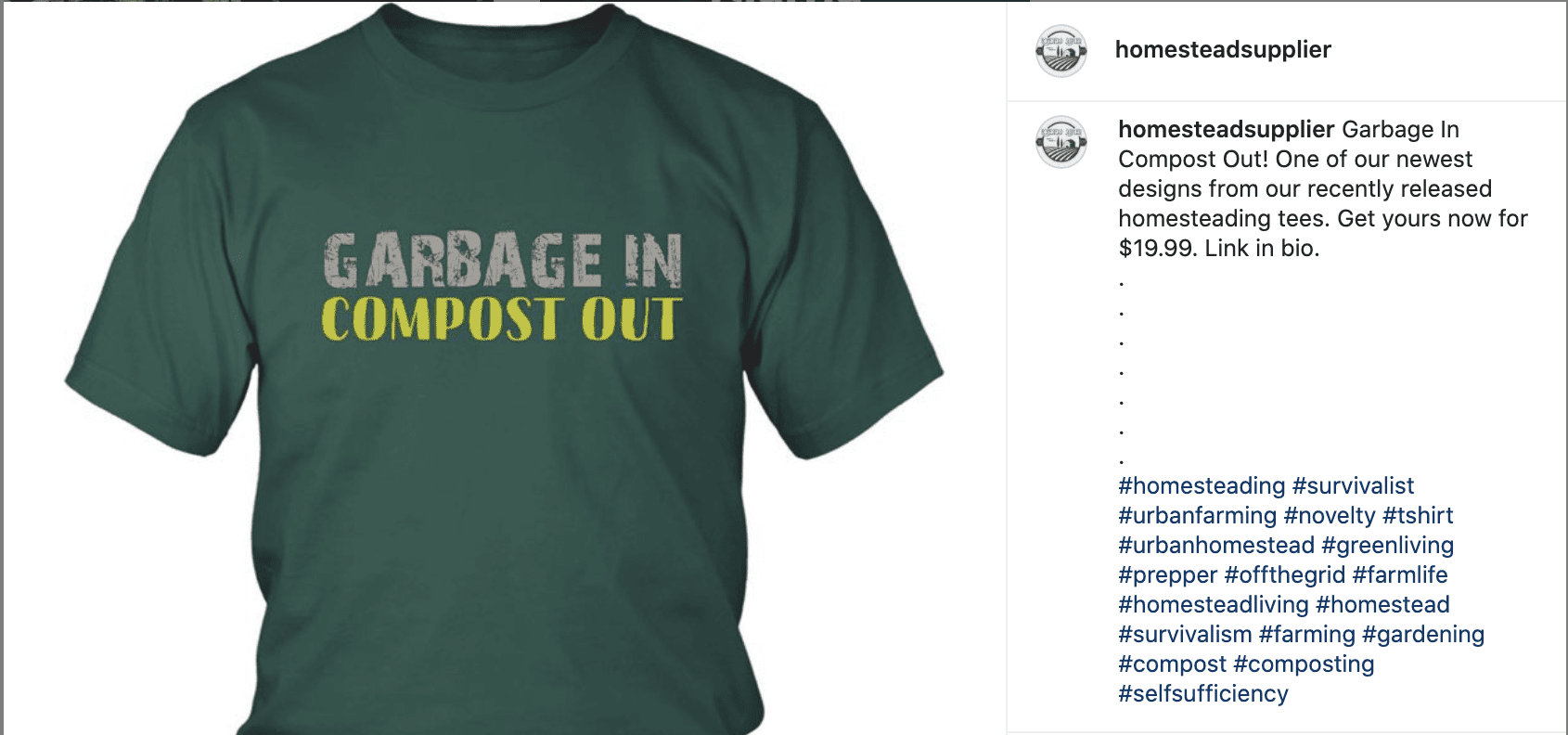 (Image Source)
Note: Just because Instagram lets you include up to 30 hashtags on a post doesn't mean you should. Just like keyword stuffing on blog content can look spammy, so can too many Instagram hashtags. Stick to using only relevant hashtags and you'll be good to go.
9. Sell on Stories
Once you have over 10,000 followers, you can use the 'swipe up' option on your Instagram stories to lead users to a shopping URL. This enables you to sell on Instagram straight from your story.
Here are some tips on how to sell on stories:
Add a link to the shopping page
Keep your story interest high by focusing on your ideal clients
Use pre-curated story templates from Social Curator or another tool
DM Instagram users who are engaging with your stories — but don't be slimy about it. A simple message like "hey 'user' just a note to say hi, and glad we connected on Instagram. I hope you have a wonderful day" works just fine.
10. Redirect Followers to Your Blog
Using Instagram to redirect followers to your blog is a great way to show your ideal customer who you are before giving them the hard sell on Instagram. It's also a great way to boost brand authority.
11. Promote Informational and Shareable Posts
Informational and shareable posts help the initial stages of the buying journey. An easy way to create these is by turning snippets of blog content into infographics or other highly shareable content as Instagram posts. Or there's the option of creating a corporate website to publish content to attract even more customers and partners
Here's an example of a blog post from Track-POD, a route planning software, about the functions of logistics that could easily be used as shareable infographics on Instagram.
Final Thoughts on How to Sell on Instagram
Selling on Instagram doesn't have to be a stressful process. As long as you have a plan, post consistently, and create valuable content that your ideal customer engages with, you'll be on your way to increasing your sales on Instagram.