Ever since we've entered the digital era, everything has changed. Emerging technology has made important contributions to the global economic and social-cultural life, resulting in people being able to do what wasn't possible before.
The Internet has revolutionized both information distribution and communications, causing the rise of crowd-based communication tools, including social media platforms. Everyone has moved away from their former passive role as paltry recipients of information delivered by a variety of media to an active role allowing them to choose what messages to receive, in what way, and when.
The way that we consume content and react to it has been changed forever, and that has had a tremendous effect on the future of brand ambassadors.
In this article we'll look at how to become a brand ambassador.
What are Brands
Before we answer the questions about the brand ambassadors, let's talk about what are brands and why a brand is seen as one of the most valuable assets for any company. Basically, a brand is a:
recognizable name
logos
symbol
slogan
Alone or together they represent the face of the company and what makes your brand stand out.
Let's take any of these brands as an example: Apple, Starbucks, Louis Vuitton, Domino's, Premier League's Manchester United – they're immediately recognizable just by logo alone.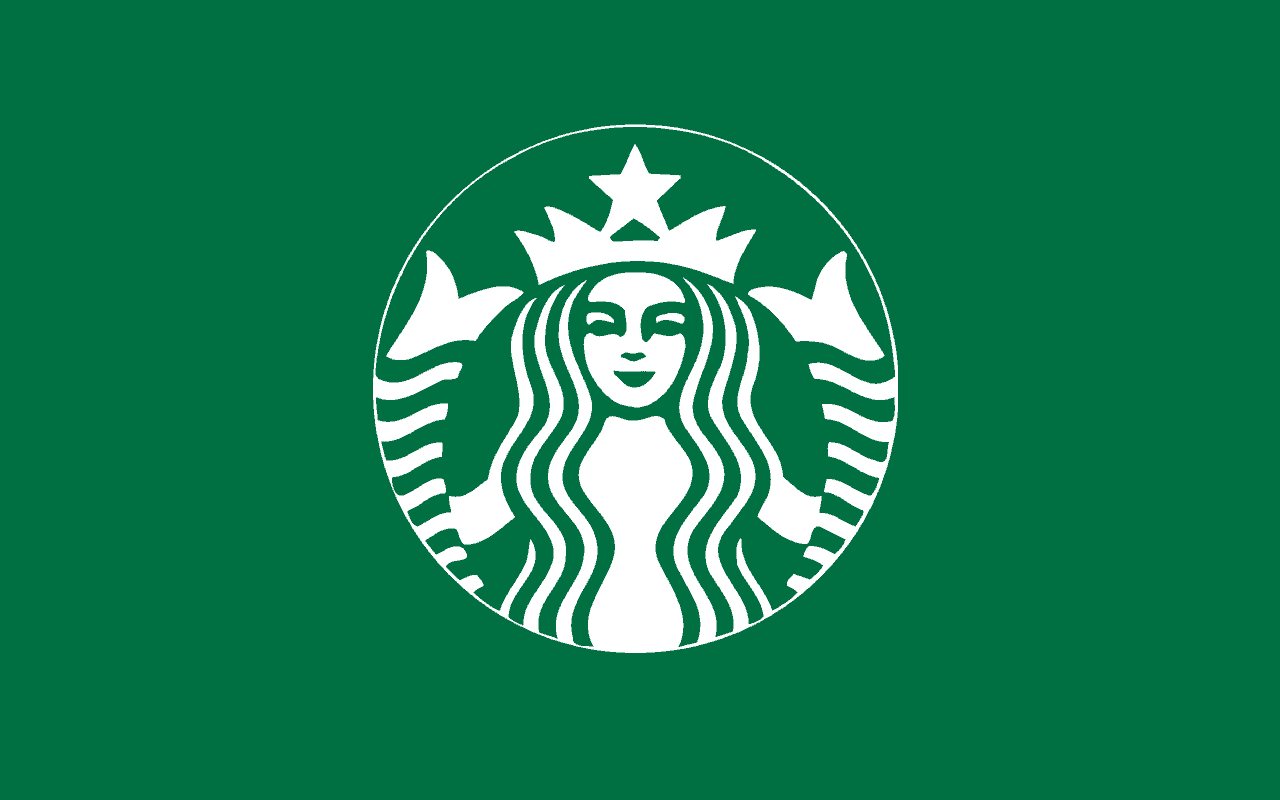 A brand name can provide something really powerful that people can trust, adore, and fully rely on. This phenomenon is understood as brand loyalty and if we ask what plays a vital role in making consumers loyal to the brand, the answer is something called 'branding'.
What is Branding
Somеtimes small businesses and startups underestimate the importance of branding but as we have already stated above, the purpose of it is to create a perception in a consumer's mind which they can positively associate with your brand.
Branding carries a message to existing and potential customers that a company takes its business ardently and is intended to keep all the commitments.
With an effective branding strategy, a successful company attracts the target audience towards its brand and these loyal customers become the brand's supporters. They share their opinion toward this brand with other people and their positive influence helps a company to grow further.
Branding isn't a new thing. It was originated centuries ago, around 2700 B.C. when farmers in ancient Egypt started branding their cattle to identify them. And the history of brand ambassadors goes deep into the centuries as well.
Admittedly, the classic period of brand ambassadors began in the 1800s, sparked by the rise of national and international companies like DuPont, Coca-Cola, Colgate, Remington, Brooks Brothers, Macy's, Cadbury, Harrods, Burberry, Mark and Spencer, Jack Daniels and many more. Hoping that this would help to spread the word, these companies sent free samples of their products to people which would be considered trendsetters and influencers today.
During the last century, brand ambassador marketing became one of the main staples in the process of understanding customers, and building and maintaining relationships with them what is marketing itself at a fundamental level.
Who are the Brand Ambassadors?
Today, brand ambassadors are responsible for ensuring that the brand stays visible and becomes esteemed among the customers. They are real people who use certain products of a certain brand, sincerely appreciate this brand, and believe in what this brand is doing.
They can be just loyal fans, partners, or company employees; the main thing is – these people are there to spread the company's message via social media platforms, networking, and off-line events, all because they want to see that their favorite brand succeed.
In today's world, fully changed by digital technologies, people are looking for authenticity more than ever before and it places brand ambassadors in a very special position. Ambassadors aren't trying to push anything on the people they communicate with – they are expressing their positive experience while being competent and informative about the brand.
Brand ambassadors aren't the advertisers who are addressing the target audience with imperatives: "You should try this!", or "You should buy that!" They are sharing their personal opinion about a product or a brand because they use the product themselves and believe it will benefit others.
As statistics show:
50% of purchase decisions happen due to Word of Mouth marketing
Up to 92% of consumers aren't keen on ads while trusting recommendations from friends and family
81% of consumers are influenced by friends' social media posts
70% of consumers read or view online customer reviews first when considering a new product
Also, 96% of the people that talk about different brands online do not follow those brands' direct accounts. At the same time, about 75% of consumers make decisions regarding what they want to buy through social media posts published by their friends, peers, and people they follow.
This clearly demonstrates the importance of brand ambassadors for activating new users and customers. Recommendations from real-life humans who use products in real life resonate with audiences much better than messages that are spread directly by a brand.
Now let's talk about what are the types of brand ambassadors. They can be categorized into the five most common groups depending on the brand and their experience regarding the product, their positioning corresponding to the brand's target audience, the level of their authority, and whether they've been hired by the brand on a long-term base.
Types of Brand Ambassadors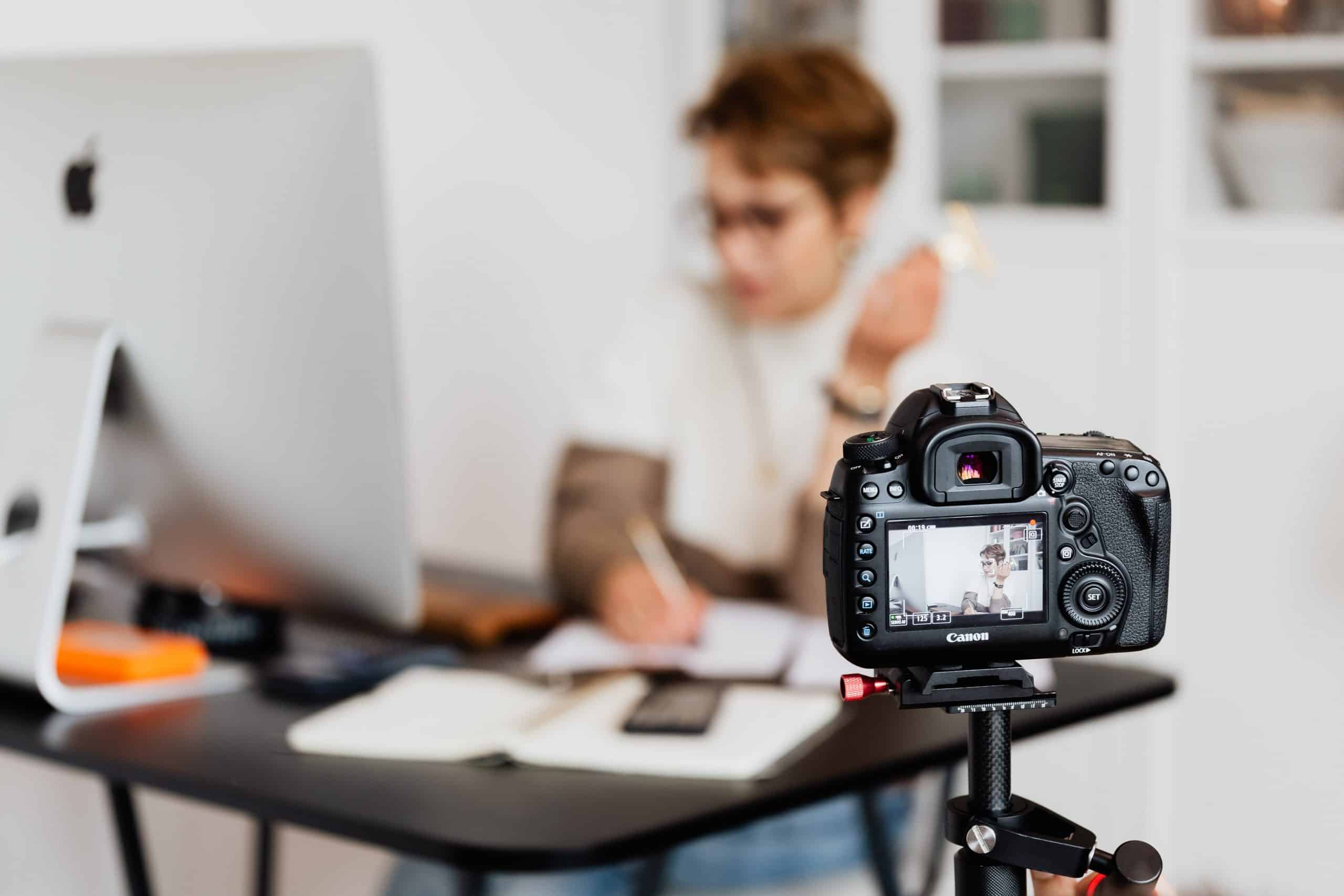 The Niche Authority
These brand ambassadors possess a high level of expertise which provides trust from their followers. Their audience listens to their recommendations and advice. Sometimes these brand ambassadors are experts due to their profession or specialization, but it's also possible that they have gained experience at some point in time and love to share it with their friends.
Here are some examples of niche authority ambassadors:
A ski instructor who promotes Smith Vantage Helmets
An ophthalmologist who recommends Alcon Dailies Total1 contact lenses to their clients
A cooking enthusiast who advocates for All-Clad pans and pots on their blog
A writer who uses Ulysses and keeps mentioning that it's the best app for creative writing out there
A drone pilot who serves as a DJI ambassador
The Peer Advocates
These brand ambassadors are the brand's existing customers who share their positive impressions about a product with people who have the same interests. Most commonly it happens via the Internet or on social media platforms. People, especially younger generations, trust recommendations from their peers and make their purchase decisions following such recommendations.
Here are few examples of peer advocates:
A girl who has acne problems and recommends Desert Essence Pure Jojoba Oil that is noticeably helping her to improve her skin condition to her Instagram followers
A teacher who tells other teachers why she prefers using Kdan's NoteLedge app for interactive mind-mapping
A fashionista who shares YouTube videos showing how she uses the Hermes Silk Scarves to compliment her summer outfits
The Enthusiasts
These brand ambassadors are very enthusiastic about the brand they love, willing to promote this brand for little to no compensation. They do it through social media channels, they talk about the brand's products with their friends offline, and they tend to leave very positive reviews about the products they use without entering into a formal ambassador agreement.
The Formal Ambassador
This category is formed by ambassadors who have entered into an agreement with a brand. Companies provide them with insider information, so these ambassadors get a better picture of the company's goals.
Usually, there is a written contract between a company and an ambassador that defines certain standards and rules to follow in representing a brand online or offline, but a verbal agreement is also possible.
For small companies and startups who intend to make such an agreement with prospective formal ambassadors and need to ensure that they are entering into a legally binding contract, we recommend using a reliable e-signing software to secure a contract and to be on the safe side of things.
The Employee-Ambassador
It's not rare when brands use their own employees as ambassadors. These individuals are equipped with tons of insider info about a brand they represent, so they can easily serve as brand authorities. All the while being able to answer any questions people may ask them regarding the brand's products.
Recruiting employees as brand ambassadors can benefit a company, especially a small one or a newly-formed startup. At the same time, brand ambassadors have to show an authentic affection for their brand and products, otherwise they may sound fake and too promotional, which isn't good for brand reputation.
So, companies should be careful when offering employees to become ambassadors. Only those who are truly committed to the brand can take that role and help a brand with creating a lasting brand identity and generating revenue.
If you're creating a brand-ambassador program for a bigger company, you might use an online application form to pre-select the best candidates across multiple departments or countries.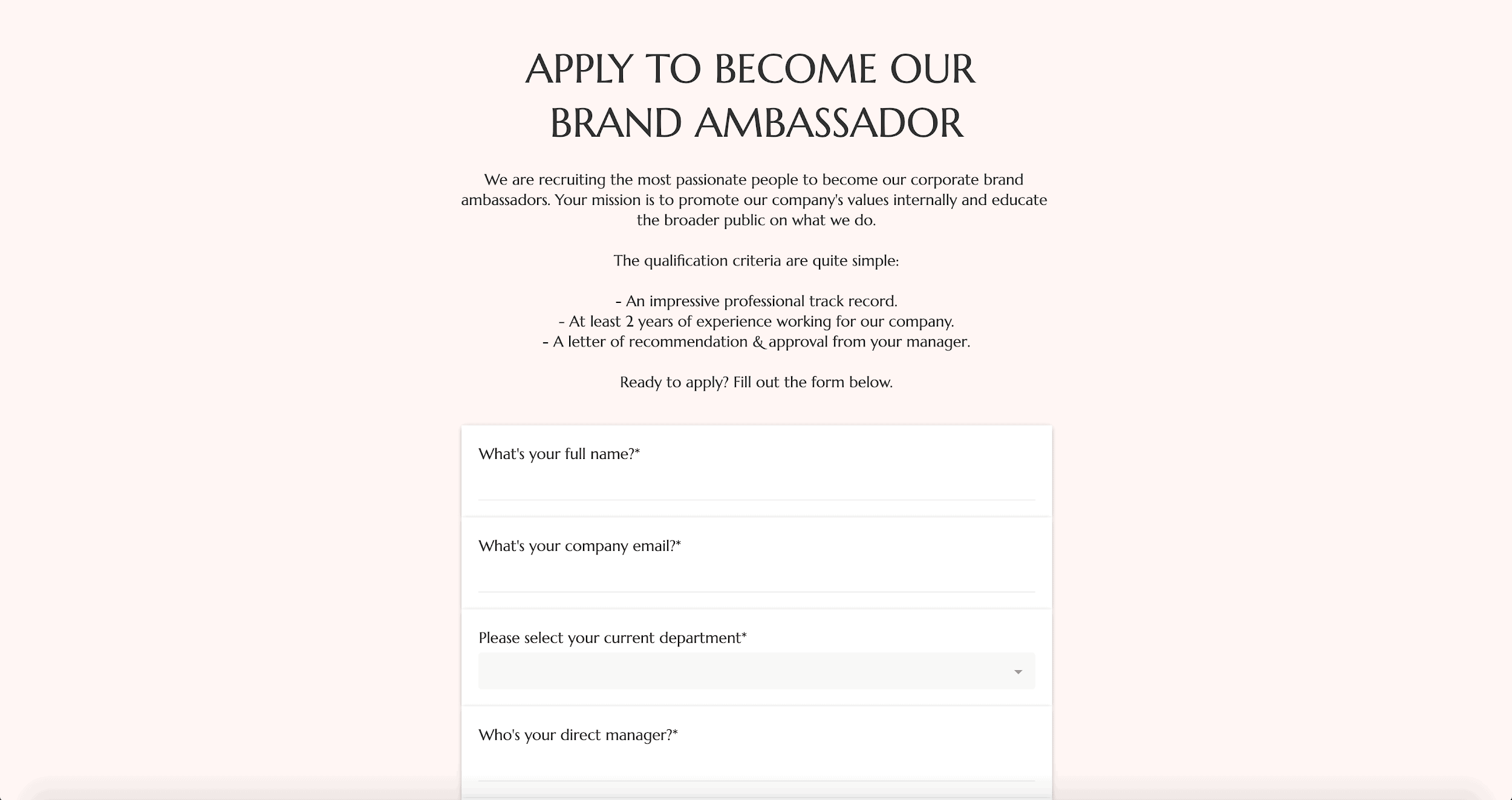 Source: Brand Ambassador Application Form
How to become a brand ambassador
Companies operating on a larger scale find organic ambassadors by using ambassador search software that makes it easy to find people that talk about certain brands online, leave reviews and share their opinion regarding different products on social media platforms.
Tools such as SocialToaster, Brand24, Awario, BrandChamp, or Zuberance come in very handy when a business is planning to start a brand ambassador program. Packed with advanced features, such software allows tracking an ambassador's performance and setting up point systems, which helps to pay brand ambassadors fairly for their work.
And for those who are interested in brands advocating and want to bring it on a whole new level, we recommend joining a platform like Brandpassador.
Since brand ambassadors are usually those who are happy to promote their favorite brands without compensation, just because they want to help these brands achieve their goals and be successful, becoming one isn't hard.
In a lot of cases, it happens naturally. If you have affection toward a brand and you really like their products, wanting to share your knowledge with other people, don't hesitate to talk about your experience, start a blog, or use your accounts on social media platforms to gush about certain products.
You don't have to be an influencer with plenty of followers in order to become a brand ambassador. Influencers may speak about a certain product once or twice being directly contacted and paid by the brand. Brand ambassadors advocate for a brand they love using their authentic perspective. As a result, they provide new and prospective customers with a compelling reason to trust this brand.
Becoming a brand ambassador is a great way to support what you love and we believe that you have what to share with the world in order to make it a better place for everyone.
[starbox]