The term "influencer" may seem like a buzzword that has taken the marketing world by storm. But the general concept is far from anything new. Since the creation of print and modern-day advertising, brands have used celebrities or models to be the face of their products. What changed, however, is how people consume media and it's essential for your business to adapt accordingly.
Unlike traditional advertising, where a model's job ends after posing for a spread or after the camera stops rolling, brand ambassadors and influencers have to engage in a conversation using their social media platforms. Consumers prefer influencer marketing because it's seen as more authentic. A post from an influencer has a similar effect as a word-of-mouth recommendation from somebody you trust.
But not all influencers are created equal. Marketing experts know that bigger (more followers) isn't always better when it comes to choosing an influencer for your brand. This is where nano influencers can come in. But before we get into what a nano influencer is, let's take a look at all the different types of influencers.
The different types of influencers
There are generally four types of influencers, categorized by their follower count and celebrity status.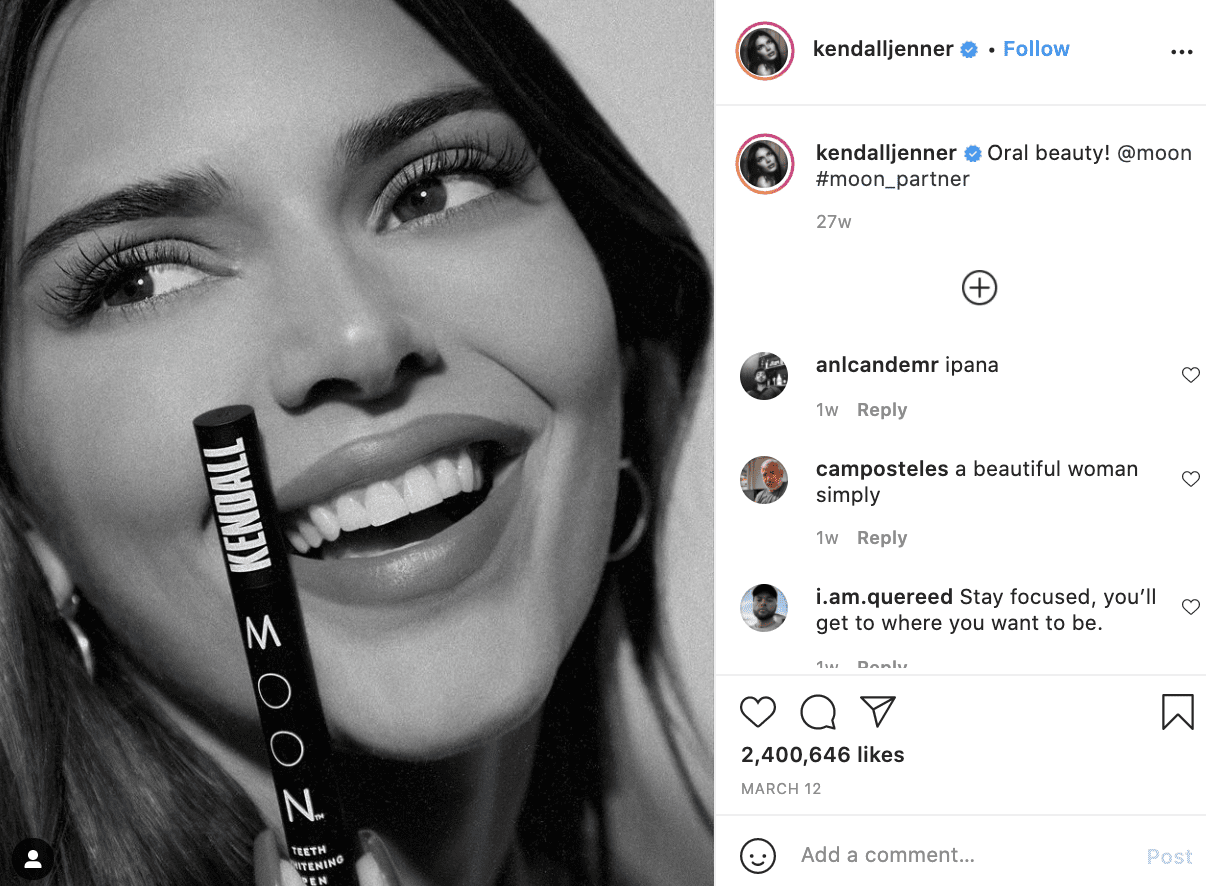 The mega influencer is your usual celebrities like Kylie and Kendell Jenner, whose follower counts are in the millions. More than anything, mega influencers are famous; brands hire them for their reach rather than subject matter expertise. Hiring a mega influencer could easily cost you millions of dollars.
Aside from having fewer followers (between 500,000 to 1,000,000) than a mega influencer, macro influencers usually gain their fame through the internet. These are your fashion bloggers like Amy Jackson (@fashion_jackson) and foodies like Jeeca of @thefoodietakesflight
Micro influencers are just like your macro influencers, only with fewer followers (between 10,000 and 500,000 followers). When deciding between the two types of influencers, it boils down to who your budget can afford you.
Finally, nano influencers have anywhere between 1,000 and 10,000 followers. They aren't necessarily "famous" or have the celebrity status of the three aforementioned influencer categories, but they're far less expensive to work with and tend to have a more engaged audience according to Dusan from VSS Monitoring..
Why go nano?
In terms of popularity and reach, it's easy to conclude that nano influencers have less star power. But when you're trying to sell products, reach shouldn't be your biggest concern.
Less cost
Face it, only big-name brands can afford to shell out hundreds of thousands of dollars to get a famous mega influencer/celebrity. You're looking at spending at least 600,000 thousand dollars per post if you want to hire some of the top names. What's worse is that people might not even believe that the celebrity actually uses your product.
Remember the Kendall Jenner Proactiv issue?
While the cost per nano influencer will vary, some of them will accept gifted collaborations. According to a report by Business of Apps, nano influencers can make between $10 to $100 per post.
Pro tip: To make the most out of your partnership, make sure to indicate on the contract that you should be allowed to re-use the content on your own social pages and blog platforms. When reposting photos on your feed, make sure to use photo editing apps like Instasize to make quick edits and apply filters that are on-brand.
More relevant to your audience
Most nano influencers are seen as experts in their chosen niche. Unlike celebrities who can endorse pretty much anything, the feed of a nano influencer is generally more category-specific.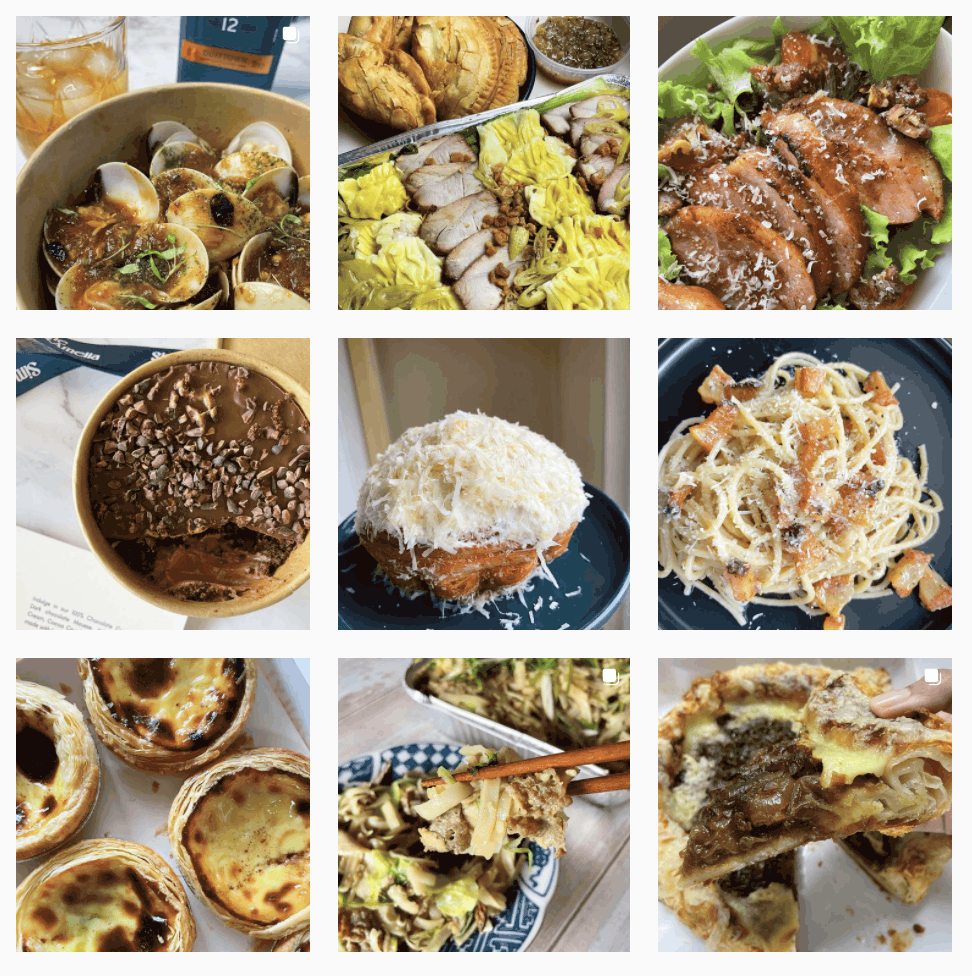 One look at Gia M.'s (@gmeatsworld) feed, and you'll know that she's all about food. So it's easy to conclude that her followers are in it for the food posts and recommendations.
Partnering with someone like Gia, whose feed is dedicated to a particular industry, will ensure that you're reaching the right audience. Because they are seen as an authority or expert in a particular field, their reviews are given more value than those by a regular content creator with a lot of followers.
Engaged followers
Nano influencers still have time to respond to comments and engage with their followers one-on-one. The lower follower count has its advantages as it's still possible to go through each direct message and comment without the need of a social media 2manager.

According to a recent report by HypeAuditor, nano influencers have higher engagement rates compared to other influencer categories. This has been consistent through the years and shows that they are more connected with their audience. As a result, posts by nano influencers have better chances of appearing on people's Instagram feed, organically.
They're relatable
Some nano influencers are actually just regular people with a bigger-than-average network. Think about that one friend you have who's always on top of the food trends or your co-worker who knows where all the best thrift shops are.
These people are "influencers" without even knowing it, and maybe they created an Instagram account without the intention of becoming famous. To their followers, they are just a friend or a relative — and that's a great thing!
Consumers crave authenticity. That's why influencer marketing has become so popular. But it becomes counterproductive when posts are obviously sponsored.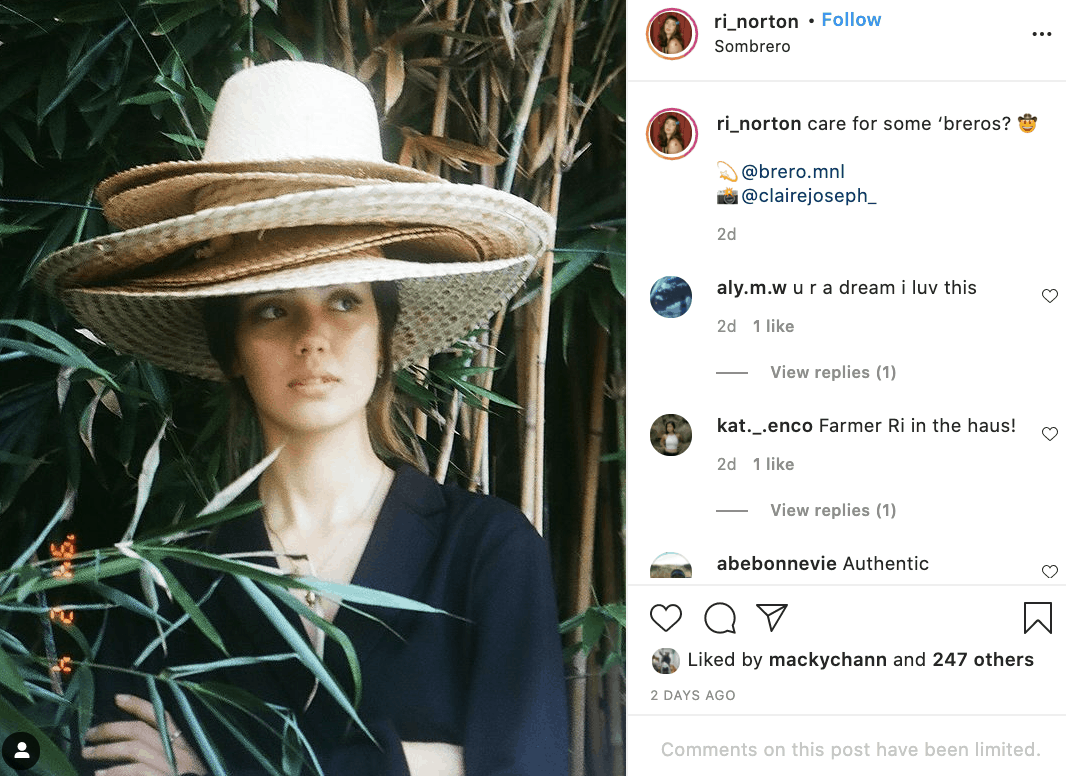 With a little over two thousand followers, Riri (@ri_norton) can be classified as a nano influencer. Even before brands started tapping her to model, her feed already looked like a sunny fashion spread. That's why every time she has a new brand partnership, it doesn't feel like a break from her regular posts.
Be the first
If you want to tap someone with a large following, chances are a competitor already found them first. The beauty about working with a nano influencer is that their voice is still fresh and their followers will still be all ears.
Unlike partnering with someone who's a veteran in brand partnerships and sponsored posts, a nano influencer can still appear genuine.
Pro-tip: Provide a brief for posting but make sure you don't take away the influencer's style — their audience will be able to tell the difference.
On the other hand, supporting anyone before they hit it big has its own set of advantages; they tend to remember who was there from the beginning.
They're easier to reach
Most nano influencers would handle their own social media accounts, which means reaching out to them can be as easy as sending them a direct message or an e-mail.
In contrast, it can take you months to get a response from a high-profile influencer. Not to mention the struggle of finding a legitimate way of contacting their agent.
If you want to launch your influencer marketing campaign ASAP, then it makes more sense to work with nano influencers. If you have enough budget to spare, it's a great idea to partner up with multiple influencers.
How to find a nano influencer
The thing about searching for nano influencers is that you probably don't know who they are; they're not exactly famous. But there are a few things you can do to help you find them.
Follow industry-specific hashtags – On Instagram, you can follow hashtags related to your business. For instance, if you're looking for a nano influencer to post about your vegan snacks, you can follow top hashtags such as #veganforlife, #plantbased, #healthyfood.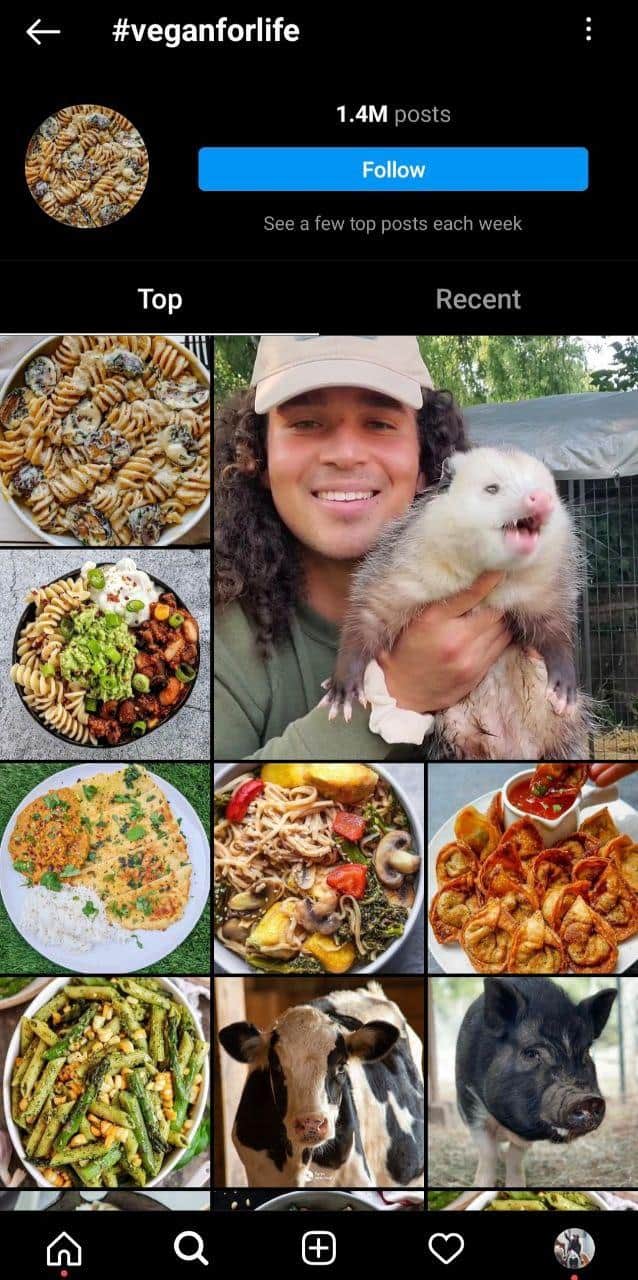 You can also search for popular hashtags, the results will show you the top posts with the most engagements as well as the most recent post.
Some nano influencers who are looking for more followers and brand partnerships may use the hashtag #discoverunder5k. Browse the results of your search to find an influencer who best fits your niche.
Use social listening tools – Social listening tools can help you find people who talk about certain topics and products related to your brand. These tools allow you to follow specific keywords so you can see what people are saying on social sites.
Some tools can also pull up comments or content from any public websites and forums, in case you want to expand your influencer campaign beyond social media.
Use social media marketing proposals – it's a great way that will not only help you to get an engaging presence on major platforms and make sure you're seen by as many potential customers, but also to follow through with content that will keep them coming back to view new posts from their favorite brands
Ask family or friends – There's no better way to say it — shopping for influencers is like shopping for products. Word-of-mouth is your best bet, especially if you're just starting. It's safer to get a recommendation from a friend rather than just taking your chances with a stranger from the internet.
Everyone knows someone semi-famous on Instagram you might even know someone personally!
How to choose a nano influencer
One of the challenges of working with a nano influencer is there are limited ways to determine their effectiveness. Most of the time, when you're working with someone with just a few thousand followers, you might be one of the first brands to reach out to them.
Factors you can consider before deciding on someone is their engagement rate versus follower count. Check out the average number of likes and comments they get per post and if they respond to comments. The average engagement rate for nano influencers on Instagram is 5%, so if you can find someone with anything above that, that would be great.
Aside from choosing a nano influencer who shows some sort of authority in your niche, It's also important to work with someone whose individuality aligns with your brand identity.
Since some of these nano influencers do not treat their social media account as a business, chances are they will use that same account for personal posts. Do their beliefs match yours? For example, can you work with someone with opposing political beliefs?
A little Instagram sleuthing will help you determine whether an influencer is a good fit.
As a long term plan, networking consistently and continuing to build rapport with these nano influencers can lead to the best outcome for your business. The help of a CRM system will enable you to engage with your priority influencers efficiently —you want your interactions with them to be relevant and personable, while also making sure that you're using your time wisely and achieving your objectives.
Working with a nano influencer
Collaborating with an influencer is not just about getting them to post about your product. Depending on your business goals, there are different ways you can choose to go about the partnership:
Product reviews
Unlike their more famous counterparts, nano influencers aren't typically spoiled with free products nor is content creation their main job. That's why most of them are more than willing to post an honest review of your product for free.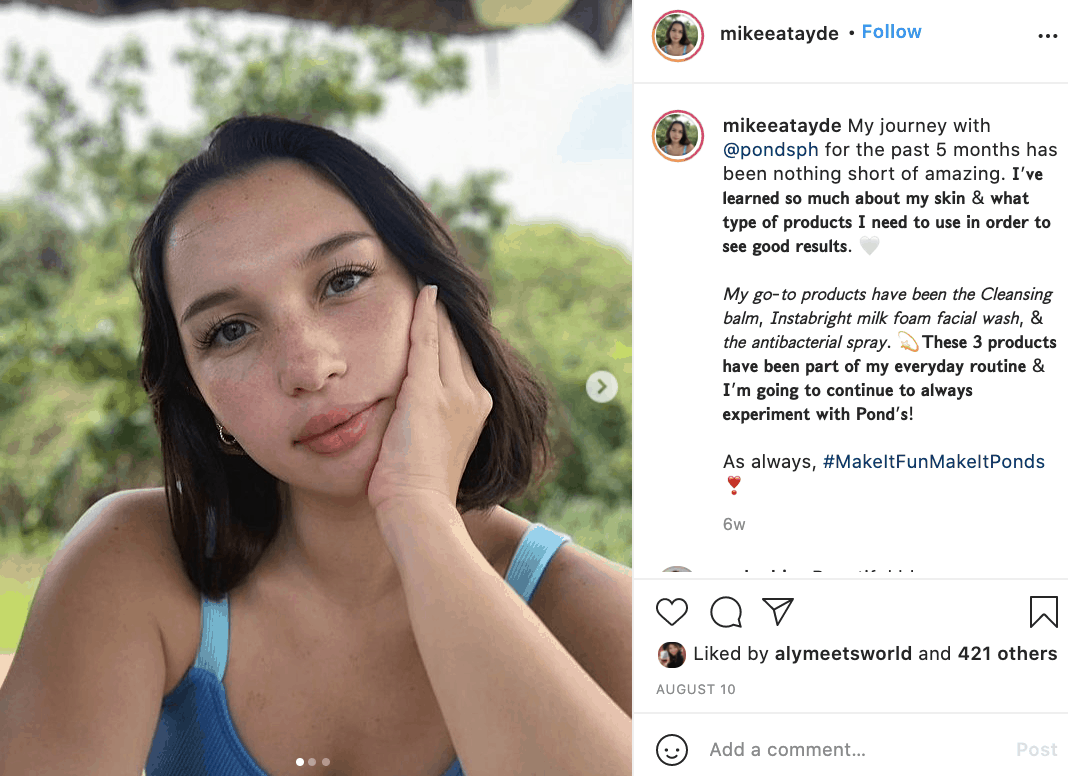 Mikee (@mikeeatayde), a nano influencer from the Philippines, regularly posts long and honest reviews of products that brands send her. Brands like partnering with Mikee because her posts are well thought out and she obviously takes time to use the product.
Product reviews and live streams are great alternatives to the regular product shots or flat lays because the influencer actually has to sample your product before posting, making it more unscripted and believable. It can also answer any possible questions potential customers may have before they decide to purchase your product.
For results that outlive the campaign, you can even ask the influencer to add a product review post to their blog or website.
Either way, it's best to tap an influencer who is a known expert in the industry you are part of because people are more likely to trust their opinion.
How-tos/experiencial videos
How-tos is the most popular video category and it's definitely a great content piece to consider for your influencer partner.
How-tos don't have to be limited to technical products. For example, if you are a clothing company, you can partner with a style-focused influencer who can shoot an "X Ways to Style [Product Name]" video.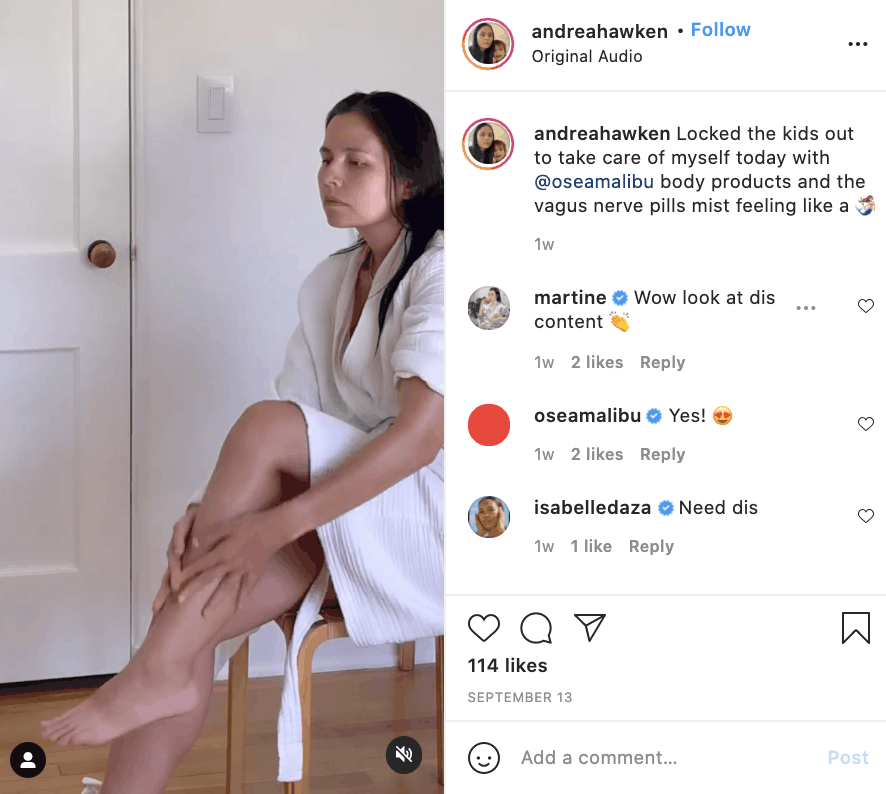 Andrea (@andreahawken), shows her 7,000 plus followers how she unwinds with the help of a product sent by OSEA skin and body care. The brand likely partnered with Andrea because of her active social media presence and the fairly high number of engagements she gets even on her regular posts.
Keep in mind that videos get up to 10 times more engagement than any other media format on Instagram. When possible, video is the way to go.
Unique discount codes
Everybody loves a good deal or giveaway and if you want to spread the word about your upcoming promo, you can do it with the help of a nano influencer.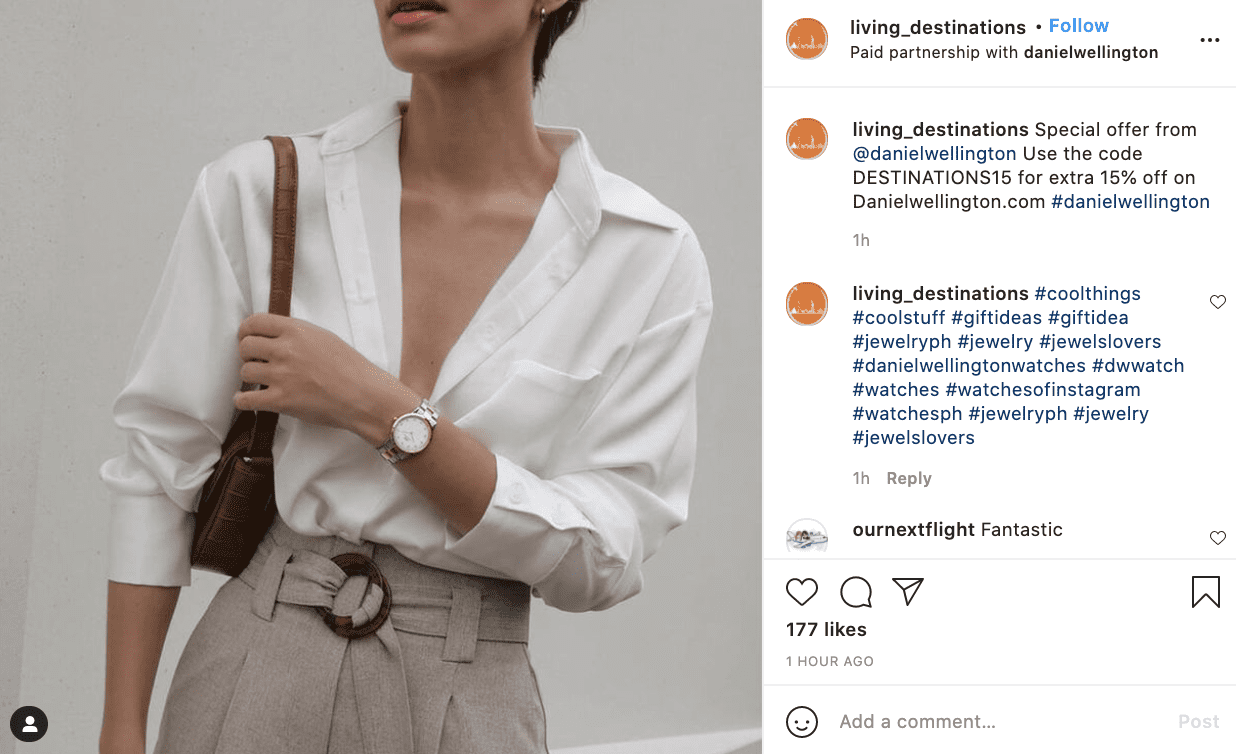 Watch brand Daniel Wellington (@danielwellington) achieved viral success thanks to its partnership with all kinds of influencers from all over the world. What the brand did was simple: they gave free watches in exchange for a post.
Wrap up on nano influencers
Things have changed — you don't need to pay for big recognizable names to get noticed and reach your target audience. With a number of reliable nano influencers on rotation, your brand can quickly get noticed by the right people and cut through the noise of your typical hard-sell advertising.