There are currently 3.78 billion social media users worldwide — that's up 5% from a year ago (Oberlo).
Social media is only becoming a more prominent feature in people's lives, and in the business world, which means a large proportion of web traffic tends to come from social platforms.
And it's never been more important to get more social media traffic.
So, your company needs to harness the power of social media if you want to drive plenty of people to your site and make more sales.
It's important that you set yourself effective but manageable social media goals. And, here, I'm going to outline how you can optimize your online activity to send more visitors to your website.
Let's dive in.
Make sure your bios include the most relevant links
As a business owner, you'll have a lot going on and will be managing a lot of social media accounts. But, it's important that you still make an effort to keep all of the links in your social media bios up to date.
This is easy to forget, but outdated and irrelevant links left in your bio can prevent you from sending high-quality traffic to your website. So, check your social media bios regularly to ensure that all of your links are up to date and relevant. It could help to set a monthly reminder on your calendar to do this!
A lot of businesses will simply leave their homepage URL in their social media bios, but you might want to switch it up every once in a while if you're pushing a particular promotion or event. This can be a very effective way to drive people to the most important page of your site at the moment, but you do need to stay on top of this to ensure outdated links don't stick around for too long.
Bulk.ly has some great Instagram bio ideas that are well worth checking out if you would like to learn more about optimizing this aspect of your profile. They offer tips on profile pictures, hashtags, brand personality, and more.
Use social platforms to promote your helpful blog content
You should regularly be providing your existing and prospective customers with value through helpful blog content. This will help viewers to see you as an expert in your field, boost your customers' brand loyalty, and drive more high-quality and organic traffic to your site.
And, once you publish your blog content, you should ensure it reaches the right people by sharing it on your social media accounts. Here, I'll take you through some of the main types of helpful blog content you should promote through social media to pique people's interest and direct them to your site.
How-to guides
These guides do just what it sounds like: they show you how to do something. It could help to check in with your customer service team to see if they frequently get questions on how to do something related to your product or industry. Creating blog content inspired by these topics will not only be helpful to your customers, but it will save your employees time, too.
How-to guides are great for sharing on social media because they address customers' pain points and show them that you know how to help. So, they'll be likely to click through to your site to find the solution they've been looking for.
Question-based content
As well as addressing your customers' pain points with how-to guides, it's a good idea to create question-based content that will answer their most pressing queries. Sharing these blog posts on your social media can then drive plenty of people to your website.
To find out which questions you should be answering with your blog content, it's a good idea to conduct some keyword research. AnswerThePublic is a great tool for this. Come up with a list of topics you're considering writing about, plug them into the tool, and they'll provide you with a series of questions people are asking on the topic. You can then create content to answer them and share this on your social media channels to get plenty of clicks through to your site.
Buying guides
If you sell a number of similar products, or you want to show people why your items are better than your competitors', creating buying guides is a great option.
These are particularly great for sharing on social media as they aim to help your prospective customers to make the best purchasing decision to suit their needs.
If someone has been thinking about buying any of the products you sell, they're likely to be tempted to click through to read your buying guide, and this could then lead to a sale. Just make sure your buying guides are more informative than promotional — nobody wants to feel like they're being sold to.
Provide a sneak peek of behind-the-scenes content
Your followers and customers are likely to be curious about the behind-the-scenes of your company. Not only is this type of content interesting to a lot of people, but it humanizes your business and will encourage people to click through to your site.
By sharing snippets of behind-the-scenes content on your social media and asking your followers to click through for more, you can drive more traffic to your website and ultimately boost your sales.
Meet the team features, "day in the life" videos, production blog posts, and more are all great ways to show behind-the-scenes. When posting on social media, consider highlighting just a snippet of your content rather than the entire behind-the-scenes feature; this will encourage people to click to your site to learn more.
Let's look at a few examples of companies that do this well.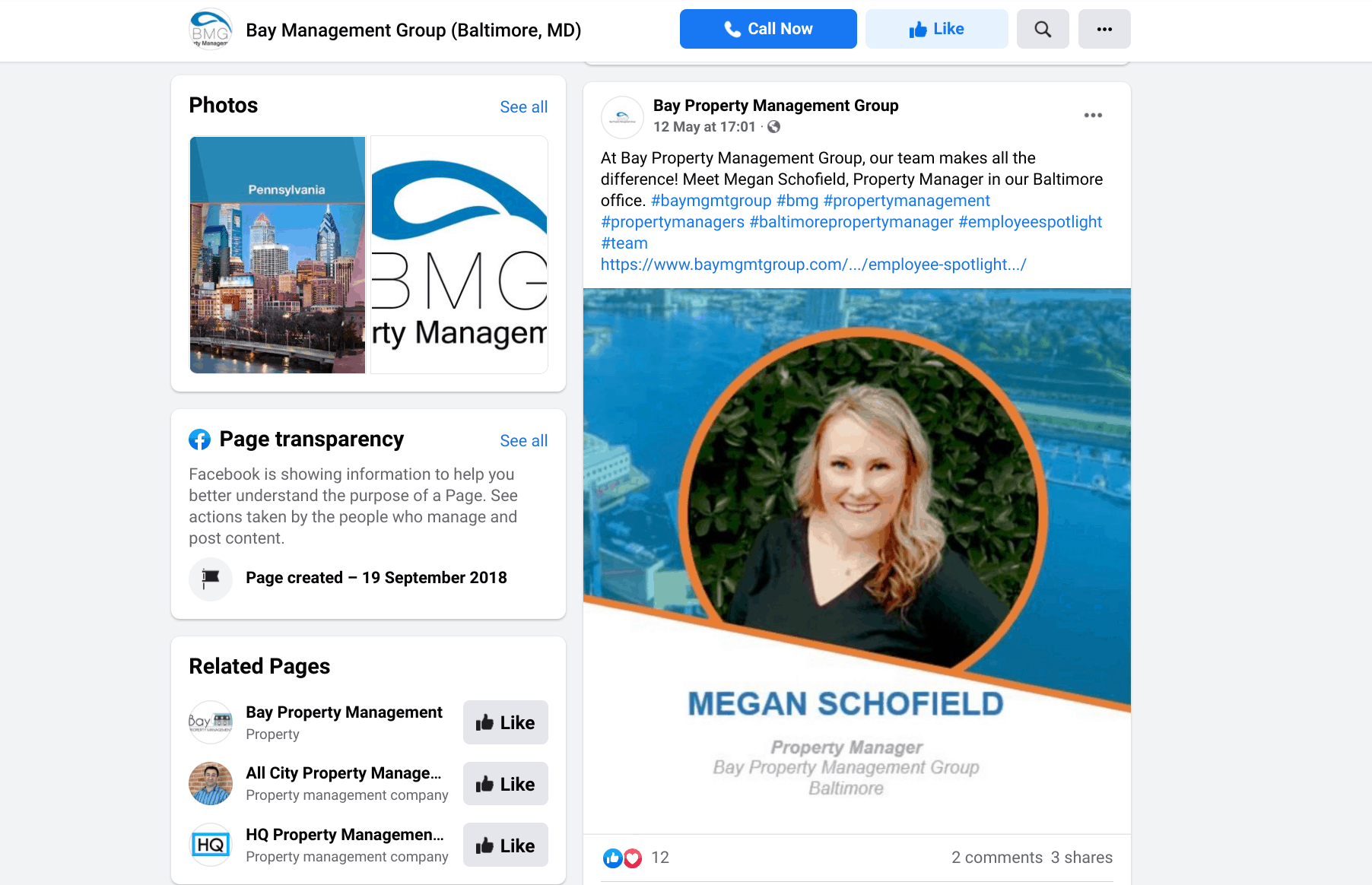 Bay Property Management Group is a real estate and property management company with multiple locations across the east coast.
They make sure to build strong connections with existing and prospective customers by introducing their staff members through social media. They attract people's attention with a photo and some basic details about the person they're talking about today, and then ask their followers to click through to learn more about them.
The company regularly provides these "employee spotlight" features, and this is something you could replicate to drive more traffic to your company's site, too.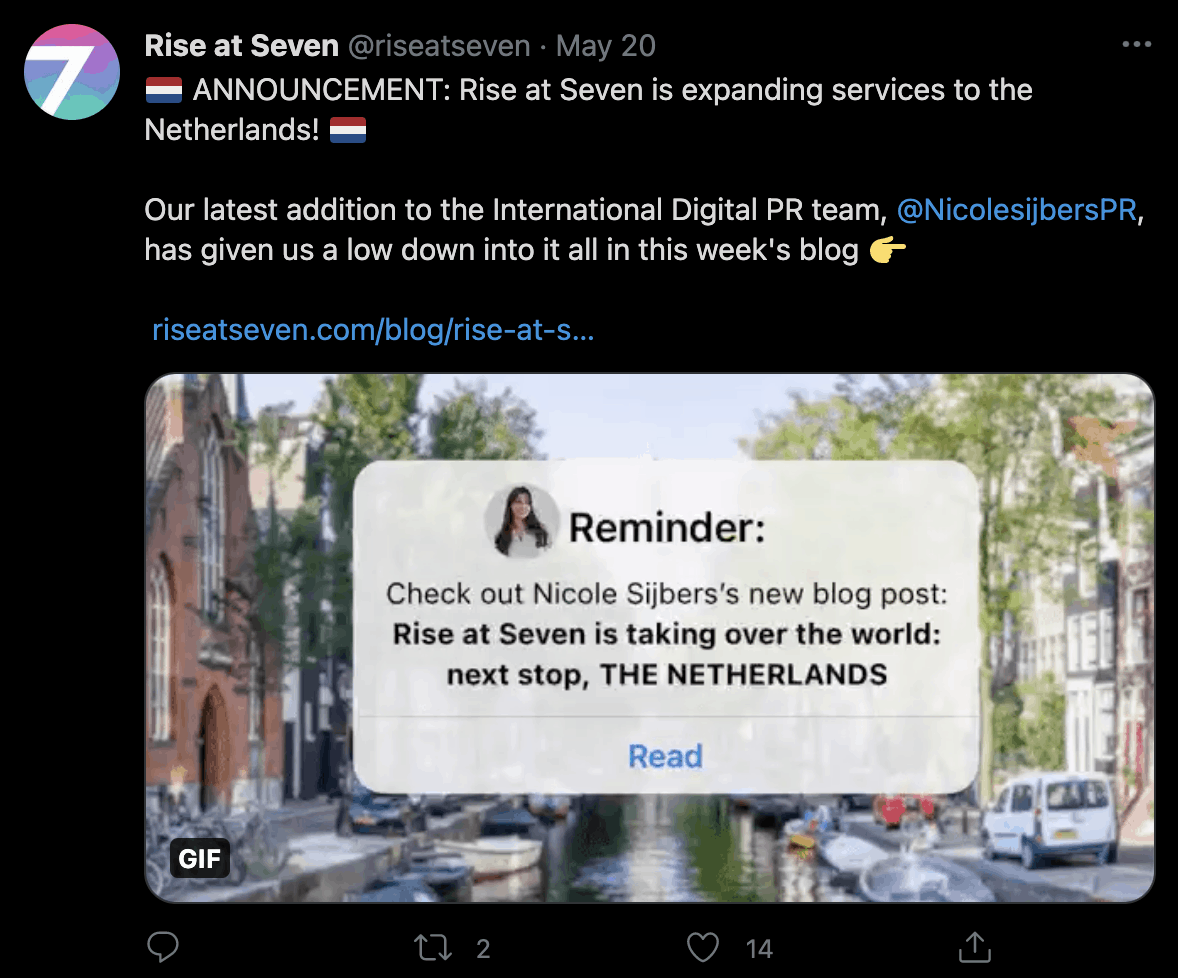 Rise at Seven, a digital marketing agency, also gives a behind-the-scenes sneak peek of their expansion on their Twitter page.
They tease their followers here, noting that they'll be expanding their services into the Netherlands and offering a link to where they can learn more.
This is particularly effective due in part to the design of their attached GIF. It reads like a pop-up on your phone would, making it stand out from a lot of the text-based Tweets you'll find online. Twitter is an excellent space to give your readers a preview of your content, ultimately leading to a longer website article they'll need to click through to see.
Give people a reason to shout about your business
If you can give people a reason to talk about your business on social media, this will raise awareness of your brand, attract more followers, and drive more traffic to your website.
There are a ton of different ways you can do this, both by yourself and with a brand as a partner.
Think giveaways and contests, passing out awards, rewarding customers with free gifts, and encouraging your customers to share their positive experiences with your brand.
Let's look at a few examples of companies that do this well for a bit of inspiration.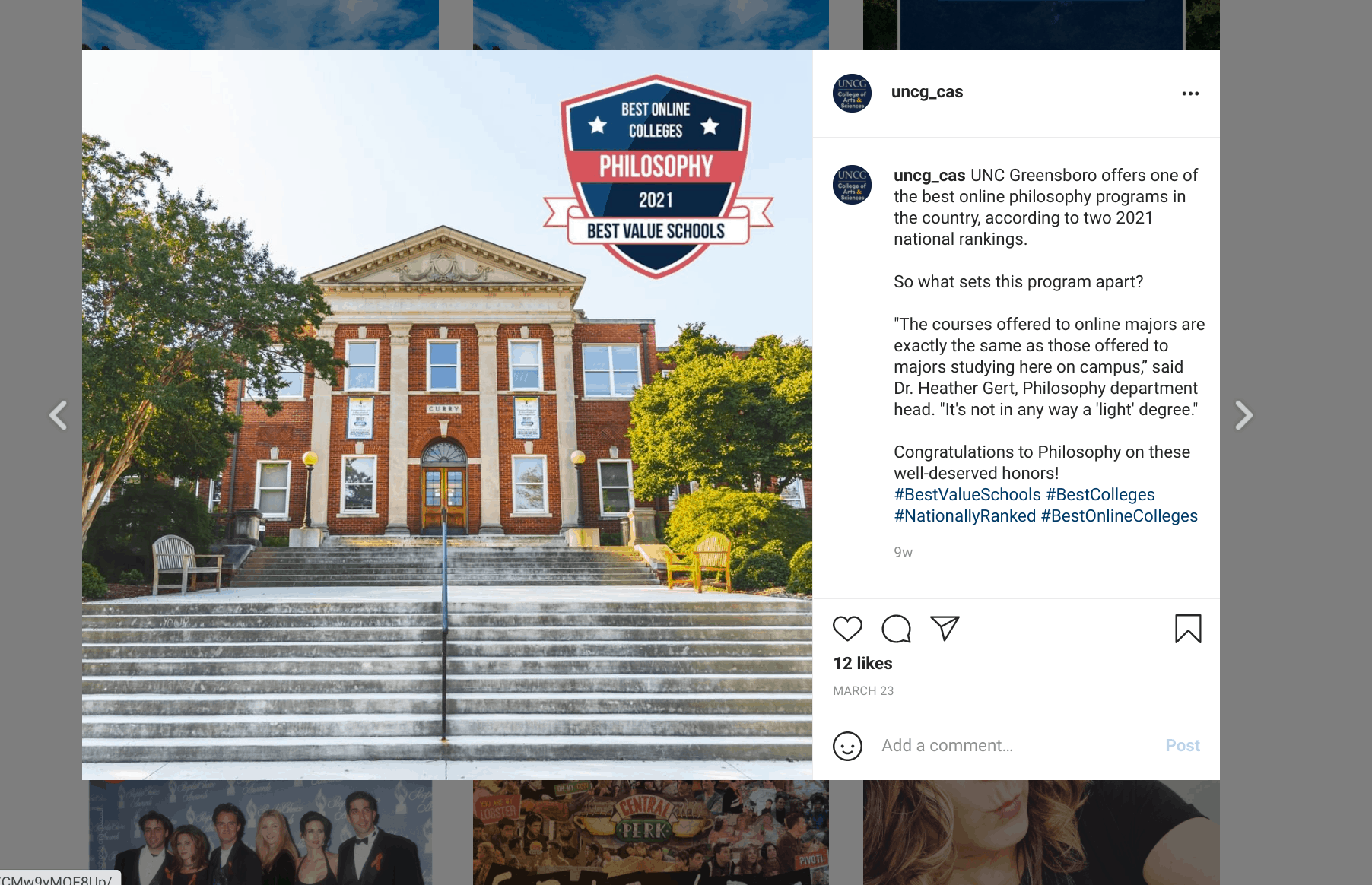 Best Value Schools is a great example, as they offer awards and badges to eligible schools that are featured on the lists they publish.
Many of these universities tout their achievements through social media posts with an attached badge. Not only is this good for the school, but it's also great for driving traffic to Best Value Schools.
If prospective students see this badge on Instagram, they could be encouraged to browse the source website for other highly ranked universities.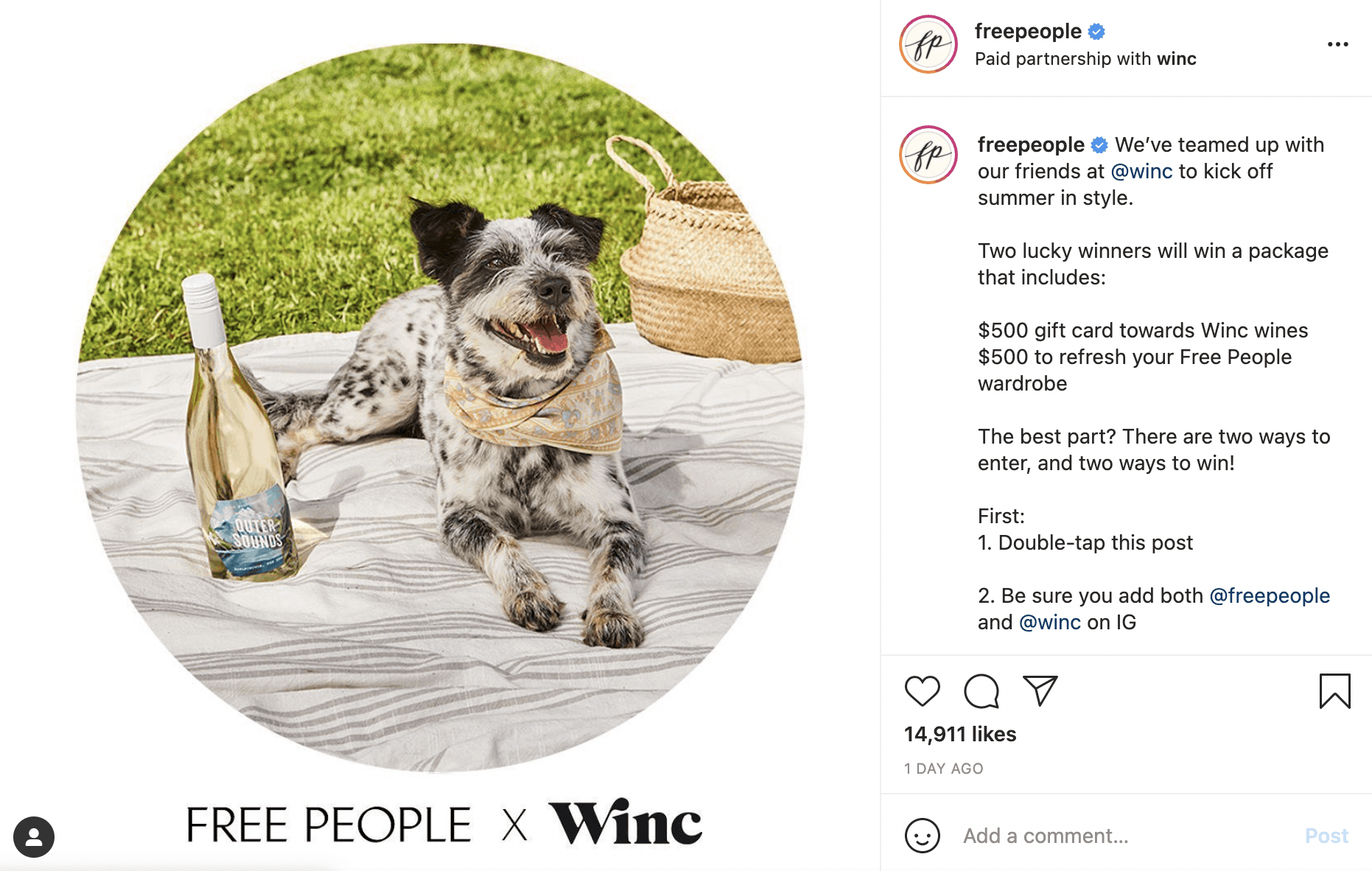 Free People, a women's boho clothing retailer, has also given people a reason to shout about their business on Instagram.
They partnered with Winc, a wine subscription service, to give away $1,000 in cash prizes. And, all a viewer has to do is like the post, follow Winc and Free People, and tag two friends in the comments.
It's simple, a great way to get engagement, and will help more people learn about their brand, which is likely to drive traffic to the company's website.
Focus on sharing visual content
Did you know that Facebook posts with images get 2.3 times more engagement than posts without images (Buzzsumo)? To stop people from scrolling and convince them to read your post and click on your link, you need to focus on sharing and creating visual content.
Any image you attach to your social media posts should be clean and fit with your brand. If you're pressed for time or don't have a lot of resources, stock images can work, or you could add your logo and some stats to give them more context.
Otherwise, infographics can be a great option for sharing facts and figures from an experiment or case study. Think about all the colorful infographics you've seen shared on social media in the last year or so. They're eye-catching, engaging, and break down information in an easy to comprehend way.
You can also share original images (as seen above, for instance, in the Bay Property Management example) or short videos on your Instagram story. These examples are so effective because they draw the viewers' attention without needing them to invest in reading something like a long article.
If you need help with social media graphic design, Bulk.ly has you covered. In their guide, they talk about creating templates, utilizing color, and more.
Create and share free tools that provide value
If you can create free tools that provide value for your target audience, share them on your social media profiles! You'll be able to drive a lot of traffic to your website. After all, who doesn't like free stuff?
There are lots of different types of free tools you can publish on your website, but different ones will be better suited to different types of businesses.
If you have a way to streamline a process for your target customer, you could provide them with a checklist or a reusable template, for instance. If you run a retail store, a virtual try-on feature can help your customers to see what your products would look like before they buy them.
Or, if your business does a lot of number crunching, it might be helpful to provide a calculator to solve a specific problem your customers have.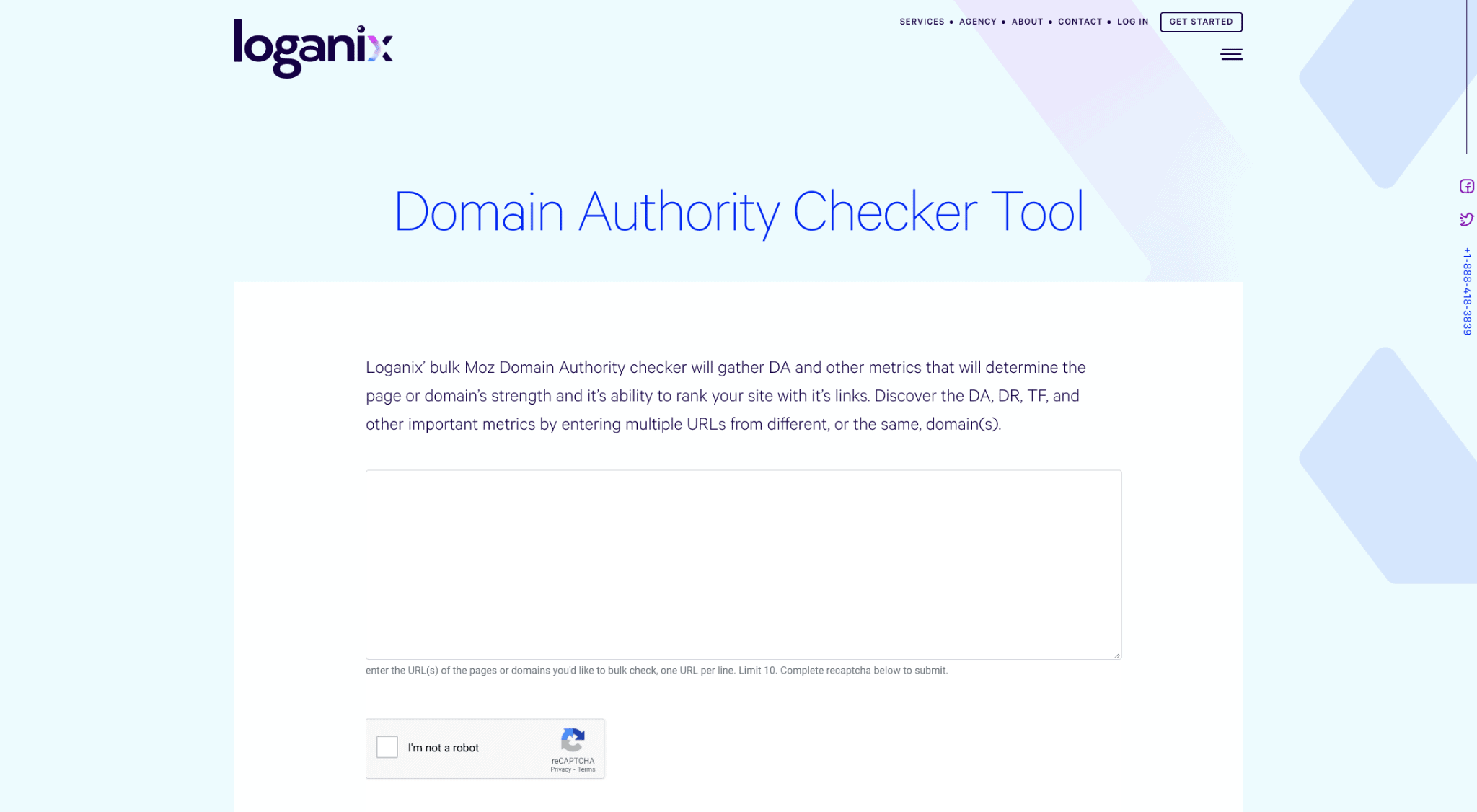 For instance, Loganix's audience primarily consists of digital marketers and business owners. So, they're created a free domain authority checker tool to draw these prospective clients in.
Domain authority is a metric that tells you how authoritative a website is, and therefore how likely it is to rank highly on the search engine results pages. So, this could be incredibly useful for their ideal customers.
This kind of tool is great for sharing on social media, because it provides real value, helps to show off what Loganix does, and will convince people to visit the company's website. Additionally, the fact that it's free makes it non-committal, which increases the chance of people clicking through even further.
To get the best results when sharing your free tools on social media, it could be helpful to share an image of your template, or a GIF or short video of how your calculator or try-on feature works. This gives the viewer an idea of what to expect and helps draw them in.
Optimize your content for each platform you use
A lot of companies make the mistake of copying and pasting their social media updates onto different platforms. But, to drive the most (and best) traffic to your website, you need to gear up your marketing by optimizing your content for different social media platforms.
Instagram, Pinterest, and TikTok, for instance, thrive using visual content. So, be sure that anything you post on these platforms is appropriately visual and engaging.
Twitter, while you can add photos, is mostly text-based. Consider keeping things simple there with text and hashtags. Twitter will often pull through an image when you add a link to your posts, too, so you don't have to worry about sourcing additional imagery.
Facebook is a good baseline program, as it has by far the most users. Keep your posts short and sweet! Similar to Twitter, Facebook will usually pull an image from the URL, as well, meaning you don't have to find additional images.
Final thoughts on social media traffic
Social media is only becoming an increasingly important element of today's marketing landscape. If you're going to stand out, you have to be posting on social media regularly in order to get more traffic to your website.
Looking for a social media management tool to help you put these tips into action? Bulk.ly can help you automate your social media management, schedule posts in advance, assign hashtags, and so much more – all to help you get more social media traffic.