A picture is worth a thousand words. That's true for life and for social media! Oh, wait, today, a big chunk of life is also lived on social media. And, this is why both B2B and B2C brands try to have meaningful conversations through images with leads on there.
Let's face it! Personalized and optimized social media image sizes cheat sheet is a conversation starters, more so than text. When you take pains to create great visual content on social media, your page stands apart from the competition, and prospects are interested enough to follow you.
So, the very first element to look at when creating, selecting, or repurposing images for social media is its size.
Why Must Businesses Get Their Social Media Image Sizes Right?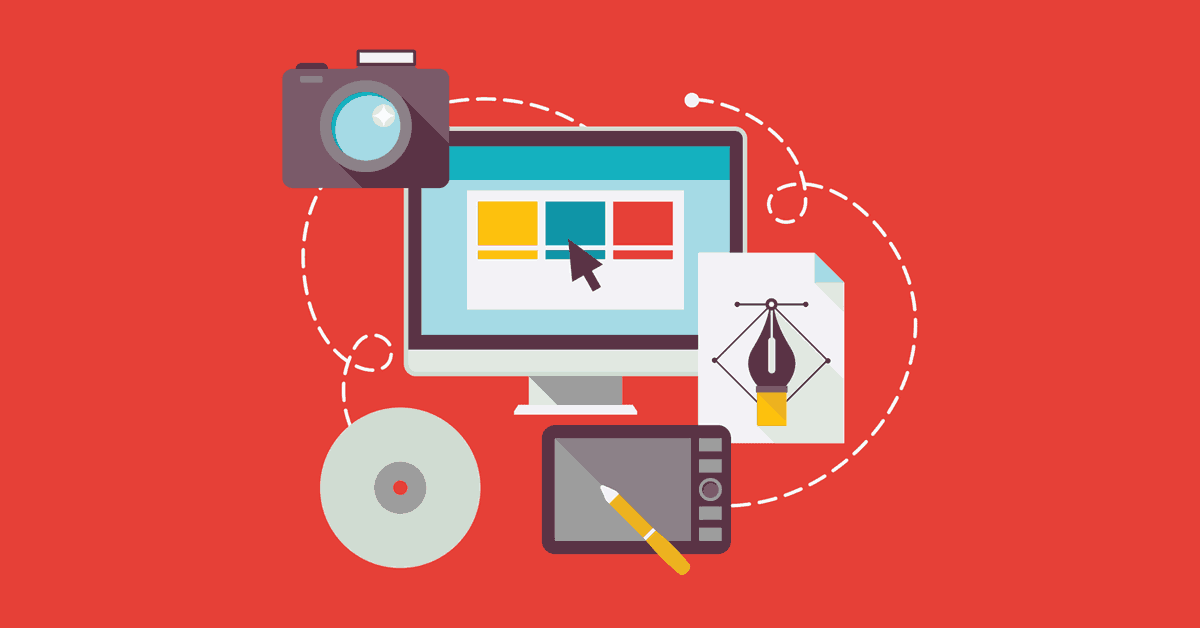 Source: Bulk.ly
What's the point of creating relevant and engaging visuals when you don't showcase them right? Your social media images must fit perfectly into the varying dimensions requested by different platforms.
What's more, within each platform, several sub-tools come with different dimensions. And you need to consider these as well for effectively displaying social images!
For example, Instagram has unique ideal image dimensions for your Feed, Stories, Reels, and IGTV. An image that is clearly and fully visible on Insta Feed might get cropped on Insta Story.
Here are four other reasons why getting your social media images sliced and diced the right way is incredibly important:
If you've not paid special attention to image size, your file may awkwardly overstretch and get pixelated. This would make your brand page look unprofessional, and certain leads might even think of it as a duplicate or spam page of your brand.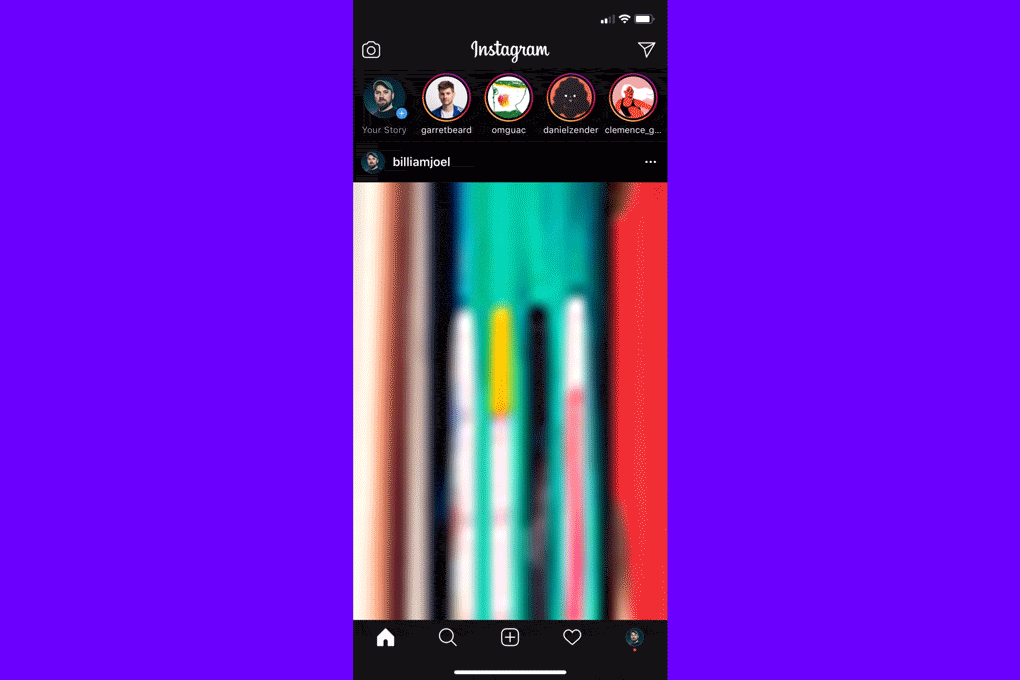 Source: The Verge
Adjusting imagery for each platform will ensure your audience sees the entire picture. This is especially useful if you've launched a new product or are extending a flash sale or limited-time offer. Incorrect sizing can cut off critical brand messaging.
Even otherwise, why wouldn't you want your images to display fully on different platforms? Perhaps some prospects engage better over the best size for Facebook posts and stories, while others enjoy looking at images on Pinterest. Both formats have very different image dimensions.
The right image size fortifies your content, makes it more self-explanatory. When target audiences see consistently clear and complete imagery on diverse social media channels, they already know what your offering does. This means less work for your brand when it comes to communicating what your product is.
How to Ensure Your Social Media Images are of the Right Size?
For starters, you must study the different image dimensions of various social media platforms. Know that every social share image size channel within itself has diverse image dimensions. You must check for all of them. This blog aims to help you with the same.
Once you know the ideal image sizes prescribed by these platforms, begin resizing your image. The best tool to do so is Adobe Photoshop. If you don't know how to use it or don't have this tool in your kitty, fret not!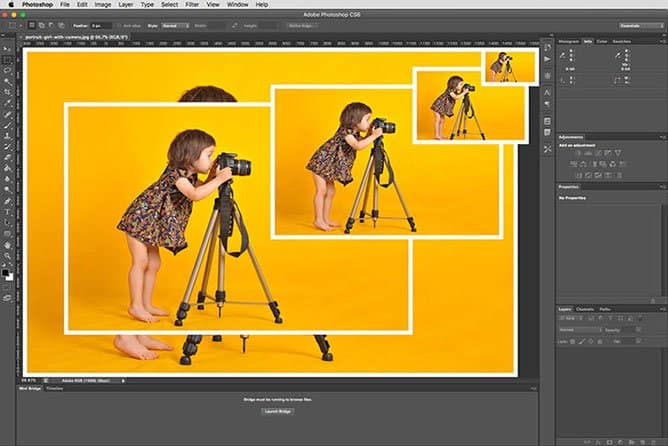 Source: Shutter Buggs
We merely suggested Adobe Photoshop, as you can also add great effects along with resizing images here. However, you can easily resize images for your social media account by using any image resizing or editing SaaS app online.
Which Social Media Platform Image Dimensions are Discussed Here?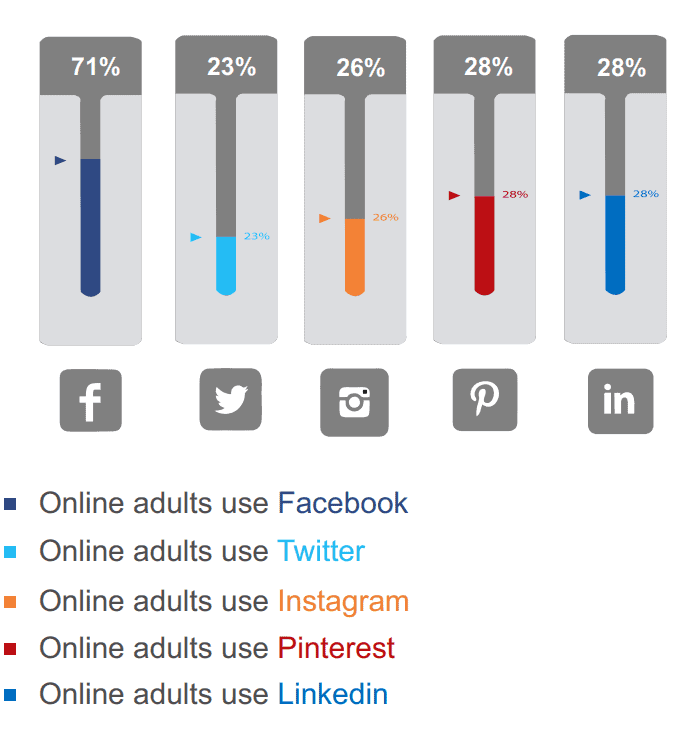 Source: Lake B2B
While there are many big and small players when it comes to social media networking, we are discussing the following five in this blog:
Facebook
Instagram
Twitter
LinkedIn
Pinterest
These five platforms are the most popular when it comes to generating leads via social media marketing. If you don't already have a business presence on these channels, it's high time you start! Create your business page on all five of these channels, and include custom-sized imagery for all.
Ideal Image Sizes for the Top-Rated Global Social Media Networks
Before we begin doling out the ideal sizes for your images on different social media platforms, know that these channels keep updating them. Here are the most recent-sized specifications for the top five social media platforms your brand must leverage.
1. Facebook

Source: 99designs
Did you know your average Facebook user clicks on at least 12 ads per month? Anyway, with nearly half the world's population actively using Facebook, it would be criminal not to have your brand's presence on this platform.
So, create your business handle if you haven't already, and ensure there are ample optimized and correctly-sized images and videos on there. Here are the latest ideal dimensions for varied image platforms within Facebook:
For your brand's main profile picture
Fondly called DP or Display Picture, a profile image is your brand's first introduction on Facebook. This image is also used for all thumbnail appearances, so make sure you get its dimensions right. Here's how.
Your business profile picture should ideally be 170 pixels x 170 pixels when uploading using a desktop or laptop. The same image will appear at 128 x 128 pixels on a smartphone.
Any thumbnail photo will appear at 32 x 32 pixels. If your profile picture is of the size mentioned above, the thumbnail will automatically adjust to the dimension listed here.
For your brand's cover photo
Facebook's main profile page gives you a chance to upload a banner image. Several businesses use this to feature their product. But, if you don't resize your cover image to the dimensions listed below, you'll waste this premium space by uploading a pixelated or partially visible image.
The minimum you can go with your Facebook cover image is 820 x 312 pixels. Anything below, and your image will become overstretched.
If you size your cover image as per the dimension listed above, your Facebook cover image will automatically appear at 640 x 360 pixels on smartphones and vice versa.
For any Facebook picture format, including cover photos, try uploading a .JPG file that is about 100 KB or only slightly above. Doing this won't slow down your page load speed.
For your brand's timeline photos
These images appear on your Facebook timeline. Here brands often share their product videos, event photos, and other significant promotional content.
The ideal image size of Facebook posts is 1200 x 630 pixels.
If you've hosted an event on Facebook, you can post a banner/cover image for the same at 1200 x 628 pixels. Another alternate dimension for a Facebook event image is 1920 x 1005 pixels.
For your Facebook stories
A quick and effective way to keep your leads engaged is via Facebook stories. Through this format, you can share static images or embed videos to display anything new and exciting about your brand or otherwise. Here is the ideal dimension for your Facebook stories:
Remember that most users check out Facebook stories on smartphones, which is why this format has a vertical aspect ratio. Meaning, while creating social media graphics or using original or stock photos for stories, ensure they are in portrait mode and not bigger than 1080 x 1920 pixels.
For video stories, the ideal duration is no more than 15 seconds per story with a maximum file size of 4 GB.
For your sponsored Facebook ads
Sponsored ads on Facebook are a great way to drive traffic to your profile page and also your website. Provided, they contain images and videos of the right size.
The dimensions for all Facebook ad formats stand at 1080 x 1080 pixels with a file size not exceeding 30 MB.
2. Instagram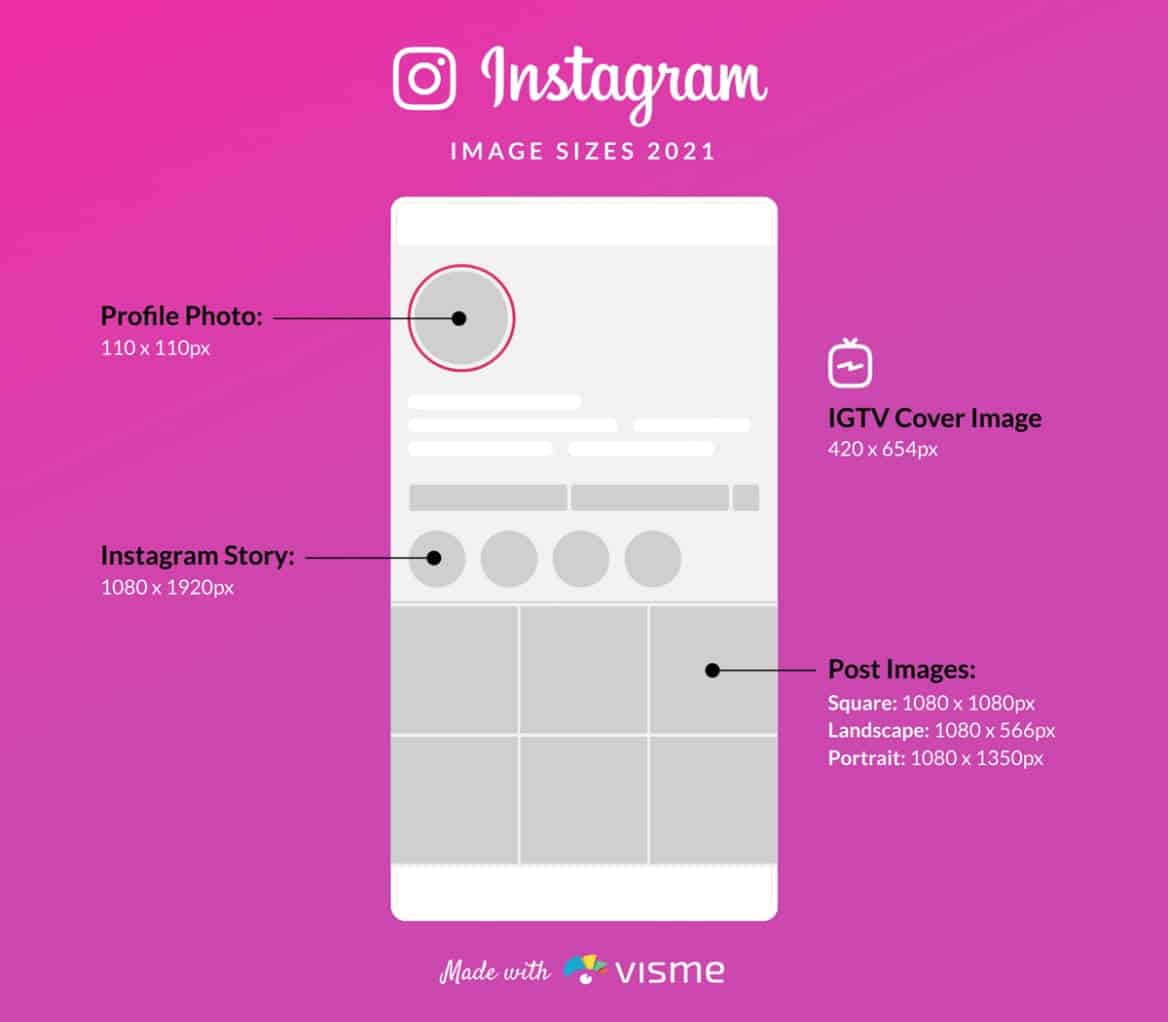 Source: Visme
Instagram is predominantly an image and video sharing medium, which means if leveraged well, your business has ample opportunities to showcase your offering.
Expert tip: When editing images for Instagram, try keeping them in portrait mode. Instagram works better that way! You can upload a landscape picture or story, or video, but the application will display it in portrait orientation. This will make a landscape image look really small and unclear.
While creating and updating your Instagram handle, make sure you keep in mind the following image sizes.
For your brand's Instagram profile picture
The minimum image size for your brand's Instagram profile picture is 110 x 110 pixels.
However, we recommend to further improve its viewing quality, try uploading an image that is at least 320 x 320 pixels.
For your brand's Instagram stories
Over 1 billion users access Instagram stories on their mobile devices. Here's how you can size them correctly to boost impact.
The ideal image size for an Instagram story is 1080 x 1920 pixels, with a size of 30 MB. However, the heavier your story, the longer it will take to load.
For your brand's Instagram carousel posts
These posts decorate your Instagram feeds and can be seen on your profile page. Instagram supports both portrait and landscape orientations for carousel posts. The ideal dimensions are:
1080 x 1080 pixels for portrait pictures.
1080 x 566 pixels for landscape pictures.
The exact dimensions also apply for sponsored ads as well as the Reels feature on Instagram.
For your brand's IGTV videos
IGTV stands for Instagram Television – the only feature on Instagram that runs long videos. Here you can upload tutorials on' how to use your product' or simply provide educational content about your industry. However you choose to express yourself on IGTV, get the following image dimension right first.
We recommend your IGTV cover photo size must be 420 x 654 pixels.
3. Twitter

Source: Agorapulse
Even though Twitter doesn't have as many image formats as Facebook and Instagram, it's still a great platform to get a conversation started around your brand by posting polls, announcing contests and giveaways, and much more.
Twitter allows for uploading images at four places. The first image space is your profile picture. The second place is reserved for including pictures in your post. Your header or cover photo is the third image spot and the final spot is for when you want to sponsor ads on this platform.
Here are the image dimensions for each of these formats.
For your brand's Twitter profile picture
Upload an image not exceeding 400 x 400 pixels and 2 MB in size, and you'll find the app will place it perfectly.
For your brand's Tweet or Twitter posts
Even though Twitter displays a visual + textual Tweet at 440 x 220 pixels, you should upload a larger image, the ideal size being 1024 x 512 pixels. Doing this will boost its clarity regardless of being compressed by the application while posting.
For your brand's Twitter header or cover photo
Since this is a relatively large space, you'll need to upload a bigger image. Here is the dimension you should go for:
Upload an image that is 1500 x 1500 pixels for this section.
For your brand's Twitter ads
Twitter single and multi-image ads can stick to an image size of 600 x 335 pixels.
As for Twitter Cards, the size of both 800 x 418 pixels or 800 x 800 pixels will display the image perfectly. You should know that Twitter supports square image dimensions.
4. Pinterest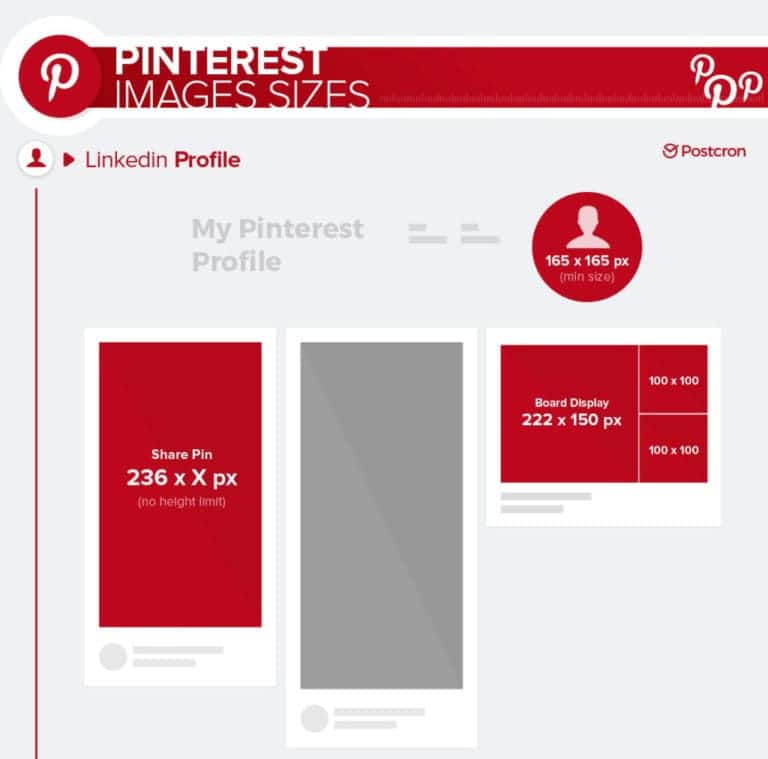 Source: Postcron
A popular social media marketing channel Pinterest mostly features vertical images. Know that several businesses love sharing relevant infographics vertically through this medium.
For your brand's Pinterest profile pictures
Pinterest is yet another platform with a rounded profile picture where you can upload a regular image of 165 x 165 pixels.
For your brand's Pinterest Pins
Even though for years, Pinterest recommended an image size of 735 x 1102 pixels, the platform has recently revised its recommendation.
The ideal size of Pinterest Pins is 1000 x 1500 pixels. A larger size means better quality brand images can be put to display.
For your brand's Pinterest Board cover photo
Upload a Pinterest Board cover photo that accentuates what your brand does at 600 x 600 pixels.
5. LinkedIn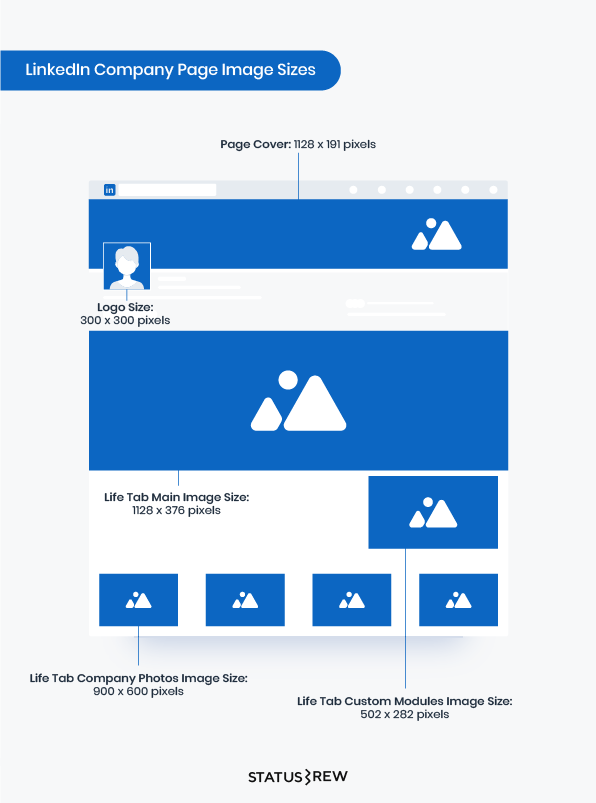 Source: Statusbrew
LinkedIn is one of the most preferred channels for companies operating within the B2B space, but you'd be surprised at how many B2C and B2B businesses also use it. For example, several B2C companies use LinkedIn to operate within the corporate gifting industry.
Anyway, LinkedIn also allows you to post images at different places. Of course, since it's a more formal platform, the avenues to add visuals are limited. However, you should use them to the fullest by uploading images of the right size.
Here are the recommended image sizes for LinkedIn.
For your brand's LinkedIn profile picture
Upload a professional photo over an informal one that is at least 300 x 300 pixels.
For your brand's LinkedIn post
Regularly posting valuable content on LinkedIn improves your brand's visibility, builds trust with prospects, and can help you establish yourself as a thought authority.
So, post right with recommended imagery. Here are the ideal dimensions.
Display a quality image on your LinkedIn post by sizing it at 1200 x 627 pixels.
For your brand's LinkedIn header/cover photo
Much like Facebook and Twitter, LinkedIn also provides space for a banner image, where you can display your product or your company's vision or mission.
Utilize this premium image space to the best by uploading one at 1128 x 191 pixels at least.
For your brand's LinkedIn sponsored ads
Sponsored ads on LinkedIn run at 1200 x 628 pixels.
Wrapping Up Social Media Image Sizes
So, there you go! We've done the groundwork of compiling ideal image dimensions across diverse social media platforms for you. Now, all you have to do is correctly size engaging images to make each social media channel showcase your pictures in all their glory.
So, exercise your artistic choice for brand imagery while keeping these dimensions in mind!