Every marketer dreams of making content that would be seen by a wide audience. Especially, if the content is getting promotion free of charge – organically.
Such a kind of promotion is called earned media.
Earned media allows you to make a word about your content via social media mentions, likes, shares, search engine rankings, and press coverages.
The question here is how to "earn" these free promotional perks?
In this post, you will find out everything about earned media and how to get it.
Let's start!
Difference Between Earned, Paid, and Owned Media
It won't be hard to guess that paid media is everything that costs you money. Paid media includes sponsorships, online advertising, billboards, etc.
Owned media stands for the assets that you can control. It can be a newsletter, blogging, and everything in between.
But SEO is something blurry at this point.
Why?
Because if you want to rank on Google, you will have to create content. You take control of content – that is an owned media. However, you can't influence rankings and what keywords your content ranks for. Which means it becomes more like earned media.
To sum up, you can control two types of media – owned and paid. But you can't do this regarding earned media.
The Reasons Why Earned Media Is Important
If you ask any business owner about earned media, you will hear something like "This is the most desirable way of promotion I want to get!"
And that is for a good reason. Actually, there are two reasons for that.
It works great in terms of building brand awareness
The best part of earned media is that it creates an open opportunity for consumers and third-party reviewers to share their opinion about a product.
What's more important, you don't control this process at all. People like your product not because you've paid them for this. They like it because your brand deserves it and stands out from the crowd. That helps your brand to compete within the niche.
It is way cheaper over the long-term
Paid media can bring you lots of instant impressions in a blink of an eye. Earned media needs time to start the ball rolling. However, if you stop paying for media promotion, the level of impressions will fade away.
Earned media is more reliable in contrast to paid media. It grows awareness steadily but requires more time for this.
Examples of Earned Media
Earned media is diversified. Many channels can give your brand promotion for free. Let's review some of them.
Google (and other search engines)
Visme blog gets about 473K visits per month.

These visits are organic, which means no ads were used to drive this traffic.
Why does it happen?
Google ranks content published on Visme blog high. That's why content gets a free promotion and creates awareness around Visme tools.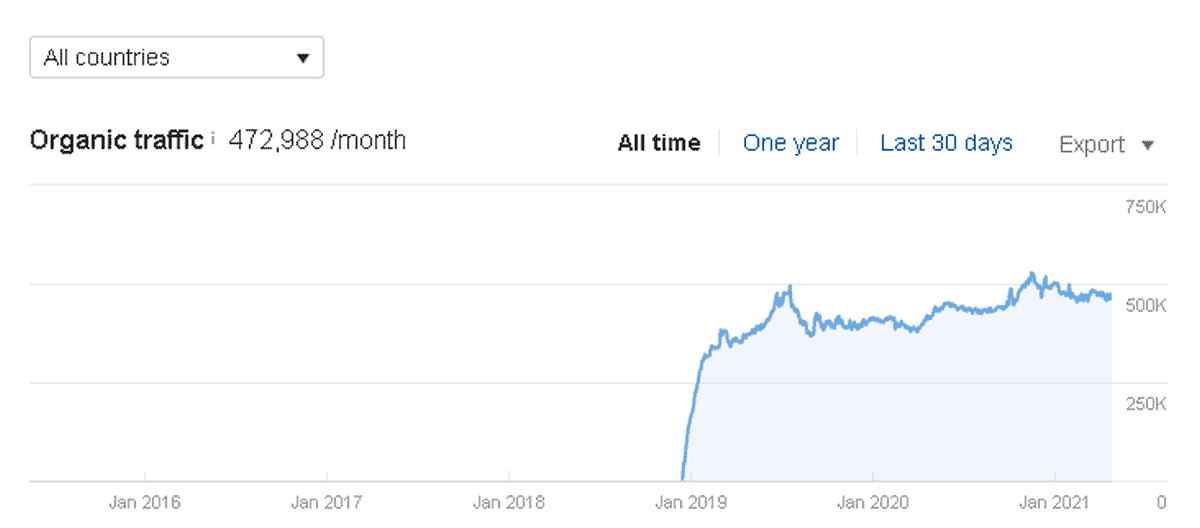 Answer questions on Quora
Quora's question and answer platform is a prime example of a marketers ability to promote content organically. Using the free Quora Marketing Tool – Q-Stats, you can find target questions whose keywords are already ranking highly on Google.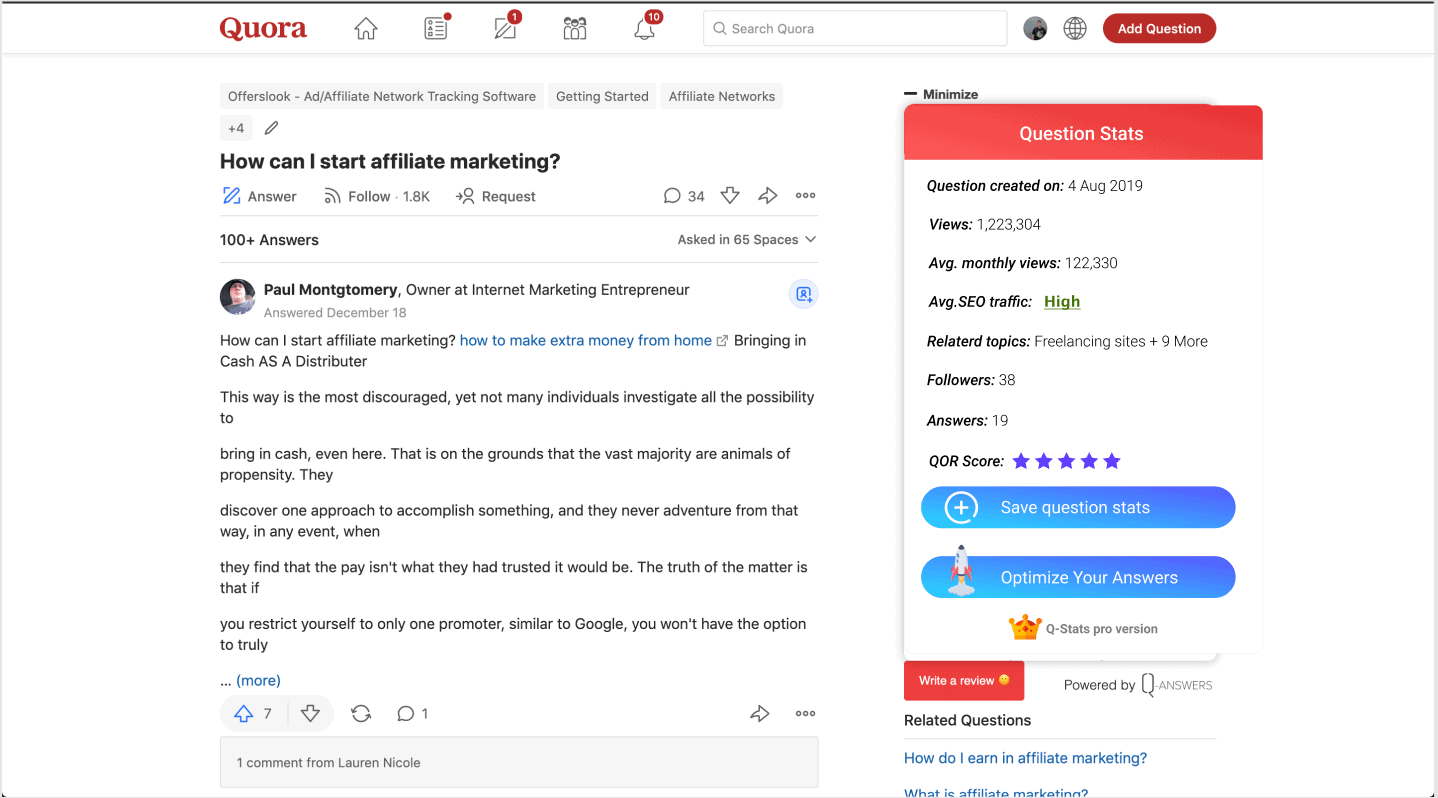 Simply press the button next to "Avg. SEO traffic" to see the full list of keywords.
Once you bring valuable content to the question, you'll recognize the power of earned media by the organic views you receive from Quora, and also the traffic you'll be receiving from Google.
Twitter is another media channel that can promote your brand without any efforts from your end. People like to tweet whatever they want. Thus, one of the users has tweeted that Visme is a really great tool to use.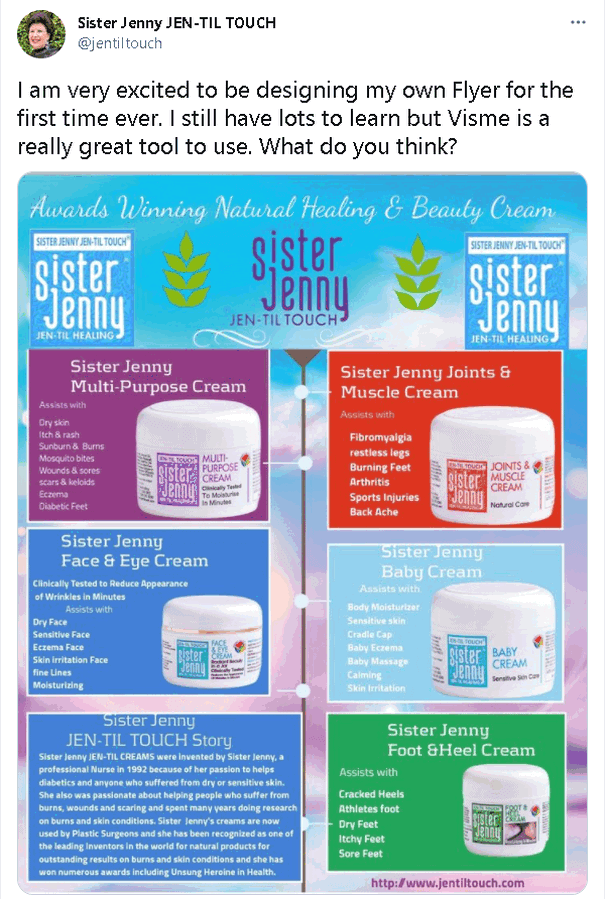 You can't control what people think about your brand. And when you get such tweets about your brand, you realize that earned media is a powerful channel for raising brand awareness.
There are dozens of web resources that people use as a platform for sharing their product reviews. One of these websites is Captera. Captera helps people find the right software for their business.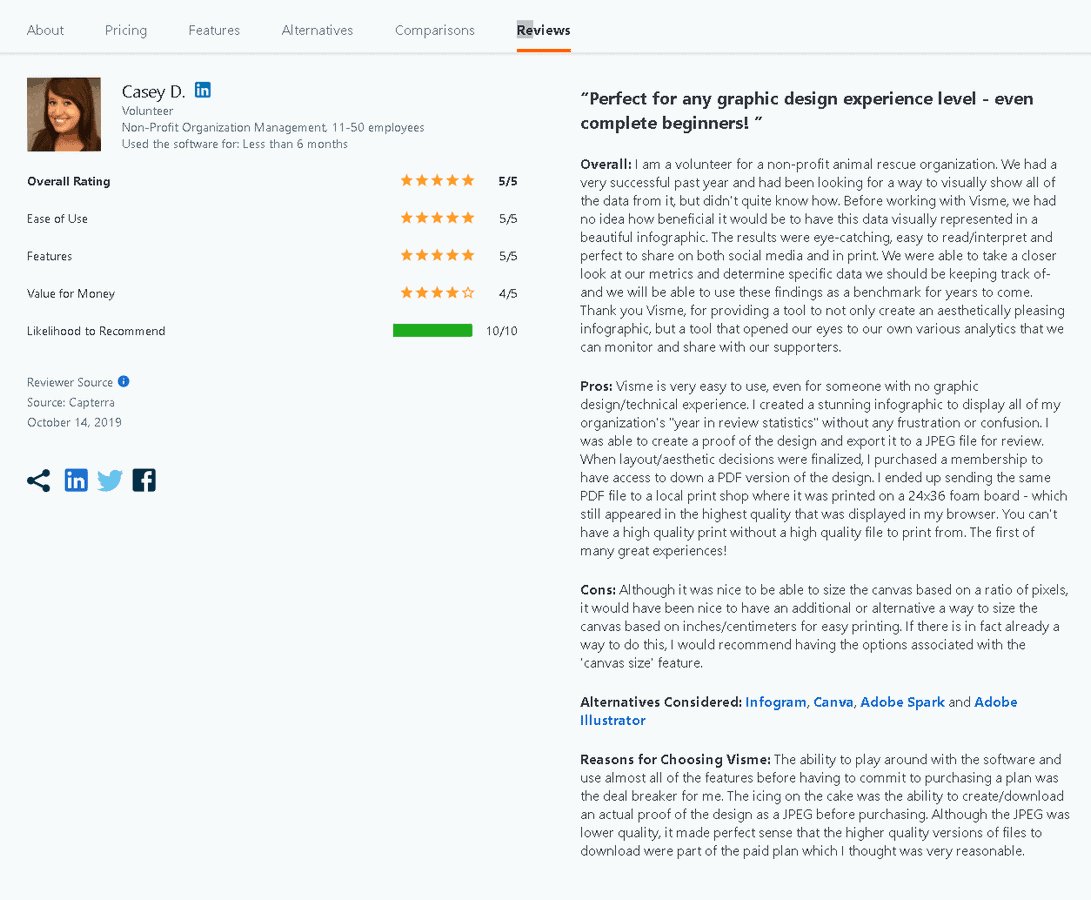 As you already guessed, review sites are a part of earned media channels.
Influencers have clout with their followers. They can spread the word about your brand that will lead to increasing the number of sales. Every niche has some influencers.
For example, Mike Gingerich is a cofounder of TabSite. He participates in different conferences and owns a podcast HalfMike.
This man can be considered as an influencer within the niche. He wrote a Visme review on his blog being happy with using this service.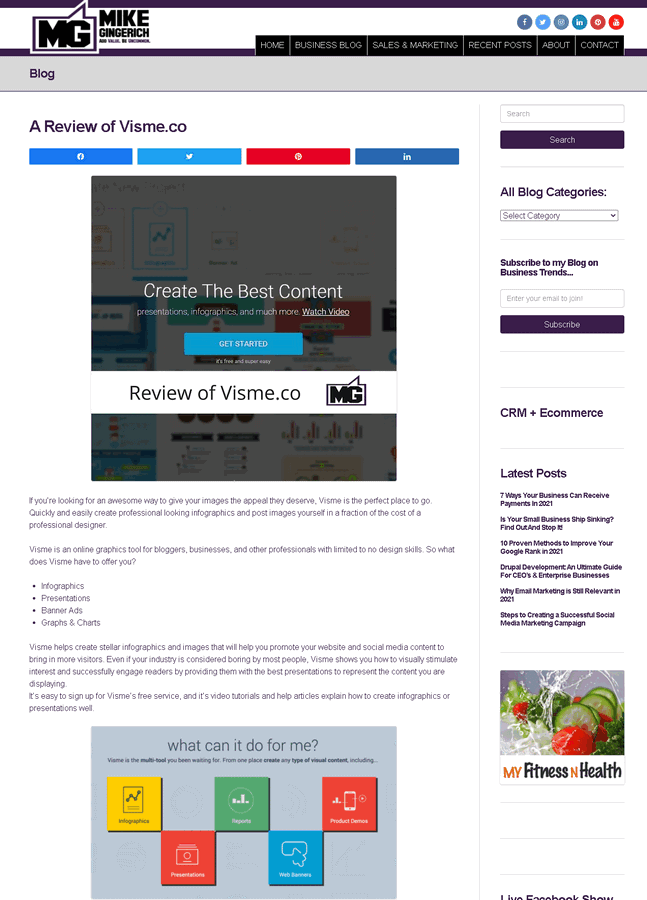 TV is one of the most iconic earned media channels. It is pretty hard to get your brand mentioned on TV. However, if it happens, you will get in front of millions of viewers.
Ways on Getting Earned Media
As mentioned, you can't have any control over earned media. But it doesn't mean that you can't influence it.
Let's review earned media channels that you can use for your brand promotion.
Search engine optimization
You take control over creating content. This is owned media. Also, you can pay for PPC to get it promoted. This is paid media. However, you can't have any direct influence on how your content will rank on search engines.
SEO is something that you can consider as earned media. It allows you to optimize your content and influence where it ranks.
SEO involves:
Keyword research helps you identify topics that would be related to your target audience. You can use these findings to optimize your content and help rank it on Google accordingly.
Produce high-quality content
Even if you create high-quality content, it doesn't necessarily mean that it will rank. Without proper SEO strategies involved, it is impossible. Hence, work on implementing SEO techniques to your content creation process.
It is a well-known fact that links are one of the important ranking factors per Google. Therefore, you must build quality links regularly.
Rank for source keywords
You can build brand awareness by publishing your data across different third-party resources. But you should take two aspects into account here:
Suggest interesting data only (that would be interesting to niche-related journalists)
Develop the process of how your data will be delivered to the right journalists (to earn coverage of the data, you should introduce it to the right journalists)
You can follow these two aspects in different ways. One of the ways is to rank for source keywords.
Source keywords are the terms that journalists are seeking to get data or facts that they will be able to refer to in their upcoming content. They search these keywords using the following search commands:
[topic] facts
[topic] statistics
[topic] figures
etc.
How to find source keywords?
You can find them with the help of Keywords Explorer tool from Ahrefs. Just grab a few niche-related keywords and analyze them with the tool. Pay attention to a "Phrase match" report and use the "Include" filter to find such words as "statistics", "stats", "facts", etc.

From the example above, you can see a list of keywords you should target. Afterwards, create a post with some data and optimize it using the keyword suggestions you collected from the Ahrefs report.
Reach out to the web resources that link to your competitors' reports and suggest your fresh statistics. By acquiring the links in that way you will get your content promoted on Google and ranking for source keywords.
HARO
Just for a record, HARO is a free platform that helps connect journalists to sources. It works pretty simply. You sign up to HARO, receive daily emails that suggest requests from journalists.
When you receive the email, you should run through the list with what journalists are asking about. Find those questions you can answer to. Keep in mind that you must be an expert in the field the questions are from. Otherwise, your response might not be selected.
How to get your replies accepted?
Experts can share their pieces of advice on the subject in some specific and in-depth way. They are influencers who make money with their activity. They are thought leaders in the niche they are revolving. If you are not the one, you should push yourself to become an expert.
Does it mean that you can't share your ideas with journalists?
Nope.
The only thing that you should stick to – don't summarize the information you read on Google. Instead, share your own experience with journalists.
Don't neglect of sharing your credentials
Journalists are aware of SEO professionals who use HARO as a place for acquiring links. They don't trust these SEO geeks and try to avoid them. If you want to win authority among journalists, you should prove that you're a true expert on the topic. And the best way to do this is by sharing your credentials with journalists.
Trade shows
Trade shows are a good place for journalists and bloggers to attend. Any trade show is a massive stream of information that is worth being highlighted in the media.
There are dozens of services and products are presented. Thus, if you decided to attend a trade show, don't think that you'll get earned media automatically.
Nope. That doesn't work in this way.
If you want journalists or bloggers to draw attention to your product, you must do everything possible that your product would be interesting to them.
How to do this?
It is up to you. It depends on how you can introduce your product and what touchpoints it will find with the audience.
For example, you can make a presentation of how your service can be useful for a specific business niche. If you create content design tools, you can demonstrate what professional videos any business owner will be able to create without any design skills required. On one hand, you help the target audience realize the effectiveness of your free video maker tool. On the other hand, you promote your service organically.
Anyway, the game is worth candles.
Participate on podcasts
Podcasting has become widely popular nowadays. There are dozens of podcasts related to different niches. It is a great source of getting new information as a listener. And it is a wonderful opportunity for you to appear as a guest to share your thoughts.
How to find podcasts where you could participate?
Go to Google and type the "[niche] + podcasts" command. You will get suggestions right off the bat. It can be podcasts themselves or various podcast selections where you can find the ones you are interested in the most.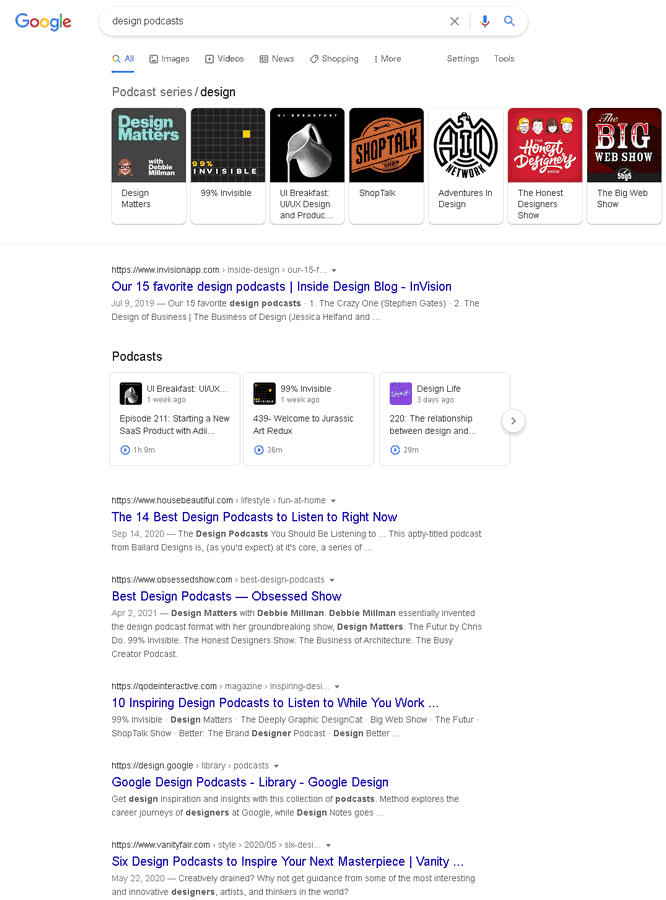 The next step is to get in touch with the podcast hosts and ask if they would be interested in interviewing you.
Product reviews
Product reviews are a good way to get earned media and promote your brand. It works simply. The only thing that you need to do is to send your product or service for testing to journalists.
You might wonder how to find the right journalists to pitch them with your offering to test the product?
Start with exploring those journalists who have tested a product related to your niche. It would be even better if this product is similar to your one.
You can stumble upon these journalists by analyzing your competitors. For instance, you offer a solution that helps create membership sites. You know that there are a bunch of competitors on the market like Weebly, Wix, or Impexium.
Now, you should review all the sources that mention these competitors. You can find these opportunities by analyzing the competitors with Content Explorer.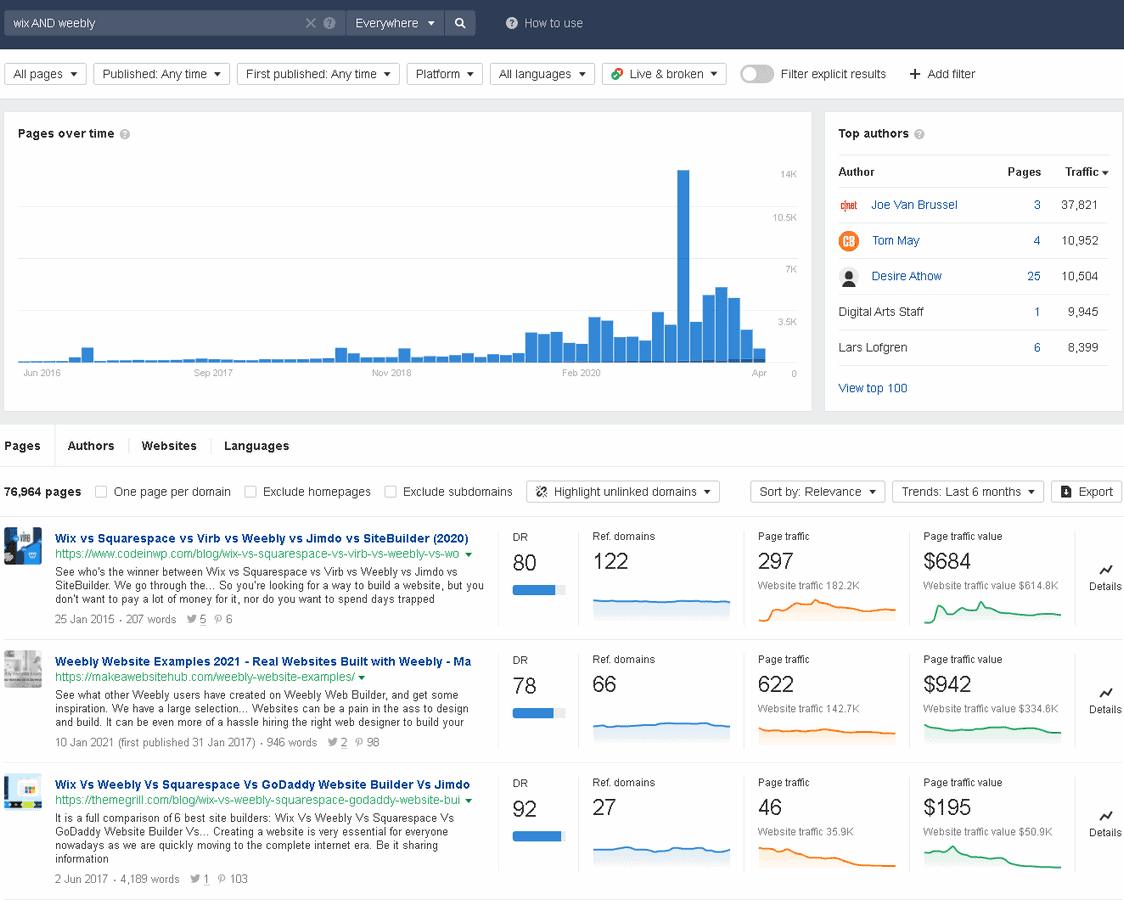 You can see many opportunities that are worth being explored.
Run PR campaigns
If you want to see your PR campaign result in getting your brand featured in news, you should make it newsworthy.
How to make a PR campaign newsworthy?
You should engage with your audience by creating content that would induce emotions and force people to think and also focus on content-first design to prevent significant problems.
Try to follow the advice from Tim Ferris – ask yourself two questions "What if I couldn't pitch my product directly? What if I had to sell around the product?"
This will push you further to brainstorm ideas on how to create newsworthy content. By having newsworthy content, your PR campaign might relish the media attention.
Final Thoughts on Earned Media
Earned media is something that your brand should deserve. You can't control or buy it. You might wonder if there is a secret behind it.
Yes.
The secret is simple – create a product or service that your target audience would love. Take care of the problems your customers have. And create content that would educate your customers and help them solve their issues.
You will see – earned media is what you deserve and you'll get it!