The social media chatbots have arrived! How, you ask.
If you think that the era of 'conversational' commerce and bot-led social media marketing seems like a far-off distant dream, think again. If industry research is anything to go by, the numbers paint a positive outlook:
"The chatbot market is poised to reach $1.25 Bn USD."
Gartner predicts that "85% of customer interactions will be managed without a human by 2020."
The same study also claims that "40% of mobile interactions will be handled by smart agents by 2020."
Here's an interesting infographic by MobileMonkey that sums up the advantages of a bot and talks about the industries which can benefit from its use:
What are social media bots? All the research points to a fact that's as clear as day: Chatbots are here to stay. In that vein, let's look at how you can leverage this interactive technology and augment your social media marketing efforts. Here are the top 7 chatbot-led social media strategies that truly work.
1. The Roles of Chatbots in "Facebook Marketing"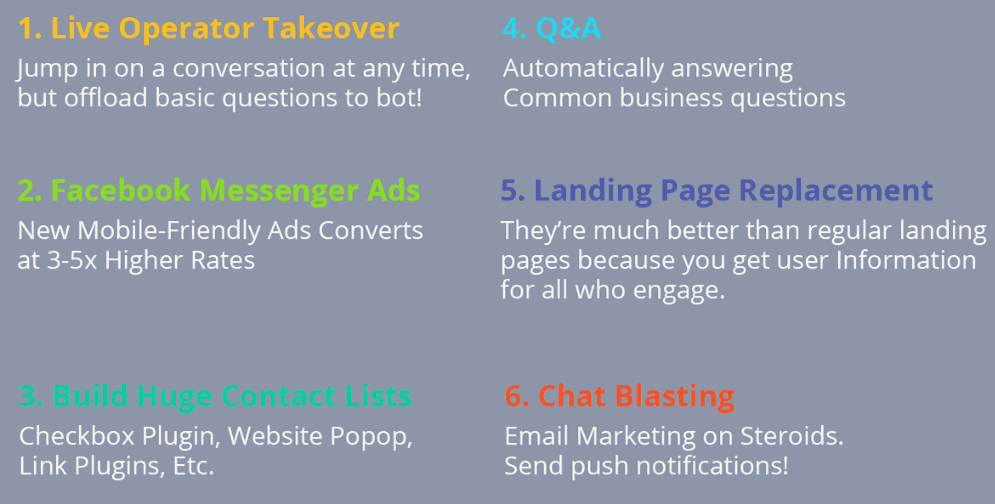 Image Source
Recent data predicts Facebook's active users to be over 2.6 billion people, that too, in the first quarter of 2020 – making it one of the biggest social networks globally.
Facebook's popularity is the stuff of legends. But as Marketers, here's the most important fact that you need to know: A staggering 98.2% of users use Facebook on their mobiles. In Marketing terms, this means that if your social media strategy is not mobile optimized, you might as well be irrelevant.
Sephora's Facebook Messenger chatbot is one of the most highly-praised and user-friendly bots. And for a good reason. Take a look at it yourself: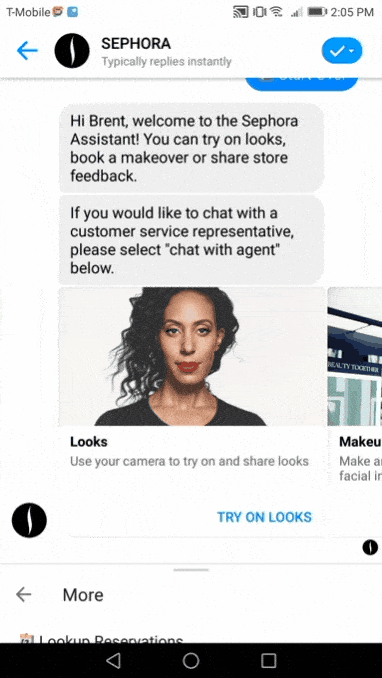 What makes it simple and easy-to-use is the fact that customers can perform a variety of actions without leaving the Facebook Messenger. Whether it's booking appointments or using Augmented Reality to try on makeup, the bot empowers customers to self-serve and multi-task.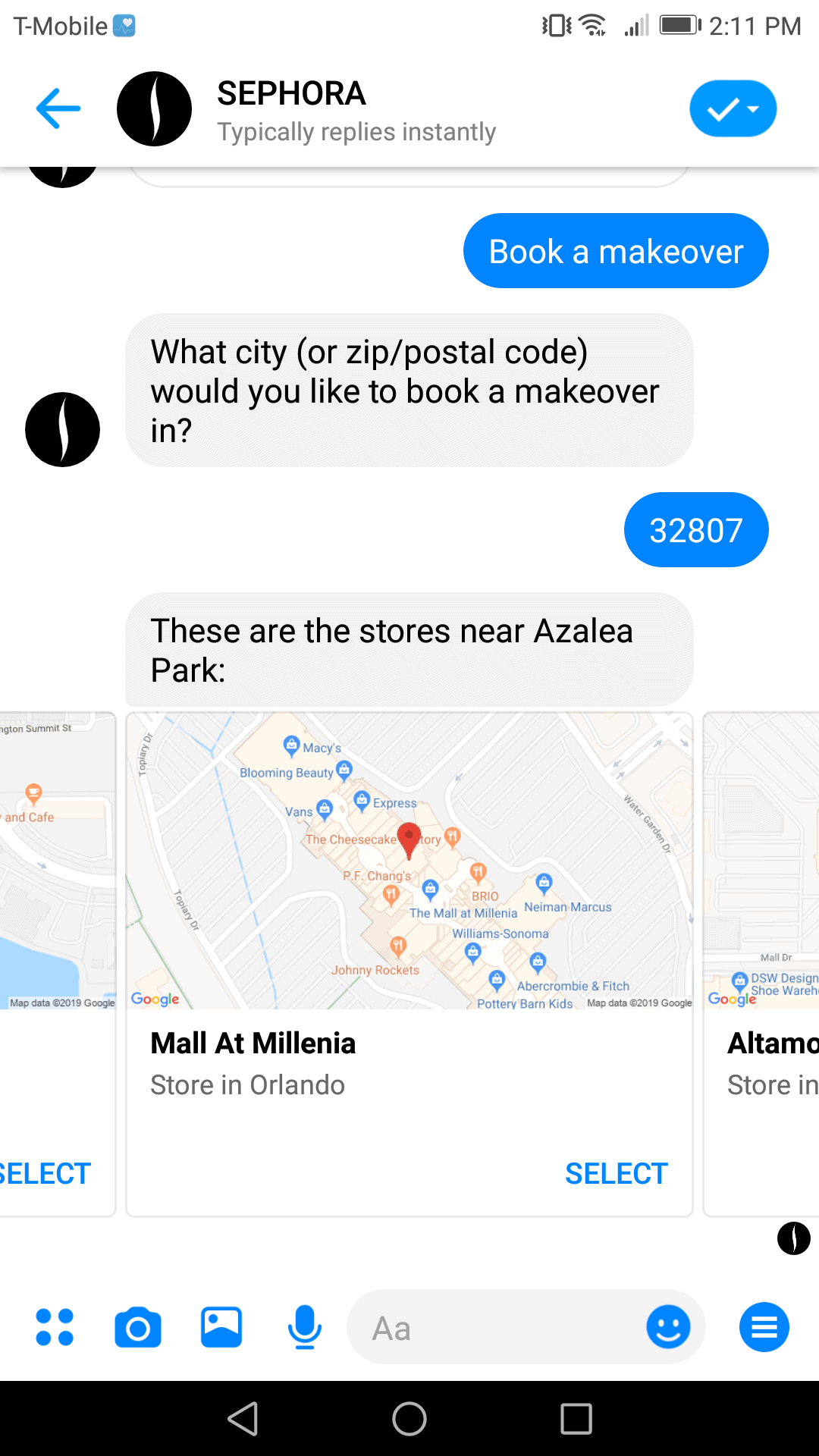 By placing a customer's convenience right at the center of its social marketing operations, Sephora makes excellent use of technology and marketing acumen in equal measure.
2. Integrating Voice Recognition to Boost Social Marketing
"32% of executives say voice recognition is the most widely used AI technology for their business." – Narrative Science
Let's get the record straight: Automation and marketing are a match made in heaven. It not only saves you time to finish tasks but also eliminates chances of human error.
More importantly, based on how digital-savvy customers are 'consuming' automated technologies such as voice recognition today, this seems like a logical step. If you've spent many nights experimenting with Siri, Alexa, etc. and have had wonderfully-engaging conversations, you're not alone. Guilty as charged! Here's a fun conversation between a user and the intelligent voice assistant: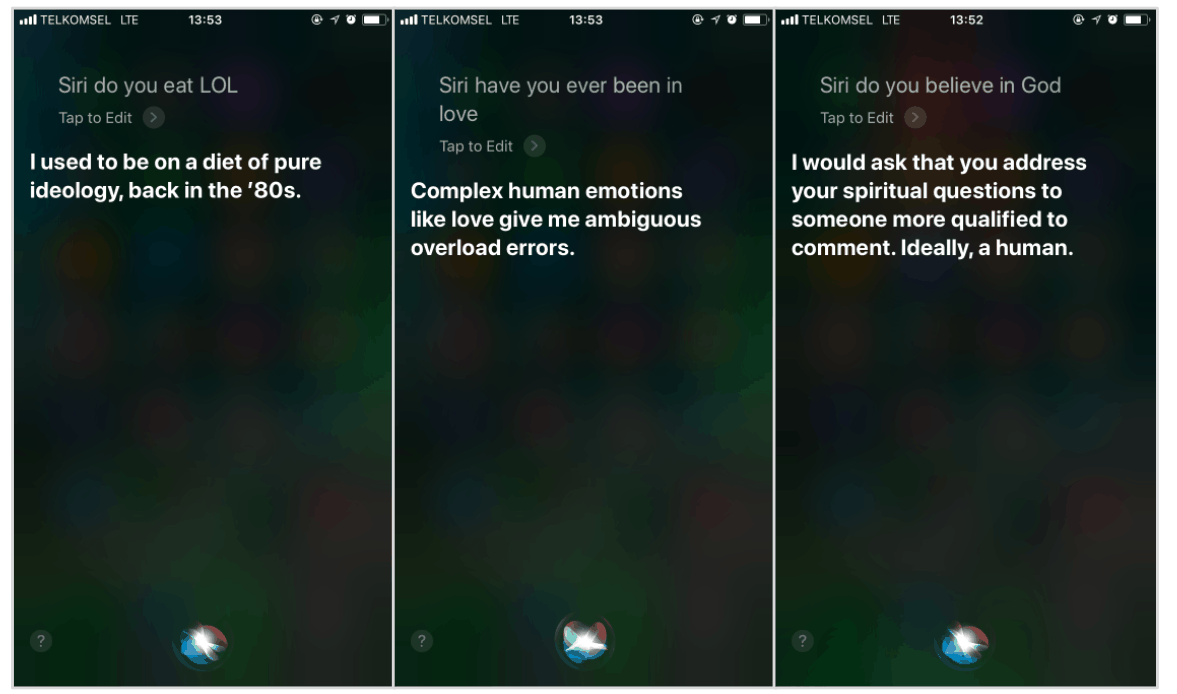 Image Source
Key takeaway: Even when it comes to using Voice Assistants for your social media marketing, adding a conversational user interface is key. Customers connect better with the brand, and with time, become life-long brand loyalists.
3. Chatbots can be your Website's Best Friend & a Handy Virtual Assistant
Make your chatbot every customer's 'best friend' on the Internet.
A chatbot can enhance and boost your social media marketing by leaps and bounds. To prove its efficiency, I'm going to let real-life social media bot examples speak for themselves:
Furniture brand, "Wooden Street's" live chat feature is to-the-point and conversational. In instances where a customer is stuck and wants to inquire about products, the bot can help answer questions in an instant. Notice how the bot has a "name," making the conversation feel more personal: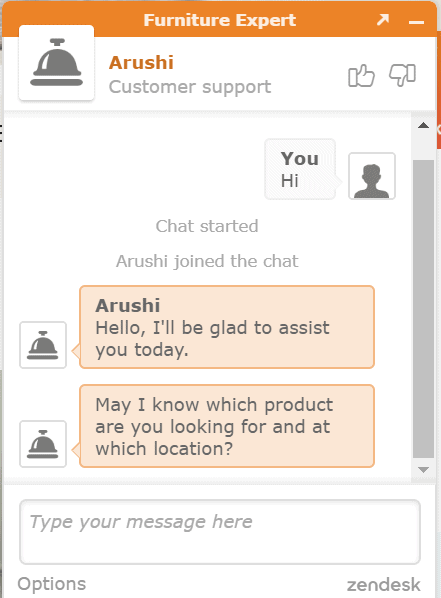 Image Source
That's not all. In case the bot or a live agent is not available, customers can "Request for a callback." This ensures that no customer queries go unheard, and every single one of them feels acknowledged – a priceless marketing tip!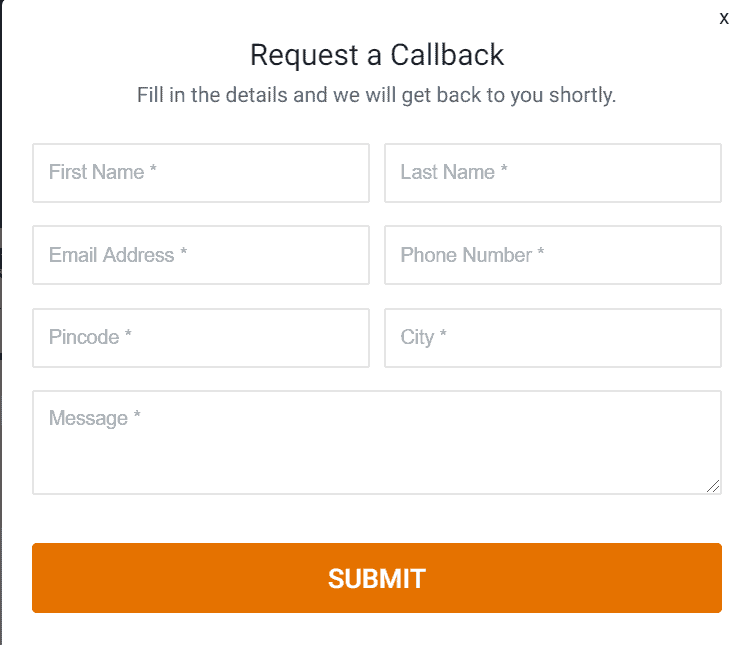 Pro tip: When building your bot, make sure that it sounds "human." You could give it an interesting personality (think: witty, humorous, informal, fun, friendly, etc.) and engage users on a deeper level as Universal Studios does with its 'playful' bot. The use of millennial/colloquial terms such as "What's Up" and "Prepare to have your mind blown" immediately hook the reader: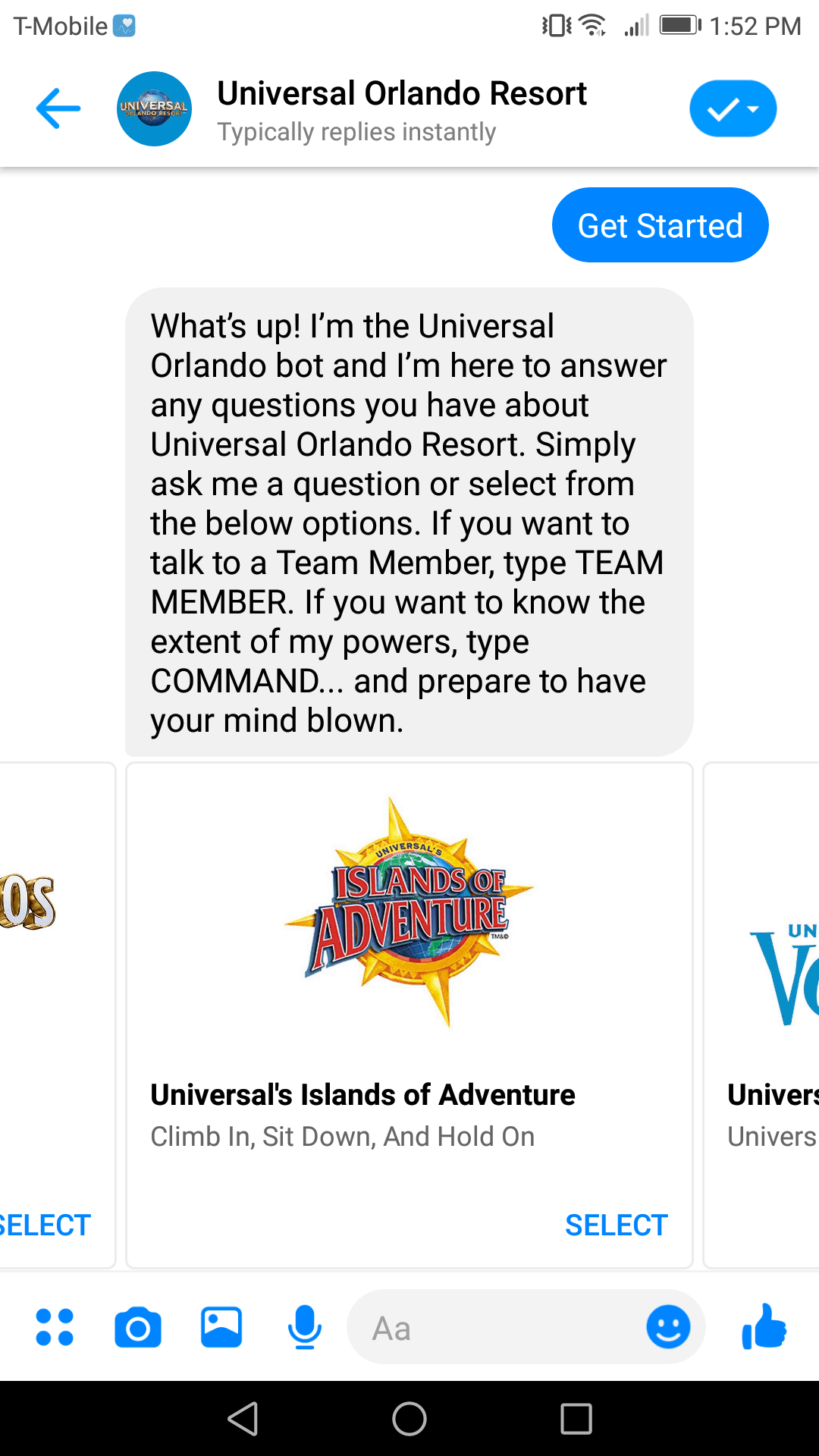 Key takeaway: Chatbots today have evolved – and continue to learn – to emulate real conversations customers would have with an agent. This frees up valuable time for the human representatives who can focus on complex issues that require human intelligence and creativity to get resolved. 
4. Chatbots, Twitter, & Instagram: How they Work in Conjunction to Improve your Social Media Marketing
"More than 86% of companies today use user-generated content as part of their marketing strategy."
Additional research claims that:
"Websites with featured user content saw a 20% increase in return visitors. Additionally, these websites recorded a whopping 90% increase in time spent on-site."
"Ads based on user-generated content receive 4 times higher click-through rates and a 50% drop in cost-per-click compared to average ads."
""34% of TINT users and 45% of marketers agree that user-generated content helps improve social media campaigns.""
User-Generated Content – or UGC – is one of the best ways for customers to discover new products and offerings by the brand. On the other hand, companies that share customer reviews on Twitter tend to enjoy a traffic boost of 26%. Plus, UGC, if done correctly, can skyrocket content engagement.
At this point, you might be wondering how chatbots can help? Here's how: Brands can align their chatbot with their UGC and social media strategies. There are plenty of real-life examples to take inspiration from:
In 2017, Marvel Cinematic Universe deployed a chatbot that allowed fans to talk to MCU superheroes, participate in quizzes and puzzles, and even enjoy 'exclusive first looks' of upcoming movies/comic books, etc.: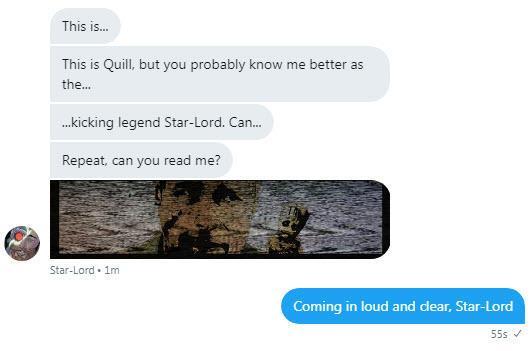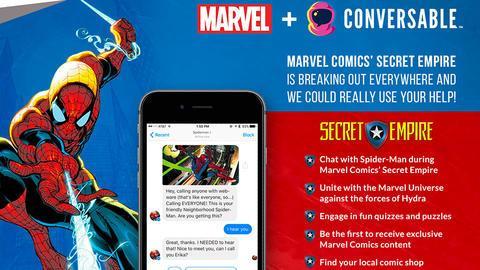 The brand effectively used Facebook Messenger chatbots and Twitter DMs to literally allow fans to become a 'part of the MCU story.' Here's what Ben Lamm, CEO of Conversable (the digital marketing platform that helped Marvel create the bot) had to say about why they chose this marketing route:
Through the power of conversational intelligence, fans can go from bystander to fully immersed in the Marvel Universe and become part of the story."
One effective strategy that works wonders is asking your website/Facebook Messenger chatbot to encourage users to share content/images/videos directly on the brand's Instagram, Twitter, and other social media pages. This, as you can imagine, boosts engagement and drives loyalty. An interesting case in point is The Wall Street Journal's chatbot, which helps users to stay on top of the latest news and check stock quotes. The user can be redirected to the brand's Twitter page where they can tweet about posts they most liked: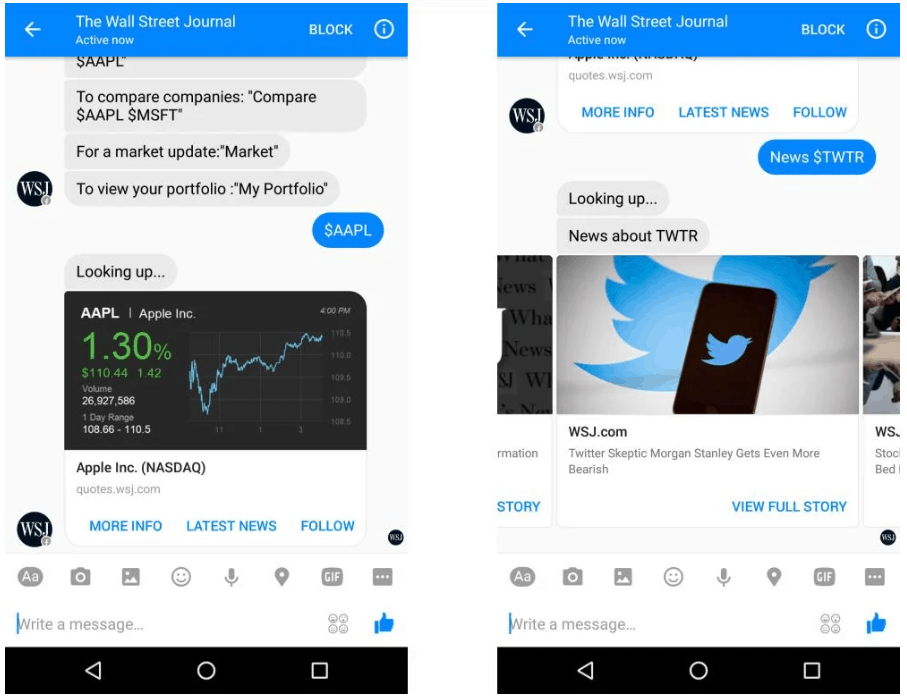 Image Source
Another example worth considering is Whole Food's Facebook chatbot that redirects users to the website and, in turn, increases footfall: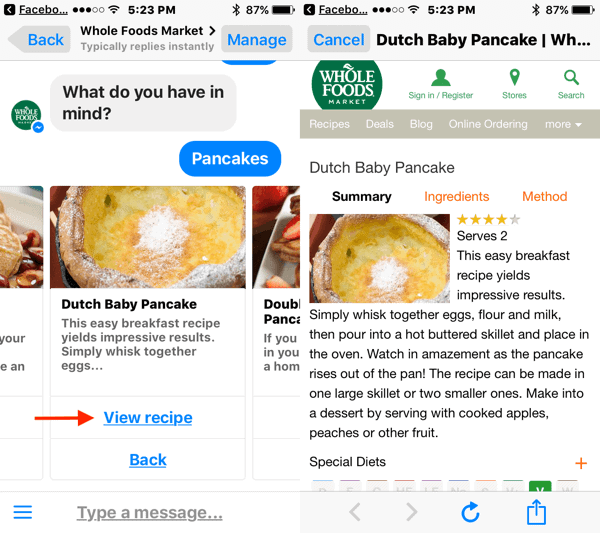 Image Source
Yet another example is Patron Tequilla's chatbot, which hooks users with a recipe, and then comes the masterstroke (keep reading).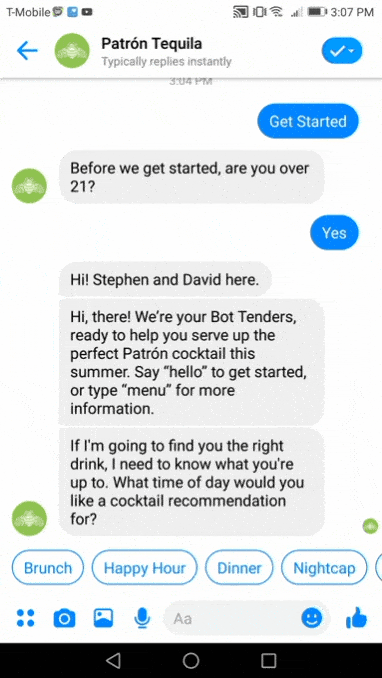 The bot welcomes the users to share their creations on the brand's Twitter page with the hashtag – #SimplyPerfect: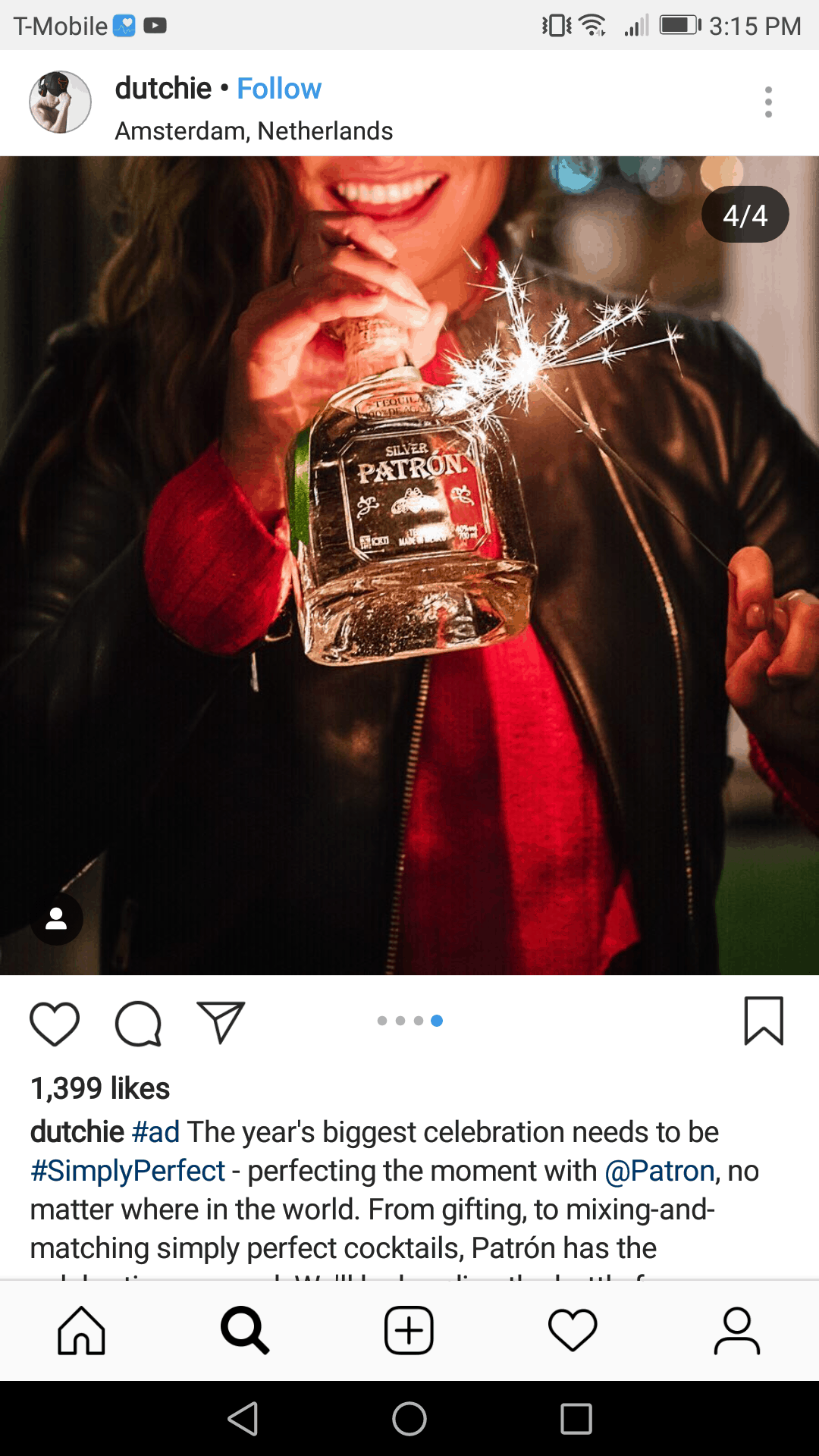 This inexpensive and simple idea creates a sense of community among the brand loyalists and helps foster a more meaningful relationship with the brand.
Key takeaway: Here's the long and short of it: UGC and chatbots humanize a brand and give it a more authentic, user-friendly appeal. Understandably, users tend to trust reviews by existing customers instead of solely basing their opinions on the company's posts. Hence, brands should look at more creative and innovative ways to integrate their social media platforms with the chatbots and encourage users to contribute to the brand's narrative – through their own voice and in their own words.
5. Personalize your Social Media Presence
"71% of consumers prefer personalized ads."
Customers today demand a personalized buying experience and your social media strategy should be no exception. This is where chatbots can come in handy. Take for instance Sephora's bot that offers users with a personalized experience in the form of a quiz: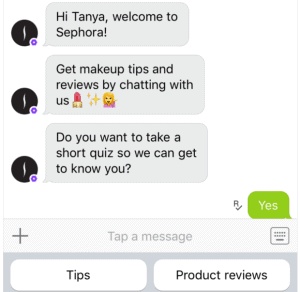 Another interesting example worth looking at is CNN's chatbot that offers users with customized news basis the options users choose: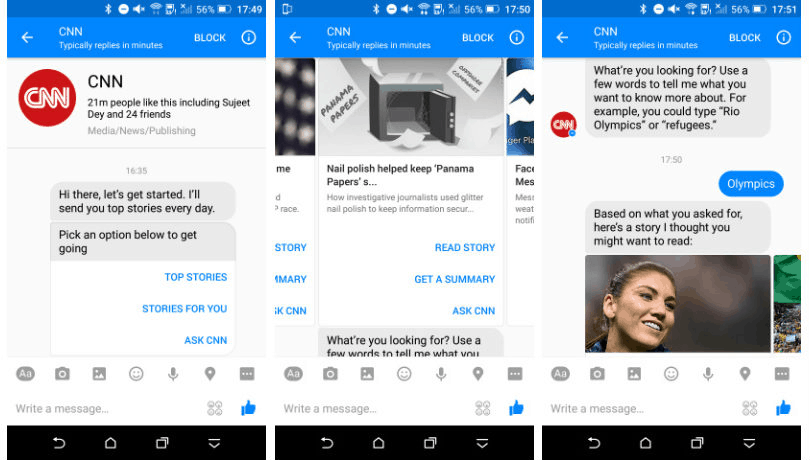 Image Source
All in all, chatbots utilize data to extend a hyper-personalized experience for the users. All you have to do is program the bot with a list of options and give them the option to choose the kind of information they want. Based on the option chosen, the chatbot can present the relevant solutions/answers.
6. Integrate Bots with Messaging Platforms such as Slack
With a steep rise in virtual working, Slack has gained global recognition. So why not make use of this platform and integrate it with your chabot?
Luckily, Slack allows users to create their own chatbot story and make use of it during polls, statistical analysis, email marketing, and the works: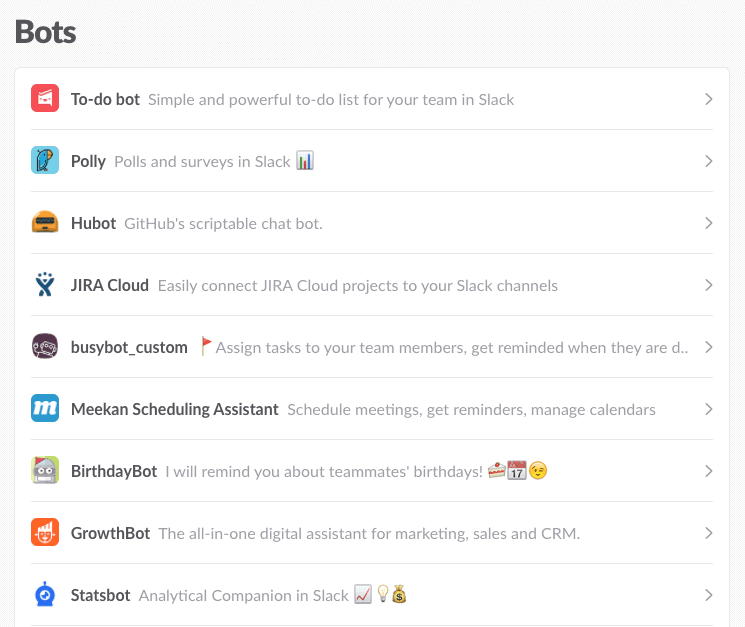 Chatbots are a powerful tool and when they're integrated with popular messaging platforms such as Facebook and Slack, they offer a wide range of benefits – from addressing customer queries to enabling brands to allow users to shop online!
7. Chatbots 7 Influencer Marketing
Chatbots and influencer marketing are a match made in heaven. Here's why you should use bots as your 'Influencer' and align your social media marketing goals with your user's expectations:
If you think getting high-flying celebrities to be a part of your brand's narrative is a costly affair, why not build a chatbot version of an ideal influencer? After all, the core idea is to give your brand a friendly face and enable seamless interactions, right?
And if you are someone who already has tie ups with a wide plethora of influencers, you can leverage their expansive knowledge and integrate chatbot ads on Facebook Messenger to target the right people. One way or another, chatbots help drive organic traffic to your website, apps, etc.
That's not all. Chatbots can help in enhancing your user experience by engaging in follow-up surveys post an Infleuncer-related event. Gathering real-time feedback can be the game-changer your business needs. Plus, chatbots can also act as an educational agent for customers on your social media platforms and help address questions which the influencer may or may not have the time to answer. Every customer query gets addressed and the users feel appreciated – a priceless advantage!
Take the example of make-up brand – CoverGirl's – influencer bot, "KalaniBot" who is a chatbot version of Kalani Hilliker, a 19-year-old American dancer, model, and TV personality. The bot has been described as 'smart,' 'funny,' and 'responsive':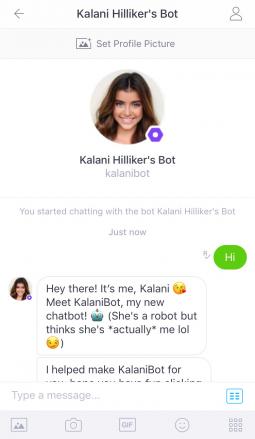 In terms of the results, using this bot has helped the brand leverage:
14 times more conversations compared to an average post shared by Ms. Kallani Hilliker.
91% positive sentiment with an average of 17 messages per conversation.
48% of conversations leading to coupon delivery and 51% click-through on coupons delivered.
The bot offers a host of other advantages such as gifs, emojis, and quizzes which allows users to have real conversations and connect on a deeper level with the brand. Clearly, the bot was winning hearts, emulating the influencer's style yet still retaining its authenticity as a 'tool.'
On a Final Note…
Contrary to popular opinion, social media chatbots are no longer considered to be intrusive, dull, and boring as we saw above. By building humanistic, conversational bots, brands can make better use of their social media strategy, optimize their revenues, minimize costs, boost traffic and user engagement, and by extension, create brand 'fanatics' in the truest sense of the term.
It also needs to be said that bots don't simply lend a helping hand in driving sales. The best social media bots can personalize the user experience, initiate conversations, and engage in story-telling – just like any live agent would (if not better). So make sure that your social media narrative is a compelling, chatbot-friendly one. What do you think?
[starbox]