Did you know that more than three billion people worldwide use social media? According to a study from PwC, 37% of users say they use social media for inspiration and to research a product before purchase. To put it simply, that's millions of people you can target as potential customers for your business.
However, most companies fail to reach the right audience by not prioritizing engagement. To make matters worse, most brands don't push out valuable content since their social content creation strategy is neither customer-centric nor algorithm-based.
Fortunately, in this guide, we'll discuss the ins and outs of social media content creation and the key principles to follow when connecting with your audience.
What are the different types of social media content?
Before moving on to the types, let us first understand what is content creation in social media? Everything you post on your business's social media channels can be classified as social media content. The major goal here is to add value to the audience's experience, provide them with information, and keep them hooked.
Compared to other content, such as website articles, ebooks, and blogs, social media content is often more engaging. It also allows the audience to actively connect with the business by commenting, liking, and sharing content.
Here are some types of social media content:
User-generated content: UGC refers to the content created by the audience for the brand. For instance, GoPro regularly posts videos made by people who record their adventures using their products. Likewise, Starbucks' holiday cups campaign is another example of UGC.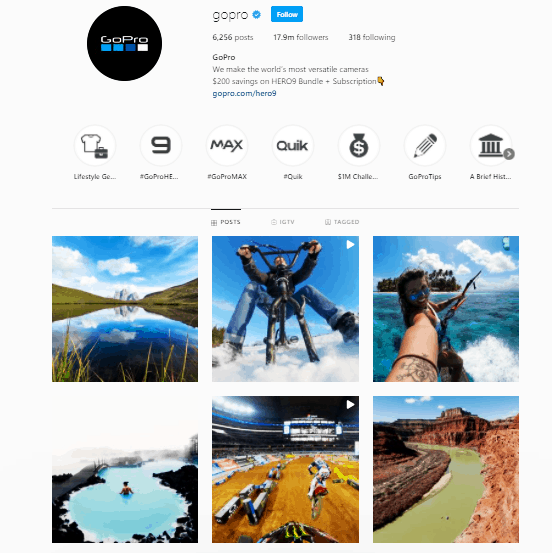 Source: GoPro Instagram channel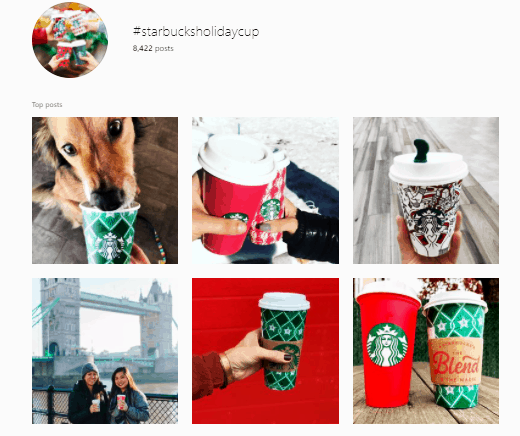 Source: Starbucks Instagram channel
Here's a detailed list of some other types of social media content.
Why do you need a social media content creation process?
A social media content creation process is a structured way to produce new content for your channels. An established process enables your team to produce more and better content in less time. But there are even more benefits of having a solid social media content generation process, including:
Ensures high quality
A social media content creation process will allow you to determine the tone and style of your brand. Since there are pre-set approval and review guidelines, every post on your social media channels will be mistake-free and aligned with your main message.
Saves time
If you're following a preset process, your workflow will be hiccup-free. With a pre-planned workflow, the social media content creation process is more efficient. Since there's a step-by-step procedure and everyone knows what to do next, content creation takes less time.
Higher transparency
Everyone on the team will know where current content pieces are in the process. For instance, if a social media post creation is in the 'copywriting' stage, the graphic designers will know that the content will be coming to them next. When everyone understands the timeline as well as their own and other team members' roles, the process remains transparent.
Who is involved in social media content creation?
Social media content creation is not a one-person job. In fact, some businesses even outsource their B2B social media content marketing activities.
Currently, 78% of company content marketing teams consist of one to three people.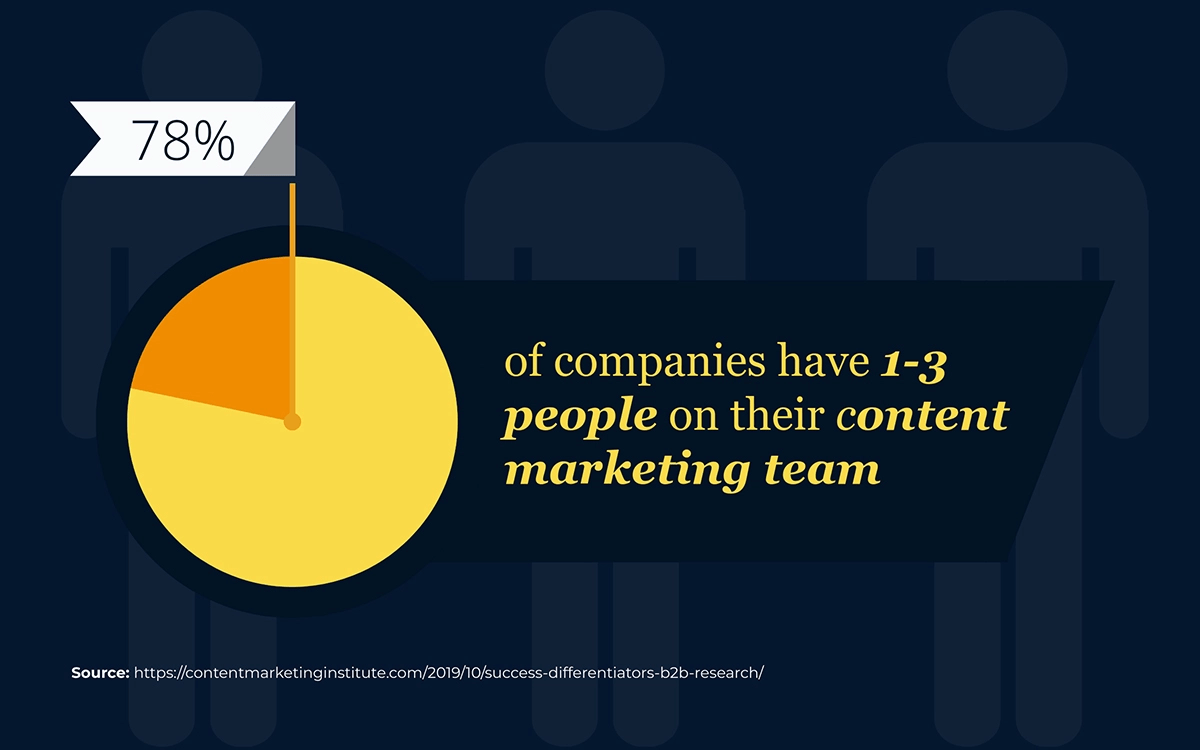 Source: Content Marketing Institute
Meanwhile, larger companies often have up to five people devoted to content creation.
Individuals have different roles, as explained below:
Social Media Manager: A social media manager curates a company's social media channels while monitoring and moderating engagement. They create content, respond to comments, provide social media customer service, and create partnership opportunities.
Copywriter:Copywriters write captions for posts and check for plagiarism.
Video Editor: They edit brand videos, staying in line with the company's aesthetic and style.
Graphic Designer: They are responsible for social media graphic design and creating interactive content, such as infographics.
How to structure your social media content creation process
Posting on social media without a solid process is just like building a house with no blueprint – there's no foundation for success. Also, keep in mind that depending on your target audience, brand niche, and goals, your content creation process will differ from other companies.
Here's a standard step-by-step guide on how to set up a content creation process:
Step 1: Define the main message.
First off, determine the main idea of your post. What is its topic? What message do you want to deliver in the post?
Every post should also be in line with certain goals, such as increasing awareness or engagement. Or, you may want to raise your follower count.
Here's an example of a goal: By focusing more on issues of sustainability in our posts, we will increase our Instagram followers from 3,000 to 10,000 by the end of this year.
Step 2: Choose content promotion channels.
Next, you need to decide where you want to post the content. Previously, Facebook and Instagram were the most common platforms, but social media content creators are also reaching out via Twitter, Pinterest, TikTok and Linkedin now.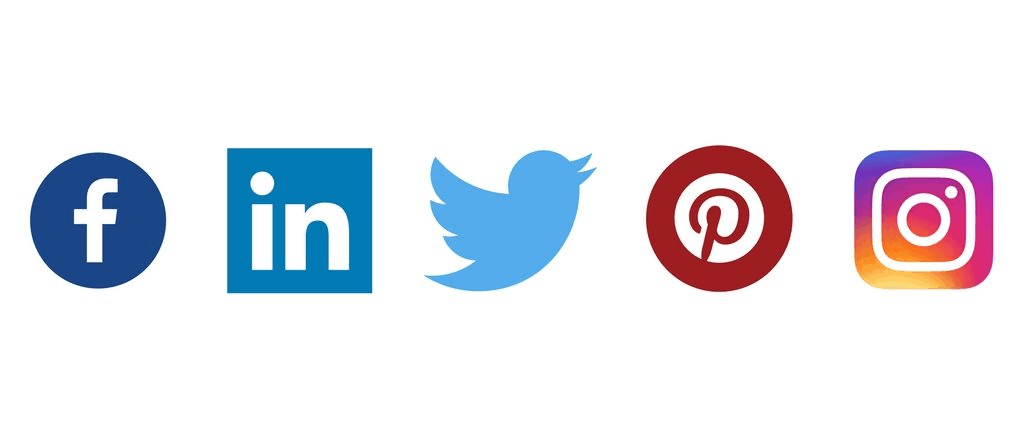 Image Source: Sheisdgital.co
Here are some questions to consider:
Who is your target audience and where are they located?
Where are your competitors posting?
How many social media channels can you manage consistently?
Every second, around 1,070 photos are posted on Instagram, while Twitter gets around 9,460 new tweets. Where's your best opportunity to grow?
Step 3: Determine content types.
Since there's a different type of audience on each platform, not all content types are successful on every social media channel. So, you need to decide for each post or campaign which content types you want to use and combine.
For instance, Instagram users are accustomed to a combination of visual content and short text, while those on Twitter or Facebook are more likely to read longer posts. Irrespective of the platform, you should always couple images with text rather than sharing visual cues without any context.
Here's what works – statistically – on each platform:
Facebook: Short videos and blog posts do well on Facebook. Video content garners 59% more engagement than other content types, and Facebook users prefer videos five times over images. Keep your videos to around one to two minutes long since this duration performs best.
Instagram: Photos, infographics, quotes, and stories work best on Instagram. Make sure you're posting high-resolution visual content since it's more likely to attract attention.
Twitter: Twitter is for quick announcements, news, and updates. The audience on Twitter is mostly on the older end, with 63% of users aged between 35 and 65.
Pinterest: Use Pinterest for sharing step-by-step visual guides, infographics, and GIFs. Since this platform is all things aesthetic, make sure your content is visually appealing.
Step 4: Create a basic version.
Get your social media team, including the designer and copywriter, on board to design a basic version of your content. Brainstorm social media post ideas and align them with your topic, main message and goal.
Start by writing copy that clearly communicates your message. Then, create a supporting visual, such as an image, video, graph, or GIF. Let's say you want to share the following fact: The first pair of Nikes was inspired by a waffle iron.
In this case, the image could be a creative illustration of a waffle iron metamorphosing into a pair of Nikes.
As for the copy at the bottom, make it a little more descriptive, going into detail about who made the first pair of Nikes and how they were inspired.
Step 5: Review your content.
Before you publish anything, make sure it is reviewed by all relevant stakeholders. For instance, if you're talking about your products, gather feedback from your product team on the content.
Reviewing your social media content is crucial since it will give you a chance to make improvements and get an outsider's view.
Step 6: Adapt your content.
After getting feedback, make the necessary changes and adapt your content to each channel.
Here are some things to keep in mind:
Twitter has a 240-character limit for tweets while Instagram lets you post captions with 2,200 characters. However, the Instagram caption truncates after 125 characters so put the most essential information at the beginning if you plan on writing a longer copy.
Images on LinkedIn should be 552 x 368 pixels tall (or 3:2 aspect ratio). Otherwise, as per LinkedIn's moderators, they'll be cropped at the bottom. As for the quantity, you can only upload 9 images at once vs. Instagram's 10.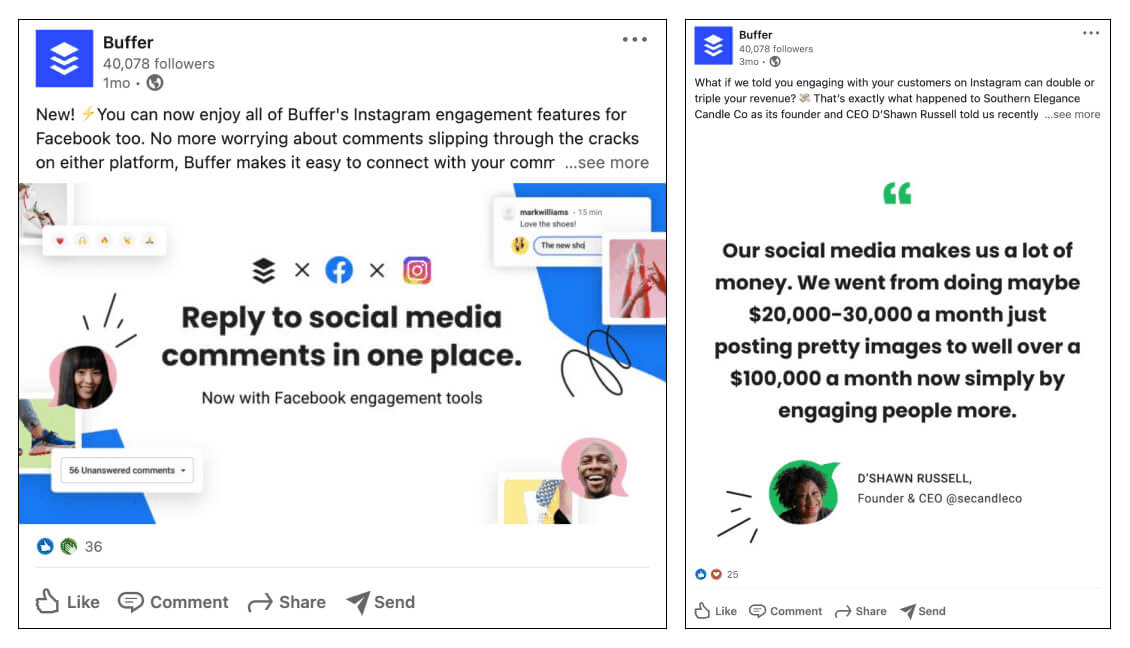 Source: Buffer
Also, consider the video duration for each channel. You can post one-minute videos on Instagram and ten-minute videos on LinkedIn. If your video content is longer, keep it for Facebook or trim it to make it compatible with other platforms.
Last but not least, don't forget to add relevant hashtags on Instagram and Twitter.
Step 7: Do a final review of your content.
Before you post content on any channel, review it one last time. The post must be in the right format for the particular platform. You can assign this responsibility to your social media manager.
As a result, you can produce high-quality content with little to no fluctuations in value and brand awareness.
Here are some social media approval tools to support you in this step.
Step 8: Publish the posts.
Finally, when you're satisfied with your content, publish your posts on the designated social media channels. However, keep in mind that posting content randomly might hurt your engagement more than doing any good.
The best time to post content on your social media channels may be different depending on when your audience is most active. Check the Analytics tab to get this information and publish the content accordingly.
3 best practices for implementation
Some companies find it more difficult to adhere to their process than it is to create the process itself. Here are a few recommendations to ensure the proper implementation of your social media process.
1. Write your workflow down.
Outline the content creation process by detailing each step, such as copywriting, proofreading, graphic design, etc. Make the guidelines easy to follow and easy to access.
Documenting your workflow makes it easier for newer team members to get onboard. It also helps to perform a social media audit as it gives you all the information you need in one place.
2. Create templates for each channel.
To ensure consistent content creation for each social media platform, create different templates. Here are some things to include in each template:
Content type
Content length (word count, video duration)
Best time for publishing
Hashtags to be used
Correct dimensions for images and videos
The template can be changed over time depending on dynamic social media trends.
3. Define a checklist for reviewers.
Speed up the review process by creating a checklist that reviewers can use to approve a piece of content.
Here are some items to include on your checklist:
Watermark or logo on every image
Hashtags (handy for Instagram and Twitter)
Links to your website, podcast, demo, etc.
Tone of voice consistency
Emojis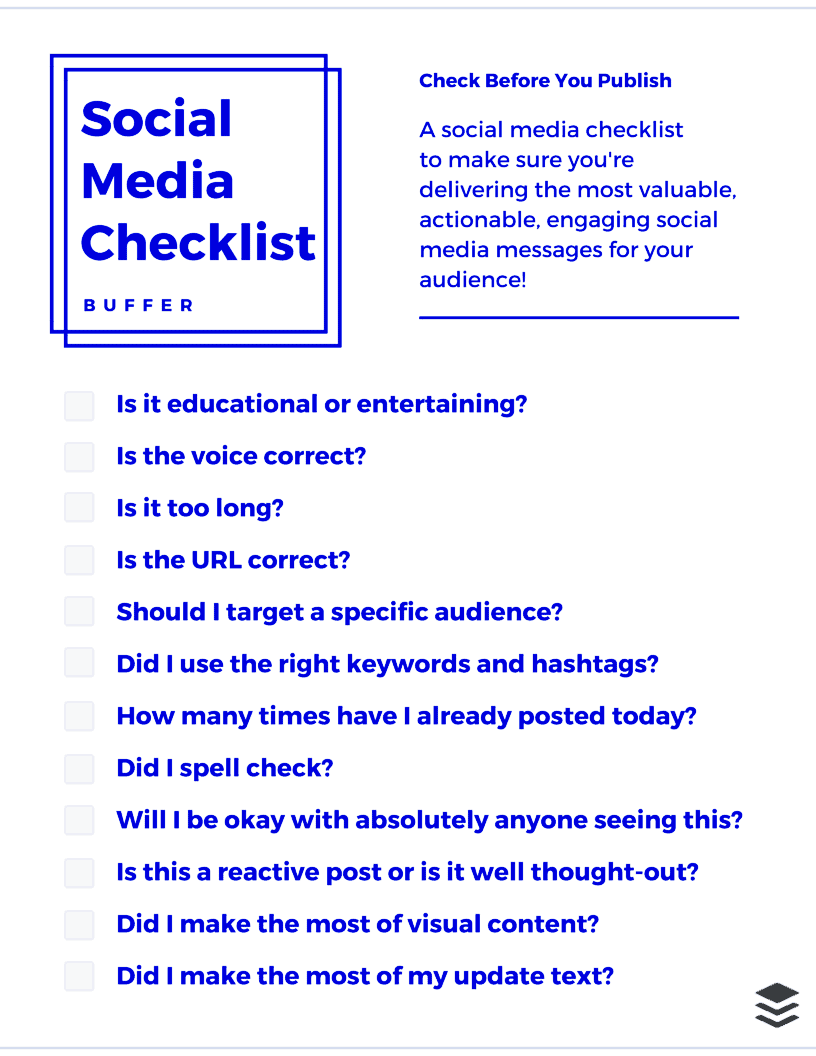 Image Source: Buffer
Final Thoughts on Social Media Content Creation
To sum it up, having a social media content creation process is not just logical but also an inevitable necessity for businesses today. The good news is that it's a repeatable process, allowing you to scale up your output and deliver better content to your audience.
Once you've figured out the process that works best for your team, it's quick, easy, and effective to produce content that's consistent and engaging.