Social media marketing is much more than just posting about your products and promoting your brand. And without proper social media training, you'll struggle to take your efforts to the next level.
With social media you have to analyze your audience, personalize your content, identify the right time to share posts, and so forth.
If you're serious about digital marketing, then you simply can't ignore social media training.
Note that there were about 4.20 billion social channel users globally at the start of 2021 – accounting for over 53% of the total world population.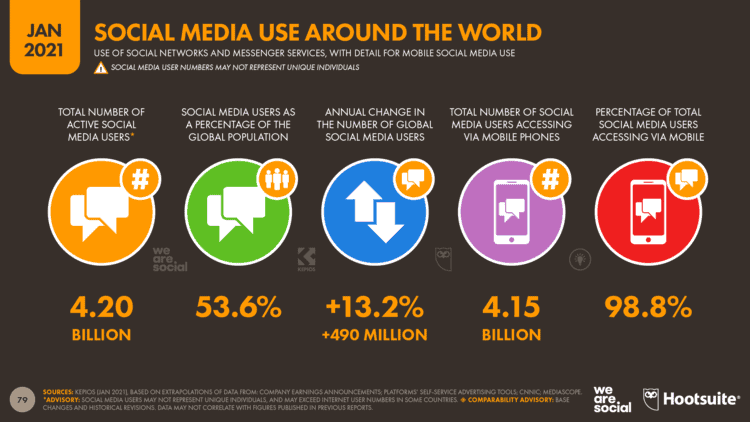 Businesses are increasingly using social channels to engage with their customers, build a brand, sell their products, and more. That's why it's vital to keep up with the trends and invest in social media training.
To help you out, this article will list the top social media training courses to take this year.
Why Do Social Media Training?
Social media marketing is a godsend for small businesses.
Businesses don't need behemoth budgets to promote their products anymore. Now they can do it by posting about their products and interacting with their target audiences via social media channels.
There's a catch, however.
Creating content and posting it on social media is easy, but you need to be educated about when and what type of content to post on different social channels.
And that's where social media courses come into the picture.
Social media training can help you:
Sharpen your social media marketing skills
Improve networking and collaboration
Learn about policies of various social media channel
Acquire knowledge about how to build a strategic plan
Learn how to use social media and its tools to your utmost advantage
One of the most significant plus points is that some of these platforms are more than just training platforms. You can leverage some of these online courses and learning platforms not only to learn but to conduct your own training for your team as well.
Once you're armed with advanced social media marketing skills, you can pass it on to your team members as well.
Top Social Media Training Courses Available
Here's the list of top social media training courses available that you can choose from:
Beginners Courses
1. Social Marketing Training | Hootsuite Academy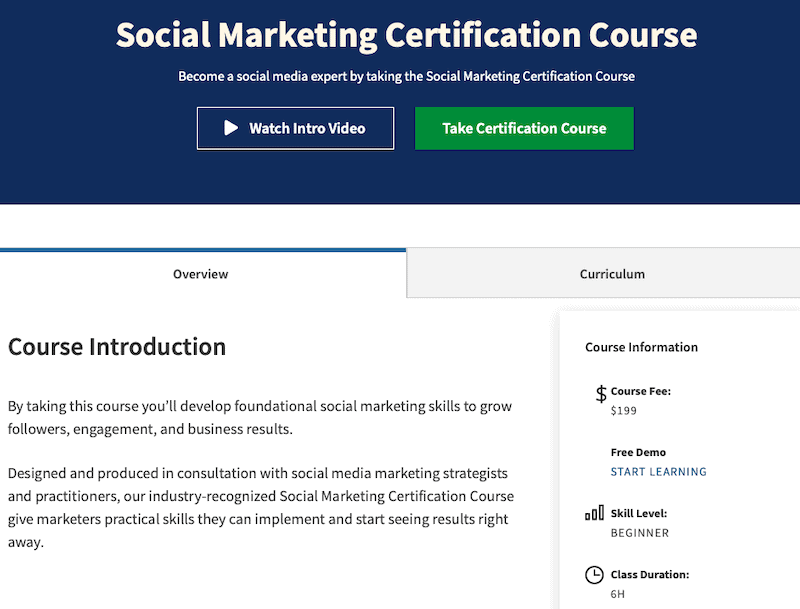 Hootsuite has over 16 million users in more than 175 countries and offers an industry-standard course for social media management.
Hootsuite's Social Marketing Certification Course will help you develop foundational social marketing skills to grow followers, engagement, and business results.
What's more, Hootsuite designed and produced the course in consultation with social media marketing strategists and practitioners.
Pricing: The course fee is $199, and you get a free demo along with the course. The class duration is for 6 hours.
2. Social Media Marketing Foundations | LinkedIn Learning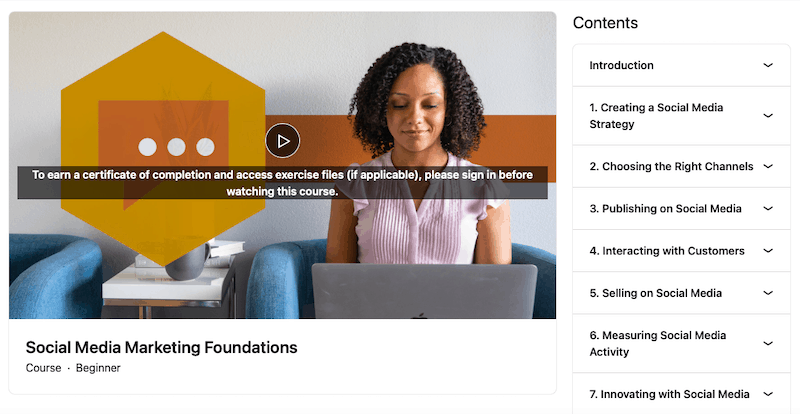 Social Media Marketing Foundations is one of the most popular courses by LinkedIn Learning. It's developed by Brian Honigman, an acclaimed marketing consultant who is also an assistant professor at the New York University School of Professional Studies and a contributor to magazines like the Wall Street Journal and Forbes.
In the course, Honigman teaches how to define your audience and build a social media strategy based on your business requirements.
The course also shows the basics of social media marketing, effective communication on social networks and explains how social media marketing can benefit your business.
3. Social Media Marketing Certification | HubSpot
HubSpot offers a free Social Media Marketing Certification that will help you develop an effective social media strategy and build an inbound social media strategy that grows your bottom line. It also teaches you how to leverage social media to transform your business.
If you're a social media marketer, marketing manager, or aspiring marketer, then make sure to take this training course to hone your social media marketing chops.
4. Fundamentals of Digital Marketing | Google Digital Garage
Google Digital Garage's Fundamentals of Digital Marketing is a free Interactive Advertising Bureau-accredited course that will allow you to master the basics of digital marketing.
It offers 26 modules packed with practical exercises and real-world examples to help you turn your marketing knowledge into action.
Advanced courses
5. Advanced Social Advertising | Hootsuite Academy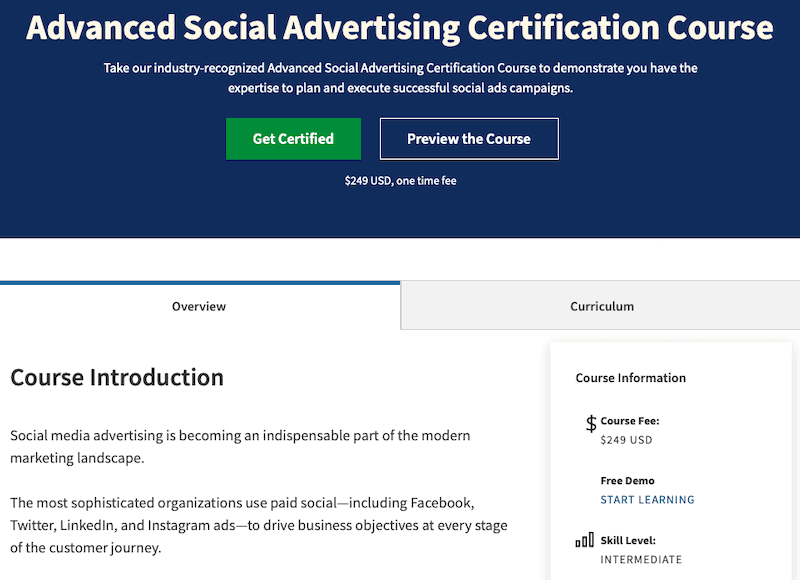 This certification will give you the knowledge and skills you need to use paid social media, such as Facebook, Twitter, LinkedIn, and Instagram ads.
Armed with all the advanced tips on social advertising, you'll be able to set predefined social media goals and drive business objectives at every stage of the customer journey.
You can get your Hootsuite Advanced Social Advertising Certification by passing an online exam that tests your knowledge of social media advertising.
Note that SEO skills along with social media advertising skills can do wonders for your social media campaigns. Luckily, there are also in-depth SEO courses available to help you specialize in that field as well.
Platform-Specific Courses
6. The Essential Guide to Facebook Ads | Facebook Blueprint
Facebook Blueprint offers 75 free online courses, out of which The Essential Guide to Facebook Ads is a popular course that helps you get started with Facebook advertising.
It will equip you with tips like when to advertise on Facebook and Instagram, how to expand your audience on Facebook, get verified on the platform and reach the right people.
You should seriously consider this course since Facebook is one of the most popular social media platforms in 2021.
7. Instagram for Business | Facebook Blueprint
Facebook Blueprint's Instagram for Business is a Help Center with several topics on Instagram – starting from setting up your professional account to creating ads on the platform and using professional Instagram tools.
8. Marketing on LinkedIn | LinkedIn Learning
Marketing on LinkedIn is another great course on this list. A course designed by one of North America's most in-demand speakers on personal branding and LinkedIn, Michaela Alexis, you will learn many methods to market your brand on LinkedIn.
The course will show you how to:
Build an awesome profile
Create different types of content
Surround yourself with the right people
Since it's equally vital to be aware of standard social media etiquette, this course will also give you an overview of effective communication to build new LinkedIn connections.
9. The Quickstart Guide to YouTube | YouTube Creators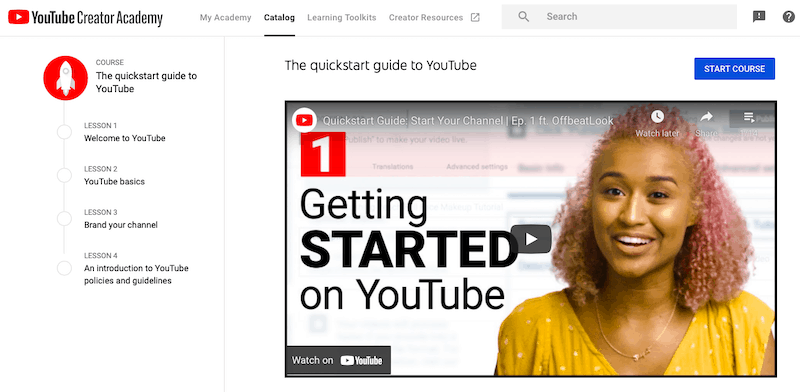 With over 2 billion monthly active users and 95% of global internet users watching YouTube, it's a great platform to skyrocket your brand.
And the Quickstart Guide to YouTube from YouTube Creators will help you do just that!
The course will show you how to set up your YouTube channel, upload videos quickly, and align it with your branding. You will also learn about YouTube community guidelines.
And the best part? You can complete the lessons at your own pace and pass the course exam with 75%.
10. Twitter Flight School Course 1 & 2
Twitter Flight School is a learning platform that will equip you with everything you need to know about Twitter advertising. It offers courses tailored to every level of expertise.
You can begin with the fundamentals or dive into video campaigns. And you'll also get badges for the completion of coursework and assessments.
11. Master Marketing with Pinterest Academy
Master Marketing with Pinterest Academy is a list of all-encompassing courses to help you master topics, including creative strategy, creative inspiration, campaign optimization, targeting, and more.
You'll get pro tips and practical examples to grow your business on Pinterest. The course duration is 1 hour.
Don't miss out on this course when you stand a chance to reach 459 million monthly active users worldwide with adverts on Pinterest.
12. How To Build Your Personal Brand On TikTok | Influencer Marketing Hub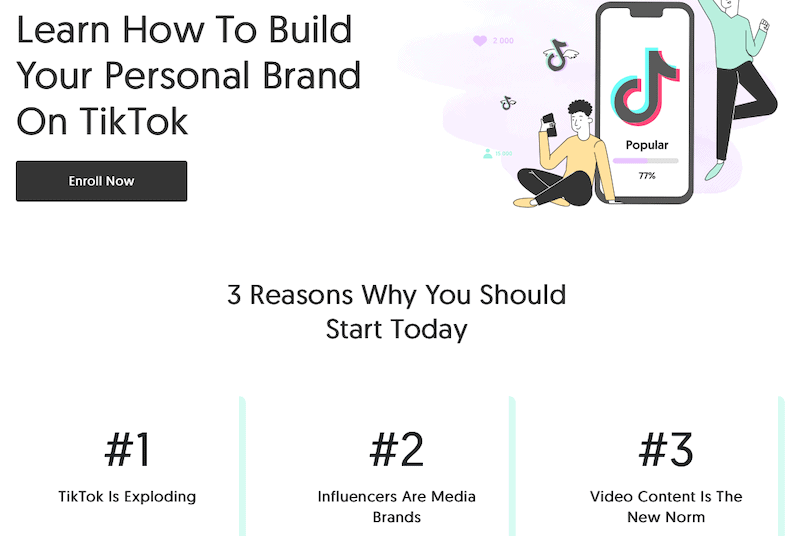 This TikTok marketing course by Influencer Marketing Hub will teach you everything you need to grow your brand on the relatively new social platform.
The course includes the basics of TikTok and will help you craft your persona, build your audience, increase engagement, collaborate with brands, and make more money as an influencer.
If you want to grow your brand and target a younger audience, don't hesitate to take this training course. Even prominent brands like Levi's are now using TikTok for branding purposes. Why can't you?
Social Analytics Courses
13. Social ROI and Value Analysis | Hootsuite Academy
Social ROI and Value Analysis is an advanced course by Hootsuite Academy that teaches you how to measure your social media campaigns' ROI.
The training also consists of a 40-question online exam that tests your knowledge of social ROI measurement best practices. You'll also get a Social ROI and Value Analysis Certification after acing the exam.
The online exam consists of an all-inclusive series of multimedia tutorials, webinars, and resources. The exam covers everything, from goal and KPI setting to pulling data and conveying it convincingly to senior leadership.
14. Google Analytics Courses | Google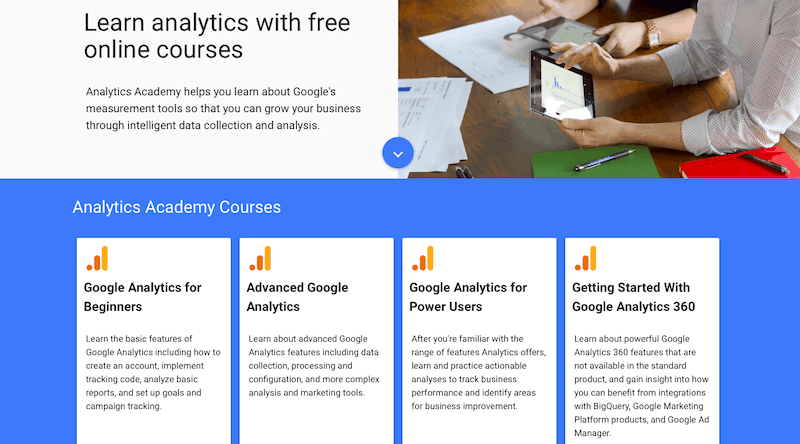 Google Analytics Academy offers several courses to help you learn about Google's measurement tools to grow your business utilizing intelligent data collection and analysis.
The courses include:
Google Analytics for Beginners
Advanced Google Analytics
Google Analytics for Power Users
Getting Started With Google Analytics 360
Introduction to Data Studio
And Google Tag Manager fundamentals.
Everything in the courses gets conveyed through interactive videos and quizzes, making the learning experience interesting for the viewers.
15. Get Insights With YouTube Analytics | YouTube Creators
This YouTube Analytics course will help you learn how to unearth trends and find out what's working and what's not. After you're through with the course, you'll be able to identify who's watching your videos, what your viewers like to watch, and which videos could earn you more revenue.
You can complete the lessons at your own pace and will have to pass the course exam with 75%.
Are You Ready to Start Your Social Media Training?
Without proper training and social media know-how, you can't scale up your business the way you want.
You don't have to go through all of these social media training courses to become a pro. Just pick the ones that align with your business goals and start implementing everything you learn.
You can also start with one of the free courses for a beginner and then pursue more advanced courses with hefty fees.