With billions of users at your fingertips, you already know that social media is the best platform to reach your audience. But simply being on social media doesn't guarantee you the eyeballs you want and need. You'll need social media reach to make it happen. Small businesses in particular may have some difficulty standing out in such a crowded marketplace.
Today, we'll help you change that.
But first, what exactly is "reach"?
There are many metrics to consider when measuring the success of your social media campaigns. In the world of social media marketing "reach" measures the total number of people who see your content.
For organic posts, it's important to calculate your reach versus your total number of followers to determine how many percent of them actually view your content. On Instagram, one reach = one unique Instagram user.
On Facebook, there are 3 categories of reach.
Organic Reach – Organic reach means you did not spend to get your content viewed by these people (often your existing followers). This is the total number of unique users who naturally came across your content on their feeds.
Paid Reach – This is the total number of people who viewed your paid ad or boosted content.
Viral Reach – Viral reach is defined as the total number of unique Facebook users who've seen your content that was published or reshared by another profile.
The difference between reach and impression
The terms "reach" and "impression" are often tied together and mixed up. Reach is the total number of unique users who have seen your content, while impressions is the total number of times your content is viewed.
Impressions will more often than not have a higher number than reach because a single person can view a piece of content more than once.
Why is social media reach so important?
Reach is one of the most important metrics to measure to determine the size of your existing audience. For example, you could have a 10,000 follower count on Instagram, but if your reach is only a couple hundred people, that means your followers aren't even seeing your content.
A good reach rate for brands with less than 10,000 followers should be over 36% for posts and 7% for stories. As your follower count increases, your expected reach rate will progressively decrease.
Pages with good reach rates typically translate to higher conversion rates. By measuring reach you can:
Tailor your messaging – Finding out how many and who are viewing your content on social media will help you create more effective content. Pinpointing your actual audience can help you paint a more accurate picture of your customer profile, helping you craft messaging that works for them.
Make smarter decisions – Knowing your reach can give you an idea about the size of your audience. As a business, this knowledge can help you make important decisions such as how much inventory you should keep and how much you should budget for your campaign.
Measure brand awareness – Tracking your reach on social media will give you a pretty accurate idea of how your brand awareness is improving through time.
Image credit: https://www.instagram.com/homesphereph/
Real estate business, Homesphere (@homesphere) saw that its reach rate per post is about 47.8%, which is well above the average reach rate for accounts with less than 10,000 followers. This indicates that almost 50% of its followers are able to see Homesphere's posts on their feed.
Note: Only registered Instagram business accounts can track their reach through View Insights or the Professional Dashboard. If you manage a Facebook page, your posts' individual reach is automatically posted below. You can also click on the Insights for a breakdown of your page's performance in specific time periods.
Expanding your social media reach
Focus on your existing audience
It might be tempting to set your sights on the bigger fish that's out there but without working on your current audience, your efforts might go for nothing. Conduct valuable research and verify if your brand needs to focus on B2C or B2B marketing. Before jumping on ads, do a thorough review of your existing social media profile:
What type of content works best?
How many of your current followers are seeing your posts?
What other brands/content creators are your followers interested in?
Learning more about your current audience will help you create more targeted content that works. This will also give you the opportunity to build a stronger relationship with your audience, which can eventually translate into better brand engagement and loyalty.
Instead of casting a wider net to capture just anyone, the best brands out there are able to craft content that speaks directly to their audience.
Once you've built a solid relationship with your current audience, they can act as your brand ambassadors who willingly and freely promote your brand to their friends.
Know where they are
Knowing where your audiences are can be divided into two categories:
Platforms they're most active in
Knowing which platforms they're most active on is crucial because it will help you determine where to focus your efforts. While it's good to have multiple social media platforms so that you have various touchpoints, if you have a small team, it's important to work smart, not hard.
To find out which platforms your customers are most likely to use, simply ask! You can send out a customer information survey via email that is easy to engage with or after they complete a purchase. A quick scan through all your channels can also give you an idea.
Where they are in their customer journey
Your customers will be scattered across different stages of their customer journey. It's important to create content that's relevant throughout each stage (awareness, consideration, decision, retention).
For example, someone in the awareness stage would appreciate more informative content such as short blogs and infographics so they can learn more about your brand. On the other hand, someone in the decision stage will be looking through customer reviews and user-generated content (UGC).
Having content for the different stages of your customer journey can help guide your customers down the process of finally making their first purchase and then becoming repeat customers.
Make sure your profiles and posts are SEO optimized
Optimizing your posts and profile one of the best ways (and must-dos!) to expand your reach and get discovered on social media. Every element of your page needs to be optimized including your:
Username – make sure that it includes your brand name and that it's easy to remember
Category/Industry
Link to your website or trackable link to a relevant landing page
A short but keyword-rich description about your business
Similar to how Google SEO works, Instagram's search bar can help users find related posts or profiles just by typing down a keyword, hashtag, or location.
By optimizing your profile and posts, you can draw on what your audience is looking for.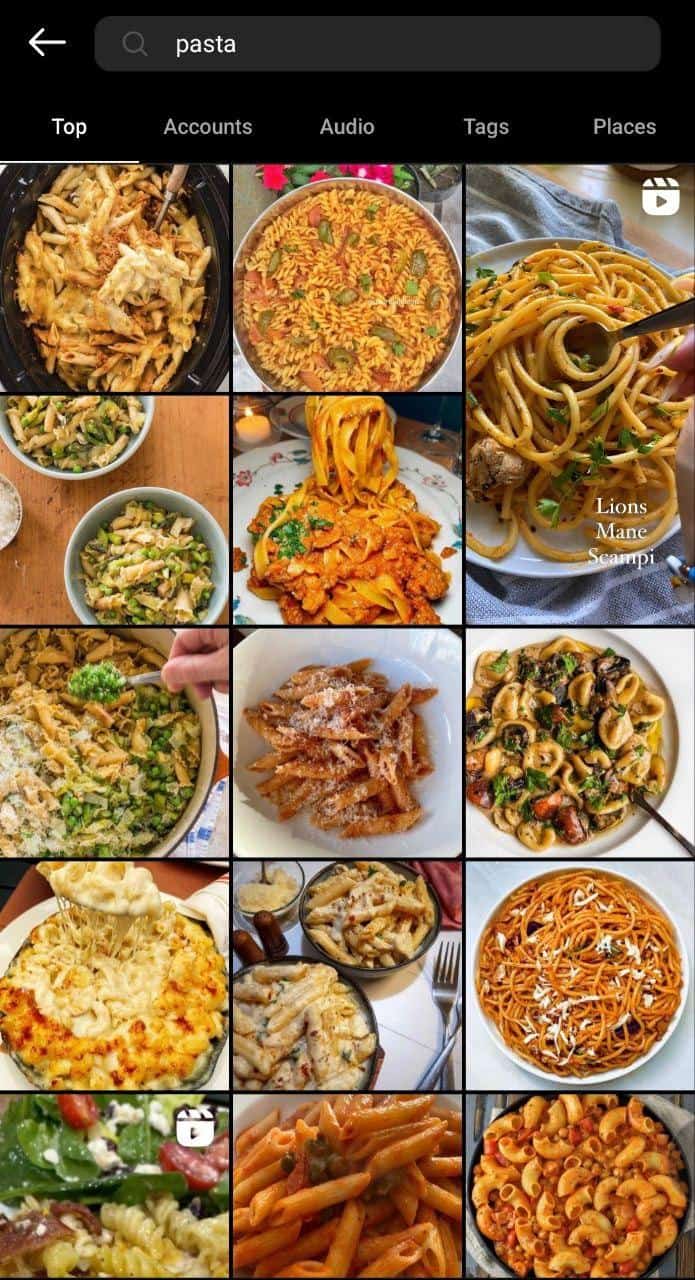 For example, if you include the keyword "pasta" on your caption when someone searches for "pasta" on Instagram, your content will be among those that are featured. If your account is optimized, Instagram can also suggest your posts to relevant users.
It's also a great idea to include keywords in your profile and even username.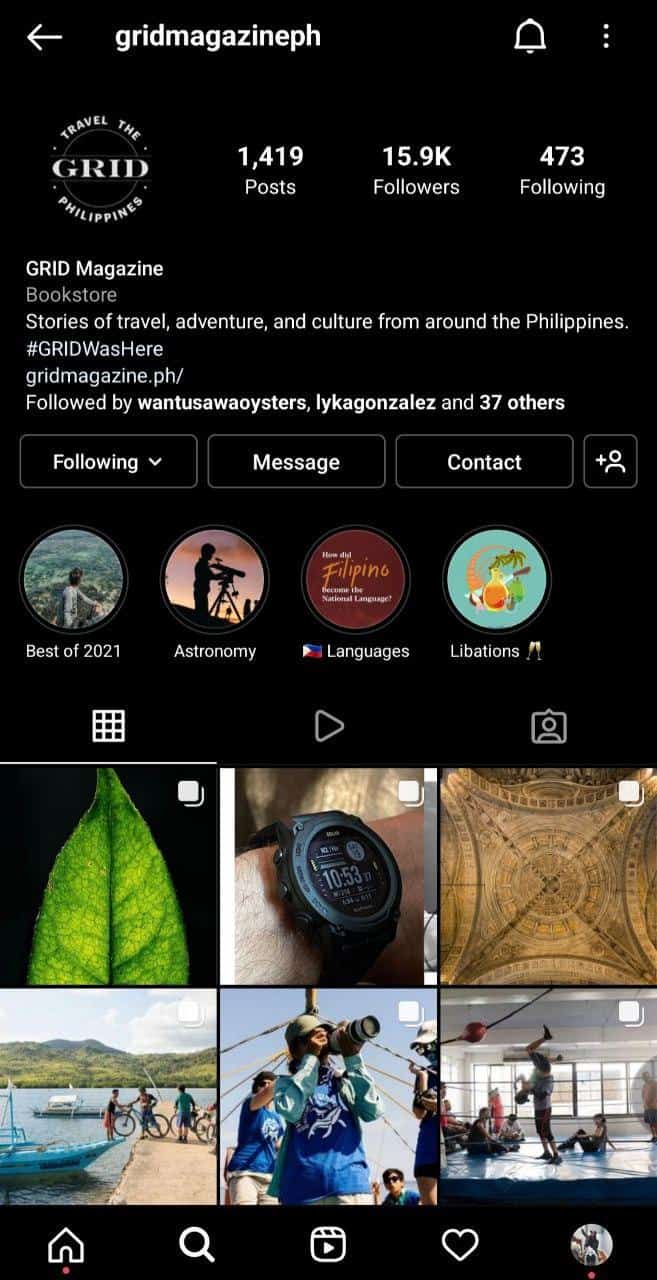 Image source: https://www.instagram.com/gridmagazineph/
Grid Magazine (@gridmagazine) uses the keyword "magazine" on both its username and name on Instagram. This is a strategic way to appear among the top results if anyone searches for your target keyword.
Pro-tip: If you're consistent about using keywords and specific hashtags on your captions and profile, Instagram's algorithm will refer your page to the right users. Moreover, you can use Instagram growth tools to make the most out of your efforts.
Experiment with targeting
Now that you already know who your current audience is, you're ready to set your sights on ads. Experiment with ads by boosting high-performing posts and targeting specific audiences based on their age, demographics, interests, and location.
Facebook ads has detailed targeting options that allows you to target audiences based on hyper specific interests, behaviors and characteristics such as:
The type of pages they like and engage with
Device usage and travel preferences
Industry that they work for
Ads that they click
Speed of their network connection
Being more detailed about the audience you would like to target helps ensure that your ad reaches the right audience. Otherwise, you'll be spending money on people who might not be interested in your brand.
Engage with your audience
The golden rule of having a social media account is to respond to all comments. Simply replying to comments will improve your reputation and encourage more and more people to engage with your account.
Engagement and reach go hand-in-hand. The more people engage with your brand, the more your content will get served to your audience. But of course, people won't engage with you, if you don't engage with them first — you have to make the first move.
Thankfully, Instagram's many features have made it easier for brands to engage with their audience and vice versa. Instagram's interactive stickers allow your viewers to respond to questions and let you know how they feel in just a tap. You could also add your own visually engaging quizzes, like a matching quiz or an opinion poll, for example. To cut down your efforts you can also use some of the best instagram tools for better engagement and visibility.
If you find this time consuming and overwhelming you could hire a virtual assistant who is trained to help you with this task.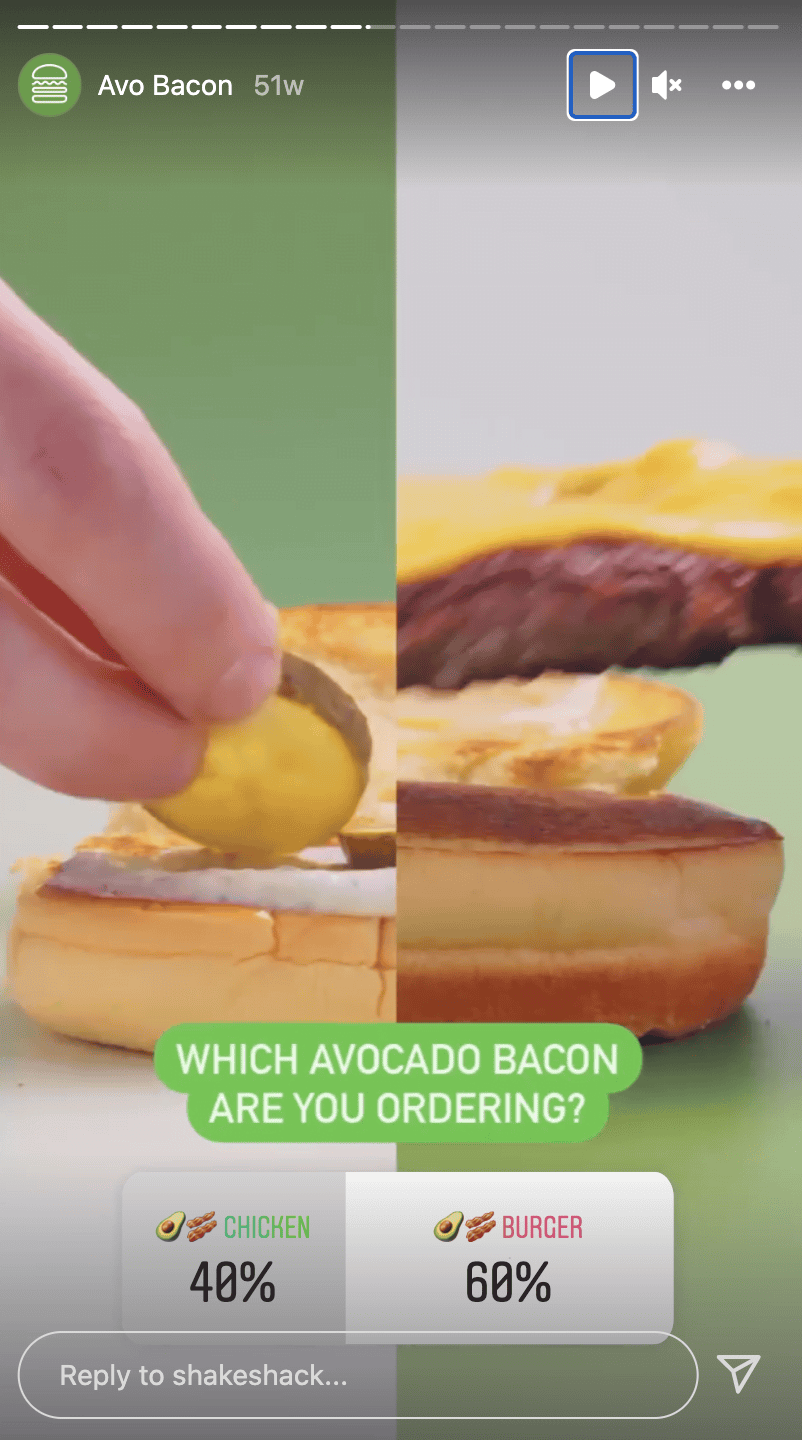 Image source: https://www.instagram.com/shakeshack/
Popular burger chain Shake Shake (@shakeshack) uses the Instagram poll sticker to engage with its audience and determine which of their products will be most sellable.
Learning from Shake Shack, engaging with your audience can give you valuable insight that you can use as reference when crafting marketing campaigns or making important business decisions. What's best is that the interactive stickers give you a breakdown of the answers, meaning you know who exactly answered what.
Go live
Aside from being an awesome opportunity to connect with your audience in real-time, going live is also a great way to expand your reach. Unlike content published on your page, which aren't guaranteed a place on your followers' feeds, going live will instantly place you on top and ahead of everyone.
Social media platforms prioritize live content.
On Instagram, followers who are online while you're live will see your broadcast ahead of everyone else's Instagram Story, while those with their notifications switched on will get notified. Going live on Facebook, on the other hand, has a higher chance of appearing on your followers' newsfeeds compared to regular content like photos and videos.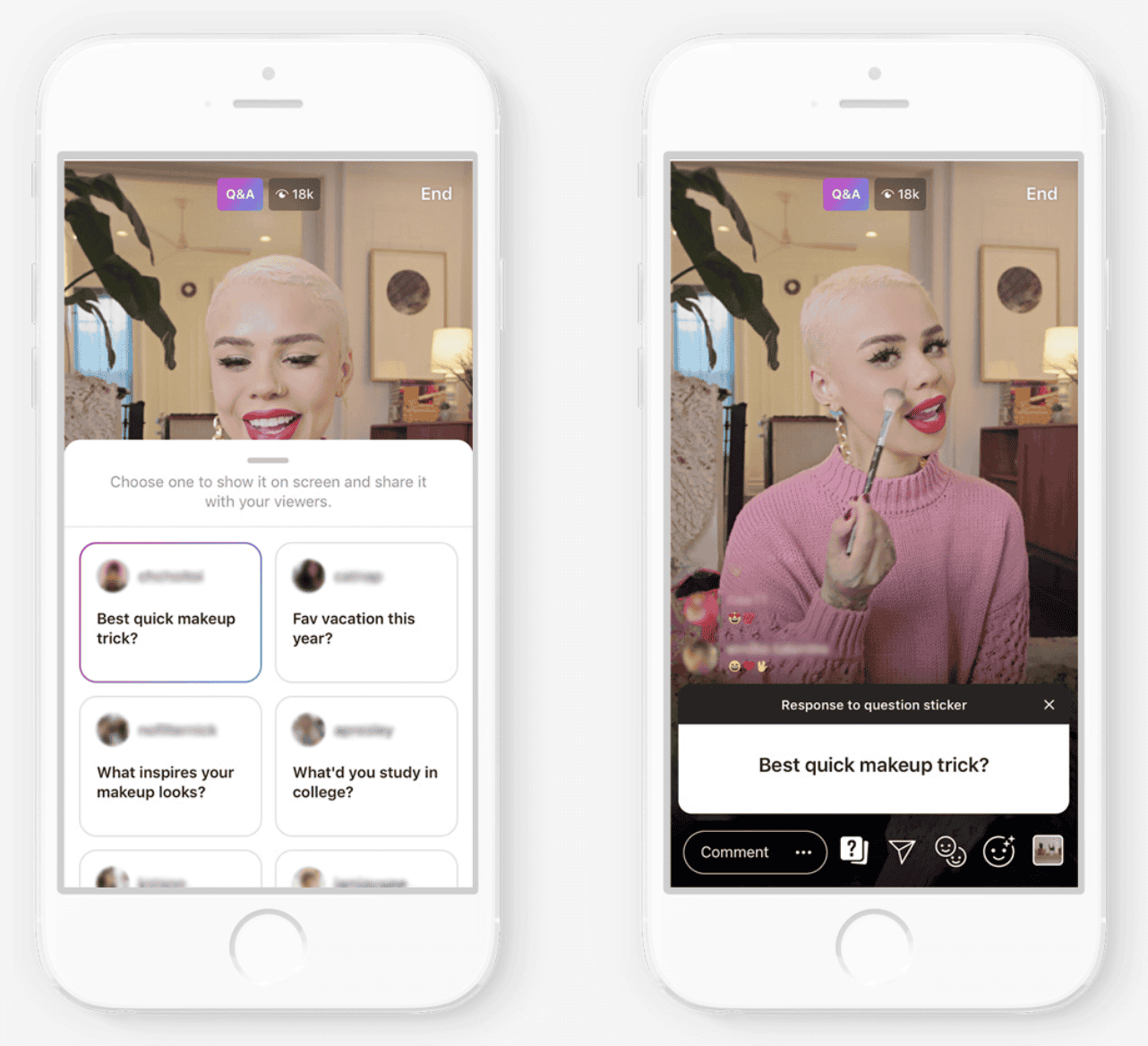 Image source: https://business.instagram.com/
Since most social media platforms today support live videos, it's safe to say that audiences of all ages are watching live streams.
Pro-tip: Hype up your livestream on stories before going live to create excitement and anticipation. Check out Audience Insights on Instagram to find out when your audience is most active and schedule your livestream at peak hours.
Don't forget to save your live video and publish it to your feed for those who missed out (who doesn't love repurposed content?).
Consider partnerships and influencers
Like it or not, influencers or content creators are here to stay. If you're looking for a way to reach a bigger, more engaged audience, a surefire way to do it is through influencer marketing.
Influencers already have an existing audience that is interested in your specific niche. Simply getting an influencer to post about your product will not only increase awareness of your brand but it may also lead to conversions.
Professional influencers are also great to work with because they create content for a living, which means they will come up with unique content that could be a valuable asset to your brand.
Plus, working with influencers is generally more cost-efficient than spending big on traditional advertising or celebrity endorsements, with the potential of bigger returns.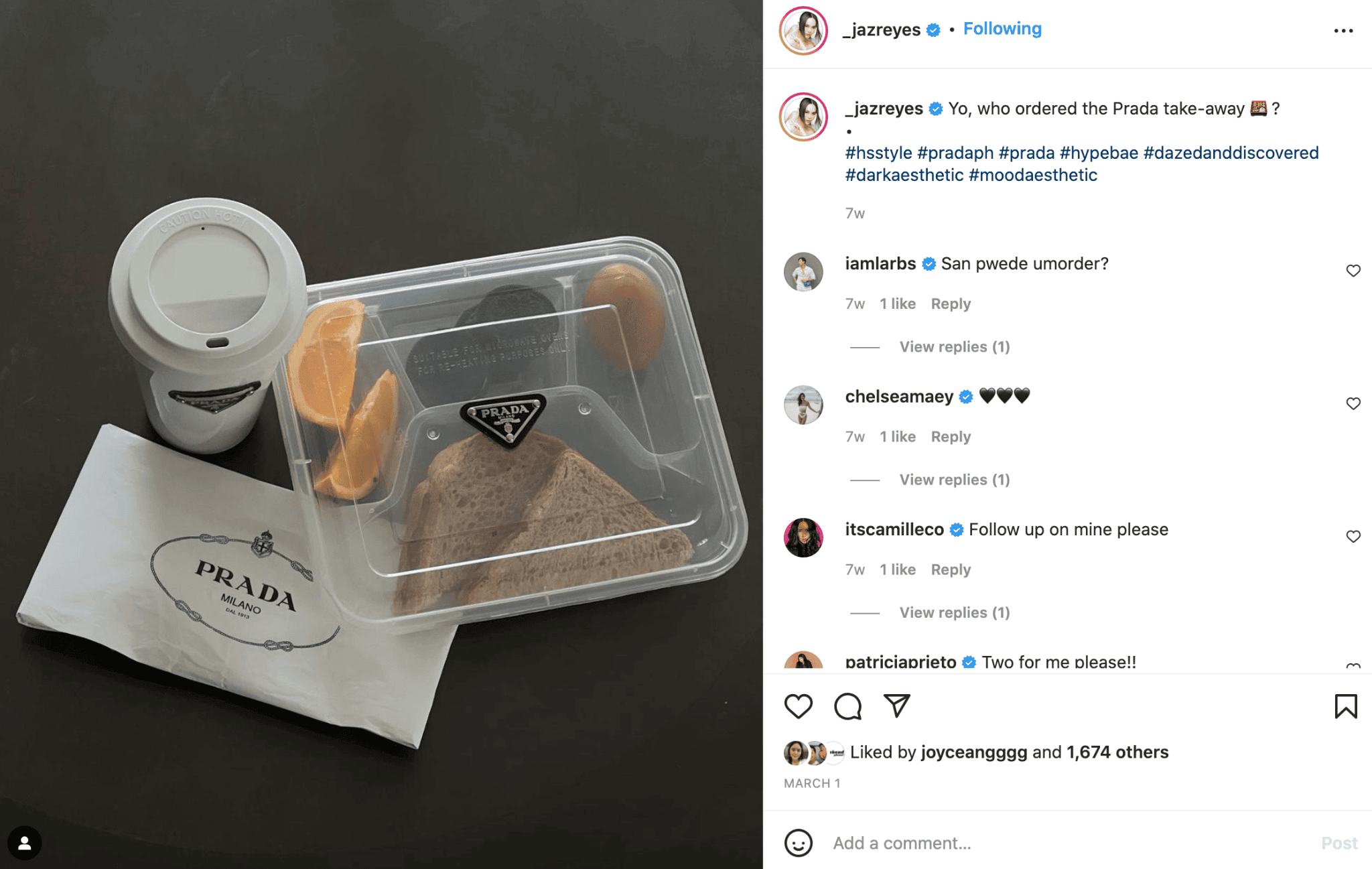 Image source: https://www.instagram.com/_jazreyes/
Philippine-based content creator Jaz Reyes (@_jazreyes) is a favorite choice for global luxury and high-street brands because of her signature out-of-the-box content style. Unlike your regular influencer who may post a selfie or flatlay of your products, Jaz puts her own spin and creative touch to every single post, sponsored or not.
If you want to reach a wider audience, don't be afraid to partner with someone who's creative and not afraid to push the boundaries of their platforms.
Mix up your content
As a brand, it might be tempting to go straight to the salestalk, but unfortunately that won't work on social media. Think about your followers as people you want to maintain a relationship with — you have to bring value to the table. The conversation should never revolve around "me, me, me!".
Your followers expect content that they can find useful. For example, how-to videos or facts that they can learn from. Only a small percentage of your posts should focus on selling products and if so, make sure they don't look or sound too salesy.
Mixing up your content on social media also means experimenting with all media including photos taken by you or stock images, vidoes, GIFs, memes, Stories, live, and whatever new feature is made available. Changing things up will keep your followers interested and engaged.
It also helps to trendjack, whenever possible. Seasonal events like Christmas, Halloween, and the like are the perfect opportunities to show your audience your unique voice while riding the influx of content. This is why it's best to have your relevant posts prepared beforehand (things like social media calendars can come in handy!)
Many social media platforms will also prioritize new features much like Instagram is currently doing with Reels. So, always stay up-to-date with the newest app updates.
Find your sweet spot
Many make the mistake of pushing out content or campaigns when everyone else is online and active. While it's true that high-traffic times could translate to more eyeballs on your content, it also means you're competing with everyone else.
Try to find the sweet spot between when everyone else is posting and the quiet hours when everyone else is just passively scrolling. Doing this will ensure that your content doesn't get lost in the crowd and you get to "own" an untapped or under utlized hour.
For example, restaurants might think that the hours right before lunch or dinner are the perfect times to post. While this may be true because people would be browsing for places to eat during these peak hours but again, they would be competing with everyone else.
Instead, it might be a good idea to post mouthwatering content late in the evening or right when most people are about to go to bed. This strategy will get people hungry and craving at midnight and which will push them to order or dine in the next day.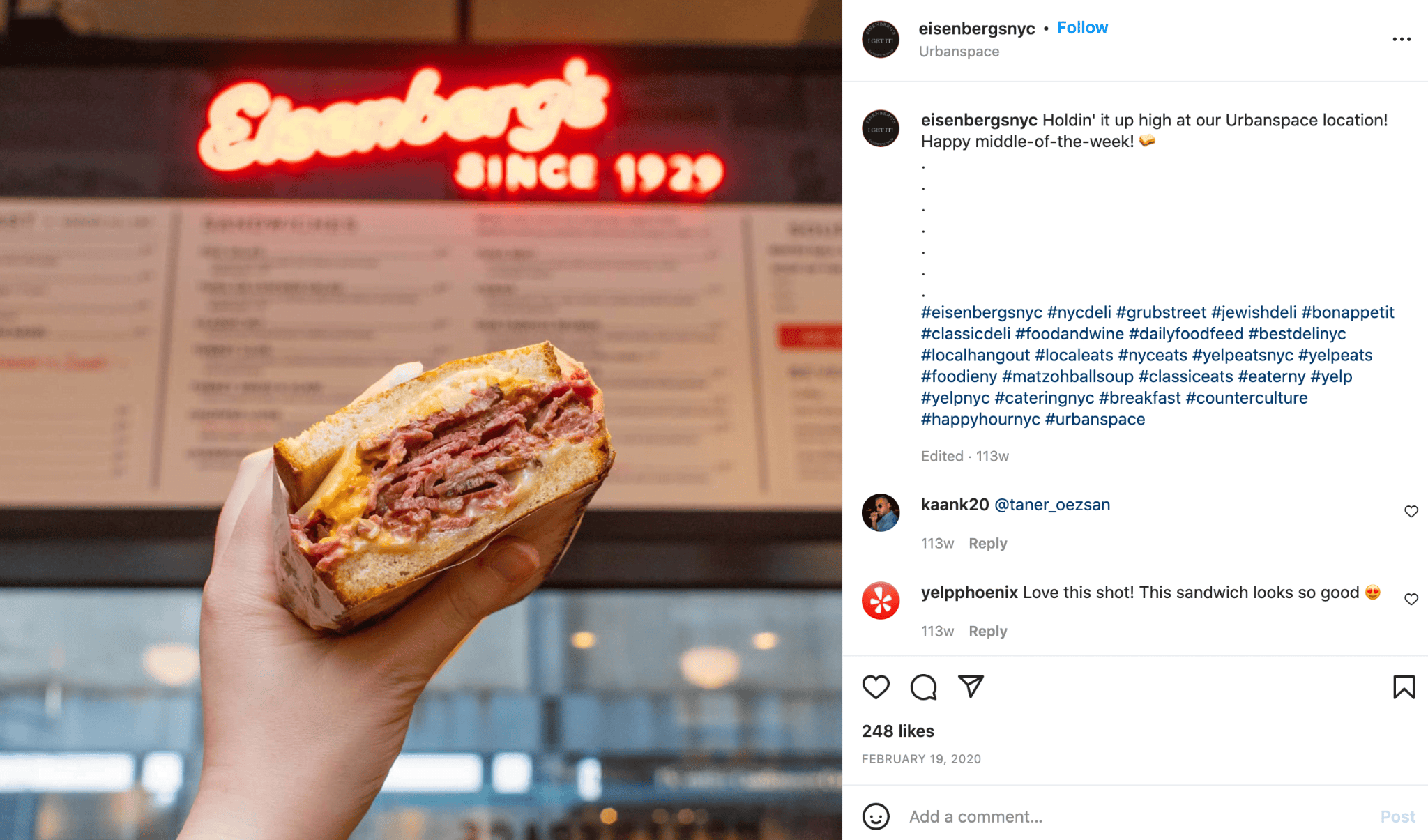 Image source: https://www.instagram.com/eisenbergsnyc/
Think about it: doesn't a sandwich look so much better late at night versus right when you're about to eat?
Promote your social profiles wherever and whenever possible
Have a brick-and-mortar? Leave signs around the store reminding your customers to follow you on social media. Promote your social media accounts on all of your channels including your website and on your emails to customers and partners. Make it easy for website visitors to follow or like your pages by adding call-to-action (CTA) buttons.
Don't be afraid to cross-promote your social media profiles on other channels to make sure your customers are following you wherever they're active.
Remember: if you don't ask, don't expect!
Get started!
While there's no secret sauce to social media success, following these 10 steps can definitely expand your reach and improve your overall performance. Don't forget to always keep analyzing your posts and campaign performance to find what works best for your audience.
A huge chunk of social media marketing is trial and error, don't be afraid to make mistakes but always, always learn from them.