Social Media can seem difficult with the constant algorithm change, trends, and the mere thought of it being on a third-party site. But if your customers are primarily on social media platforms, it makes sense to invest in being visible and drive conversions for profits.
However, if you're in the early stages of your business, then attracting the right audience is the key to getting sales. And if your business has taken off, then getting a broader audience needs sufficient visibility on social platforms like Facebook and Instagram.
Like all business owners, if you are time-strapped, then hiring an Instagram management service professional to get things moving is a good start.
However, there is much more to putting together a social media strategy. You have to factor in the ROI, shortlist the best service provider and get them to envision your goal for your social media channels. Also, consider creating clear SOPs and tracking the performance of your campaigns to understand if it makes your investment worth it.
But first, let's take a look to decide if your business needs to look into an Instagram Management Service.
Do you need an Instagram Management Service?
Start by looking at various media platforms. Do they fit into your marketing strategy? Identify where your potential customers are active and pick that platform. If Instagram is a significant part of your customer acquisition strategy, determine your budget to understand if you can hire a full-time to do it for you?
Also, factor in if it will be worth your time to find the right fit. After all, picking the right person will help you execute the right social media strategy that works for your brand.
If not, finding an Instagram Management service is a good option. Think through these points to pick one.
Working with other clients: Find professionals who have helped several clients. This way, you can see through their work and understand if they are a right fit. Their work will also give you the confidence if they can pull off a similar campaign you may want in the future. The lessons with other clients learned can be applied to your business.
Hourly Pay: Budget-wise, you are in a good position since you don't need to pay full time. This way, you only pay for the hours spent on your campaign, making it worth your investment. Here be specific about the campaign tasks to get the ROI for your hourly pay.
Great for SMEs: SMEs often work lean with a small team, so hiring a full-time employee adds to your budget. Looking into an IG Management service takes the load off of shortlisting and selecting full-time employees. A service provider will also have trained employees, so you don't have to spend on preparing people for your campaigns.
How to Shortlist a Service Provider
There are many ways to go about picking a service provider. You could ask for referrals within your industry and take this route. However, if you are new to this, check multiple sources before narrowing down and picking one.
Google Search isn't Always the Best: Those ranking at the top of the search are not necessarily the best. They are there because of better SEO. Often, they are also more expensive. Therefore, it won't work if you're on a budget. Also, they might not have the capacity to take on more clients.
Hire from Third-party marketplaces: Search on third-party marketplaces like Upwork and Freelancer.com. You can check for past work and freelance work reviews to assess the right candidate. The cost incurred on these sites is much less but also factors in the quality you'd receive at that cost. Will it be ideal for your campaign goals? Social media is also an excellent place to begin. Look for referrals from sites like Twitter and Facebook.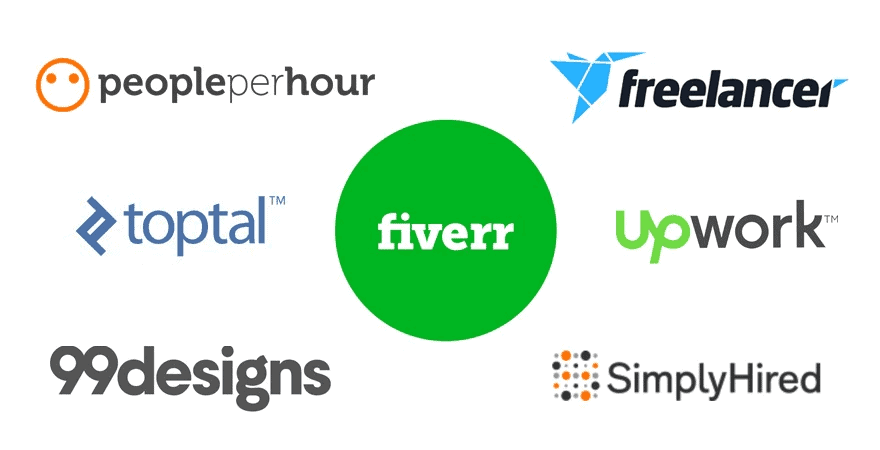 Source: Oberlo.com
Check Relevant Case Studies: Once you receive quotes, ask for specific case studies. Case studies on past clients, their campaigns, and results can help you understand their campaign approach. Find out where they were before the campaign and how they grew after it. Ask about specific campaigns and strategies they used.
Understand the Campaign Strategy Process: Look for the thought process of building a strategy. Are they adopting a 'spray and pray' approach, or do they go in with a specific outcome in mind? Do they have specific plans for different features like Instagram Stories and Reels? Ask how they handle failed campaigns. Enquire about case studies about this, so you know how they handle setbacks and if they have avoided the same mistakes in other campaigns.
Things to Do and Not Do When Hiring an IG Service Provider
Keep these pointers in mind while hiring an IG Service Provider.
Pricing: Do not bargain excessively on price – because you may be hiring hourly. So, you may be assigned an entry-level manager who may not be as skilled with campaigns as an experienced social media manager leading to a less than satisfactory experience on your campaign.
Work Scope: Know exactly what they will and won't be doing. Will they be ideating creatives, and will they use in-house designers to produce them? Would they be building landing pages, or is their scope limited to producing and scheduling posts? Do you have your own designers you want to use? How would you collaborate? Narrow down on the resources allocated for your campaign, so you know exactly what you'll be paying for.
Social Media Tools: Who handles the cost of social media management tools – is it bundled into the pricing, or will you have to pay for that additionally. Consider the pros and cons of additional costs for social media tools that may not be entirely necessary or used sparingly during the campaign. Make sure you communicate your social campaign goals before the project to assess the exact needs of the tools.
Source: Capterra
Talk to Past Clients: Set up a call or meeting with past clients to know how well their campaigns were managed or if there were any hiccups. Understand the IG service providers' approach to campaigns irrespective of their performance to see if it aligns with your business values and beliefs.
Prepare Standard Operating Procedure for IG Services
Set SOPs that make it easy to track roles and responsibilities for your team and those managing your IG services. It helps identify errors, track performance, and improve the efficiency and profitability of your campaigns.
Policies on Company Branding: Establish clear communication on your branding; especially guidelines related to tone and message. This way, your team manages the account with your vision. Also, ensure you are clear with your brand's do's and don'ts to avoid conflicts.
Copyright Material: Let the IG service provider know your stand on the copyrighted material. Speak with them about the brand images you'd like to use and showcase on your social account.
Document your Production Calendar: Draw up documentation that takes the service provider through the entire journey of the production calendar. This way, you're aware of the various campaign elements that will require necessary approvals, alignment to your campaign goals, and resources to meet them.
PR Crisis Management: Maintain a common point of contact in case of any escalations or issues with your campaign. Put the necessary POA in case of a PR crisis – when to contact and when to douse fire themselves.
Tracking and Reports
It takes time for social media to show results. So take time to track the campaign periodically. Identify your goal for the campaign and work backward to determine the list of reports and KPIs you need to achieve the goal. Hold regular meetings to brief the team on the performance and tweaks to improve it.
Reporting format: Create report formats to track the campaign performance. It is good to sit down and prepare the reporting format together. It creates consistency in the expected campaign outcome and helps narrow down the metrics that matter. Keep it lean and pick a few formats to follow. Avoid overwhelming your team with too many reports that don't get updated or tracked due to lack of time.
Track KPIs: Identify KPIs and track them consistently. Communicate the stage of awareness of your customers and how it ties in with your product or service while monitoring KPIs.
Track the suitable KPIs depending on whether your focus is brand building or sales conversions on social media. If your campaign is gaining traction, set aside time daily to check its performance.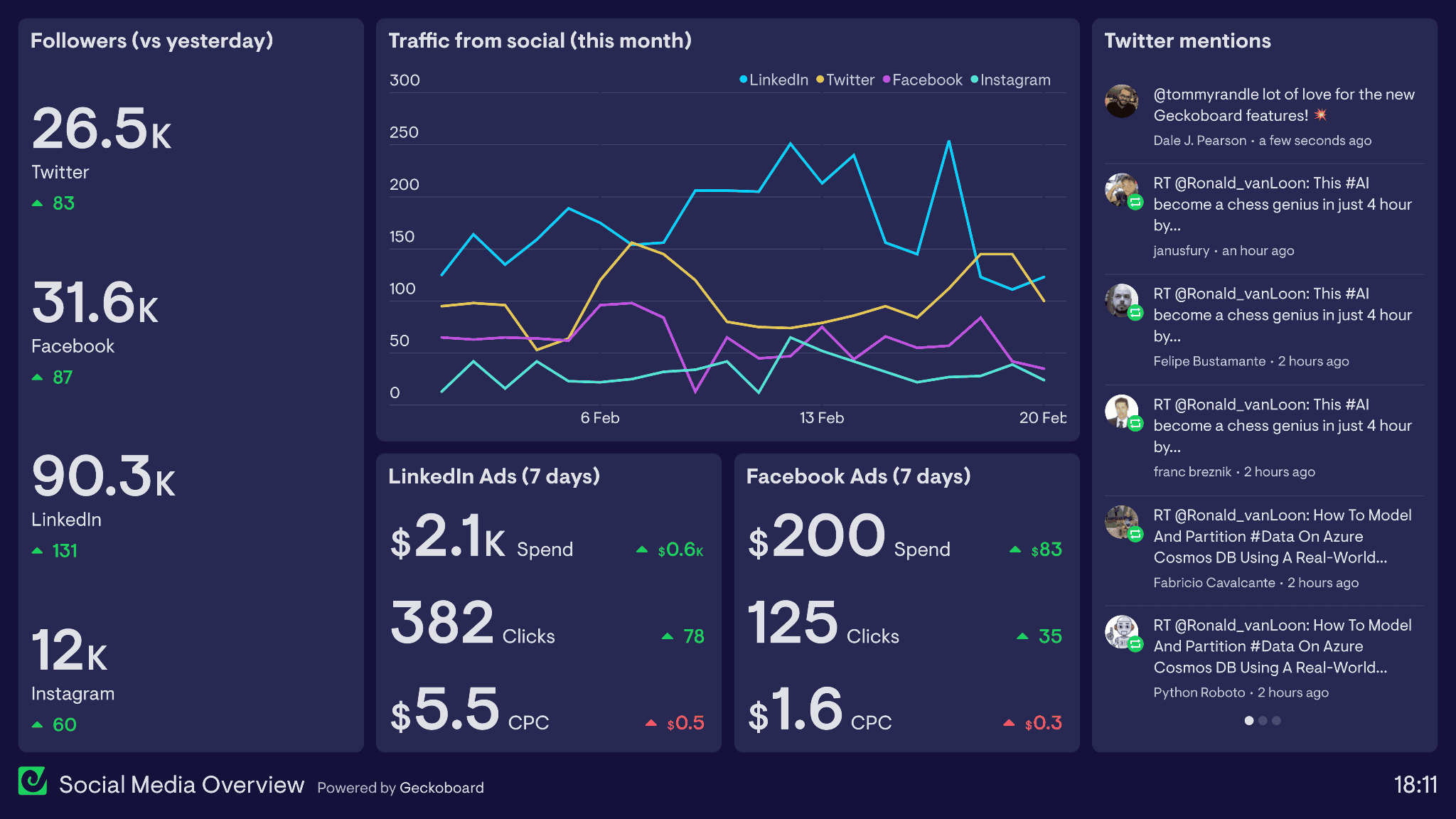 Source: Geckoboard
Setup meetings: Keep regular communication as part of your schedule. Have a fortnightly or monthly call on the calendar. Discuss what's doing well and what's not.
Understand the reason for the non-performance and take a call if you would like to continue tracking it or remove it from your KPIs altogether. Continue to work on what's doing well, improvising it for better performance.
Track Alerts: Avoid setbacks on your campaigns by setting up alerts of your brand in your emails. This way, you are in the loop of any crisis before the agency and provider notify you.
In case of any crisis, get in touch with your contact at the agency and suggest ways to counter the crisis before impacting your reputation.
Finding an Instagram Management Service
Instagram Management can seem like a time-consuming task. But if your potential customers are on the platform, being there is necessary. But you don't have to do it all by yourself. You could hire a full-time employee or outsource it to an IG service management to ease your work.
Check our marketplaces for the right fit. Look out for past work and client testimonials that give you the confidence to pick the right collaboration partner.
Once you have identified the one you want to work with, avoid negotiating on price. Else, you may not get the best service for that price. Be clear on the work scope and factor in the cost of the social media tools if it works for you. Set SOPs so there is no ambiguity on the campaign expectations.
Once your SOPs are in place, track them by creating a commonly shared reporting format and often communicating with regular meetings. Make time to follow alerts to avoid last-minute brand crises and get in touch with the agency to sort it out.
Taking ownership of your brand reduces customer-facing issues, especially if your agency collaboration is new and they have yet to know your brand better.