Making connections on LinkedIn is like building networks and relationships with people you share the same industry with. As a social media for professionals, you want to get more connections with people that matter.
But how to get more connections on LinkedIn?
Of course, you want to engage, interact, and even do business with people in your network. The more connections you have on LinkedIn, the bigger your network will become and the higher the chances of people in your circle noticing you.
That takes us to the aim of this blog post. How can you gain more connections on LinkedIn? The answer is in this piece as I will show you simple steps you can implement to get more connections on LinkedIn with the right people.
What's LinkedIn Connection?
LinkedIn connection is simply a contact you can identify or recognize basically on professional grounds. These kinds of contacts are known as 1st-degree connections once you connect with them on LinkedIn.
Connection on LinkedIn is a two-way thing. You can send a request to connect with people or they send an invitation to connect with you. Other kinds of connections on LinkedIn are:
2nd-degree connections: These are people who're directly connected to your 1st-degree connections. To make them your 1st-degree connections, you can send them an InMail.
3rd-degree connections: Here you have people who are connected to your own 2nd-degree connections. Also, you can send an InMail to make your connection with them stronger.
What is the difference between connections and followers on LinkedIn?
Connections are often confused with followers. But both are not the same. Connections on LinkedIn are members who are connected to each other because they know or trust each other.
Both see each other's anniversaries, posts, job updates, photos on the LinkedIn homepage, etc. Followers can see articles and posts of LinkedIn members they follow without connecting to them.
They can view your profile to see the content you post but won't get notification of them or see them in their LinkedIn feed.
Who should you make connections with on LinkedIn?
Be intentional when making connections on LinkedIn. Not every connection request that comes your way is worth it. Make connections with the following:
Professionals in your industry who are active on the platform
People in your niche with a lot of connections
Recruitment agency and human resource personnel in your industry
People whose content make you better at what you do
Co-workers in your workplace
How do you get more connections on LinkedIn?
Many Professionals on LinkedIn leverage the platform to grow their career, exchange ideas with people of like minds, and seal juicy business deals. These can't happen by chance.
Whether 1st-degree, 2nd-degree, or 3rd-degree connections, what matters is getting more quality connections that can boost your career.
Let's dive into 8 steps through which you can make this happen.
1. Set up your profile to reflect the value you offer
This is the most important factor that gets you more connections and I will dive deep into it. People check your profile before they decide to connect with you on LinkedIn.
That tells them if you're the right person to network with. When LinkedIn users view your profile, what do they see? Your profile photo, name, job title, location, number of connections, about, experience, education, certification, skills, contact, interest, accomplishment, etc.
To make your profile stand out, do these below:
Profile photo
Upload a high-quality photo that looks professional. Remember this is LinkedIn and not Tiktok or Instagram where your profile photo doesn't really matter. Recruiters or human resource personnel will check out your profile and you need to make a good impression with your photo.
Name
Use your professional name as they appear on your credentials. Don't use nicknames that sound awkward. Bear in mind that some of the job offers you get from your connections will require that you submit your CV. So there shouldn't be a discrepancy between the name on your profile and your credentials.
Current Position
Let people know your position at your workplace. If you don't have a job, state the role you are looking for. That will make it easy for businesses looking for your services to know you are available and also connect with you.
Location
Adding your location is important on LinkedIn. It helps you connect with people within your location. Some jobs on LinkedIn are location specific and recruiters will want to connect with you if your location is a match.
About, Experience, Education, Certifications & Endorsements
The about section is like a personal bio and it has to be catchy. It's a summary of the value you offer and your achievements in your career. AI copywriting tools have templates you can use to create an impressive LinkedIn bio. Your experience is the place you work and have worked for years.
If you are self-employed or an entrepreneur, you can state the businesses you have built.
Education is the school you currently attend or have attended. Certifications are licenses you have acquired while endorsements/skills are votes of trust people passed on you because of the service you offer.
Contact
Having a contact in your profile builds trust. People will want to know how to reach you outside LinkedIn before they decide to connect. There is a provision to add the URL of your website, email, home or office address, and phone number.
Take a look at my LinkedIn profile in the screenshot below.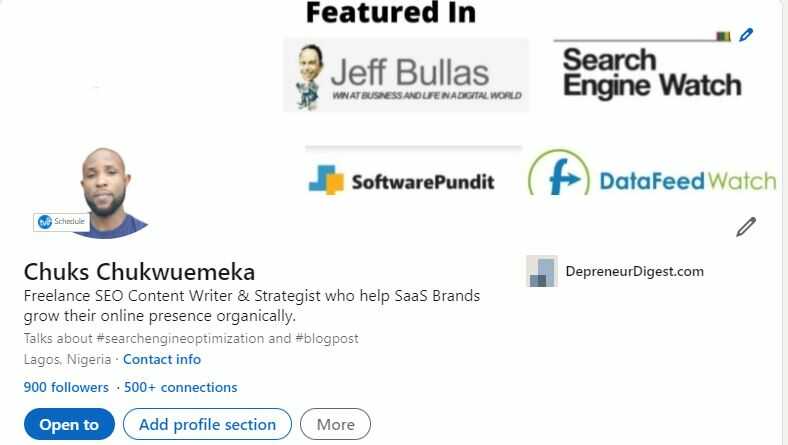 2. Position yourself as an authority with the content you post
Content is king and it is one of the ways to tell people that you know your onions in the digital world. You may be asking how the content you post on LinkedIn can get you more connections. But have you imagined how your connections who derive value from your post will react after consuming it? They're likely to hit the share or send button to share it with their connections on LinkedIn.
Also, their connections who find your content helpful may want to connect with you. Let's assume they didn't share it, they can like or comment on it.

That will boost the engagement of such a post which sends LinkedIn's algorithm signal that people like your content.
That's how some posts on LinkedIn go viral and lead to an increase in the number of connections of the user that posted them.
What type of content cuts it on LinkedIn?
A short or long post packed with value works on LinkedIn. Users on LinkedIn want to learn how to improve their career, get dream jobs and deliver great services to their clients.
Be intentional and consistent in posting helpful content. You can also try creating videos with a tool like Invideo. A short video of how to solve a problem will go a long way in getting you more connections.
Infographics also work on LinkedIn. You can use any of the graphic design tools or get a graphics designer to help you with one.
Posting content consistently can be tasking. I suggest you plan your content and automate them with social media automation tools like Bulk.ly.
3. Always engage your existing connections
When your connections on LinkedIn post great content that you found helpful, it's ideal that you engage with them by liking or sharing the content.
It can be a comment that can lead to you having a conversation with them right in the comment section. This gives your profile exposure directly before their networks who may find your insight helpful and decide to connect with you.
4. Get published on authority websites in your industry
As a professional, one of the ways to build your network and connection is through publications.
Some of the top executives of companies you crave to connect with are subscribers to newsletters from popular publications in their industry. The idea is to work to get published on these authority websites.
Once you secure a spot on any of them, deliver quality and helpful content to show that you're an expert in your field.
Add a link to your LinkedIn account in your byline. People who derived value from your content may want to know more about you by sending a request to connect with you.
Take a look at Scott Hall's bio below and how he attached a link to his LinkedIn profile.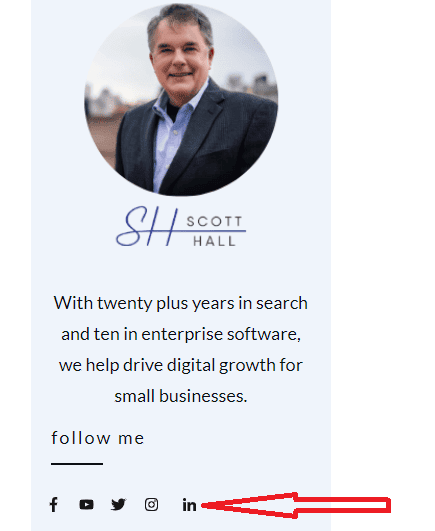 5. Connect with influencers in your industry
This is one strategy that some people ignore when it comes to getting more connections on LinkedIn. Although it isn't easy as some influencers won't connect with you when you send them a request.
Also, you can't even message them if you aren't on the LinkedIn premium plan. That shouldn't be a barrier. At least you can search for them, read and comment on their posts.
You can even engage with others who also comment on their posts. That way you put your profile in front of them since they often engage with people who comment on their posts.
Some of them who find your comment useful can send you a connection request themselves.
6. Join and participate in groups in your niche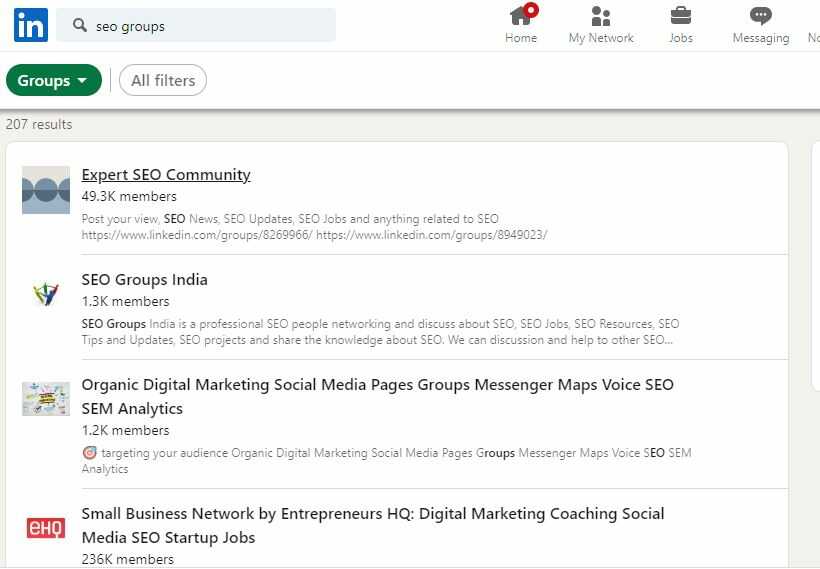 A LinkedIn group is a space where you find people of like minds. It's a cool strategy to gain more connections that will help boost your profile. Identify and join groups in your industry.
When you join a group, be active in it. Post helpful content and watch people send you connection requests wanting to work with you. Below is a message I got as a result of a helpful post I made in an SEO group.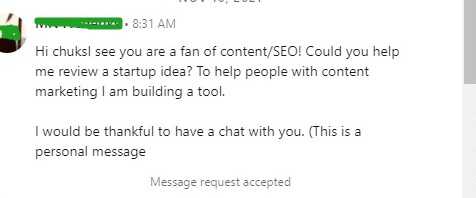 In addition, engage with posts of other people in the group and drop your insights in the comment. That can earn you more connections if you're consistent.
7. Promote your LinkedIn profile on other social media channels
Your Facebook, Instagram, Twitter, and other social media accounts are means through which you can promote your LinkedIn profile. Every social media channel has space for bio. You can use that bio to drive your target audience to your LinkedIn profile and get more connections. This works better if you've a significant amount of followers.
In addition, frequently attach links to your LinkedIn profile and content using Socialbook when you post content on these social media platforms.
8. Send a personalized connection request
Getting more connections on LinkedIn is a two-way thing. You get connection requests from others and accept them, you send connection requests to others so that they can connect with you.
If you aim to connect with those that matter in your industry, you must personalize your connection request.
You can even leverage it for sales outreach where you message companies you want to connect to for sales purposes. According to a survey from Databox, 11.3% of people use LinkedIn for sales outreach and it starts with sending a personalized connection request.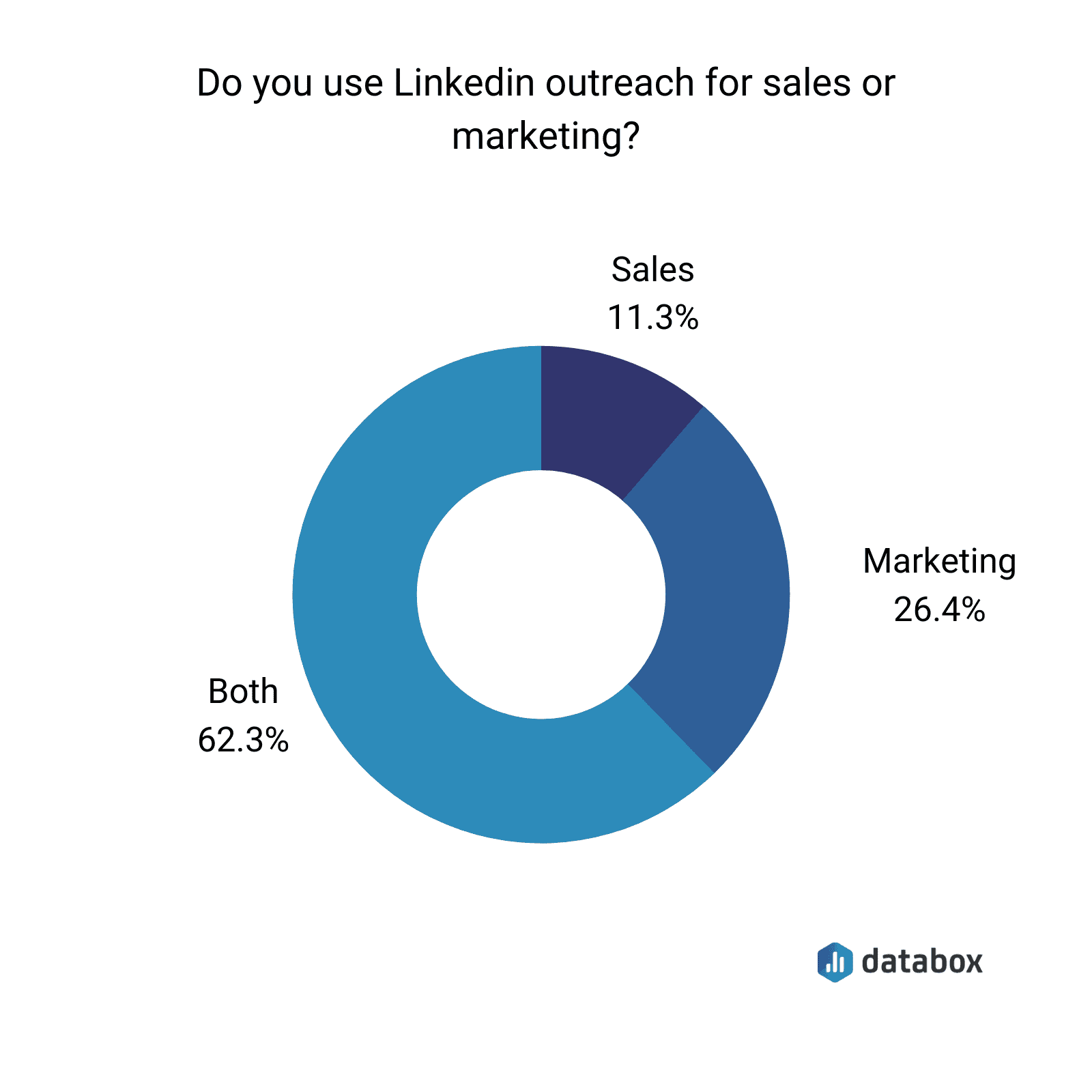 How do you go about it?
LinkedIn often sends you notifications of people you may want to connect with. Sometimes you see " people you may know" when scrolling on the platform. Don't go the generic way by hitting the connect button to fire requests. Check out their individual profile and click Connect.
A box pops up for you to write a friendly note before you send the connection request.

An example of a friendly note can be " Hi Chuks, I derive value from the content you post on this platform and was happy to see you in a webinar you organized recently. Let's keep in touch"
The chances of the person accepting your connection request are high because you personalized your connection request by mentioning his name, telling him that you enjoy his content on LinkedIn, and also participated in a webinar he hosted.
Personalized connection requests when accepted can turn into a LinkedIn outreach where you message your connection.
Get more connections on LinkedIn
Building your network and getting more connections on LinkedIn isn't easy. You've to make it a priority and take practical steps to make it happen.
Remember it isn't about the number of connections you have, but how valuable they are to you. Closing business deals, exchanging ideas with top executives of companies, and growing your career are what connections on LinkedIn can bring to the table. The tips I discussed with you above are what you can start implementing today.