LinkedIn has slowly evolved to become more than just a professional networking platform. Today, it is being used by individuals and businesses for creating brand awareness in many ways, including content marketing. All you need for LinkedIn content marketing is to be a LinkedIn member.
But to be a successful content marketer on the channel you will take more than just that.
LinkedIn's publishing platform is open to all members where you can directly publish blogs or promote other content to your LinkedIn network and beyond. So with a little effort and planning, it isn't very hard to get started.
LinkedIn is primarily seen as a B2B content marketing platform with almost 94% of B2B marketers using it as their preferred content distribution channel.
But that should not discourage B2C content marketers from publishing on the platform. More and more B2C brands are using LinkedIn as a successful marketing channel today and it has helped both B2B and B2C brands gain more visibility and even drive conversions.
But with content marketing on LinkedIn, similar to any other channel, you need to work on the basics before you get started.
The basics of LinkedIn content marketing
In any content marketing strategy, it is important to know who you are creating content for, what your goals are, and what kind of content would help you achieve these goals on the platform. For instance, creating content for your blog and social media are not the same. Both types of content have a different audience and different goals. Your LinkedIn content marketing strategy has to take these factors into account too.
Here are some basic points to ponder over before you begin your marketing efforts.
Identify your target audience on LinkedIn
LinkedIn has over 800 million users globally and not all of them would be interested in your content or your brand. It is important to first identify who you are creating content on the platform for. For instance, if you are marketing a cybersecurity product, your target audience would primarily be IT companies, financial institutions, and other businesses in related industries. If you are marketing a content creation tool, your prospects would be content agencies, marketing agencies, individual content marketers, and such.
Only when you have figured out whom to target, will you be able to create content that addresses their problems and needs, and in turn generates new leads for you. Publishing content on the platform without having a sense of who your target audience is and what they need is like a shot in the dark with very little chance of success.
Set clear content goals
The next most important thing to figure out is your content goals. What are you trying to achieve with the content you publish on LinkedIn? Is it creating brand awareness? Is it promoting a particular product or service? Is it to generate Top of Funnel leads or to connect with prospects at the Bottom of Funnel? Whatever your goal is, the content you create has to be aligned with it. You may have more than one goal too, in which case you will have to build a content strategy that satisfies all of the objectives.
Your LinkedIn content marketing strategy also has to be aligned with your broader marketing goals. It is important to remember that LinkedIn is one of the many channels in your multi-channel marketing approach and you have to make the best use of it in tandem with the others.
Identify relevant metrics to measure performance
Now that you have your goals in sight you will also need to measure the success of your LinkedIn content marketing campaigns in relation to these goals. This requires choosing the right metrics for measuring performance. If your goal is to generate leads, for instance, you would want to consider conversion rate as a key metric. If you are trying to create brand awareness or build a community around your brand, relevant metrics would be the number of likes and shares your content garners or the number of followers gained in one month or so.
Choosing measurable, relevant metrics helps you identify what is working and what needs improvement in your LinkedIn content marketing strategy.
Find out audience pain points
Now before you finally get on to content creation for LinkedIn, you need to know what your audience is looking for. Do your research and find out what your target audience's primary pain points are. For instance, small businesses and solopreneurs may often be on the lookout for affordable tools and support teams to help with their operations and increase productivity. Business leaders may be looking for market and industry information that can help them build better strategies. The content you create has to cater to these needs to be truly valuable to your prospects.
This research can be done by following their conversations on the platform, looking at competitor accounts and posts that they engage with, and social listening on other social media channels. When you have enough knowledge about what your audience usually needs, you will be in a better position to create relevant content that answers their queries and solves their problems. This is important for building brand reputation and following, no matter what platform you are working on.
Types of content for LinkedIn marketing – What's the best fit?
When it comes to publishing content on Linkedin, there are quite a few options for you to experiment with. You can publish short but impactful status updates, longer and more valuable articles, or even engaging video content. You need to know the difference between each of these content types and which one is more beneficial to your brand and your content goals. More often than not, you will have to shuffle between all three content types to add some diversity to your campaign. But you need to ensure that you are using these for the right purpose and at the right time.
Publishing short status updates
A status update on LinkedIn is like one on any other social media platform. It has to be short, succinct, and attention-grabbing. This is usually a preferred format if you are announcing some news around your brand or introducing a new feature in your product or simply sharing some quick, bite-sized nuggets of information. You can also share links to your blog posts, articles, or long-form content on other channels with a nice caption in your status update.
Here's an example from LinkedIn itself.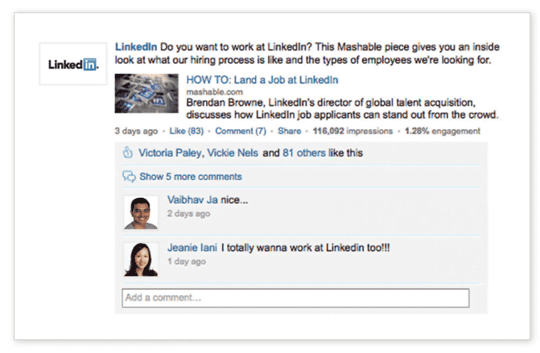 Source: LinkedIn
A status update is, however, not the right place to present your thoughts elaborately on any topic. You may go for longer status updates but it is important to remember that your audience may not have the patience to read it through to the end unless it is extremely engaging. The best way to make the most out of your status updates on LinkedIn is by directing readers to your articles, videos, etc by getting them to click on a link. Share small excerpts from your longer posts.
Or you use @mentions to tag a person or a page that your readers might find useful, or to highlight someone you are partnering with. You can also ask your readers to share their views on a topic or start a discussion with your status update and carry it forward in the comments. This can be a good way to engage with your connections.
Publishing long-form content on LinkedIn
Long-form posts are where you can actually share your thought leadership articles and valuable content. These articles are published through LinkedIn's publishing platform. An analysis of over 3000 posts on LinkedIn by OkDork found that long-form articles performed better on the platform. They found that posts that are 1,900 to 2,000 words long gained the most views and performed the best.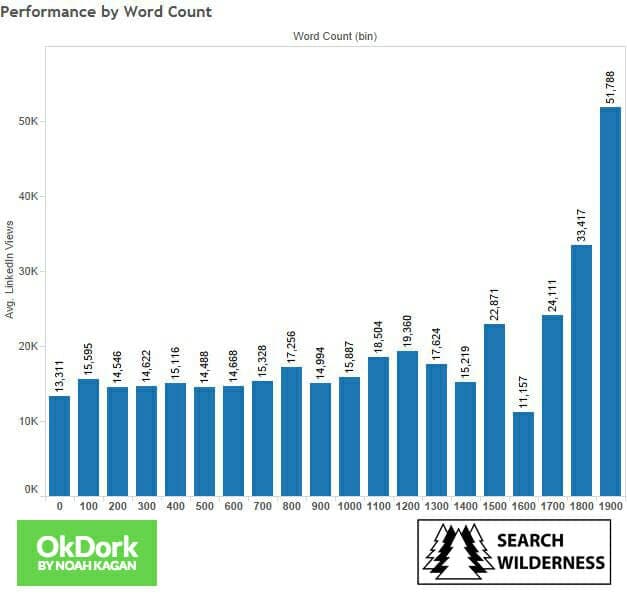 Source: OkDork
But sadly only a very small section of content marketers on LinkedIn are using the publishing feature. We have access to statistics from 2015, which say that only about 0.2% of LinkedIn members had published an article until then. The numbers may be a little higher today, but we still don't see enough growth. But the silver lining here is that this gives you an opportunity to go viral with your long-form content. Since longer articles drive more engagement and there are very few of them, a really good piece could actually kickstart your LinkedIn content marketing campaign in no time.
High-quality, authoritative articles can even help you connect with other thought leaders and the top brass of companies if your articles hit the bull's eye.
Publishing video content on LinkedIn
When it comes to video content on LinkedIn, the experts are in two minds about it. Some believe that video content on LinkedIn is not very helpful and posts with images are found to perform better. Others strongly advocate the use of videos and believe it is a very dynamic way to engage with your audience. What we suggest is, there is no harm in including videos in your LinkedIn content marking strategy. Amid all the text and images, you could actually benefit from sharing a short video now and then. It would be a welcome change both for your content creators and your audience.
Also, since the use of LinkedIn as a social and professional networking platform is gradually changing, the audience preferences are changing too. Audiences on most social channels today find videos to be more engaging and share-worthy, and LinkedIn is no different.
Tips to improve your LinkedIn content marketing strategy
Now that we are done with the basics, here are some useful tips for you to further improve your LinkedIn content marketing strategy and achieve better outcomes.
1. Plan your LinkedIn content strategy
Your LinkedIn content marketing efforts will need some structure if you really want them to yield results. You need to brainstorm with your content and marketing teams to come up with a plan well in advance. You will need to generate a list of topics for your content at least for a few weeks ahead. For this, you might want to conduct some research on what's trending with your audience and what your competitors are posting. You will also need to maintain a content calendar exclusively for LinkedIn to keep track of your publishing schedule, the status of ongoing content projects, and other such details. A content plan and calendar will help keep things under your control and will streamline your efforts.
2. Decide on a posting frequency
You will also need to decide on the frequency of posting on LinkedIn. You may not be able to publish an article every day as it takes longer to create high-quality, valuable long-form content. So you need to shuffle between shorter status updates, video content, and articles such that you have enough time for content creation and still don't miss out on posting regularly. Keep a repository of content that you can post as status updates. You can repurpose your most valuable blog posts into shorter snippets, lists, or infographics for this purpose. You can cut down your efforts by using LinkedIn automation tools available in the market.
You can post short status updates once or twice every day and long-form articles can be limited to one post a week or so. Videos can be published less frequently, in accordance with your content goals.
3. Use the right tools for content creation and publishing
Your LinkedIn content strategy can hugely benefit from using the right tools to accelerate your content creation and publishing process. You will need content creation and collaboration tools to create content, you will also need automation tools for posting on the platform consistently.
For uploading content on a regular basis to LinkedIn, along with your other social media channels, a tool like Bulkly can be extremely useful. Bulky helps you upload and share hundreds of status updates to your social accounts every day. You can simply upload a CSV file with the status updates or import content from your favorite RSS feeds to create your status updates.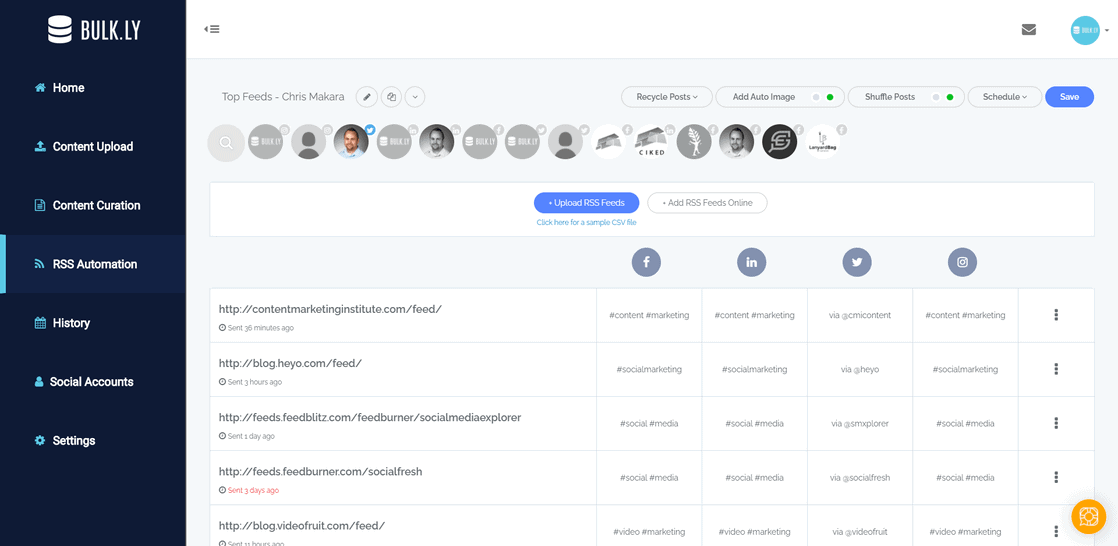 You can customize and select which social media accounts to post to, recycle your posts, automatically add images to your posts, add hashtags and also edit your content to make necessary changes on Bulkly. The platform also has scheduling options that let you choose how frequently you post and you can randomize the order of publishing the updates as well. If you don't have the time to craft status updates from your blog posts or are running out of ideas, you can simply enter the URL to your blog post on Bulkly. The platform will automatically generate social posts from the content for you. A platform with social media automation features like these can definitely fire up your LinkedIn content marketing strategy.
Another very useful tool could be a content creation, collaboration, and workflow management platform like Narrato. At the heart of your LinkedIn content marketing strategy is the content you create. Narrato has powerful content creation and collaboration features that can bring your entire content process and team to one place. The content editor on the platform offers content optimization suggestions, plagiarism checks plus an AI writing assistant to help you create impeccable, original content. Your team can easily share feedback and inputs using the in-line comments on content, messaging and publicly shareable links to content tasks. You can also manage freelancers using the platform, including their payments.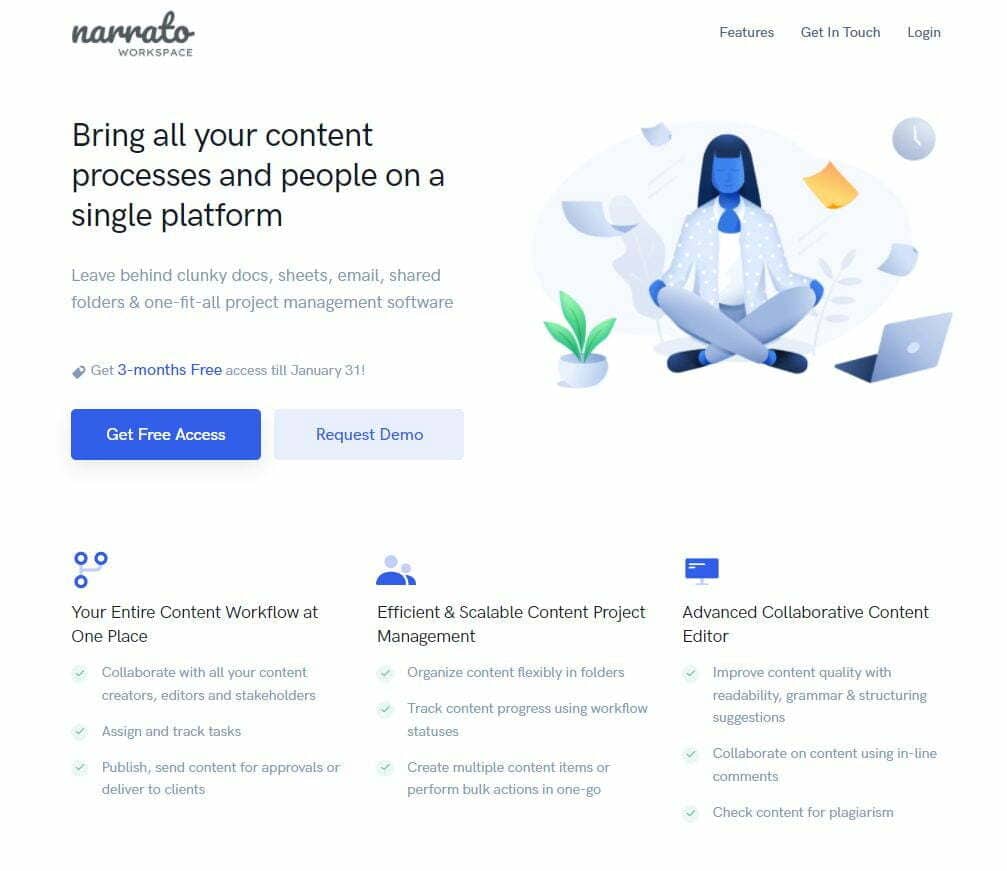 Narrato also has content calendars and workflow boards to help you manage your content projects. You can even keep your content neatly organized under Projects & Folders. There are custom roles for team members, freelancers, and other users. Narrato can be your single content project management platform, where you can work across content for different channels including Linkedin.
You may also want to invest in a good visual content collaboration tool like Canva or Figma. These tools can come in really handy when creating images, infographics, graphs and charts, or videos for your LinkedIn posts. Both the tools are extremely user-friendly and you need no expertise in graphic design to create simple, yet engaging visuals on these platforms. You get access to hundreds of stock images, graphics, and design elements with the free version itself, and far more with the paid plans. Collaborating on design projects with these tools is also easy as you can easily share a link to view or edit the design.
These automation and collaboration tools are all the more important in the hybrid and remote work setting that most businesses are adopting now.
4. Join relevant LinkedIn groups
LinkedIn also has groups related to various industries and niches. Joining the right groups can be great for your content marketing strategy on the platform. This will not only help you network and connect with more people from your target market but will also help you understand your audience better. By following conversations and discussions in these groups you will get the pulse of your audience and what they need. You can also join discussions and share inputs to drive more traffic to your page and thus, to your content.
5. Always share solid, fact-based content
Though long-form content on LinkedIn can be thought leadership articles, it is not the same as personal opinions. Always refrain from sharing your personal opinions unless they are backed by data and verifiable facts. LinkedIn is a highly professional landscape and your audience will usually consist of top professionals from reputed organizations. So, unlike other social media channels, there is no place for personal updates, controversies, or even sales pitches for that matter. Be as professional as you can and focus primarily on delivering value to your audience through your content, be it a quick status update or a really long article.
Summing up LinkedIn content marketing
There is so much more to LinkedIn than just having a well-written About section or a killer LinkedIn headline. It can be a great content marketing platform for both B2B and B2C businesses today, as long as you set your priorities right. A strong LinkedIn content marketing strategy must mandatorily be a part of your multi-channel marketing plan if you want to reach a much larger audience with your content. But like all other content marketing, your LinkedIn strategy will also need a robust plan, the right tools, and some diligent research. If you've got these few elements right, it won't take long to establish yourself as a thought leader in your niche.