Whether you are trying to grow your own Instagram account or run multiple ones for other people, Instagram automation tools are a must-have. They will save you an enormous amount of time while at the same time improving the quality and consistency of your Instagram posts.
Additionally, the best Instagram automation tools will also give you advanced influencer search options, ensuring you reach out to people with a genuine following. Some tools will let you run all of your social media pages from a single place, keeping all of the activity centralized making your life much easier.
There's only one issue – there are far too many Instagram automation tools out there, with more of them entering the market almost as we speak.
To save you time, we have compiled a list of Top 7 Instagram Automation Tools You Must Try in 2022. As you are about to see, there's something for everyone on our list, no matter the niche or follower base, so stay tuned.
What to look for when choosing the best Instagram automation tools?
While you probably already have an idea of what social media automation tools might do, there are some Instagram-specific features you should look into when browsing automation tools.
Keep in mind that you may need to combine several Instagram automation tools to get all the features you need to fully automate your profile. While there are some one-size-fits-all solutions, they are rarely the best choice, and it's a better option to use tools that are specialized for features you will use the most often.
Features you should look for
Be wary of safety
While Instagram account automation is fantastic, it does carry a risk. If you start spamming people using even the best Instagram automation tools, be sure that Instagram will notice it and potentially block your account.
Therefore, pick Instagram automation tools carefully. Once you do make a choice, use your tools in moderation, especially if your account is still small. Nobody likes spammers, so don't become one.
Kicksta – grow your Instagram account with automated likes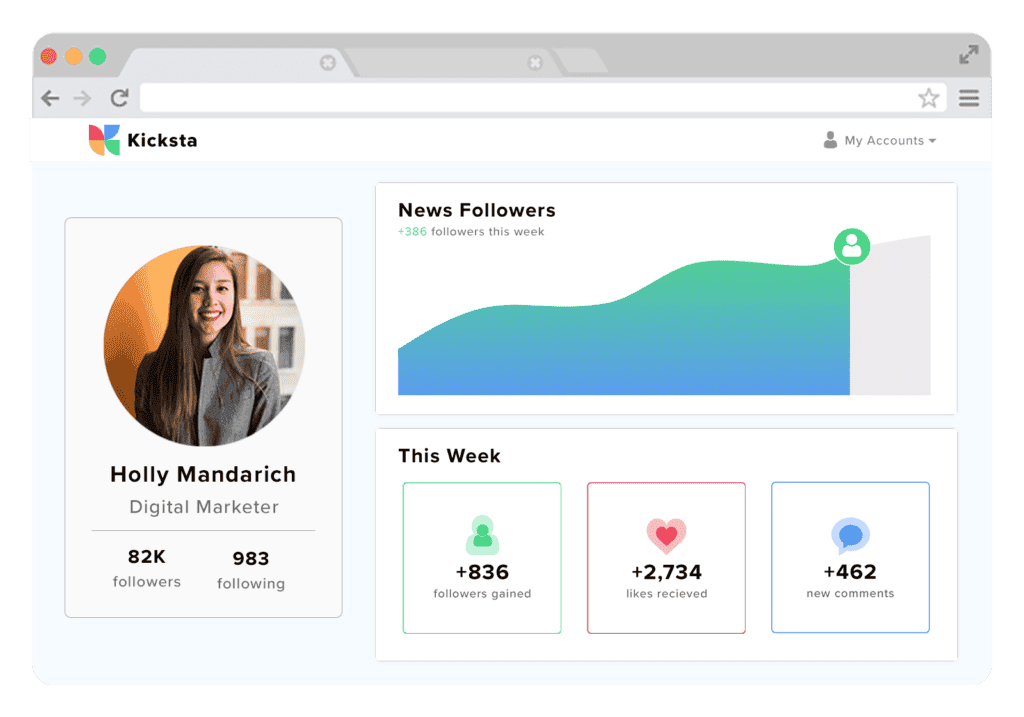 Source
What Kicksta does really well is using AI to grow your page organically. You can pinpoint brands, influencers, and competitors that you want Kicksta to focus on, after which the bots will start liking Instagram of their followers.
While this doesn't sound like much, automating likes is one of the best and safest ways to grow your page. It's the least intrusive, and it should yield good results as liking other people's posts will get more eyes on your page too. The benefit is that all of the flowers you get using this approach will be real people who are genuinely interested in your page.
The only problem is that there are no guarantees. Kicksta is quite safe, but you can't know for sure how fast and how much your account will grow, which is especially problematic for smaller and newer Instagram accounts. This might be a deal-breaker for some, especially when considering Kicksta's price tag.
TrendHero – put an end to fake influencers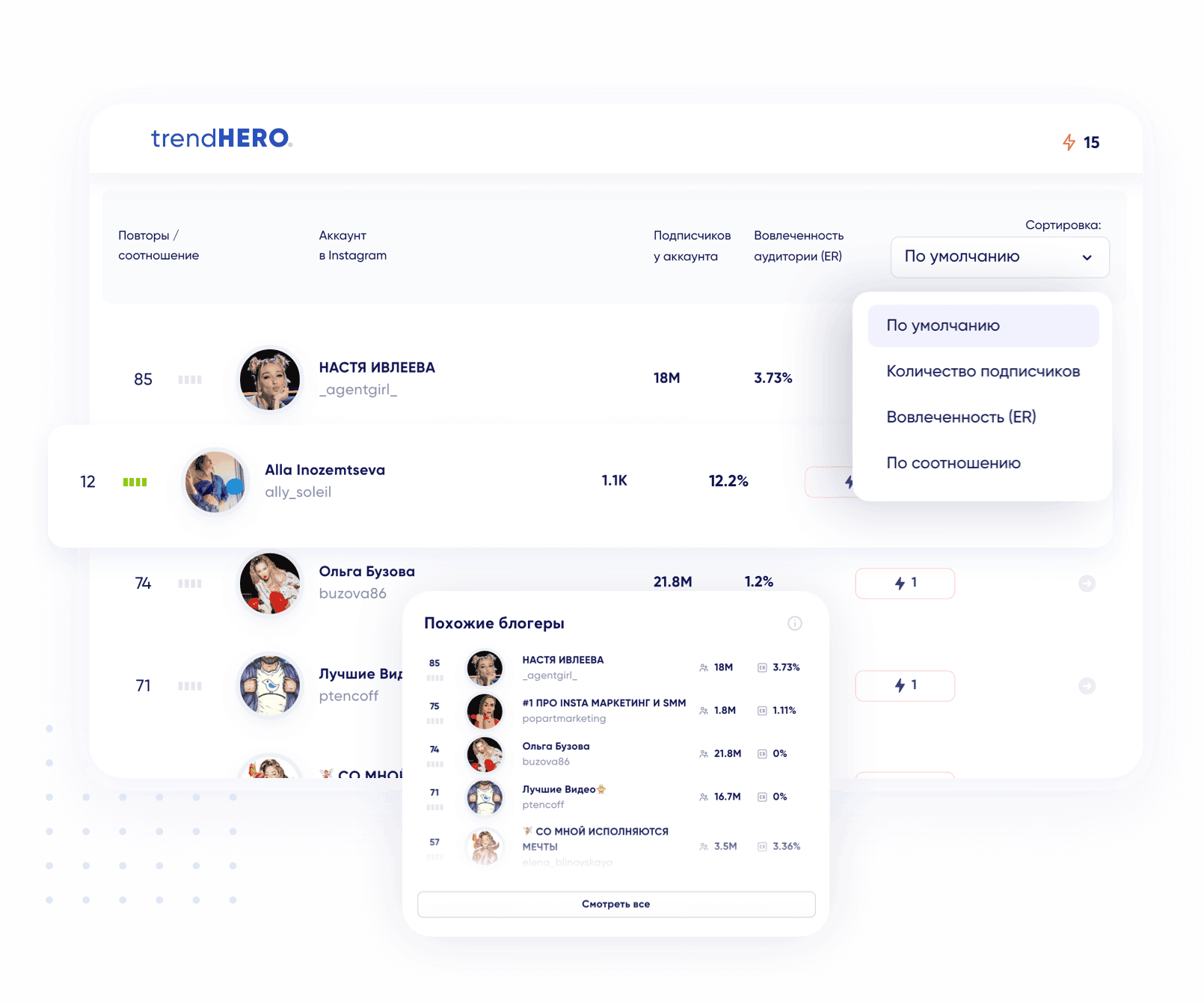 TrendHero is an advanced Instagram account analytics platform with more than 90 million profiles in its database. While you can use it to analyze demographics,one feature sets it apart from the competition – finding influencers with fake Instagram followers.
With TrendHero, you will never reach out to a person who bought followers. This app uses sophisticated filters that will check all of the followers' profiles and comments on the page to give you a very accurate estimate. This alone can save you from wasting your budget and time on the wrong people. It can also protect your reputation, which can be severely damaged if you start promoting your brand with fake influencers.
Furthermore, you will get metrics about the influencers themselves. You will see how they engage with followers, how often they advertise products, and how successful their promo Instagram posts are. Combined with the target audience analysis, this tool will help you choose influencers that will help you grow your brand.
TrendHero is a very powerful Instagram analytics platform. If we have to find flaws, it would be that you will need to use other tools alongside it to grow your profile, as it primarily focuses on analytics. But, considering how much damage it can prevent by spotting fake influencers, it's an absolute must-have.
Buffer – cross-platform post automation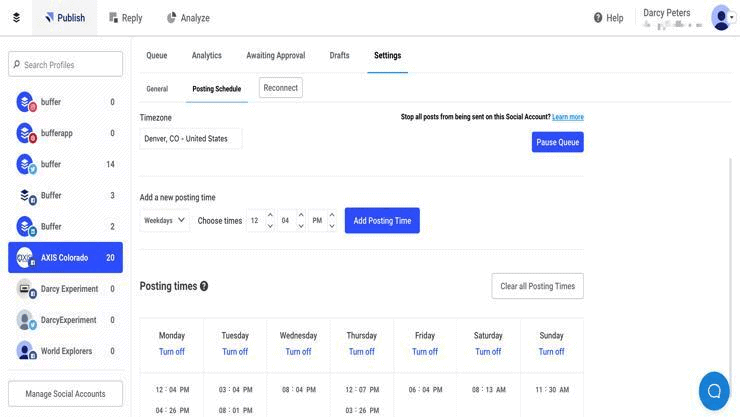 Source
Buffer is a well-known player in the social media automation game, and it's proven its reputation as a reliable app for scheduling all of your social media posts from a single dashboard. Buffer works with Instagram, TikTok, Facebook, LinkedIn, Twitter, and Pinterest, which means it will have all of your social media platforms covered.
Individual users with smaller profiles like it for its generous free plan that will get you going. But, if you wish to go premium, Buffer offers more – analytics, engagement tools, and more scheduled posts per channel. You will also have a centralized dashboard to communicate with all of the followers across your platforms easily.
While Buffer is helpful, it isn't a platform specialized for Instagram, which means you won't have some of the more advanced features, as you would with other tools on the list.
However, because it's very convenient and easy to use, we recommend it to everyone who is just starting, because it will help you streamline your online presence across all of your social media platforms. In case you need additional help figuring out the tool, you can count on the omnichannel customer service to assist you at any time.
Bulkly – manage social media profiles at scale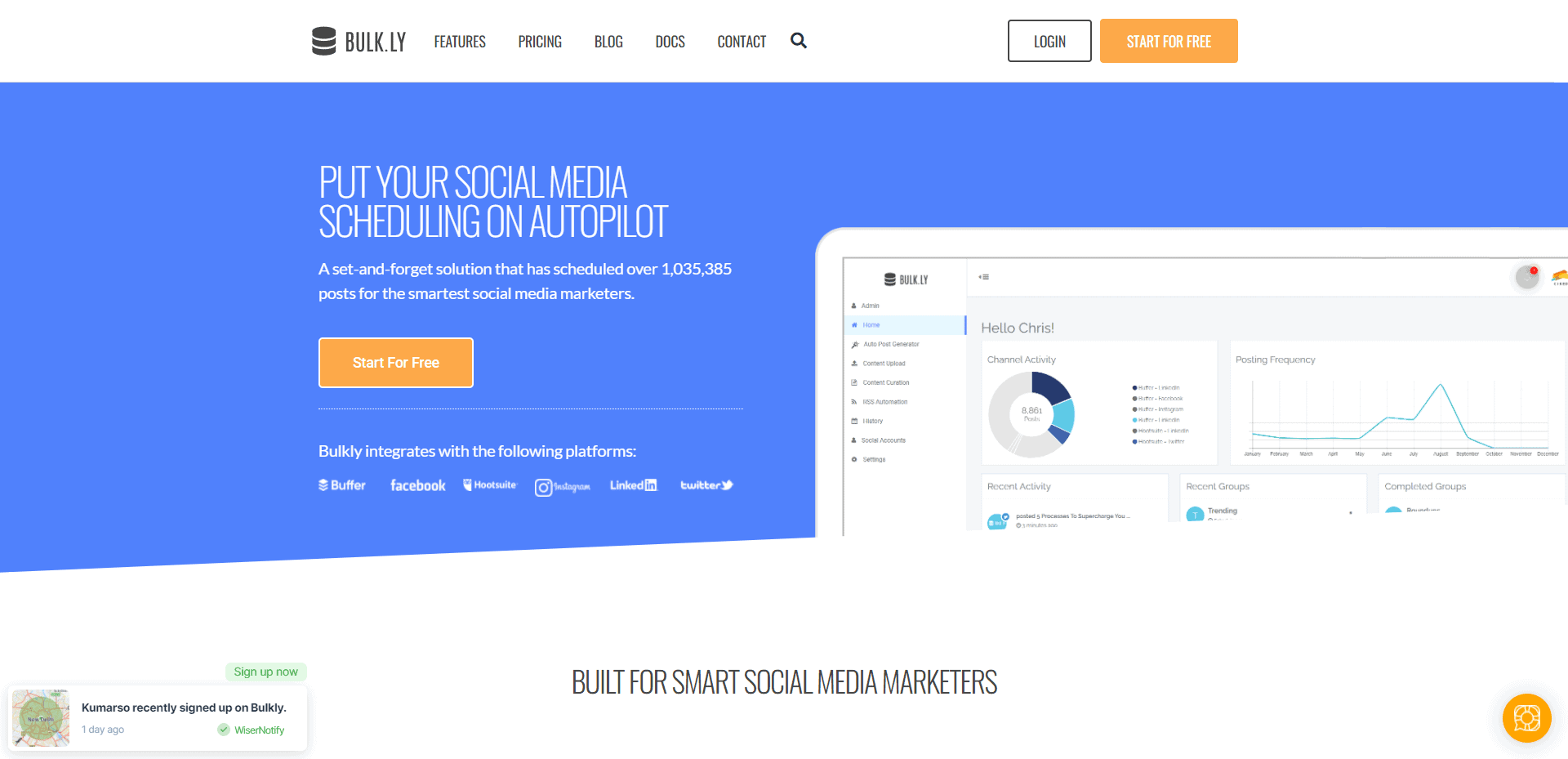 Bulkly is essentially Buffer on steroids. While the latter is a great option for individuals running their own Instagram accounts, Bulkly is more intended for agencies running dozens of social media profiles for their clients.
It gives you everything you need to manage and schedule posts, curate content, recycle status updates and more.
Bulky works great for all Instagram accounts including soloprenuers, in house teams or a full-blown agencies.
Jarvee – unleash the power of AI to grow your social media presence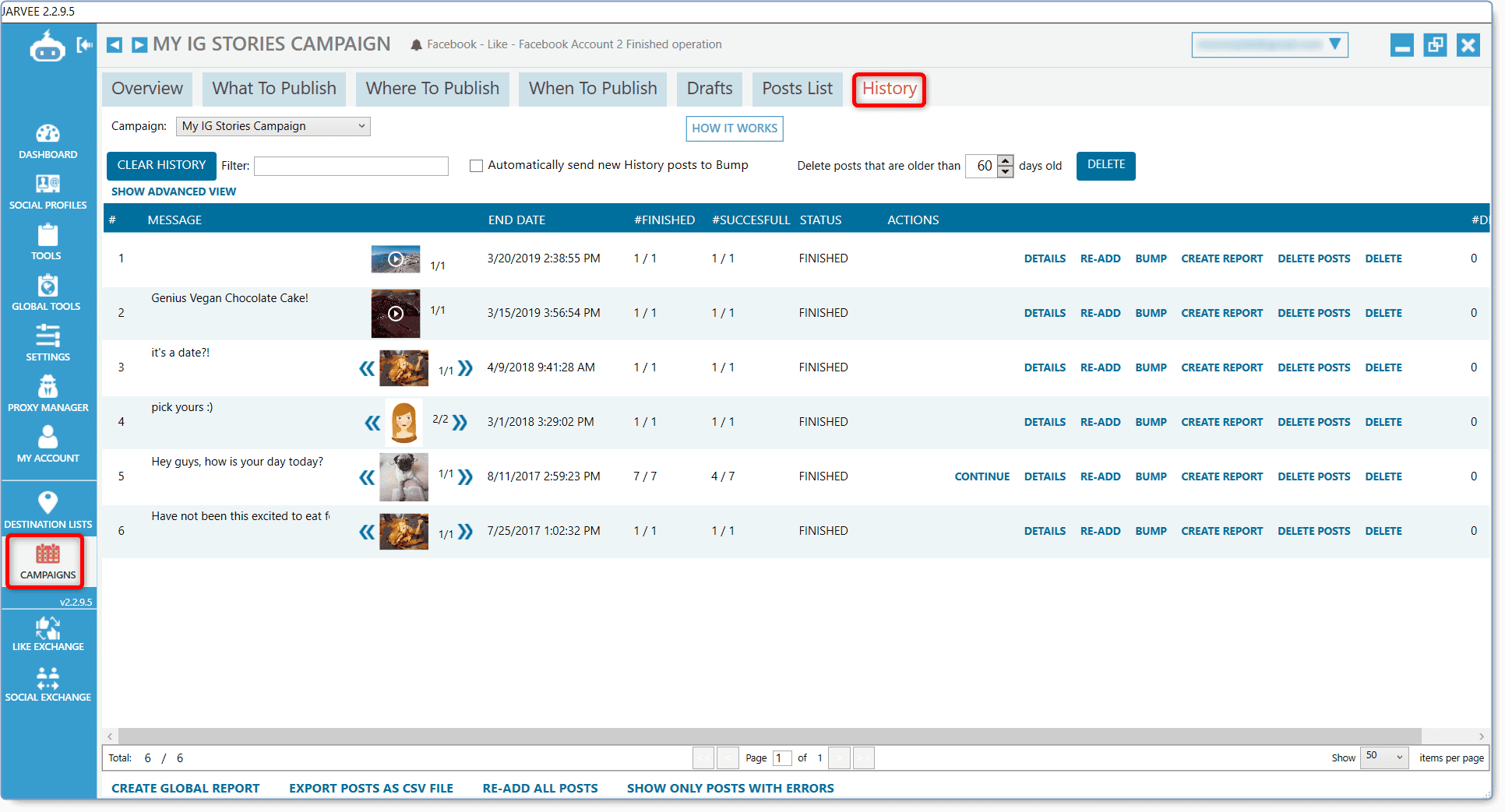 Besides scheduling your own posts, Jarvee automates re-posting from other pages in your niche, which is nice. This will put you in front of new audiences, helping your account gain traction organically.
There's also auto-follow you can set up to add new, relevant accounts, and the auto follow-back function will save you more time. To ensure your numbers stay in line, there's also automatic unfollow for those accounts that didn't follow you back after a while.
Jarvee also has a plethora of other automatic features such as posting comments, liking, blocking, deleting old posts. Plus, some cool hashtag features will let you set dynamic hashtags and increase post engagement.
While Jarvee does have a rich bag of tricks, the only thing that worries is doing too much. Even though it has all of these options, think twice before implementing all of them, as it can backfire, and you might get your account penalized.
Inflact – step up your direct messages game through automation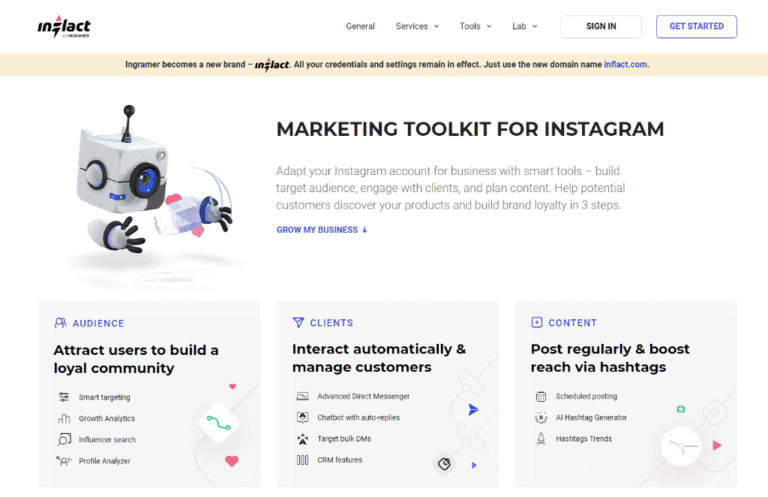 Source
Inflact lets you automate your whole profile in terms of posting, viewing, liking, following, and more, but the feature we like the most is automated direct messages. It's worth noting that you can purchase automated direct messages only, and you can always upgrade later.
Inflact automates direct messages really well. First, it lets you connect multiple accounts to a single portal, which means you will be able to use it if you are a social media manager. The app works very fast and is super responsive, which is vital if you run several accounts. Inflact has multi-language support.
You can set up automatic welcome direct messages but also create bulk campaigns, which is suitable if you sell products and run promotions. Convenient features such as labeling and creating responses for different labels will allow you to group followers, communicate with them more effectively, and create a personalized approach that will leave a better impression.
Instagram bot responses will keep your users engaged until you show up, but they can also cut support time and improve lead generation if set up right. Responses will be sent based on triggers and keywords entered by followers, and you can even set second and third replies based on user action.
All in all, Inflact is a great automated messaging app, and we recommend it, mainly because you can use its great messaging and combine it with other Instagram automation tools on the list which do other parts of automation a bit better.
Tailwind – a 100% safe Instagram automation tool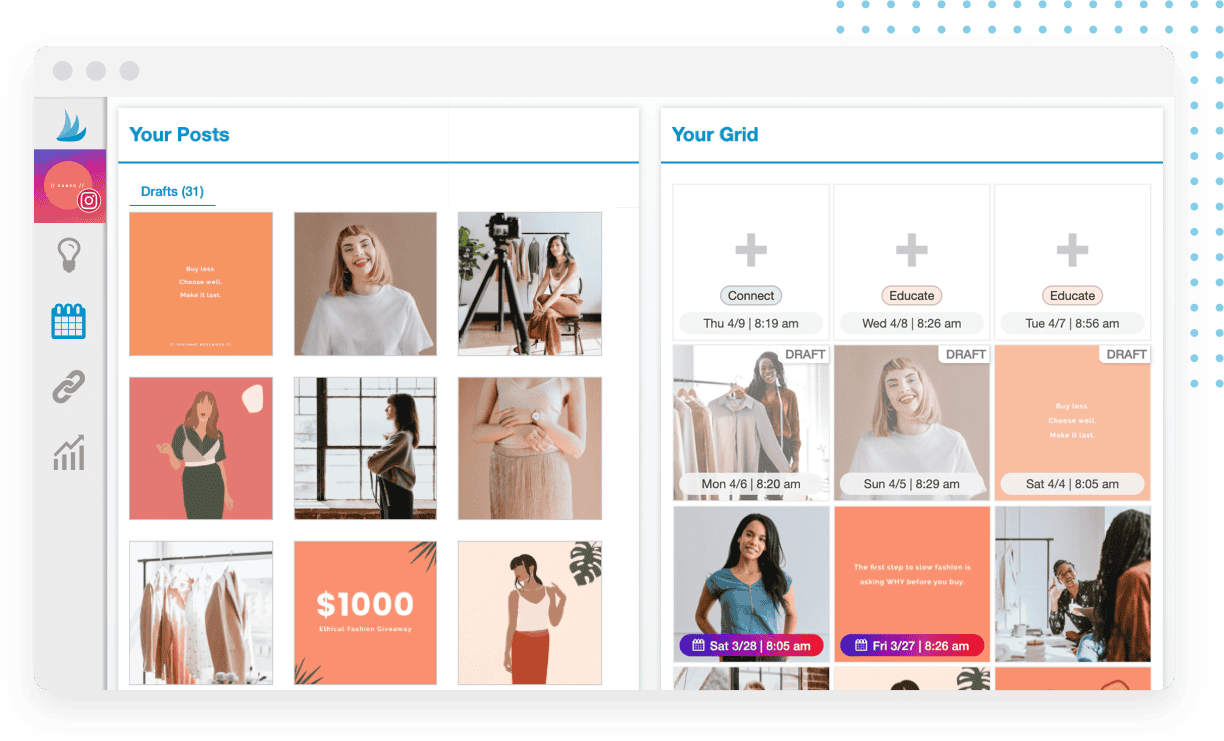 Automation usually carries risk and, if taken too far, can result in account penalties. That's why it's always a good idea to be cautious, take a moderate growth approach, and avoid using shady apps. But, Tailwind is an official Instagram partner, which means that this app is 100% safe to use, and you won't risk any penalties or bans if you choose it.
Tailwind is very simple to use and has some convenient features which will let you schedule posts, stories, and multiple-image carousel posts. You will also be able to set up hashtags in the first comment, which will do an excellent job for the overall looks of your profile, as you don't have to spam the captions.
Tailwind also has decent profile analytics, which will help you understand your position within the niche, but also your target audience. You will receive summaries periodically, helping you keep a birds-eye view of your profile health. From there, you will see which of your posts are doing a great job and which are falling behind, which will enable you to notice patterns and improve going forward.
Tailwind is convenient and super-safe, but, as such, it doesn't offer any groundbreaking features some other Instagram automation tools on the list do. It does have a free plan that will get you going if you are a beginner and is worth trying out.
Bottom line on Instagram automation tools
Our list of Top 7 Instagram Automation Tools You Must Try in 2022 will give you everything you need to skyrocket Instagram growth and make 2022 the best year not only for your social media presence but business as a whole.
Which automation tool you will decide to try is totally up to you. But, please, don't do too much simultaneously. Even if your account doesn't get penalized, your current follower base will notice if you start spamming with posts, likes, views, comments, and salesy direct messages at the same time.
Explore all of the tools, and choose one. Then, after a few weeks of using it, only if you are 100% certain that its features are lacking, look into adding another Instagram automation tool. This will keep your profile safe and your follower base happy, but will also let you invest your budget somewhere where it's needed more.