Social media platforms have, over the years, become powerful tools enabling businesses to expand their reach. Among these platforms, LinkedIn stands out as a professional networking space that fosters valuable business relationships.
With millions of users in over a hundred countries, LinkedIn has proven to be an excellent platform for business growth. Reports from Statista show LinkedIn is ranked third behind Facebook and Instagram among the most important social media platforms for marketers.
Features like LinkedIn QR codes are why this tool an ideal as a marketing tool for businesses.
Here, we'll explore how to utilize LinkedIn QR codes for business growth, providing valuable strategies to make the most of this powerful tool.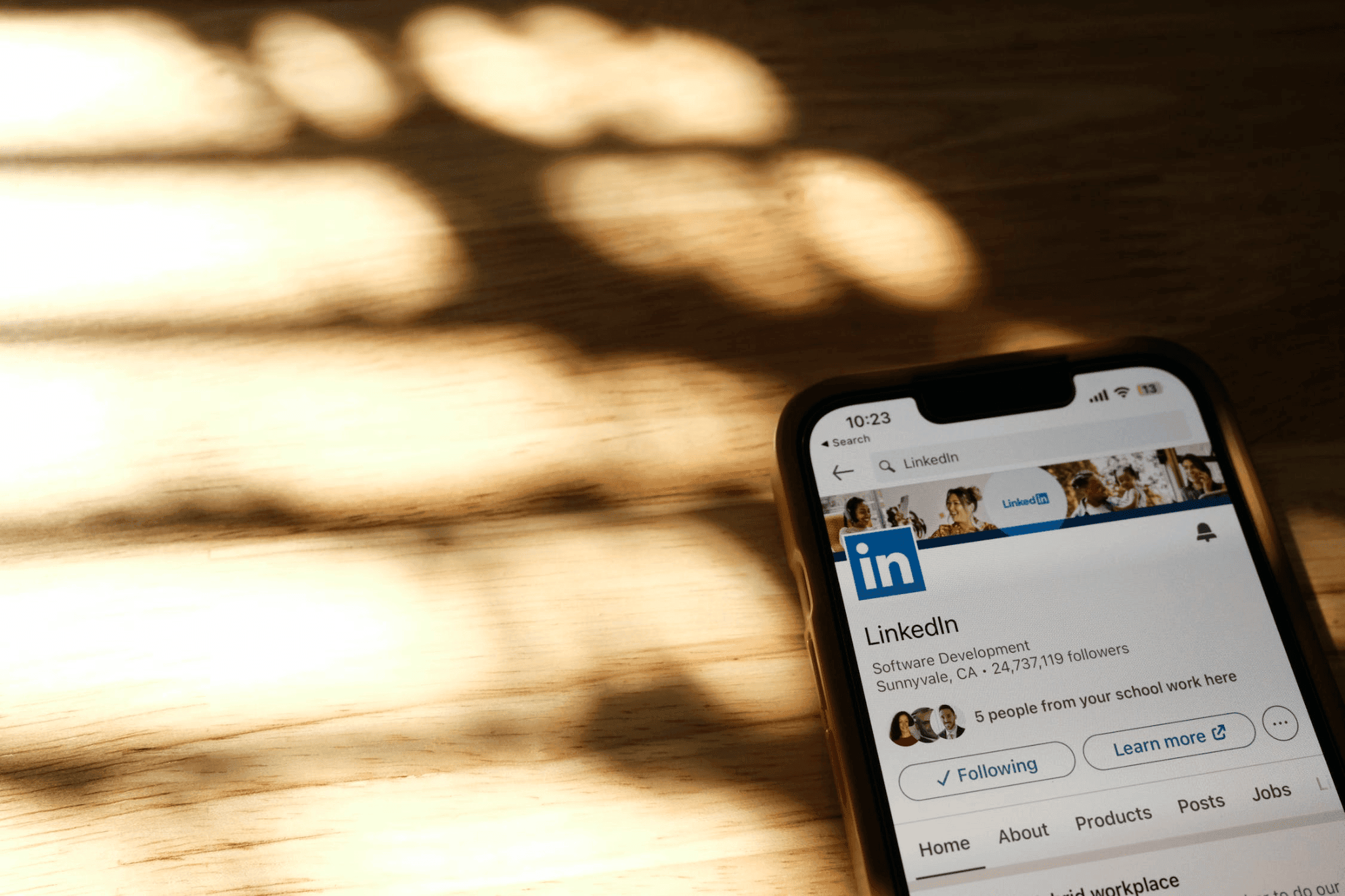 Free to use image from Pexels
Understanding LinkedIn QR Codes
LinkedIn QR codes are personalized codes that enable users to connect instantly with other LinkedIn users, whether individual or company. These unique codes serve as digital passports, which users must scan with their LinkedIn mobile app to link with others quickly and easily on the platform.
LinkedIn QR codes eliminate manual searching or typing. Scan a code, and you're on the right page! It's as simple as getting a fax from a computer, and it's highly efficient for expanding your professional network and promoting your business on the platform.
The two types of LinkedIn QR codes are Static and Dynamic QR codes. Here's how they work.
Static QR Code
Static QR codes have a permanent URL that leads to a fixed page or profile and is unchangeable. Once you set a static QR code, it'll always send whoever scans it to the same Linkedin page.
As such, when you set a static QR code to lead directly to your business LinkedIn profile, that's the only thing the code will do. And that spells out the entire functionalities of static QR codes; they exist only to direct to specific pages.
Dynamic QR Code
Dynamic QR codes are flexible and offer more advanced functionalities than static ones. For example, you can edit dynamic QR codes and change the URLs they lead to when required.
Since you only have one profile, that may not be necessary. But if you're moving pages for any reason, dynamic QR codes will enable you to direct visitors to your new page without creating a new QR code.
For example, if the platform suspends your old business account and you create a new one, you can use the same dynamic QR code you had previously to direct customers to the new page.
Dynamic LinkedIn QR codes are more suitable for business marketing and growth. They allow you to track a few activities around your page and give you more insight into your target audience.
LinkedIn's dynamic QR codes let you track the scan traffic and see who visited your page via the code.
It gives you access to visitors' demographics, including how many scans you have, the scanners' location, the scanning devices, and their locations.
Expectedly, LinkedIn QR codes are steadily growing as tools to promote businesses and a way for brands to increase their visibility online. But, it can be more effective than what it is and serve bigger marketing purposes with the right strategies.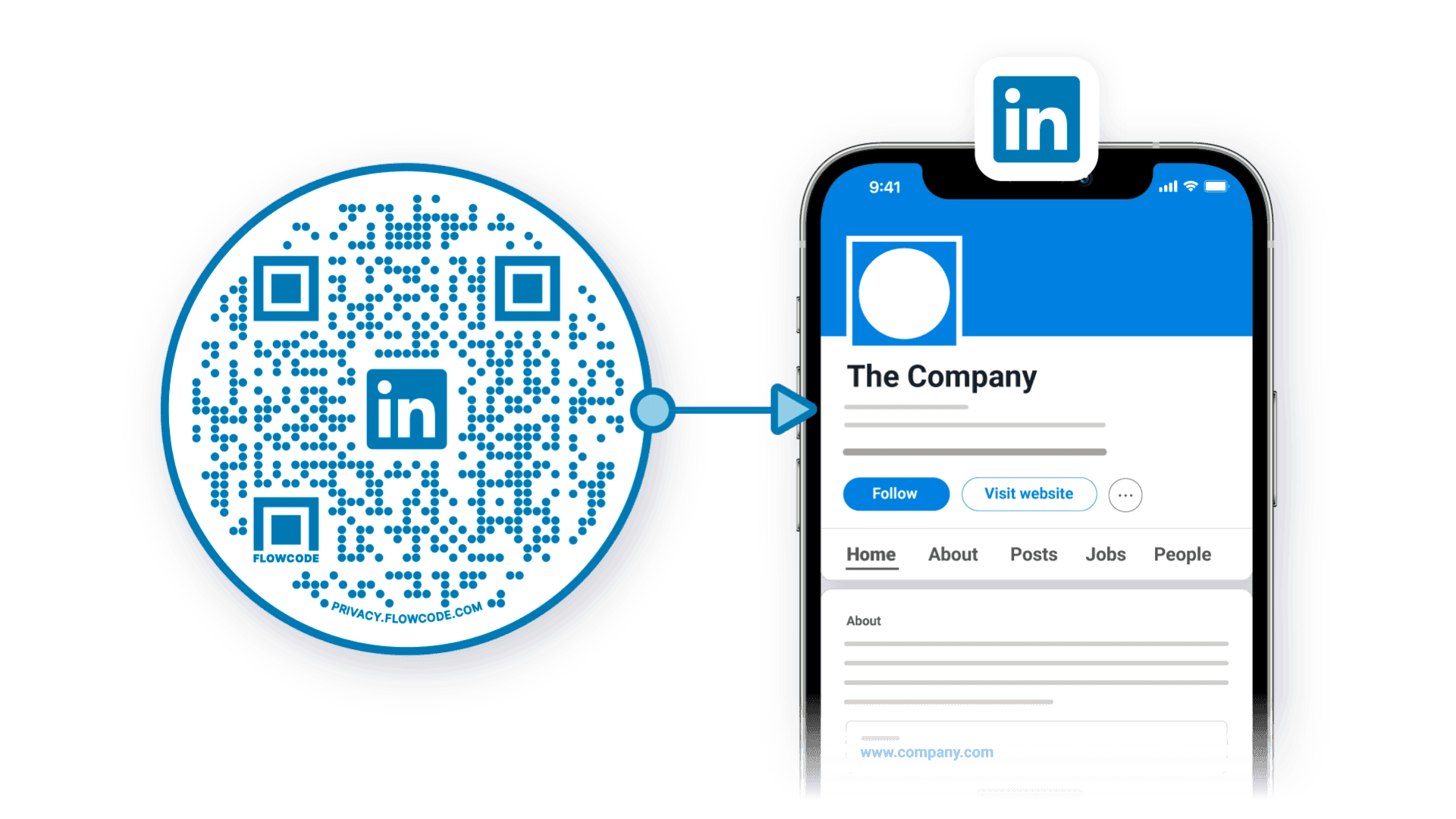 Image sourced from flocode.com
How to Create a LinkedIn QR Code
There are two ways to generate LinkedIn QR codes. You can extract the code from your profile via the LinkedIn mobile app. Or use an external QR code generator to create one with your LinkedIn page URL.
Follow these steps to find and share your QR code on LinkedIn:
Get on your mobile LinkedIn App and go to My Network.
On the page, find and click on the blue circle icon.
Then select Scan QR Code.
It'll take you to the My Code section, where you'll find your profile overview and QR code.
Scroll down to the bottom of the section and tap on Share My Code or Save to Gallery.
Selecting Share My Code will take you to a prompt where you can send it to others via WhatsApp, Twitter, Email, Messenger, and other options.
Alternatively, use the tips below if you prefer or need to create an external QR code for your LinkedIn profile.
The first step is to choose from API platforms that work as a QR code generator. A popular choice is the Adobe QR tool.
Each QR code generator has a different design and features. But they're intuitive and easy to use. Typically, you only need to copy your LinkedIn page's URL to generate the QR code.
Depending on the external QR code generator you use, you may get access to a suite of analytical tools and data, such as scan tracking and page visits from scans.
Some generators will also give you real-time data of who, where, when, and what device accessed your page in your dashboard.
Why You Should Use QR Codes for Your Business
Instagram QR codes can grow your business's reach. And the same applies to LinkedIn QR codes. Here's more detail on how they can benefit your business.
QR Codes Helps Expand Your Reach
QR codes make it easier for people to access your Linkedin page with one quick action. Since the action is effortless, your business prospects will have fewer excuses not to do it.
As such, QR codes are great for increasing your business's followers on LinkedIn and expanding your reach.
They Grab More Attention
QR codes are captivating and often grab attention better than regular links or IDs.
QR codes invoke curiosity. Your prospects will likely want to scan their phones to see what's at the other end. That fact contributes to its effectiveness.
Plus, growth hacking and marketing are often about leveraging the little, often neglected things that pique the audience's interest. Seemingly mysterious elements like QR codes can be such a treat for viewers.
Dynamic Codes Let You Track Your Page Visitors
Tracking core metrics is vital for growth hacking on social media platforms like LinkedIn.
It gives you insight into what you must do and where to focus your efforts to improve your engagement and other important metrics.
With dynamic LinkedIn QR codes, you can track all visits to your page via the code.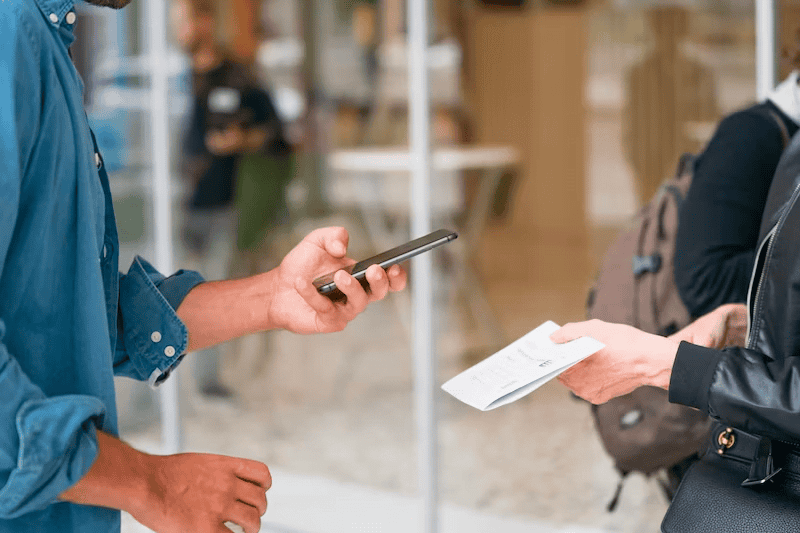 Free to use image from Unsplash
Strategies to Leverage LinkedIn QR Codes for Business Growth
Simply generating QR codes for your business LinkedIn profile isn't enough.
It's best to strategically incorporate it into your LinkedIn marketing strategy to maximize its advantages.
Below are some of the best ways to use LinkedIn QR codes for your business.
Incorporate it on Business Cards and Marketing Collateral
Business cards and marketing materials are some of the best places to include QR codes in your LinkedIn Business profile.
Traditionally, business cards often contain contact information, including social media IDs. But you should take it a step further to include QR codes the holder can scan to get to your LinkedIn business page directly.
And with advancements like electronic business cards, you can also include a QR code on your digital business card to direct recipients to your business's LinkedIn profile. There, prospects can learn more about the authenticity of your products and services.
You shouldn't rely on just marketing material. You can also incorporate your LinkedIn QR code into other marketing materials.
Brochures
Brochures are specialized magazines that contain pictures and detailed information about a product or service. Primarily, they project what your business is all about. As such, they're ideal for promoting your business pages as well.
Do more than type out your business LinkedIn profile ID on the brochure. Use a QR code instead. Encourage readers to scan the codes with their phones and visit your Linkedin page.
Of course, make the code as visible and eye-catching as possible so readers can spot it easily.
Roll-up Banners
Roll-up banners are excellent options for displaying your business LinkedIn profile QR codes. And unlike brochures, you only need a few roll-up banners.
Get a few roll-up banners and print the QR code prominently on them.
Ensure to place the banners strategically where they're sure to catch people's attention.
Also, consider including interesting information or incentives on the banners to convince the viewers to scan the code.
Display QR Code During Events and Conferences
Industry events and conferences provide ample opportunities for networking and forging valuable connections. It's a brilliant strategy to maximize physical engagements to promote every aspect of your business, including your social media profiles.
When you organize conferences, you'll provide name tags for the participants. A brilliant move is to include your business LinkedIn QR code on the tag so participants can easily find it. Then during the event, remind and encourage participants to use the code to visit your page.
You may also display the code on screens during breaks or permanently fix the image on a corner of the display so it doesn't disrupt attention from the main content.
But this strategy isn't restricted to events you organize; you can take advantage of any event you're participating in.
For example, if you get a sales station at the event, display your QR code or screens or fliers in your space. Fascinated participants will find and scan the code to access your business information.
Implement email campaigns or Include QR Code in Email Signatures
Email marketing is a highly efficient channel for promoting business. Email marketing will significantly improve your results with the right strategy incorporating newsletters, sales copies, and promotional offers.
It can increase your website visits and your conversions to bring significant ROI. That's why up to 37% of email marketers are increasing their campaign budgets. But email marketing can be convenient for more than just sending promotional offers to customers and leads. You should also use it to promote your social media pages, particularly LinkedIn.
Roll out campaigns primarily targeted at getting your audience to engage your social media profiles. Or, if you prefer a more subtle approach, you may incorporate invitations to engage your social media profiles as additional content in your periodical emails. In such cases, including it in the email signature is brilliant to avoid interfering with the primary message.
Include your LinkedIn QR code in a prominent position within your email signature to encourage recipients to connect with you on LinkedIn effortlessly. To make it even more engaging, consider using an online form builder to create a brief survey or sign-up form that users can access by scanning the QR code. This way, you can gather valuable insights and leads while expanding your professional network.
Display on Your Website and other Social Media Profiles
Your website is your primary digital storefront. Depending on how you set up your business online, most of the marketing strategies you implement leads back to your website or website alternative. As such, displaying your LinkedIn QR code on your website is only reasonable.
Many businesses don't include links to their social media pages on their websites and web apps. Don't make that mistake — instead, take it one step further by using QR codes instead of traditional links when deploying web applications for your business.
Like your website, you should leverage your alternative social media profile to promote your LinkedIn profile. For example, you may embed a LinkedIn QR code on your business bio on other mainstream social media platforms. You may also run targeted campaigns with e-flyers and content to get the audience on other social media platforms to engage your LinkedIn profile.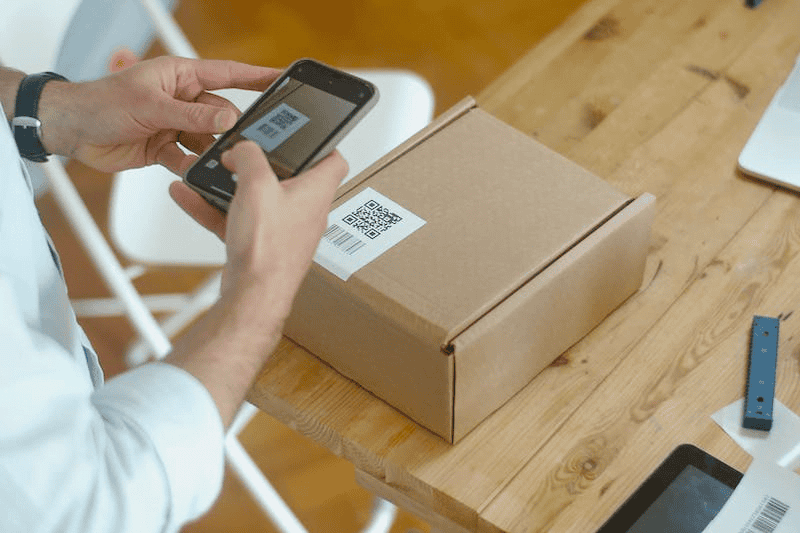 Free to use image from Unsplash
Brand Merch and Assets
Brand merch is another excellent strategy to display your Linkedin QR codes and promote your business. As mentioned earlier, putting the code in prominent places makes it easy for interested individuals to scan it and access your LinkedIn pages.
Not sure which places are appropriate for the job? Below are examples of perfect spots to display your LinkedIn QR code.
General brand merchandise such as shirts and customized caps.
Inside or on the cover of books and eBooks published or sponsored by the brand
Brand assets such as vehicles, billboards, and signage.
Make the Most of LinkedIn QR Codes for Your Business
LinkedIn QR codes have numerous use cases that can contribute significantly to business growth. On the HR side, you may incorporate it for onboarding candidates as part of your diversity recruitment strategy.
And on the branding side, it offers many advantages for increasing brand awareness and reach. Above, we've discussed strategies to help your business take full advantage. Leverage and personalize them where necessary to fit the unique needs of your target audience.