With the emerging consumer behavior and preferences changes, brands should have a strategy to help engage their target audience. Having a great social media marketing strategy will get your audience hooked on your brand, engage with it on social media and allow you to nurture and turn those leads into customers.
But you ask? How can I get these target customers to engage with my brand on social sites amidst all the competition?
Well, this article gives you that answer. You will learn how to get target customers to engage with your brand as you market your business on social sites. Here are strategies that you can use to drive brand awareness, make target customers understand your brand, and engage with it.
Share behind-the-scenes posts
When you open curtains to how your brand works, target customers feel part of the business. You can post videos on how your product works or the steps you use to create your products.
Research shows 53% of customers buy from transparent brands. You can also create content to show how your employees work behind the scenes.
It's a great strategy, as potential customers want to know that the business they want to engage in is run by real people who can understand their pains. In addition, it helps target customers better understand your product or service and engage with your brand.
You can build an email list and share those behind-the-scenes posts with your prospects in your newsletters by including links to those videos on social media. In addition to capturing the target audience not on your email list, you can drive your email subscribers to engage with your content on social media as you share those video links in your newsletters.
Alongside the videos, create content that creates humor and makes target customers love it and engage. Ensure you're careful not to overdo it or create content that can offend them and backfire on your social media engagement.
With behind-the-scenes videos, you can also show your business achievements and the process of doing things in the company. It makes prospective customers feel like part of the company and engage more. In addition, stories are a significant part of building your brand personality on social sites and getting target customers to build loyalty to your brand.
Use influencers in your niche
Using influencers in a niche is a great way to get target customers to engage with you. If a person of influence endorses your brand, people trust and follow, and they will trust the value you offer.
Here is what Lisa Richards, CEO Candinda Diet says about the results they got when they used this marketing strategy.
We've also realized a 1.8% decrease in our cost per acquisition on Twitter since launching our influencer marketing campaign, with the ROI growing 3X over the past 12 months.
Twitter influencer marketing works because of the strong relationship these influencers have built with their audiences over time. Customers are more likely to buy the products these influencers recommend because of this bond and trust.
In addition, numerous micro-influencers on Twitter cater to our niche, giving us access to diverse and targeted audiences that are more likely to purchase our products.
Research by Hubspot shows that 33% of Gen Z-ers brought a product after an influencer recommended it. To market your brand and engage the target audience, reach out to influencers your target customers follow and make business partnerships with them.
Share customer testimonials
Customers engage and buy from brands that they can love and trust. One great way to get these customers looking your way and engaging with you is to show them how great your business is at solving their pains. One great way is to show them testimonials from past customers.
Select your most happy customers, get them to give you testimonials, and show them on social sites. Since they can see other people recommend your brand through their testimonials, they will drive them to engage more with your brand on social media as they want to get the same help and solve their challenges.
Posting case studies on LinkedIn builds greater trust with new and current customers by taking the spotlight off your business and letting happy clients take center stage.
Case studies tell the complete story of how satisfied customers found the solutions to their problems using your product or service. These real-world experiences provide credible, peer-to-peer proof that you can back up with numbers, data, and analysis. Doing so paints a detailed and hard-to-refute picture of how potential clients will benefit from using your product in their businesses.
( Jas Banwait, Growth Manager, SwagMagic)
Your target readers want to make sure that you understand their challenges and can provide the best help to those challenges with your products or services. In addition, they will need confirmation from other people with the same difficulties and outstanding results to prove that from you.
That's why you need to give them a reason to trust you. You can use testimonials, case studies, etc., to get customers to trust you and engage with your brand. Through your social channels, share customer testimonials to show the value they got from using your brand.
Create content that resonates with your target audience
It's also essential to ensure that your content is visually appealing and engaging, as this helps capture the attention of your target audience. Try using images and videos when creating your posts, as these are more likely to draw interest. Utilizing hashtags and tagging relevant users can also help to increase visibility and engagement. ( Justin Thomas, Founder and lead consultant at JourneyEngine)
Research by CMI supports this, as 74% support providing valuable content as a factor contributing to their business success.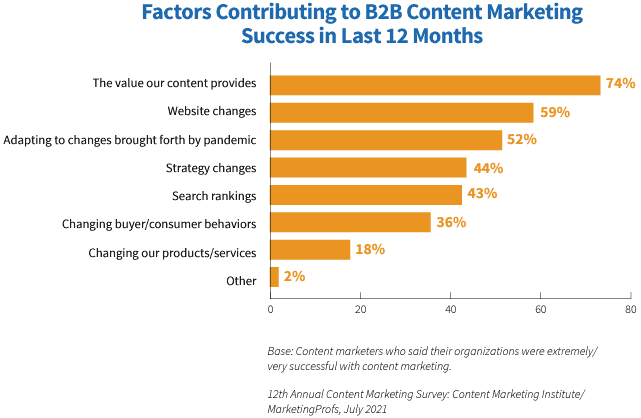 Source: CMI
You can tap into your network to help you know the best kinds of content to post. Run surveys, polls, and quizzes to help you understand what content types your audience loves most.
Once you follow to understand your target audience, you can create videos as part of your visual content to attract and engage your audience. Many people love and engage with video content more than other types of content.
It is also essential to ensure that the content you post is easy to engage and re-share with other people. For example, if one target customer finds the content and enjoys engaging with it, they may love to reshare it to their network and drive more people to see and engage with you.
Connect and engage with the audience on Linkedin groups
When target customers start seeing the value you offer through the posts and comments you share, it will arouse their interest to know more about your business. In addition, target customers want to see how you can help them solve their challenges.
If your content educates and shows them how to do that, they will engage more and connect deeper with your brand. In addition, have a business company page on social sites. For example, here is Shopify's LinkedIn page.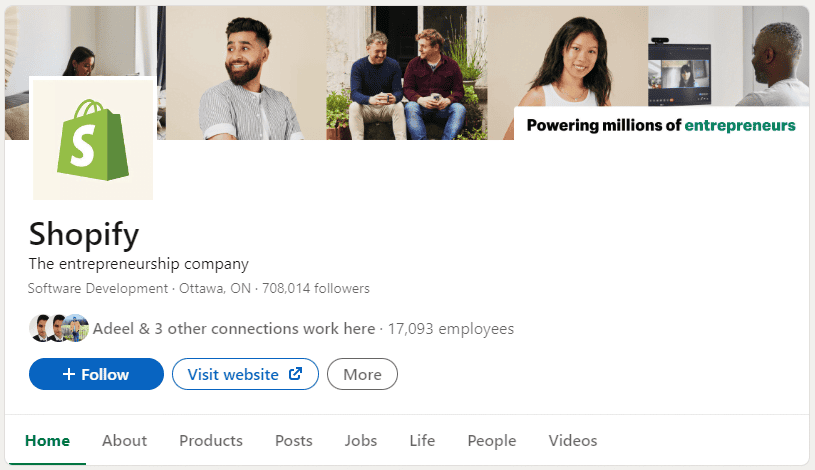 Source: Linkedin
Through the page, Shopify creates great video content that drives engagement for their business. See the video samples below.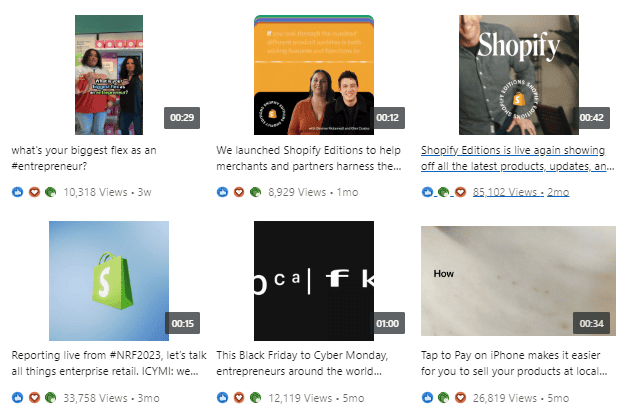 Source: Linkedin
You can see from the views metrics that the videos receive a lot of engagement that keeps driving the target audience to the business.
Have a clear CTA
As you engage the target audience on social media, you must point them in the right direction and help them take action. Therefore, you need a great and captivating CTA that makes customers take action that can lead to conversions and sales.
The target audience loves brands that care about them and understand their challenges. This is the reason you should personalize your CTA for target customers. This system works excellently, as Hubspot says it drives 202% more conversions.
As you keep marketing and engaging target customers on social media, run A/B tests for your CTA to see which captures and engages prospective customers.
Create targetted campaigns addressing audience pains
Knowing your target audience and their preferences is essential for driving more conversions and sales. Therefore, B2B SaaS companies should focus on creating content that educates prospects on the features and benefits of their services and how they can help to solve problems or improve efficiency in a business setting. To engage the target audience, eCommerce brands should highlight products, discounts, unique features, deals, and customer reviews. ( Daniel Chabert, CEO, PurpleFire)
Understanding your target audience is the start of creating great social media campaigns for your business marketing on social media sites. Do in-depth research and know your target audience's pain points to create campaigns that capture their attention and drive engagement to your brand.
To make it easy to run your campaigns, automate your campaigns and promote them to your target audience at the best time when they're online to increase visibility and drive potential clients.
Keep testing your campaigns and optimize them to see which ones are best for your customer engagement on social media, then create more of them. It is also essential to set goals for your campaigns as that will guide you on how to run your campaigns and measure their effectiveness in engaging target customers.
Have an active customer support team
Some potential customers engage with brands on social media as they search for products or services to buy. A great customer support team ready to handle the customer's needs can engage them more in your business.
A happy customer will share their brand experience with friends because of great customer service and drive more engagement to your website. Research shows that 94% of customers will make another purchase from a brand that has great customer service.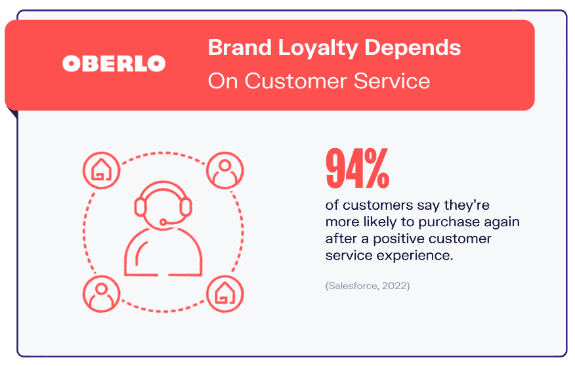 Source: Oberlo
In addition to great customer support, you have a great track record of delivering value to your customers, as they will become your brand ambassadors online and draw more potential customers.
You can use social media chatbots to engage and reply to customer needs once they send them. Research by the sprout social index shows that 59% of customers expect a reply within two hours after sending their query.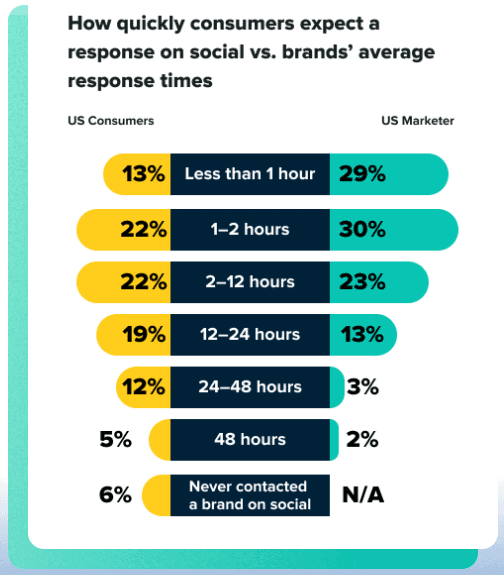 Source: Sprout Social
Use social media listening tools
You can use these tools to listen to what your customers say on social media. With the information, you can use the right strategy to engage them. The tools make it easy to find what your customers say about your brand, products, or services. You will have the information on the best content types they love and create for more engagement. Then create more content based on the conversation of your customers on social media to boost your engagement with them.
Here is what Stacey Kane of EasyMerchant says about these tools.
"We perform social listening a lot. By monitoring people's mentions and sentiments about our business and those of competitors, we identify what concerns and issues our products can address. We also learn about their questions, respond, and create content to answer them. In social media marketing, businesses can lure their target audiences to their brand by actively listening and providing helpful information."
Spy on your competitors
Since there are other businesses in the market with the exact offers as yours, you can spy on them and check on what works for them to engage target customers to your business.
For example, see how they engage their target audience and their engagement rates with the target audience.
From the analytics, you will know the types of content that you're more likely to use and recreate the same engagement with your brand as your competitors. You will then create more of those content and optimize them to reach more target audiences on your social sites. Ensure the content provides value and shows the target audience how to use your products or services to solve their pains.
Final Thoughts About Customers on Social Media
Having the right skills and strategy on social media can help you get target customers to know about your business and engage with it as you nurture them to become your customers.
If you have not been actively using social media to market and engage your target audience, you are missing an excellent opportunity to grow your business sales.
Use these great tips and strategies to engage your customers with your business on social media and drive more engagement, conversions, and sales.