You're running an online business on Facebook & using it to market and reach more customers and you have been thinking about your Facebook engagement and how to increase it.
Every time you ask yourself: How will I engage my Facebook readers more to build trust and convert them into customers?
And sure, Facebook is a great place to engage businesses that can sell you products or services. Research shows 18.3% of adults have purchased through Facebook.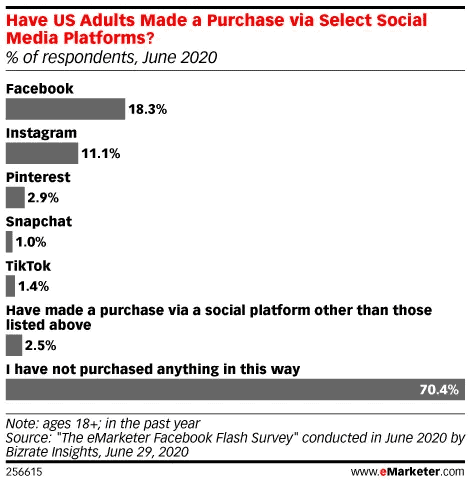 Source: eMarketer
Or maybe you have been wondering about the right approach to make Facebook engagement strategies work better for your business marketing?
Well, we will help. In this blog post, you will learn about the best strategies and how you can use them to engage readers on Facebook and grow your followers, build trust and convert them.
Ready to know these strategies. Here we go.
Use Visual Content
Readers consume visual content more than other pieces of content. So as you engage readers on Facebook, consider using visual content. Here are some reasons why visual content works best.
Most People Engage With Visuals
Visuals are appealing attractive, and readers love them. They can pass information to readers in an easy way.
For example, you can create short video content or infographics that give a specific type of message to readers, which they easily engage with and find valuable.
Research shows that Facebook favors pages that publish them and increases organic traffic.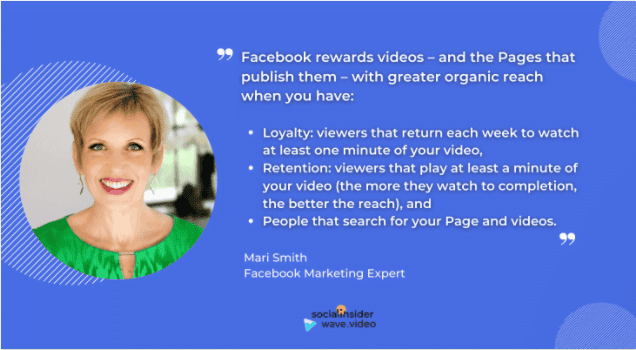 Source: Social Insider
Here are the results of the same study comparing Facebook engagement of different visual content.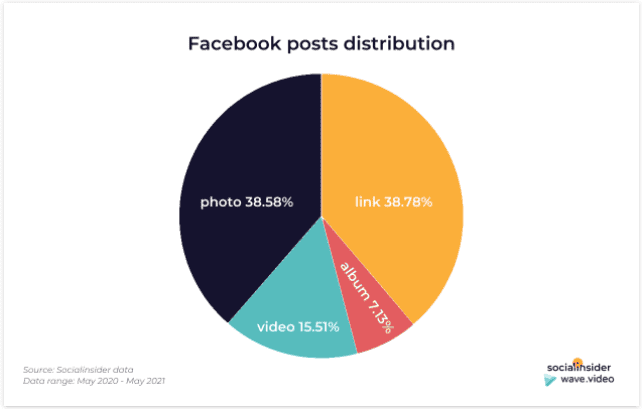 Source: Social Insider
These data show how powerful creating video and other visuals engage target customers.
So, as you create your content, ensure that it is educative, helpful, and informative to target customers and addresses their pains.
How to Create Visuals Content for Facebook
You can use different tools to create visual content that you can use to share and engage your fans.
You can engage followers with visual content like memes, Gifs, visual quotes. In addition, you can use these tools to create visual content for your Facebook engagement.
Alongside visuals, you can also create other content types such as writing better copy that engage your readers to build trust and draw them to your business.
Content types like case studies and testimonials show how other people value your business and can engage more Facebook fans.
Post Content at The Right Time
It is essential to post content at the right time to engage more readers. Even if you have great content but always post it when target readers are not online; it will get few engagements.
But you could be asking. What then is the right time to post on Facebook.?
Well, it's the time when most of your target readers are on the platform and engaging with content.
So CoShedule did research that shows the best times to post on Facebook for more engagement.
B2C Businesses: 9AM, 10AM, 12PM,1PM,4PM, 5PM
B2B Businesses: 9AM, 3PM,4PM
Software Businesses: 9AM, 3PM,5PM
Healthcare Businesses: 6AM, 7AM, 9AM,11AM,12PM
Media Companies: 7AM, 11AM, 6PM
Higher Education: 6AM, 12PM, 3PM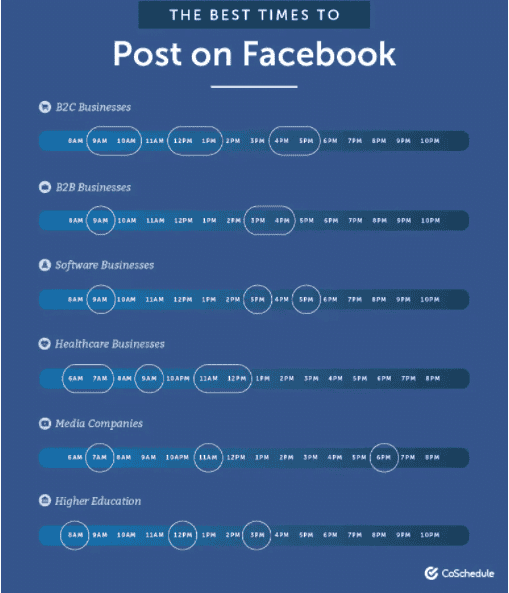 Source: CoSchedule
Engage your Facebook fans more on these times. You can attract and capture their attention as they go around the social site. Therefore, it is essential to post visual content and written words.
Run A/B Tests
Why Do You Need a/b Tests?
Running tests helps know the best strategies that work well for your Facebook engagement.
Once you know the right approach to focus on, you can maximize them and increase engagement as you build trust with target readers.
Run different variations of your Facebook marketing campaigns to understand what target readers love most. However, as you run your a/b tests, avoid making these mistakes.
You are trusting results from other marketers. Instead, get your results and data.
Don't test a lot of things at the same time.
You are not collecting data from your a/b tests.
Start and end your tests within a short time. It takes some time to know the variation that works best. So don't give up early.
You are running your tests without a hypothesis.
Ensure you have a set budget for your a/b test campaigns.
How to Run a/b tests on Facebook
It is essential to have a goal before running the a/b tests.
Ask yourself, what do I want to get out of these tests?
Once you set goals, you can create two variations of the same Facebook marketing campaign.
These will be the variation of what you want to test. For example, you can run two different sets of your CTA to see which one performs better for your readers' engagement.
Here is how you can create an a/b test with the ads manager on Facebook. Here is how you can do it.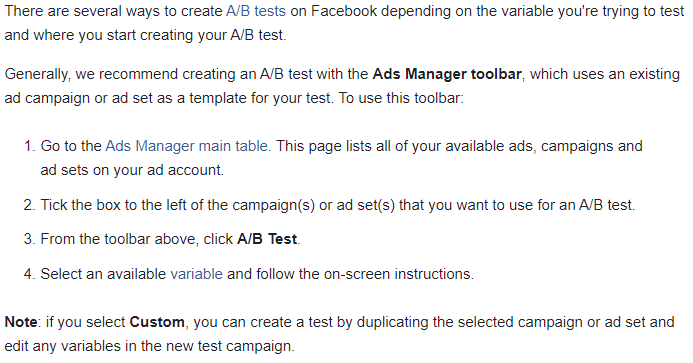 Source: Facebook
Best Tools to Run a/b Tests
As you run your a/b tests, it is essential to use the tools that will help give the best experience as you run and monitor your a/b tests.
Before using an a/b test tool, ensure that you know how to get the best out of it, and it has an excellent support team in case of any challenges as you are using it.
Here are the a/b test tools you can use for your testing campaigns.
Use Attractive CTAs
You don't want your Facebook readers to just engage with your content but see them taking action to become customers, right?
Well, you have to guide them in their process of engagement.
But, you may ask, how so? It's by ensuring your CTAs are attractive and capture their attention.
Tips For Creating the Best CTA
To ensure your CTAs are effective, use words that will provoke your target readers' emotions as they consume your content.
Here are some phrases to use for CTAs. and some CTA suggestions for your campaigns.
Source: Facebook
How to Use CTAs to Increase Facebook Engagement
To increase engagement in your Facebook campaign, ensure you choose the right words to use.
Words that will provoke readers to engage your content easily. Here are some of the words you can use on your CTAs.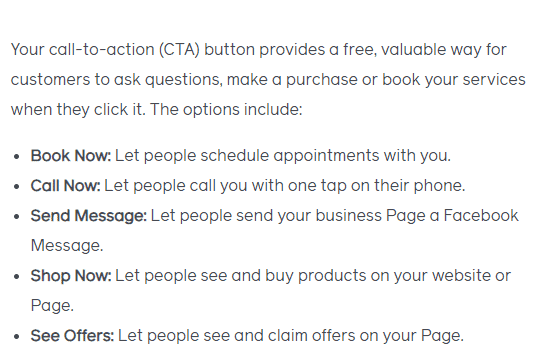 Source: Facebook
Join Relevant Groups and be Active
Facebook groups can be a great way to connect with your readers and engage them as you market your business.
How to Get the Most From Facebook Groups
Remember your primary goal in groups is to build trust as you educate and engage readers through your content.
To get the most from groups, show target readers that you understand their pains and help solve them.
Give your thought leadership expertise as you converse in the groups.
For example, when group members ask questions, use your business marketing knowledge and expertise to answer their questions and provide actionable tips to solve their pains.
Join Trending Conversations
As you engage readers, look for topics that most people are actively engaging with and engage them too.
Most of those readers are your target customers, and you can catch their attention when they see the value you give in the conversations.
Know Your Customers Better
Knowing your customer is the first step to ensure you get more Facebook engagement and result in more conversions for your business.
Know your reader's pain points and create campaigns that drive on helping them solve those pains.
How to Understand Your Customers
One best way to know your customers is to study your current customers. You can ask for reviews or testimonials for what you offer.
They can give you a clue of what your target customers may want.
They all will need your products or services that solve related pains for your current customers and those you target to convert.
You can use social listening tools to know what your customers say about your business and related products. Then, it will give you clues on approaching them through your campaigns for more engagement.
Another way is to run a survey. For example, you can send surveys to your leads to know them more through your email list.
As a marketer, you will get insights into their needs and what they need from your business. Then, run a competitor analysis to understand how they attract and engage target customers on Facebook.
Best Ways to Reach Your Customers
Most of your target customers are searching for content that will guide and help them solve their pains.
To reach these customers, ensure you publish the type of content that helps them accomplish their goals.
The content should show and guide them on how to solve their pains.
Where do They Spend Their Time on Facebook?
Know where target customers spend most of their time and engage them from those places.
It could be Facebook communities, forums, groups, etc. Also, know the best times and days your target customers post on Facebook.
You can see more engagement from target customers as you engage them online.
For example, research by SproutSocial shows that the best days with high engagement on Facebook are Tuesday, Wednesday, and Friday.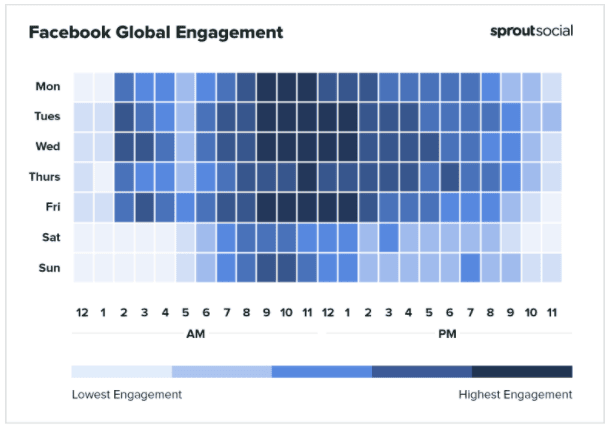 Source: SproutSocial
Value Comments and Replies From Fans
Your Facebook fans are your target customers, and they should feel that you have their attention as they consume and engage with you.
Best Ways to Engage Comments
Ensure you personally answer every comment your target readers leave on your content. Go in-depth and ensure that your comments provide value and expertise to the readers.
It makes them feel they are heard and care about their pains, which builds trust faster as you engage them. Make sure you personalize your replies to each target customer.
Answer Questions in the Comments
Some target customers can engage with your content, and instead of commenting, they ask a question.
Such readers show more interest in what you posted and want to know more about your content or business.
It is your best chance to impress them and increase their engagement in your marketing campaigns. Answer their questions and show thought leadership and expertise.
Readers will become more interested and want to know more from you. It allows you to draw them to your business and start nurturing them as prospects.
What if a reader leaves a negative comment that can hurt your brand marketing? What should you do?
Well, you can immediately reach back to the reader and give them an alternative that can help them feel understood.
Show empathy every time you handle negative feedback from readers. To help give the best experience and deliver more value, use the feedback to improve your customer experience.
Don't be Self-Promotional
You have once received an email from a brand that wanted to sell its products to you.
But, unfortunately, the brand didn't even stand to ask you if you need the product. Instead, they started selling it to you right away.
How did you feel? Let me guess. You just deleted the email on the spot.
Why?
Because you hate being sold to. We all do. Avoid making your campaigns to promote your business the first priority.
Ultimately, it will be your end goal, but give your target readers something first and work to gain their trust before taking the step.
Avoid Engagement Bait
Engagement bait is posting content just to get likes, shares, comments, etc. It aims to manipulate people to boost your page organic traffic to reach more target readers.
There are different types of engagement bait people use to gain organic reach.
Facebook banned this practice, and using it can affect your Facebook engagement campaigns negatively.
3 Reasons to Focus on Facebook Engagement for Brand Marketing
Easy to Reach Target Customers
Research shows that Facebook has over 2.9 billion monthly users. With such a high number of users, a business can easily reach most customers through Facebook.
Running best marketing campaigns on Facebook can draw massive traffic to your business, engage more target customers, and increase lead conversions.
Engage More Potential Customers
Once you understand your target customers, their pains, and the right time on Facebook, you can increase your Facebook engagement.
As you consider using Facebook to engage and promote your campaigns, it is essential to ensure they access all your content on their mobile devices.
Most of the target customers use smartphones to search for information these days.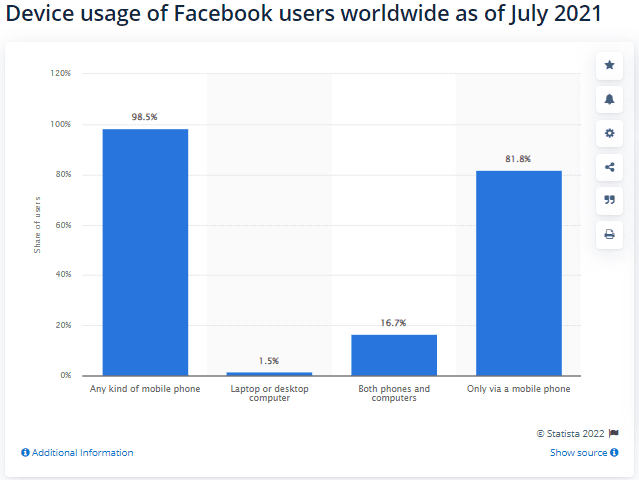 Source: Statista
You miss an excellent opportunity to engage target readers if they can't access the information on the devices they have.
Increase Website Traffic
You want to engage Facebook followers to draw them to your business, right?
Facebook marketing will attract more target customers to your website when done well.
They will learn more about your business products or services. In the process, they will see the value you deliver through your business, how they have helped other people, and maybe convert into customers.
How to Calculate Facebook Engagement Rate
You have known strategies that you can use to engage more of your Facebook fans to your content and draw them to your business.
But you need to measure each strategy to see how it's performing to help maximize your results.
But, how can I calculate my Facebook engagement rate, you ask? So here is a simple method you can use.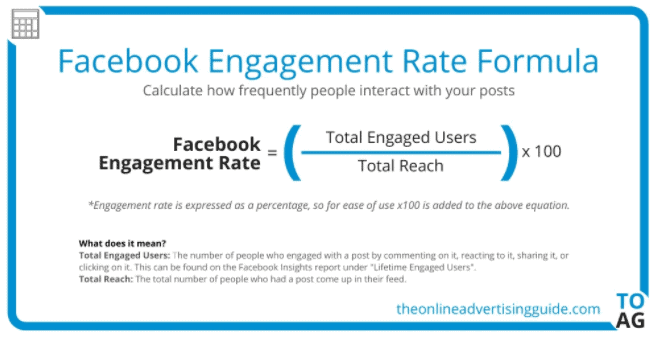 Source: The Online Advertising Guide
Final Thoughts on Facebook Engagement
Facebook is a great social media site to reach and engage target customers.
Having the right strategy can increase your Facebook engagement and build more trust as you draw them to your business.
Use the above strategies to reach more target audiences and increase engagement as you run your marketing campaigns.
It is essential to ensure each piece of content is helpful and guides readers to solve their pain points with your business products.