1. Make Sure You Have a Personal Page and a Business Page
We're starting out with the easiest tip of all, which is having both personal and business Facebook pages, so you can use each to help you cross-market.
Here are some ways to do that:
Share posts from your business page on your personal page to increase likes, comments, and shares.
Add up to 5k relevant 'friends' on your personal page. Make sure they're relevant by only adding friends that match your ideal customer. Then, invite those friends to like your business page.
Create a business group and invite friends from your personal page to join.
Having both allows you to cross-market while simultaneously encouraging Facebook's algorithm to place your posts higher in the news feed.
Did you know? With followers, you can increase your leads too! And that too on the same Facebook Page? You can gain more leads with the Facebook Messenger chatbot at ease! It also pays to spend some time thinking about bot names. The name you select can have an impact on how people view your Facebook Messenger bot.
2. Optimize Your Facebook Page
Optimize your business page by adding a catchy title, description, company overview, and mission statement. You can also include relevant keywords and key phrases when filling out any of those fields.
Make sure your profile and banner photos are both professional, clean, and captivating. Test your page on desktop and mobile devices to make sure the appearance on each looks clean and the sizes are correct.
If you are a small business owner, you can also add call to actions like book now which lets your profile visitors book direct appointments with you using any of their appointment management partner.
Professional logos work great for profile photos. Creative images that showcase the impression you're aiming for are also great for cover photos.
If you can't find a way to make an impression with a cover photo, try a cover video that explains your company's purpose.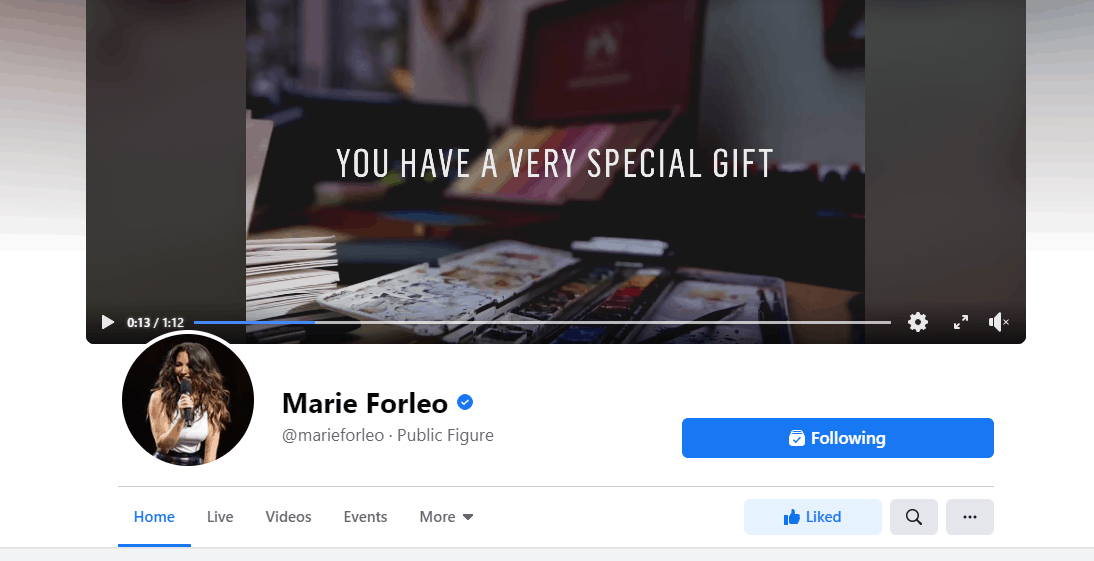 3. Take Advantage of the Facebook Like Box
Adding a Facebook like box wherever you can is an easy way to encourage new followers.
Here's what the box looks like: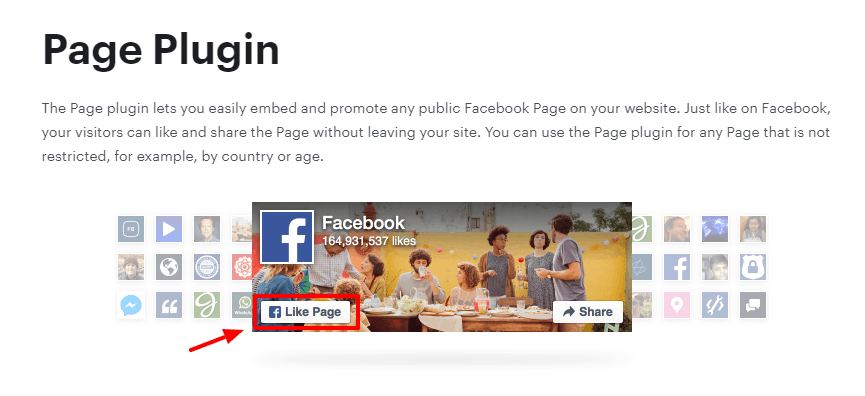 (Image Source)
You can add the box on your website, blog, landing pages, and author bio when you write guest posts. You can even add it to your email newsletters or embed your Facebook link into a call-to-action (CTA) anchor statement (i.e., 'like us on Facebook').
For directions on how to get a Facebook like box, read this article from Facebook.
4. Use A/B Testing
Use A/B testing to help you see which posts have higher engagement and reach. A/B testing is a technique that involves providing your audience with two different types of posts so that you can keep the one that works better.
Here are some ways to make A/B testing easier to execute:
Focus on one variable at a time. Instead of testing two different images, captions, and headlines, focus on testing just two different captions and leave the images and headlines the same.
Use broad targeting to see what potential followers prefer.
Save money by using the ShareThis Social A/B tool for free. Or, choose a promoted post to reach more people for only $10 per variation.
Run your tests during normal publishing times.
Don't assume the A/B test results you have this year will be the same next year. Keep up with preference changes by testing new ideas as often as you can.
A/B testing is one of the best ways to help you gauge which part of your posts people are responding to the most.
5. Share High-Quality Content Consistently
Make sure to share relevant, engaging, and informational content most of the time, instead of promotional content.
Stick to the 80/20 rule: 80% informative and valuable content and 20% promotional content. Just make sure you're posting consistently.
Here are some more tips:
Create Content Around Trending Topics
Use current events, viral topics, holidays, milestones, and new trends to help you create shareable content. Coming up with trendy or timeless topics is more difficult than choosing a random topic. For that reason, you can collaborate with writing services such as TrustMyPaper, which can help you come up with engaging text.
Keep It Visual
Post interesting explainer videos, infographics, photos, and charts.
Go Live
Show up live and send a free gift to attendees who watch live, rather than the replay. This will encourage your audience to sign up for notifications whenever you start a live video.
Draw on Emotion
Use compelling storytelling to draw on emotion and pull followers in. Humor works great here.
Promote Your Content on Other Social Networks
Share your Facebook posts on Twitter, grab a snippet and turn it into a pin for Pinterest, and share it on your blog. Before sharing, make sure your content goes through a grammar checking tool like Grammarly.
6. Schedule Posts in Advance
Once you've created your Facebook marketing strategy, use it to create a content calendar.
In your calendar, you'll need to be as detailed as possible. List the posting date, headline, caption, image type, hashtags, and whether or not you'll be using an ad. Using a project management tool to create this calendar is a great way to manage content assignments and keep your team on the same page.
You can also add other detailed meeting notes about Facebook story posts and group posts.
Once your calendar is planned, use social media management tools to help you schedule posts in advance.
PS: At Bulk.ly, we've got all the automation and scheduling tools you'll need.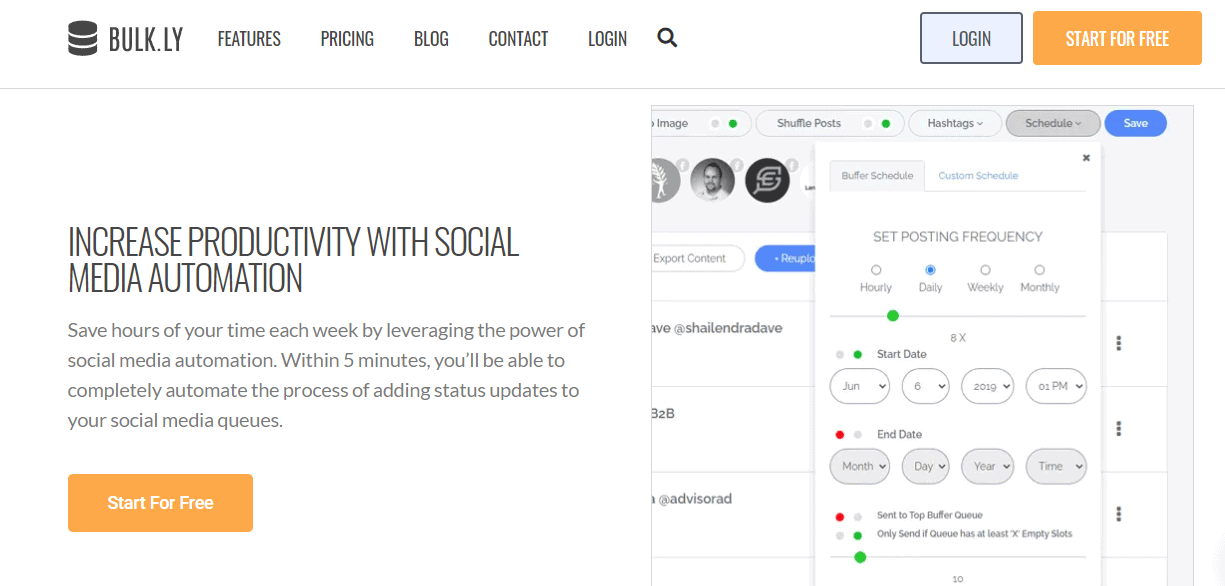 7. Monitor Insights
Track what content is driving the most engagement by keeping up with Facebook insights.
Facebook allows you to check the following insights:
People insights: audiences, media behavior, moments, and conversations
Advertising insights: creative effectiveness, media planning/buying, and measurement
Industry insights: from automotive to travel and everything in between
Series and reports: topics, trends, COVID-19 updates, etc.
They've also got insight tools to help you sharpen your campaigns, keep an eye on holiday trends, and get the latest Facebook stats.
Using these insights to help you further curate your content is invaluable to growing your followers.
8. Be Responsive With Your Existing Followers
You'd be surprised how much lurking your audience does before they choose to follow your page or become a customer.
Actively responding to your existing followers on Facebook is a great way to show potential followers that they can receive assistance through your Facebook page.
To see this concept at work, check out how Preply interacts with customers on its Facebook page: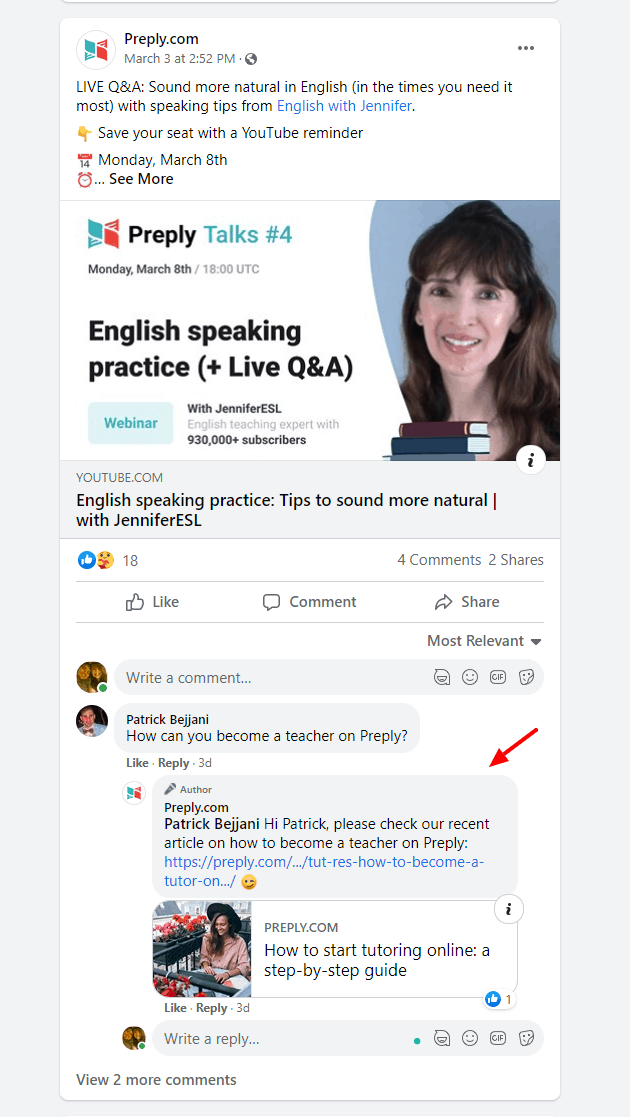 Showing your audience that you're responsive proves that you care about their concerns and are willing to give them the answers they're looking for. Make sure that you welcome new followers and engage with them as soon as they join your community.
This is also super important when you get reviews — especially bad ones.
Use bad reviews as an opportunity to show your audience who your brand is at its very core. Respond politely and respectfully. Most importantly: be solution-focused.
How can you solve their problem? How can you ensure this mistake won't happen again?
If your team is too busy to dedicate time to responding on Facebook, hire a designated social media manager to do it for you.
9. Use a Few Relevant Hashtags
Hashtags on Facebook work a bit differently compared to other social media channels.
While Instagram users can add up to 30 relevant hashtags without looking spammy, the same isn't true for Facebook. On Facebook, anywhere between one to a few hashtags per post is best.
Here are some other recommendations:
Use tools like Hashtagify to help you choose which hashtags to use.
Try top-recurring hashtags based on days of the week, like #transformationtuesday and #fridayfeeling.
Create your own hashtag.
Use popular hashtags like #NBAfinals.
Add hashtags to your campaigns.
Don't use punctuation or spaces in your hashtags or they won't work.
Ask and answer questions with hashtags.
Incorporate hashtags into your sentences (i.e., we can't wait for #summer).
Connect other social media platforms to your Facebook pages. The hashtags you use on platforms connected to your Facebook pages will be searchable on Facebook.
A good example of the use of hashtags is Earlybird when posting a blog post about the best gifts for grandchildren. They have included in their publication few of them related to their business but also the topic of the blog post.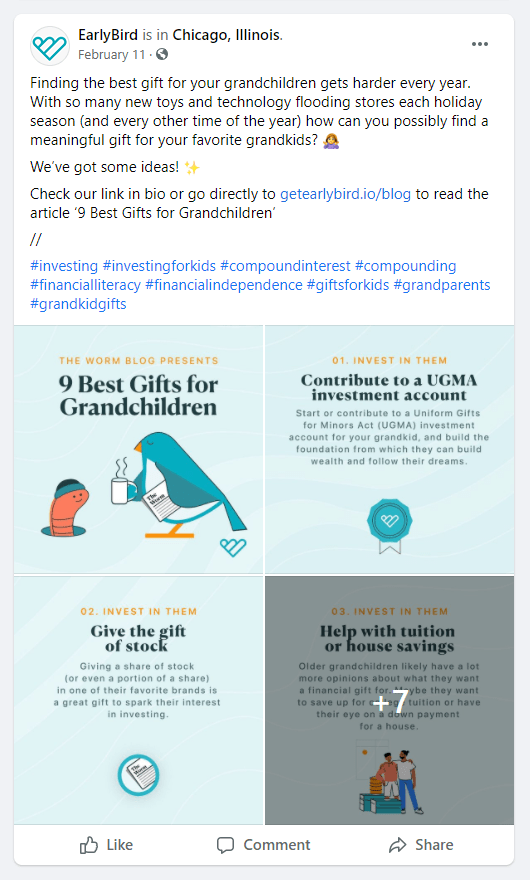 10. Give People a Reason to Follow you
People need a reason to follow you — in other words, they need to know how your page will benefit them.
Will you be sharing informational content they've been dying to get their hands on? Are you aligned with their interests and needs? Can they count on you for a good cry or a laugh? Do you inspire them?
Here are some ways to give people a reason to follow you:
Run contests and giveaways with products and services you know they'll love.
Host free webinars answering commonly asked questions and provide free workbooks.
Give expert advice about topics they care about most.
Keep your messaging positive, motivational, and informative.
Hook people in with a captivating headline (i.e., you'll never believe what happened to us last week).
Get involved with causes close to their hearts.
If you take a look at SwagBucks' Facebook page, the web's most popular rewards program, you can easily find a reason to follow them. Their posts are full of good deals and discounts, either for old navy or HelloFresh for example, but also tips and tricks to earn more money.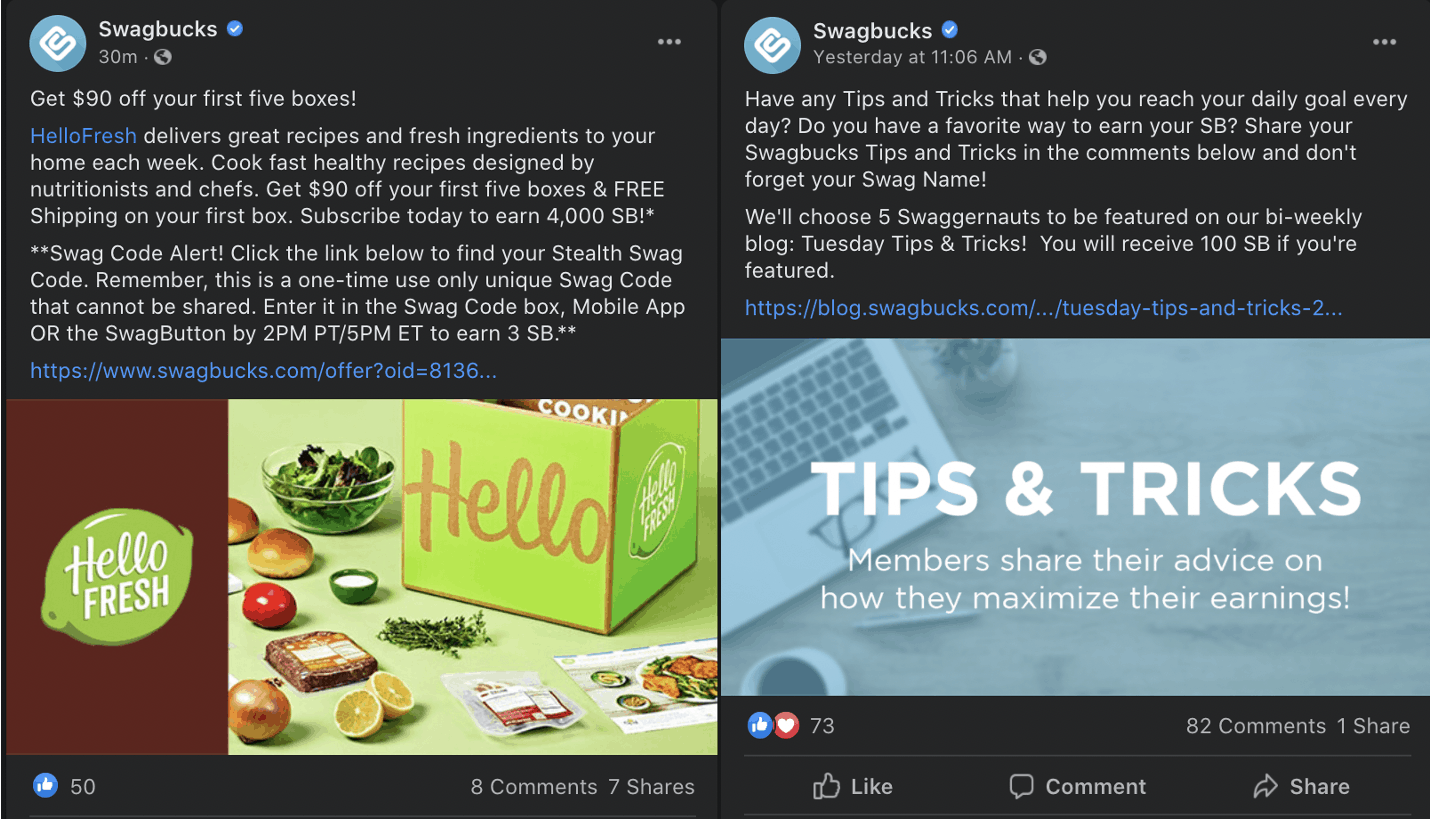 11. Create Organic Long-term Growth
Don't waste time on bot-generated likes or depend on ads to grow long-term followers. While ads are great for short-term wins, don't count on them to build a long-term following.
To create long-term growth, make sure your brand has a human touch.
While scheduling posts is great for consistency, don't automate everything. Make sure to add some real-time posts as well (like behind-the-scenes photos of your team, for example).
Here are some other tips:
Focus on creating a community by starting conversations with your audience.
Post evergreen content (content that's timeless and always relevant).
Follow Facebook's rules.
Grab snippets of evergreen content and repurpose them for future posts.
Post answers to frequently asked questions or go live to answer them.
Create a VIP group with your most engaging audience members.
Use value propositions and CTAs in every post.
12. Promote Blog Content
Promote your blog content on Facebook to redirect potential followers to your website. This gives them the chance to take advantage of your expertly crafted content and learn more about you.
Here's an example from GetSafe, a company selling medical alert systems redirecting followers to their blog post about fall prevention tips for the elderly at home.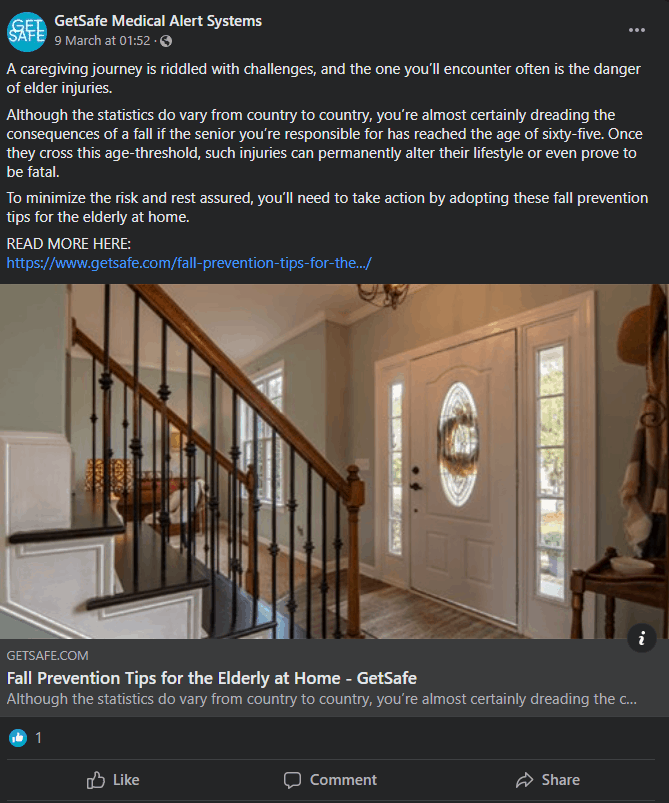 In this example, Earlybird's audience gets the opportunity to learn more about them and why they could be a great fit for their gifting needs.
With so many Facebook pages out there, brands can get lost in the shuffle. By redirecting audiences to blogs, brands have a better chance of conveying their authenticity and value. If you want to give people even more of a reason to click, consider giving them some type of content upgrade like an online course, a free webinar, an ebook, or whatever else your audience may enjoy.
This technique is one of the best ways of turning a skeptical audience member into a loyal fan — but remember to ask them to like your Facebook page at the end of your article!
13. Feature Popular Content
Check your analytics to find the most engaging popular content you've created and rotate those pieces out as 'spotlight images' on Facebook.
For example, one of Buzzsprout's most popular content is their video on how to start a podcast. They took that video and featured it at the top of their Facebook page as a 'spotlight.'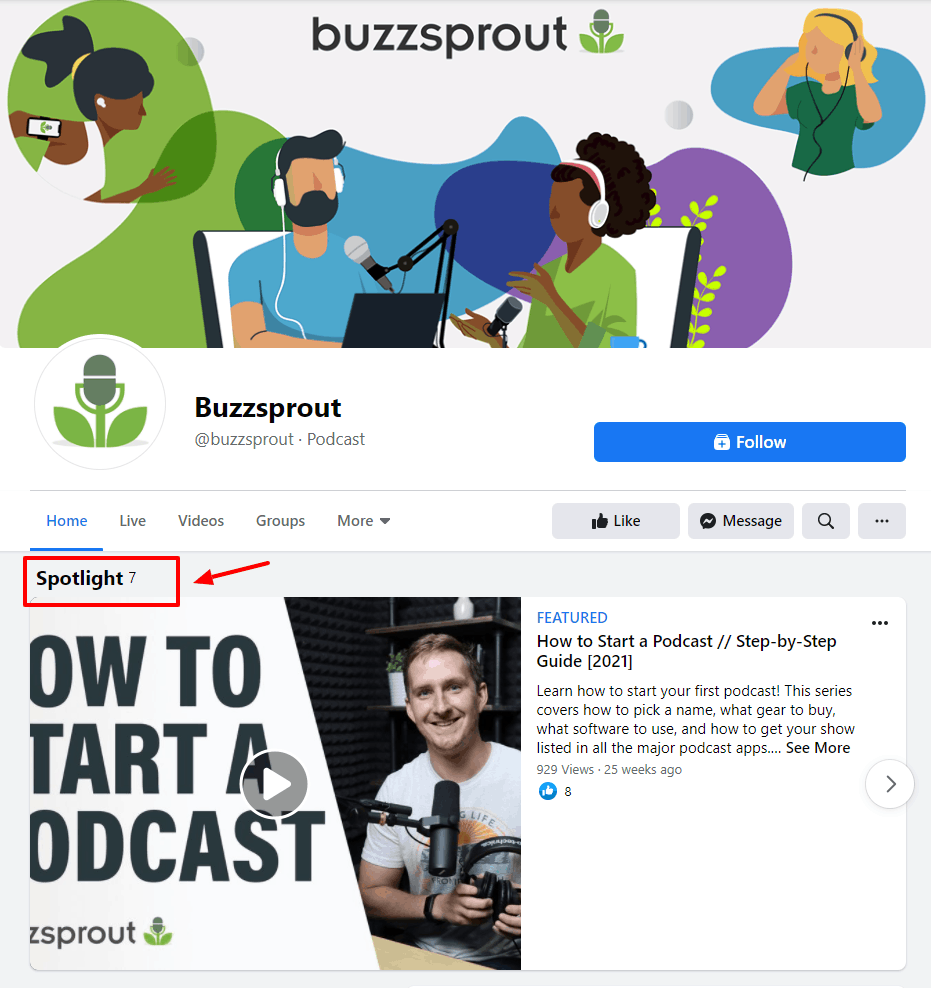 Here are some other spotlight ideas:
Feature your most popular live videos as replays.
Grab your most famous tips and turn them into images.
Spotlight your best customer testimonials.
Turn your most popular how-to articles into infographics.
Feature upcoming popular events.
Highlight a major giveaway or contest.
Spotlight major discounts and offers.
Spotlight images are a great way to immediately give audience members a taste of who you are and how your brand can serve them.
14. Run Facebook Ads
One of the easiest and fastest ways to increase followers is by running paid Facebook ads.
Facebook has a self-service platform that gives you options to:
Promote your page
Boost your posts
Get more leads
Perform specific actions
Increase conversions
Once you're ready to use Facebook ads, you'll select the page you own, then your goal (i.e., promote your page), then your audience, and finally, your budget and duration.
Take advantage of the A/B testing we mentioned earlier to test which campaigns work best. You can always start low (something like $10/day) and then increase as you go.
Try to run campaigns for at least a week, but then again, you'll want to run a few tests.
You might find that some campaigns work better when they run for two weeks, while others only need one.
A few types of ads to test are conversational Facebook ads (Sponsored Messages and Click-to-Messenger ads). A conversational Facebook ad lets you interact with customers via an automated chat conversation. The automated conversations can range anywhere from collecting an email address in exchange for an offer, to asking a series of questions and recommending a product. These are great for interacting with your customers in a more personalized way than regular Facebook ads do.
Keep in mind that Facebook ads don't exactly buy likes (and you wouldn't want them to anyway). What you're paying for are views. Make sure to add a CTA to your campaigns to encourage people to like your page.
For more control, be sure to use their Ads Manager instead of creating ads from your page using the 'Boost Post' or 'Promote' buttons.
Create Facebook video ads to achieve higher engagement and boost marketing campaigns. Facebook video advertising trends are gaining momentum in 2021
15. Share Exclusive Offers
Entice audience members to like your page by sharing exclusive offers and deals.
Here's an example from the email finder tool Reply.io promoting a 30% discount for subscriptions on their Facebook page.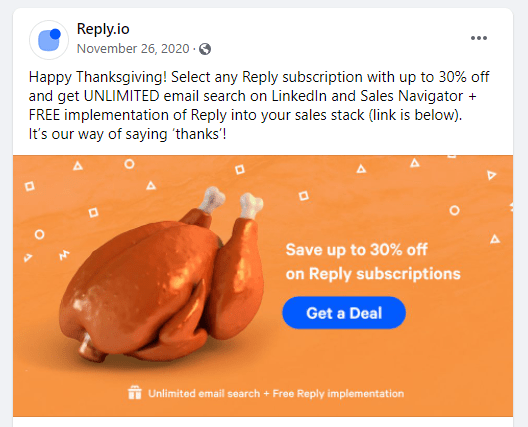 You can also promote:
Buy one, get one (BOGO) offers for top-selling products/services.
Refer-a-friend discounts (i.e., refer a friend and get $10 off your next purchase).
Free gifts in exchange for spending more than a certain amount (i.e., get a free bottle of lavender oil and a free tea tree face wash when you spend $250 or more this month).
Loyalty programs, rewards programs, and VIP programs.
Free shipping or waived enrollment fees.
Seasonal offerings (i.e., grab our limited-edition lipstick while it's still around for winter).
Here another example of a promotion made on Facebook from Herbal Dynamics Beauty offering a discount for CyberMonday on their sugar lip scrub.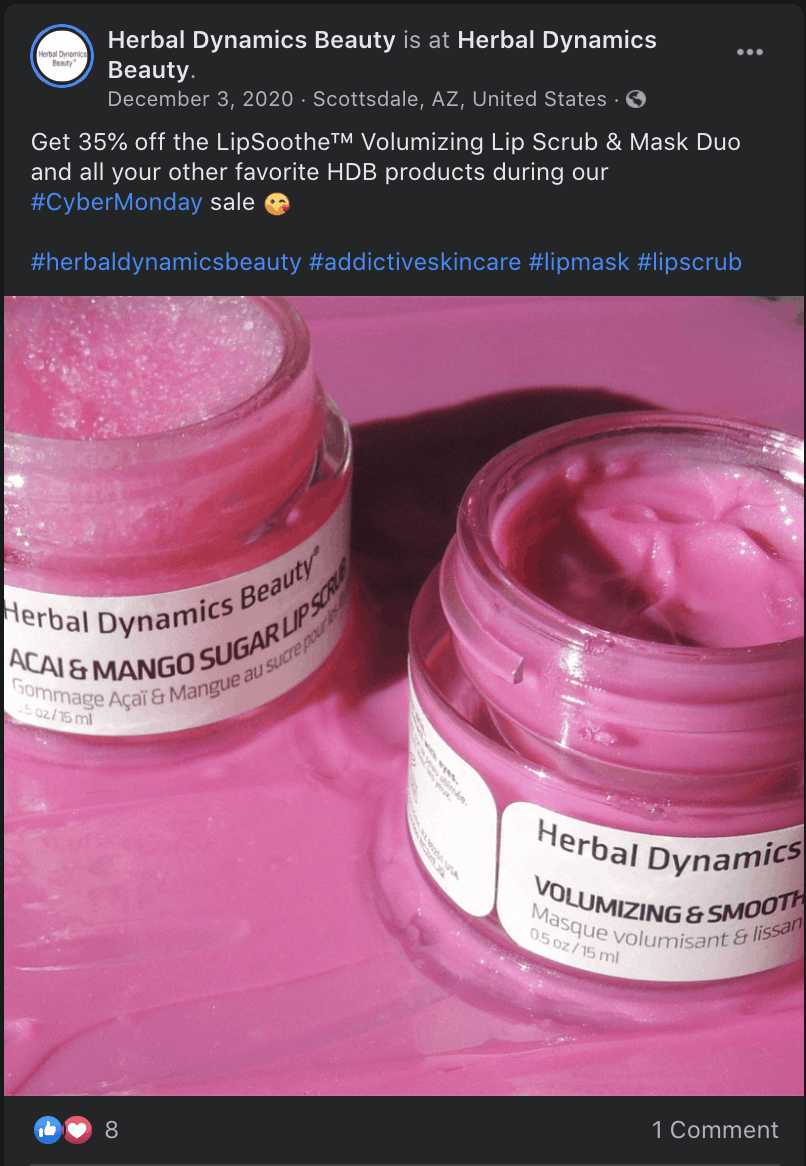 Sharing exclusive offers also piggybacks on the idea of giving people a reason to follow you, as long as you add CTAs to encourage them. You can also give them more incentive to follow you by adding a bonus gift after liking your page.
16. Collaborate With Influencers and Affiliates
To take some of the stress off of your crew, creating agreements with influencers and affiliates.
Influencers are highly trusted in the social media community. Using them can skyrocket your Facebook presence.
To find influencers, do a search on Facebook.
If you're worried about cost, you can use micro-influencers or nano-influencers instead. They have niche audiences and cost way less.
While a major influencer can cost upwards of \$700k per post, micro-influencers cost around \$500. Nano-influencers are even more affordable at about $150 per post.
To use affiliates, you'll have to create an affiliate program, but doing so is easier than it sounds.
You simply create links that affiliates will use to promote your page. You'll be able to track these links to see how much revenue they're generating and how many organic likes they've garnered. In exchange, they'll get a small commission for each sale or like.
Influencer collaborations can be tricky if you don't follow standard operating procedures. Document the entire process and optimize it for better results. Use a CRM platform to speed up the process.
17. Create Niche Facebook Groups
Creating niche Facebook groups is an easy way to get new followers without having to search for them — they'll find you instead.
People love connecting with others in groups to network, build friendships, or ask questions to a helpful and relevant audience.
For example, people moving to a new area may find comfort in joining a group about that area for tips on how to get around, local laws, and what to do in certain situations. If you own a real estate company or an event company, creating a group for new people moving to your area is low-hanging fruit.
Or, if you own a garden supply chain, creating a gardening group for gardeners and enthusiasts is a great way to share helpful tips and answer questions. Of course, it's also an excellent chance to encourage them to like your page for even more tips.
Here's an example of some niche gardening groups on Facebook: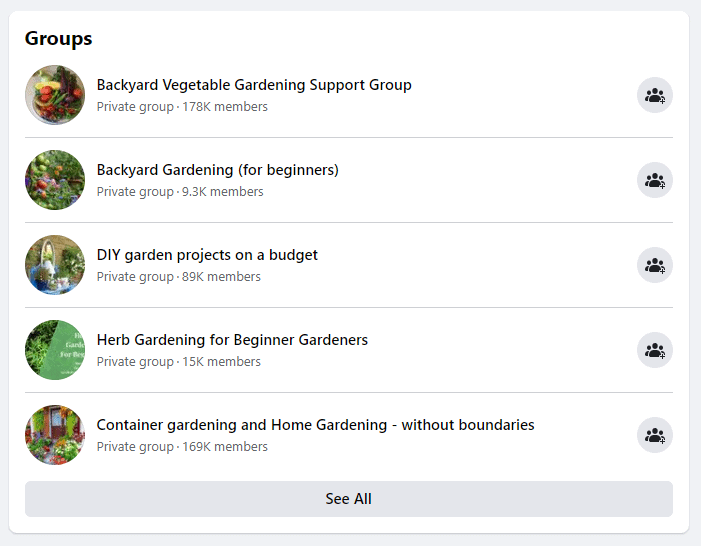 If you decide to create a group, make sure it's an avid part of your daily marketing. You'll need to engage with the group, create your own posts, ask your own questions, and reply to comments and questions regularly.
18. Engage With Relevant Facebook Groups
In addition to creating niche Facebook groups, you'll also want to engage with other relevant Facebook Groups.
Do you have a consulting company? Make sure to engage with entrepreneurial groups. Do you sell health supplements? Be sure to engage with health and wellness groups.
Here are some other tips:
Turn on group notifications so you'll be notified when new group activity happens.
Provide helpful solutions to group members asking questions.
Congratulate and support group members who reach certain milestones.
Add your own two cents when you see a passionate (but respectful) debate — but avoid dramatic or harassing comments .
19. Open a Facebook Store
More and more people are buying products straight from social media stores, instead of heading to websites or product pages.
If you sell products, opening a Facebook store is a great way to encourage more sales and grow your fans. Then, you can use Facebook ads to promote your products and add a CTA to follow your page for product updates.
When choosing which products to feature in your ads, you'll need to investigate the ideal audience's shopping preferences, or stick with A/B testing.
You can also promote viral products — remember 2020's obsession with puzzles and fiddle leaf figs? Do some research to see which products are currently the most popular before creating your ads.