Every marketing strategy needs a goal – especially digital marketers. This is where SMART marketing goals can help you.
I've seen this too many times. Whenever a company starts with integrated marketing, it instantly jumps to tools. What keywords rank the best? What social media platforms should we use? How often should we publish new content? Should we launch an email campaign?
SEO, content marketing, paid search, and social media posts are all needed for a successful marketing strategy, but they're simply tools. To ensure your marketing efforts succeed, you need to start with goals and key performance indicators.
In this article, I'll go over everything you need to know about smart marketing goals. I'll cover what they are, should you use them, how you can use SMART marketing goals for link inserts, and much more.
What Are SMART Marketing Goals?
As you might've gathered from the spelling, SMART is actually an acronym. SMART marketing goals are nothing more than marketing goals set by the SMART framework and stand for: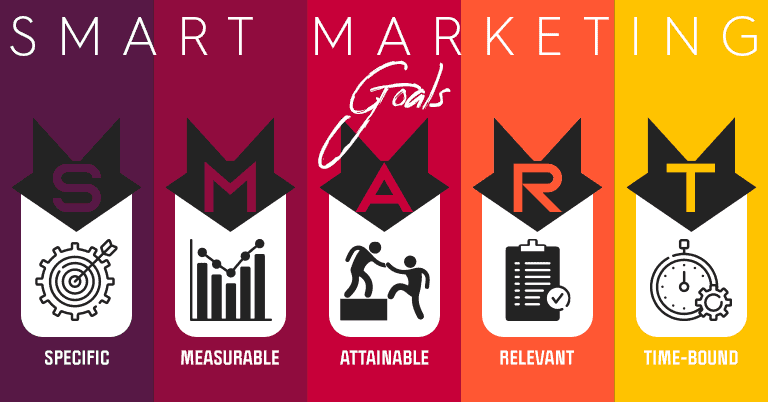 Specific
Measurable
Attainable
Relevant
Time-bound
There are a couple of variations for the words in the acronym, but they all mean the same thing.
When using a SMART approach to your marketing objectives, you're setting goals that are:
Specific – marketing goals that are focused on a specific target. For instance, you want to increase website traffic.
Measurable – which means you can quantify the set goals. A great example of this is setting a goal to increase sales by 50%.
Attainable – the goals you've set must be realistically achieved. Continuing on the previous example, a more attainable goal would be increasing sales by 25%.
Time-bound – the goals have a set deadline. For example, you can set a deadline for increasing sales by the end of the year.
When developing SMART marketing objectives, you need to work through the letters of the acronym to ensure the goals you're setting check each of those boxes.
Are There Any Benefits To Using SMART Marketing Goals
Setting SMART marketing goals requires a bit more thought than simply setting a target for your marketing efforts. But if it requires more effort than setting a target, does it come with any benefits? Sure it does!
Smart Goals Provide Increased Clarity
The best way of showing how smart goals provide increased clarity is with an example. Imagine you've just set a target of increasing your website traffic.
Your marketing team will be left with a platitude of questions. Why is increasing website traffic important for our business goals? What's the deadline? What digital marketing strategies do we use? How are we going to track and measure our efforts?
SMART goals increase transparency and clarity. This is essential if you want your employees to know what's expected of them at work.
Smart Goals Boost Motivation
If you and your marketing team have a firm grasp on what needs to be done and by what time, you'll be more motivated. Moreover, when you document the SMART goals, you'll get an even bigger motivation boost.
Several studies show writing down your goals makes you more likely to achieve them.
Smart Goals Allow You To Set Priorities Better
As you develop SMART goals, you need to ensure the objectives meet different criteria. This process will help you create better goals and serve as a kind of gut-check.
For instance, if you're having trouble determining how a goal checks the "attainable" goal, then it maybe should be high on your team's priority list.
How To Set SMART Marketing Goals
Setting marketing objectives requires a lot of thought, planning, and strategy. Thankfully, the process is much easier when you break it down into smaller steps. Here are the steps you need to follow to set up SMART marketing objectives:

Step 1: Set A Target That's Inline With Your Marketing Goal
The goals define your company. This is true for both your specific inbound marketing efforts as well as for your company as a whole.
It's essential that while you're developing these goals, you're setting them for the success of your brand.
Step 2: Determine Your Marketing Targets By Channel
As you craft your marketing goals, determine targets for each channel. The goals probably won't be equal across all channels. Your marketing targets should depend on the customer base.
Step 3: Break Down The Marketing Goals Into Monthly And Quarterly Targets
There's no point in setting targets if you can't quantify them. And when you do, if you don't break them down, the numbers you've set as a target can get pretty overwhelming.
By breaking down your goals into monthly and quarterly goals, you'll make them feel more achievable.
For instance, you can set a goal to achieve a specific page authority score. You can set specific goals for each month until the page reaches the desired authority score.
When breaking down annual goals into smaller ones, keep in mind that you will have quiet periods. For instance, if you're running a personal blog, don't expect many visitors during December because people spend less time on the internet during the winter holidays.
Step 4: Combine All Goals Into A Single Summary Paragraph
Now it's time to combine all your marketing goals into one short summary. Don't go overboard. All your goals can fit in a single paragraph.
Step 5: Visualize The Goals
Once you've summarized your marketing goals, it's time to visualize them. Create a document that outlines your marketing goals.
Having a visual plan will make it easier to see where you are and where you're going at a glance. If you have a marketing team, I recommend you share this document with everyone so everyone knows what they need to do.
Smart Marketing Goals Examples
Now that you're familiar with what are and how to use SMART marketing goals. Let's go over a couple of examples.

SMART SEO Goals
All too often, marketers engage in "GuesSEO" instead of SMART SEO. If you want to up your SEO efforts, let's see how you can do that by implementing SMART goals.
As you might already know, SEO is all about improving your website's visibility with search engines. Search engine optimization includes tasks such as optimizing individual pages for search engines, dealing with crawl issues, and link building.
By doing these tasks, you're making sure your business website is visible enough to reach customers. When setting SEO goals, keep in mind the relevance of your goals to your general business objectives of growing website traffic and generating leads. You want your SEO efforts to contribute to a positive return of investment.
Here are a couple of examples of how you can reach your SMART goals:
You can start working on strengthening your backlink profile. Try obtaining 50 backlinks by the end of the month from authoritative domains by utilizing an email campaign.
Set a goal of increasing your rank in organic search results from the bottom of the first page to the top of the page for the keyword that's relevant to your domain.
Refresh your blog CTA's to increase the click-through rate by 10% by the end of the year.
But what about objective examples? Here are a couple of objective examples that'll help you reach SMART SEO goals:
You can update your content by optimizing the title, meta description and header tags, and finding relevant keywords for your niche.
Reach out to high authority websites relevant to your domain with guest content proposals in exchange for a link to your site.
How experts use SMART SEO goals:
Tim Davidson from Clean Commit applies the SMART framework to link building by focusing on attainable link target goals for important pages. For example, 25 links to a blog post within 3 months. This helps Tim's team work backwards and do enough outreach to reliably score 25 links.
Khayti Hooda from The Hustle Story says that setting SMART goals helped them make more consistent progress with their on-page audits. They outlined 8 specific on-page components they wanted to improve, set a monthly target for pages to update and held checkpoints to ensure they got done. This more granular approach helped their key contributors better balance their deliverables amongst their other responsibilities.
SMART Content Marketing Goals

Content marketing is all about creating high-quality content. These inbound marketing efforts include planning and writing blog articles, developing effective calls to action, and promoting your content on various channels.
When setting SMART content marketing goals, it's imperative you think about why you're the one in charge of writing articles. The real purpose of blog content is to contribute to the greater business objectives by growing website traffic and generating leads.
With all of the above in mind, here are a couple of examples of SMART goals for content marketing:
Set a goal of doubling your website traffic in the next 12 months by publishing 3 high-quality, targeted blog posts each week.
Create a customized mobile application for your business so that potential clients can easily reach support teams, browse products and receive updated offers.
Goals are nothing without clear objectives. Here are a couple of objectives that'll help you reach the goals from the example above:
Identify keywords with high traffic potential and low competition you can use in your blog posts.
Do some AB testing on your blog content. Test different placements, sizes, and designs for your calls to action.
SMART content marketing goals such as these will give you a clear picture of what type of content you need to create and how you can effectively measure its success.
How experts use SMART Content Marketing goals:
Christian Carere from Austin Bryant Consulting said that by publishing three high-quality targeted blog posts each week and identifying keywords with high traffic potential and low competition rates in their blog posts, they doubled their initial 30% website traffic set goal to 60% within six months and generated 35% new leads. Setting SMART goals helped Jim's team grow their company website traffic and generate more leads.
Pen from AMG Website Designers did AB testing on their blog content and refreshed all their blog CTAs to increase the click-through rate by 22.5% by the end of the year. Doing this gave her a clear picture of the type of content she needed to publish and how to effectively measure its success within the set period. To achieve the same outcome as Ann and her team, redesign your blog CTAs, carry out AB testing on your blog post contents, test the various placements, sizes, and designs for your calls to call action
SMART Social Media Marketing Goals
If you're a business and don't have a social media presence, you might as well be non-existent. Social media is essential if you want your business to succeed these days.
As a social media marketer, you're probably tasked with publishing content on various social media websites, monitoring mentions, and overseeing paid ads in an effort to drive brand awareness and sales.
The general goal of your efforts is to increase brand awareness, thus generating qualified leads with a high conversion chance.
Your SMART social media marketing goals might be something like this:
Boost Facebook engagement rate from 2% to 4% in 30 days by publishing high-quality content that appeals to your audience.
Gain 1000 new Instagram followers by posting eye-catching images with relevant hashtags, reels, and stories you know your audience will engage with.
Goals are nothing without objectives, so here's an example of objectives for the goals stated above:
Generate relevant content and videos to post that's both educational and entertaining and will get your audience engaged.
Utilize a social media content calendar to plan out future posts so you can be less reactive and more proactive.
How experts use SMART Social Media goals:
Hassan Aanbar from Bright Leads Media says by publishing high-quality content with relevant hashtags and generating more relevant content to posts that are both entertaining and educating, they observed a whopping 132% increase in post engagement in 6 weeks from their audience.
Who Should Set SMART Marketing Objectives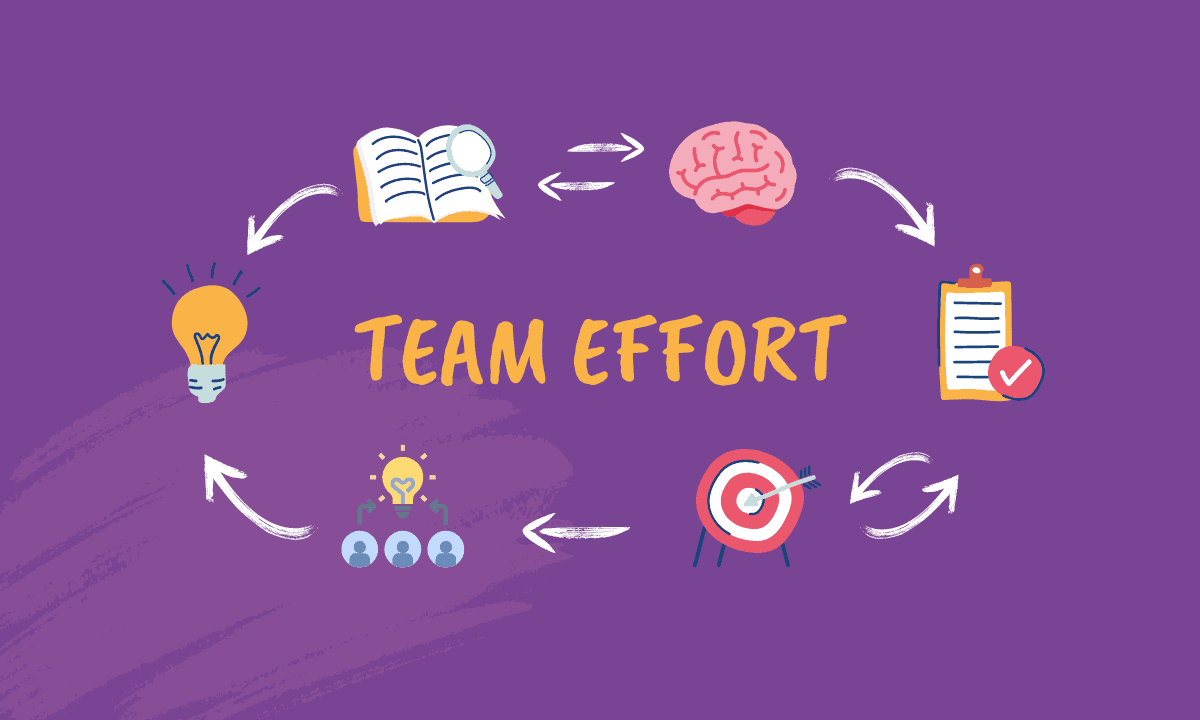 Depending on the size of your business and the marketing department, SMART goals should be set by the team leader or department manager. Setting up these goals involves doing a lot of research, planning, team discussions, and attention to detail – all with the focus on generating quality leads for your business.
It's essential that anyone that's in charge of developing SMART goals keeps their values in mind at all times. This means the person should constantly ask themselves whether a certain goal meets the SMART criteria. And if a goal doesn't meet the criteria, they should work with the entire team on adjusting it.
Although a team leader can take charge of developing SMART goals, it's best if the entire team can understand and appreciate the SMART criteria. If the team understands how this method works, it will help them feel more included in the process. This, in turn, will give the team members more motivation to succeed and thrive.
Moreover, even a basic understanding of SMART goals will help teammates at every level hone their skills by implementing them in their own way.
Develop Your Own SMART Marketing Goals
The examples I've shown above are just a few of the many different measurable goals you want to set for your business. Depending on your overall business goals, the metrics that make sense for you to improve upon can differ greatly from the examples above.
This is why you must consider your business objectives when choosing appropriate key performance indicators that will track your goals.
No matter your specific business goals, it's critical that your overall goals are SMART. By providing your team and yourself with clear, measurable goals and a well-defined schedule, you'll improve overall productivity and keep everyone accountable for their actions.
Once you get your SMART goals in place, you'll notice that it's easier to strengthen your inbound marketing efforts.