Are you wondering why and how to repurpose blog content on social media?
In 2020, more than 3.6 billion people were using social media around the globe. That number is projected to increase to almost 4.41 billion in 2025.
Every time you write an article, there's a specific goal and audience in mind, but these tend to change over time — that's where repurposing content becomes essential.
Repurposing blog articles on social media recharges them so they work harder for your SEO. There's no need to crank out content like a mill when you can repurpose and diversify it instead.
There isn't one approach to recycling content — it comes in many forms, allowing you to mold and shape it to reach a new audience, reinforce your message, or adjust your language to keep up with current events.
Repurposing content means revising it in some way to add value and increase brand authority. This strategy allows you to reach people you may have missed the first time you published your post.
Marketing isn't about posting and walking away. It's about breathing life into content and scaling your efforts to reach targeted audiences.
Still wondering why you need to repurpose blog posts for social media? Read on.
Here's what we'll cover in this article:
How Can Repurposing Content Help My Brand?
How to Create Unique, SEO Friendly Blog Posts
How to Use an Auto Post Generator for Quick and Easy Social Media Updates
How to Diversify Your Content Options
How to Stagger Your Content
How Can Repurposing Content Help My Brand?
Repurposing blog content is a lot like using the same ingredients to make multiple meals.
It's like taking noodles, meat, and cheese and making lasagna, bolognese pasta, and a baked casserole. They all have the same ingredients, but they're broken up differently to satisfy different tastes and preferences.
You don't have to worry about buying a bunch of ingredients, or spending all day in the kitchen because you're making the most of the ones you have.
In short: Repurposing content is a perfect example of the phrase 'work smarter, not harder.'
Repurposing Content…
Helps you reach multiple goals
Allows you to audit existing content
Gives you the opportunity to improve poor content
Helps you reach new audiences
Diversifies your content options
Broadens your reach
Gives you the chance to target customers at different buying stages
Maximizes time and effort
Improves your online presence
Helps you invest your resources wisely
Repurposing blog content on social media is one of the best ways to scale your content marketing efforts without spending tons of money and time.
How to Create Unique, SEO Friendly Blog Posts
Before you can start repurposing blog content, it's important to create unique, SEO-friendly blog posts.
You can do this by auditing and improving your existing content and making sure your new blog posts are optimized for SEO.
If you're struggling to come up with ideas, you can find unique ideas for blog posts here.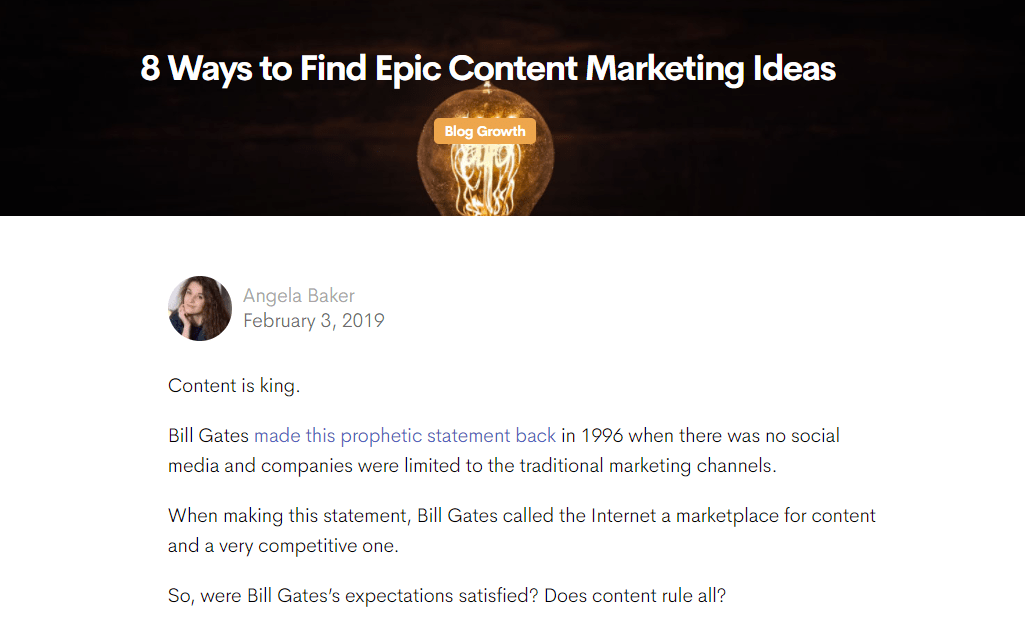 Here are some other tips on creating SEO friendly blog posts:
Create long-form content (articles with 2k+ words perform best, mainly due to Google's algorithms).
Track which content performs the best and then repurpose your high-performing content.
Use an SEO optimization program like MarketMuse to research competitor content and optimize your content with targeted keywords.
Always consider E-A-T (Expertise, Authoritativeness, and Trustworthiness) when it comes to the content creator, the content itself, and your website. Google uses E-A-T to determine page quality rating (PQ).
Include a variety of quality customer reviews at the bottom of your article (or weave them in).
Use post tags and topic clusters.
Post only high-quality, original content on your blog, website, and landing pages.
Include an author bio to build brand authority, increase online presence, and build a high-authority portfolio.
Use link-building strategies (backlinks and inbound links).
Note: this probably goes without saying, but please make sure your content is correct and free of grammatical errors. Use a tool like Grammarly to check your repurposed content for grammatical errors before posting or scheduling on your social media channels.
Creating SEO-friendly blog posts helps your content rank on Google. And if you do it right, your posts could be ranked first.
For example, by optimizing this blog post, blogger 'Add a Pinch' is the first organic result on Google when searching for 'chocolate cake:'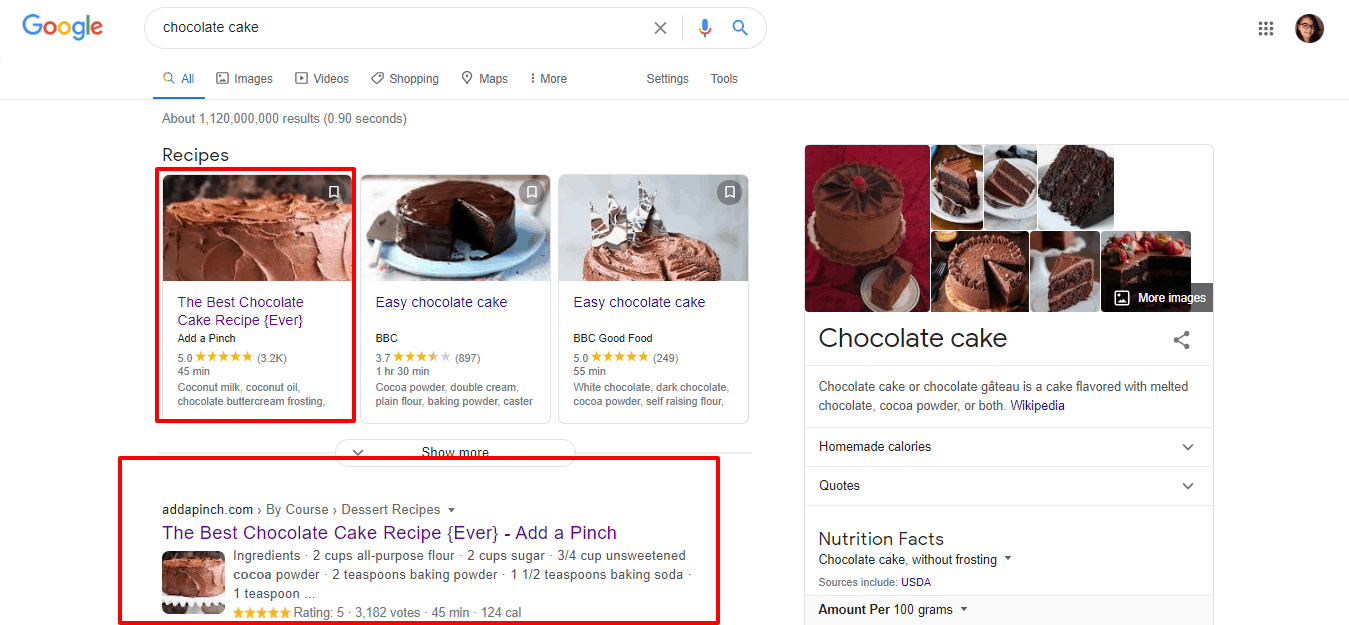 That's where you want to be, folks — at the tippy top (whenever possible).
How to Use an Auto Post Generator for Quick and Easy Social Media Updates
Remove the guesswork and long hours it takes to post social media updates by using an auto post generator.
An auto post generator analyzes your current blog content and then creates an entire library of social media update options to choose from. In other words, it's complete heaven for repurposing content.
Benefits of using an auto post generator include:
Keeps your blog active by maintaining and increasing viewership
Bulk uploads hundreds of social media updates
Serves your editorial plan
Schedules social media updates
Curates content for social media in one place
Takes some of the pressure off your content creation team
Maximizes time, money, energy, and resources
Here's how it works:
Enter the URL of the blog post you want to use.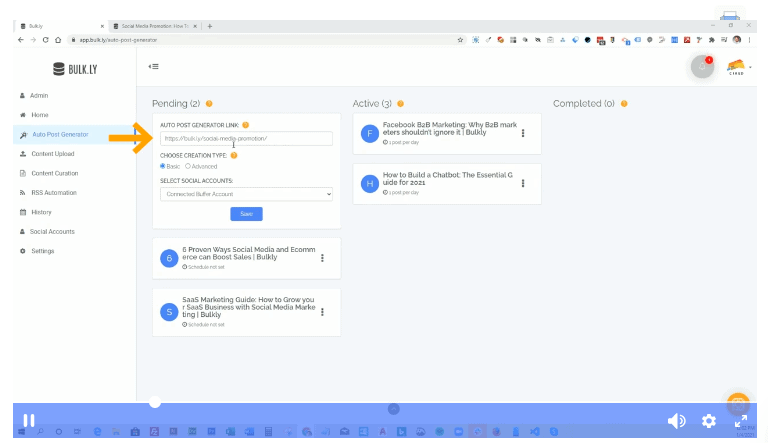 Select if you want basic or advanced updates (advanced gives you more options).
Click 'generate' and Bulkly will create a group of status updates from your blog post.
Edit, delete, or keep the updates.
Choose which image to use from the images Bulkly imported from your blog post. If you don't select an image, Bulkly will use the blog post's default image.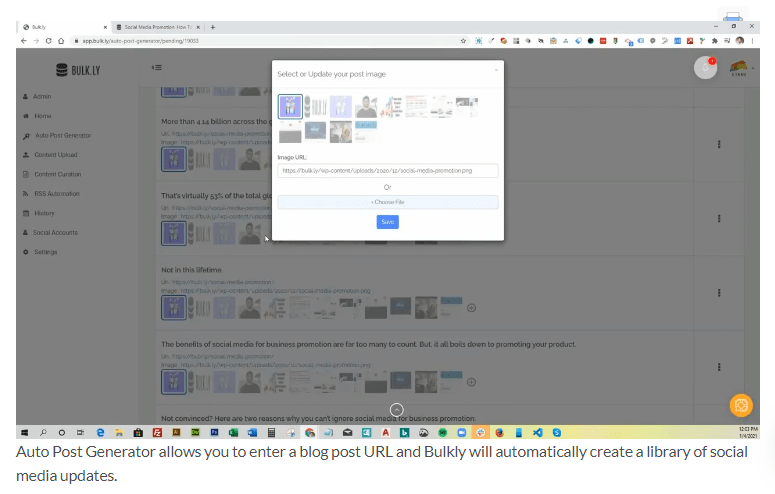 And that's it. Easy peasy lemon squeezy.
How to Diversify Your Content Options
Diversifying your content options is another genius way to repurpose blog content for social media.
Everyone has preferences for how they prefer to digest content. Some people prefer photos and videos, while others prefer infographics and ebooks.
Diversifying your content means being able to appeal to many kinds of audiences without having to break a sweat over cranking out new blog posts left and right.
Here are some ways to diversify your blog content for social media:
1. Quotes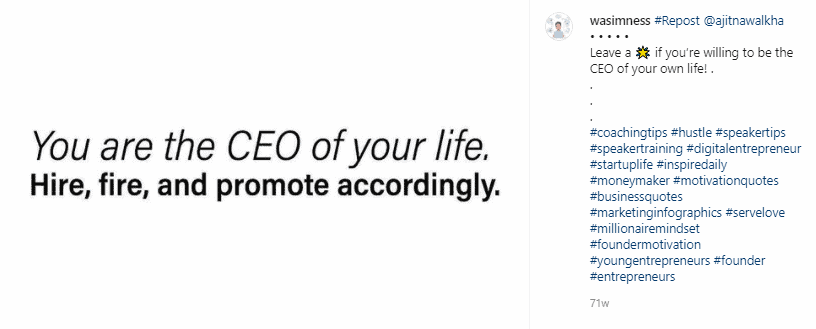 Find lines that are quotable (actionable advice or takeaways) in your blog post and turn them into a text quote or a quote graphic.
2. Infographics and gifographics:
Use infographics and gifographics (animated infographics) to explain advanced concepts from your blog post in digestible chunks.
3. Digital illustrations: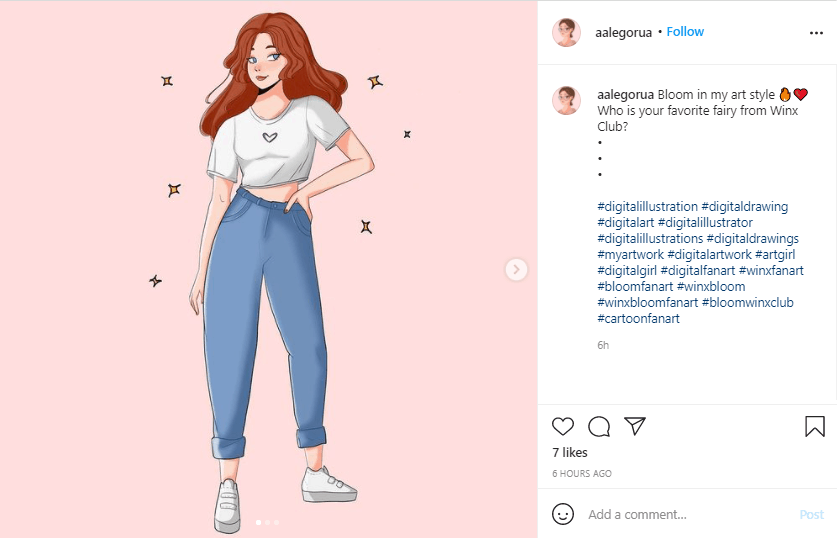 Enhance visual storytelling elements by highlighting an important person, place, or thing in your blog post and turn it into a digital illustration.
4. GIFs and memes:
Use GIFs and memes to create humor, satire, and lighthearted fun based on your blog posts.
5. Screenshots and photos:
Feature screenshots and photos from your blog posts on social media channels.
6. Slideshow presentations: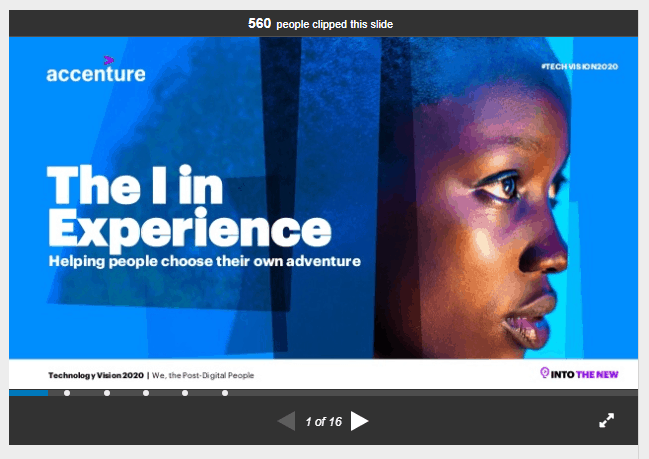 Use your blog posts to create visual slideshows for audiences who don't prefer reading long-form content.
7. Courses and ebooks
Turn topic clusters into courses and ebooks (bonus: they're great for making a passive income).
8. Group challenges, quizzes, and polls
Enhance engagement by turning a question or inspirational tidbit from your blog posts into challenges, quizzes, and polls. This is also a great way to get to know your audience better.
Note: if you use Interact Quiz Builder you can even collect leads and grow your email list.
9. Videos
Nothing explains concepts or demonstrates brand messaging better than videos.
10. Podcasts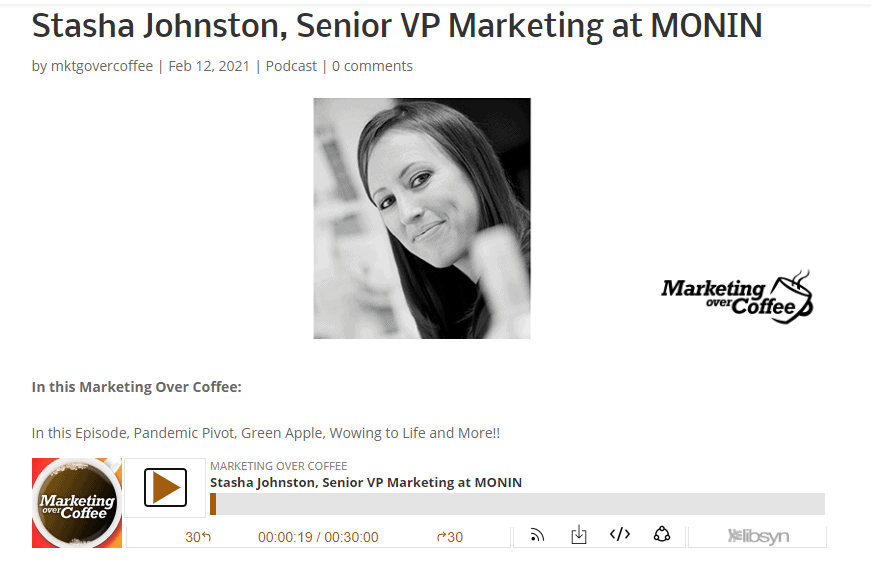 When your audience is on the go or trying to kill time, podcasts are a great way to convey the message in your blog posts in a meaningful way.
11. Email newsletters
Mention your blog posts, include an excerpt, or publish the whole thing in your newsletter for subscribers.
12. Data and Facts
Grab the statistics, data, and facts from your blog posts and turn them into a graphic.
13. Tips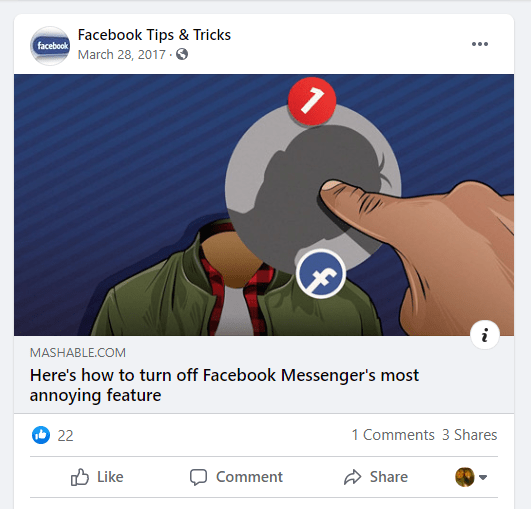 Enlighten your audience or solve a problem with a great tip from one of your how-tos or listicles (turn it into an infographic, or post on Twitter or Facebook). If they like the tip, they may be interested in reading the whole post to find out more!
14. Stories
Bring some authenticity to your blog posts by humanizing them with social media stories.
15. Instructographics

Use instructographics to give your audience a visually digestible way to understand instructions — great for how-to articles and listicles.
For more tips on diversifying content, check out this detailed guide.
How to Stagger Your Content
Since every social channel has its own algorithm, style, and audience, using the same content on every platform is not a winning strategy.
Long-form content performs better on Facebook, reels perform better on Instagram, and Twitter is all about short snippets of text.
But how do you create different kinds of content for every platform without spending a ton of time?
The trick is: stagger your content.
Stagger your content by time:
A common mistake brands make is copying and pasting a post from Instagram to Facebook (and vice versa). Don't do that.
Instead, you should be staggering your posts by time.
"Whatever I post on Instagram will then be posted on Facebook one week later. My tried-and-true method is one week + four hours" says business strategist Jasmine Star.
"So if my Instagram post goes live at 8 AM on Monday, my Facebook post will be scheduled for noon on Monday the following week."
Stagger your content by context:
Star also advises matching the context according to the platform you're using.
For example, while @mentions and hashtags are important on Instagram, they're not native to the Facebook platform. Be sure to edit your posts accordingly so they feel native to the platforms you're using.
How to Repurpose Content Step-by-Step
All right, let's say you just published an awesome blog post on your site.
Instead of waiting for visitors to roll in, start repurposing the content for social media.
Here's an example of how to do that over a week:
(We included weekends, too, because even a little engagement on weekends is better than no engagement.)
On Monday: Turn your blog post into a video (use your blog post as an outline) and share it on YouTube or IGTV. You can also edit the video in two different ways to match each platform and then share them on both platforms. Add the video on your Pinterest board and backlink it to your blog post.
On Tuesday: Grab uplifting takeaways or actionable advice from your blog posts and turn them into three quote graphics. Share one graphic on Facebook, one on Instagram, and one on Twitter.
On Wednesday: Screenshot a photo from your blog post (use a plugin to streamline like Awesome Screenshot). Use an important message from that section in the blog post + a CTA to check out your blog as a caption. Post the photo and caption on Instagram and edit it for Facebook and Pinterest. Stagger the posts by time on Facebook and Pinterest.
On Thursday: Convert the article into a slideshow (Google makes it easy for you) and send it out to your email newsletter subscribers.
On Friday: Turn the blog post into a podcast script, then record and publish the podcast on your website. Use a free tool like Anchor to help.
On Saturday: Create a group challenge and a questionnaire based on a key element in your article. Post the challenge on Instagram and the questionnaire on Facebook.
On Sunday: Humanize your blog post with a behind-the-scenes story and a personal anecdote. Share one on your Instagram story and share the other on your Facebook story.
Note: Don't forget to link to the article every time you repurpose your content. Yes, you want social media engagement, but you also want to direct users back to your website where the original article is.
How to Repurpose Blog Content on Social Media
Repurposing content turns one article into a full-blown content marketing operation.
Consistently producing great content and then diversifying it for social media is essential to a strong content marketing plan.
Ready to repurpose your content like a pro? Get started today!