Many people primarily use social media platforms to network and communicate with family and friends. It's no secret that the new big thing in the business world is social media. It is a common platform for running and promoting companies.
For business owners, social media is the easiest way to reach out to their target audience. As a business owner, one must have a presence on all major social media platforms in order to promote their company. If you aren't using social media, you are passing up a quick, convenient, and effective way to reach nearly half of the world.
Instagram is currently one of the most widely used applications for e-commerce. Therefore, it is important to conduct a prompt Instagram audit.
What is an Instagram Audit?
An Instagram audit is a way to track your profile's progress. No matter what your objectives are, it's critical to conduct Instagram audits from time to time in order to gain a better understanding of your audience. Instagram Audit's goal is to ensure that every post you make on Instagram serves a purpose.
Auditing your Instagram profile on a regular basis can help you see where you are now and create performance measures that will allow you to more accurately determine your progress in the future.
An Instagram audit looks at three aspects of your profile: your content, your followers, and the branding of your profile. You will be able to tell if you are meeting your business objectives by examining these aspects.
Here is how you can perform an Instagram Audit in 2023:
Step 1: Define your goals and key performance indicators (KPIs)
Your Instagram page is essential; however, before performing an Instagram audit, it is critical to consider your marketing objectives. To begin, consider whether your Instagram goals align with your business goals by looking through your internal knowledge base. It is critical to ensure that your actions on the platform contribute to the achievement of your business objectives.
For example, if you are a small business owner who is new to Instagram Business, your goal should be to increase your follower and engagement. However, if you already have a well-established brand, your goal could be to generate sales.
Your Instagram activity must be in line with your marketing objectives, which in turn must be in line with your business objectives.
Once you have identified and set your goals, you need to set key performance indicators (KPIs) to keep track of your progress. KPIs are measurable metrics that help you understand the effectiveness of your efforts.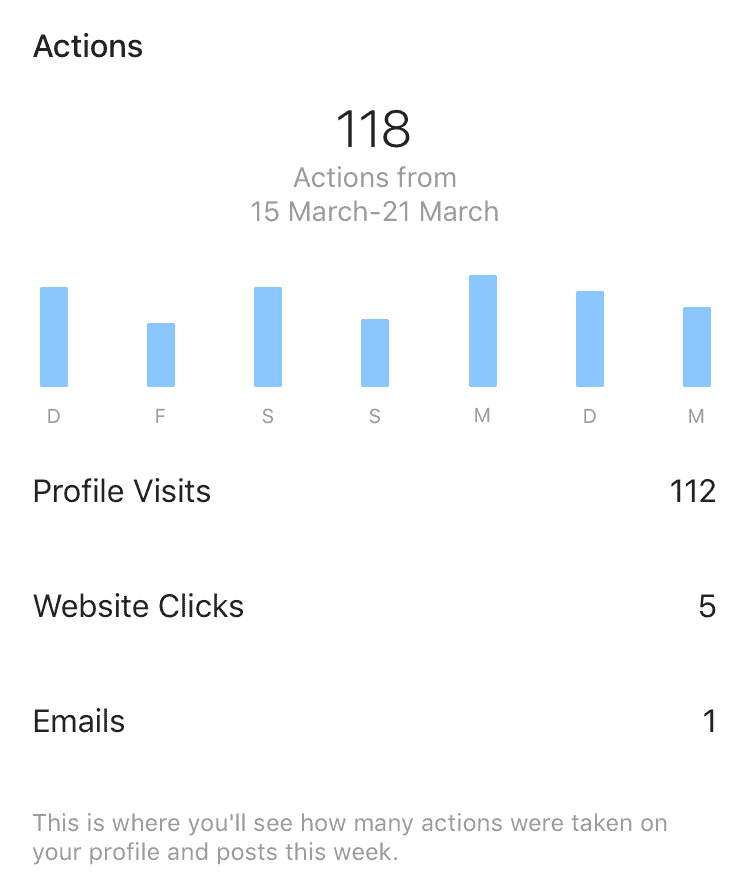 Image Source: Iconosquare blog
Step 2: Review your tone, branding, and aesthetics
A business profile on Instagram differs from a personal profile, which is why the tone of voice, visual aesthetics, and branding must be perfected. Because you are attempting to create an image for your target audience, the overall appearance of your profile says a lot about your brand. This is the first impression your target audience will have of you. It is a deciding factor in whether or not they will follow you.
The tone and aesthetics of your Instagram profile must be consistent with the rest of your brand's social media channels. Without having to scroll through a lot of posts, your audience should understand who you are as a brand and what you have to offer.
Having a visual strategy can help you stay on track with your marketing goals. Try to keep your feed aligned with the color pattern or themes according to the personality of your brand.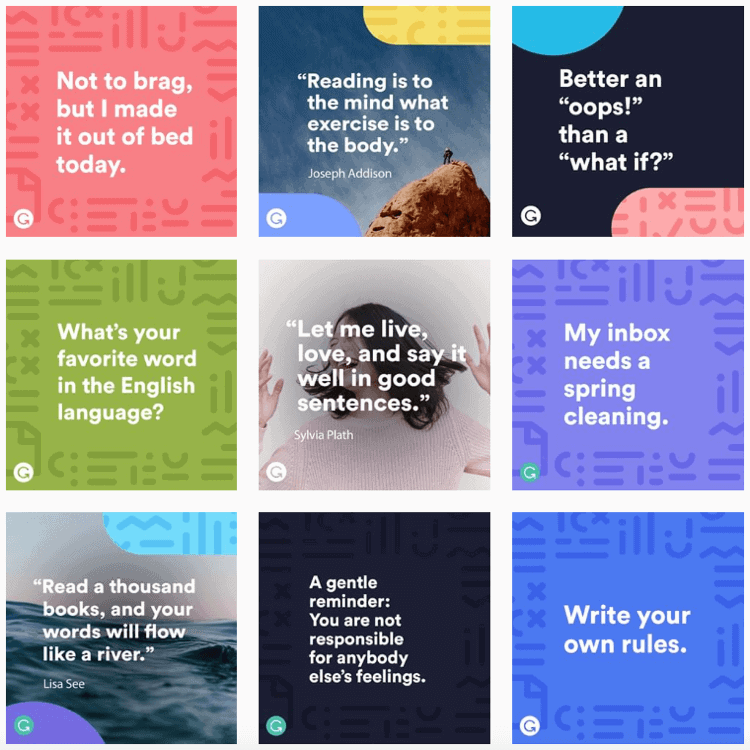 Image Source: Sendible
Step 3: Assess Your Profile:
One of the most important aspects of your brand is your Instagram profile. A person's profile can be evaluated by looking at their brand name, username, bio, profile picture, URL link, posts, and story highlights.
Account name and username – It should be easy to remember and convey the identity of your brand. Your username should be consistent with your brand. Unless you're rebranding, don't change your username.
Bio – There is a character limit of 150 characters, so make your bio interesting and concise. It is an opportunity to directly communicate to your target audience what your brand stands for. Make sure to keep your bio up to date with the most recent changes.
Profile picture- Instagram is primarily a visual platform, so make sure your profile picture makes the right first impression. The profile picture can be your brand's logo or a clear image that represents your business. Follow this Instagram size guide for more information on how to size your images properly.
URL – Instagram only allows one link in the bio, so take advantage of the opportunity. Examine your objectives and decide where you want to direct your audience. The link can be changed based on promotions, new content, your podcast and so on.
Story highlights – Create customized covers for your story highlights to showcase your brand's visual identity. Story highlights give your stories a long-lasting presence on your profile. Ensure that your story highlights are making the right impression, as users frequently look at story highlights to evaluate the content and decide whether or not to follow.
Step 4: Consistency in posts and captions
For any business on social media, consistency is the key. Most businesses on Instagram create content that is relevant to their business goals. Your audience should be able to know what your brand is about by looking at any post on your profile.
Every post on your profile should be aimed towards your goal. One can choose to follow a theme or use a particular color scheme for consistency in posts. Ensure that the overall look of your profile is aesthetically pleasing.
Captions are equally important, as they match the tone and goal of your profile. Caption's purpose is to engage with the audience and to encourage them to take some form of action.
While auditing your content, check if your caption is engaging. Does it have a CTA in each and every caption? Your caption must serve these goals for better engagement.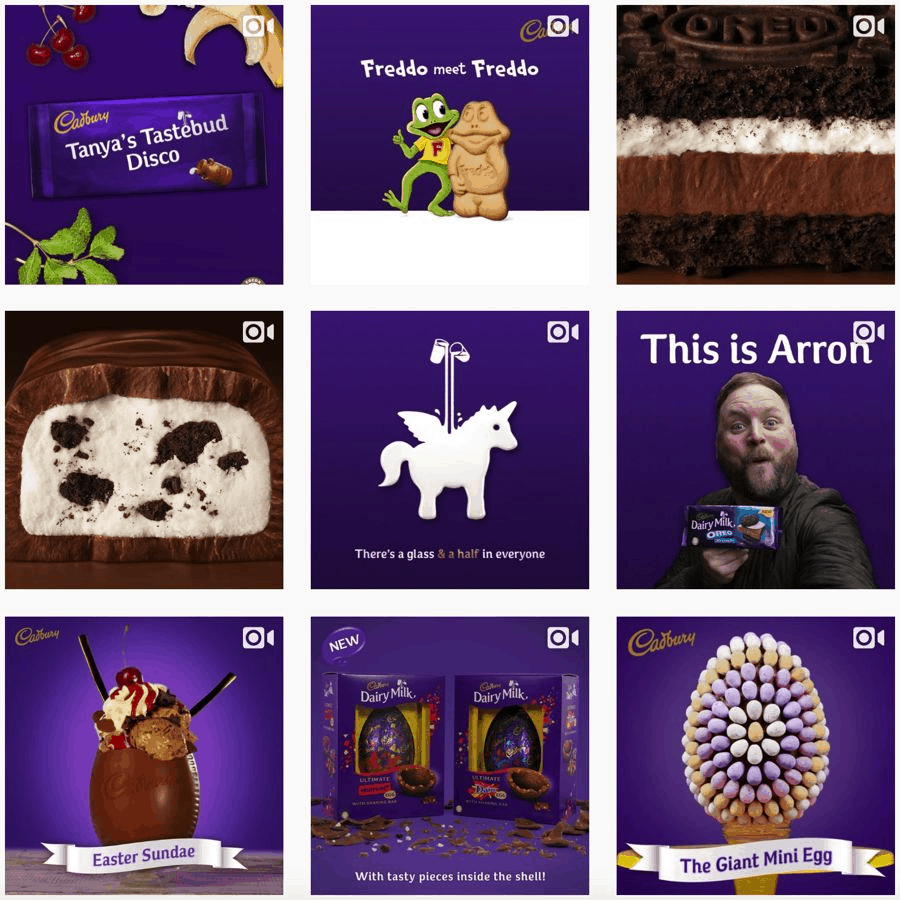 Image Source: Influencer Marketing Hub
Step 5: Use of Hashtags
Hashtags are critical for growing your Instagram following. They increase the amount of traffic and visibility that your posts receive. While targeting the most popular hashtags is convenient, it's also important to include hashtags with higher engagement. Your hashtag must be relevant to your brand and audience, as well as related to your content.
You can use up to 30 hashtags in your post, but 15-20 is the ideal number. It's also a good idea to create hashtags that are specific to your brand, as this encourages your audience to use them.
Hashtag-generating tools can assist you in determining which hashtags to use. Avoid using too many hashtags, as this will make your account appear redundant.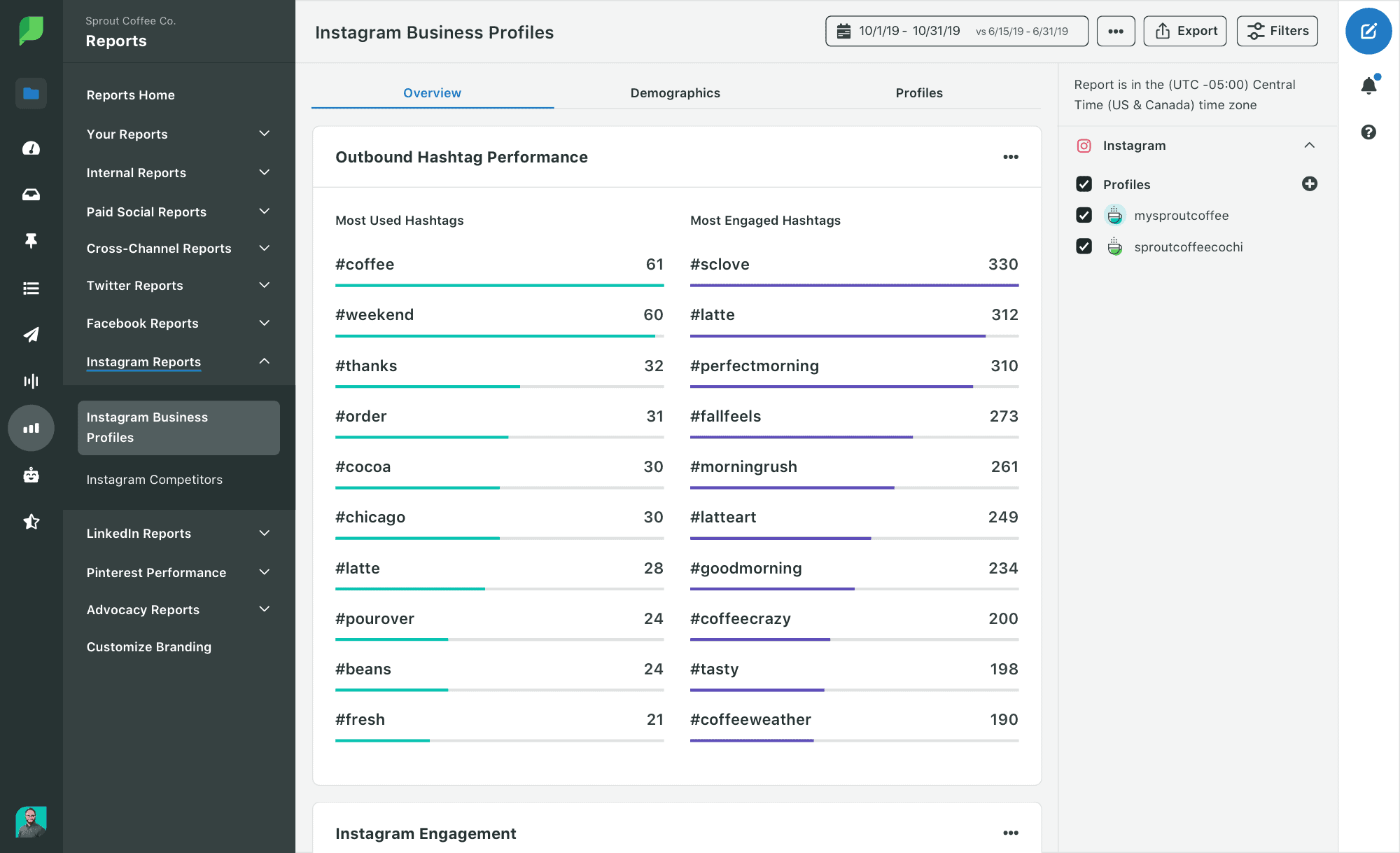 Image Source: Sprout Social
Step 6: Look for fakes amongst your followers
Having fake followers reflects negatively on your brand. It comes across as suspicious to your audience. A recent study by Ghost Data estimates that 9.5% of all accounts are fake. Keep an eye on who is following you, as there are many fake followers on Instagram.
How to identify if you have fake followers or not? An account with "unusual" numbers, a lot of action for a few days and none for the rest of the time, empty and suspicious profile sections, irrelevant comments.
Therefore it is essential to go on a follower cleaning spree while conducting your Instagram audit. There are businesses dedicated to making money out of these bot followers that people can buy to increase their following.
These accounts have an impact on the growth and engagement of your brand. Detecting fake profiles may appear to be a difficult task. FakeCheck.co, Social Audit pro, and Kicksta are just a few of the tools you can use to detect and remove fake followers from your profile.

Image Source: Social Follow
Step 7: Community interaction
Instagram is a social network and so it is important to engage with your audience. Check if you are responding to direct messages and comments and having a genuine interaction with your audience.
This also means that you promote user-generated content. This often encourages the users to keep sharing and talking about your product.
Keep your tone conversational. Collaborate with influencers from your industry, reach out to other brands to work with them. Do Instagram takeovers, give back to your audience by hosting and running giveaways.
All of these steps help in boosting your engagement on the platform. It conveys to users that you are genuine. Engagement is having a two-way conversation with your followers.
It ensures that your content is seen and is reaching the right audience. Follow accounts that are relevant and aligned with your goal and dedicate time to interact with your audience regularly.
Step 8: Review Analytics
Instagram Analytics is more than just the performance of the best photo or video. To develop a content strategy that works for your business, one needs to understand how their content performs on social media. It helps in applying and making better-informed decisions for your brand that creates an impact on your Instagram account.
It's critical to track your follower growth and identify high- and low-performing content while reviewing the data. Numbers aren't everything in Instagram business, but they are important, which is why it's necessary to track follower growth. Examine the rate at which you're gaining followers. On a weekly basis, how many new followers do you gain? What does this mean in terms of your expectations? Is that more, less, or exactly what you were expecting?
While reviewing analytics you get to know which of your posts are over-performing or underperforming. For instance, if your profile is gaining traction with your Instagram Reels and stories and not much with IGTV content then consider investing time in creating the kind of content that is gaining traction.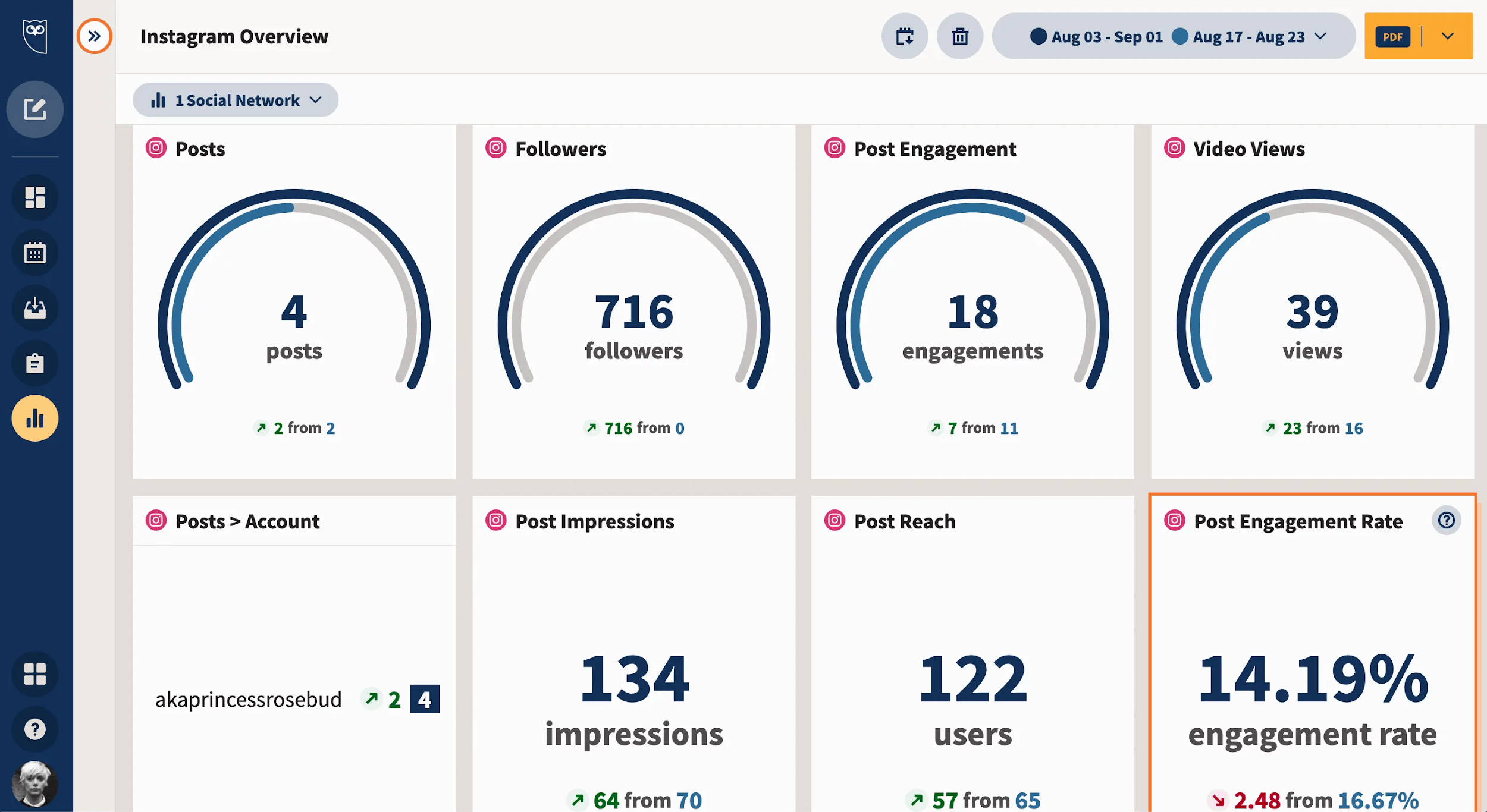 Image Source: Hootsuite
Perform an Instagram Audit
Social media requires consistent work. Hence performing Instagram audits periodically is vital. Auditing your profile provides you with insights into your marketing and content strategy, essential for your growth and performance on Instagram.
It may take some time to conduct the initial audit and complete the remedial steps. However, if you conduct regular audits, you will find it easier and faster to detect and resolve any issues.
Following these steps will help you get insights into your profile and make changes that will take your Instagram account to the next level. The key is to use this data to make more informed decisions and enhance your Instagram presence.