Social media is not just a gold mine for B2C companies. When set up, managed, and exploited correctly, the numerous social media channels can serve as powerful selling tools for B2B companies in any industry. The key, of course, is to have a clear B2B social media strategy, measure your social media ROI, and to consistently implement the best practices that will open new:
Sales opportunities
Cross-selling and up-selling opportunities
Lead generation and lead nurturing opportunities
Opportunities to build brand loyalty and trust
Opportunities to expand brand reach and influence
Opportunities to maximize the value of every long-term customer
But of course, those are just some of the short, mid, and long-term goals you can strive for in the years to come. And you can achieve all of them by integrating social media into your B2B sales approach.
Let's take a closer look at some of the top social media for B2B sales tips you can use to take your business forward in 2022 and beyond.
Budgeting for Social Media Sales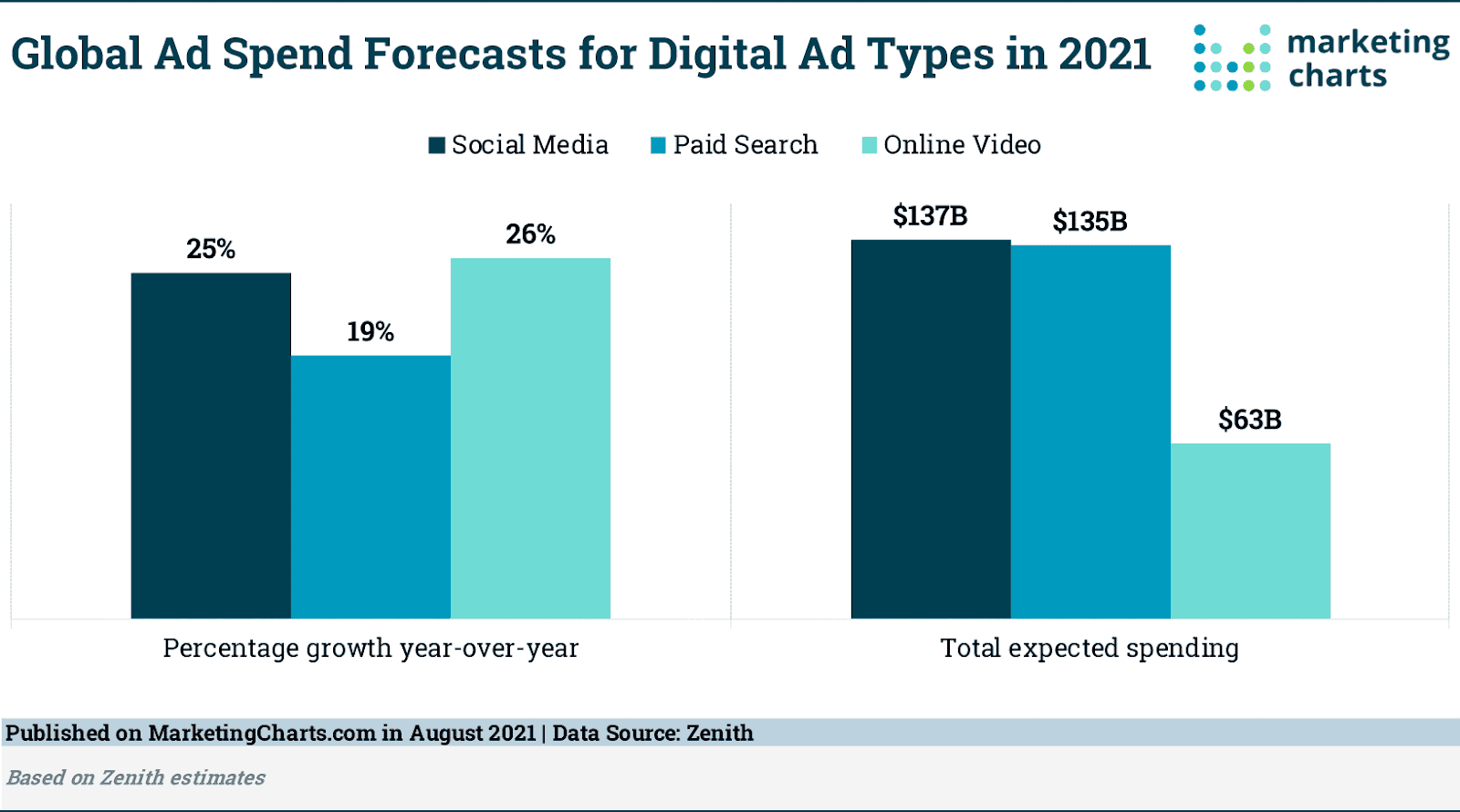 Budget allocation is the first step towards setting up a winning strategy for all your relevant sales and marketing channels. After all, you need to set aside the right amount to drive your social media processes and empower your sales and marketing teams.
This is where business leaders encounter their first obstacle. How much of your budget should you allocate to your social media budget and your sales and marketing efforts on social channels?
Let's keep it simple and straight forward by using your sales funnel as a guide If a basic sales funnel looks like this:
Awareness
Interest
Decision
Action
Loyalty/repeat purchase
Then the actions and materials you need to enable each of these steps should be:
Advertisements and landing pages
High-quality content and social media posts, email communication
Tutorials and educational content
Incentives like promotions, deals, and freebies
Support, personalized content and offers
These are the base materials you need to create to enable each stage in your funnel. With that in mind, simply research how much you need to spend to create these materials and disseminate them to your audience, and you have the base budget for your B2B social media strategy that includes all the complementary steps to conversion.
The Power of Social Media Word of Mouth
But of course, budgeting is just one piece of the puzzle. Once you have allocated your base resources for social sales and marketing, you can start implementing concrete tactics and tools. The first one we are going to talk about is word of mouth, because B2B thrives on many of the same tactics as B2C, but with a much higher emphasis on:
Brand authority and trust
Personal connections
Personal branding and credentials
Social proof and track record
Case studies and proof of effectiveness
Long-form reviews and testimonials
B2B influencers and shout-outs
Word spreads fast in the B2B realm, and you want to make sure that what people are sharing about you is nothing but positive sentiment and opinions. The great thing is that many social platforms have W.O.M. features that you can use to your advantage.
For example, you can use the Facebook word of mouth features to get your company in front of the right audience. People can find out about your brand through the recommendations feature, through event recommendations, or you can get people to complete various actions on your FB business page.
These are all opportunities to spread the word of your brand almost passively. You can do the same on LinkedIn by appearing in relevant searches, notifications, and suggestions in news feeds, or on Instagram and other social platforms.
To achieve this, it's important to generate quality social media content, engage with your audience, and have positive scores regarding your response times, activity, follower count, reputation, and more.
Once you have that, you will be able to leverage word of mouth for passive and active social media selling.
Mastering the Art of Social Selling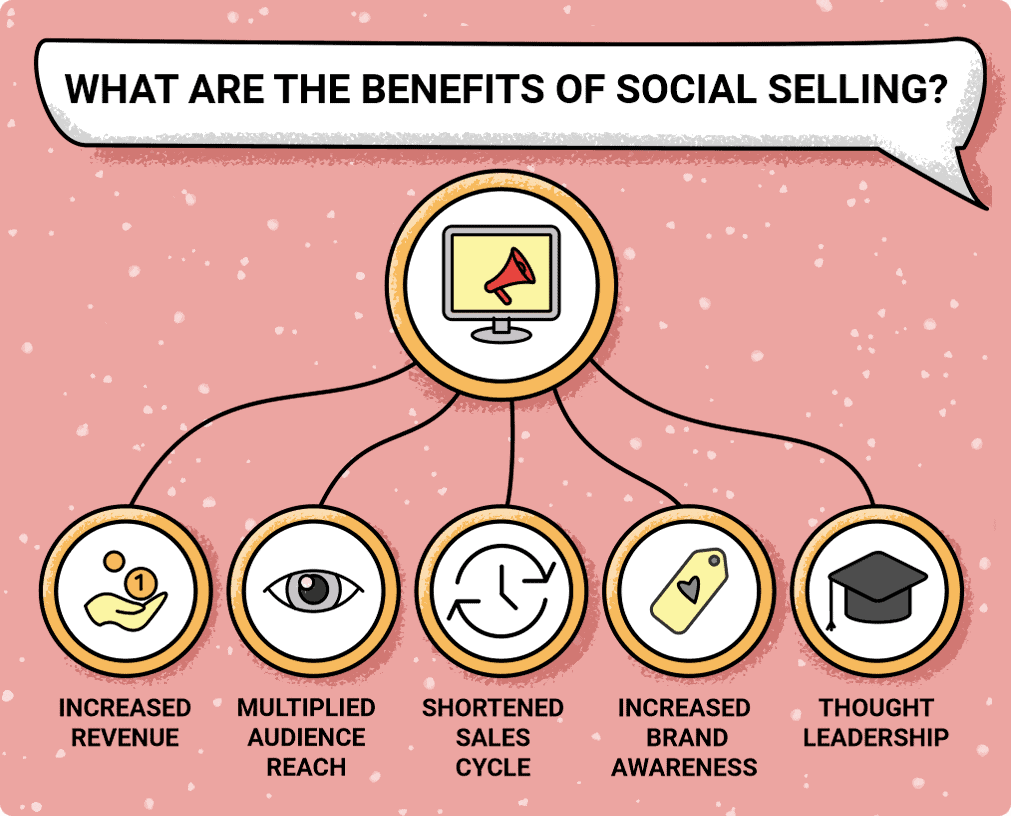 Social selling is exactly what is says on the tin – it's the art and science of inspiring people to buy your products and/or services through social channels. More specifically, you are using various tactics and tools to generate interest and sell to your social media audience.
It's all about adhering to the sales funnel and approaching people with messaging that is relevant to them. If a person is at the awareness stage, and you start bombarding them with discounts or promotions, they're going to flag you as a spammer. You might get penalized, or you might simply lose a follower.
Either way, you didn't make a sale. The art of social selling lies in audience research and the careful optimization of all your messaging and interactions. You need to know your followers and what they're trying to achieve.
To make all of this easier for your sales and marketing teams, simply segment your followers according to their stage in the sales funnel, as well as user intent.
Then, start investing in passive and active social selling.
Passively, you want to enable sales through your business page and by setting up landing page links in your posts and bio. You can also integrate a chatbot that will help customers place an order directly in the DMs.
Actively, your sales and support representatives should identify warm leads to approach with deals and offers, as well as cross-sell and up-sell opportunities for repeat customers.
Boosting Sales with Personal Brands
While you might not need to leverage personal brands as much in B2C sales, you definitely need to do so in the B2B realm. Why? Because having a personal brand and a trustworthy, reputable persona in the business world is what builds powerful connections and closes deals.
Remember, clients want to make a deal with a human being, not a company. Regardless of the size of your business, you should be selling through individual brands in your organization. What does that mean exactly?
It means that you need to hire sales representatives with good connections, enticing personal brands, and a proven track record. It also means that these sales representatives souldn't have a blatantly sales-oriented title in your company that would push prospects away.
To learn a bit more on how to approach prospects on social media successfully, feel free to check out this webinar clip from Demodesk on developing a personal brand for sellers as well as brand advocates and influencers. The latter will already have their brands, but the former will require:
A professional yet approachable business persona
A title that doesn't drive prospects away
A sizable professional network on social media
Populated social media accounts and regular posting on LinkedIn
A unique tone of voice
This will allow the seller to connect with the prospect on a deeper level, and to nurture them towards successful conversion.
Optimizing Lead Generation for Every Platform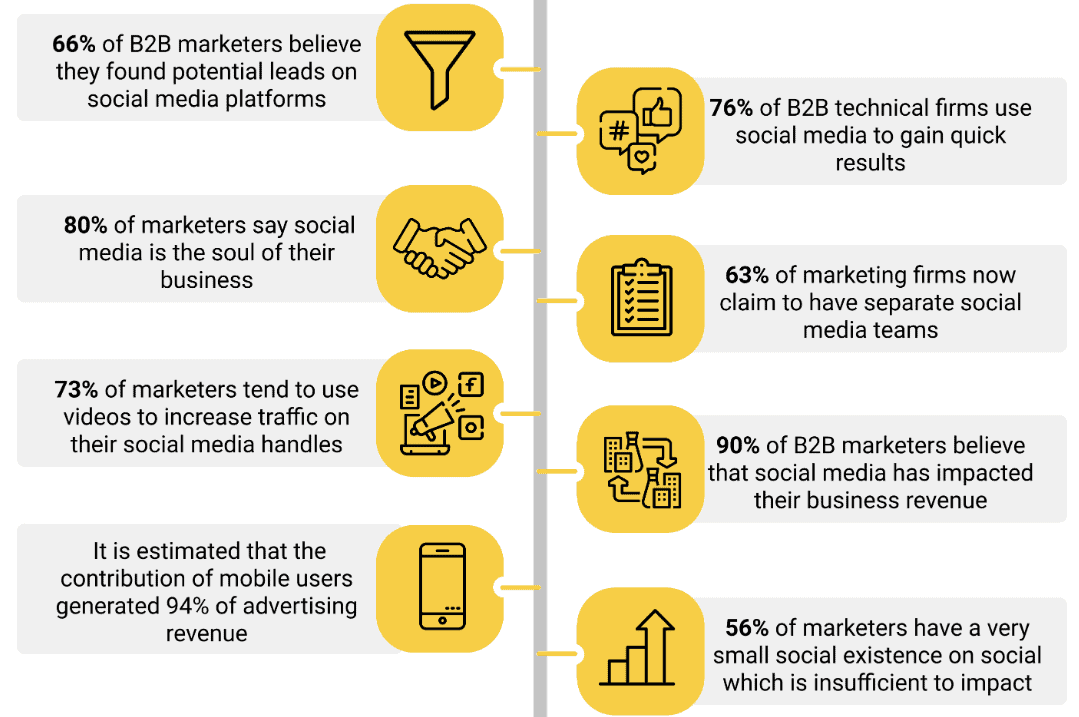 The road to successful sales starts with lead generation. Of course, it's not just about generating leads, it's about generating high-quality leads that your sales team can nurture successfully towards conversion, and more importantly, towards retention.
Generating qualified leads on social media is not a templated thing. You can't apply the same logic and principles to different social platforms, even though you'll find almost the same prospects on all of them.
For effective LinkedIn lead generation and subsequent conversion, for example, you need to leverage the personal brands we talked about above. People from your organization who post regularly on their accounts will generate interest and boost your brand's visibility, allowing for more organic DM messaging and engagement in the comments.
On Instagram, on the other hand, your company brand can shine by taking advantage of different types of posts, including original imagery, reels, and longer videos to improve visibility and engagement.
Then there are some platforms that are purely visual like TikTok, which is booming in the B2B world now, but requires a different approach. TikTok requires you to be more interactive with your audience, posting challenges and quizzes, and to adapt your visuals and tone of voice to be relevant to the TikTok audience.
And then there's Facebook, the grandpa of the group. Facebook is a place where you can leverage quality posts, events, quizzes, pools, and couple them with direct messaging outreach to identify warm leads. It's also a good place for hyper-targeted advertising, leading people to your website and landing pages.
Becoming the Educator on Social Networks
Educating your online audience is one of the best ways to spark engagement, build brand trust and authority, and generate leads that require only a few more steps to convert. Of course, doing this on social media is a must, as social platforms are perfect for audience education and building an expert brand image.
To become an educator in your industry and niche, you need to diversify your content offering into on-site content and external content. On-site content is everything you post to your social profiles that's educational:
Expert opinions
Quotes
Statistics
Long-form, in-depth posts
Infographics
Educational videos
Quizzes
Live events
On the other hand, external content is when you promote webinars on your social pages and link to other educational content on your website or even on other authority sites in your niche. You need to use both in order to increase engagement and sales opportunities.
On your social channels, you need to analyze post engagement and identify people who are interacting positively with your posts in order to reach out in the DMs and continue the conversation. Keep in mind that all live events and quizzes should have a sales component to them, as you want to present your audience with a lead gen or sales offer at the end, to ensure they go to your website or reach out in the DMs.
Generating Insights with Social Listening
Social listening has quickly become an indispensable tool for growth-oriented brands on social media, simply because it allows them to monitor the chatter and gauge audience sentiment on a particular topic. This should be, of course, your brand, but it can also be a variety of topics and issues that are relevant to your audience, competitors, and industry as a whole.
You can implement social listening on all major platforms, with Twitter monitoring allowing you to get notified about brand-specific mentions but also discover relevant topics and influencers. You can monitor the chatter on Facebook and Instagram as well, as there are many apps and tools you can use that will automatically notify you when people mention your brand.
All of this is important for one very simple reason – the more you know, the more sales and marketing opportunities you can open for your company. Identifying customers who talk positively about your brand can turn them into brand advocates with the right approach, but you can also reach out with a personalized offer.
Needless to say, this is also an opportunity for better social media advertising as well, as you can optimize your ads and ad content to fit the popular topics, narrative, and resolve specific pain points. All of these are potential sales avenues that your sales experts can exploit.
On a grander scale, however, social listening empowers your entire sales department. You need to use the data you collect with social monitoring to generate meaningful insights and get to know your audience, their drives, values, goals, and the problems they face.
You can also monitor the chatter around your competitors, allowing your sales experts to approach prospects with better offers, improving on what your competitors are doing right and taking advantage of what they're doing wrong. Rest assured, a B2B customer will switch sides if you approach them with a better offer than their current provider.
Make Sure Your Profiles are Active
In addition to setting up profiles on more than a single network (a necessity nowadays), you also need to be active regularly across all those profiles to build awareness and visibility, and of course, to improve your chances of boosting your sales.
To save time and focus on actual engagement and sales, you can use Circleboom Publish to automate managing your social channels as much as possible. You can handle everything from creating posts in advance, designing them properly, all the way to setting up a schedule for automating posting.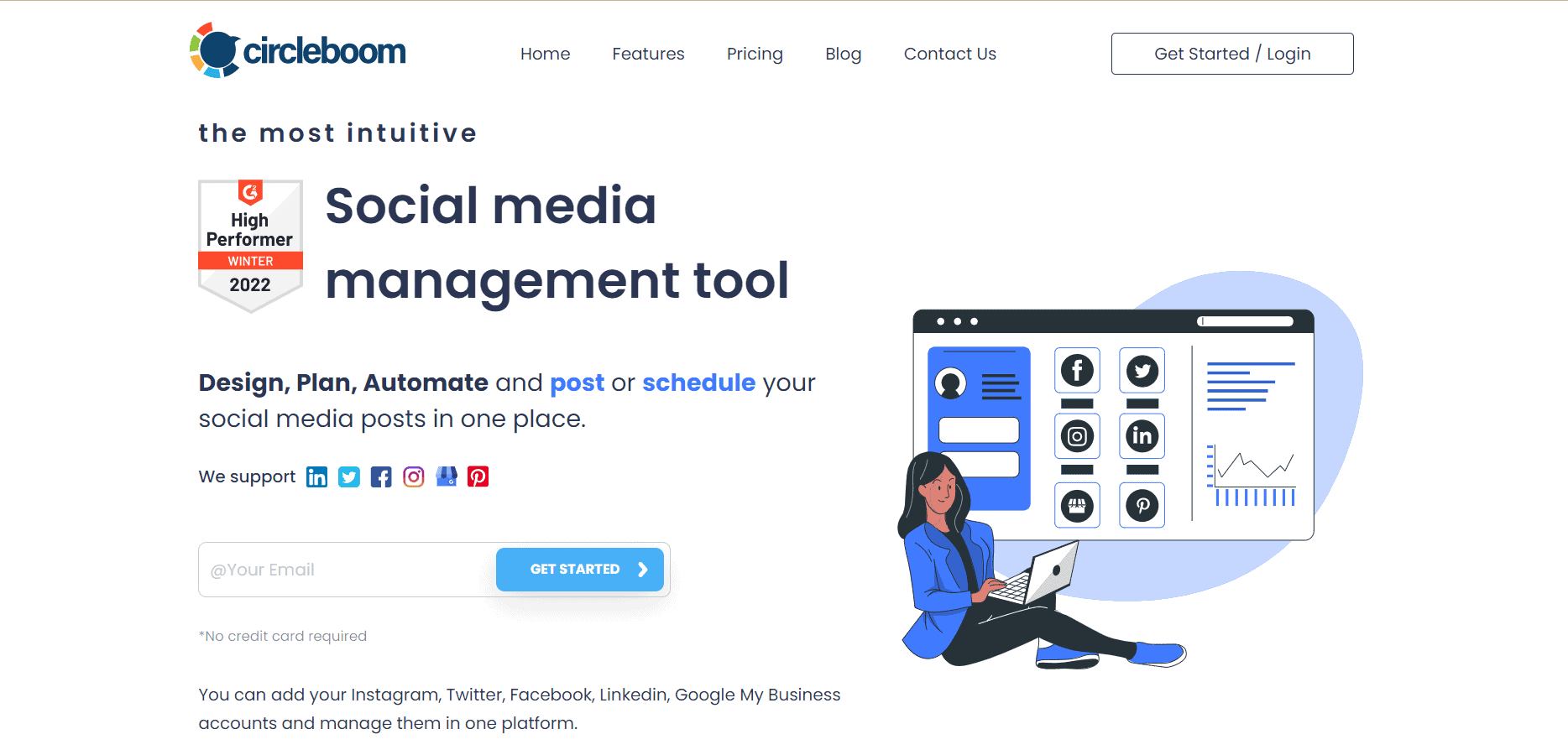 Setting up the right strategy for managing your social channels helps you increase the visibility of your business and ultimately increase the sales value of your social media efforts. With the right tools such as Circleboom, you can manage multiple accounts, including your GMB page.
One of the easiest ways to go about it is to dedicate a specific day to writing out your social media posts for all the profiles you have. Then, you can refine, design, and schedule them for specific dates, to keep your profiles active and generate prospects.
Over to you
Social media B2B sales are not easy, and you shouldn't expect to skyrocket your conversions just from investing in social strategies. That said, it can be the driving force you need to take your conversions, retention, and CLV to the next level if you make social media management an integral part of your long-term B2B growth plan.
Because remember, a B2B company needs to diversify its approach and focus on numerous sales channels in the online and offline worlds to truly move the bar higher in the years to come. With that in mind, go ahead and use these tips to create and optimize your social media strategy, and watch as you unravel new and exciting sales opportunities that will take your business to new heights of success.