The field of social media marketing is continuously changing and developing, making it vital for digital marketers to hone their social media management skills. Naturally, there is a wide range of social media marketing certifications available online.
In this article, I'll break down why digital marketers need a social media marketing certification, as well as seven of the best social media marketing courses.
Important Skills for Social Media Marketers
As millions of businesses worldwide are now using social media as a marketing tool, many organizations are realizing they have a skills gap in their marketing department.
Social media marketing is a highly specialized form of digital marketing that requires a wide range of skills. To be a successful social media marketer, you need two basic sets of skills: fundamental skills and interpersonal skills.
Fundamental skills
Fundamental skills are basic social media marketing techniques. These techniques can be applied to any campaign, on any platform, for any brand. In essence, they are the underlying principles that guide high-quality social media marketing.
Digital marketers need a wide range of fundamental social media marketing skills, including the ability to:
Design, and implement a marketing campaign on social media.
Set goals that are SMART (Specific, Measurable, Achievable, Realistic, Time-bound).
Adapt marketing materials for the culture of each social media platform.
Oversee social media marketing with Kanban project management.
Manage a content calendar.
Measure a social media marketing campaign with key performance indicators (KPI's).
Use Pay-Per-Click (PPC) advertising effectively.
Develop a long term branding strategy.
While digital marketers already have many of these skills, executing a marketing campaign on social media is a unique experience, as social media relies on two-way communication between a brand and its audience.
Naturally, this makes a marketer's interpersonal skills just as important as their fundamental skills.
Interpersonal skills
When marketers manage a social media campaign, they are managing two things simultaneously:
The campaign.
The publics' reaction to the campaign.
As managing a brand's interaction with the public is vital to a successful social media campaign, marketers need to develop a range of communication skills. This includes the ability to:
Engage with people from a diverse range of cultures, countries, and backgrounds.
Adapt communication styles across different content distribution channels.
Communicate with people who speak a different language.
Use social listening skills to understand customers.
Resolve conflicts with customers.
Respond to positive and negative feedback.
Work in a team.
Creative persuasive and engaging social media content.
When used effectively, these skills allow marketers to enhance the strength of their brand's social media presence by building a long-term relationship with customers.
Why a Social Media Marketing Certification?
Whether you are a digital marketer or not, there are many benefits to completing a social media marketing certification. Social media marketing certifications will help you develop basic fundamental and interpersonal skills, as well as give you the following key social media marketing skills:
#1. Expertise in Brand Recognition
Brand recognition is the art of making a brand, product, or service instantly recognizable to large groups of people. Building brand recognition is a key part of social media marketing, as it increases the public's awareness of a brand.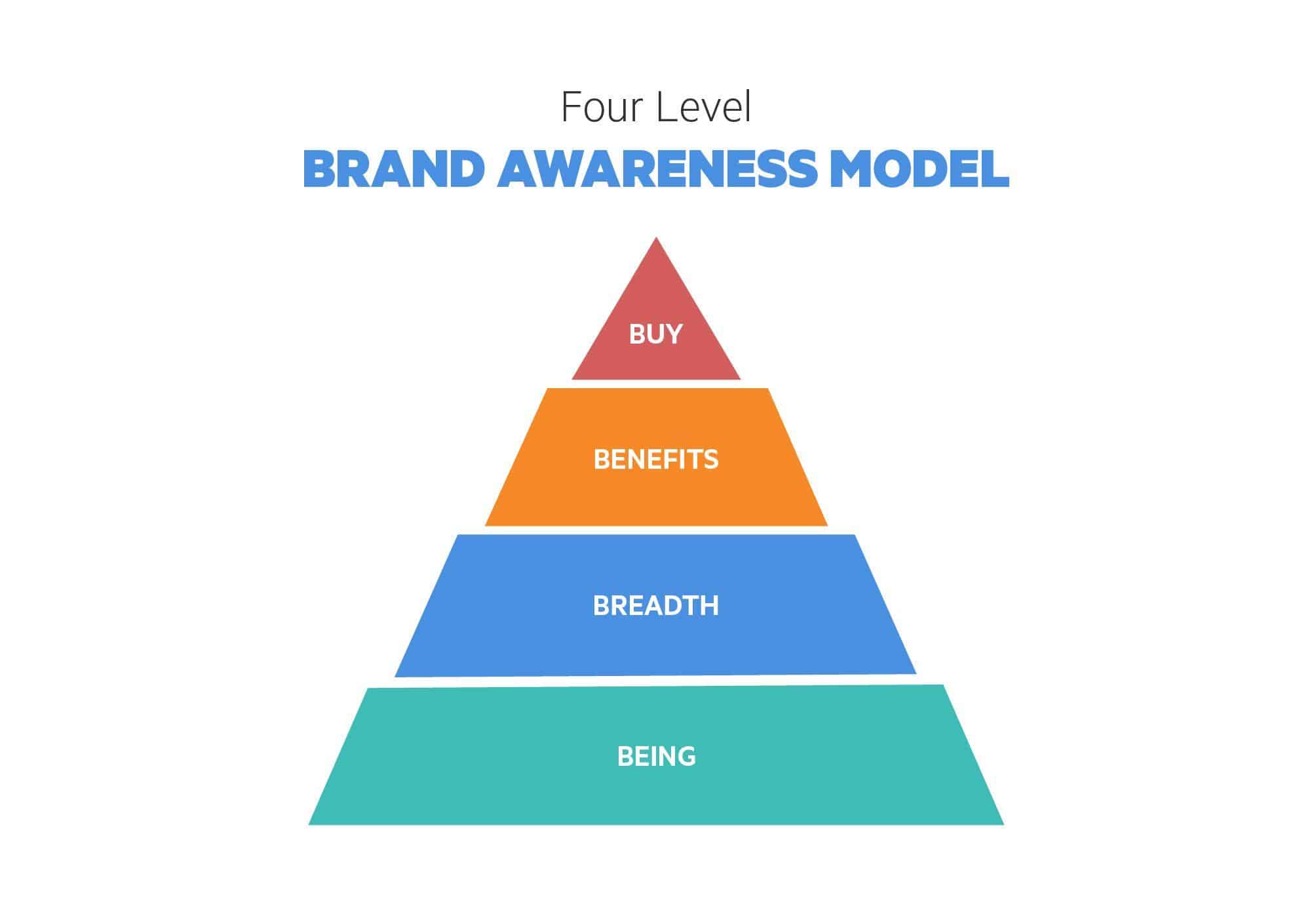 Image via FROM
Social media marketers build brand recognition by creating content that is widely shared online, including:
Viral videos.
Tweets that build the brand's personality.
Educational infographics.
How-to guides and articles.
Fun and engaging quizzes.
Short, shareable videos.
Although highly-shareable content looks tricky to create, crafting engaging content is a skill that marketers can easily learn in a social media marketing course.
#2. Social Listening Skills
Social listening is a practice used by brands on social media to monitor what their audience says about their brand, competitors, and product. Social listening focuses on monitoring keywords, hashtags, and trends on Facebook, Twitter, Instagram, and LinkedIn.
Social listening helps marketers manage a brand's reputation online, making it essential for eCommerce businesses, Software as a Service (SaaS) brands, and businesses with global customers.
Social listening is also a key part of managing a brand's digital sales process, as public perception of a brand influences how new and existing customers engage with a brand's sales funnel.
#3. Great Customer Service Skills
Providing great customer service in a digital environment is a unique experience, as customer service representatives cannot use non-verbal communication methods like body language, expression, or eye contact to communicate with customers.
Instead, social media marketers need to master communicating exclusively through verbal and written communication. This requires many of the skills taught in social media marketing certifications, including how to:
Respond to negative reviews and comments.
Manage large volumes of comments.
Optimize customer service for an eCommerce business.
Resolve customer complaints quickly.
Empathize with customers.
Personalize customer service communication to the individual.
#4. Expertise in Audience Management
Audience management is the art of collecting and analyzing customer data, to obtain valuable insights into an audience's preferences. Marketers call these insights 'business intelligence', as they are used to design social media marketing campaigns that target specific segments of customers.
As audience management involves collecting large amounts of data from social media, social media marketers must learn to collect, effectively analyze, and protect customer data. While the basics of data management are included in most social media marketing certificates, marketers can hone their data skills through specialized marketing analytics courses.
#5. The Ability to Promote Products More Effectively
While selling offline is an art many marketers have mastered, promoting products on social media is a unique skill social media marketers need to build.
Effective marketing on social media relies on 'soft selling', which is the art of selling a product through customer care, education, and friendly sales techniques. Soft selling is a subtle approach to sales that prioritizes building a positive, long term relationship with customers.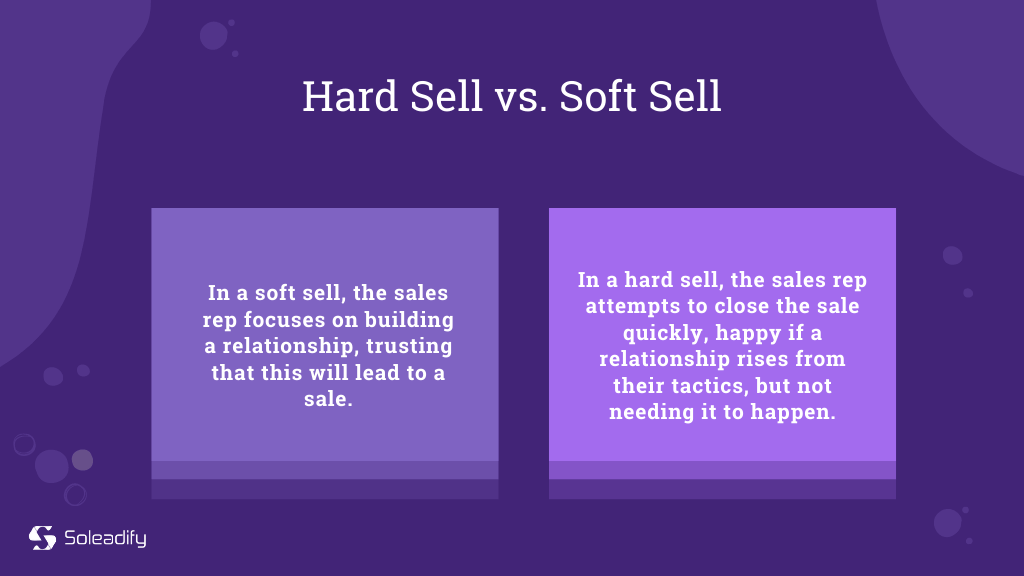 Image via Soledify
There are many skills marketers need to use soft selling on social media, including how to:
Indirectly market products.
create sales content that reaches customers from a wide range of cultural backgrounds.
optimize calls-to-action (CTA's) for maximum engagement.
create organic content that is engaging and shareable, but also displays the benefits of a product.
Courses to Kick Off With
With thousands of online course platforms to choose from, choosing a social media certification is tricky. To help you choose the right certification for you, I have compiled a list of seven highly-rated social media marketing courses. These include:
Hootsuite Academy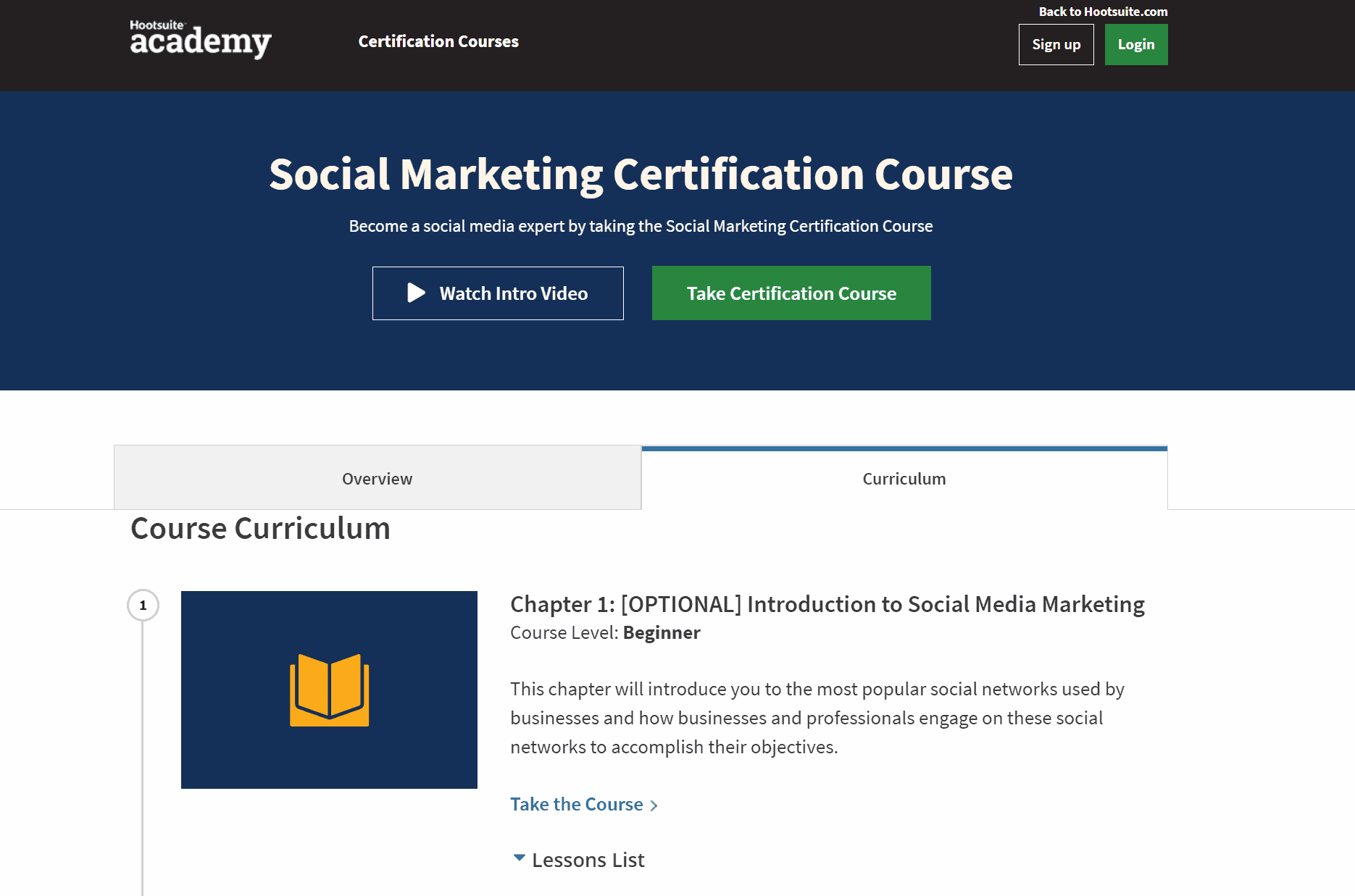 Certification title: Social Media Marketing Certification
Cost: $199
Course duration: 6 hours
Skill Level: Beginner
Background:
HootSuite Academy offers a range of short courses centered around digital marketing. Their six-part social media marketing certification is one of their most popular courses, making it perfect for new social media marketers, small business owners, and digital marketers looking to upskill.
The course teaches students a range of fundamental and interpersonal skills. It specializes in giving students the tools required to manage marketing campaigns on Facebook, Instagram, Twitter, and LinkedIn. The course also includes technical advice for each platform.
Content:
This course includes six modules:
Introduction to social media marketing (optional)
Optimizing your social media profiles
Social media strategy – from A to Z
Growing your advocate community
Content marketing fundamentals
Social advertising fundamentals (covers Facebook, Instagram, Twitter, LinkedIn, and Google ads)
To earn their certification, course participants must pass a 60-question online exam with a score of 80% or higher.
Digital Marketing Nanodegree with Udacity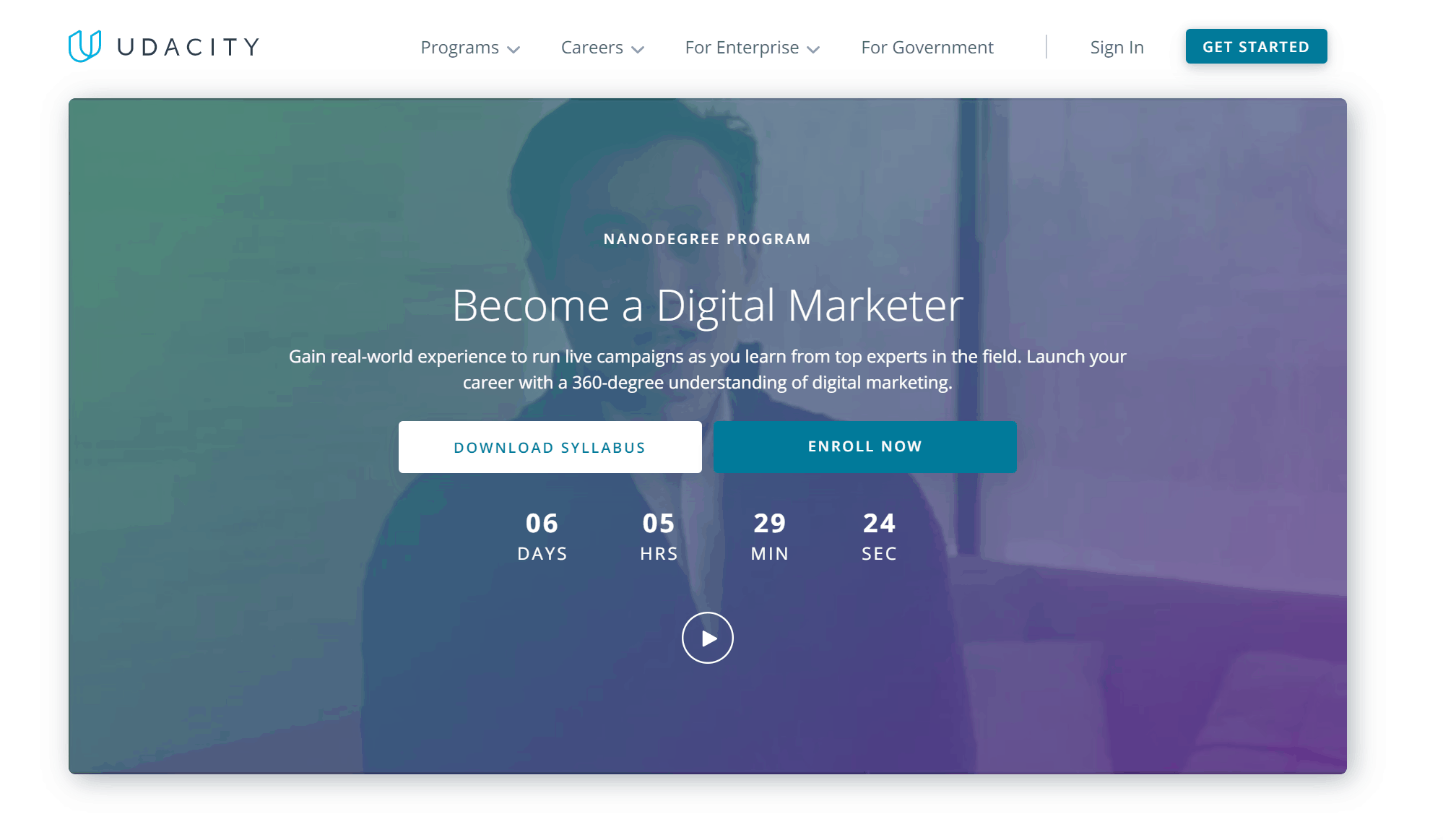 Certification title: Become a Digital Marketer
Cost: $999
Course duration: Three months (estimated 10 hours per week)
Skill Level: Beginner and intermediate
Background:
Udacity's social media marketing course was designed in cooperation with several large social media companies, including Facebook and Google. The course is designed to give participants a complete understanding of social media marketing in 2021.
The course is delivered online and includes practical assignments that help students build a portfolio that will land them an entry-level role in social media marketing.
Content:
This course includes nine modules:
Marketing Fundamentals
Content Strategy
Social Media Marketing
Social Media Advertising with Facebook Blueprint
Search Engine Optimization (SEO)
Search Engine Marketing with Google Ads
Display Advertising
Email Marketing
Measure and Optimize with Google Analytics
To pass this certification, participants must complete a mixture of online modules and practical assignments assessed by instructors.
Digital Marketing with Google Digital Garage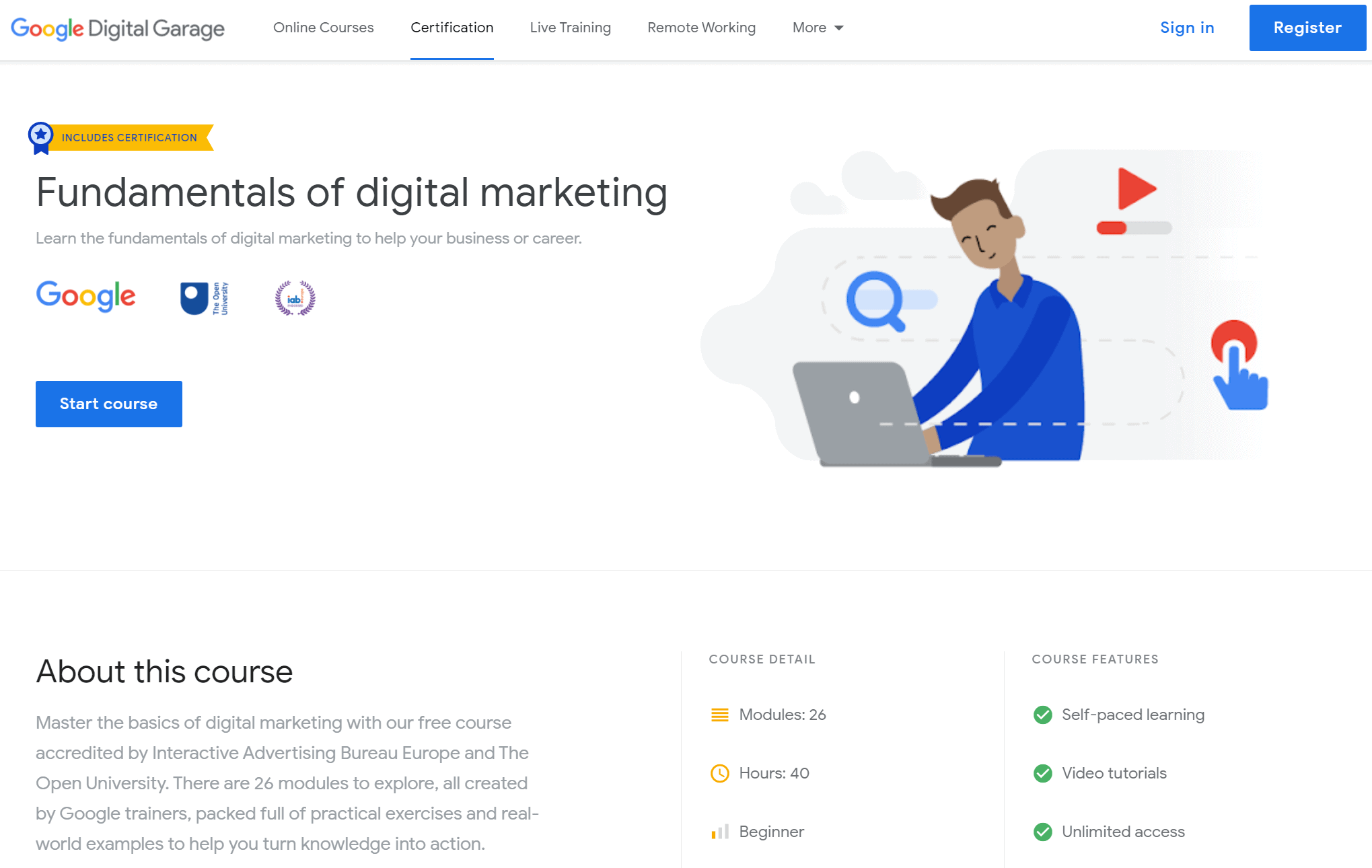 Certification Title: Digital Marketing Certificate
Cost: Free
Course Duration: 40 hours
Skill Level: Beginner
Background:
Google Digital Garage's Fundamentals of Digital Marketing course students a comprehensive education in digital marketing. The course is self-paced and delivered through video tutorials. Students must pass a final 40-question exam to earn their certification.
Content:
Students are required to complete 26 modules, covering the following topics:
Analytics and data insights
Business strategy
Content marketing
Display advertising
eCommerce
Email marketing
Local marketing
Mobile
SEM
SEO
Social media
Video
Web optimization
Twitter Flight School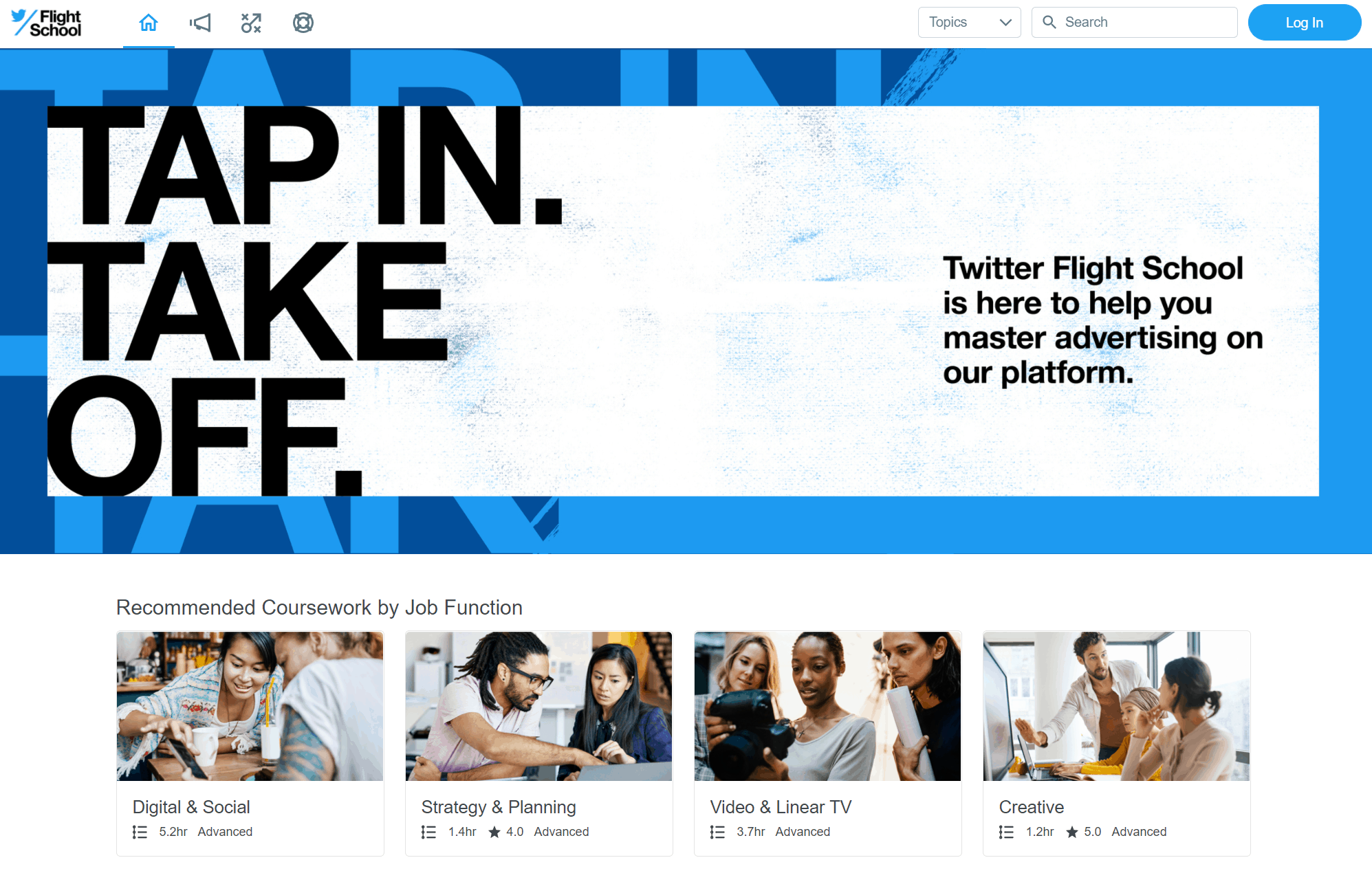 Cost: Free
Course duration: Flexible
Skill Level: Beginner, intermediate, and experts
Background:
Twitter Flight School is a free online course platform offered by Twitter. The platform hosts a range of short courses that teach students how to use Twitter for social media marketing. Each course can be completed in a flexible time frame.
Content:
Popular Twitter Flight School courses include:
Advertising on Twitter
Introduction to Twitter Ads Manager
Finding Your Audience
Setting up a Campaign
Creating Videos for Twitter
Launching a Twitter Video Ad Campaign
Twitter Video Formats
Video and Linear TV
Creative
Digital and Social
Strategy and Planning
Courses on Twitter Flight School are assessed with coursework. Students who pass each course will earn a "badge" that can be displayed on LinkedIn and other platforms.
LinkedIn Learning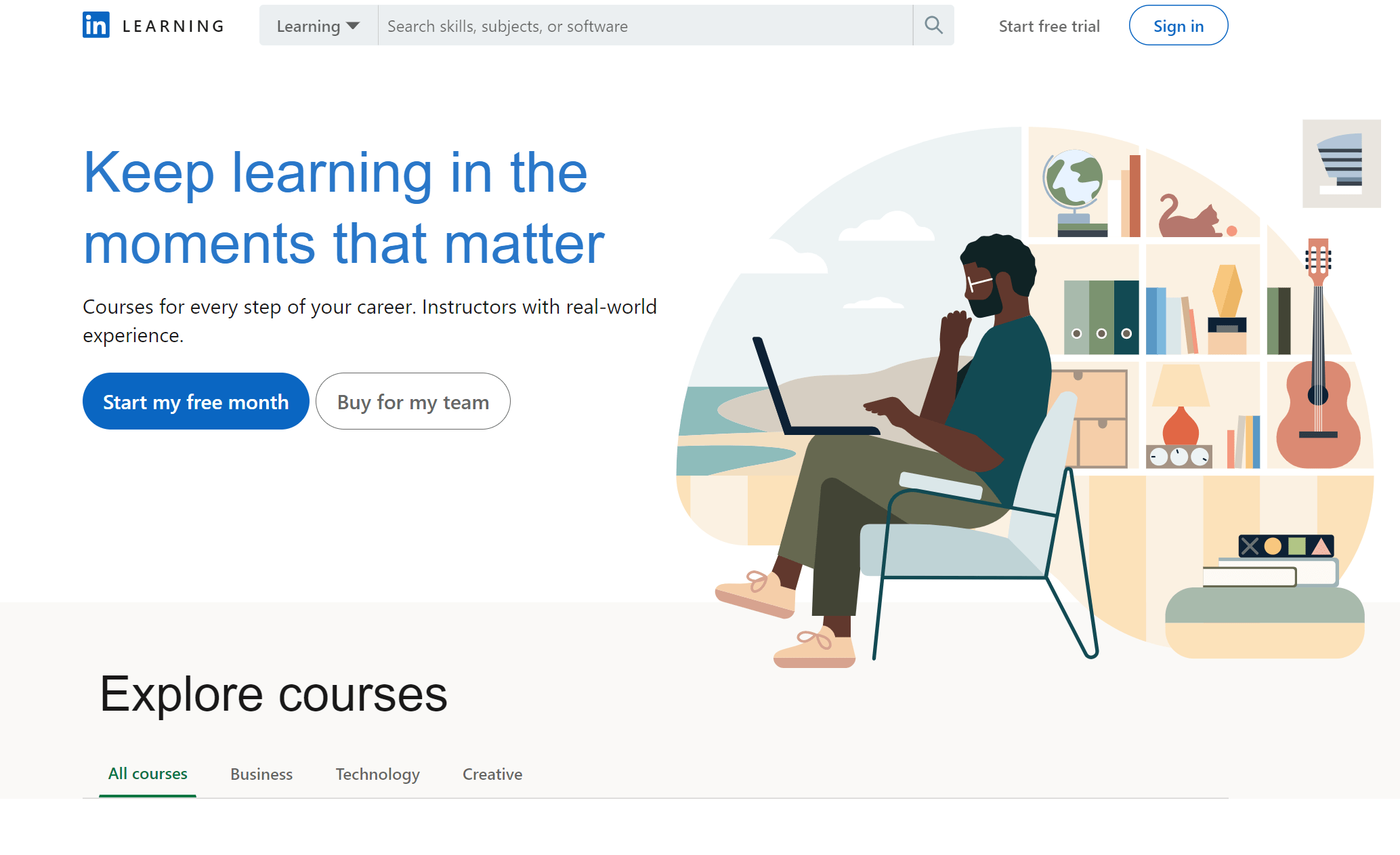 Cost: $25 per month to access the platform
Course duration: Flexible
Skill Level: Beginner, intermediate, and expert.
Background:
LinkedIn Learning is an online platform owned by LinkedIn that offers courses on a range of topics. The platform hosts over 16,000 courses, each of which will earn you a certificate. The platform charges a monthly fee for unlimited course access.
Content:
Popular social media marketing courses on LinkedIn Learning include:
Social Media Marketing Foundations
Marketing on Instagram
Social Media Marketing: Strategy and Optimization
Social Media Marketing for Small Business
Social Media Marketing Trends
Students need to complete quizzes and projects to pass each course.
Blueprint Certification with Facebook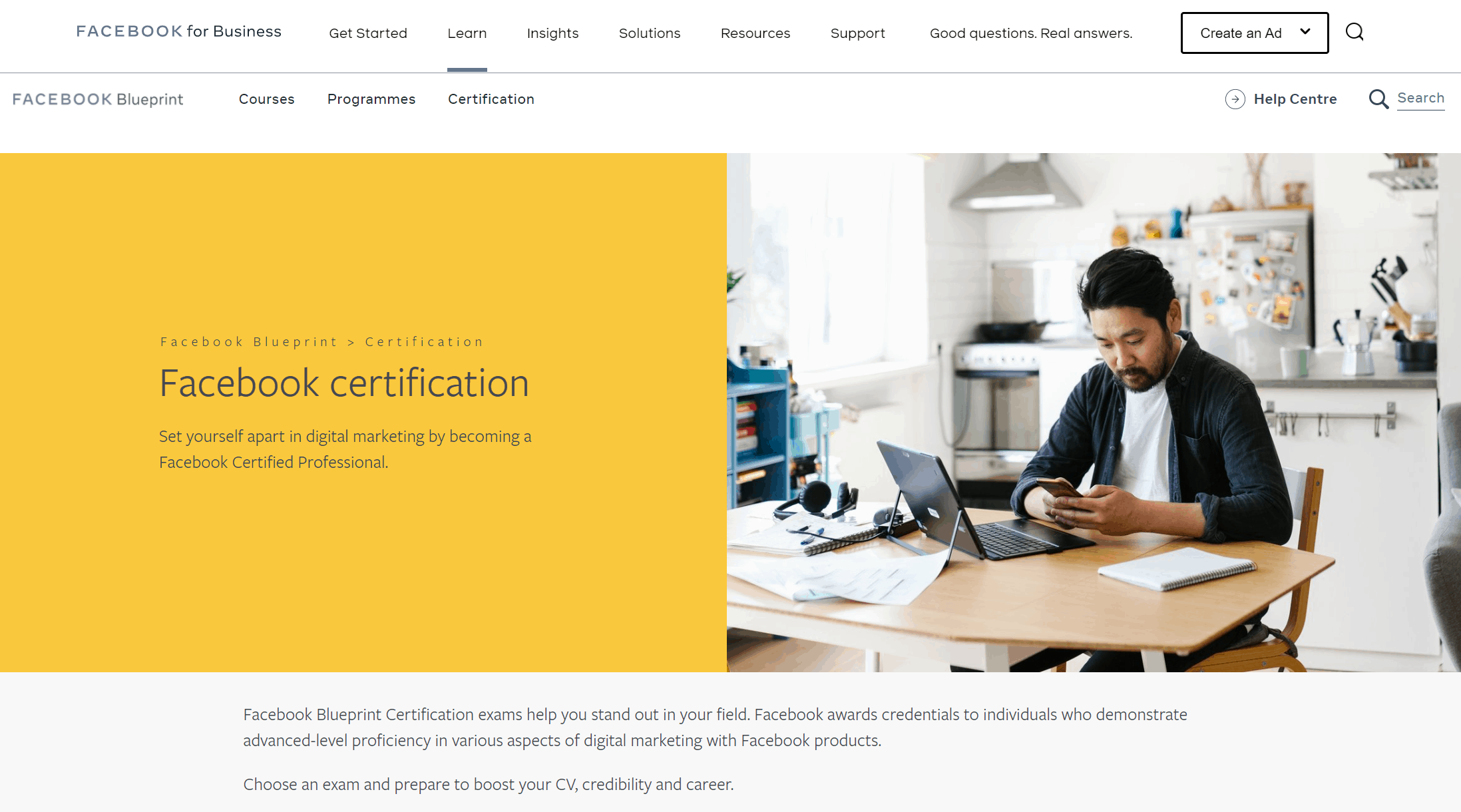 Cost: Courses are free, but the final exam costs $150.
Course duration: Flexible
Skill Level: Intermediate and expert.
Background:
The Facebook Blueprint Certification program is a set of awards administered by Facebook, as part of their Blueprint learning program. The certifications are designed for marketing professionals who use Facebook for Business and want professional accreditation for their skills.
Content:
Facebook offers six Blueprint Certified awards, including:
Facebook Certified Digital Marketing Associate
Facebook Certified Marketing Science Professional
Facebook Certified Creative Strategy Professional
Facebook Certified Media Planning Professional
Facebook Certified Media Buying Professional
Facebook Certified Marketing Developer
To obtain these awards, students need to pass exams with a score of at least 700/1000. Most certifications last for one year and are renewed by taking another exam.
Google Analytics IQ Certification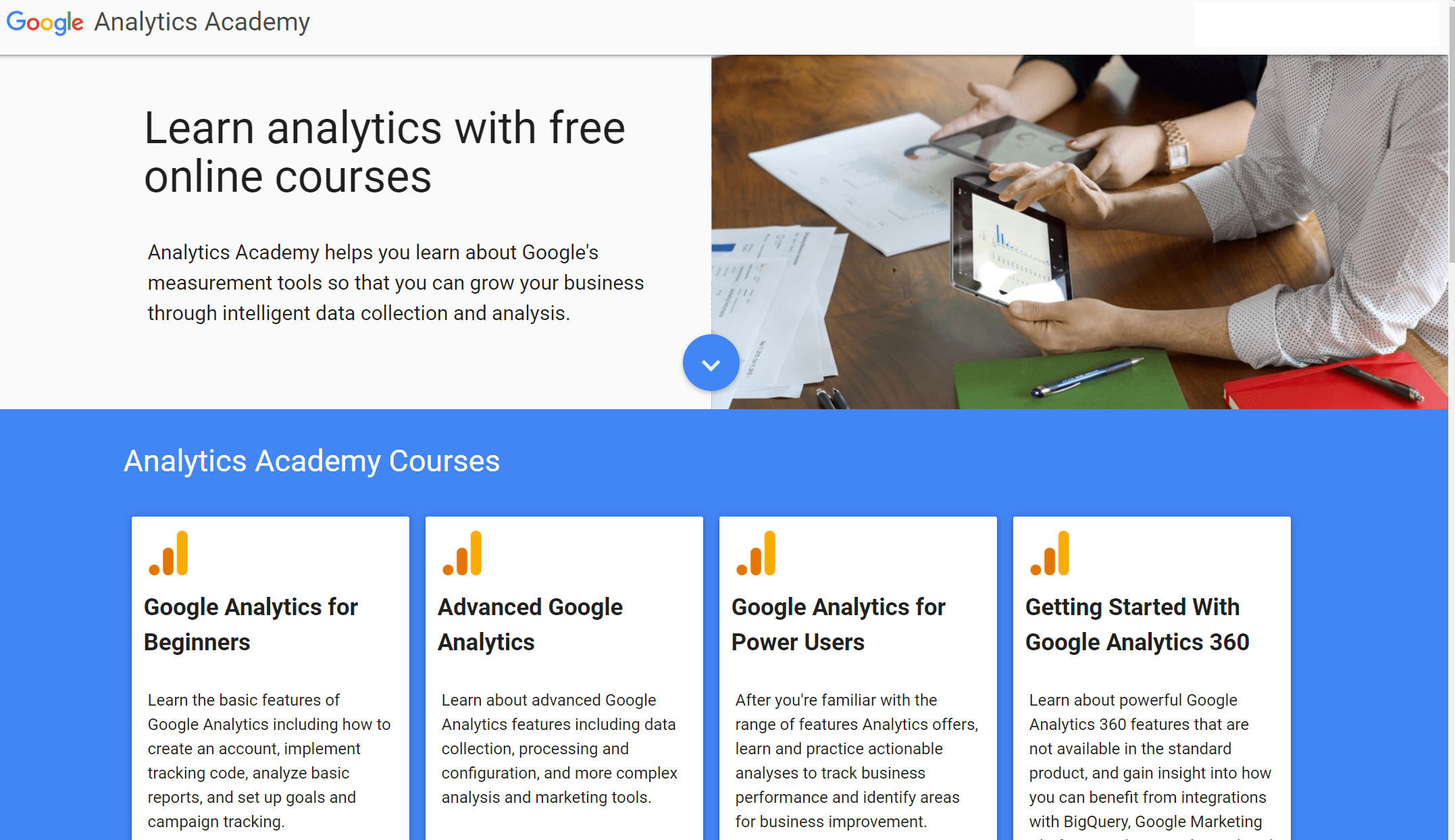 Certification Title: Google Analytics Individual Qualification (GAIQ)
Cost: Free
Course duration: Flexible
Skill Level: Intermediate and expert.
Background:
The Google Analytics IQ Certification is a certification a marketer can earn by passing Google's IQ Assessment. The IQ Assessment tests how proficient marketers are at using Google Analytics to assess marketing campaigns. The certification is valid for 12 months and can be renewed.
Content:
While marketers are not required to complete any modules before taking the exam, the exam tests content from the following courses:
Google Analytics for Beginners
Introducing Google Analytics
The Google Analytics Interface
Basic Reports
Basic Campaign and Conversation Tracking
Advanced Google Analytics
Data Collection and Processing
Setting up Data Collection and Configuration
Advanced Analysis Tools and Techniques
Advanced Marketing Tools
Ready For Your Social Media Marketing Certification?
Whether you are looking to learn new skills, hone old skills or upskill, there is a wide range of high-quality social media marketing certifications that will suit your needs. To choose the right course for you, I recommend identifying key skills you want to build, and selecting the course that centers around those skills.