Social media is more than a medium to connect with over 4.59 billion active users in 2022. It is now an indispensable business tool.
Thanks to its widespread influence, virtual spaces have many business opportunities. By leveraging social media marketing, brands can:
Amplify visibility
Drive awareness
Enhance reputation
Boost lead generation
Improve customer service
Social networking channels like Instagram and Facebook are inexpensive and can drive traffic to your website, boosting ROI. You can target the right audience with appealing content and establish meaningful customer relationships.
Today, we're discussing the top 10 reasons you must invest in social media marketing for better business results.
10 Reasons social media is a valuable investment for your business
Here is how social media can drive business success:
Expand brand visibility and awareness
Your brand personality makes you stand out among competitors. Consumers prefer buying from brands they recognize. But to get your name out there, you must reach a wider audience and build relationships with them. That's where investing in social media marketing can help you.
With more than half the world's population on networking platforms, companies can reach out to potential buyers and showcase their products and services. You can increase engagement on your social media channels by posting relatable content and stories. It pushes your content to more people, expanding brand visibility.
A thriving presence in social media also humanizes your brand and spots lights on your USPs. With regular interaction via relatable posts, your present an authentic brand personality and boost awareness.
PetLab Co., a pet supplement company, utilizes social media platforms to expand brand awareness and visibility. Damian Grabarczyk, Co-Founder of PetLab Co. says, "It's more than just using the platforms to share our products. We want to build a community by engaging directly with customers, and showcase what makes our brand unique."
"Posting on TikTok, Instagram, and Facebook has given us a huge platform where we can share information about the brand and expert pet health knowledge and advice that we know our customers, old and new, will love and find value in."
Ideal for real-time communication with customers
A big chunk of your business's success depends on how well you communicate with your audience. So, use social media to connect with customers and retain their interest in your brand.
Unlike traditional ads and campaigns, social media gives you a two-way channel to communicate with your audience. Every comment on your post or customer conversations around your brand poses an opportunity to:
Understand customer grievances
Solve queries
Build meaningful relationships
You can engage with your audience by responding to posts and sharing user-generated content. Hosting live Q&A sessions also facilitates real-time interactions with customers.
Social media marketing also makes it easier to gather instant customer feedback. You can get immediate audience reaction to your company's offerings by examining the response to your content. However, ensure you handle negative comments as improvement opportunities and resolve issues promptly.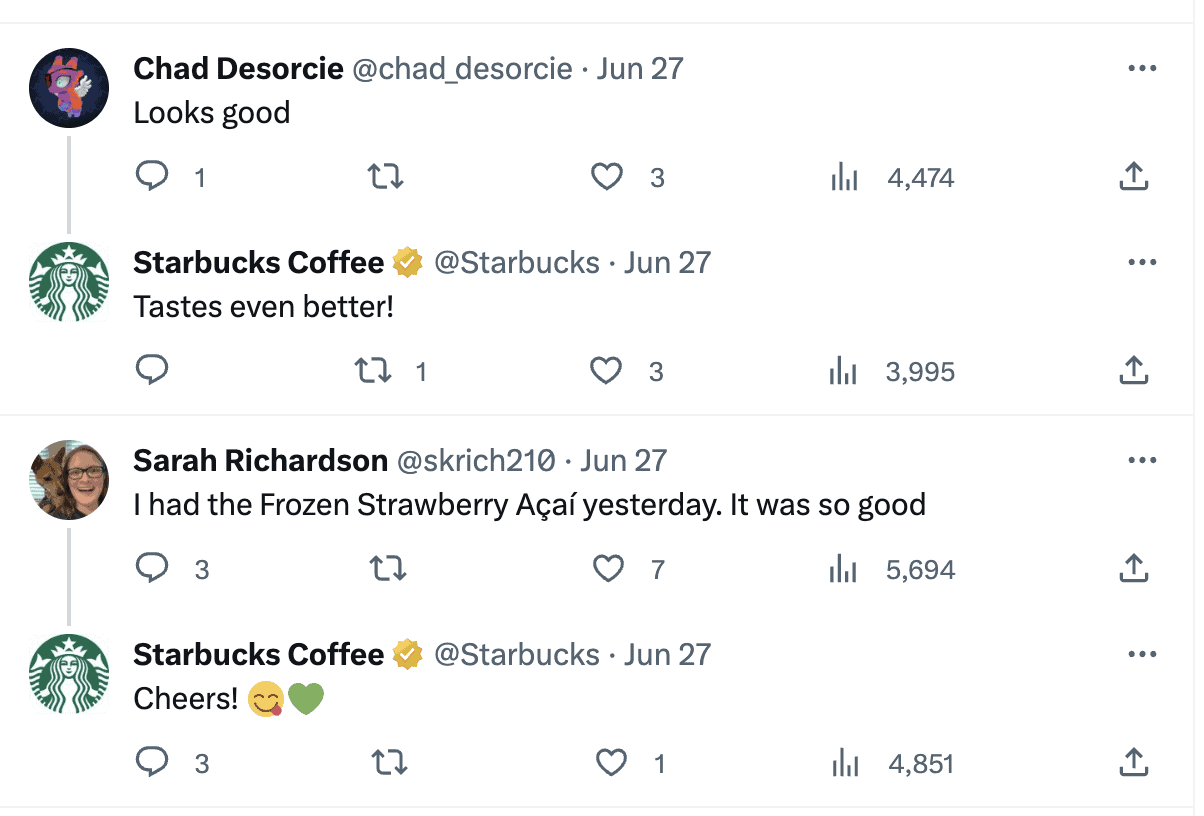 For example, Starbucks regularly replies to customer tweets with interactive replies.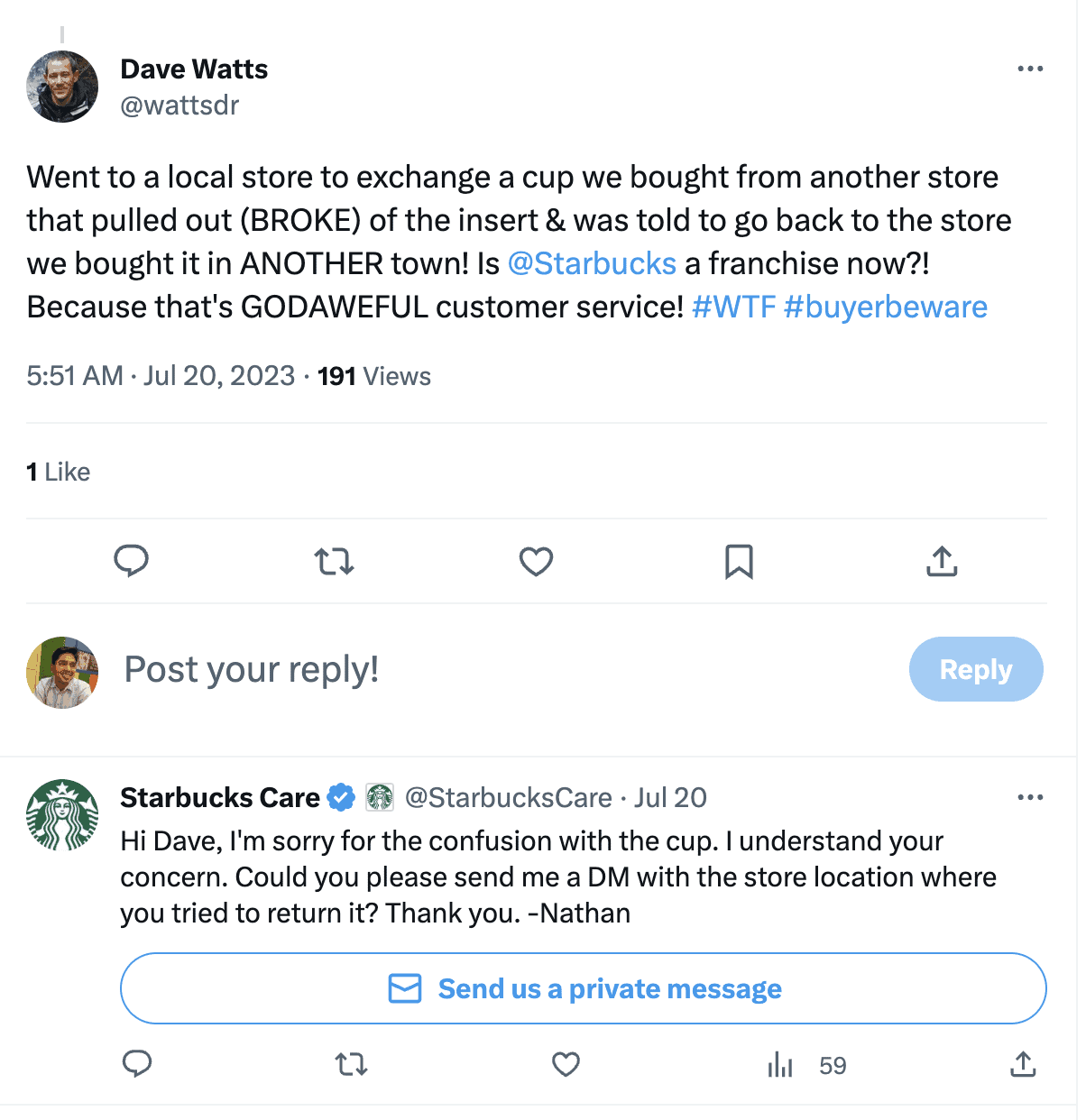 They also use social media to respond to customer grievances and queries promptly.
Target specific audiences with precision
For better marketing ROI, create personalized experiences to cater to different customers. While traditional advertising depends on broad demographics, social media marketing lets companies identify ideal customers more precisely.
You can collect first-party and third-party customer data from social media. With AI and social listening, you can monitor online conversations and target users based on:
Location
Interests
Age
Activity
Interaction patterns
Followed channels
Posts they engage with
Such accurate insights let you strategize content according to different user segments, address their unique challenges, and offer a personalized marketing experience. They also help companies create relevant products that cater to each customer category.
Use influencer marketing for a broader reach
Influencers dominate social media, and collaborating with them can give your brand significant impetus. Some benefits of influencer marketing include:
Increase in brand reach and awareness
Access to vaster customer segments
Social proof
Enriched content strategy
Enhance SEO
You can identify and partner with relevant influencers by investing in fitting social media marketing strategies. High engagement on your Instagram, TikTok, and YouTube channels will make creators more likely to join hands with you. A social media virtual assistant can be an added advantage for your business, they can help you with all the tasks.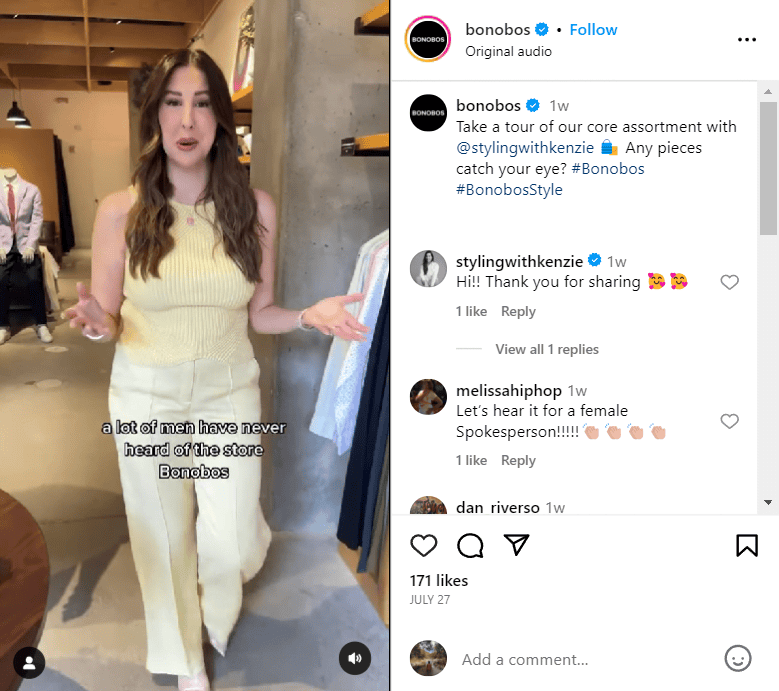 For example, menswear brand Bonobos partnered with fashion influencer Kenzie Welch to promote its core assortment options.
Build and engage a loyal customer community
Building a loyal community of customers can be a marketing and revenue boon for your brand. They bring return purchases and may even advocate for your brand.
Social media channels are ideal for building a loyal following. They give businesses a channel to maintain consistent and meaningful interactions with customers. Your buyers see value in your content and explore different products, gaining you their frequent attention.
With the right content, you can establish your brand as the thought leader and the go-to source of information for your audience. You can keep track of audience conversations, respond to their comments, and make them feel appreciated.
Social media also simplifies asking for and collecting reviews. It shows your customers you value their onions and want to improve their experiences. This retains buyers and builds an online community of loyal customers and brand advocates.
Neal Taparia from Spades.co adds,
"Regularly posting content that resonates with your target audience can increase brand recognition and foster customer loyalty. That's why having regular exposure to social media is invaluable. Our brand's presence directly correlates with higher engagement from users who return to play our games in their leisure time."
Enhance brand reputation and credibility
Social media can shape a brand's reputation by streamlining a direct connection between businesses and customers. According to reports, 82% of people have found products on social media and bought them via their mobiles. Strong positive recognition can convince these buyers of your reliability.
Try posting behind-the-scene clips and 'meet the team' videos to build camaraderie. Such methods make your brand relatable and strengthen your credibility. You can post customer testimonials on your social media handles to prove the benefits of your products.
Customers often post about their positive experiences with brands and post content with your products. Track these conversations and UGC and use them as social proof on your website to make visitors trust you and give you their business.
For example, watch the brand MVMT showcases social media testimonials and user-generated content on their website. It shows real people using their products and lets customers shop for the same product directly from the posts.
Drive website traffic and boosts conversions
Reports show that 81% of clickthroughs to a business's website are from social media, with 21% who click through at least once daily. By investing in your social media strategy, you can increase your website traffic and increase conversion.
Catchy bios on your social handles effectively capture the audience's attention. Add a CTA to your landing pages and attract website visitors from social media.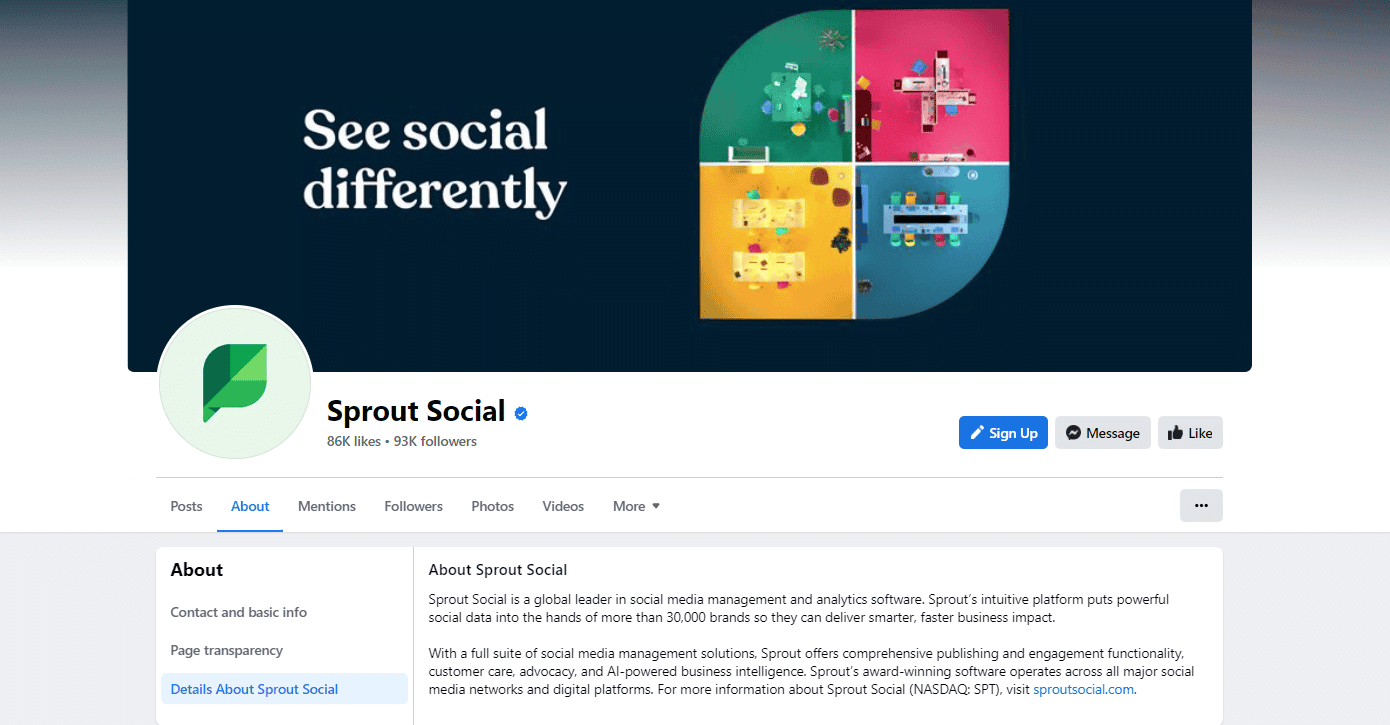 For example, Sprout Social's Facebook bio has a direct website link.
You can also use comparatively less popular sites like Pinterest and Reddit and post content with embedded links to your website.
While posting product pictures, you can add links in the caption to get more website visitors. Sharing these posts with CTAs in relevant social media groups will increase your website traffic. Many brands also run shoppable Instagram ads to drive traffic and boost conversions.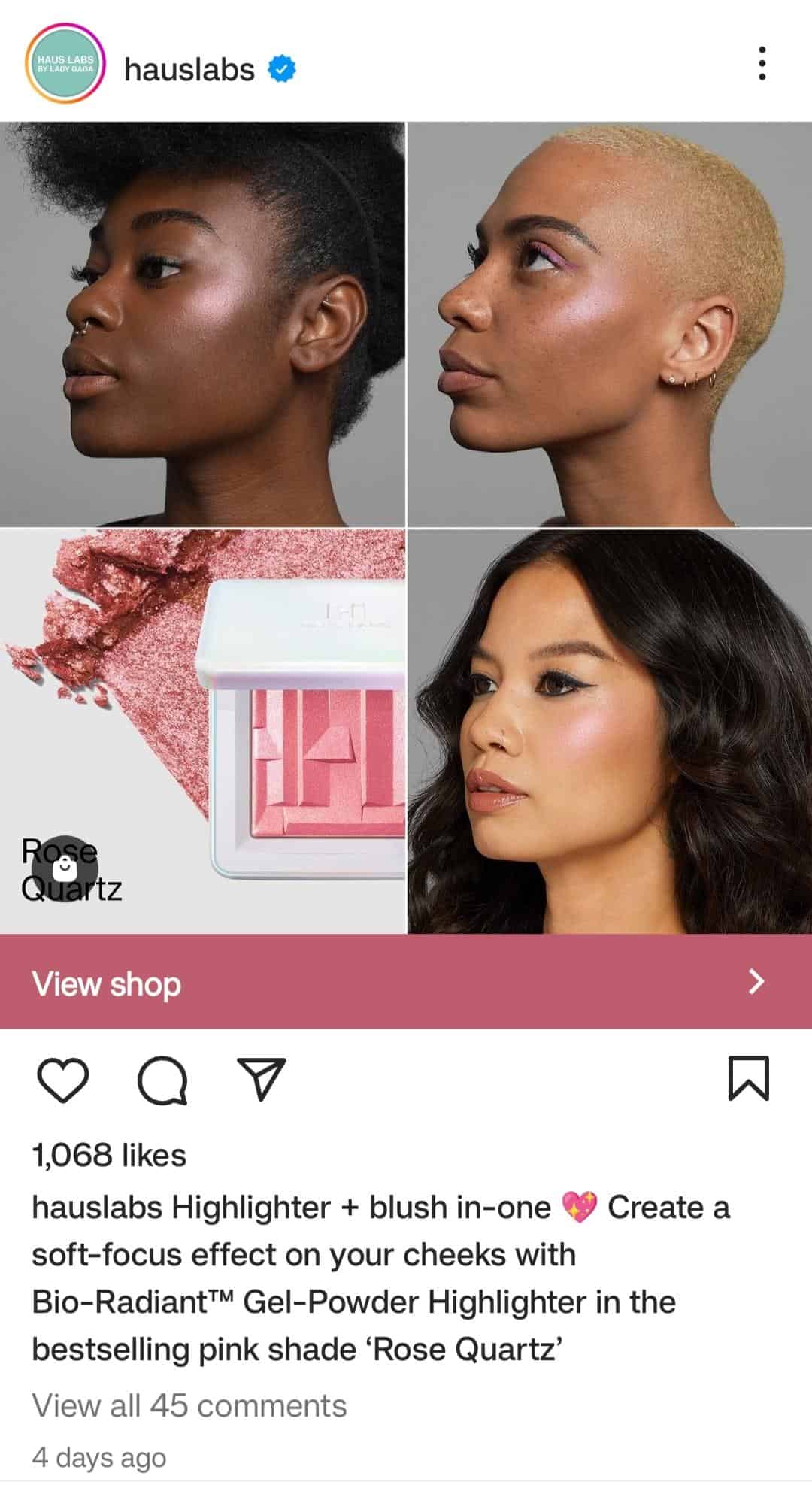 For example, beauty brand Haus Labs posts pictures and reels with "View Shop" options linked to their website.
Gather valuable customer insights and market trends
By investing in social media marketing, you can predict demand surges and track emerging trends. It lets brands keep up with changing preferences and maintain marketing relevance.
You can run market research, understand evolving customer needs, and identify relevant trends by monitoring virtual customer conversations. Brands can also track competitors' social media activities and see what type of campaigns get the most traction.
The collected insights will allow trend jacking at the right time and let you create high-targeted marketing campaigns. By predicting future demands, companies can also be prepared with sufficient inventory.
Get higher ROI
Running traditional advertisements can burn holes in your pocket. But social media marketing offers an inexpensive alternative. It costs nothing to post branded content on social media regularly. Paid ads are also less costly than other promotional methods. It grows profits and increases ROI.
Social media campaigns are also easier to measure, letting companies adjust their strategies as required to achieve higher returns. You can target an audience based on specific demographics and behaviors and improve conversions. This translates to better revenue and enhanced ROI.
Leverage visual mediums
Visual content pieces are more appealing and engaging. Social media platforms offer convenient options to optimize them.
You can create on-brand images that stand out in the news feed. Instead of relying solely on text, brands can convey their message through product pictures, infographics, and high-quality video production that resonates with the audience.. You can also produce reels and TikToks to engage the audience and enhance visibility.
Understanding Why Social Media is a Valuable Investment
The benefits of social media marketing go beyond vanity metrics such as likes, shares, and comments. You can prove your expertise by running consistent and strategic virtual campaigns, promote brand loyalty, and facilitate long-term business growth.
Before wrapping up, we must reiterate that you should:
Collect and analyze customer data to understand your customers' online behavior.
Reply to comments and resolve customer issues promptly.
Use trends to create viral content for better visibility.
Use social listening tools to tap into evolving customer preferences
Include CTAs in your post for enhanced website traffic.
Start crafting your social media marketing strategy today to make your brand more appealing and sustain growth in a competitive market.