Before we get into using Google Analytics for social media, we first need to have a basic understanding about Google Analytics.
Google Analytics is a very useful tool that can help you get a better insight into using social media to your advantage. Do you think that using Google Analytics can help determine which social platform would be best suited for maximum visibility and traffic? Moreover, you can also find out how the users on social media platforms interact with your website.
When you learn the dynamics of Google Analytics for social media, you can easily analyze your visitor's behavior, demographics, and other aspects. Driving extensive traffic will hardly render any benefits if you don't know how to use the visitor data. Google Analytics helps you get a better understanding of your audience so that you can take steps to turn them into your loyal customers.
Using Google Analytics can also help you understand what implementations must be made to reach your social media campaign goals. Ascertaining your audience's behavior can help you connect with them, build a strong relationship and influence their purchase decision.
However, not many are aware of its benefits, so they fail to exploit the immense potential. If you are a beginner and are overwhelmed by the magnitude of tremendous data on Google Analytics for social media, then peruse this guide for easy and clear understanding.
What is Google Analytics for Social Media?
Google offers a web analytics service that can track and analyze vital data of your visitors on your website or social media. Google Analytics for social media is a specific service focused on giving you a better insight into your social media channels usage by analyzing visitor data. Whether you are using Instagram or YouTube marketing, Google Analytics can dive into the visitor data and provide valuable reports for actionable steps that you can easily convert into PowerPoint presentations and present easily.
Do you want to know what type of visitor data Google Analytics for social media can empower you with? Here is a glimpse of what you can expect:
The total traffic on your social media
The source of traffic on your social media
Productive leads data (such as specifics of conversion and where such traffic comes from)
Keeping track of your video monetization by analyzing the traffic from your video content
Is your traffic coming from desktop or mobile users?
Tracking clicks from email signatures. Here are some email signature examples.
How Does This Help You?
The next question that would come to your mind would be how exactly this data would help you? When you use Google Analytics for your social media strategy, you can understand how your campaigns are performing and what you can do to improve results. This will also help you prioritize tasks and focus on campaigns that actually impact your business.
If you are using more than one social media platform, then Google Analytics can help you understand which platform gives you the most traffic. You can also calculate the ROI of the social media campaigns by using Google Analytics. If you find the ROI is not per your expectations, you can change your strategy based on the data available through Google Analytics.
Google Analytics for social media also lets you ascertain which content provides optimum results on your social media platforms. Getting details about the sales conversions is another benefit of using Google Analytics for your social media campaigns.
Step-By-Step Beginners Guide to Using Google Analytics For Social Media
Now that you have gained a basic understanding of what Google Analytics is and what benefits it could give you, it is time that you learn about its implementation. Here is an easy-to-understand step-by-step guide that will help you get started.
Step # 1: Creating Account on Google Analytics
Before you can make use of Google Analytics, you need to create an account by signing up on the Google Analytics sign-up page. You will find a button called "Start measuring" on this page, and you need to click on it to get started. Here is what it would look like.

Next, you will have to enter the name of the account. Also, you will have to choose data sharing settings that define your personal preference about how the data should be reflected in the Google Analytics report. Once you have made the selection, you can press the "next" button.
The next steps would be focused on getting a Universal Analytics tracking code.
You will see the section on "property setup" on your screen. You must find the box near the Property name and enter your website's name. Make sure not to enter the URL. You will also have to choose the time zone and currency on the same page.
Now click on "Show advanced options."
You need to turn on the toggle for "Create a Universal Analytics property."
You will see an empty box in the Website URL section where you put the actual URL of your website. Ensure that you select the radio button for "Create both a Google Analytics 4 and a Universal Analytics property."
You can click on the "Next" button when you are done.
Here is what your selection should be like:
The next screen would ask you details about your business. You can insert the relevant information and click on the "create" button. You will be asked to accept the "terms of service agreement" in a pop-up.
After you press the accept button, you will see another pop-up with web-stream details. It would also have your new GA4 measurement ID. You need to close this pop-up box since you will need a Universal Analytics ID to get started with Google Analytics for social media.
You will see the Google Analytics dashboard where you need to click "Admin" on the bottom left corner. Now you need to select the account properly and then click "Tracking Info" in the property column. Click on "Tracking Code" to get the tracking ID. (See image below)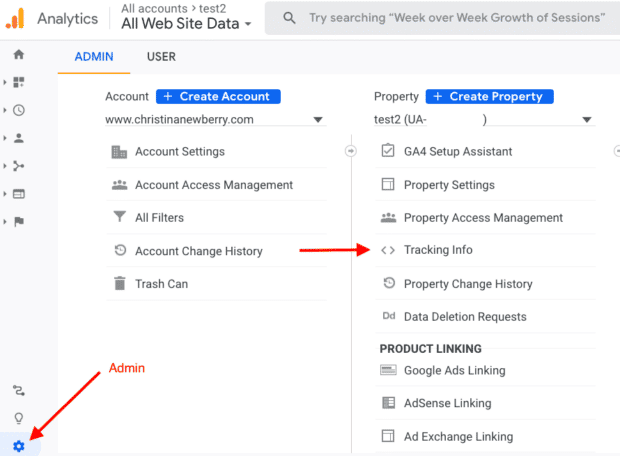 Please note:
The tracking ID must be kept secured since it is unique to your personal data and your website. You will also need to save this tracking ID for the next steps, so make a note of it and keep it handy.
Step # 2: Setting Up Google Tag Manager
Setting up Google Tag Manager is important since it lets you send data to Google Analytics when you do not have coding expertise.
Use this link to reach the Google Tag Manager dashboard and then choose an account name and fill in other details like the country of your business and whether you want to share data with Google for benchmarking.
Now you must find the "container setup" section and enter a name of your choice. You must choose "web" as the target platform and click on "create."
After reviewing " terms of service, click "Yes" in the pop-up after reviewing "terms of service."
You will see a code in the Install Google Tag Manager pop-up which must copy and then pasted into your website backend. You will have to insert the code on every page in the <head> and <body> sections. It would be easier if you could simply add it to the CMS template.
After adding the code to your website, you must return to the Tag Manager and press "Submit."
Step # 3: Creating The Analytics Tags
The Analytics tag lets you merge Google Analytics with Google Tag Manager. Follow these simple steps to get this done:
Add a new tag in the Google Tag Manager workspace. You will be able to customize the "configuration" and "triggering" areas.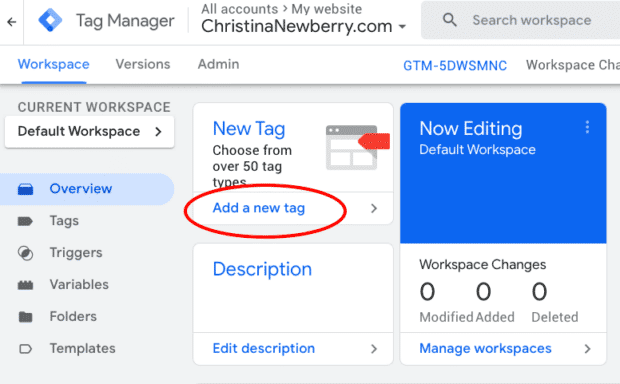 Choose "Google Analytics: Universal Analytics" after clicking Tag Configuration.
You must choose the type of data you wish to track and then choose a "new variable."
You will observe that a new window would open in a pop-up where you must insert the Google Analytics tracking ID.
Now go to the "Triggering" section and choose the data you wish to send to Google Analytics. You can select all pages if you want to send data from every web page and click "Add."
Click "Save."
Step # 4: Adding Social Media to Google Analytics Goals
This is where it gets interesting because we did the whole exercise to use Google Analytics with social media. But before you commence to use Google Analytics for social media, you or your best virtual assistant need to determine what type of metrics you will need to achieve your campaign goals.
Once you have put together a list of metrics, go to the dashboard of Google Analytics and follow the following steps:
Click the "Admin" button and check the "View" column where you must click on "Goals."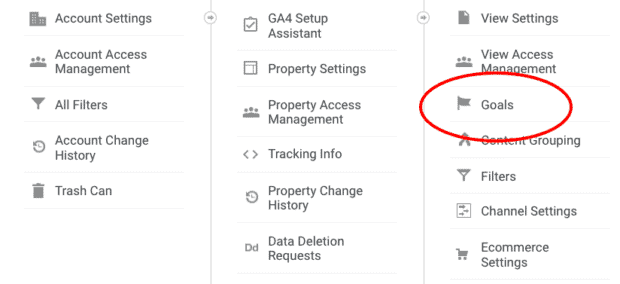 You will be able to see a wide array of goals in the template, and it is important that you choose the ones that fit your requirement.
Google Analytics can track the following types of goals:
Destination goals can be used if your goal is to make your visitors reach a specific page.
Duration goals can be used if you want your visitors to spend specific time on the website.
Pages per session goals are for having visitors browse a specific number of pages.
Event goals are for getting the visitors to perform an action, such as filling out a form or clicking on a link.
Once you are done with the selection of goals, click on the "Continue" button.
The next screen will ask you for specific goals and define the success parameters.
Click "Save" after completing the above step, and Google Analytics will start the tracking.
Step # 5: Google Analytics Social Media Reports
As you must have realized that merely having a presence on social media will reap no results unless you can avail yourself of the full advantage using various data. When you use Google Analytics for social media, you can have access to six different types of reports. You can study the ROI and impact of social media campaigns through these reports.
To check these reports, go to the dashboard of Google Analytics and click on the "down arrows," which are next to "Acquisitions" and "Social."
Here is an overview of six Google Analytics social media reports:
Overview Report
If you want to check the number of visitors converted from your social media platforms, you can use the "Overview Report."
Network referrals
When you have multiple social media platform usage, you can use the "Network Referrals" to get the engagement metrics. You can also find out your best-performing content on specific platforms.
Landing pages
If you want to check out the engagement metrics for specific URLs, then the "Landing Pages" report would be useful.
Conversions
Every social media campaign is aimed at the achievement of its goals. Most of them are focused on conversions. This report allows you to check the total conversions from every social media platform. You can also check the ROI of each using this report.
Checking the "Assisted Social Conversions" would allow you to see the number of conversions done with the help of social media.
Plugins
Have you seen the social share buttons on the websites? This report can check which buttons were clicked more often and which content was more popular. One can also study the data to determine the most shared content on social media from the website.
Users flow
As per Google, the user flow report shows, "graphical representation of the paths users took through your site from the source through the various pages and where along the paths they exited your site."
How to use Google Analytics for Social Media
Learning anything new can be overwhelming and daunting for a few. However, if you have clear and specific guidance about "where" and "how" to begin, you can easily be on the path to quick learning.
Google Analytics is a powerful mechanism that can help you ascertain various aspects of your social media behavior, it can be used as an analytics and retention tool. From gaining a better insight into your visitors through data analysis to creating an impactful campaign, Google Analytics can work wonders for you if you learn to use it correctly.