LinkedIn is the world's largest professional network with 810 million users in over 200 countries. If you're not using LinkedIn as a social media marketer, you're missing out on a chance to expand your reach and tap into new business opportunities.
Besides the option of posting regular ads which appear in members' feeds as they're scrolling, the platform offers multiple other ways for marketers to build brand awareness and connect with key industry professionals. One of these is LinkedIn InMails.
Keep reading to learn how to make the most out of this useful feature.
What are LinkedIn InMails?
To send someone a message on LinkedIn, you normally need to be connected to them. InMails, however, make it possible to send private messages to anyone on the platform, including members you're not connected to. This makes it a useful tool for marketers and recruiters who want to use LinkedIn to reach a wider audience and engage customers.
LinkedIn InMail is a Premium feature, meaning it's not available to users with Basic (free) accounts. Depending on your Premium membership level, you'll be given between 5-50 InMail credits to use each month. The membership levels LinkedIn offers that include InMail credits are:
Career – 5 InMails per month
Business – 15 inmails per month
Recruiter Life – 30 inmails per month
Sales Navigator Core – 50 inmails per month
Any unused credits roll over to the next month and can be used for up to 90 days.
What's the difference between regular InMails and sponsored InMails?
InMails and Message Ads, formerly known as Sponsored InMails, both let you connect with LinkedIn members outside of your network. But, whereas InMails are used to reach out individually to specific people who you're already familiar with, Message Ads allow you to instantly reach a large group of individuals who meet certain criteria through a messaging campaign.
InMails are the best option if you have a certain person in mind that you want to reach out for purposes like:
Connecting with potential candidates
Recruiting speakers for an event
Promoting content, products, or services to specific individuals
With Message Ads, on the other hand, you decide on an objective, define a target audience, and set a budget. Once you've created your campaign, messages are sent out to LinkedIn members who fit the criteria you specified. Message Ads are only sent to active LinkedIn users, so you don't need to worry about your budget getting wasted on inactive members.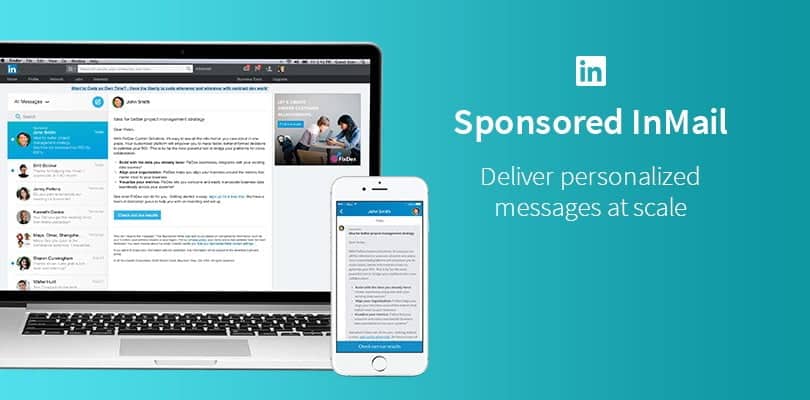 Message Ads are your best bet if your goal is to increase:
Website visits
Lead generation
Website conversions
A few things to keep in mind
If you use Message Ads, make sure that the sender you choose is reputable. When you create a campaign, you get to select a person from your company who will appear as the sender of the messages in question. If the person you're reaching out to is interested in your offer, the first thing they're going to do is click on the sender's profile to learn more about them and the business.
Therefore, if the sender isn't a good representative of your brand, the recipient might decide not to go ahead with the offer.
Additionally, note that regardless of whether you're using InMails or Message Ads, recipients will be able to tell that these aren't regular messages because they're marked as either "Sponsored" or "InMail". There is no way to avoid these labels, except for first adding the person to your network.

How to write an effective LinkedIn InMail
In an effort to prevent spam, LinkedIn has made it so that you can't purchase more InMail credits once you run out. If you use up all your credits, you'll have to wait until next month to get more.
However, there is a way for you to get around this. If a recipient engages with your message within 90 days, meaning they either accept, decline, or respond to it, you get your credit back. Therefore, you only "pay" for failed attempts at connecting with people.
This is why it's so important to know how to write a message that will elicit a response, even if it's a rejection of your proposal.
To improve your chances of reaching success with InMails, follow these six steps:
Write an attention-grabbing subject line
The first and most important thing you can do when reaching out via InMail is to write an eye-catching subject line that is clear, specific, and relevant to the recipient.
The working professionals you're targeting likely already receive dozens of messages and emails every day. If they're not sure what you're contacting them about or why, why would they click on your message?
Additionally, keep your subject line brief and to the point. LinkedIn data shows that by limiting your subject line to three words or less, you increase your chance of getting a response by 14%.
Make it personal
Recipients can tell if you're sending out the same generic message to everyone you contact. LinkedIn users are more likely to engage with you if it's apparent you've made an effort to get in touch with them specifically.
Putting in a little bit of extra effort at this stage can save you a lot of work in the future, so use this knowledge to your advantage when you write your InMails to improve your engagement rate and avoid wasting valuable credits.
The easiest way to establish a personal connection with a lead is to read their profile, scan their LinkedIn banners for extra information, and look for things you have in common. Did you go to the same university? Do you share any hobbies? Do you know any of the same people? If so, mention this in the first paragraph of your InMail to draw them in.
If their profile doesn't reveal anything about their interests and you can't find anything else you have in common, focus on their professional experience and the skills they put on their resume.
Refer to their expertise on a particular topic, or comment on an article they wrote. This will let your lead know that you've done your research and aren't about to waste their time with an offer or opportunity that they won't be able to benefit from.
Keep it brief
Just because the character limit is set at 2, 000 doesn't mean that you should use all of them. In fact, LinkedIn's list of InMail best practices recommends that you keep your message brief in order to write successful InMails.
Unlike other social media, LinkedIn users aren't typically spending their free time scrolling through posts on the platform for the sake of entertainment or communicating with friends. They're using it for professional purposes.
In other words, the people you're trying to connect with will be busy, so you should keep your message short and engaging to maximize your chance of getting a response. If your message piques their interest and they are curious to learn more, they'll let you know.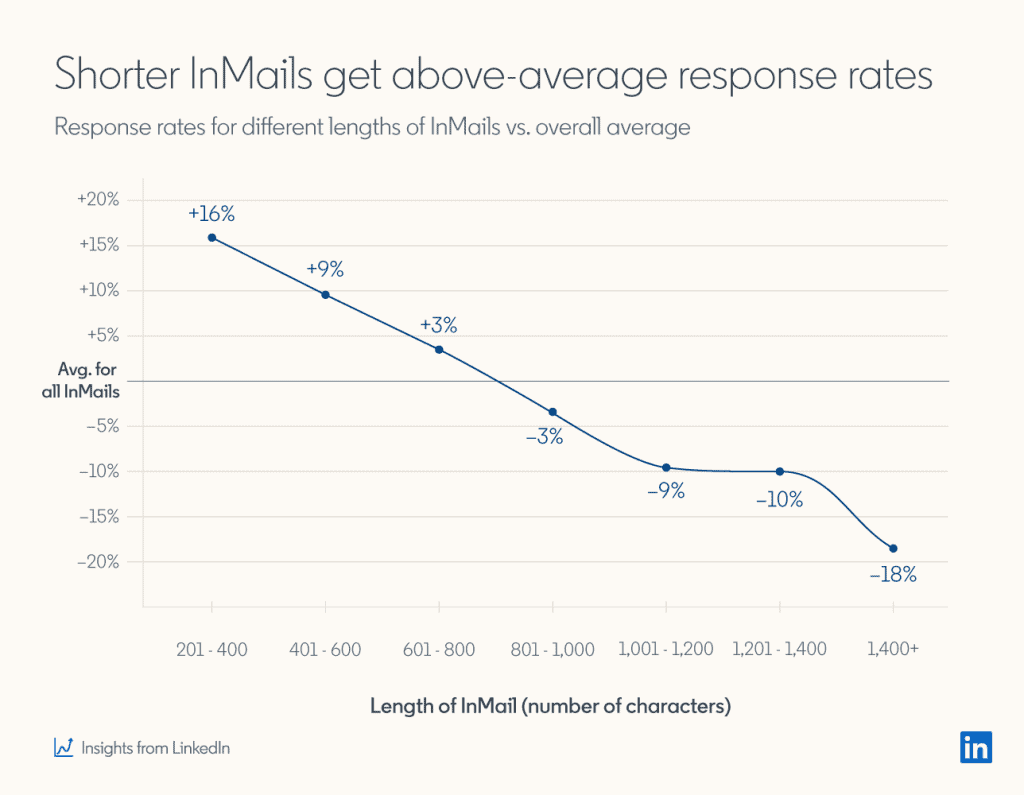 Focus on them, not yourself
To avoid being left on read, make it clear within the first paragraph or two why the person you're contacting should read your message to the end. It's up to you to keep their attention, and the best way to do so is by promising the reader that they'll get rewarded if they listen to what you have to say.
Instead of getting caught up in details and giving recipients a comprehensive overview of you and your company's background, focus on the reason why you're contacting them and put extra emphasis on how what you've got to offer can benefit them as professionals.
Are you offering them a chance to speak at an event that aligns with their professional interests? Say that. Are you proposing a collaboration of some sort? Explain what they stand to gain from it. Do you have a product that you would like for them to try and give their opinion on? Make it clear that you're giving them a free trial.
Include a question
Give the person you'd like to connect with a reason to respond to your InMail by including a question at the end of your message. They'll likely feel more inclined to reply if you're requesting their opinion on something related to their area of expertise. Not only does posing a relevant question prove that you've done your research, it also signals that you value their input.
If you're not looking for advice, another option is to ask if they're available for a call to further discuss your proposal at a specified time and date.
It's better not to leave the question open-ended by asking recipients for their availability in general, because simply replying "yes" or "no" will require less effort on their part. Even if the answer is no, it'll count as a response and you'll get your credit back.
Don't worry about timing
Wondering what's the best time to send your InMails? LinkedIn research suggests that while most InMails are sent out during business hours Monday-Friday, there's no optimal time to send your messages.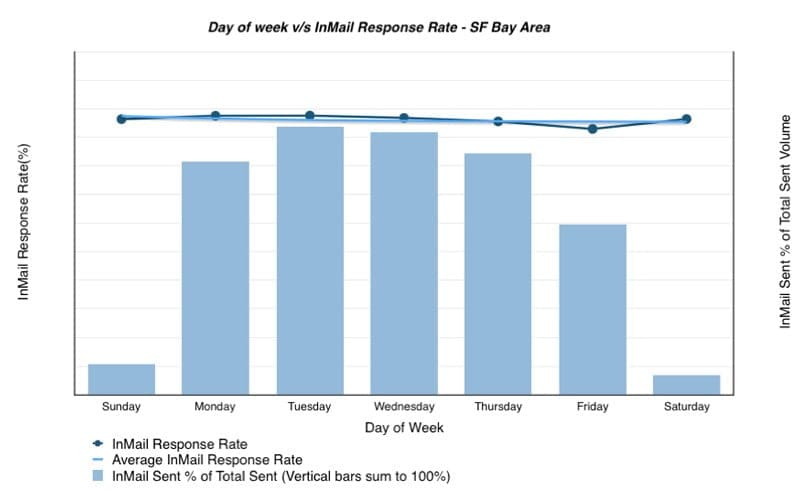 The response rate will be the same no matter whether you reach out on a Tuesday at 9 a.m. or a Saturday at 4 p.m.
Rather than timing, what does make a difference in terms of ensuring a quick reply is that the content of your InMail adheres to the rules above.
InMail example
If you stick to the six steps listed above, you'll end up with a message that is compelling and doesn't take up more of your potential connection's time than necessary. When used consistently, this method in combination with other social media marketing strategies will help you generate more high quality leads, increase brand awareness, and grow your customer base.
If you're not yet ready to start writing your own InMails, here is a template for you to use as a guideline:
Subject line:

Exclusive invitation

Message:

Hi [Name],

I'm a long-time fan of your work in [field] and recently came across your article on [topic]. I found it to be both insightful and offering a unique perspective on this highly relevant issue.

The reason I'm reaching out to you is because we at [company] have been working hard on developing a solution to [issue], and would like to invite you to try our services as part of a free trial.

We would love to hear your feedback as an expert on [topic], and believe you will find [service] useful. Would you be available for a call on Tuesday at 3.30 to discuss this further? Let me know and I will set it up.

Best wishes,

[Your name]
Why this example works
This example works because it effectively conveys the information necessary for the recipient to make an informed decision about whether to pursue this opportunity or not.
The subject line is within the three-word limit and tells the reader what the purpose of the message is. It also includes one of the top five keywords that appear in LinkedIn's best performing subject lines. The full list includes:
Job opportunities
Thanks
Exclusive invitation
Join us
Connect
Meanwhile, the body of the InMail demonstrates the sender's familiarity with the recipient's work, and highlights why the recipient might be interested in the opportunity on offer.
Finally, it ends with a call to action by encouraging the recipient to contact the sender regarding a follow-up phone call to discuss the details of the offer and how to proceed.
Why should you use LinkedIn InMails?
When used wisely, InMails will let you connect with customers and industry experts who can help you realize your business goals. Instead of spending large amounts of time searching the internet for email addresses and phone numbers only to realize they're no longer in use, you can reach 66.8 million United States professionals in one place.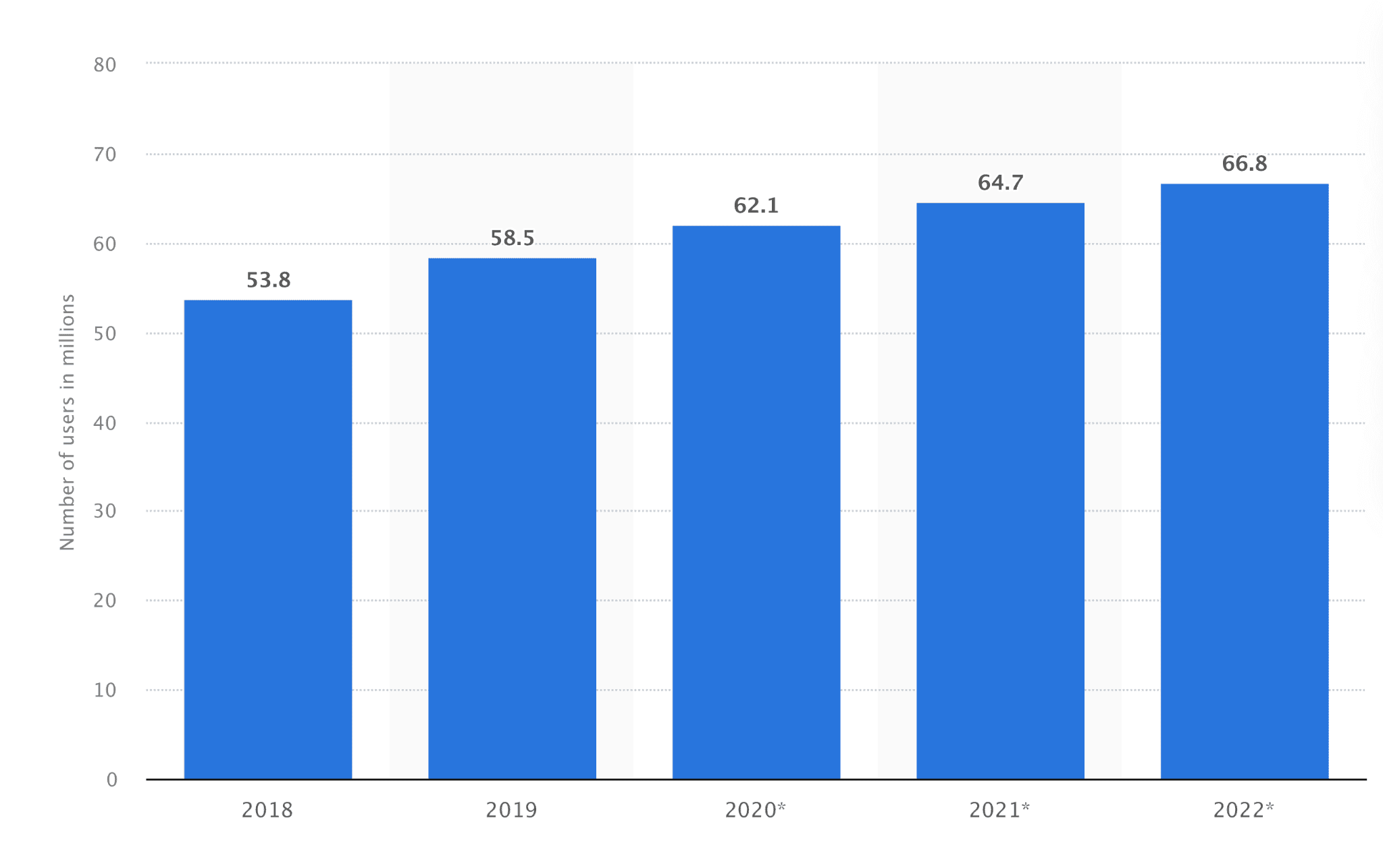 Besides, data shows that InMails have a response rate that is three times higher than regular emails. Not only will this save you time in terms of tracking down people to contact, statistically speaking, your networking efforts will be more fruitful.