When was the last time you had a brand experience so good you couldn't resist telling your network about that company?
That was the moment you became a brand advocate — a customer who is motivated enough to recommend a business to others.
And guess what? Word of mouth, aka advocacy marketing, is tremendously powerful.
That's because people trust other people (even online strangers) more than they could ever trust a brand promoting itself. 79% of consumers trust online reviews as much as personal recommendations from friends or family.
So you could almost say that no amount of paid advertising or clever marketing is as effective as an honest-to-god review by a verified customer.
While getting people to spread the good word about your business doesn't always happen on autopilot, there are some strategies you can leverage to harness the power of advocacy marketing.
In this article, you'll learn what advocacy marketing is, some strategies on how to do it successfully, and some best-in-class examples from big brands that you can try to emulate.
What is advocacy marketing?
Advocacy marketing is a branding approach wherein you try to encourage and equip customers to spread a positive buzz around your brand through various means like social media mentions, shout-outs, reviews, ratings, testimonials, and more such social proof.
Put simply; it's a form of marketing that focuses on creating outstanding brand experiences so customers can't help but turn into brand advocates.
And brand advocates are the best brand assets, as not only do they typically spend more than the average customer, but they also serve as a reliable source of branded information for potential customers.
They naturally generate a positive conversation around your brand — increasing brand awareness, lowering customer acquisition costs, and ultimately, increasing the lifetime value of customers.
Advocacy marketing strategies
Advocacy marketing is more nuanced than other forms of marketing (such as pay-per-click advertising), so there's no step-by-step sauce to do it right.
However, here are six best practices to help you generate more and better word of mouth.
1. Slay your product or service
First and foremost, if you wish for your customers to recommend you in a positive light, your product or service needs to be top-notch.
A remarkable product or service may compensate for so-so marketing, but not the other way around.
Trying to generate a buzz around your brand when your product or service is substandard may even backfire, so before you go about driving brand advocacy, focus on nailing your offerings.
2. Create an amazing brand experience
A great product or service is a prerequisite but isn't always enough to sway customers into lauding you publicly. In response to a Salesforce customer experience (CX) research, 84% of customers say the experience a company provides is as important as its products and services.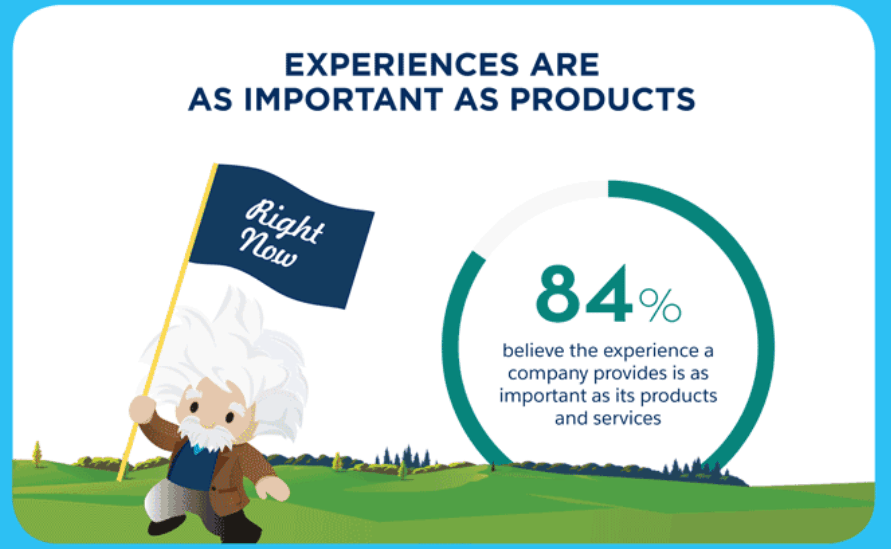 So the modern customer expects more than a top-notch product or service — they want an amazing brand experience.
Think of each interaction customers have with your brand — from the first contact (on the website, social media, or in-store) to the point they decide on a purchase and interact with your customer service team — and work with individual teams to optimize each touchpoint from the customer's perspective.
For example, work with your developers to ensure your brand website renders an excellent user experience. Collaborate with your customer support team, so they're all on the same page about your brand's messaging, speed of customer service, etc.
Also, as most customer interactions today occur online, it makes sense to use various online marketing resources and strategies to ace your customer experience.
3. Be customer-centric
A customer-centric company places customers, and not sales, at the center of the business. With a customer-first mindset, customer engagement and experience isn't an afterthought but the chief focus, naturally driving more advocacy.
So how do you become a customer-centric brand? A great way is to get frequent customer feedback and genuinely work towards implementing it. Make your customers feel heard in the implementation process, too.
You can do this by answering all social media questions and comments in a timely way. Publish blog and/or social media posts that reveal how your brand is working on customer suggestions.
Next, strive to be as reliable as possible. Stick to your word — deliver products (or promised results) on time, respond to support questions as soon as possible, and practice what you preach in terms of brand values, such as sustainability.
4. Implement a customer referral program
Sometimes even with the best product and brand experience, your customers won't make an effort to spread the good word — that is, unless you provide them an incentive to do so.
As the name suggests, a customer referral program offers unique benefits or rewards to your existing customers who refer new ones to your business.
Here's the basic process to create and implement a referral program:
Decide the incentive, such as a gift card or discount on their next purchase.
Build the referral program landing page.
Promote the program on your website, order confirmation page, email, and social media for interested customers to sign up.
Once they sign up, they get a unique referral link that they can share with their network.
Minimize friction for customers in getting the reward — if someone converts using their unique link, they get the promised reward.
There are plenty of referral program tools you can use to build and launch your program quickly.
5. Actively search for advocates
Brand advocacy is akin to a chain reaction. You must know who your existing advocates are, so you can reach out to them when it's time to launch a referral campaign, and they can get the ball rolling.
Meanwhile, request their feedback on your brand's messaging or products and prioritize its implementation, so your advocacy program is set up for success.
Here are a few ways to learn who your potential brand advocates are:
Create a campaign meant to drive user-generated content (UGC). This can be in the form of an Instagram contest or giveaway that requires people to tag and praise your brand or its products. It could also be simpler, like a tweet that asks the audience to respond with feedback or product reviews.
Use a brand monitoring tool to track who's talking about your brand online.
Run a Net Promoter Score (NPS) survey regularly to learn who your promoters are and why.
Also, consider exploring niche YouTubers as potential advocates because YouTube, and video marketing, in general, is taking center stage in 2021 — so it's definitely worth your attention.
6. Measure your success
As with any form of marketing, it's crucial to pick and measure key metrics to know what's working and what's not.
You can measure your advocacy marketing effectiveness by tracking metrics such as:
The number of followers gained.
The number of successful referrals from your customer referral program.
Increase in revenue from your referral program.
Increase in positive brand mentions across the web.
Comparison of landing page conversion rate with testimonials vs. without.
Comparison of the average lifetime value of customers who are advocates vs. those who are not.
Advocacy Marketing Examples
With the best practices clear, let's take a quick look at how some of the biggest companies on the planet do their advocacy marketing.
Apple
One of the most popular brands globally, Apple has built its brand image so well that people who don't even own their products love to share their content.
For the launch campaign of the iPhone X, people worldwide saw billboards, TV commercials, and YouTube ads featuring vivid images with the copy "Selfies on iPhone X."
This campaign set itself apart from the rest as it featured photos and videos captured by real customers with real iPhones.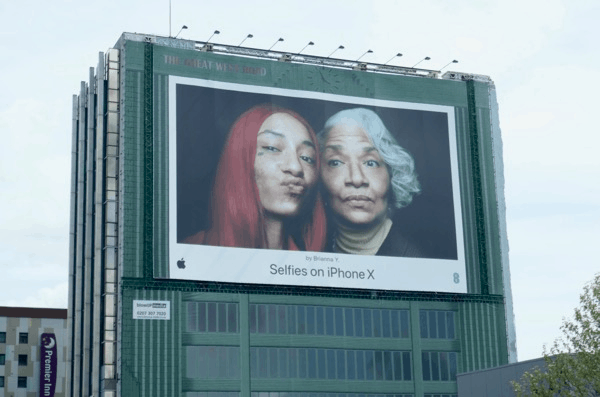 Source: Daily Billboard
The authenticity of these ads is what stirred more iPhone customers to share their iPhone-produced content. The brand further shared quick video how-tos to help customers make the most of their new iPhones and contribute their content.
Uber
Uber uses the basic loyalty and rewards program but does it exceptionally well.
The company offers a rewards program to both riders and drivers, enabling advocacy to boost both sides of its business.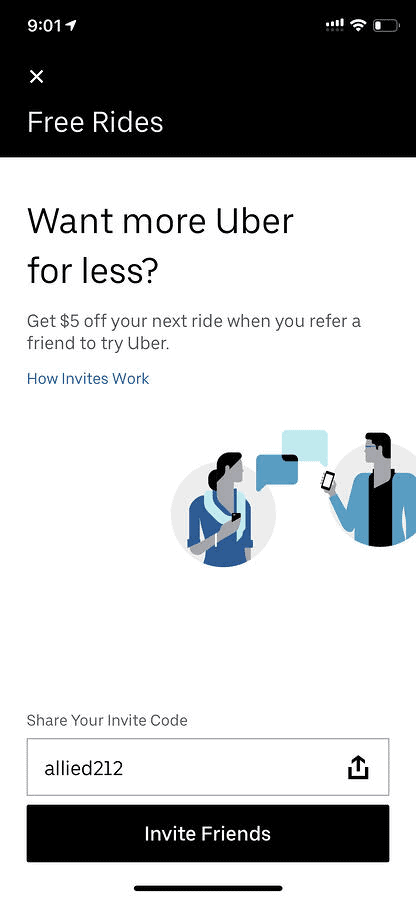 Source: Uber Help
All you have to do is share your invite code to give friends a discount and receive your own. It's right there in the app and easy to use.
Southwest
While Southwest's competitive pricing is a factor, customers also often report how the airline provides the easiest, most memorable experience.
Southwest Airlines is renowned for its helpful staff and witty branding, which drive frequent positive mentions on social media by delighted customers.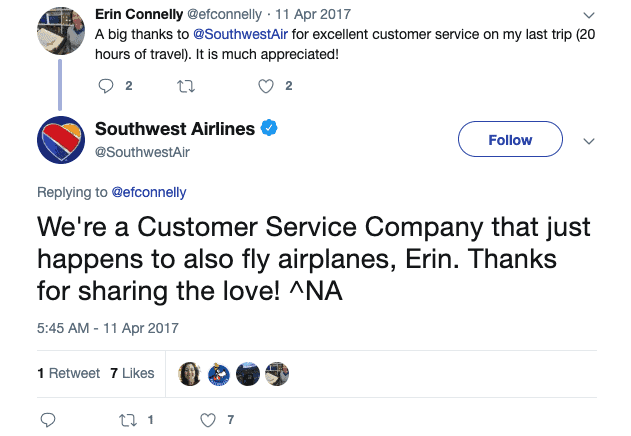 Source: Khoros
It's essentially these fun and easy experiences that translate to happy customers becoming brand advocates.
Time to get the good word out with advocacy marketing
While easier said than done, your brand must always go above and beyond to exceed customer expectations.
That's a way of doing business that inherently drives word of mouth — as customers always appreciate an unparalleled product/service, a stellar brand experience, and customer-first culture. A customer referral program should ideally only serve as a cherry on the cake.
So now it's your turn to put these strategies into practice and make it easy for your customers to love your brand enough to tell others why you're the best choice in your niche.