Brands are fighting for the attention regarding how to reach Gen Z on social media for a good reason — they're the newest generation of consumers, and they're dominating the social media platforms by generation. According to Bloomberg, Gen Z has a total of $360 billion in disposable income and rising.
The challenge now is to get them to buy, and this isn't just another replay of marketing to Millennials. Brands have to completely rethink their marketing strategies for the generation that grew up with smartphones and the internet at their fingertips.
Gen Z vs. Millennials: Key Differences
Millennials are people born between 1981-1996, meaning they are now in their late 20's to early 40s. While often mistaken for one another, today's eldest Gen Ze-rs (1997-2012) may just be starting out in the workforce.
Despite being the first generation to grow up with the internet, it's important to note that Millennials were born in the age of dial-up internet connections and bulky personal computers. A considerable chunk of millennial children still knew life without instant messaging or search engines.
In comparison, most Gen Z children were exposed to far superior technology, such as smartphones, high-speed WiFi, and easy access to social media networks. To the millennial child, the internet was a luxury; to a Gen Z-er, it was a norm.
While both generations are now heavily reliant on mobile devices, it's easy to conclude that your typical Gen Z consumer spends more time online and on social media compared to a millennial.
Marketing to the New Generation
Learning about generational differences can help marketers tailor their campaigns to fit their audience's behaviors and needs.
Aside from just marketing to the younger generation, you are also catering to a whole new set of ideas and expectations.
Below are eight of the best ways to reach out to Gen Z social media platforms:
Don't stay silent on relevant issues
Do you know which generation uses social media the most? Perhaps one of the most striking things about the youngest generation of consumers is that they have higher expectations from brands. You're no longer just another store selling X type of products or services. You must take a stand; otherwise, they will see you as just another money-making company.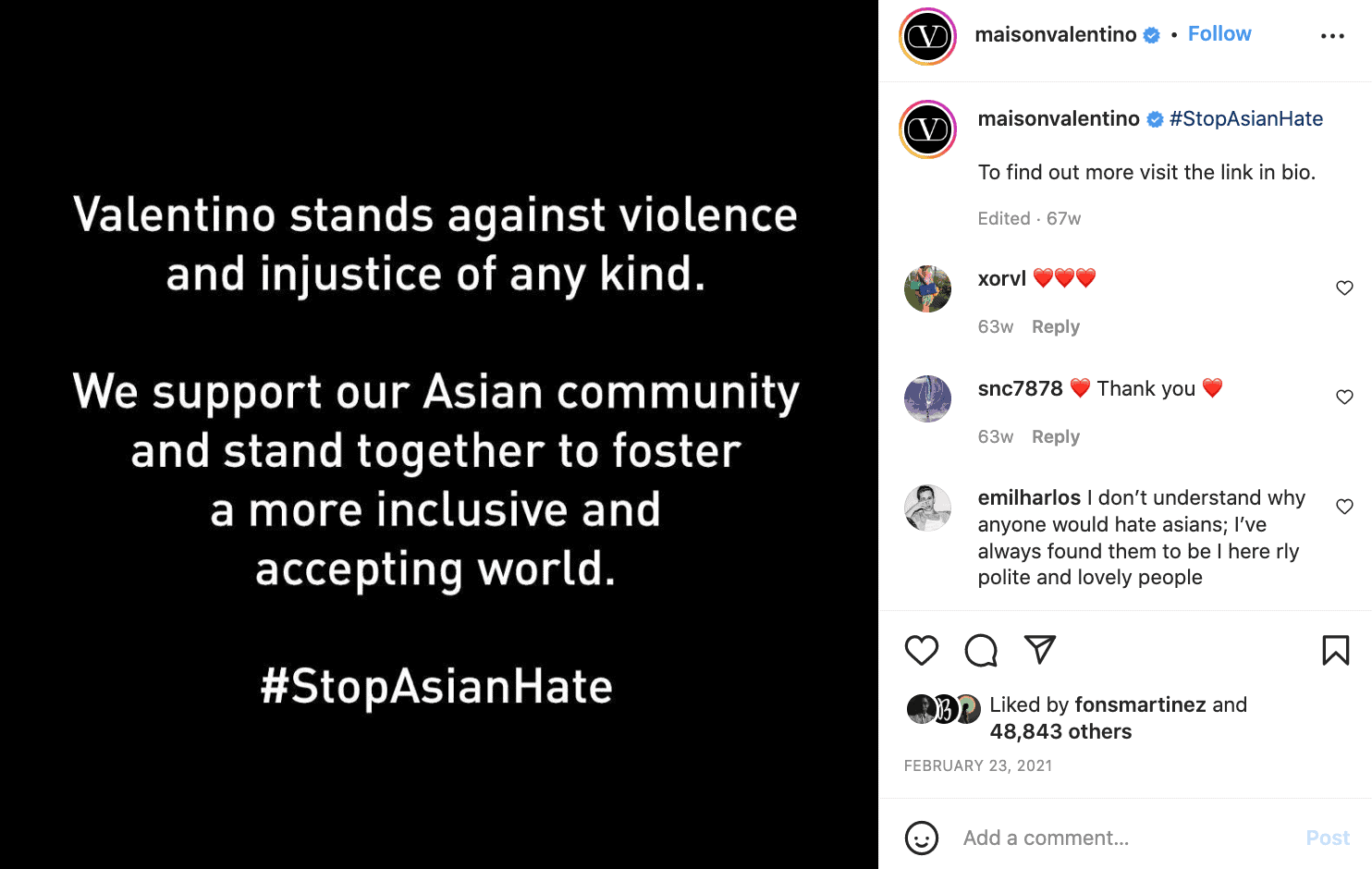 Image source: https://www.instagram.com/maisonvalentino/
In the wake of the sudden increase of Asian-targeted violence in the US during the COVID-19 pandemic, luxury brand Valentino (@maisonvalentino) posted a simple message in support of the Asian community. Other brands also demonstrated their support through the use of the hashtag #StopAsianHate.
Many brands have chosen to donate some of their proceeds to organizations that help the affected communities.
Today's consumers expect brands to champion causes and take a stand on pressing issues. Proceeding with business as usual and staying silent about issues that matter to your audience could be detrimental to your reputation.
Letting your audience know what you care about will help you build a stronger connection with them and help you stand out from competitors.
Of course, simply taking a stand to exploit the situation and gain more customers is not the solution — your Gen Z audience will see right through you.
Today's young consumers are not afraid to hold brands accountable. If your ideals and beliefs don't align with theirs, they will quickly withdraw their support and they won't be quiet about it.
Ride on current trends
Not to be confused with taking a stand, trend jacking is a great marketing technique you can use to amplify your brand's voice and connect with your Gen Z audience. Trend jacking involves riding on trending topics or news and adding your own spin.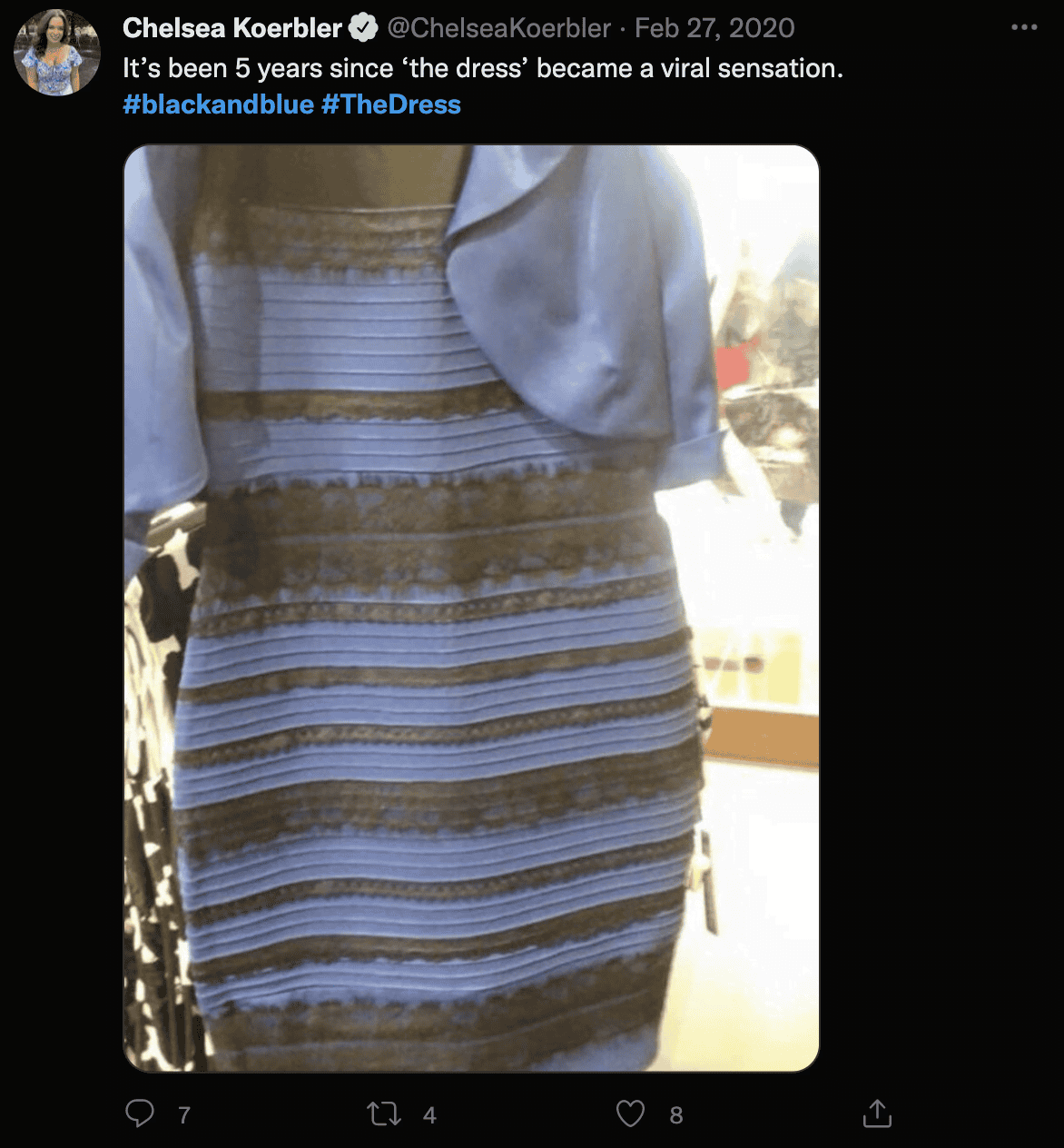 Image source: https://twitter.com/ChelseaKoerbler
Back in 2015, a viral image of a dress sparked a worldwide debate — is it black and blue or white and gold?
Image source: https://twitter.com/dunkindonuts
As a response to the debate, Dunkin' (@dunkindonuts) Tweeted a photo of its donuts glazed to mimic the design of the viral dress. This cheeky response that subtly promoted Dunkin's donuts is the perfect example of successful trend jacking. The brand managed to join the conversation while still sticking to its roots.
Timing is everything when it comes to trend jacking. Leveraging trending topics and conversations is a strategic way to get discovered.
The best thing about trend jacking is that social media marketing allows for newsworthy items almost every day. However, it's important to tread lightly when hopping on trends.
On top of being able to add your voice to the conversation while still remaining true to your brand voice, it's important to be sensitive and ensure that you're not capitalizing on anything offensive or controversial.
Pro-tip: Twitter is the best platform to find what's trending in your area. You can also download social listening tools where you can follow specific keywords or topics.
Join a TikTok challenge
Close to 50% of TikTok's one billion-strong user base are between the ages of 10 and 25. If you want to reach your Gen Z audience, you have to be where they are.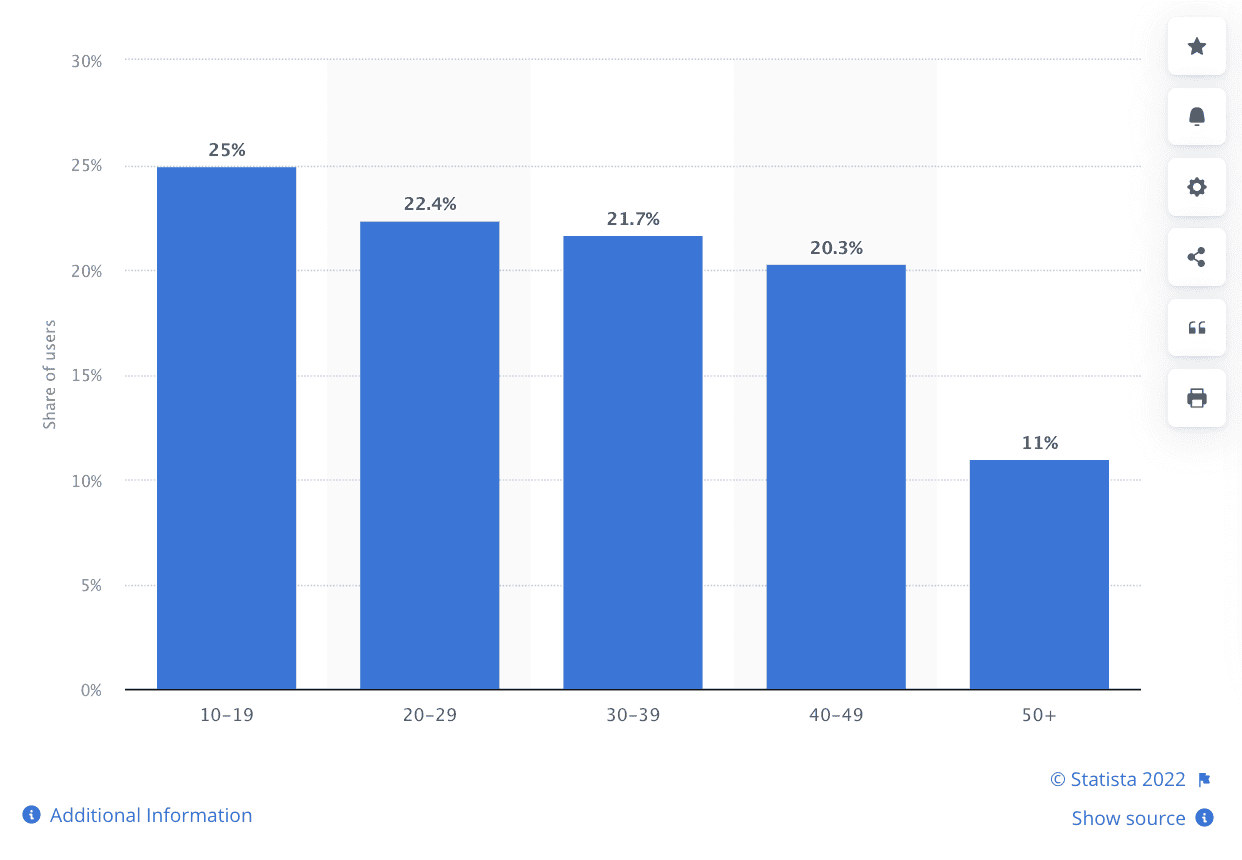 Image source: https://www.statista.com/
With the popularity of TikTok among Gen Z consumers, it's clear that this generation prefers video-rich content.
Unlike Instagram, where photos and videos are perceived to be filtered and highly edited, videos posted on TikTok are seen as more authentic and unscripted. To succeed on TikTok, you need an entirely different approach.
A unique way to reach your Gen Z audience on TikTok is through challenges. While the concept of branded challenges isn't entirely new, TikTok has provided the perfect platform for everyone to participate.
To find out what's trending on TikTok:
Tap on the plus (+) sign in the middle of your screen
Tap on Add sound
Select Viral TikTok under Playlist; this will give you a selection of trending sounds.
You can also scroll through your feed to find out what people are posting. TikTok challenges are usually accompanied by a hashtag, so make sure you add that to your post before uploading.
As an option, you can also start your own branded hashtag challenge, which according to TikTok, is 4.5 times more effective than your standard mobile ad.
Cheetos launched the #ItWasntMe Challenge to promote its newest product, inviting its audience to show how they "steal" Cheetos Crunch Pop Mix in a fun and creative way.
To give the campaign a quick boost, the brand invited power couple Mila Kunis and Ashton Kutcher to participate.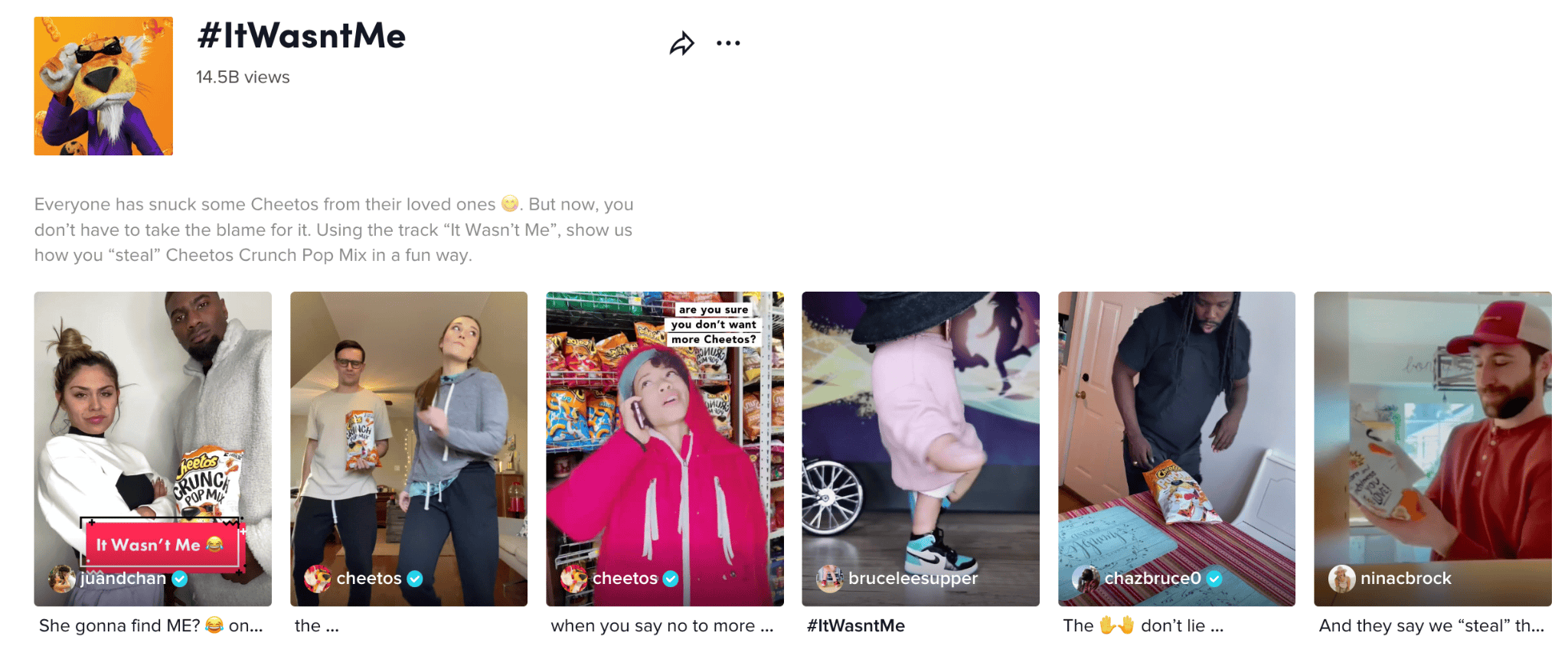 Image source: https://www.tiktok.com/tag/itwasntme
To date, videos using the campaign hashtag #ItWasntMe have been viewed over 14.5 billion times in total on TikTok.
Tell a story
Unlike Millenials who use social media as a tool to communicate with friends and post updates, you'll think, what social media does Gen Z use? Gen Z uses it primarily for entertainment purposes. So, your traditional hard-sell banner ads and in-stream videos aren't doing you any favors — you want to cut through the noise, not contribute to it.
Storytelling has always been a powerful way to get your message across and stand out. Instead of catchy one-liners, give a clear context. Utilize short-video tools such as Instagram Stories to document your day-to-day and give your audience an inside look into your product development.
There is only so much your products and pricing can do to help win customers over; what truly makes you unique is your ability to tell stories.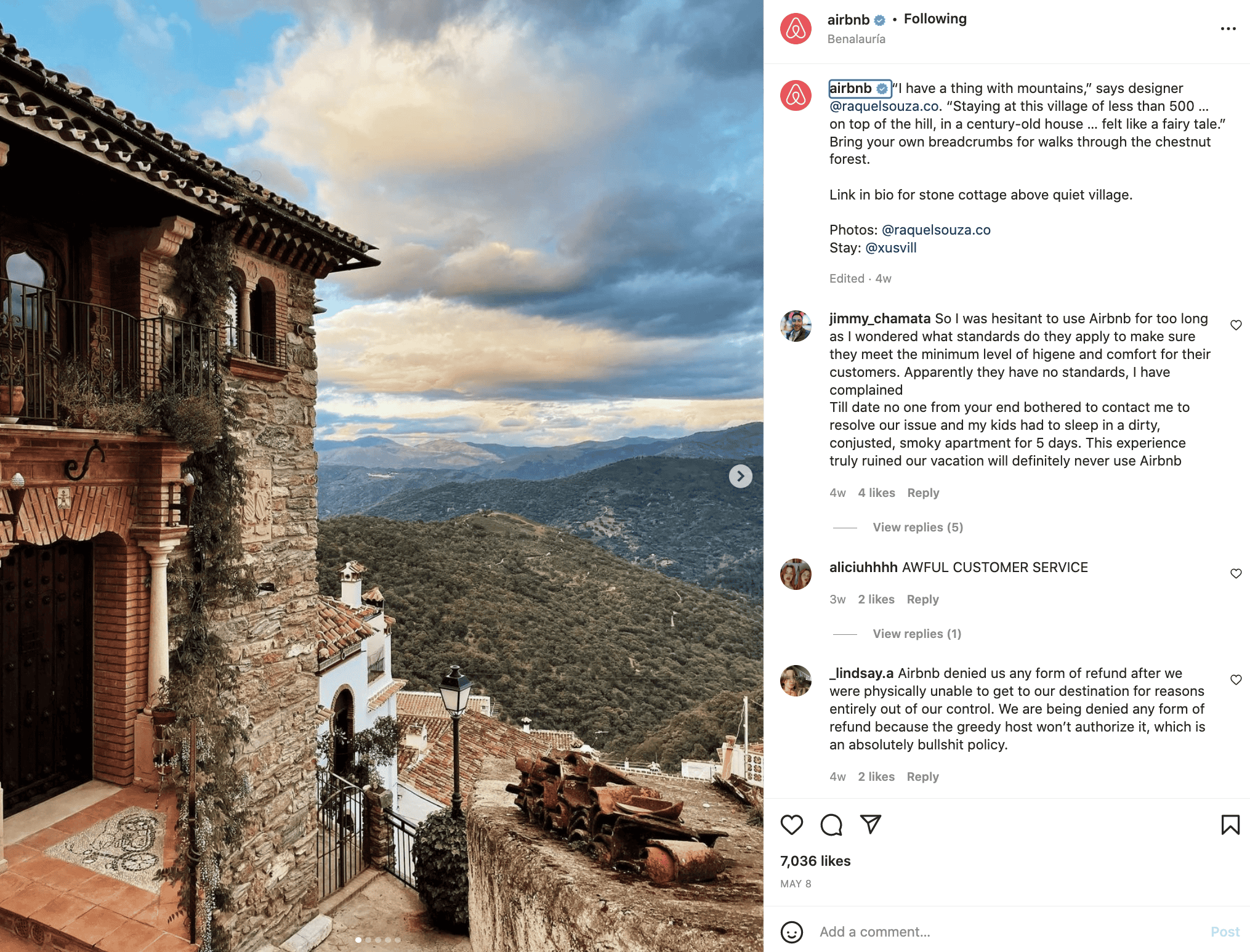 Image source: https://www.instagram.com/airbnb/
Airbnb's (@airbnb) expert ability to sell destinations by telling real stories makes it one step ahead of its competitors. These stories are told through caption snippets and beautiful photographs that capture the essence of travel — that it's not only about the place but the people that make it.
While Gen Z-ers will prefer videos over written content, don't take your captions for granted. Captions allow you to provide context and background information about your photo or video that your audience wouldn't have known.
You can also use the caption space as a micro blog where you can shape your brand voice and connect with your audience. There is also something about longer captions that draw people in, making them think that you're saying something important (even when you aren't).
Focus on building a community
One interesting characteristic to note about the Gen Z consumer is their desire for more community-based social platforms. This is seen in the increasing popularity of apps like Discord, which influencers and content creators are beginning to utilize.
Additionally, people's expectations from brands have vastly changed. Social media has given consumers the power to communicate directly with brands and vice versa. Brands that have embraced this change in dynamic have allowed consumers to transform into loyal co-creators.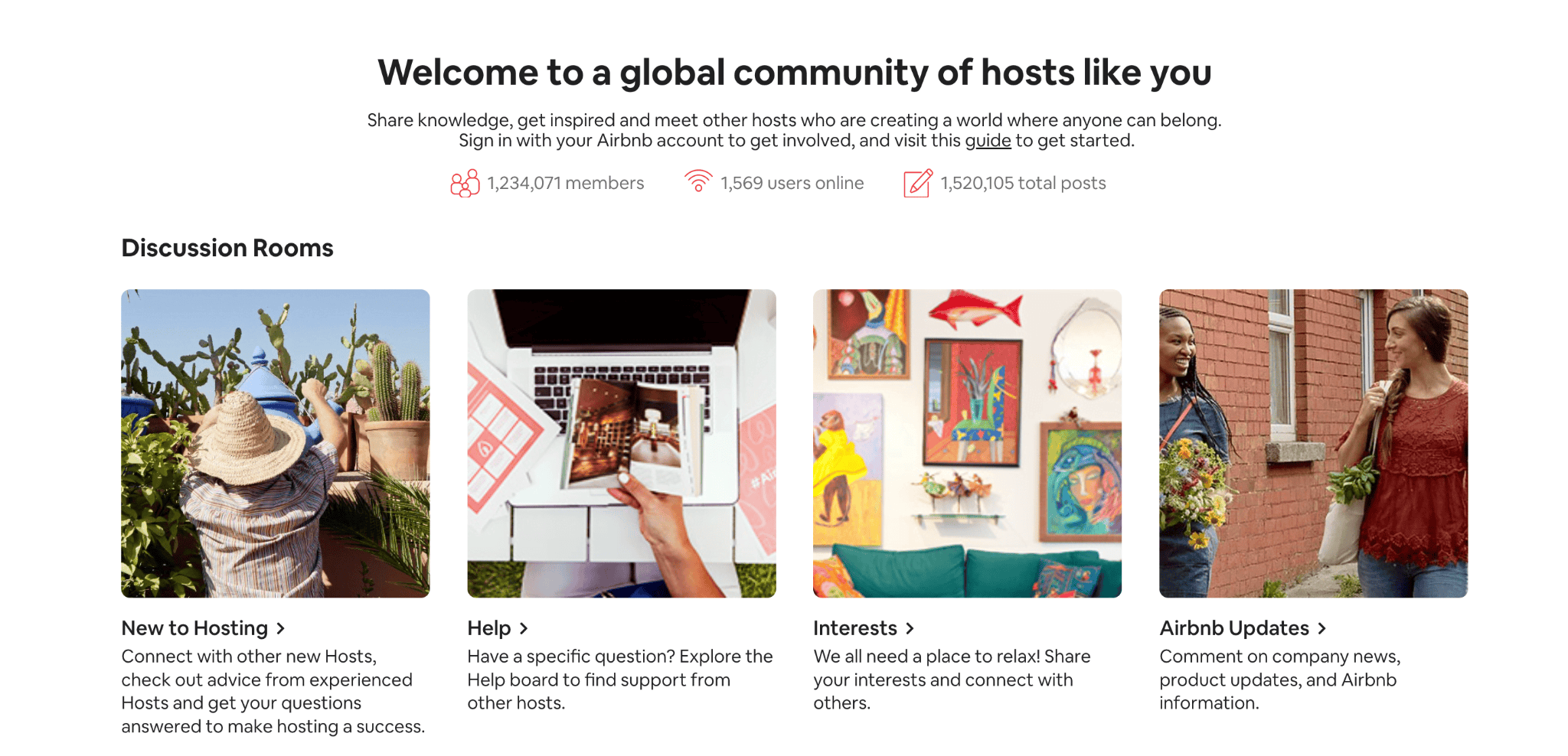 Image source: https://community.withairbnb.com/t5/Community-Center/ct-p/community-center
Airbnb's host community allows hosts from all over the world to connect with one another, ask questions, get answered, and feel empowered.
An excellent platform to host your community is Facebook Groups; it's a free way to engage with your followers in a more personal and private setting. You can also add select followers to your Close Friends list on Instagram Stories to make them feel special.
As mentioned earlier, Discord is currently making waves beyond its original roots in gaming. The platform allows brands to create their own servers where they can host discussions and interact with customers in real-time.
Play your cards right and you can end up with a really solid community. Schedule relevant posts and manage your resources to make the most of what you have. Things like your brand voice, testimonies, and product development updates can be easy ways to connect with your audience.
Many brands like Chipotle, Nars, and Sephora have hopped on Discord to build hype around product releases and make exclusive announcements.
Building a community with your customers is one of the most effective ways to promote brand loyalty and completely differentiate yourself from the competition. The best part? It's also a terrific way to gather user-generated content (UGC)!
Embrace feedback (even the negative ones!)
Every business knows the importance of receiving feedback from customers. But for internet and social media-based businesses, reviews are more than just a reference for improvement. Feedback is essential because shoppers will look through reviews before making a purchase.
Encouraging and embracing feedback will let your customers know that they matter. Gen Z customers, in particular, say that it's important that brands value their opinions.
Letting your customers know that you are listening will promote an open line of communication and feedback loop that can help you improve your services.
To promote leaving reviews, reach out to repeat customers or to those whom you've already interacted with. You can also send a standard survey question every time a customer completes a purchase.
Received a five-star review? Ask your customer if you can share it on your page. Wear it proud and make it easy for those still in the research stage to find positive reviews of your brand.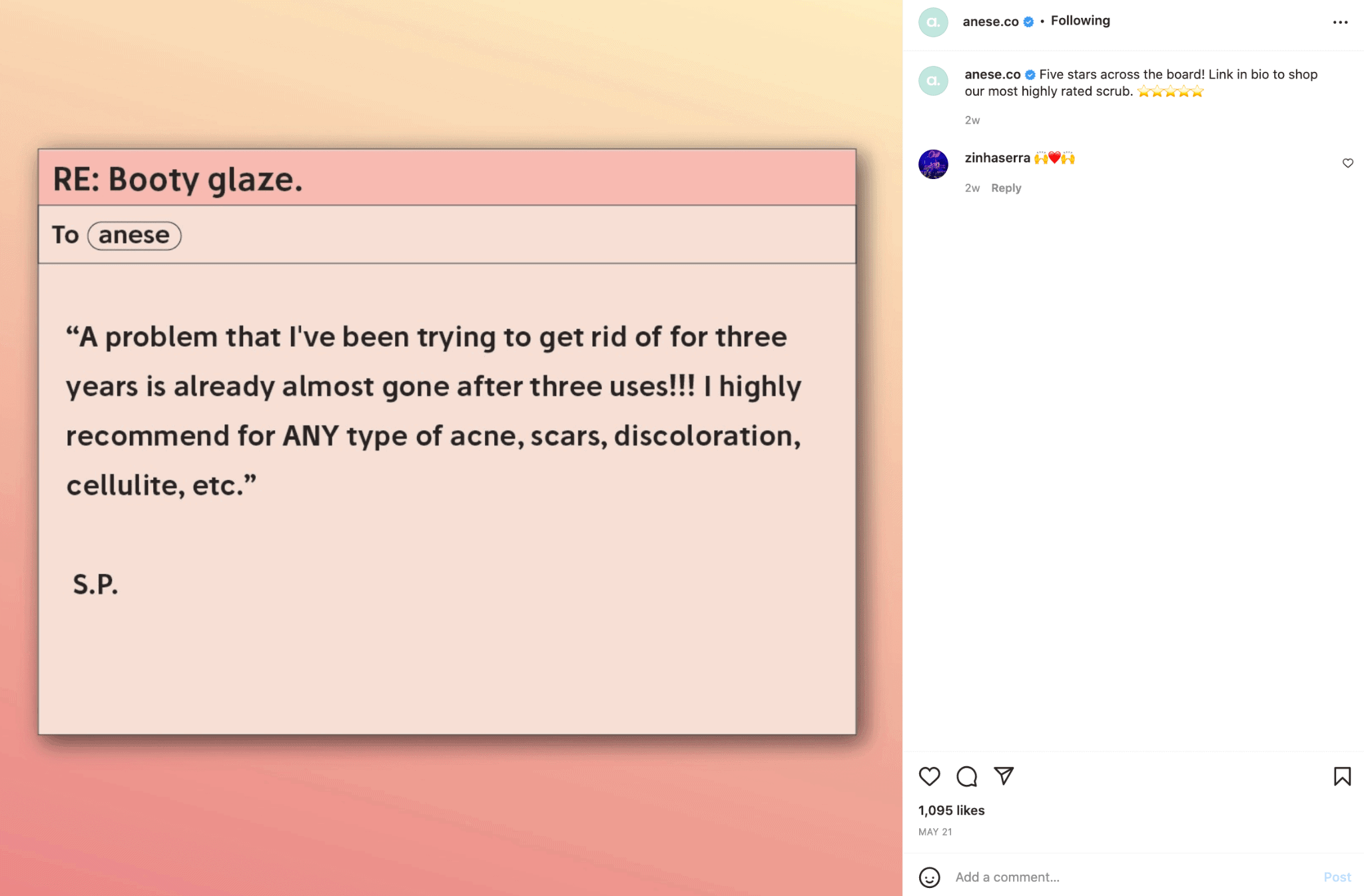 Image source:https://www.instagram.com/anese.co/
Anything concerning your skin requires quite a bit of research before anyone tries it out. That's why skincare brand Anese (@anese.co) uses customer reviews on its social pages regularly.
Using eye-catching backgrounds and fonts, Anese is able to integrate customer testimonials into its colorful Instagram feed effortlessly. Most of the Instagram marketing tools help you to make it even more beautiful
Pro-tip: Not everyone will leave reviews on official channels. Make sure to use social listening tools to find out what people are saying about your brand. If possible, reply to every single one.
If you sell on Amazon FBA or other platforms, make sure to track reviews, respond, and share them on social media.
Address their short attention span
It's true: the attention span of the generation who grew up with the internet is getting shorter and shorter. That's because there are so many things going on on our screens. You're not only competing with other brands but also with other elements out of your control.
One way to reach out to your Gen Z audience is by posting interactive content. Get them to tap, click, or swipe on your posts. Interactive video content snaps social media users out of the usual motions of scrolling, so it's an easy way to get engagement.
Polls and other interactive stickers on Instagram can also help jazz up regular stills and videos while gathering audience insight at the same time.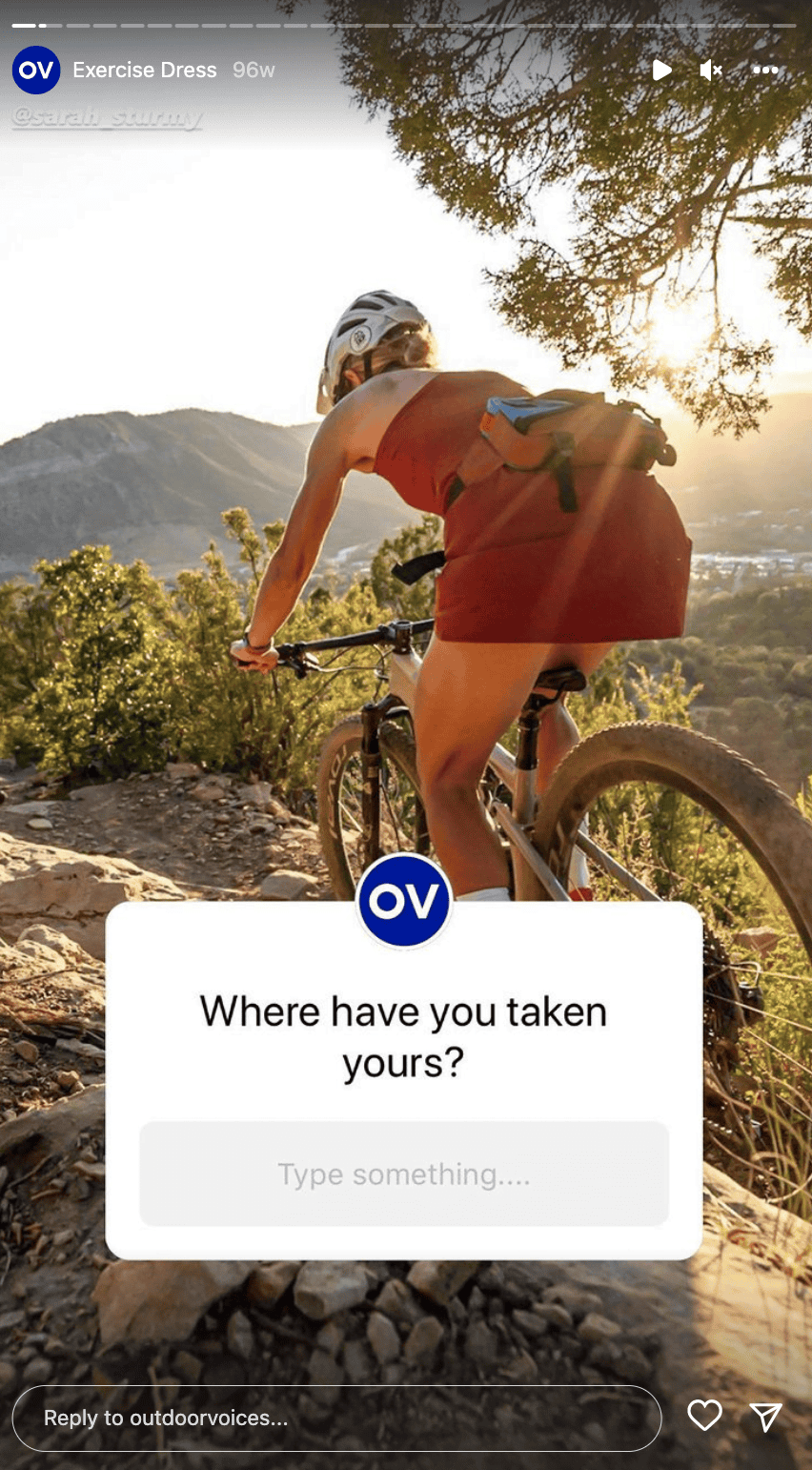 Image source: https://www.instagram.com/outdoorvoices/
Activewear and lifestyle brand Outdoor Voices (@outdoorvoices) uses Instagram's Questions sticker to learn more about its audience. Simple questions like this give you valuable information about your customers, which you can use in future marketing campaigns and product development.
Another way to address the short attention span of your Gen Z consumer is by posting short, snackable content. Fifteen second videos, straight-forward graphics, memes and GIFs – think of the shortest and most entertaining way to get your message across!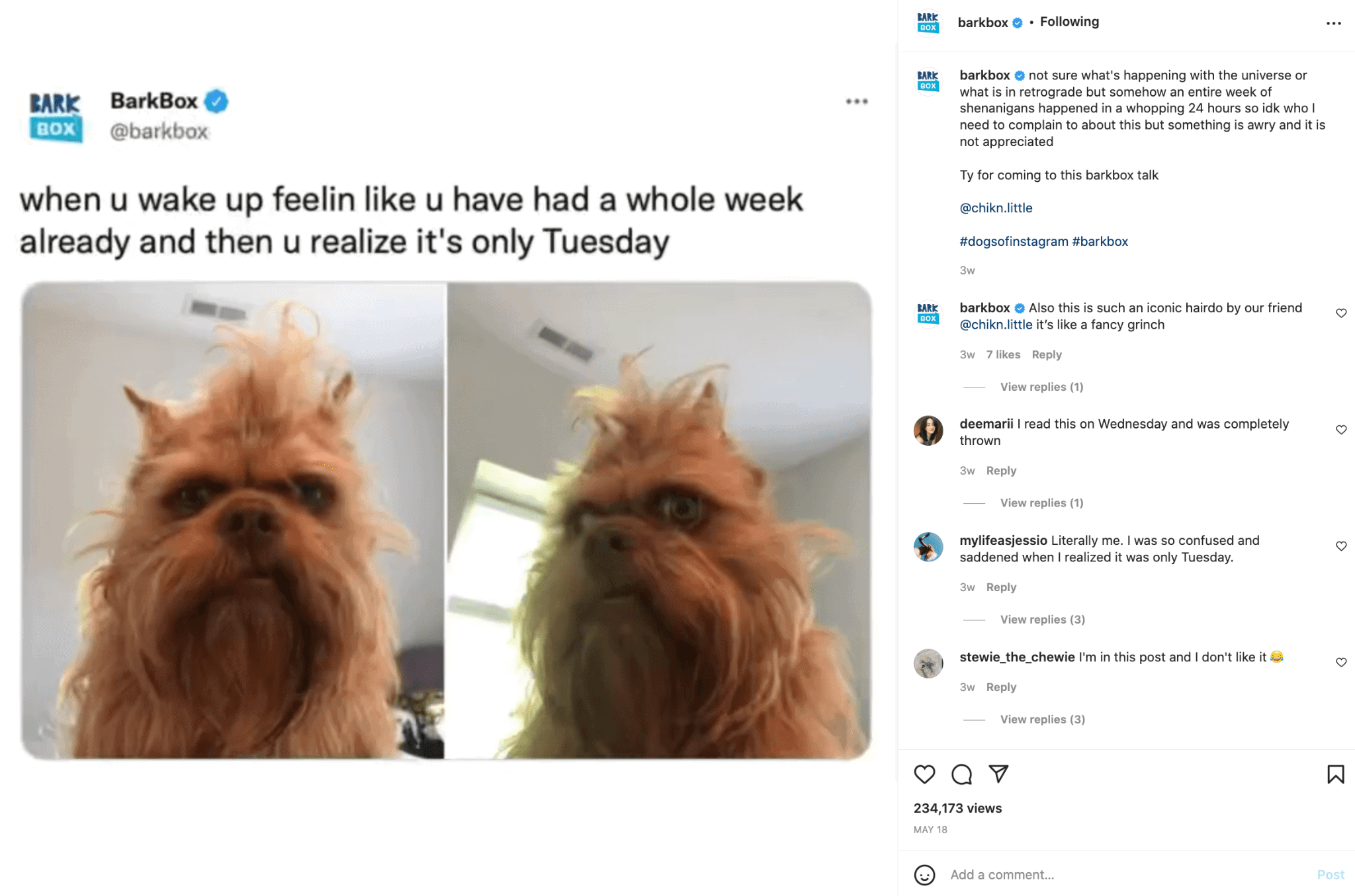 Image source: https://www.instagram.com/barkbox/
Monthly pet subscription brand Barkbox (@barkbox) is an expert in snackable content. Using memes and pop culture references, the brand is able to effectively communicate to its younger audience and showcase its fun personality.
Focus on selling a lifestyle
Marketers know that the bulk of selling a brand is selling a certain lifestyle more than pushing products. Start by asking yourself: what do your customers aspire to be?
Take for example the task of marketing an energy or sports drink. Your main message shouldn't focus on its taste or nutritional content (though that could help too!), but rather on the possibilities your energy drink can bring.
Instead of highlighting the product itself, your key visuals should represent an ideal picture of your consumer.
With carefully thought out messaging, partnerships with the right people, and inspiring content, your brand can go beyond its products; it can become a way of life. Think Nike.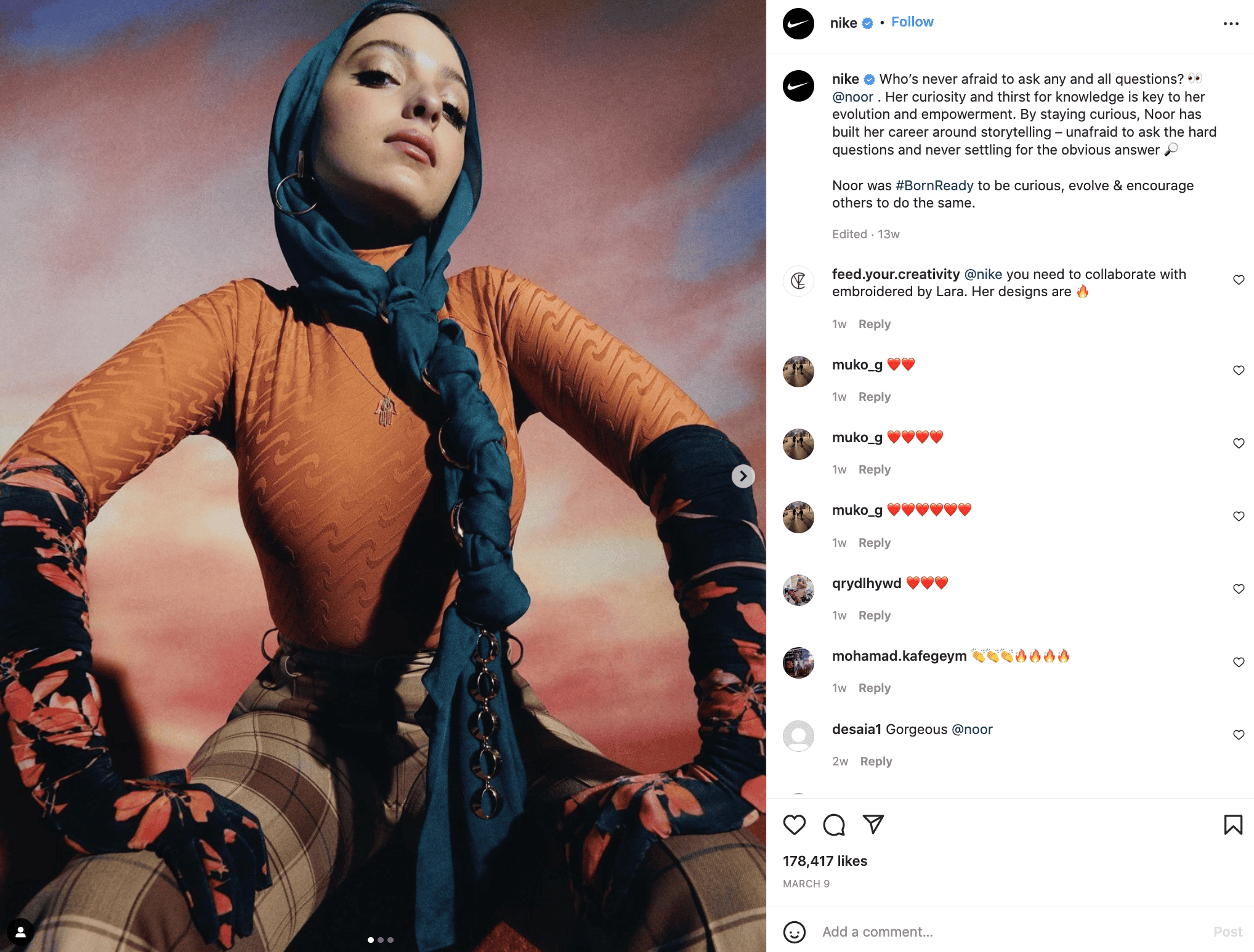 Image source: https://www.instagram.com/nike/
Nike has successfully broken free of the simplistic definition of a sports brand. Thanks to its brilliant marketing and imagery, everyone who purchases a product from Nike and wears that signature check mark believes that they can overcome any obstacle and achieve what they want.
Another brand to take inspiration from is Apple. Through the years, the tech company has stood out from its competitors by promoting a particular lifestyle. Apple is perceived as a brand for creatives and innovators.
Somehow, if you use an iPad or laptop with that iconic bitten apple, you become the image of success. How can you emulate that feeling with your own brand? Think beyond your products!
By selling a lifestyle instead of a product, your brand can stay in the hearts and minds of consumers. You become more than just a company that X products, you become an inspiration.
Get Started
Marketing to the newest generation of shoppers can seem a little more challenging than usual. After all, they're more critical than your regular consumer, but don't let that scare you!
While Millennials and Gen Z definitely have their differences, they do share some similarities. Take what you've learned from marketing to Millennials and go further.
Things to remember:
Gen Z are all about changing the world for the better, let them know that you're right there with them.
They're on social media to get entertained, not to be sold to.
They enjoy video more than any other generation, and are present on platforms that embrace video such as TikTok, Instagram, YouTube, and even MMS messaging.
Their interests are constantly evolving — keep up to date and don't get left behind!
With these tips in handy, you're now ready to launch your next Gen Z-targeted marketing campaign on social media.