Are you looking for ways to expand your business? Do you want to reach maximum potential clients by spending the least on advertising and marketing? Want to convert more leads into conversion? Then you will want to know how to create content for social media.
Social media content can revolutionize your whole business as it can transform your small company into a big corporation. For ordinary internet users, social media is a source of information and entertainment; but for business owners, it is a platform that provides them with the opportunity to grow their business.
That's why most marketers emphasize social media marketing more than anything else. This article can help you learn how to use social media in your favour and get what you want to achieve.
It is divided into three parts; the first part will discuss the importance of social media content, the second part of the article will explore the things to consider while developing the content, and the last part can help you know how to create money-making content.
Why is Social Media Content Essential for Businesses?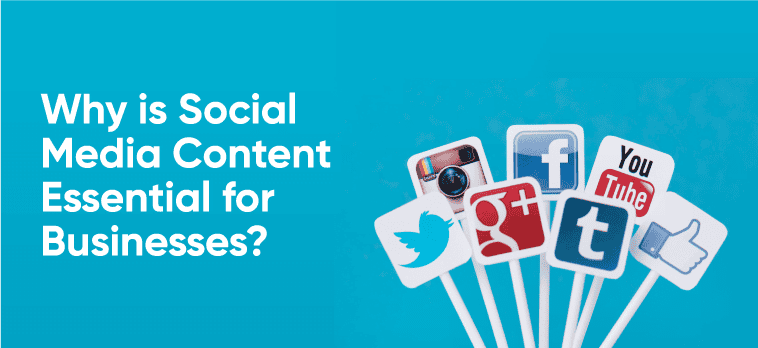 Do you know that more than half of the entire population of the world uses social media platforms regularly? That stat should be enough to explain why social media is essential for businesses of every scale. However, it provides some other benefits that are mentioned below.
Engage Audience
If user engagement is your biggest concern, as you believe that your potential clients don't respond to your queries and online published content, social media is worth a try. By regularly posting or uploading content on your social media channels, you can learn what kind of content they prefer to consume and create according to their preferences.
Its two-way communication feature is the most significant factor that plays a crucial role in enhancing user engagement. That feature lets people tell what they want, what they like, and what they don't wish to read or watch.
Once you learn about their likings, you develop content that is more likely to get engagement and appreciation. When users engage with the content, they can buy the products/services, return to the social media page, and, most importantly, share the content with others.
User engagement directly expands your business' reach and attracts more audiences. It also converts your ordinary content consumers into your brand ambassadors that don't charge anything for their services.
Enhances Brand Awareness
Those looking to enhance brand awareness should utilize social media as it is the most effective way to enhance brand awareness. With the help of content, you can easily communicate with your audience and enlighten them about your brand values, unique preposition, and products and services.
However, if you want to deliver your message effectively, you must ensure that your content is highly informative and engaging. If your content is informative, everyone will love to read it and understand what your brand has to offer.
Brand awareness can ultimately help your business in many ways. First of all, more people know about your brand and can resonate with your brand's ethics and ideals. Secondly, it is crucial to enhance customer loyalty. Finally, it can make your marketing and advertising more influential.
Generate Leads
Social media content, whether it is in text, image, audio, or video form, has the power to convince people to click on social media channels or official websites. In fact, well-written and structured content can be more effective in terms of generating leads than advertisements.
The primary focus of almost every marketing strategy is to generate leads. Business owners who are having issues with lead generation should analyze their social media content strategy if they have any. The content strategy will definitely have some loopholes.
Companies that compromise content make a mistake that can cost them leads and sales. However, to take advantage of content, you must focus on the audience's needs and try to answer their queries. This practice not only encourages them to buy your products/services but also creates a solid connection between the company and its consumers.
Things to Consider While Creating Social Media Content
After learning why it is essential to create content for social media, now is the time to understand what things a writer should consider while developing it. Usually, people believe that every kind of content is suitable for every platform. But it isn't correct at all.
Every platform has its own style and rules that make it unique from others. For example, when writing for websites, you need to emphasize long-form articles as they are more influential. On the other hand, in the content you write for Twitter and some other social media platforms, you should keep things concise.
To effectively design and utilize your content, you should consider some factors that can allow you to get more benefits from the words you write and other forms of content you develop.
Targeted Audience
The audience should always be the first thing you consider while developing any marketing strategy or creating your content. So, first of all, you should create a customer persona. The customer persona helps you know about your audience; once you develop it, you can easily identify and analyze your audience.
Here are a few helpful tips for creating a customer persona;
Start with exploring what problems your products/services solve
Analyze what type of people are having those problems
Understand the characteristics of your customers
Analyze your competitors' audience
Once you develop a consumer persona, now is the time to move on to audience analysis. This analysis helps companies in various ways mentioned below.
It helps companies learn what the audience likes the most
What type of content do they regularly consume?
Which social media platforms do they frequently use?
It assists companies in understanding where and when they should put more effort.
Tone and Style
The tone and style of your content are as important as the quality of your content. Some good writers believe that content is not of good quality if its tone and style don't resonate with the platform where it is published and the audience that will consume it.
Social media content is all about building relationships with consumers and connecting with them. That's why it is essential to design engaging and relatable content. With the help of using proper tone, you can make your content more attractive that your audience will always appreciate.
As mentioned above, almost every platform favours a different style and tone. For example, Facebook users like the content with a casual tone, Twitter prefers brevity, LinkedIn users appreciate the formality, and Instagram favours images and reels.
Before developing your content for social media, take your time to think about the tone and style that best fits the platform where you are going to publish your content. This practice can make a massive difference in terms of user engagement.
Content Uniqueness
Uniqueness is another thing you should ensure before publishing your content on social media. Whether it is LinkedIn, Twitter, Facebook, Reddit, or any other social networking platform, you should always develop unique content. Unique and creative content leaves a positive impression on consumers.
On the other hand, when you provide them with plagiarized content, you are playing with your company's reputation. If they find out that you don't have enough time to develop content for your campaigns, they may not take an interest in your products/services. Instead of losing your clients, you should put some extra effort into developing unique content.
Even if you know that you have written unique content, still, you need to check for plagiarism before uploading it. You can take help of a reliable plagiarism checker to perform a plagiarism check on your content. A plagiarism detector can help you ensure content uniqueness and you can save your reputation.
A plagiarism detector can indicate which specific sentences or phrases of your content are plagiarized. Once you find them, you can easily alter them and remove plagiarism by rephrasing or rewriting them.
Goals to Achieve
Before developing the content for your own business or your clients, you need to learn about the goals that the business owners want to achieve. Those goals direct which type of content is more suitable for the social media platforms.
Learning about the intentions can help you know whether you should develop informative, entertaining, or convincing content. If you don't know about the goals, you may create your whole content strategy around the things that are not important for business owners.
How to Develop Social Media Content?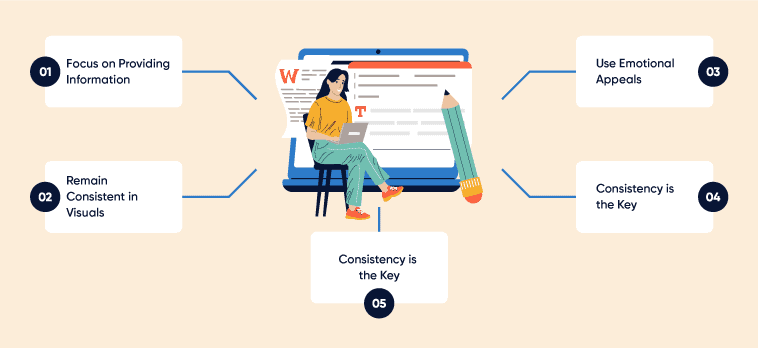 The whole discussion was created to help you learn how to develop social media content. At first, this article discussed why it is vital for businesses to build social media content. After that, it explored the key things to consider while developing content.
Here comes the most awaited part! Tips to develop lucrative content.
Focus on Providing Information
If you want your content to engage more audience, get more likes and shares, and become more fruitful, focus on what your audience wants. Offer them the valuable information they are searching for and answer the queries they have in their minds.
When you keep your content informative and entertaining, the audience thinks you prefer their benefits more than yours. However, when you emphasize your personal benefits or keep content more promotional, they take it as paid content that many people don't want to read, listen or watch.
Remain Consistent in Visuals
The content you develop should always have consistency in everything, especially visuals. The colour palette you select for your business must remain the same on every platform. It helps users to recognize your brand whenever they see specific visuals. Whereas, when you don't stay consistent in visuals, you confuse your audience, which can be destructive for your brand.
Besides the colour palette, you should also ensure that you use the same kinds of shapes for your brand promotion. Even when you develop videos or reels, they should contain the same shapes and colour palette.
The images you are using should be unique and relevant. If you are confused about designing images, you can take ideas from images of your competitors. For this purpose, you can use the image search method, which will you show all the similar images to your query. So you can easily get ideas about what type of images you should use and in which way they should be used.
Use Emotional Appeals
Using emotional appeals while developing your content can give you more benefits than you may imagine. Your content should trigger certain emotions that encourage your audience to prefer your brand over your competitors. This trick can give you a competitive advantage and attract a wider audience.
There are multiple emotional appeals like fear, joy, happiness, humour, and social. The audience analysis can help you understand which appeal is more suitable to use. You can use those appeals in any form of content from videos, audio, images, and written content.
However, while including emotional appeals in your content, you must ensure it may not hurt others' feelings. The emotional appeals can hit you back if you don't properly communicate your message. That's why you must be careful while adding these appeals to your content.
Consistency is the Key
Some new marketers and business owners don't get the desired results from their content and get fed up with it. They believe that their efforts are useless and that social media doesn't provide any benefits. This happens when they don't consistently publish content.
In any kind of marketing, consistency is the key to success. Publishing content once in a blue moon doesn't provide the required benefits. That's why you should regularly post the content and inform people about your existence.
Thousands of companies in the market sell almost the same kind of products. Almost every brand targets the same type of audience. So, when you lose strings, you allow others to steal your customers.
Explore the Fresh and Trendy Topics
You may think that regular posting is impossible as you may be short of ideas after a while. However, this happens with only those who don't keep an eye on new and trendy topics. As a content creator of a specific niche or a business owner, you should always learn what is happening in your industry.
Observing recent trends can assist you in knowing more about the industry. This knowledge can help you constantly come up with new information that your audience is looking for. Besides that, you can also use trendy memes and dialogues in your content that your audience can relate to and enjoy.
Knowing How to Create Content for Social Media
It is commonly said in the marketing world that content is the king. However, many experienced marketers believe that is a half-truth. The whole truth is that high-quality, informative, engaging, unique, and relevant content is the king.
If you exclude all of these things from your content, it will lose in the sea of the internet. No one will read your content, and even if they do, they won't take an interest in anything you say, develop or write. So, make sure that your content has all the things that are mentioned in this article.