There are more ways to reach new customers than just your regular paid ads on social media and email campaigns. Every marketer knows that the best and most effective way to capture a new audience is through good, old word-of-mouth.
Of course, you can only go so far with the traditional word-of-mouth and that's where a brand ambassador program can help you.
Brand ambassadors vs. influencers: What's the difference?
You probably already have an idea of what an influencer does — they are hired to market products for a brand on their respective platforms. Generally, influencers are chosen for their large following but through the years, the criteria for choosing an influencer has changed.
Today, brands don't just tap on "celebrity influencers" with a huge following, but they also consider regular people with good and personal engagement with their audience. These influencers are called nano influencers and they have between 1,000 to 10,000 followers.
Nano influencers could be confused with brand ambassadors because of their absence of celebrity status but the difference lies not in how they identify themselves but in the way brands engage with them.
Your partnership with an influencer usually ends after a few posts, while most brand ambassadors would agree to a continuous partnership.
Ideally, brand ambassadors are people who already love your brand and could be regular people who are chosen because of their knowledge or authority in a specific niche.
For example, a dermatologist would be a great brand ambassador for skincare products, while a cycling instructor would be perfect for an up and coming fitness brand.
Like influencers, brand ambassadors are expected to talk about the brand on their social pages, but their commitment goes beyond social media. Because they are real fans of your brand, they should use your products regularly and recommend them to their personal network.
While partnerships with influencers are usually done on a payment-per-post basis, brand ambassadors are typically rewarded with free products and exclusive perks. Another common arrangement in the digital space is for ambassadors to enroll into an affiliate marketing program. This way they can actively promote their chosen product or service without worrying about the tracking and revenue attribution. It all happens automatically!
First things first
Before you even consider starting your own brand ambassador program, it's important to already have a strong brand identity reflected across all your owned channels (social media, email, website). Because If you don't know who you are, how do you expect other people to represent you correctly?
Your owned channels should work as a bible and reference for your customers in terms of style and voice. Make sure these are final.
Remember that content from your brand ambassadors shouldn't replace your branded content, but rather complement and enhance them. Without a strong brand image, you won't be able to attract the right people to represent your brand.
Who can be your brand ambassador?
Unlike choosing an influencer — that entails finding one with an audience that you'd like to reach — your potential ambassadors are closer than you think.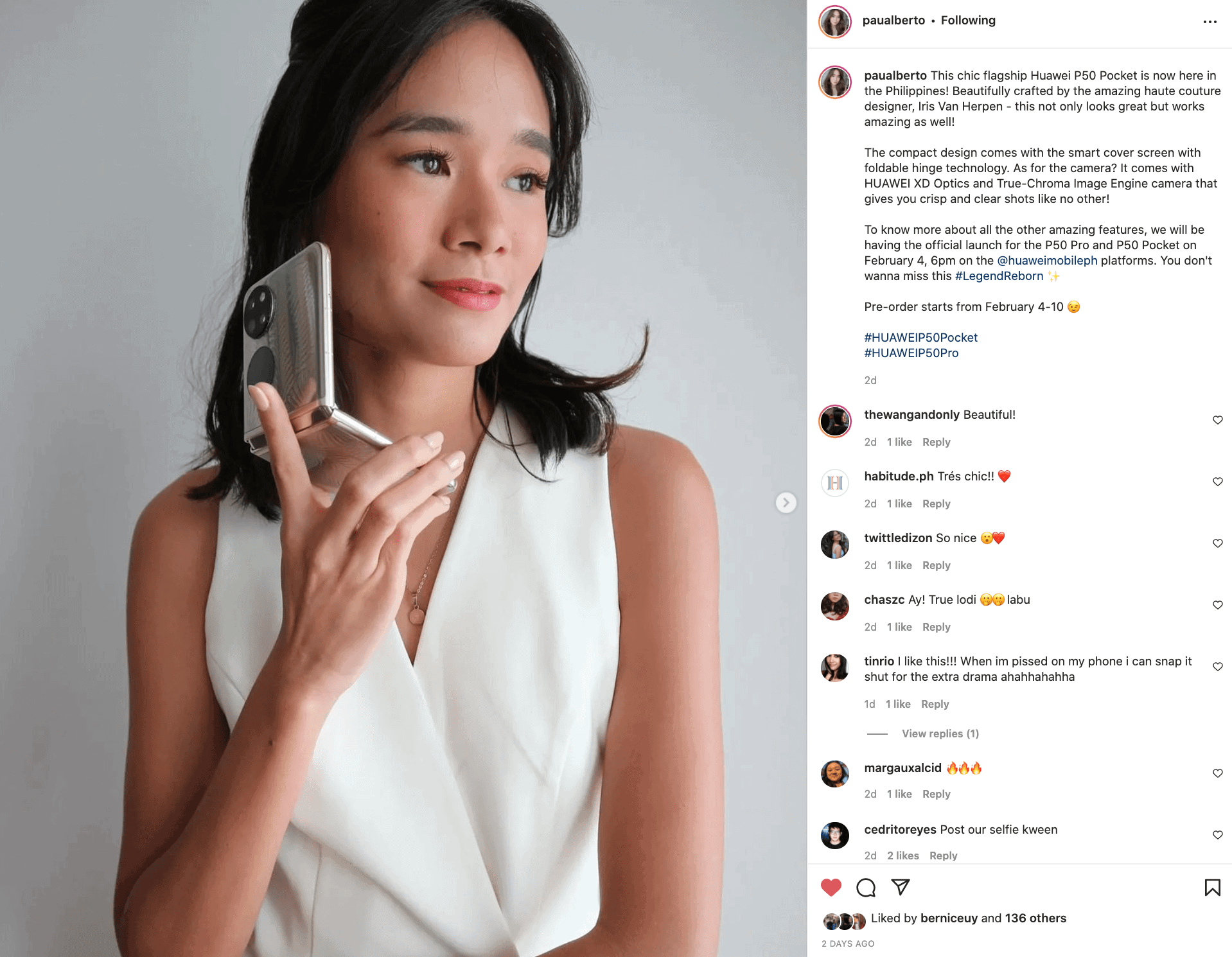 Image source: https://www.instagram.com/paualberto/
Pau (@paualberto), who works for a mobile app developement and tech company, Huawei, makes the perfect brand ambassador. In addition to her knowledge about the product, her 8,000 followers makes her a nano influencer by definition.
You + Your Employees – Nobody will know a brand better than its owner and employees. As an owner or employee of a company, your face should be one of the best representations of your brand. Plus, introducing the team behind the brand will help increase trust.
Assigning employees to be your brand ambassadors also paints your workplace as a positive place to be, which can help support recruitment efforts.
The advantage of using employees is that you won't need to educate them about the brand and product because they should already know it inside and out.
However, it's important to incentivize employees for the additional work they may have to do while being an ambassador. Do not impose the role on them if it's something that they're not comfortable doing. Properly training your employees to be brand ambassadors can make them more comfortable and enhance their personal skillset at the same time.
The advantage of choosing a real customer to be your brand ambassador is that they already have a positive experience with your brand. Everything they say comes from real experiences which therefore makes them more credible than getting just anyone famous.
Getting an influencer to be your brand ambassador is also an option, you can always count on celebrity status to expand your reach.
Before deciding on a brand ambassador, make sure you do some research about them. Do they have any online presence? How often have they engaged with your brand?
More importantly, just like influencers, brand ambassadors can make or break your brand. They are a reflection of who you are as a company — choose wisely.
On top of doing some online sluething, don't forget to have an actual conversation with your potential brand ambassador. Get to know who they are and decide if they're someone you can trust.
Starting a brand ambassador program
A simple way to search for a brand ambassador is by tracking your brand mentions and hashtags. Look for a regular customer with enough social media engagement and followers, someone you think matches your brand's ideals.
You can also reach out to your most loyal customers on your database and invite them to join your program.
Alternatively, you can launch an application process that will allow anyone who passes your criteria to become a brand ambassador.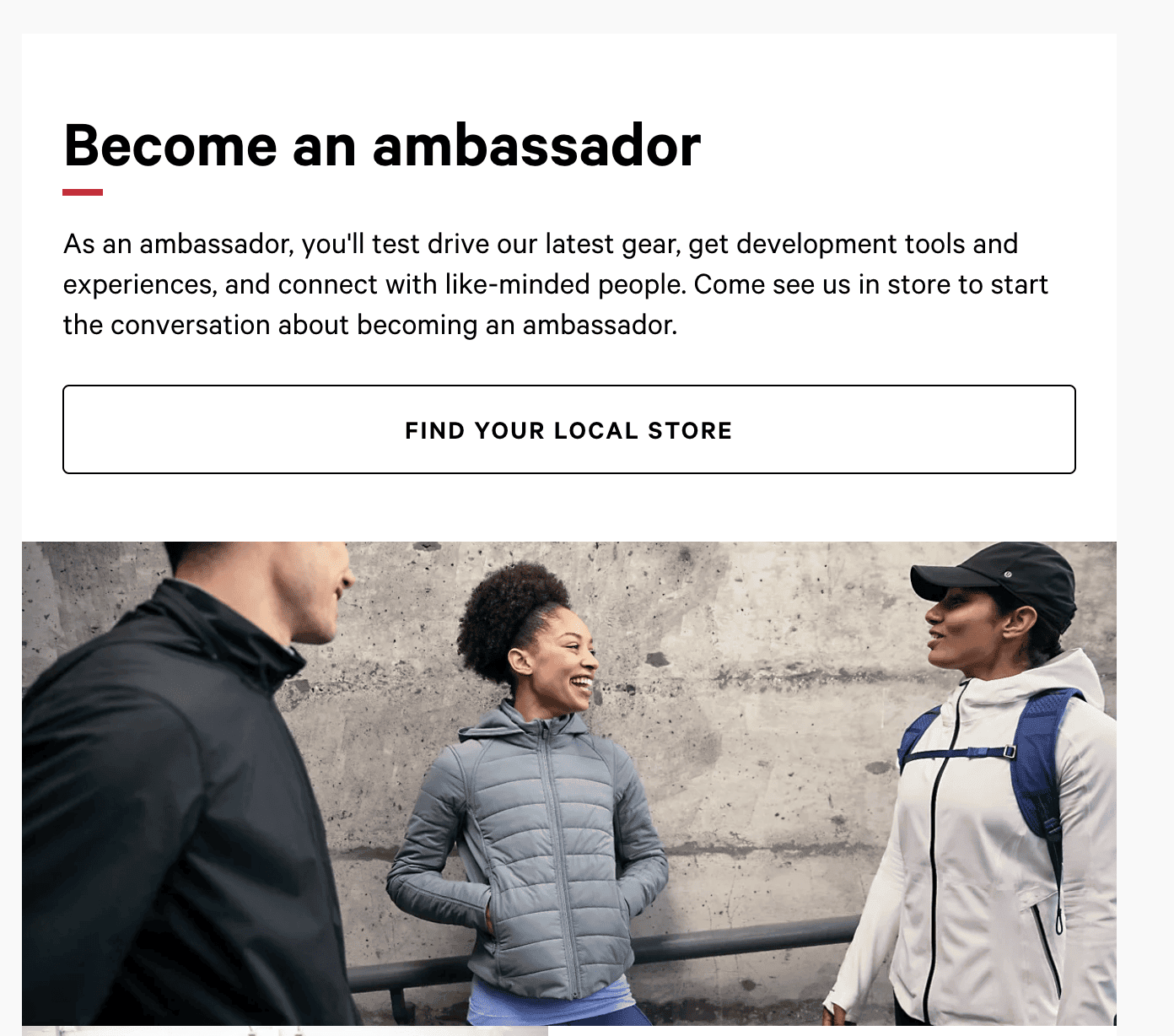 Image source: https://shop.lululemon.com/
Athletic apparel and lifestyle brand, Lululemon, is known for its ambassador program whose perks include testing out gear and products before they're launched to the public. In return, ambassadors are expected to connect brands to their respective communities and provide insightful feedback.
Whether you want to keep your brand ambassador program invite-only or you decide to make it public, you'll have to keep these things in mind:
Define your goals
Like any marketing campaign, your brand ambassador program should have particular goals. Before you launch, don't forget to ask yourself "Why are we doing this?".
Knowing what you want to achieve with your brand ambassador will not only help you find the right people to represent your brand but also guide them as they perform their duties. Your goal for the brand ambassador program could be:
Brand awareness – Brand awareness is the first and crucial step in your marketing funnel. Without brand awareness you won't be able to increase your customers or even make a sale.
Brand awareness can also help increase your market share and put you top-of-mind — above your competitors. Brand awareness is effective both digitally and in the physical world such as putting stickers on your car.
Increase engagement – Engagement is extremely important for your brand because it helps increase brand affinity and loyalty. It also helps you build a better relationship with your existing and potential customers.
Expand reach – Brand ambassadors are a great way to reach a wider audience. Expanding your reach is important because it can help you grow your current customer base.
Know what you're looking for
Brand ambassadors will represent your company, it's important to choose them carefully. Before you launch your program, you have to create a set of criteria to guide you in shortlisting potential ambassadors.


Image source: https://jobs.redbull.com/int-en/microsite/student-marketeer
Redbull's Wings program is probably one of the longest-running and most popular brand ambassadorship programs in the world. Spanning across multiple countries and partnering with thousands of students, the program has redefined the brand in so many ways, making it more than just an energy drink, but a lifestyle.
The Redbull microsite is a great reference tool to help you craft your own application page. Page visitors can scan the page to find out everything they need to know about the program, including its perks and responsibilities. This way, applicants already know what they're getting into before applying.
Provide clear guidelines
While it's important to let your ambassadors be themselves and be as honest as possible, remember that they act as a representative of your brand. Whatever they post and do can impact your brand.
For example, you don't want your ambassadors talking negatively about competitors. You may also have other campaign requirements like certain keywords or hashtags that they need to use in particular posts.
Before deciding on a potential ambassador, it's extremely important to get to know them and find out if their personality and style align with yours.
Reward and support
Even though brand ambassadors aren't typically paid the same way an influencer is, Incentives are still necessary to encourage them to perform. Incentives can be in the form of free products that they can review and recommend to their community, and exclusive discounts.
Your brand ambassador program can also be tied to a referral program or affiliate campaign where ambassadors earn a certain percentage from sales garnered from their unique links.
On top of rewards, the program should also benefit ambassadors in other ways. For example, the Redbull Wings program promises training and on-the-ground experience doing marketing and sales that can help them in their future career.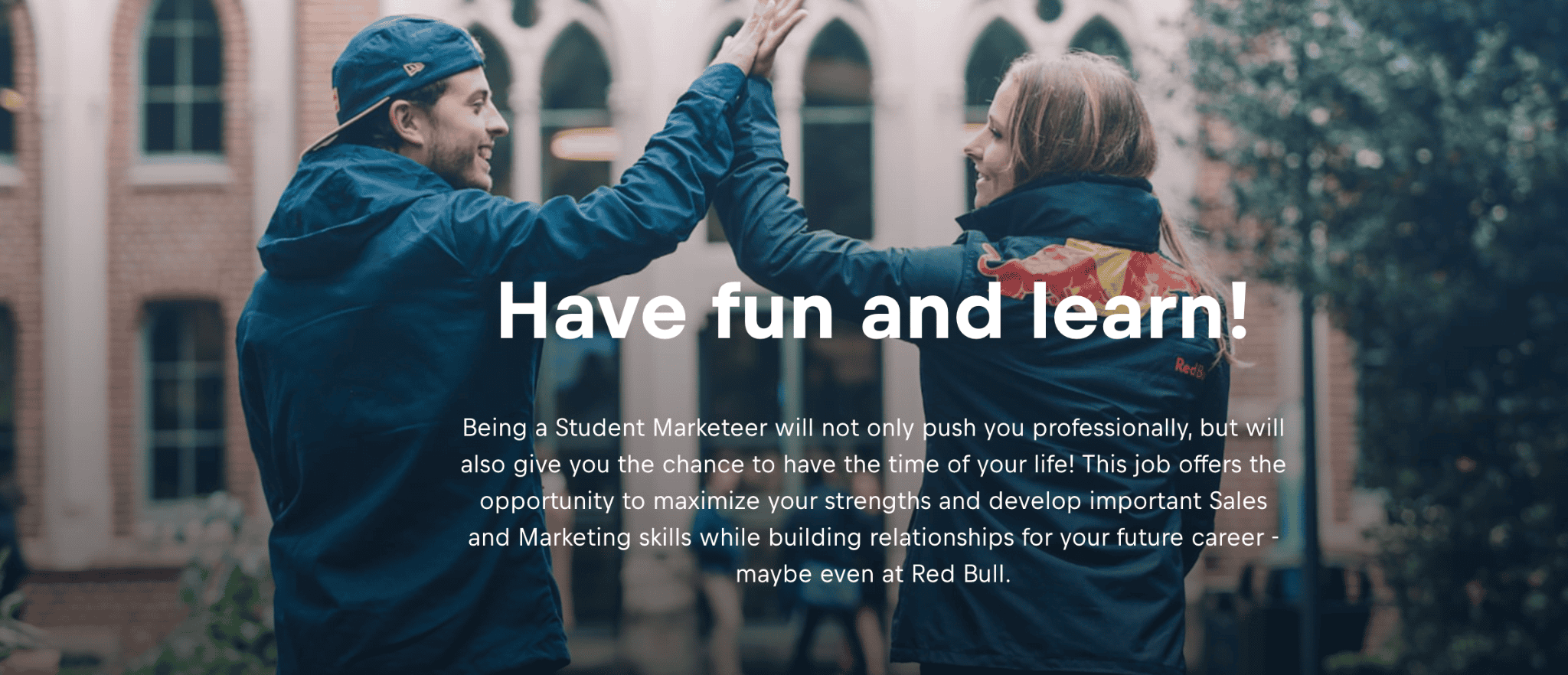 Image source: https://jobs.redbull.com/int-en/microsite/student-marketeer
Other ways you can support and incentivize your brand ambassadors include training, workshops, and providing them with tools that can help them represent your brand more effectively.
For example, if your brand sells make-up and skincare products, you can host virtual workshops that teach them new techniques. To help them shoot better product shots and selfies, you can send them a kit that includes props and a ring light.
Finally, simply making your ambassadors feel valued will encourage them to continue working with you to spread the word about your brand.
Evaluate their performance
Again, just like any marketing campaign, it's important to track and measure the performance of your brand ambassador program. If you decide to go with a referral or affiliate program, you can easily track their program through the unique links.
Of course, you also have to monitor how often they post about or mention your brand on their social pages and ask them to send regular reports.
Tracking your program will encourage your ambassadors to continue producing results, otherwise, they can be removed. It will also help you determine what works and what doesn't.
You can then recap each month or after each campaign its performance in your marketing report. Take this opportunity to highlight the best performing messages, what worked and what didn't, and how you can improve for next time.
Why you should consider having brand ambassadors
Before social media and even traditional advertising like TV, print, and radio, brands relied on word-of-mouth to get their products off the shelves. While the traditional forms of advertising have slowly died down, word-of-mouth has still prevailed, albeit in a different form.
Branded content can only get you so far
Sure, you have followers and they may like your photos on social media but the reality is that people don't really want to be sold to. You probably feel it too, ads follow you everywhere, and sometimes you just want to turn to social media for entertainment and real stories.
Social media users will easily skip over branded content, but partnering with brand ambassadors can help you get past this hurdle. Brand ambassadors can help spread the word about your brand in a more organic and unbiased way.
In fact, if you partner with actual customers, their posts are technically user-generated content (UGC), which is seen as more effective than branded content. According to a report by Adweek, 85% of people consider UGC content more influential than photos or videos posted directly by brands.
This means that a post by your customer/brand ambassador is more likely to convince someone to purchase versus something posted by your official brand page.
They add a human element to your brand
Without your brand ambassadors (who not only represent your brand but also your customers), you can easily be just any other brand with a cool name and logo. That's why it's important to choose brand ambassadors who look like (and are) your ideal customer. They have to be someone your audience can relate to.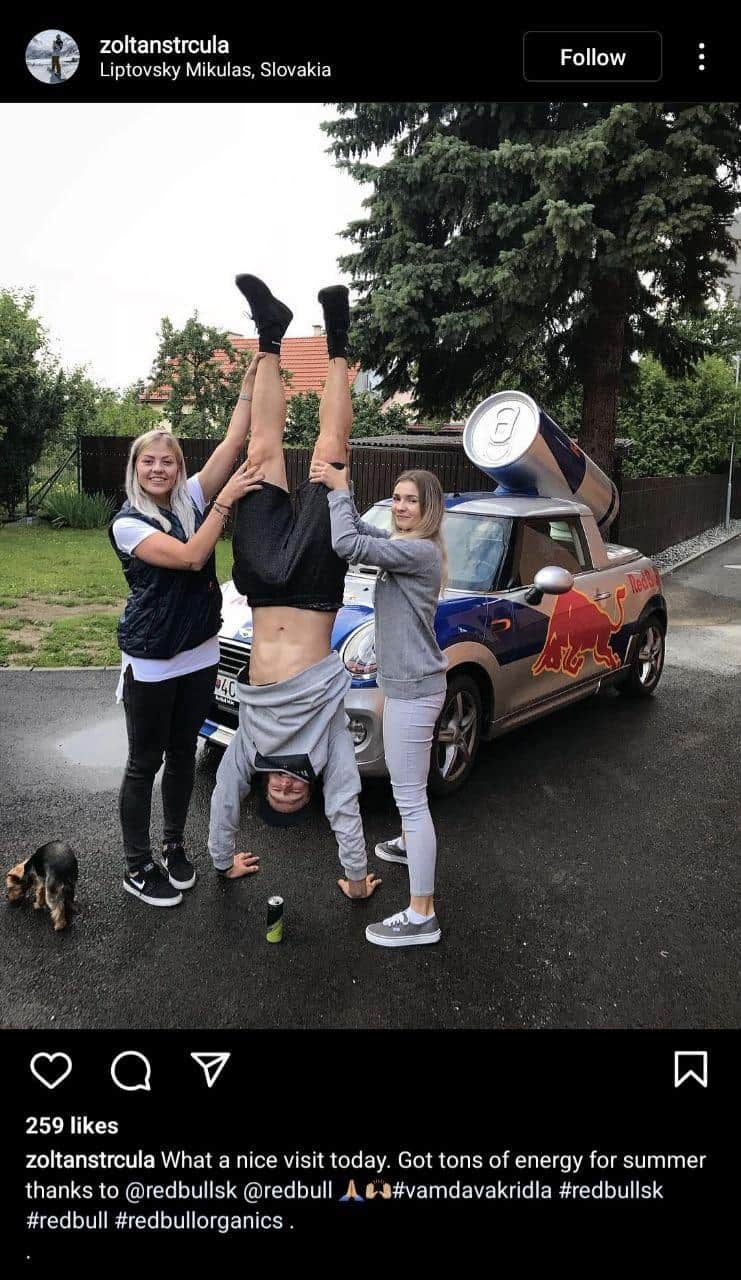 Image source: https://www.instagram.com/zoltanstrcula/
Red Bull, for example, has a group of brand ambassadors called the Wings Team, composed of college students from all over the globe. Choosing college students to represent the brand is a strategic decision as they fit the right profile as someone who would buy a Red Bull.
The Wings Team could easily be your friend or classmate and that's what makes it so successful.
It's a mutually beneficial relationship
Having brand ambassadors is a clear advantage for brands because it doesn't cost as much as partnering with influencers, and yet you get content that could be just as effective. Ambassadors can also increase brand engagement and presence on social media.
In exchange, ambassadors get incentives such as free merch, exclusive deals, and whatever else you decide to offer. As long as both parties keep their end of the bargain, it's a win-win relationship.
They could be a source of helpful feedback
As an owner or employee, it might be hard to view your product through the lens of a real customer, especially if you've been working so closely on it. Make sure you have an open and honest relationship with your ambassadors as they can be a great source of feedback.
More than just giving your ambassadors first dibs on your product, it might be a great idea to get them involved in the ideation process. It's always helpful to have outside voices who have first-hand experience using your product.
As a reward for their help, you can give them pre-launch access to your products as well as bragging rights — what is a brand without their most loyal customers after all?
They can help fill in the content gaps
If you want to get your name out there, you need to work double-time. Instagram, blogs, videos, websites, you name it — you need to be wherever your customers are. But for small businesses, this isn't an easy feat. Corporations have agencies and internal teams to churn out content for them and not everyone has the budget for that.
As part of their responsibilities, you can get brand ambassadors to do the work for you! Tap into your team of brand ambassadors and get them to write about your brand, fill your blog with guest writers, and alternate your regular "business as usual" posts with content sourced directly from your ambassadors.
They can help build a community around your brand
Having brand ambassadors gives brands a unique opportunity to connect with their target audience in ways that other forms of marketing simply can't. While ads and tapping an influencer can help you reach more people, brand ambassadors allow you to have an actual conversation with your customers.
Treat your brand ambassadors right, and you'll have a team of loyal brand advocates, even after their contract expires. On the other hand, your relationship with an influencer might be more transactional than anything. After the required number of posts is done, they probably won't mention your brand again until a new contract is signed.
Start a Brand Ambassador Program
A brand ambassador program is a smart and cost-efficient way to utilize existing customers and get them to talk about your brand. They can help boost your sales and complement your marketing campaigns.
Before you go, always remember that the key to a successful brand ambassador program is having clear goals, finding the right people, and evaluating results (rinse, repeat!).