There are over 3.78 billion different users on different social media platforms. These numbers are set to grow to 4.41 billion users by 2025. You have more than half the population of the world on social media. The channels provide you a way to reach all these peoplem, with the right tools.
Probably, anyone who's your lead is already on social media.
Social media platforms are free to use. You can reach people with content. You can create content marketing campaigns and also focus on email marketing that run with little to no investment from your end, or target your audience with advertisements.
Social media helps you improve brand visibility
Social media helps you create a brand identity
Helps you build traffic
Gets you leads
What is a Social Media Marketing Funnel?
Marketing funnels mark the path of conversion from leads to customers. At each stage of the funnel, you can reach out to participants to set the stage for conversion.
A social media marketing funnel begins when potential leads develop awareness of your brand and continues until they convert into customers. The social media marketing funnel culminates in a user becoming true brand ambassadors so that they are likely to generate further leads through word-of-mouth marketing. It is at this stage where they recommend your products or services to their friends and family.
Social media marketing funnels differ from business to business.
Regardless of that, the customer journey follows a basic pattern that leads to a sale, happy customers, and long-term brand advocacy.
Now let's try to understand the major stages of a social media marketing funnel and how you can incorporate the right form of content into each stage.
There are dozens of strategies to promote your business on social media. Some of these strategies revolve around building a brand with social media, posting regularly on these channels to make your brand unforgettable and regularly running creative campaigns to keep your audience engaged and keep coming back for more. If you don't have the time for social media posting, you can hire a virtual assistant to do the job.
When you want to build a customer journey that takes potential customers who hear about your brand for the first time to make them brand advocates and then buyers, there's something missing that ties all these different stages together. We will find out what's missing and how you can build out a complete marketing funnel with social media.
What is a Social Media Marketing Funnel?
Think of the funnel as a path potential customers travel through starting from the initial stages of someone learning about your business, to going to the buying stage and becoming a loyal customer. Marketing funnels help you map routes that start as soon as someone learns about your business and then goes all the way down to when the person who was newly introduced to your business purchases something from you.
After running a careful analysis, a marketing funnel informs you what the company must do to influence consumers at every stage of the funnel.
It begins with them developing awareness around your brand and goes on until there's a purchase.
The social marketing funnel turns people into brand advocates.
There's a lot of differing opinions on different stages of a social media marketing funnel.
Despite what the phases are there's a basic process at the end of which you get a brand advocate.
Here's the most common list of phases:
Awareness – Attracting new people to your brand.
Consideration – Standing out from competition in a way the audience remembers you
Action – Compel your audience to take an action
Engagement – use social media to etch a place in your audience's mind once they engage and make purchases.
Advocacy – Build trust with your audience so that they recommend you to others
Since social media is part of the funnel, you need social media content at each stage of the funnel. You need to guide the audience through the funnel.
The marketing funnel is a sum of its parts. And when all the parts build towards a cohesive goal there's very little friction. You can build awareness and trust with your audience as a result of that.
Let's look at the different stages of the funnel:
1. Awareness
The awareness stage in a social media marketing funnel is the point where potential customers develop an awareness of your brand.
As a business, your primary goal is to identify the problems, challenges and issues your audience is facing.
Even if the audience isn't aware of your brand you can attract them by offering potential solutions for a common-enough problem that affects a large number of people.
Think of sleeplessness or backache.
The point at which the customers are first developing an awareness of your brand isn't the time for pitching your services or selling your goals.
The goal at this stage is to give them support.
Helping them with blog posts or videos of exercises for sleeplessness or suggesting the best pillows for a healthy night's sleep. Or talking about the evolutionary origins of back pain.
Here's another example. Jobber offers field service scheduling software to organize service businesses and also offers salary guides for various industries including plumbing, electrical, HVAC professionals and cleaners.
That's why their core content is built around topics like: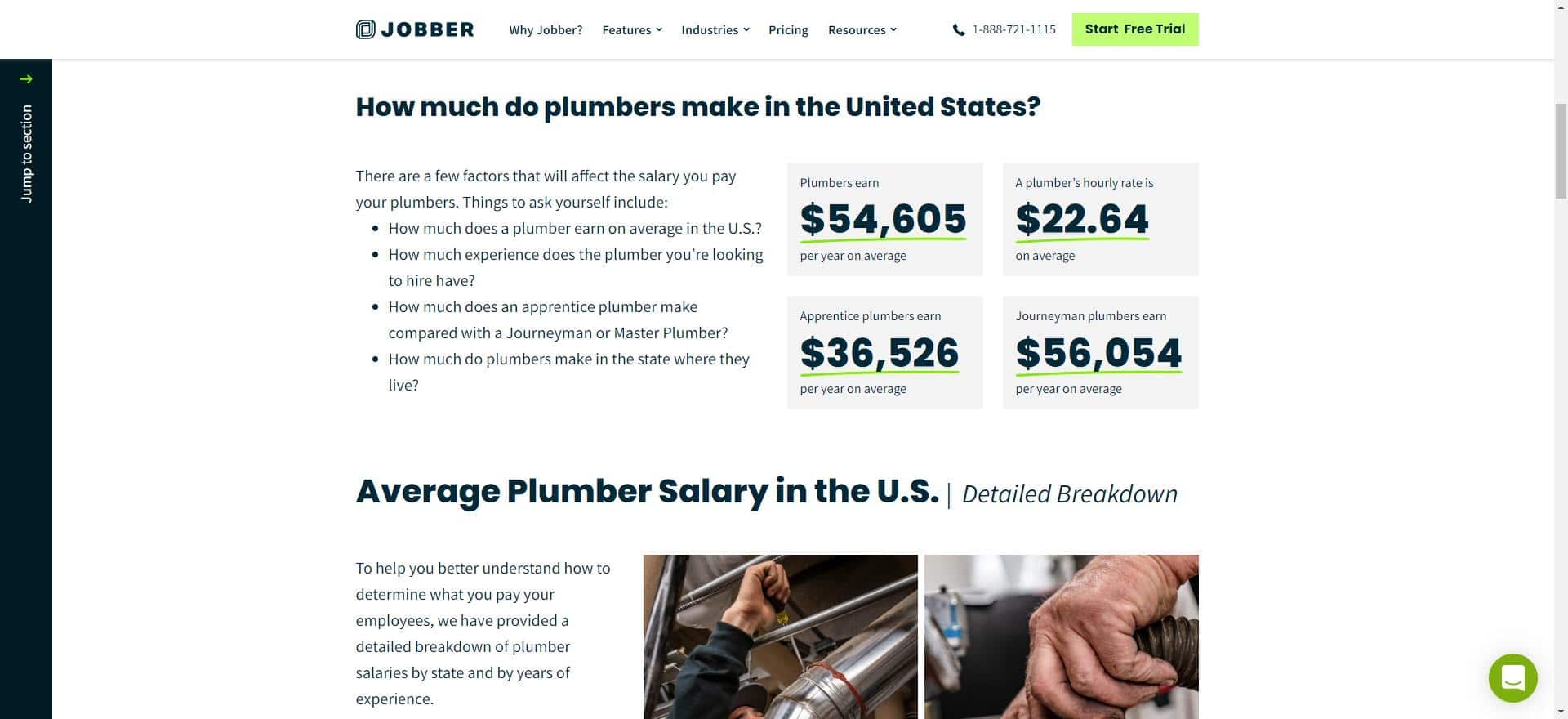 Even on their social media channels, they share content around plumbers and other home service professionals to generate leads for their sales funnel.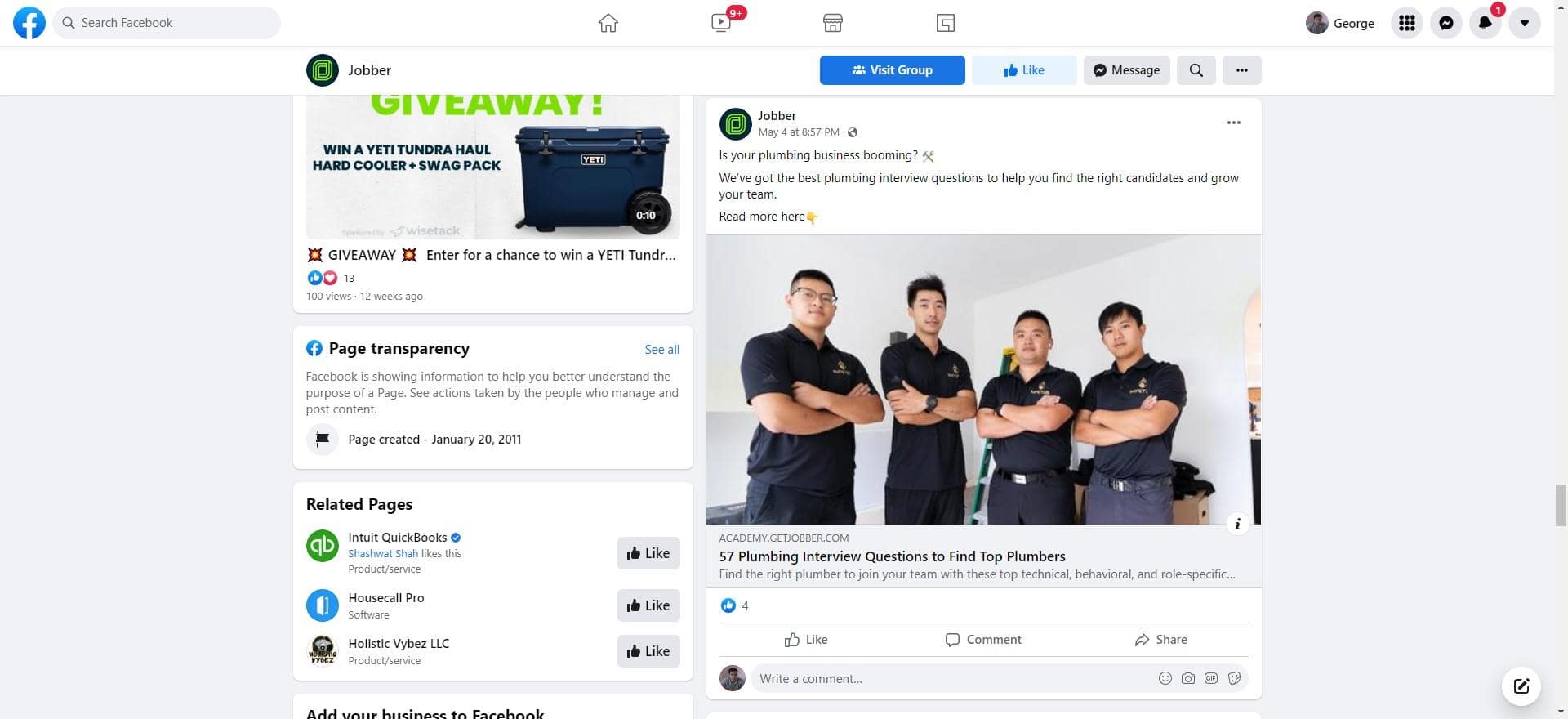 In another example, here's a site in the travel niche—a Carribean vacation site. Their social media feed has tons of pictures of the Carribean.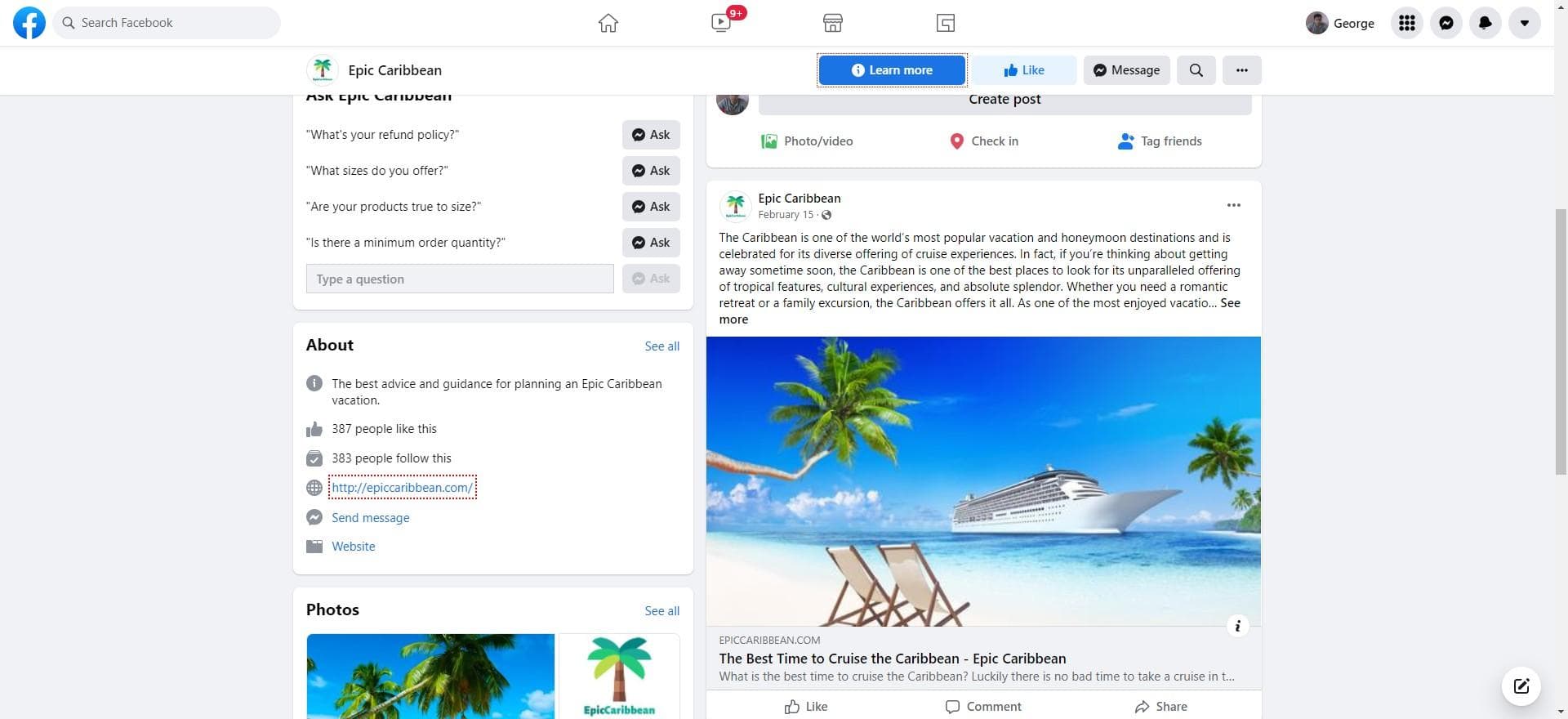 You need to come across as a valuable resource. This helps potential customers remember your brand and trust you to research more information around their problems and challenges.
The same is true for another brand FormulaSwiss. Through their blog posts they tend to connect their product with different segments like pet owners, people who want glowing skin, those who engage in rock-climbing and more.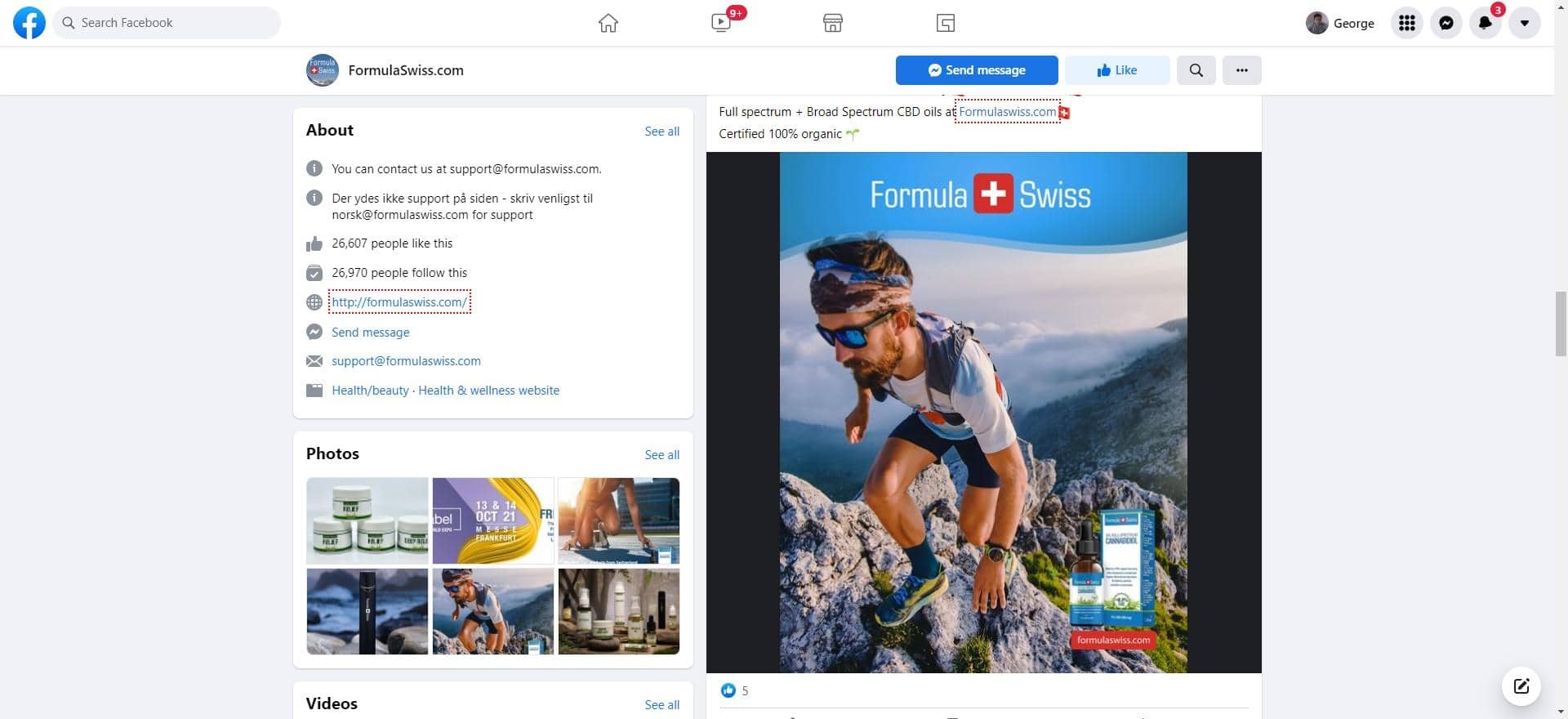 Show the value of the business through content such as blog posts, videos and guides. Extend the wisdom to social media channels by paraphrasing blog content, or seek assistance from tools such as Scribbr for the same, producing short videos for the social media audience to consume and transforming large guides to easy-to-understand infographics or short picturesque presentations.
In these blog posts or guides you write, answer any potential questions customers may have. This will help you bring potential leads to your site and you have the opportunity to build more trust.
Use paid advertising to build brand awareness further. You can funnel traffic to the articles you wrote. When you target people with specific problems you're integrating them to your funnel.
Wishup does a great job of targeting the right key phrases that the potential audience is searching for. They create valuable content that people want on topics like the benefits of hiring a virtual assistant or the kinds of tasks you can assign to a VA.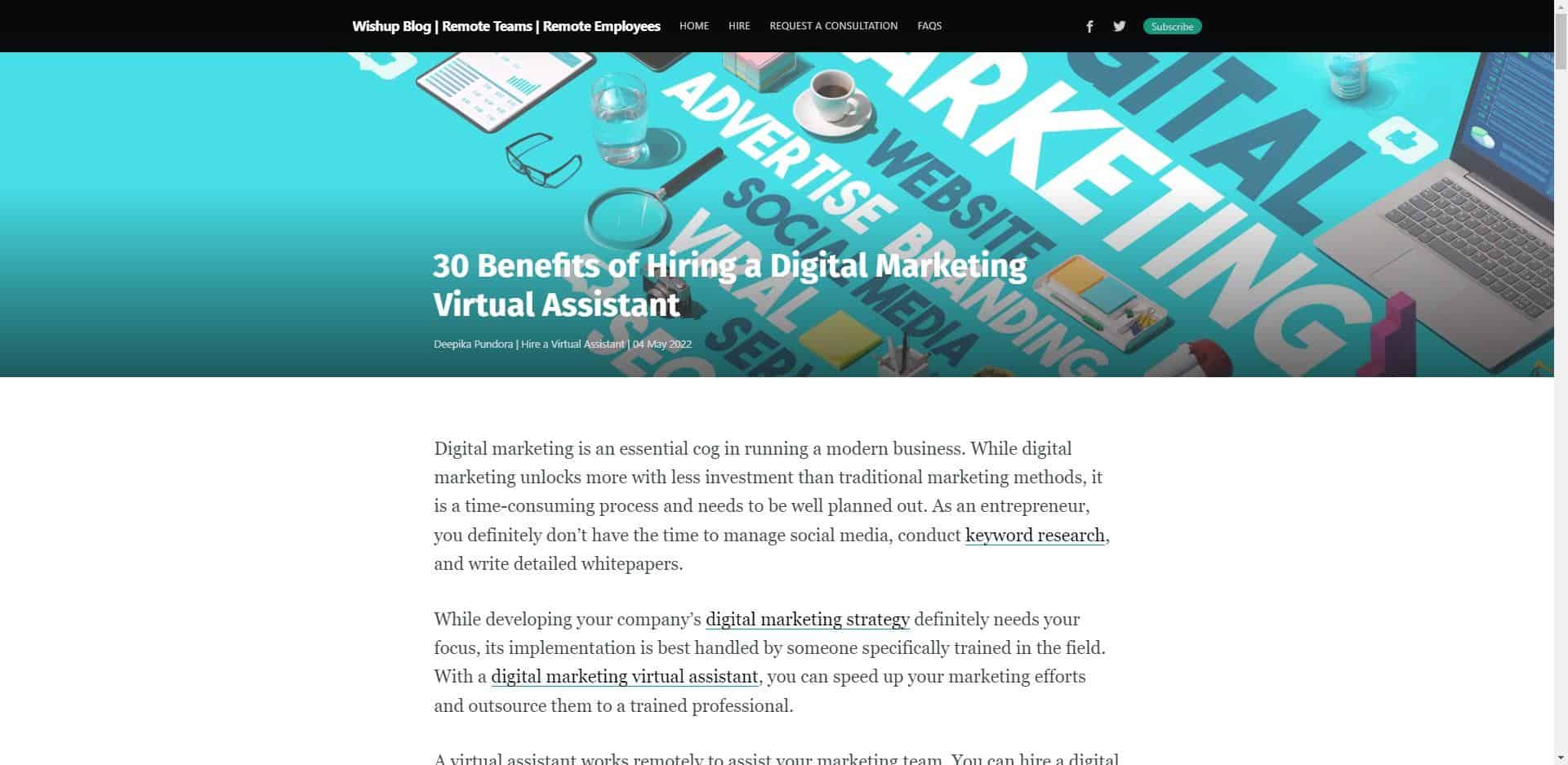 They also promote their posts on social media channels like Twitter and Facebook.
For the awareness stage, video marketing helps you drive a significant number of leads. If you create videos for channels like Facebook or Instagram or as tutorials on YouTube, you increase the odds of people finding you through search. And they are the best leads. People are actively looking for solutions and find your video content as an answer.
This coffee startup uses YouTube to share educational content on making different types of coffee. The content theme is how to make coffee.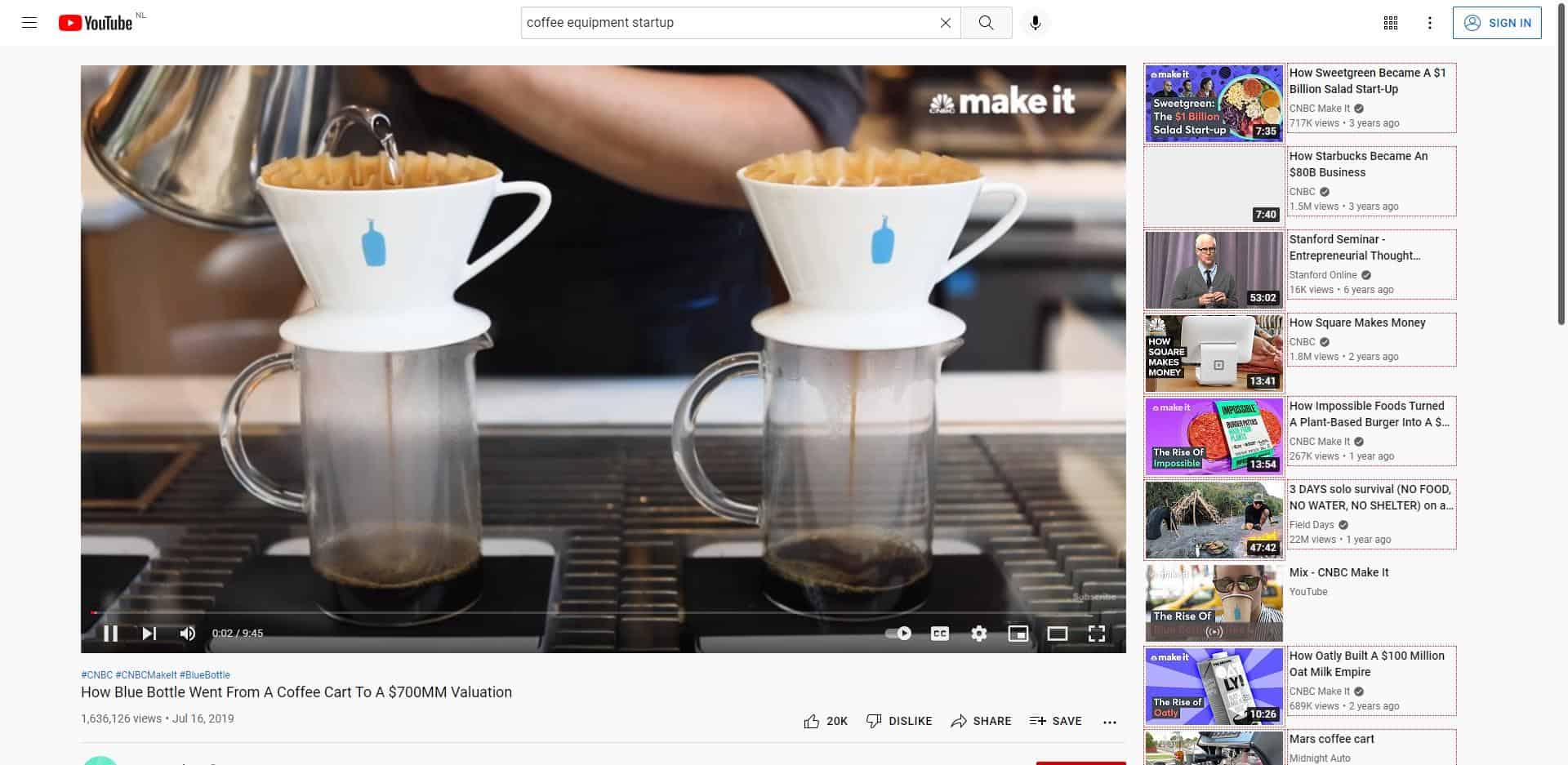 Viewers are offered potential solutions to a general problem. And there's only a somewhat muted reference to their own wares.
2. Consideration
In the consideration stage, people are narrowing their searches to look for specific information pertaining to a product or service. Here's an example:
Honeymoon goals set up a list of honeymoon registries aimed at those looking for a honeymoon fund after painstaking research. That gets them a lot of leads. People at this stage are comparing solutions and trying to find out out why your product is better than what competitors are offering.
At the consideration stage when you provide more details to guide your audience, the details will help them choose you over others during the action phase. That is when they decide to buy something from you.
Retargeting ads on Facebook and Instagram is one of the ways to re-engage those who interacted with you before. Some users may have read your blog, others read your case studies.
Here's an example: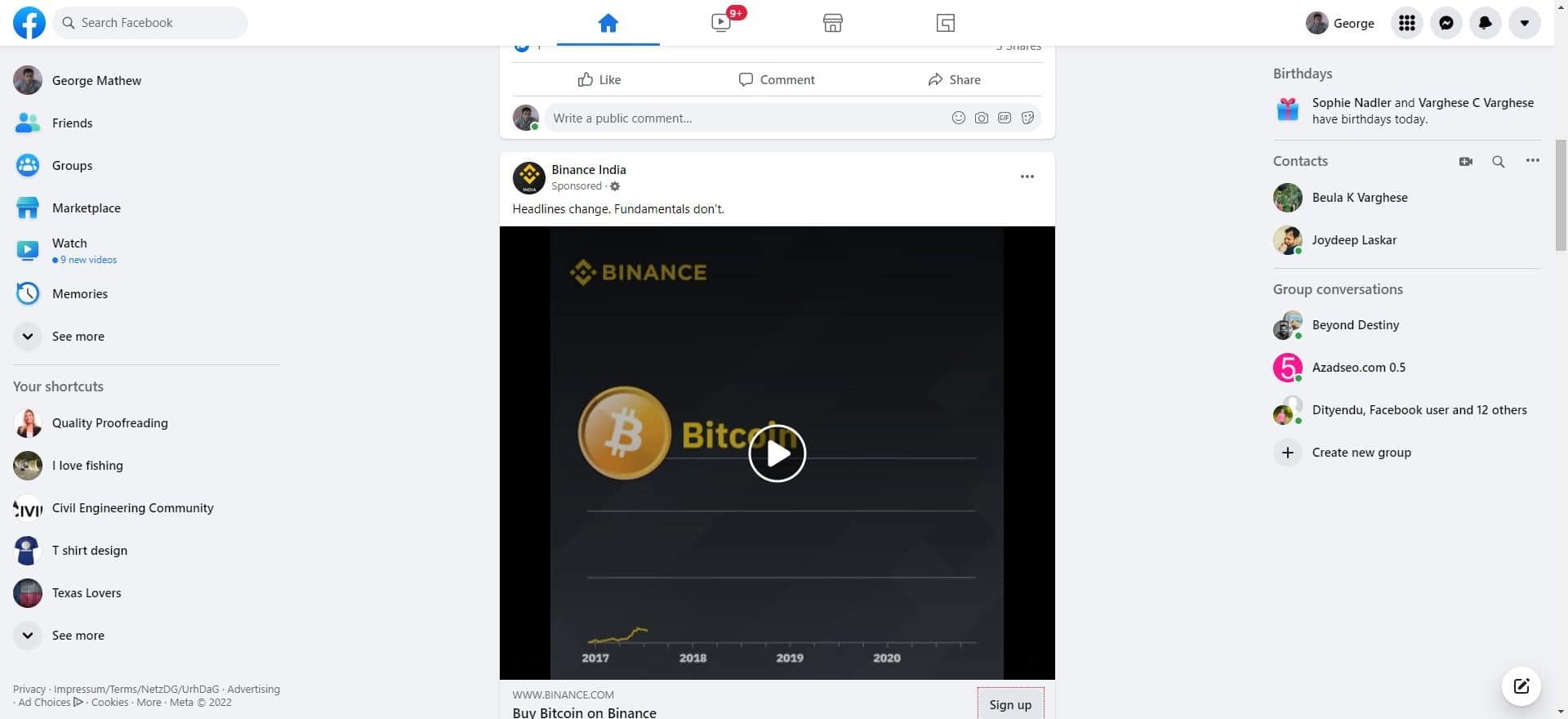 You can target them with testimonial videos showing how good the product is.
The consideration stage may also require people to read in-depth tutorials and reviews.
One of the most interesting examples I came across is this food brand sharing tutorials on their Instagram on how to use the product. These videos help viewer's build trust and confidence in the products and the expertise of the brand, so much so that they may buy their cookbooks or other products. Videos can cement your brand in the hearts of customers.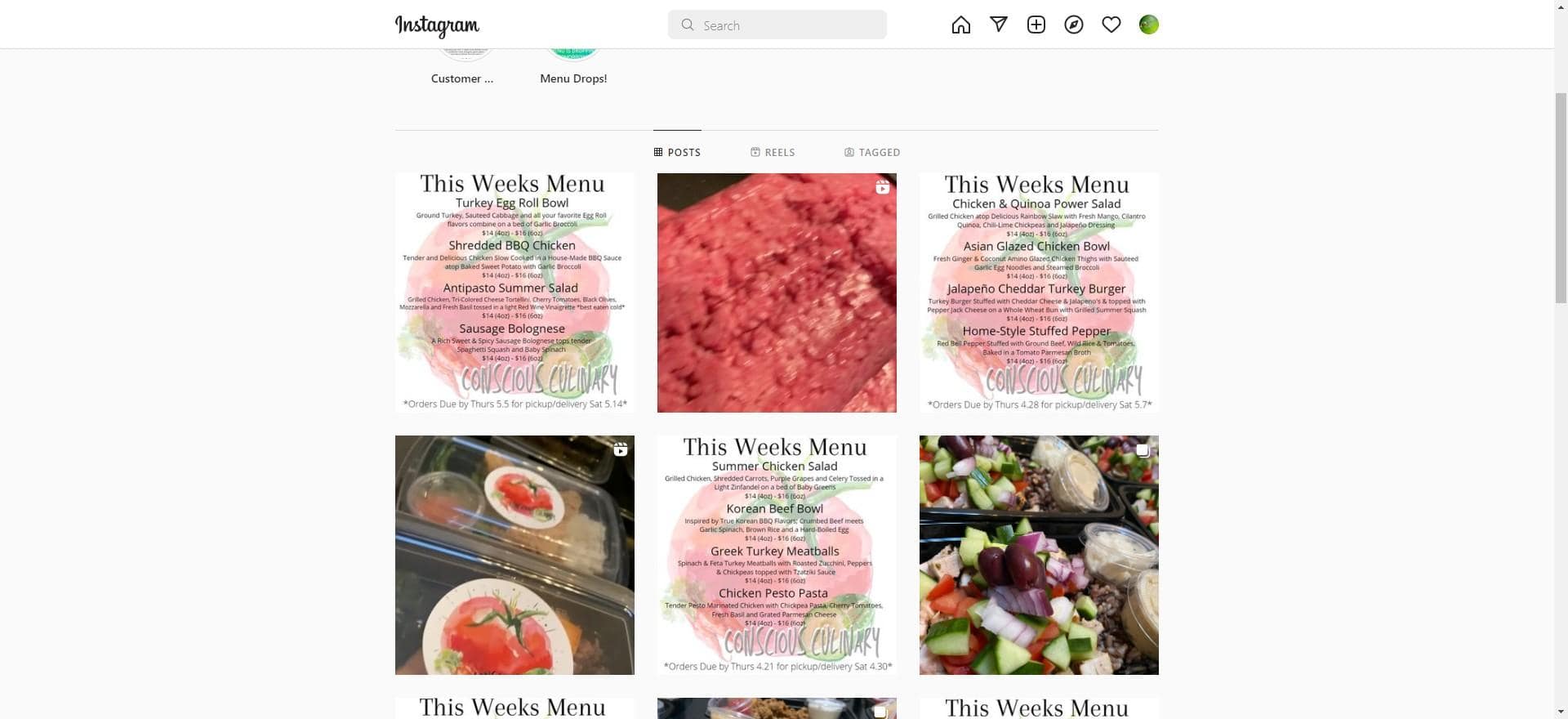 45% of customers are going to research a product or service online before buying it.
3. Action
If you build your relationships right, nurturing customers to this point, your potential customers are going to feel receptive to whatever you have to offer at this stage.
It's important that you use a social media engagement tool that comes with reporting and analytics features that lets you track the engagement on your posts and shows you whether you're reaching your goals.
Continue nurturing your leads and hand out more information and data that they can use to inform their buying decision
At this stage and beyond you can start soft0 selling your product. You can offer discount coupons or the lure of free shipping.
Use remarketing campaigns to target anyone who showed interest in the last parts of the funnel.
There are several different brands who do discounting right. There are brands who offer discounts right around holidays to sell more of their products.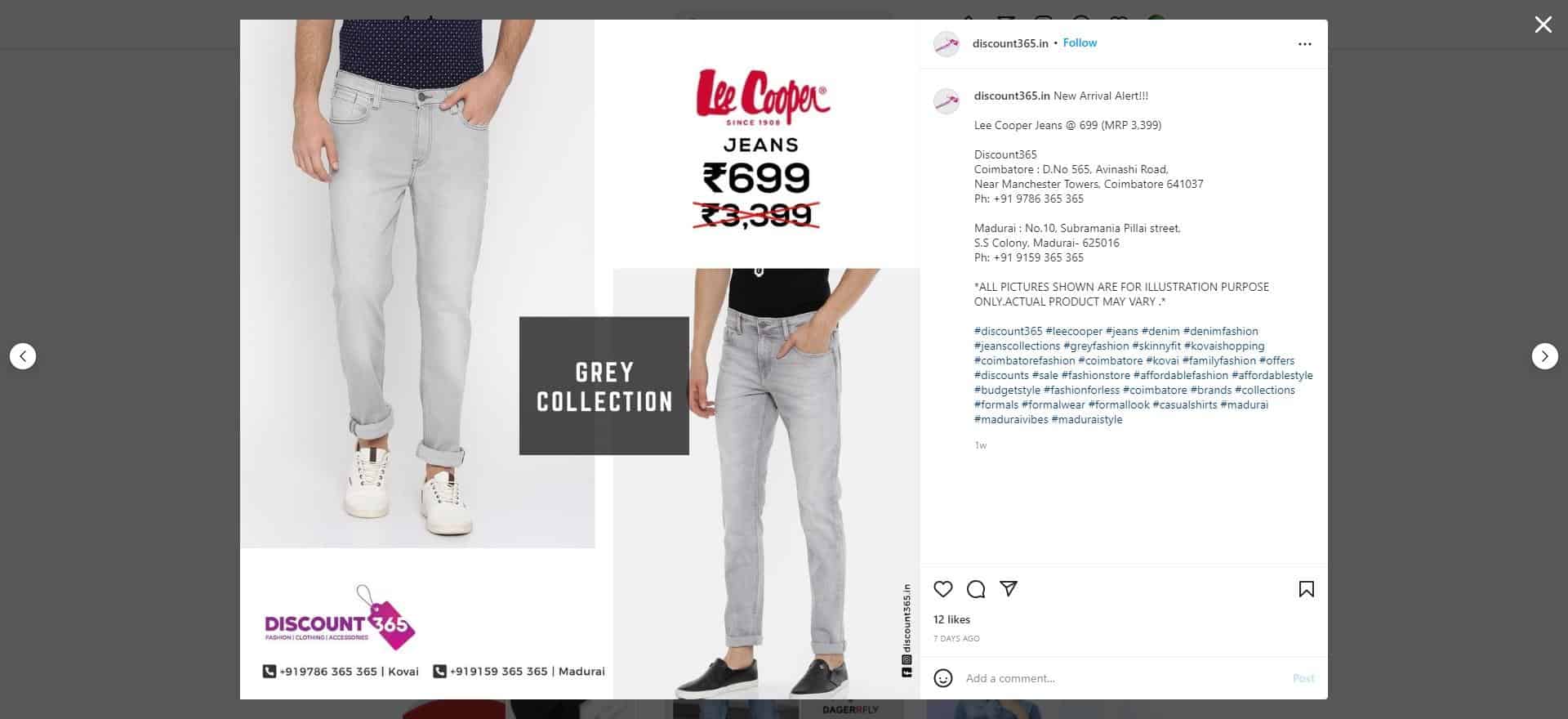 4. Engagement
You should never forget your customers after the sale. Almost everyone forgets about their customers once they have closed the purchase.
You need to continue to nurture them.
Stay on top-of-mind of customers by engaging with them on your pages.
Create social media content that appreciates their purchase. This also helps you generate fanfare for your products. In addition, you can invite user input for creating blog content, say a list of specific tools like this list of affiliate marketing tools.
For instance Calvin Klein rolled out the hashtag #MyCalvins campaign as a marching call for all its brand followers to post a picture wearing a Calvin Klein undergarment and be featured on their Instagram page.
A YouTube video with Justin Beiber and Lara Stone in Calvin Klein undergarments got over 9 billion views.
There are several brands that celebrate customers by letting them post UGC content on the brand's channels. The hashtags for this help them showcase their content on brand pages with millions of followers.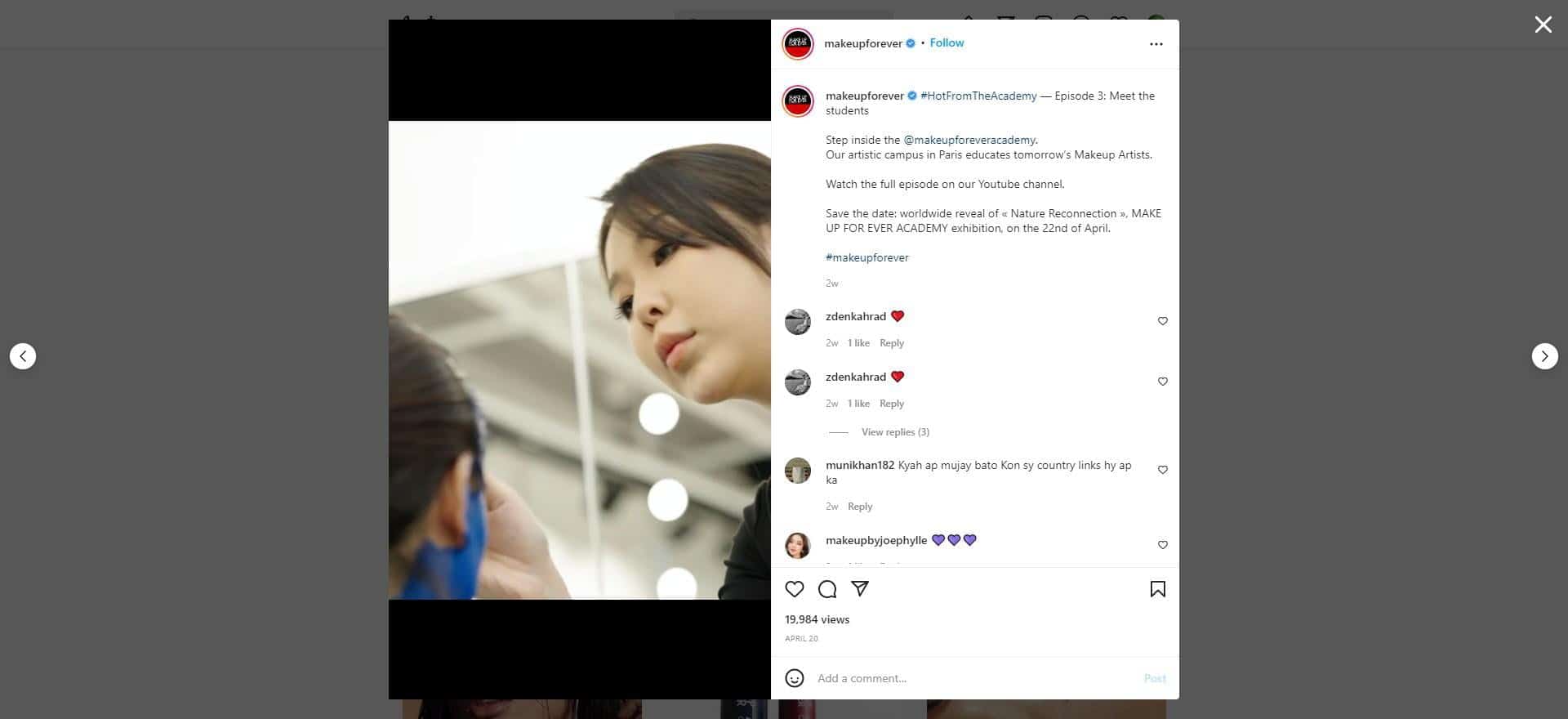 Hashtag campaigns make users feel they're part of the bigger community and encourage loyalty.
5. Advocacy
Once you have the sale and the customer in your pocket, it's time to take things further.
Now you need to convert customers into brand advocates.
Reward your customers for telling others about your brand. How to do this? Collect user testimonials and brand reviews. Do this by encouraging customers to share their feedback with friends.
Dropbox does this by offering free storage space when you refer others. As a dropbox user you can post the invite to social media channels.
When you nurture these relationships you will fan organic word-of-mouth.
Build valuable content and nurture current relationships. Make it super easy for customers to share their stories and show why they care for your brand. Let them post reviews and testimonials on the Facebook Business page to advocate their stand.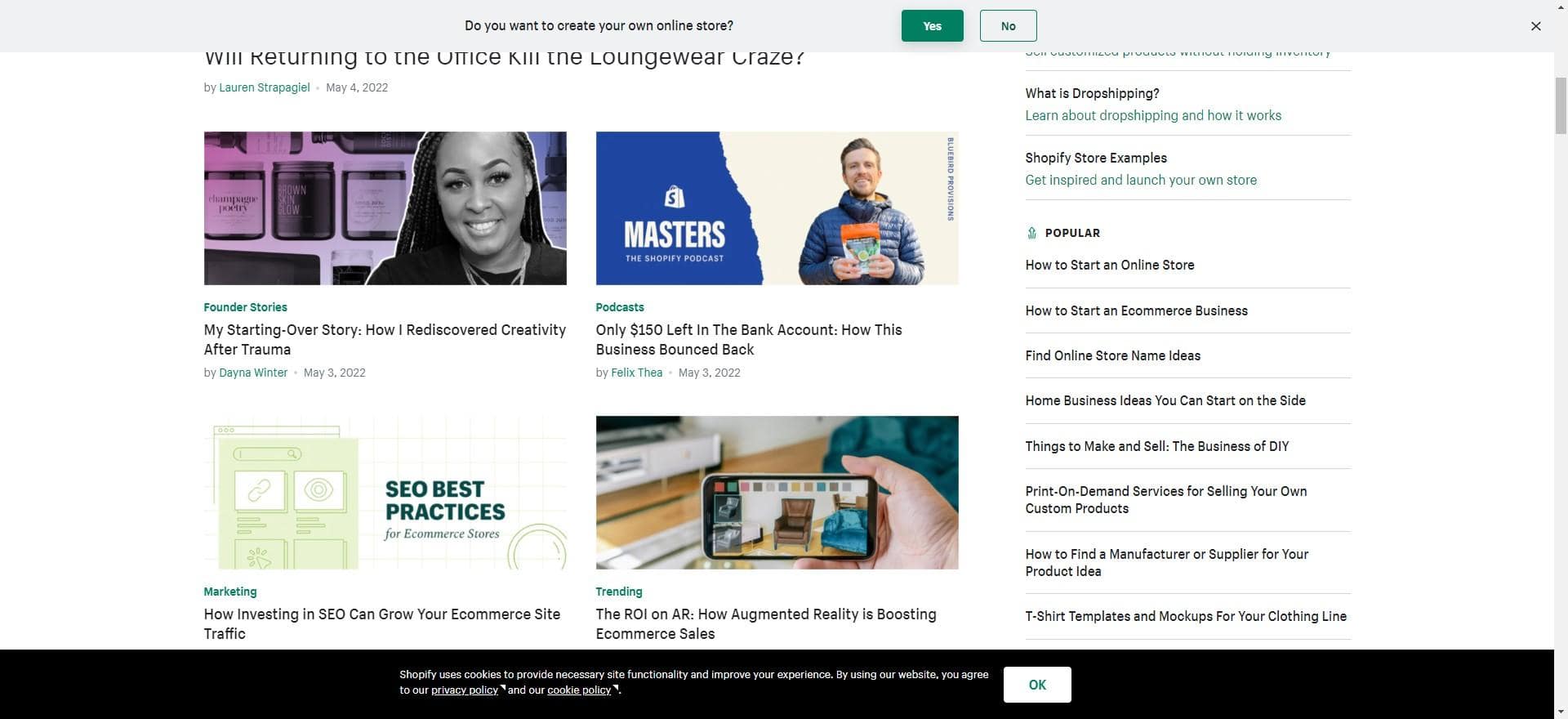 Shopify for instance lets users of the platform create content and share stories of how they used the site. This content positions the user as an advocate of the tool. They get explorers for the brand and Shopify gets social proof they can use as marketing collateral.
Final Thoughts on a Social Media Marketing Funnel
Sales funnels always have their time and place. But social media marketing funnels are more for engaging your audience, building trust and creating a base of fans that rely on your brand.
Instead of skimping on some stages, invest money, time and energy on all phases. Your customers can sense the messages that are too sales oriented. That kind of marketing can be off putting.
Pick one or two tactics and do well at those. Incorporate the correct steps into user journey to let your brand grow.
Your social media marketing funnel should meet the requirements of the industry and target audience. It should tap into the basic stages of awareness, consideration, action and engagement. Using a marketing funnel will create more visibility for your band and improve sales and conversions.
Including the steps for your customer journey will aid in the brand's continued growth. You're creating a loyal fan base rather than a customer list. So, start creating your social media marketing funnel and convert as many leads as possible. Wish you the best.