You probably already know the basic function of a hashtag. It's been around since social media platforms like Twitter, Instagram, and Facebook have existed and many brands and private users alike have used all kinds of hashtags to reach a wider audience.
But have you been using hashtags the right way? Below, we'll discuss the importance of hashtags and how you can use them as part of your daily strategy for your online business.
Why are hashtags so important?
For the untrained eye, hashtags might seem like a random clickable string of words. And depending on your strategy, they sometimes might be. But if you're doing it right, hashtags provide a wide range of benefits on top of the simple categorization.
They help summarize what your post is all about – Not everyone will have the time and patience to read an entire caption. Hashtags can serve as your one-word summary for those who breeze through their feeds.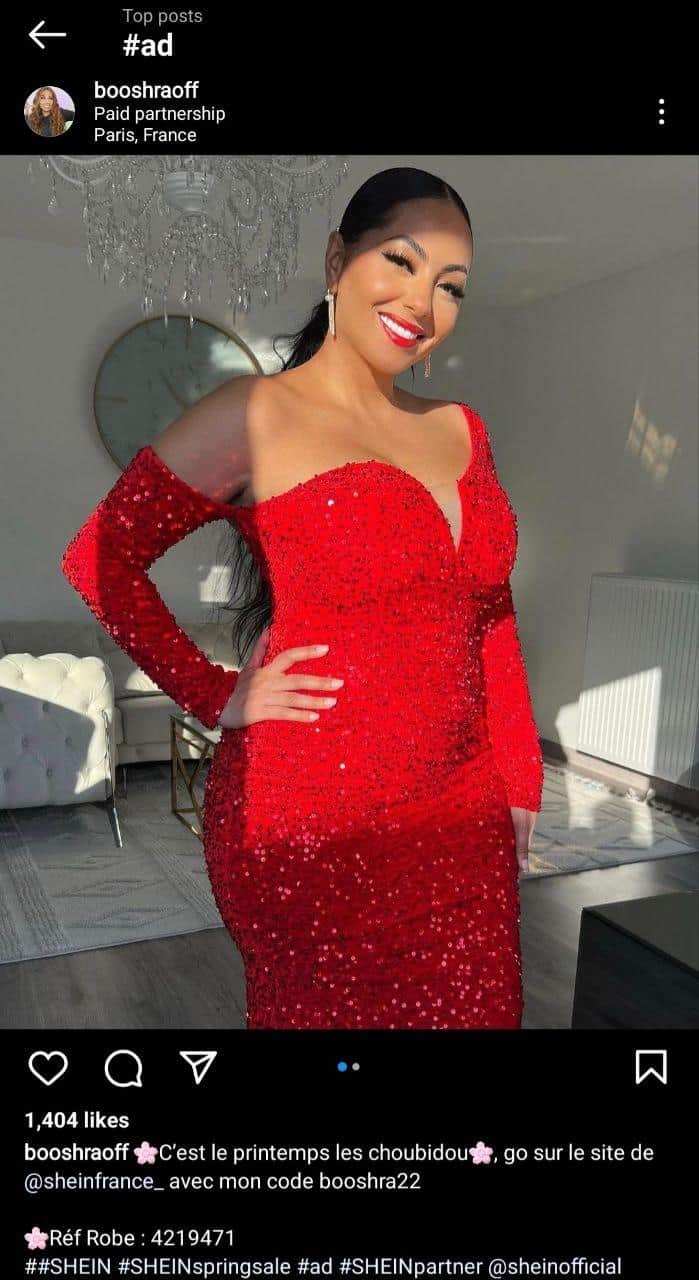 Image source: https://www.instagram.com/booshraoff/
For example, many social media influencers who post about a brand will use #ad to inform their followers of a brand partnership. The hashtag is a subtle alternative to hard-sell captions or content especially now that their followers expect transparency.
With the help of hashtags, people scrolling through their feeds will be able to find posts that are relevant to them at a glance.
They can help drive organic traffic into your page – Hashtags are a free and effective way to get more eyeballs on your content, eCommerce or Amazon Product. Many Instagram, TikTok, and Twitter users follow particular hashtags that are related to their interests.
For example, if your brand is fashion-focused you can use hashtags like #fashionblogger to reach an audience beyond your current followers. This may not just increase your post's engagement rate but also your followers.
They help you find your competition – One way to scope out competition is through hashtag research. To find competition you can search for hashtags related to your specific niche. Tap on the top-performing posts to discover what works best with your audience.
They can help increase brand and campaign awareness – Using brand-specific hashtags can help strengthen your campaign's impact and visibility. Creating your own branded hashtag will also give you ownership of it — meaning everyone will start associating your brand with that hashtag no matter who uses it.
They can help you gather user-generated content (UGC) – Hashtags are a great way to look for untagged UGC. Aside from encouraging your customers and customers to tag you whenever they post about your products, hashtags make it easier for you to search for brand-related posts on social media.
Types of hashtags
Instagram has a maximum number of 30 hashtags per post. And while it may be tempting to squeeze all the popular hashtags on your post, it's a good idea to categorize the different types of hashtags available to you for a more strategic and uniform approach. After all, with 30 random words on your caption, it could easily look quite messy.
Branded hashtags – As discussed above, branded hashtags are hashtags that your brand has ownership of. It can be as simple as #brandname or any campaign or event-related hashtags.
If your brand has different subcategories, branded hashtags can help you and your audience easily identify what specific product you're referring to.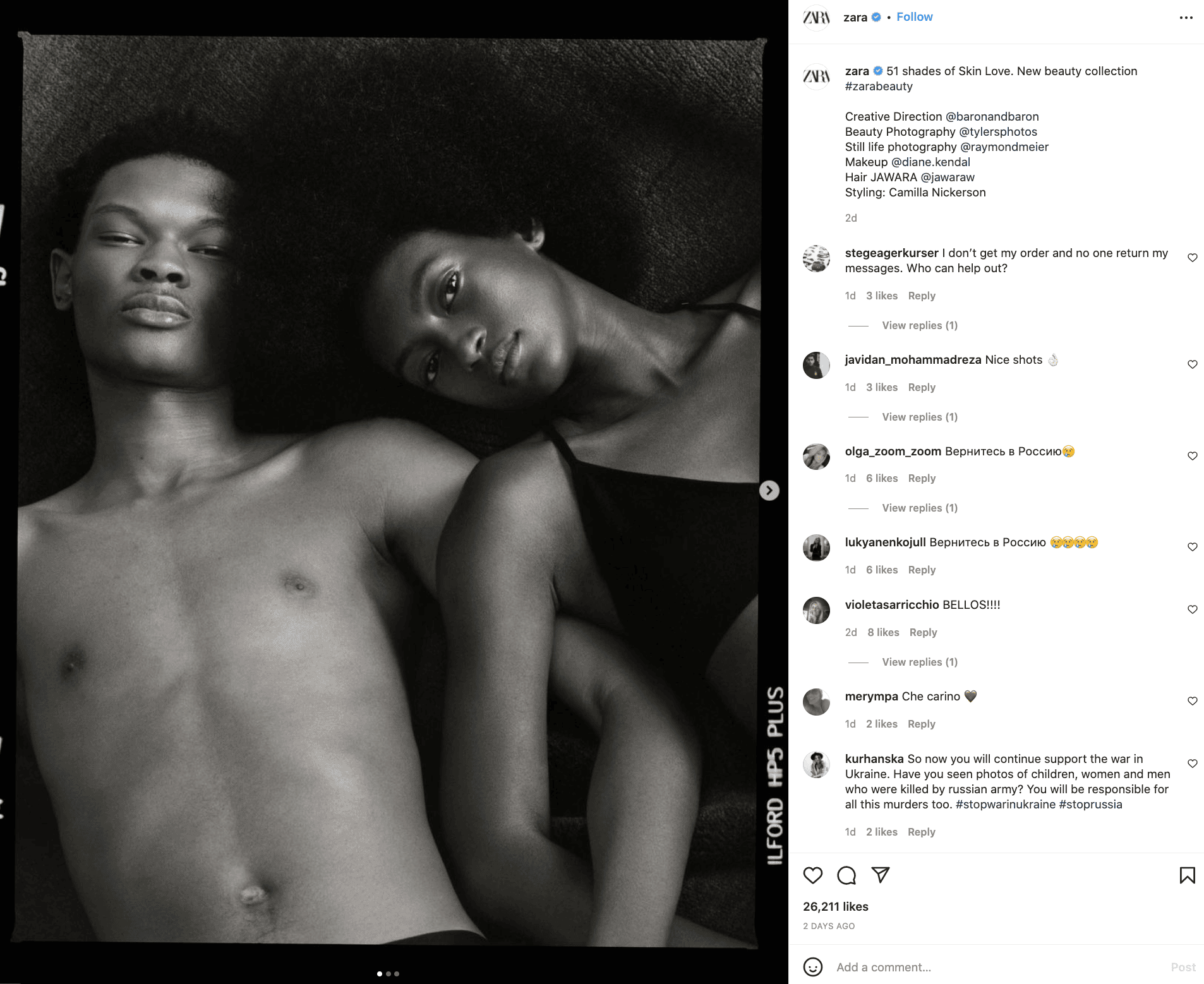 Image source: https://www.instagram.com/zara/
Spanish brand Zara (@zara) uses branded hashtags as part of its caption to help the audience differentiate what brand category the post is about. Zara uses different hashtags such as #zarabeauty, #zarakids, #zarewoman, and #zaraman to name a few.
Industry/Niche hashtags – industry hashtags are general hashtags with lots of competition. While it might be quite difficult to top the page of industry hashtags, using them as part of your hashtag strategy is still recommended. One example would be using hashtags such as #wineries, #winetours and #travel if you were a travel related business talking about the top wineries to visit.
Once social media platforms like Instagram have a better understanding of what your brand is all about through the hashtags you use, you can be featured on the Explore page of relevant users.
Location-specific hashtags – Using location-specific hashtags can help your content be visible to your exact audience. Location-specific hashtags are extremely beneficial for businesses who rely on proximity. It's also a great solution for small businesses since it helps your brand appear right in front of your niche.
When using location-specific hashtags, it's important to use a combination of your niche or industry + the location or vise versa. Otherwise, the resulting audience will be too general.
For example, if you're a Sydney surf store, you'll want to attract the surfing community from your area. You can use hashtags such as #SydneySurfer or #SudneySurf to be searchable to potential customers looking through instagram for brand research.
Trending/event-related hashtags – Riding on trending events or pop culture phenomena can help your brand stay relevant and on top of the conversation. Brands that engage in anything current are instantly refreshed and are able to connect with their audience better.
Community hashtags – Similar to niche hashtags, community hashtags target specific interests and build a community around it.
Daily Hashtags: What are they?
Put it simply, daily hashtags are hashtags that are used on specific days of the week. You might've seen them: #MondayMotivation, #TransformationTuesday, #ThrowbackThursday — everyone uses them from brands to regular social media users. Daily hashtags are a great way to help you plan out your social media calendar and also keep your content relatable.
Many of these daily hashtags are used by millions of people from all over the globe, so using them on your posts can expose you to a wider audience. Adding a daily hashtag regularly (accompanied by great content) will also make your followers look forward to your posts on particular days of the week.
If you post great #MondayMotivation content every morning your followers might visit your profile the moment they wake up for some inspiration.
Choosing your daily hashtags
There are hundreds of daily hashtags to choose from for every day of the week but that doesn't mean you have to have a dedicated daily hashtag for every day. It's important to change it up and consider other hashtag strategies for other days.
First, plan your entire content calendar and decide which days you'd like to prioritize for your daily hashtag content. To find the best daily hashtag to use, you can use the Instagram search bar to look for the top hashtags. However, before you decide on the hashtag to use, it's important to weigh the pros and cons of its popularity.
High density hashtags (those with more than 500,000 posts and above) are extremely popular hashtags which might sound good on the surface, but it also means that competition is tough. The more popular the hashtag, the faster it takes for your content to be buried and forgotten.
Low density hashtags (those with less than 500,000 posts) are those the considered more niche and hyper specific. Lower competition means that when people click on the hashtag, your content might still be on top of the page even after hours have passed.
Experts will tell you to mix it up with a combination of high density and low density hashtags. This will ensure that you have higher reach and ranking.
One of the best ways to find hashtags that can work for you is by following competitors, content creators or thought leaders from your specific niche. Take note of the hashtags they use and track how their posts performs. This is will give you an idea of how these hashtags can work for you.
There are also a number of hashtag tracking tools and social listening tools you can use to help you strategize your hashtag usage.
Wednesday Hashtag Ideas
Wednesday — the middle child of weekdays. The day when the weekend feels so near yet so far and also the day where your audience will be scrolling through social media for some inspiration or distraction. Below are some Wednesday hashtag ideas to boost your content.
#Humpday
Wednesday has been infamously coined as "humpday" by office workers as it's the "hump" that everyone needs to climb over to get to the weekend. #Humpday has over 14.5 million posts on Facebook and is considered one of the most popular Wednesday hashtags.
Use #Humpday as a celebration of what you've accomplished for the week. A great content idea for a brand on Humpday could be behind-the-scenes snaps of packing orders or accomplishing tasks. #Humpday is a hashtag that's always relevant and relatable.
#WednesdayWisdom
Quotes and inspirational tips amake awesome content for Wednesdays. And with 4.3 million posts on Instagram using the hashtag #WednesdayWisdom, it shows that many users use the day to share some advice and tips.
Your #WednesdayWisdom post can be a quote or a product hack that your followers can learn from.
#WednesdayVibes
This hashtag currently has 2.4 million posts on Instagram, with content ranging from funny videos, random memes, and casual snaps. You can use #WednesdayVibes to express your brand's mood for the week.
#WednesdayMood
Similar to #WednesdayVibes, #WednesdayMood is a hashtag that's popular with casual content. It's a hashtag that shows your brand's personality and a good opportunity to practice your meme marketing. The hashtag has over 953,000 posts on Instagram.
#WayBackWednesday
An iteration of Thursday's popular #TBT or #throwbackthursday, #WayBackWednesday is the hashtag to use when posting an old snapshot. With only 500+ posts on Instagram, the tag is a low-density hashtag which increases your chances of owning it.
#WellnessWednesday or #WorkoutWednesday
Wednesday is a great day to post about wellness, self-care, or working out. Use the hashtag to inspire your followers to make it a habit and help each other get through the remainder of the week.
#WellnessWednesday has only 1,000 plus content on Instagram that use the hashtag, making it a great opportunity for wellness brands to own it.
#WednesdayThoughts
This hashtag is a great content filler for Wednesdays when you don't know what to post. You can share your thoughts about trending topics or just about anything under the sun.
#WomanCrushWednesday, #WomensWednesday or #WCW
The #WomanCrushWednesday hashtag first came about on Twitter over 10 years ago. Since then users on other social media sites like Tumblr and Instagram used the hashtags to feature their "Women Crushes".
These hashtags are great for Women's month or on any Wednesday you'd like to feature women that inspire you. It can also be your chance to feature the women behind your brand.
#WallpaperWednesday
With only 204,000+ posts on Instagram, #WallpaperWednesday might be a great recurring series for design-focused Instagram accounts.
Many brands that aren't even design-related such as Taco Bell or Glossier occasionally post wallpapers for their followers. These wallpapers are usually posted on Instagram Stories so that followers can easily take a screenshot.
Since everyone loves a good mobile wallpaper, it's a good idea to own this hashtag before anyone else does.
Hashtag tips
Where you post your hashtags matter
Instead of adding the necessary hashtags along with the caption, some brands or content creators would prefer adding their hashtags immediately after posting. However, according to a study, this can minimize the effectiveness of your hashtags. Overall, a vast majority of brands still prefer including the hashtags on the caption.
Hashtag placement affects Instagram profiles differently depending on your follower count. Generally, as your follower count increases, your average reach rate decreases as well. Additionally, accounts with over 100,000 followers have a higher reach rate when they place their hashtags on the captions versus the comments.
If you place popular hashtags on a comment even just minutes after posting, chances are that your post is already buried under newer content. Since the competition is lower, niche hashtags with only a couple thousand posts can wait to be posted through the comments.
Hide your Story Hashtags
There's no sugarcoating it, hashtags can be an eyesore especially on dynamic full-screen content like Instagram Stories. Luckily, your hashtags can be invisible to the naked eye and still work!
All you have to do is add the hashtags through the text editor as you usually would, but use colors that can easily blend with your Story's background. Next, make it as small as you can until it becomes completely unnoticeable.
Since most brands and content creators would hide their Instagram Story hashtags, you probably don't even realize they're there. So, don't forget to add them yourself to make sure your Instagram Story reaches a wider audience beyond your followers.
You don't need to use up the 30-slot allotment
It might be tempting to add 30 hashtags to each of your posts in the hopes that every hashtag will impact your reach and engagement, however Instagram tells us otherwise.
According to a post by the Instagram Creators (@creators) account last 2021, it's advisable to keep your hashtags between 3-5 per post. Apparently adding between 10-20 hashtags won't guarantee a better post performance.
This new "finding" could be because Instagram is expanding its discoverability tools, and using fewer hashtags can help them accurately recommend your posts in the Discover feeds.
While the exact number of hashtags to use is still under debate, other studies suggest that more hashtags equals more engagement.
Our stand? As long as you're strategic about the use of hashtags, and you're not being spammy, then add as you please.
Of course, the best way to find out the best number for you is by keeping track of your posts's performance. You won't know what number works best until you test and review.
Don't rely on too many high-density hashtags
It's hard to rely on high-density hashtags with over a millions posts. If the hashtag you use is too popular, chances are your post will be buried in a matter of seconds. That's why it's recommended to use a combination of high-density and low-density hashtags.
To check for the post volume of a particular hashtag, all you have to use Instagram's search tool. Each hashtag will have a corresponding number below it.
Be more specific with your hashtags
As mentioned above, it's almost impossible to stand out with high-density hashtags. For example, if you're in the food industry, using #food should be out of the question with over 479 million posts. Instead, you can try to compete in a smaller pool such as #asianvegan or #italianrecipes if these apply to you.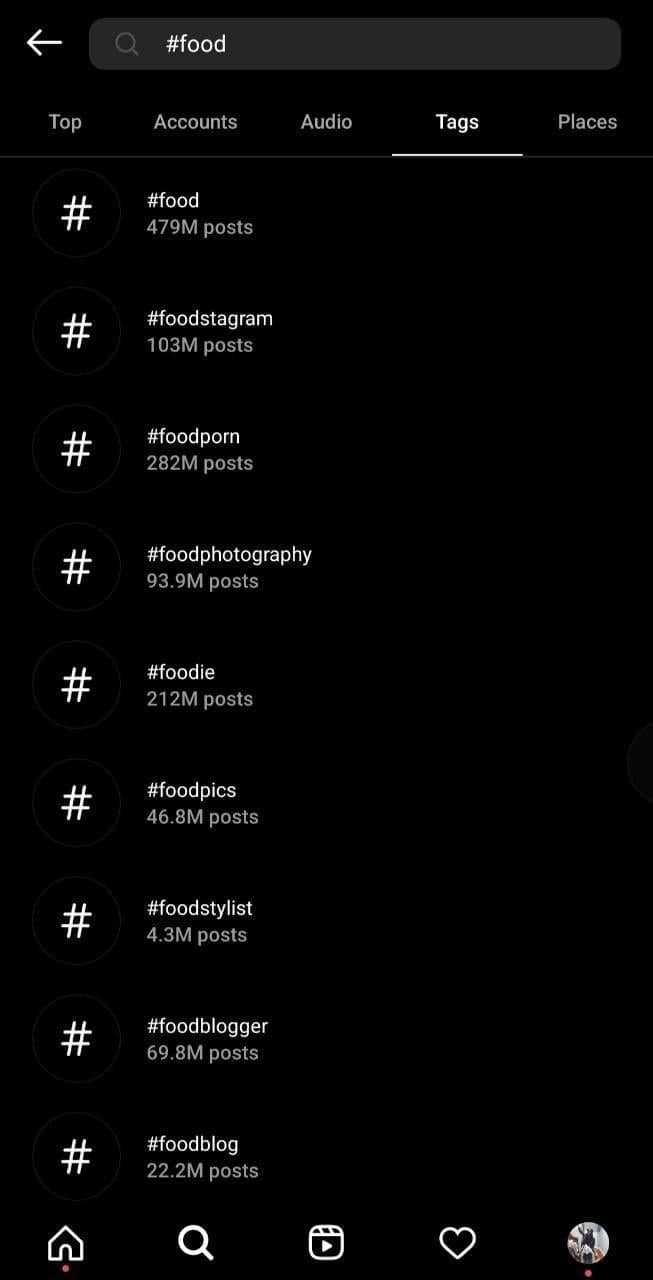 Think about it, when someone searches for recipes on Instagram, they won't use #food as their keyword. If they're looking for something in particular, they won't be using general terms as it will make it harder to narrow down their choices.
Use daily hashtags to reach your audience
Think of hashtags as one of your daily marketing essentials to help grow your following and increase your Instagram revenue. They're easy to use and they can help boost your reach without having to spend a single cent. Plus, dedicating special hashtags for particular days can guide you in creating regular content that your audience can look forward to.
Remember that since most daily hashtags are high-density hashtags, it's crucial to pair them with more specific hashtags to effectively target the right audience.
And most importantly, since you don't want to attract just anyone — always stick to hashtags that are on-brand and related to your industry. Otherwise, you might grow your follower count but they won't translate to any conversions.