With over 4.9 billion users, social media has become a goldmine for ecommerce merchants who want to boost their sales. Whether it's through paid or organic traffic, you can win over a customer who has interest in your products and services. And interestingly, social media platforms like Facebook, Instagram, and TikTok have made it easier for anyone to promote and sell their products.
Also, potential buyers see social media as an easy way to research a product and make a purchase. They follow brands and influencers who have ecommerce stores and are ready to swipe their card when they see a product they think will solve their problem.
For example, an ecommerce merchant can use Instagram shopping to sell their products to a target audience. On Facebook, you can connect your shop in Commerce Manager to your Facebook page. You can also connect your Shopify store to TikTok using an app and start selling right away.
On the side of the buyer, they look for a link to buy once the image and the content you post regularly speak to the problem they want to solve.
However, one of the challenges ecommerce merchants and buyers face on social media is fraud. For example, sellers often experience the use of stolen credit cards to make purchases.
Fraudsters can intercept emails between a seller and a buyer hence the need for email encryption.
Buyers can dispute transactions which lead to them asking for a refund, a loss to the seller if they can't prove the sale was legitimate.
Also, some sellers create fake profiles on social media, and promote products and when buyers place orders, they will never deliver such products. Some even go as far as blocking the buyer.
Do you encounter these fraudulent activities while buying and selling on Facebook, Instagram, or TikTok?
Help is there because this guide will show you different ways you can prevent fraud while buying and selling products on social media. In the end, you know the tricks scammers use to commit fraud while pretending to be genuine buyers and sellers and the necessary action to take to avoid them.
What Is Ecommerce Social Media Marketing?
It refers to the process of leveraging your social media presence to promote your ecommerce store with the aim of having your audience purchase the products and services you sell. Let's assume you have an active TikTok account with 500k followers. And this audience engage with your content regularly. You can decide to launch an ecommerce store on Shopify, BigCommerce, or Launch Cart, connect it to your account, and promote products from your store that you think will interest your audience.
For example, Coconut Lane is a lifestyle and fashion brand in the UK that use TikTok to drive more sales to their Shopify store. Although they rely on paid ads on TikTok to generate sales, the brand has become a go-to shop for many GenZ in the UK who want to buy fashion and lifestyle accessories.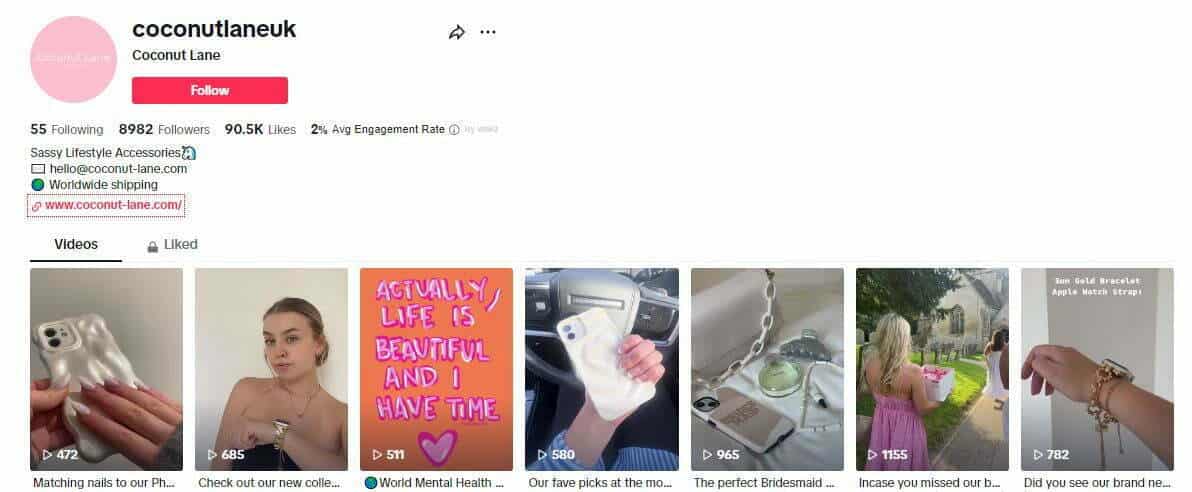 What are the benefits?
The benefits of ecommerce social media marketing are enormous.
When you launch your ecommerce store, nobody knows you and you have to strive to establish yourself.
Social media makes it easy because you can leverage the audience you have built over time to create awareness for your store. Another is it saves costs since you can promote your store using organic traffic on platforms like Facebook, TikTok, and Instagram.
While paid ads will get you results within a short time, you can still leverage free organic traffic to drive sales, make profit, and invest in paid ads to drive more sales.
Selling products from your store on social media helps you build a community. Through the helpful content you share that tells the benefits of your product, you grow a base of loyal fans and customers who will help you spread the good news about your brand.
Ecommerce social media marketing fraud and tips to prevent them
Let's begin with the fraud ecommerce merchants face and tips to prevent them.
Hacking Of Ecommerce App
It's a type of fraud that is on the rise since many ecommerce merchants for convenience purposes prefer to manage their activities on social media with mobile apps.
This has become a soft target for hackers who use the purchase link you shared on your social media to track your ecommerce app. Their aim is to identify a loophole or vulnerability in your system and then launch an attack to get access to your sensitive details. For an ecommerce app that has lots of security lapses, it becomes an issue.
The tip to prevent this type of fraud is running rigorous application penetration testing to detect vulnerabilities, implement necessary security measures, and mitigate risks. Think of it as having an ethical hacker launch an attack on your ecommerce app with the aim of identifying vulnerabilities that scammers might exploit if left unattended to. There are established cybersecurity services that specialize in application penetration testing. Securelayer7, Bishop Fox, and Rapid 7 are the top 3 I recommend.
Chargebacks
Some fraudulent buyers dispute transactions after making a purchase just to file for chargebacks. The aim is to have their bank or credit card company get their money back. In most cases, your business account is debited as a refund is made to the buyer while you rarely receive the product you have sold. Some of these customers go as far as making malicious comments on your social media posts to look legit. This leads to loss of funds and damage to your social media reputation as a seller.
To prevent this type of fraud, make your return and refund policies clear; let potential customers know the conditions under which you can make refunds.
If possible, add a link to your refund policy anytime you promote a product on social media. You can also highlight them on the background image of your Facebook, Instagram, and TikTok accounts.
Use robust fraud prevention tools like Card Security Code, Visa Account Updater, and Address Verification Service to stop fraudulent purchases before they result in chargebacks.
Intercept Fraud
When you post products from your ecommerce store on social media with the link for your audience to purchase, some scammers who pretend to be genuine make purchases using stolen credit cards. They play smart by avoiding certain checks by providing legit matching shipping and billing addresses. Upon placing an order, their aim is to intercept the package before it gets to the address provided.
A common trick is to contact the shipping company to reroute the package to the destination of their choice. By this, they have successfully used a stolen credit card to make purchases and have them shipped to their locations. In most cases, they make heavy purchases to ensure they exhaust all the money in the stolen card. A person whose credit card was used to make purchases in your store will blame you for not having a system to prevent such.
This type of fraud tarnishes your image as an ecommerce merchant and can lead to negative reviews on social media.
To fight it, manually verify unusual orders in your store. Let's assume the highest order you have recorded in your store amounts to $2000 and all of a sudden, you receive an order that amounts to $10,000. This is a red flag that scammers have used a stolen credit card to make purchases in your store. Flag such an order and initiate a process to manually verify it. A legit customer will respond within a few hours while scammers won't since they can't provide the verification details requested.
Phishing Scams
This is the most common form of ecommerce fraud you can experience on social media. Scammers create fake social media accounts mimicking legit store owners with the aim of deceiving gullible potential customers. They steal personal details, receive payments for orders, and never deliver while pretending to be the brands they impersonate.
I have seen many customers fall for this and blame legit brands on social media for their loss.
Below is the sad experience of a user who purchased an item from a brand on Instagram and the brand refused to deliver the item to her location.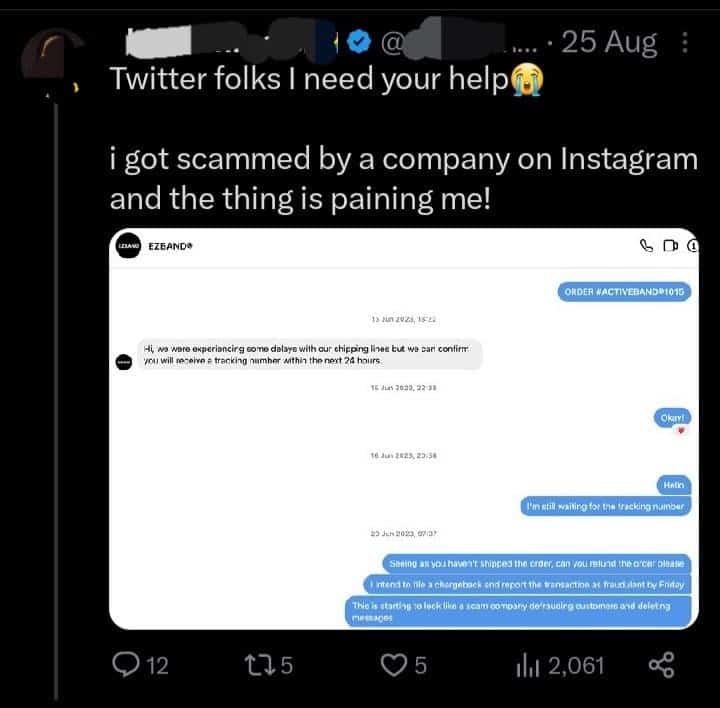 According to her, there was no genuine explanation after a few days and the brand wasn't ready to refund her money. So she came on Twitter to ask her audience for help. This could be a clear case of a phishing scam where fraudsters create fake social media accounts of brands, and use them to defraud unsuspecting buyers.
To prevent this type of fraud on social media, ensure that all your social media accounts are verified. Facebook, Instagram, and TikTok which are popular platforms where you can promote products and make sales have verification systems.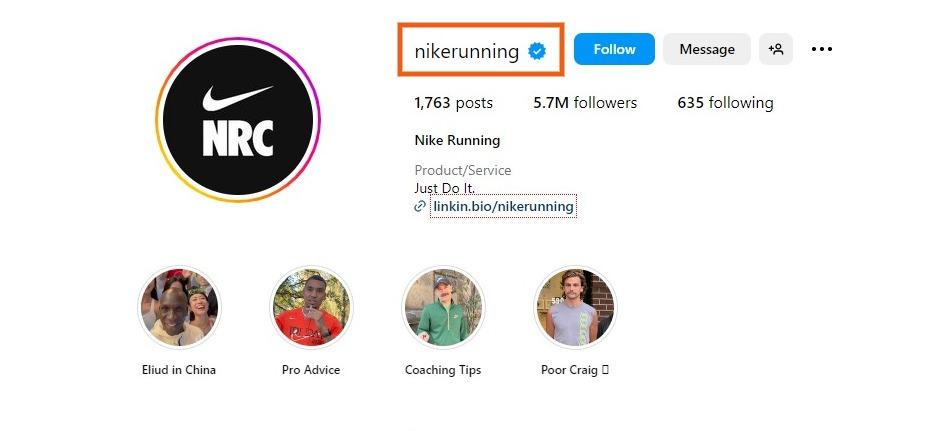 Apply to get verified so you can separate your account from fake profiles and for your potential customers to easily identify you.
Have a brand logo and identity that are hard to clone and upload them to your profile.
Have a brand voice your audience will know you for and use them anytime you promote your products on social media. This makes it hard for scammers to impersonate you.
Now let's look at the fraud buyers encounter trying to purchase on social media.
Bait and Switch
This is a type of fraud that happens when sellers promote products on social media but lower the quality once payment is made. Let's assume a customer saw the image and description of an American Standard Nike Shoe on Instagram only for them to get less quality or even fake Nike shoes when the item arrives. This is a common tactic sellers fraudulently use to make more profit.
To prevent this as a buyer, do your research on any brand you see on social media and are interested in buying a product from their store. Check what people say about them in the comments or posts they made.
Go to their store and also read reviews previous buyers left. DM them to make inquiries and confirm the quality of the product they share on social media before you place an order.
Fake Reviews
Fake reviews are common on social media as ecommerce merchants deploy shady tactics to boost their sales. As a buyer, it's important you keep an eye on this to avoid being deceived. Sellers knowing that reviews move social media audience buy reviews from people who haven't used their products.
To avoid falling for this, read reviews carefully and use your instinct to decide if a review is real or fake.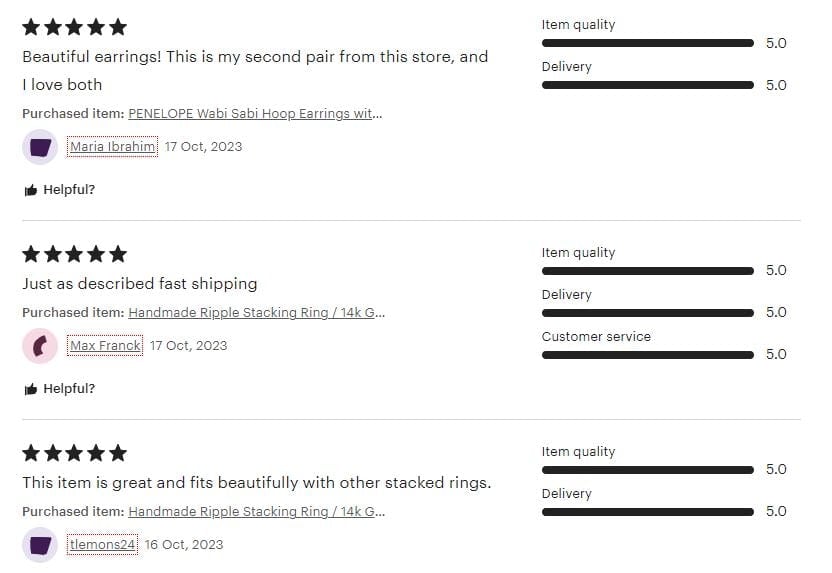 Coming across 3 or 4 reviews that say exactly the same thing is a red flag.
Fake Merchandise Sale
Here, ecommerce merchants promote products that they don't have in stock, receive money from unsuspecting customers, and disappear.
This type of fraud is common on Instagram where scammers impersonate Instagram influencers, launch ecommerce stores, and sell products they don't have in stock.
To avoid this type of fraud, research the seller to ascertain their credibility. Confirm their social media accounts are verified and pay through secured payment processing channels like PayPal – they offer buyer protection so can help you recover funds if you encounter fraud.
Unrealistic Prices
Fraudsters are aware that buyers want to buy goods at cheaper prices. So they sell products that they don't have at unrealistic prices just to get you to make payment.
For example, a scammer pretending to be an ecommerce store owner can promote a Sony Noise Canceling Wireless Headphone that costs about $300 on Instagram at an unrealistic price of $70. Buyers who think they are buying a product they like at a cheaper price don't know they are actually being scammed.
To prevent this type of fraud, avoid buying items sellers promote on social media at prices that look too good to be real.
Final thoughts on Ecommerce social media marketing
Fraudsters are taking advantage of ecommerce social media marketing to cause pain to buyers and sellers. It's important you be on alert to avoid falling for their tactics. As an ecommerce merchant, you lose customers, credibility, and sales when scammers defraud you on social media. As a buyer, you lose your hard-earned money and in some cases hand over your sensitive details to fraudsters. This guide has provided you with the different types of fraud that happen when buying and selling products on social media. It's up to you to keep them in mind so you can put fraudsters out of business and have them run out of luck.