Everyone loves a good joke. And, it could be argued that using social media humor in digital marketing (or any other kind of marketing for that matter) makes for one of the best tactics for brands to achieve success.
For one, well-delivered social media humor doesn't "just" attract and engage audiences. On top of that, it's also super-efficient at helping brands build meaningful relationships with their clients.
However, the thing about using humor in your social media strategy is that it's not as easy as coming up with a funny meme or a clever punchline. Much more than that, it's about getting the joke and the timing right to reap all the benefits of a comical approach without risking your brand's reputation.
So what is it that you should know about the benefits of using social media humor? And how can you effectively add jokes to your strategy? Let's find out.
Why Use Humor on Social Media
One of the top benefits of using comedy in any of your marketing efforts is that it works. Since the early 1970s, scholars and marketing experts alike have commended the effectiveness of humor in advertising.
But while the distribution channels through which brands can communicate their messages have changed, the impact of a good joke remains the same. For example, a 2019 survey studying the criteria for good sponsored ads on Instagram revealed that 41% of US adults liked humorous posts.
Still, the impressive thing about implementing a comical approach is not just about the figures. After all, the success of a brand isn't measured by the number of likes on sponsored posts. It's evaluated through a complex set of KPIs, including sales, customer loyalty, audience sentiment, and website performance.
And although entertaining content delivered through social media may not directly boost sales or website performance (at least not all the time), it can play a significant role in driving success.
So what are the potential gains of including humor in your social media posts?
Relatability
When it comes to the benefits of a humorous approach to social media content production, it's safe to say that using jokes to make a brand more relatable tops the list.
After all, people seek connection. And, according to research, social media plays a big part in enabling those connections both with fellow users and brands. So, using humor to address issues that everyday people can relate to and connect over makes for an excellent strategy.
Think, for example, of Snickers. The brand's Rookie mistake campaign draws attention to all the small things that can go wrong in a day – from putting a red sock in the white laundry to getting a suntan while wearing a face mask.
View this post on Instagram
Source: instagram.com
These posts are funny, but not because people want to laugh at other social media users. Instead, they drive connections because everyone has made a rookie mistake in their lives.
So, by connecting users through experiences, Snickers is (quite smartly) putting its products and the relatable problems they solve at the base of that newly forged connection.
Engagement
Another great benefit of including jokes or funny content on your social media timeline is that it drives user engagement.
Knowing that people prefer humorous to serious entertaining content, producing social media posts to amuse could make an excellent strategy.
Of course, this doesn't mean that all funny posts boost engagement and social media performance. But, it appears that those that use humorous messages to promote low-risk products do fare better with this type of approach.
Emotional Connection
The role of emotions in marketing has long been studied. Research on consumer behavior has found that people's decision-making process mainly depends on personal feelings and experiences rather than objective evaluation.
So, it could be argued that by delivering humorous content that helps people feel good, brands actively build emotional connections with their target audience.
When they get it right, they hold the potential of positively impacting trust and loyalty. And seeing how these make for some of the most valuable KPIs a brand can go after, it's safe to say that humorous messaging offers great potential to those who know how to get it right.
Virality
For many business owners and marketers, going viral is the holy grail of content marketing. And science suggests that employing humor to achieve high traffic might be the way to go.
According to a research paper published in 2012, one of the most effective ways to go viral is to elicit a strong emotional reaction. But while both awe-inspiring and anger or anxiety-fuelled posts had high chances of becoming immensely popular, it turns out that people prefer to consume and share content that makes them feel good.
For example, this Father's day video from Aviation Gin uses humor to "celebrate" the holiday. But, instead of doing this with a traditional approach, it draws attention to all the challenges of parenthood, cleverly disguising them as blessings.
All in all, it's an easy way to make people laugh by helping them relate to the persona on the screen. But, as it turns out, it also works to achieve virality: the video has an impressive 5.6 million views.
Memorability
There's another considerable benefit to using humor in marketing: it drives memorability.
A study conducted in 2013 found that consumers exhibited much higher memory recall when watching humorous videos. Moreover, it turns out that the strategy works regardless of the viewers' mood, making it an excellent choice for brands that want to leave a strong impression.
Consistent Brand Voice
Finally, it's important to note that humor doesn't just have to serve the purpose of achieving impressive reach or engagement results. It can be equally, if not more, beneficial when employed to build up a consistent brand voice.
According to Inc., brand consistency contributes to a 23% revenue increase, 3-4 times higher visibility, and directly avoids brand confusion. And if you can achieve all this by making your social media posts funnier, then it's a goal that's well worth the effort.
How to Include Humor in Your Social Media Strategy
There are numerous ways you can include funny bits in the content you create for social. Naturally, each brand will have to ensure that its posts reflect its personality, voice, and appeal to its audiences. Still, experience has shown that there are a few highly effective ways for adding a touch of comedy to content produced for social.
Use Memes
One super-easy way to freshen up your timeline with some humor is to post memes. As funny, satirical, or ironic comments on everyday occurrences, memes fulfill the three prerequisites for online success:
They're easy to create.
They're easy to share and replicate.
They can stand the test of time.
And the best thing about creating humorous memes is that anyone can do it. Just check out the example below, posted by Netflix. It's utterly simple. Yet, it still managed to generate almost half a million likes thanks to a familiar format, some wordplay, and a clever caption.
View this post on Instagram
Source: instagram.com
Go Super Niche
Of course, unless you are a huge brand, like Netflix, you can't expect your content to resonate with millions of people. But that's OK.
Humor is equally successful at connecting brands with their audiences, regardless of follower count or niche popularity.
As a great example, check out these chicken meme posts by Homestead Supplier. To the average person, they're just mildly funny glimpses into farm life. But to farmers, they're some of the most relatable content they will find online.
Source: facebook.com
Subvert Expectations
Another great way to use humor in your social media posts is to go in a completely opposite direction of what your audience expects.
For example, Dollar Shave Club achieved this beautifully with a campaign that thrilled (and shocked) viewers across the globe in 2012. Having created a ridiculous explainer video, it quickly went viral. And to no surprise.
After all, who doesn't want a great product? At an affordable price? From a company that doesn't take itself too seriously?
Address Trending Topics
Creating trendy content can be a double-edged sword. On the one hand, it offers gains through virality and relevance. But on the other hand, it's easy to get it wrong.
Fortunately, a little bit of (self-deprecating) humor can help prevent a faux pas.
Totinos, for example, is a brand that regularly addresses trending topics, but does so by poking fun at its own products. The results? A social media timeline in line with current trends, that's just the right combination of funny and relevant. Just look at this image below poking fun at the craze over pumpkin spice flavored foods and beverages.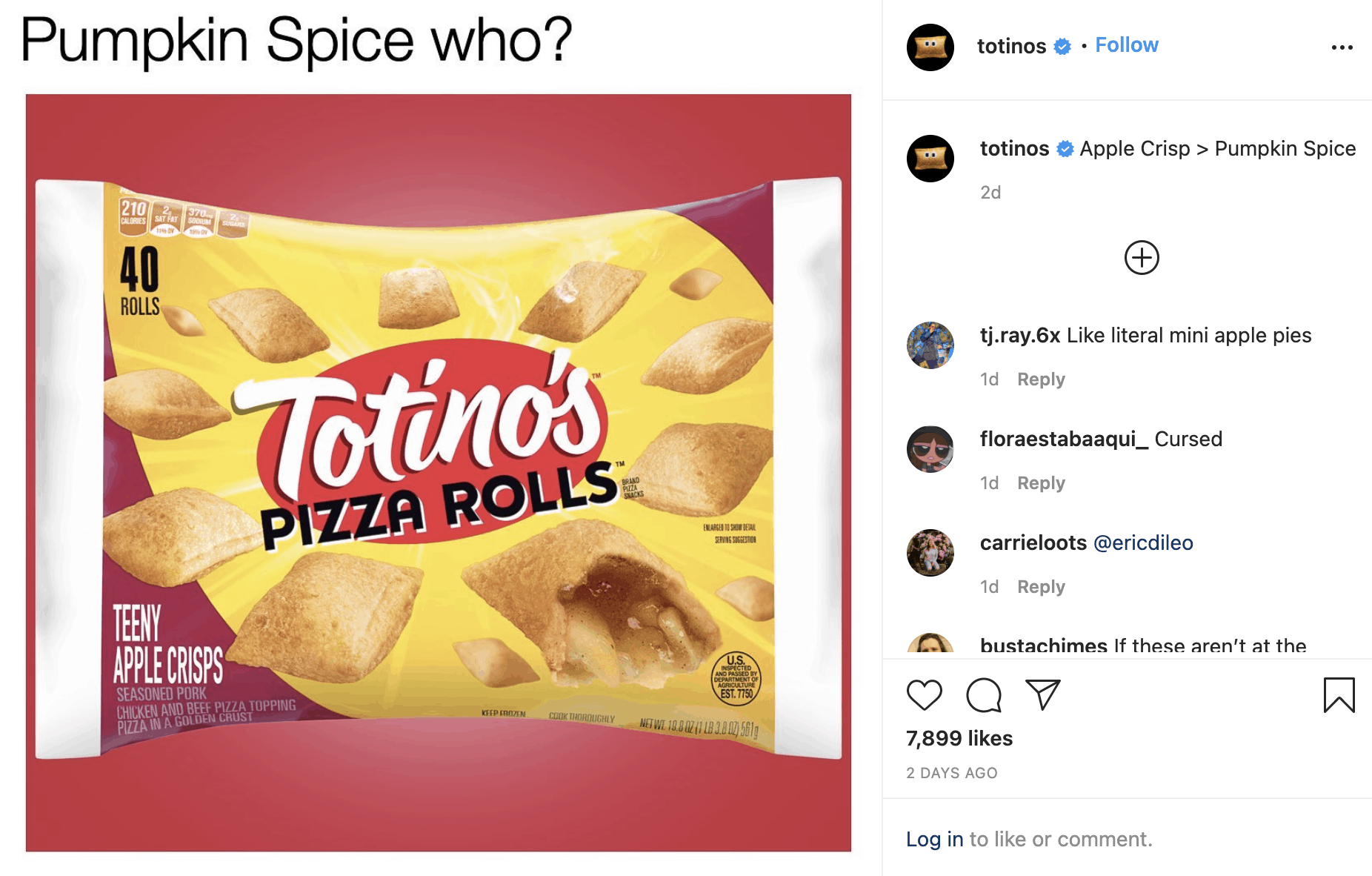 Source: instagram.com
Know the Platform
The one thing you need to understand about creating content for social media is that what passes as funny differs hugely between platforms. Not just because of demographics but also because of how those platforms work.
Users who come to 9GAG, for example, have hugely different expectations than those browsing Twitter. Consequently, brands who want to entertain audiences on these platforms will need to keep this in mind.
As a great example, check out how the NBA's presence changes depending on the social media platform.
On Twitter, it's all about news and stats, with the occasional image or video thrown in. But on TikTok, the brand posts a variety of funny and entertaining content, knowing that, to stand out, it needs posts that will effectively grab and retain user attention.
Interact With Your Audience
One of the benefits of using humor in social media marketing is that it drives user engagement. But getting tons of likes and comments means nothing if you don't know what to do with them. Fortunately enough, you can use humor to both engage and stay in contact with your followers.
For example, if you post an image or video that gets you a lot of attention, don't let things end at that. Instead, work to get those people to stay around on your profile. Whether this is by carrying on the conversation or pulling a Wendy's and roasting your fans is entirely up to you.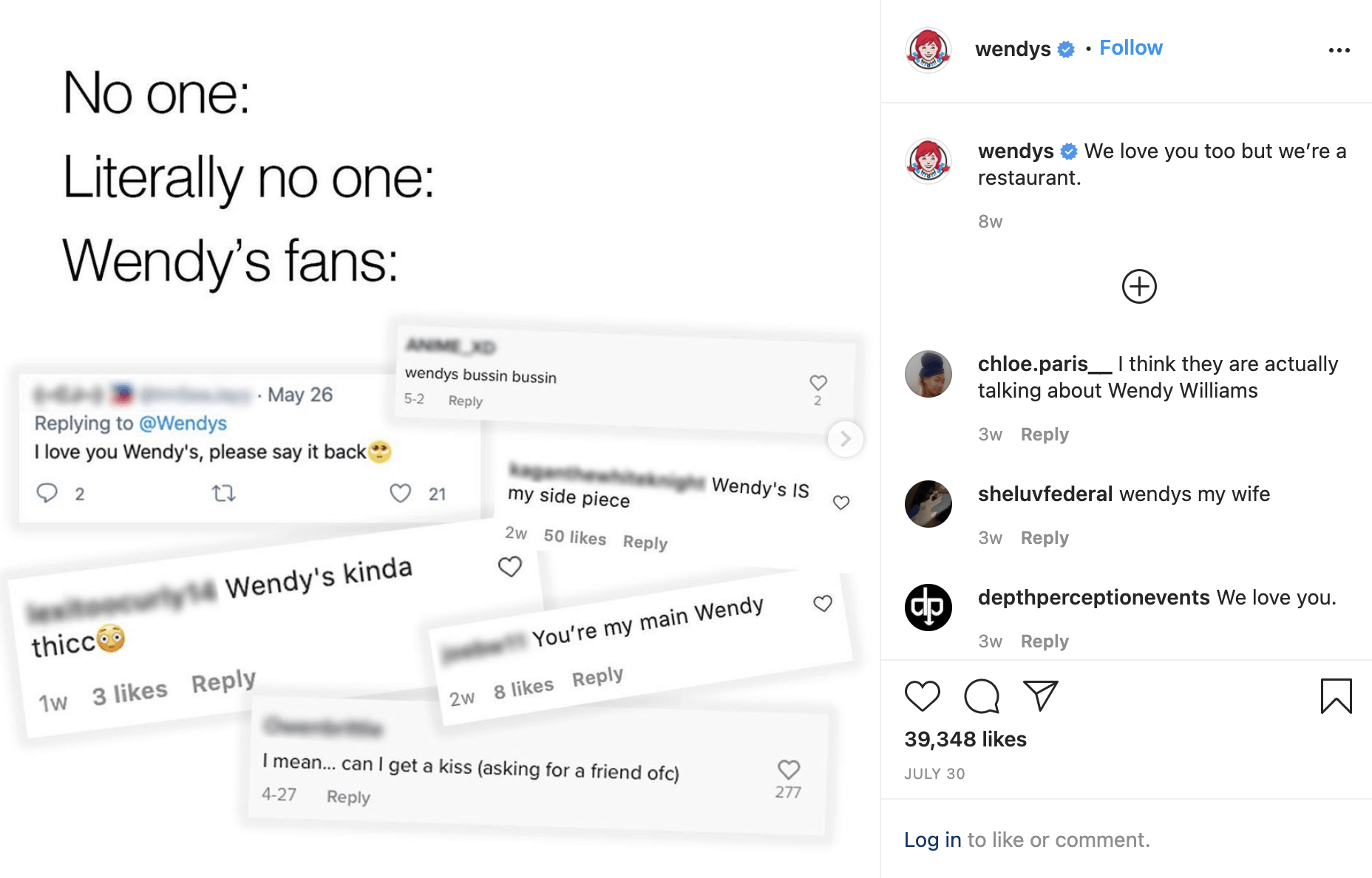 Source: instagram.com
What matters is that the success of your campaigns doesn't end on social media but turns into consumer-brand relationships that benefit both your online reputation and your bottom line.
Tackle Controversial Topics
Last but not least, if you want to use humor on social media, you have to understand that jokes are only funny when they ruffle a few feathers (without taking it too far). So, it might not be a bad idea to consider tackling controversial topics with your humorous content.
The great thing about this approach is that it works wonderfully to generate and grab attention. And, if you play your cards right, you can use it to communicate your brand's message, as well as to reach an audience whose values coincide with your own.
Take this Instagram post from Future Kind, for example. Using a meme to (humorously) call out people on their commitment to green products, the brand points out that many of those same people won't make necessary changes to their behavior.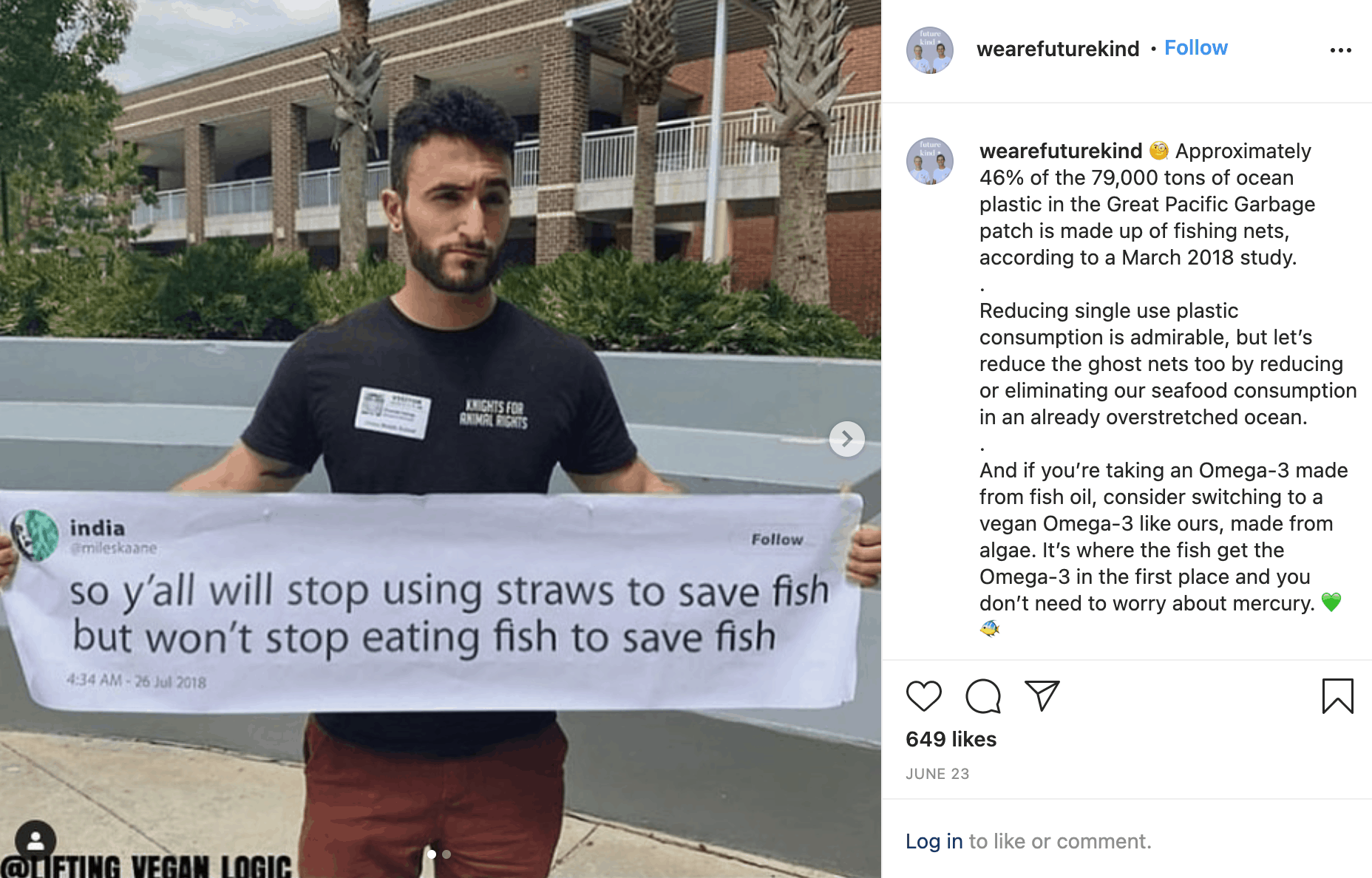 Source: instragram.com
However, instead of just drawing attention to people's hypocrisy and using them for comedic effect, Future Kind goes on to offer a solution – a vegan Omega 3 supplement. By doing this, the brand helps people feel good about their eco habits and helps them eliminate seafood consumption from their daily routines. It's a win-win.
How Not to Use Humor
As you can see, adding a touch of fun to your social media timeline is nowhere near as impossible as you may have thought.
Sure, if you're not naturally funny, you may want to hire a professional writer who is (or at least run your ideas by people you trust). But on the whole, anyone can successfully create humorous social media content that works.
Nonetheless, there are a few things you should keep in mind when going for a ha-ha approach:
Ask Yourself: Is It Too Soon?
A lot of jokes revolve around current topics, making light of otherwise difficult situations. However, you have to understand that sometimes, it's not a bad idea to hold off on a killer punchline.
A survey from Statista, for example, showed that in April 2020, as many as 38% of people thought it inappropriate of brands to joke about the Coronavirus pandemic.
So, the next time you have something funny to say about a sensitive topic, consider waiting a bit. In the end, not even thousands of likes or retweets are worth risking the reputation of your brand.
Don't Set Yourself up for Failure
Another situation in which you definitely want to avoid humor is the like of which you might find yourself in the future.
In October 2020, the most popular social media strategy for smartphone brands was to create content that mocked Apple for not including a charging brick with its latest lineup of phones. And that would have been perfectly fine. Except that three months later, many of those brands did the exact same thing and were forced to go back and delete their tweets.
Don't Joke About Things You Don't Understand
Another super-easy way to come off as a fool is to make fun of things you don't understand.
So, before you make fun of someone or start creating posts that rely on the latest trend, it's not a bad idea to do a bit of research. Yes, it's extra work. But in the end, it might just save you a lot of time by not having to deal with the consequences of a poorly executed social media campaign.
Don't Forget the Basics
Lastly, before you go all-in on humorous tweets and TikTok videos, you need to understand that a super-successful social media presence doesn't mean a thing if you don't have the basics to back up your online popularity.
So don't be stingy on time when it comes to developing high-quality products and hiring a stellar customer care team. Although these might not be what will make you popular overnight, they very well are the things that will ensure the longevity and profitability of your business.
Final Thoughts on Social Media Humor
Research and experience both suggest that using humor in social media marketing promises great potential. Nonetheless, for these campaigns to yield results, marketers have to understand that humor doesn't just come with high returns. Unfortunately, it also means a solid amount of risk.
For this reason, including humor in your social media strategy requires planning and preparation. There's a lot of research to do before hitting that "publish" button. If you're ready to do that work and face the possible consequences, then good for you.
But if you're unsure whether the gains outweigh the risks, you might want to start slow. Test the playing field and gauge your audience's reaction.
If it's not what you expected, no harm done. And if you see a positive response, it might mean that your followers are ready for you to take things to the next level. Just make sure that you don't undo all the hard work you've done to build up a great reputation.