The explosive growth of the video-sharing platform TikTok has given birth to countless creators. You don't have to have an acting degree or a large following on any other social media platform — it allows you to build your personal brand from scratch. Choose a niche, post entertaining content consistently, and you'll gain your loyal audience in no time.
But what if you want to monetize your account? Taking it a step further requires you to know all the ins and outs of the platform. It also helps to understand what TikTok analytics mean and how to leverage them.
Having been around since 2016, it's managed to become one of the top social media platforms mainly used by Gen Z and Millenials. TikTok creators admit that the engagement rates on the app are as high as 18% which is nearly 6 times higher than those on Instagram. No wonder influencers choose to branch out from Instagram and invest more time and effort into TikTok that's evidently more rewarding.
Nowadays companies choose to collaborate with micro-influencers that have engaged audiences. The high ROI is the main reason why this is the case which is influenced by their reliability, better authenticity, and higher quality of the content.
If you've always wanted to share something with the world but didn't have a platform to do so, TikTok is your best bet. Alternatively, if you already have an account with content but haven't dabbled into marketing campaigns just yet, keep on reading to find out how you can make the most of the platform using TikTok analytics.
How do I see my TikTok analytics?
Before you can access your TikTok analytics, you should switch to Pro Account. Similar to an Instagram Creator account, TikTok Pro enables creators to track the performance of their videos and adjust their content strategy if needed.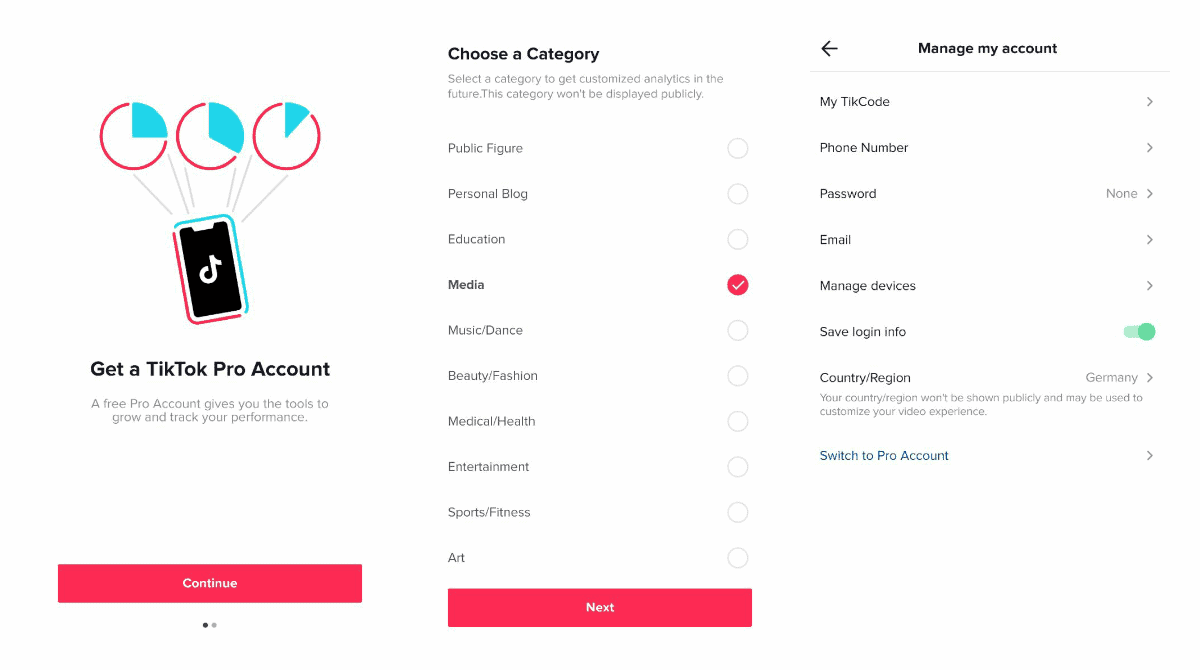 Once you've chosen the relevant category and confirmed your phone number, you can start playing around with different TikTok features. To do so, click the ellipsis symbol on the top right corner when you're on your phone. You'll then see the Analytics tab after you click the Privacy and Settings section — it'll be under 'Account'.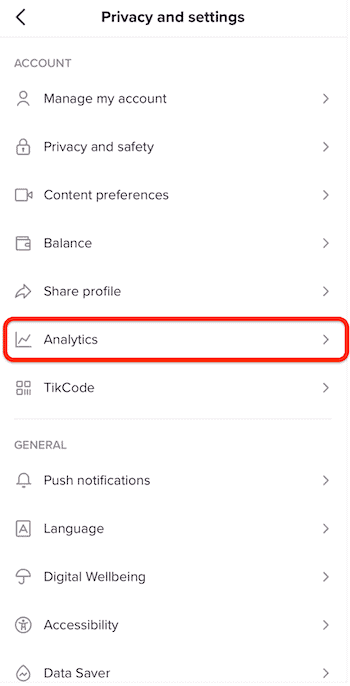 On the desktop, you'll have to log into your profile and click on your profile icon to get access to analytics. Note that you need to be on your desktop to be able to download data.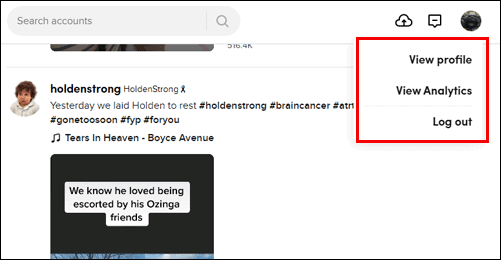 If you can't see TikTok analytics on your profile, it's most likely because you haven't switched to a Pro account. You can fix this by following the instructions above.
What are some key metrics to track?
To reap the benefits of TikTok and make the platform work for you, it's smart to educate yourself on what metrics you should be tracking on a weekly basis. While not all of them require your undivided attention, there are a few that can help you grow as a creator much faster. Below are our top 13 metrics to watch no matter if your following on TikTok is big or small.
The number of video views
This should be a no-brainer as this is the metric that catches your attention from the get-go. By tracking it, you'll be able to discover what content that you're posting resonates with your audience the most. When you know this information, it's that much easier to decide what content you should focus on and what is better to leave for your eyes only.
The number of followers
Just like with the number of video views, the number of followers gives you a good idea about how engaging your content is. It also serves as a good portfolio metric for companies to refer to when calculating what ROI they can be counting on if they choose to work with you.
The number of profile views
You can already see the pattern with the number of X views; the number of profile views, in this case, signifies how many people clicked on your profile to find out more about you. It's a great indicator of brand interest as it brings these profile viewers one step closer to subscribing to your content.
Average video watch time
Even if your videos are on the longer side, it doesn't mean that every viewer who clicks on them watches them from beginning to end. This is why gauging how much time they actually spend watching your content is crucial to understanding whether or not your videos are engaging enough for the public.
Average engagement per video
Arguably one of the most important metrics to track, average engagement per video tells you all you need to know about how well your TikTok campaign is performing. In simpler terms, engagement translates to the interactions the users have with your videos including likes and comments. The higher these numbers are, the more attractive you become to potential brand collaborators.
Types of traffic sources
People can come across your videos in a variety of ways. They could've spotted them on their For You page, on their following feed, and even by searching for a specific hashtag or a trending sound. If you happen to use a hashtag or a sound to reach a wider audience, you'll want to track whether your efforts are being paid off by measuring the types of traffic sources.
Audience's activity
To know what's the best time and day to post videos, you should keep tabs on when your followers are online and offline. Both are equally important as they help you understand why some of your posts are getting good engagement while others are lacking. The simple truth is that your content might be engaging, but if your followers aren't active on TikTok when you post, they'll likely miss it.
Audience's gender
You need to know who watches your videos the most. That is, if your audience consists of mostly males, it'd be better if you cater your content to them. But if you want to branch out and reach a different gender, collaborating with other creators or creating brand partnerships with companies that appeal to that audience is the best way to grow your viewership.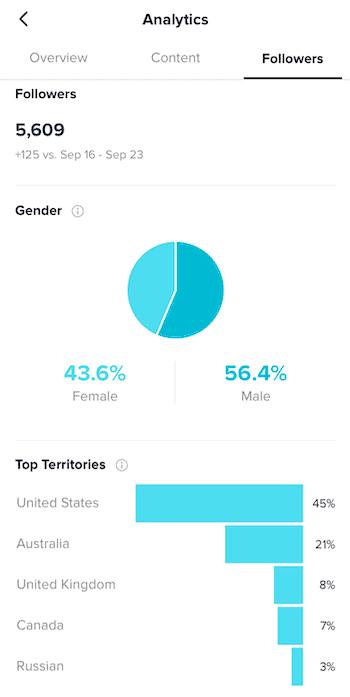 The geographical location of the audience
Aside from the gender statistics, you can also check where your audience is watching your videos from. Called 'Territories', this metric helps navigate through the marketing campaigns you're creating and target the country or a group of countries for better exposure. Besides, this way you can find out where your most loyal followers are from and do a shoutout from time to time.
Sounds the audience listens to
When someone starts a trend on TikTok, chances are it involves a never-heard-before sound. Creators are quick to jump on the bandwagon and so should you if you want to appeal to your audience's interests. Check what sounds your followers listen to the most and start filming videos that fit them well. You're guaranteed to get good engagement and perhaps even new followers if your video goes viral.
Videos the audience watches
When accessing this metric, you get valuable data on the types of content your audience enjoys watching the most. This gives you the opportunity to recreate it and boost your engagement. It also gives you a glimpse into what makes the video go viral and inspires you to be the next one to come up with a unique piece of content.
The growth of the audience
To identify what sparks growth in your following, you must regularly analyze this metric. As shown in the image below, your number of followers can change drastically in a span of a day. This means that there are some spikes occurring throughout the day you need to make notes of. If they happen right after you posted a video, this might be an indicator that your new content is resonating well with the audience.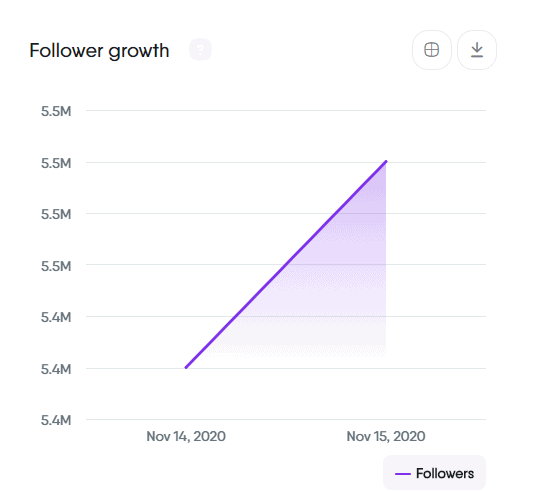 The usage of hashtags
If you're, for example, a yoga content creator, you might want to check out the hashtag #yogainspiration, #meditation, or #yogaeverydamnday. TikTok influencers make an effort to use hashtags that reflect their content which, in turn, helps them reach the right audience. You can access data on any hashtag by introducing it in the Discover Tab where the number of views, top videos using the hashtag, and related hashtags will pop up.
What are the tools on TikTok?
It's one thing to know what TikTok metrics to track, but it's a whole different ball game if you want to actively grow your platform and reach specific campaign goals. This is where TikTok tools come in handy. They allow you to gather all the data you need, evaluate your marketing campaigns and adjust them to gain more followers and higher engagement. Scroll down for 5 of the best TikTok analytics tool we recommend you check out.
Brand24
You don't need a TikTok-only dedicated tool to excel at finding relevant hashtags and implementing them in your content. An analytics app like Brand24 proves that with its many features enabling users to monitor the usage of a certain hashtag and see how trendy it is at any given point.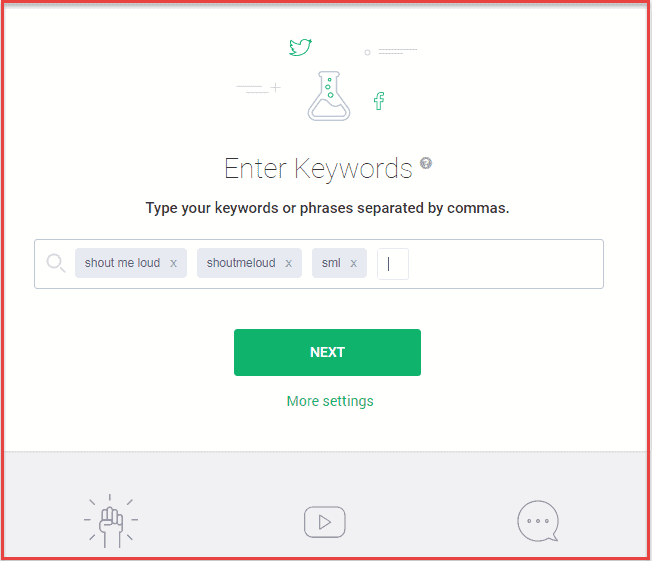 With Brand24, you can also discover the number of times a hashtag has been used, its reach, and what famous influencers are already leveraging it. You can also set instant notifications to always be in the know about the latest trending hashtags. This way, you'll be able to jump on the trend before it dies down.
TikLog
Designed specifically for TikTok, TikLog helps you analyze your content and make changes to your marketing strategy so that you could grow your platform. The tool's interface features 5 tabs including Accounts, Analytics, Hashtags, Trends, and Comparison for a more thorough tracking.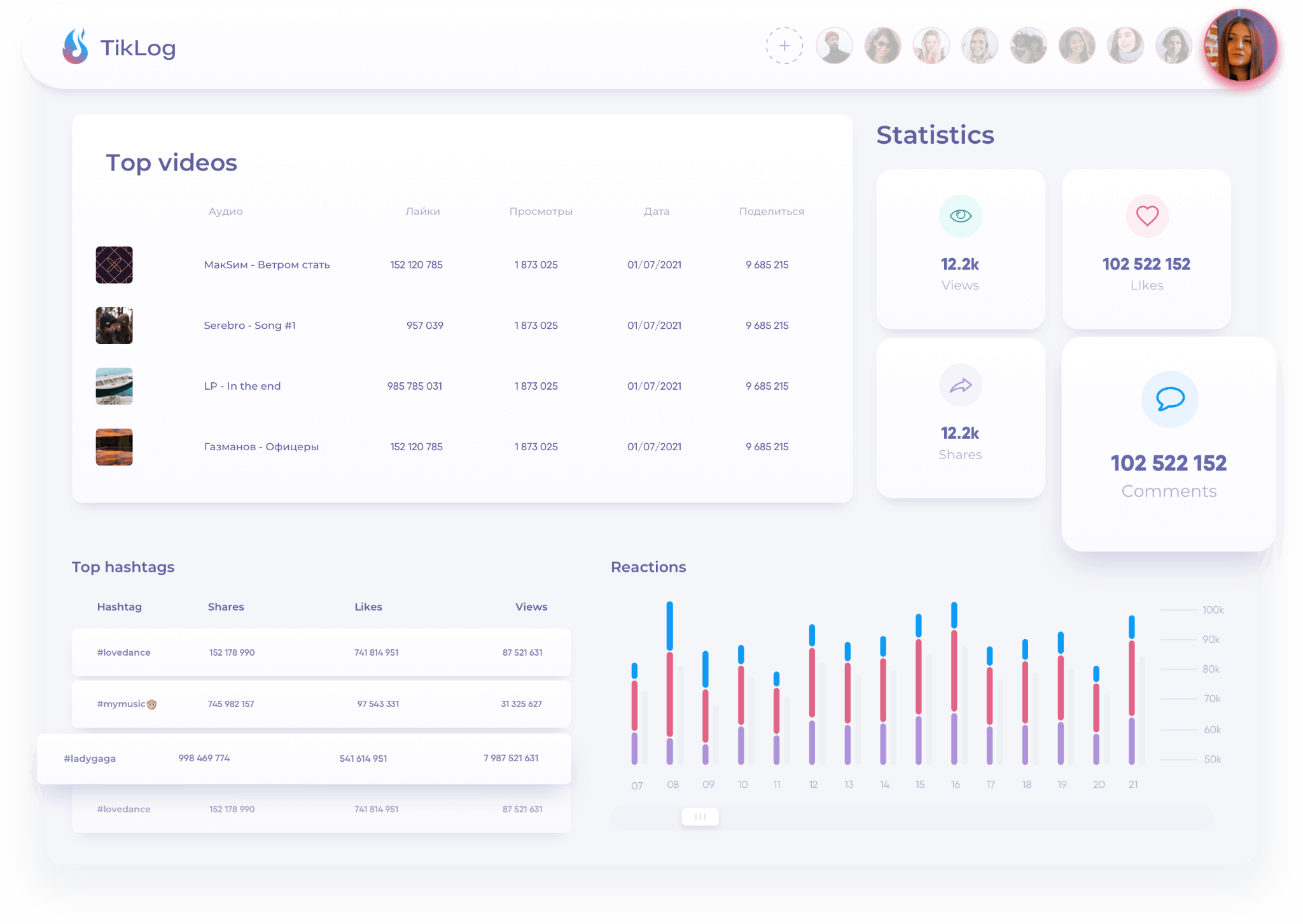 In the Accounts section, you're free to choose any period of time and check how many likes, views, reactions, comments, and shares you got. The Analytics tab enables you to further explore each of the statistics while the Trends tab provides you with data on what topics are trending. With the Comparison tab, you get a good idea about how your account compares to others on the basis of more than 30 criteria.
Analisa
Despite the social analytics tool being relatively young, it's already proving to be worth the hype. Having AI as a primary differentiating component, Analisa offers plenty of possibilities to track the performance of your videos including but not limited to content analysis, audience demographics, and campaign reporting.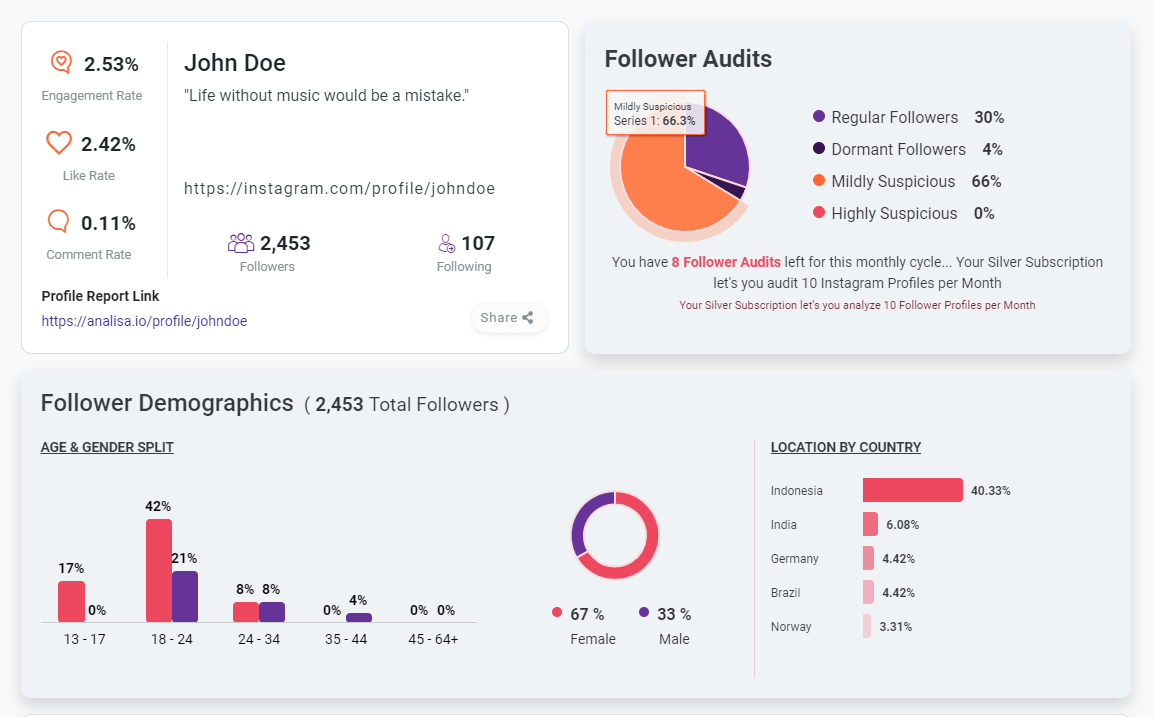 It was created specifically for media agencies and influencers with a social media following who need to have an analysis of raw data at their fingertips when designing a new marketing campaign. Note that you'll have to pay a monthly fee to get access to the features mentioned before which can be seen as an investment.
Quintly
Quintly has long transformed from being a Facebook-page comparison tool to a full-on social media analytics platform. Today, it's a go-to for every creator with a platform who wants to have easy access to all the data at all times and also be able to turn it into recurring and automated reports with the possibility of making notes.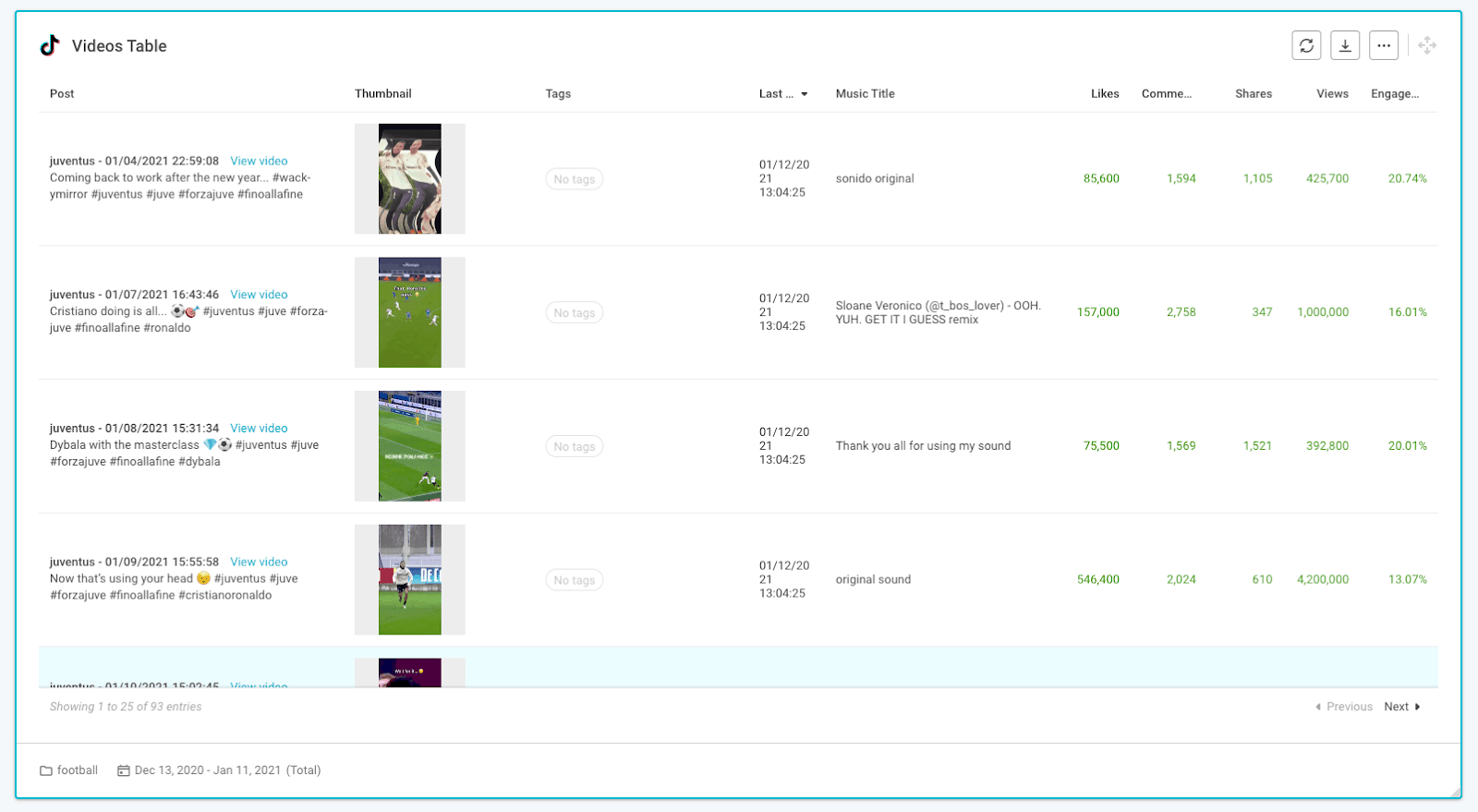 Unlike some of the other social analytics platforms, Quintly has over 400 metrics that, if used extensively, justify the steep price tag. If you're a marketing agency or a social media manager looking for an all-in-one tool that enables you to share data with your clients, this is the analytics tool for you.
Exolyt
Built as TikTok's right hand, Exolyt is a gold mine in the world of social analytics tools. It takes it a few steps further and offers creators the opportunity to compare their profiles to those of their competitors in detail. This way, you're able to find out what influencer has the best engagement without even having to contact them personally.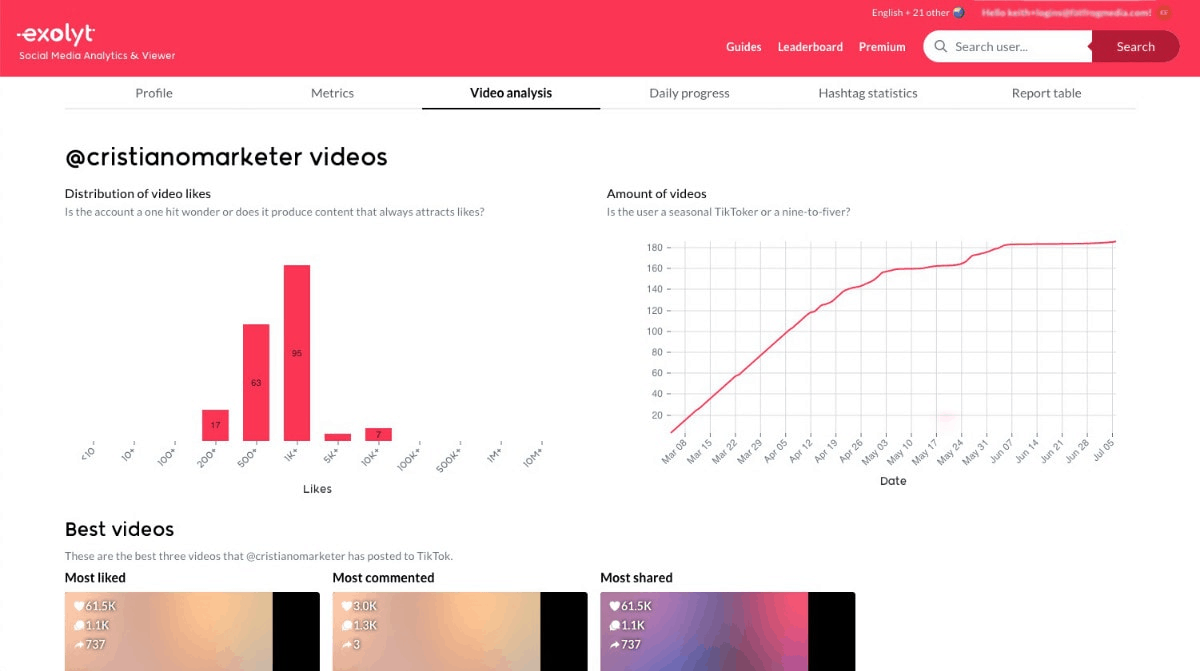 It also provides data on your most liked, most commented, and most shared videos as well as the distribution of video likes and a marketing campaign analysis. You can track your daily progress and tweak your TikTok strategy to get the best results and more bang for your buck.
To sum up TikTok Analytics
Speedy growth on TikTok isn't fiction. You can benefit from consistent uploads that resonate with others without having to have a prior following on any social media platform. It's created the opportunity for everyone to get big if they put effort into generating engaging content that follows the trends but is still authentic.
Pick the metrics that make the most sense to you and you're bound to thrive on the platform in no time. If you add a few tools on top of that, you'll have an even easier time excelling the more you're leveraging your TikTok data.