When you create a product or service, you want to make everything possible to let more people know about it.
You apply different marketing strategies that aim to raise awareness around your brand. It helps promote your product in a broader way.
All these activities help you increase demand generation.
But what demand generation actually is?
In this guide, you will get everything you need to know about what the best demand generation tips are and how to implement them.
Let's start!
Demand Generation Basics
First thing first, let's find out what process is hidden behind demand generation.
Demand generation is the process that involves various strategies, techniques, and tactics that are focused on building awareness around your brand. What's more important, demand generation helps heighten interest in your product that leads to the growth of sales.
The goal of demand generation is to catch people's attention with your product right before they consider it to buy.
Marketers are familiar with a marketing funnel that reflects a buyer's journey through it. Hence, demand generation embraces the first two stages of it – awareness and interest.
You might wonder why demand generation is important for your business.
To help you understand "why", review the following example.
When well-known brands release new models of smartphones, they hardly talk about the price each model has during TV ads. Instead, they underline what are the new features the model has, how it can improve your daily routine, and how the new design will fit your individuality.
All these aspects work as a consolidated tool that generates demand.
And when people demand something, they start considering buying it.
The Difference in Demand and Lead Generation
At a first glance, demand generation and lead generation have the same way of work – both are a part of the marketing funnel's first two stages. Both create awareness and interest. But demand generation doesn't drive leads directly.
Let's review the example below.
Here at Visme, there is a free design course. This course suggests lessons on creating presentations. It illustrates an entire process from A to Z demonstrating how to use a presentation tool with free presentation templates. When you end the course, you get a certificate.
This course doesn't attract direct leads. However, it creates demand because this course talks about a content design tool (awareness) and it generates traffic to the website (interest). And this is the first step to lead generation.
Why?
Because people may find it interesting to find out about other design tools. That might turn into direct sales.
Demand Generation Strategies You Should Be Armed With
When you are aware of what demand generation is, it is time to get familiar with the demand generation strategies. The purpose of these strategies is to help you generate demand for your product or service.
Create content that would lead users to the product pages
Visme's blog drives 412K organic traffic monthly.

This blog provides people with information on how to create visually appealing content for professionals and non-designers. Of course, the main point of the content that you can find on the blog is to show the power of the Visme toolkit.
As you can see, each post leads to one of the products that Visme suggests.
For instance, there is a blog post that covers all the aspects of brochure design. This post has allowed the content creator to include a tool to create a brochure naturally.

If you analyze this blog post, you will see that it drives 417 visits per month organically. It means that 417 potential customers read this post per month.

How to create such type of content?
Identify questions that your target audience uses to find your product (with traffic potential)
If you think that every single blog post can generate traffic – you are wrong. Only posts with niche-related, interesting, and traffic potential topics can do this.
How to figure out these topics.
The most straightforward way to find these topics is with the help of the "Questions" report available in the Keywords Explorer tool from Ahrefs.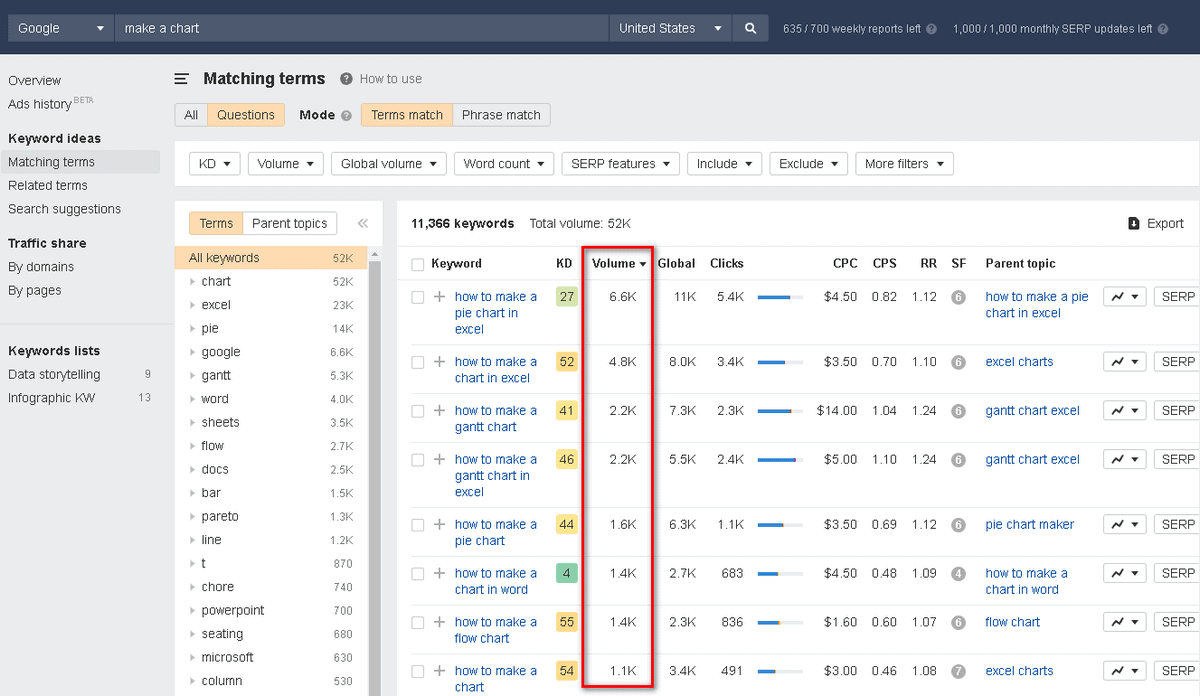 Draw your attention to the search volume metric – the higher it is, the better for you in terms of traffic potential.
Work on creating high-quality content that would rank on Google
This advice is self-explanatory. In other words, make sure you create comprehensive content that would cover all touch-points of the topic you want to present.
Create quality and engaging video content
YouTube allows Visme to promote content design tools and share the information with the users via videos. The channel has 131K subscribers and 10M+ views.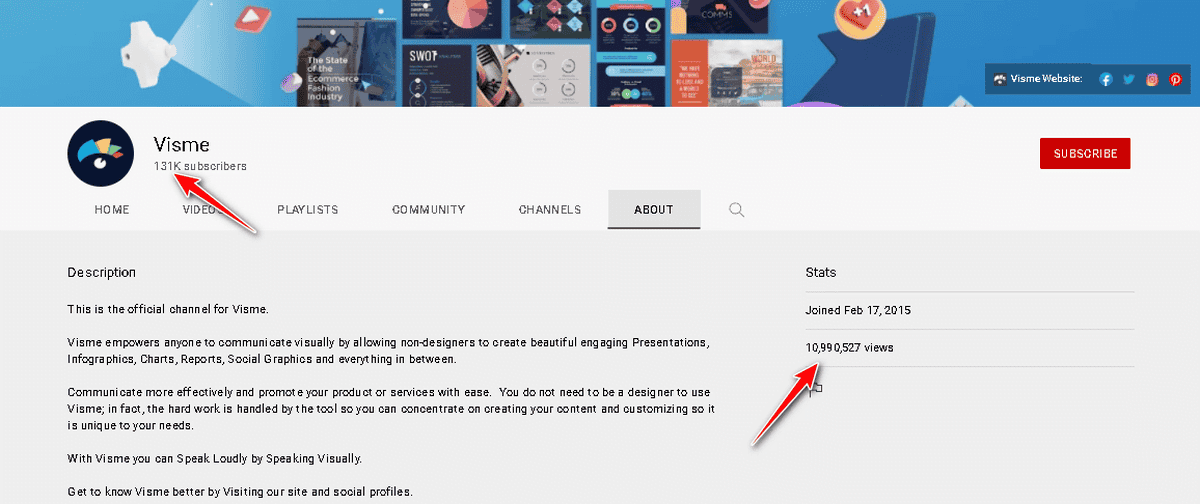 How to reach these results?
Simply, by applying the same strategy as for creating blog posts and web designs. Or by covering topics with search traffic potential.
Just get back to the previous subsection of this guide.
Build and offer free tools
Another wonderful hook to catch your potential customers with demand generation strategies is to offer free tools. Doesn't matter what type of business you are in – you can brainstorm ideas to create a free tool.
But are there suggested steps that you can take to come up with a free tool creation wisely?
The first step is to explore other free business-related tools that people tend to search on Google. Go to Keywords Explorer and use a few of your "seed" keywords.
For example, you want to attract potential customers who need to explore email addresses online. Type the following keywords like "email", "email address", and move to the "Matching terms" report.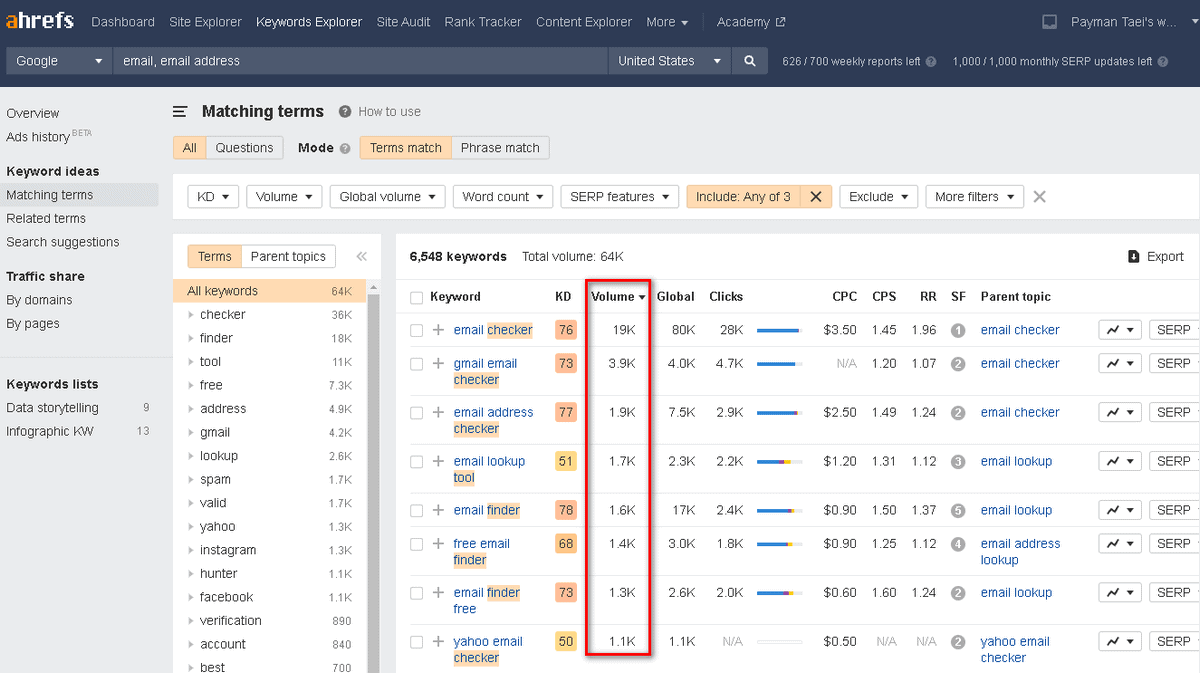 Right after that, you should include a couple of the keywords like "finder", "tool", "checker" into the "Include" tab. Choose those keywords that have the high search volume metric.
The next step is to create a free tool. Don't reinvent the wheel. Just analyze the tools from your competitors and figure out how you could upgrade the suggested tools.
Last but not least – run a promotional campaign for your tool. Make a buzz across social media channels, publish guest articles (focused on the product) across third-party resources, and build backlinks.
Don't shy away from being a guest on niche-related podcasts
Nowadays, podcasting is extremely "in-demand". Especially, when it is COVID-19 era. And business owners, influencers, and expert marketers take advantage of it.
For example, "The Bacon Podcast" had Payman Taei (founder of Visme) as a guest. The topic of discussion was – "Easy infographics and presentation using Visme".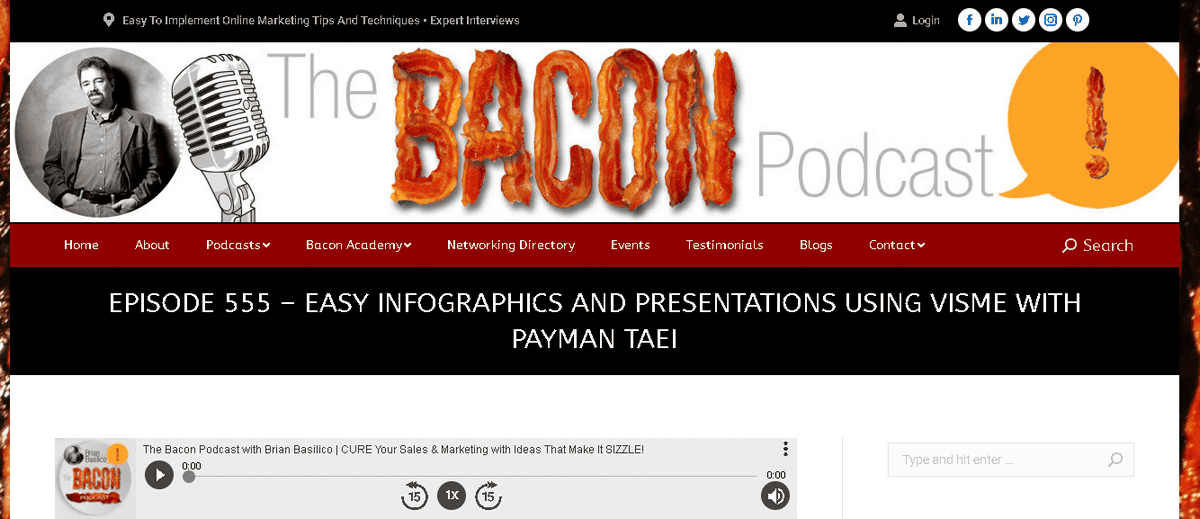 Visme's founder explains how everyone starting from non-designers to professional designers could create infographics and presentations without any fuss using Visme's tools. During 23 minutes of this podcast episode, Payman could build demand o by raising awareness and interest around the product.
As you already guessed, podcasting is worth your attention as another one demand generation strategy.
You might wonder how to find niche-related podcasts?
You can do it with the help of Google and the search query "[niche] podcasts".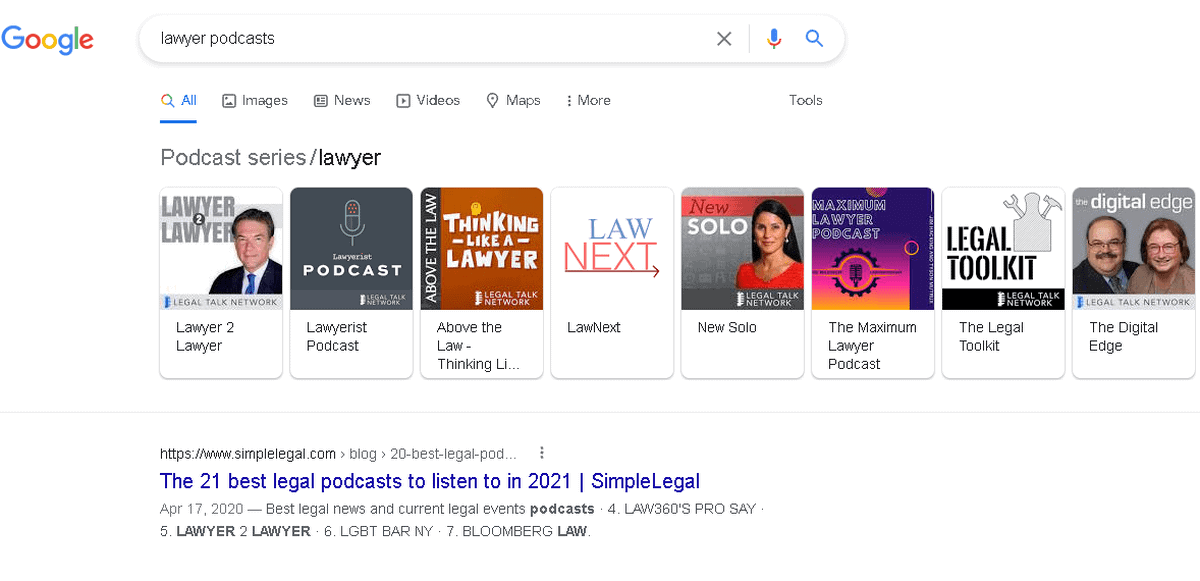 Then review suggested podcasts and pick a few of them to work with. The final step is to get in touch with the podcast host. Introduce yourself. Explain why you would be a nice opportunity to get interviewed, and what topic you would like to cover.
Create free training courses and promote them
Lots of companies create various courses to help people in acquiring new knowledge. Let's review an example of the course to get you an idea of how it works.
Semrush offers a free on-page and technical SEO course. This course teaches how to improve and maintain a website's health as well as optimize website content for both users and search engines. Of course, the entire process is based on using Semrush's toolkit.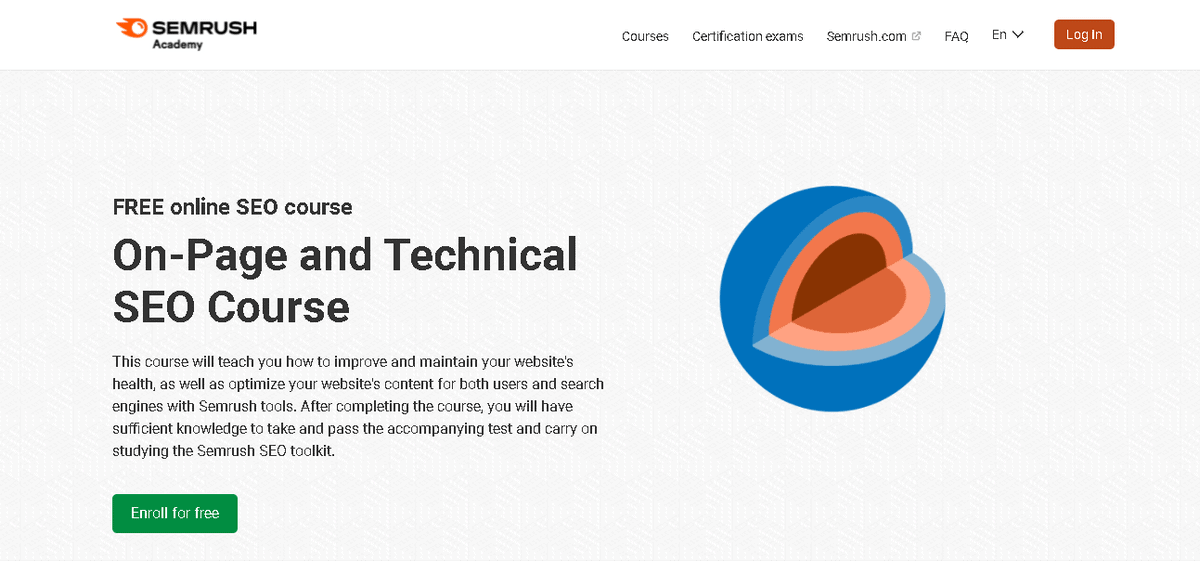 By the end of the course, it will be suggested to pass the test and get a certificate.
How to come up with your own course?
Figure out your top content
Go to Google Analytics and see what blog posts drive the most traffic to your website. You can do the same via analyzing the "Top pages" report in Site Explorer.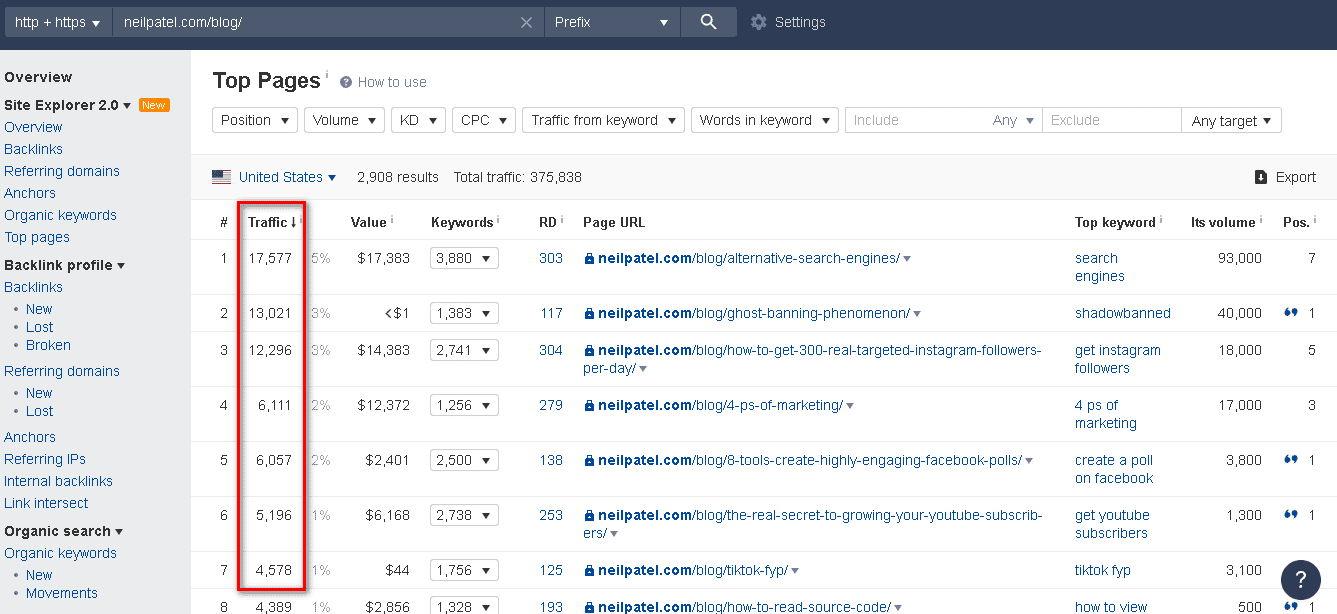 It will help you get an idea of what your course should be based on.
Split your blog posts by topics and create a course that would cover one specific topic. Make sure this topic is broad that will allow you to prepare a few different modules.
Promote your online course
Run a massive campaign to promote your online course. Don't limit yourself with social media sharings but mention the course in your content – blog and guest posts.
To Sum Up Demand Generation Tips
Demand generation is a critically important aspect of your business. It revolves around building awareness and raising interest in your product or service.
If you want to catch people's attention with your product right before they heard of it, demand generation strategies will help you out.
Don't believe it?
Try it yourself!