Ecommerce has become extremely popular. People of all age groups are increasingly engaging in ecommerce. If we describe it in simple terms, ecommerce refers to a business that sells its products or services over the internet, making it easier for people to browse and shop from the comfort of their homes.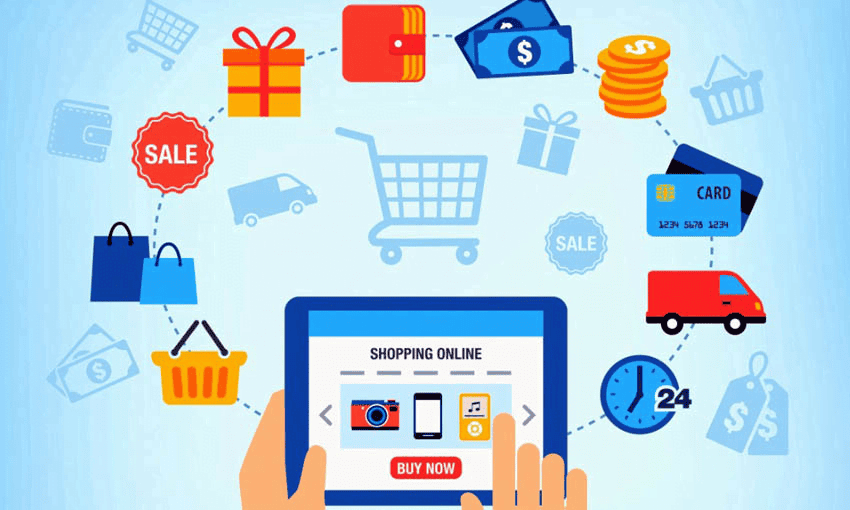 The growth of online purchasing and, hence, ecommerce is phenomenal. By 2023, eMarketer predicts that online retail sales will exceed $6.17 trillion, with ecommerce websites accounting for 22.3% of all retail sales.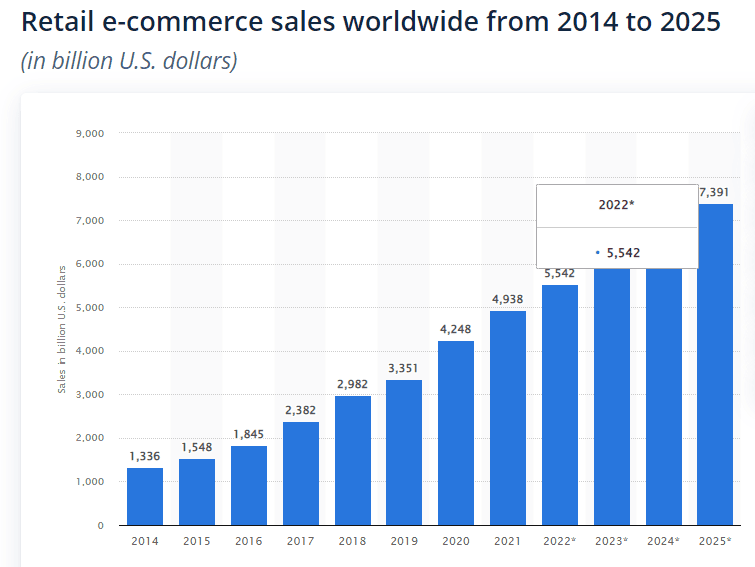 Therefore, to compete in one of the industries with the fastest growth rates worldwide, ecommerce enterprises must be at the top of their marketing game and adopt efficient ecommerce marketing tools and strategies. In addition to these strategies, you must have an attractive name for your ecommerce business or online store, and for this purpose, you can use an online business name generator.
Below, we share the most effective eCommerce marketing strategies for this year, from the traditional tried-and-tested ones to modern cutting-edge approaches we bet you haven't thought of yet.
1. Collect first-party data
The decision by Google to remove third-party cookies from Chrome around 2023 will be a major setback for marketers. Marketers will no longer have access to customer behavioral data, given the fact that this change is to safeguard customer data and privacy.
Because of this, audience targeting would be impossible, which would reduce the effectiveness of marketing initiatives.
The year 2022 is when these possible losses will be minimized. According to a study by BCG, initiatives involving first-party data (information directly obtained from your audience) can boost sales by approximately 2.9 times.
Utilizing gated reports in return for the users' email addresses is a quick method of obtaining first-party data. Offering exclusive deals, unique content, running polls, and quizzes are some of the other ways. You can use tools like QR codes created by the best QR code generators available online to direct the users safely to the lead generation page to fill out their details and avail the exclusive offerings.
2. Use Google Shopping Ads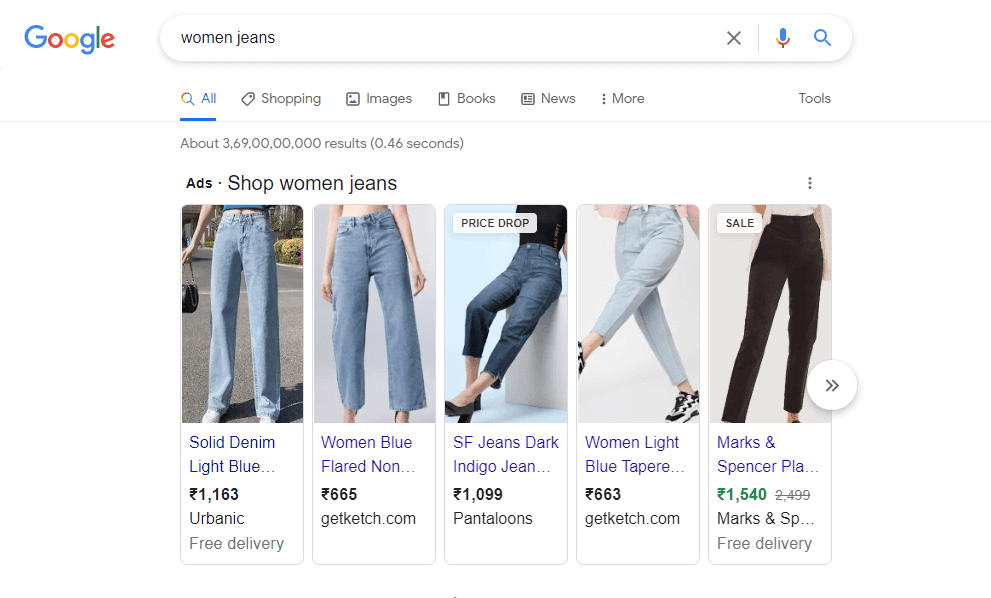 Targeting customers with strong buying intent with Google Shopping Ads is one of the simplest and most economical ways to increase sales. Users are taken to the retailer's website when they click on these displayed products.
These advertisements have a more visual layout and feature your product's image, title names, price, and more. Since users can easily make knowledgeable buying decisions with the additional information, you frequently get better-qualified leads.
In terms of price, you are only charged when someone clicks on your advertisement, using the cost-per-click approach.
3. Test with real users
Before deploying your offers and landing pages, test them with real people. This new method lets you get real user feedback even before you launch your campaign.
Using on-demand user testing platforms like Poll the People, you can quickly launch a test and get feedback from hundreds of people. This feedback will let you optimize your offers and landing pages.
You can even test various designs of your checkout pages, email subject lines, Google ad copy, etc to see what is resonating with users. This method of collecting human-feedback is much faster than running live optimizations, which can take days, as opposed to quick 1-hour tests.
4. Set up social commerce
Brands are trying harder than ever to take advantage of the convergence between business and social media, popularly known as "social commerce." As per The State of Social Media Investment Report, executives unanimously concur that social commerce is generating a growing amount of their company's marketing-driven revenue.
Facebook, Pinterest, and Instagram are the three major platforms that have so far incorporated social commerce services. You should, however, remember that it's a formula for failure to attempt to engage and sell on every social media platform. Instead, concentrate on the media channels where your clients are most active. Your work will become considerably simpler as a result.
5. Collaborate with other brands on social media and utilize influencer marketing
You can reach new audiences by collaborating with a social media influencer who is well-liked by your target market or with another company in your sector (but not a rival, of course).
Don't do it solely for the reach, though. Consider how a partnership may be advantageous to your prospective clients and how it would conform to your brand's guiding principles.
Here are some suggestions for how to employ deliberate social media collaborations to market your online store:
Ask an influencer to try your product and then give their audience an honest evaluation.
By teaming up with a few other brands that serve similar demographics, you can create a high-value giveaway program for your combined consumers. You can promote the giveaway on the accounts of all participating brands.
Hold an Instagram Live Q&A with influencers linked to your brand.
6. Leverage the power of user-generated content.
User-Generated Content (UGC) is any content made by customers of a brand and published on social media platforms or other online platforms (UGC). User-Generated Content is any type of content created by users, such as blogs, reviews, videos, podcasts, and pictures.
Social proof can be produced very effectively using user-generated content (UGC). Prospective customers will feel more comfortable making the same purchase when they realize that others just like them are doing it frequently. As per Salesforce, in comparison to 20% of consumers who trust a brand's image, 54% of consumers believe the information they get from online ratings and peer recommendations.
An excellent example of using UGC is this post by Calvin Klein, where the brand highlighted UGC from one of their customers. It gives the brand a more human touch, gently links it to self-expression and communication, and encourages individuals to make their own posts to be featured by the brand.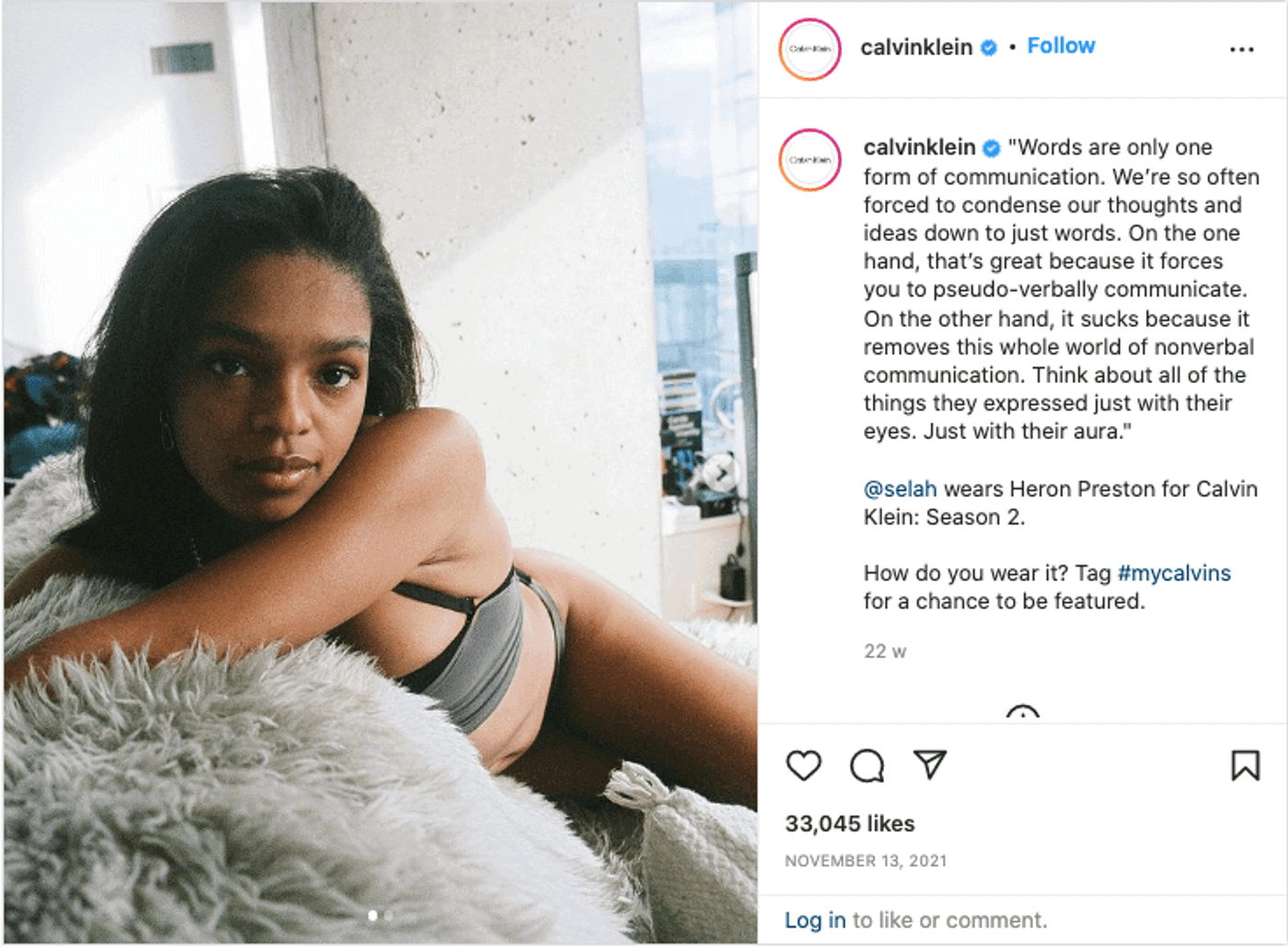 7. Provide voice-based shopping
Voice assistants facilitate online shopping, improve customer interaction, and collect consumer data. According to Statista, by 2024, artificial voice assistants are expected to outnumber people on the planet. Furthermore, a Narvar poll showed that 51% of voice-activated gadget owners use their technology to explore brands while 43% use it for online shopping.
Simple products like food and household supplies are ideal for voice commerce. For instance, Alexa is now available for use while driving to pay for gas. Some businesses have updated their mobile or web functionality to support voice search. With conversational ecommerce solutions or Amazon's Alexa skills, you can also incorporate voice commerce features into your store.
8. Launch a content marketing campaign
Every ecommerce business should think about blogging frequently to engage with customers and improve search engine rankings. Consider extensively promoting your blogs on your ecommerce marketplace if you already produce content, or if you don't, there are quick and easy ways to start integrating blog posts to your website.
Read our guide on how to promote your blog on social media.
Remember that there are many more ways to benefit from content marketing than just blogging:
Create a podcast to showcase your knowledge or foster a stronger community.
Create backlinks by posting as a guest on other blogs and websites to increase visibility and improve SEO.
Create guidelines and long-form content to assist clients in using your products more efficiently.
An example of using content marketing effectively is Slack. The company posts informative videos on its Youtube channel that are intended to educate brand decision-makers who require a means of interoffice, remote communication. The videos are incredibly well-targeted and address communication issues faced by businesses.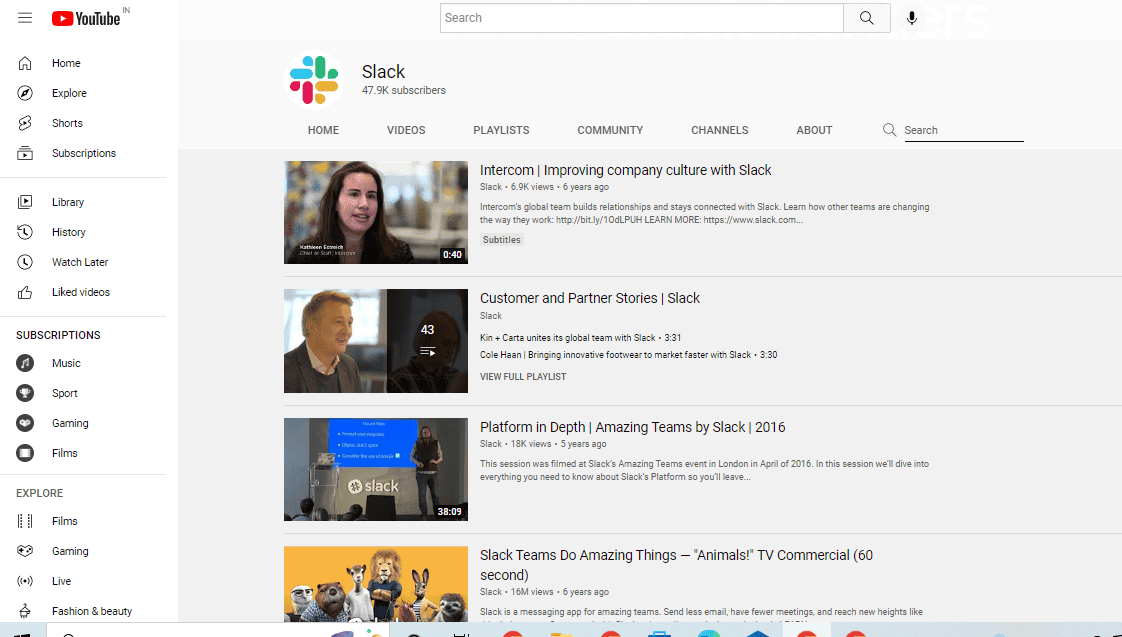 9. Enhance the payment gateway
As per removal.ai ecommerce stats, about 21% of cart abandonment is due to a difficult checkout experience, and the absence of payment choices accounts for about 6% of cart abandonment. These numbers highlight the importance of upgrading your payment gateway and incorporating encryption and other cyber security measures.
Make sure your consumers have a variety of login alternatives at the same time. Imagine that you have a new visitor to your website who decides to purchase the product after seeing it for the first time. The visitor is currently acting impulsively while making decisions. However, if you implement a system that requires customers to sign up for an account, before making a purchase, they may choose to visit a different website rather than put up with this unpleasant user experience.
10. Leverage brief video content
It becomes obvious that people adore short-form video content across demographics when you take into account TikTok's quick rise. Therefore, to post content on social media and increase engagement, you should also be using brief videos in the form of the following.
Instagram Stories are used by more than 500 million people every day, and the company is constantly adding new options for sales both to Stories and Instagram Live.
Other social media platforms worldwide have been keeping track of this. In 2020, Facebook introduced Stories; as of right now, Twitter has Fleets. Even LinkedIn joined in the fun by releasing their version of Stories.
11. Improve your product description
Product descriptions play a crucial role in the success of an online store, yet they are occasionally overlooked.
With proper product descriptions, you have the chance to clear up any misunderstanding that the customers might have regarding your product and help them with their questions by responding to them with details about the features and specifications of your products in your product descriptions.
In addition to your descriptions, it's essential to add good-quality pictures to raise overall customer perceived value. The visuals could win or lose a sale. So, to help your customers better comprehend your products, have as many photographs from different perspectives as you can.
12. Focus on SEO
Your eCommerce store will be more visible thanks to search engine optimization on Google and Bing. The focus of SEO is on including keywords a potential buyer could use to buy products like yours in your web content.
The results that are most relevant to the customer's term are displayed by the search engine. If the website content or product page content is SEO friendly and highly relevant, it will rank higher in search results. And with the improvement of A.I. writing tools, you get get results even faster.
For instance, tomsguide.com would come up first in a search for "best smartwatch," with Amazon coming in second and wired.com third. Take a look at this image.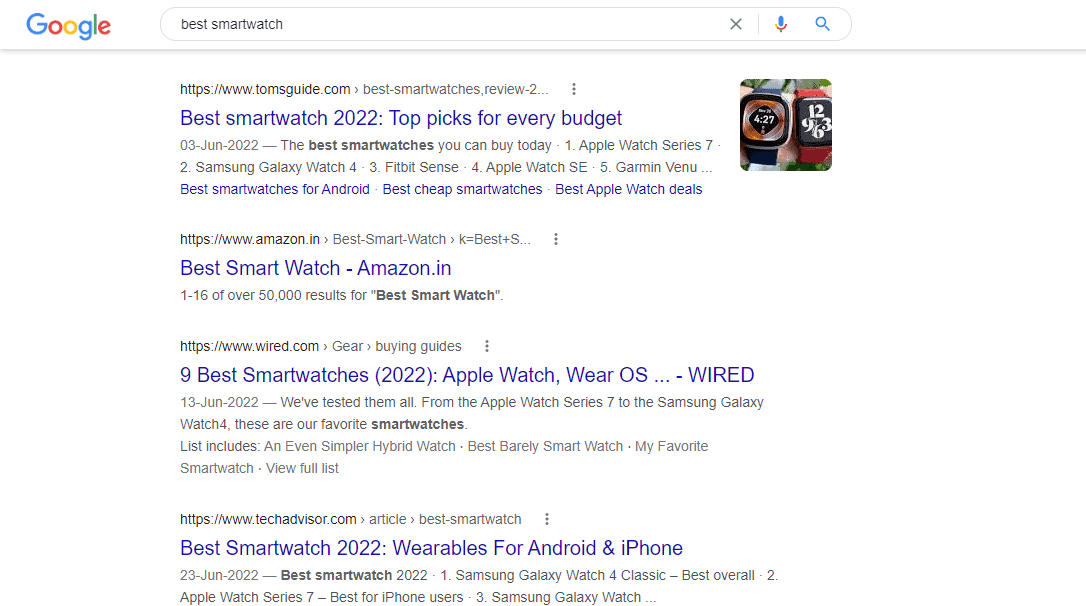 13. Automate email marketing
The world average email open rate increased by 20% year over year under the global lockdown limitations of 2021. You can use pre-formatted commands to automatically deliver an online newsletter to your subscribers by automating your email campaigns. Email marketing automation can create over 26% more leads, with 86% more open rates and an increase in investment returns of 80%.
Tools for email marketing automation can help you nurture prospects, expand your email list, and monitor and control your marketing emails in real-time. The optimal platform for you to use depends on many variables, including consumer behavior and the effectiveness of previous email campaigns.
14. Run retargeting ad campaigns
Many customers who visit your online store for the first time won't buy anything. Online consumers abandon their shopping carts in about 69% of cases.
Use retargeting ads on other websites and social media channels to promote the products or services your visitors have previously shown an interest in. It will attract their attention again and remind them of their unfinished purchase.
Retargeting relies on "cookies," little pieces of information that a web browser stores and uses to keep track of people who have seen your advertisement or website. Using the cookie data, marketing teams can show consumers targeted ads to remind them to make the purchase they originally intended. You can read our guide to Facebook retargeting here.
The process is demonstrated in the figure below.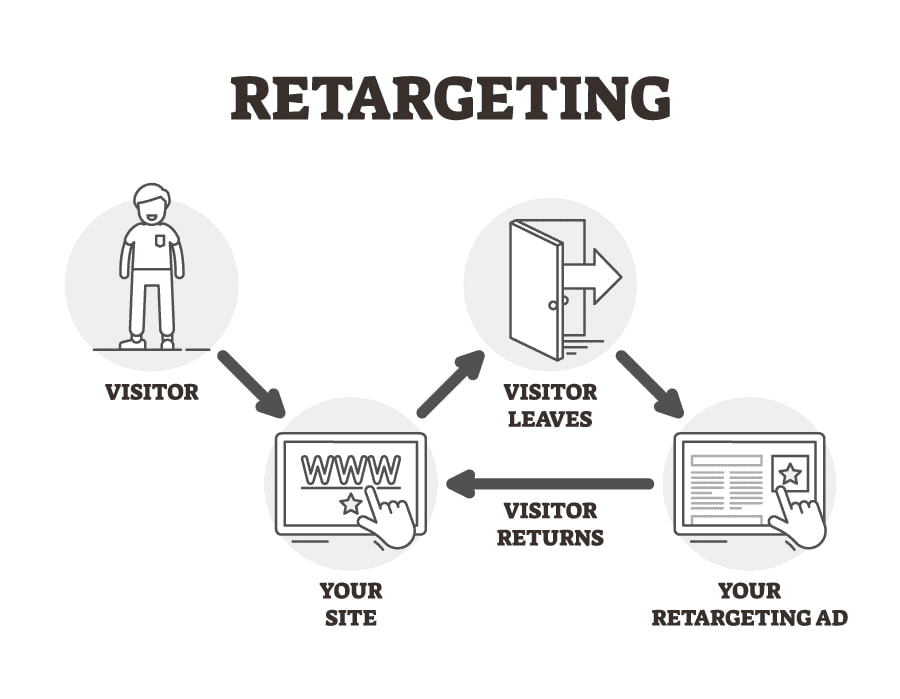 15. Utilize Emerging Platforms For Social Media Marketing In Ecommerce
Due to the social media overload on the internet, traditional social media marketing tactics are ineffective and occasionally even counterproductive. This occurs as a result of companies' inability to reach both current and potential clients at the proper time and place.
Therefore, many businesses today use the newest social media platforms in order to attract new audiences who are not fans of traditional social media platforms like Facebook and Instagram. And so should you.
For instance, it would be wise to include Pinterest in your strategy. It makes sense to spend time and money developing a social commerce strategy for Pinterest because of its "Shop the Look" Pins, which facilitate contextual discovery.
16. Work on maximizing your conversion rate for online sales (CRO)
Make no mistake: if you neglect your CRO (Conversion Rate Optimization), your revenue creation will suffer.
CRO essentially acts as a multiplier for your earnings. By increasing your conversion rates, you can make more money and get more money out of the same amount of traffic. This income can be reinvested to drive more traffic, which will boost your conversion rate and profitability.
For example, if your website has approximately 10 million visitors per month and your conversion rate is 4 percent on average, and you earn £20 million every month. Your annual income will rise to £300 million if you optimize and boost your conversion rate by just 1%, an astounding increase.
17. Reward your loyal and regular customers
Online sales can be increased in a cost-effective manner by concentrating on customer retention. A customer loyalty program is one way to reward regular customers and high spenders. A loyalty program can benefit you and your customers in a variety of ways. Through automatic reminders, they provide customers with additional motivation to buy your product.
You decide how often, for what actions, and how to reward customers. A point-based program, for instance, can have its own point-based currency that could be exchanged for savings, free shipping, or gifts.
18. Use paid social media advertising
Nowadays, a wide range of advertising choices is available on practically all social media platforms. Social media ads are a huge asset for increasing reach and engagement. Your brand's reputation and degree of interaction with your target market should improve thanks to the ad platform. Make sure, however, that the audience of the social media platform resonates with your ideal customer before committing to social media advertisements.
19. Focus on Social media reputation management
Several options to reach new customer demographics are provided by social media. But you may also utilize it to deal with current clients. One approach to achieve this is by setting up a dedicated individual or team to manage your social media reputation. Your current customers may contact you in a variety of ways, including through DMs with questions, mentions of complaints, postings of admiration, and messages offering feedback. The best course of action is to be prepared to address them when they occur.
20. Don't underestimate local marketing
Even though most of your sales are online, you can still meet customers in person. One marketing tactic that many ecommerce firms use to create distinctive customer experiences is pop-up stores and in-person events.
For instance, Lush Cosmetics holds pop-up events where customers can pick up beauty tips, see how Lush creates its products, and, of course, make purchases! One event generated over 636 tagged Instagram posts, many of which were from influencers.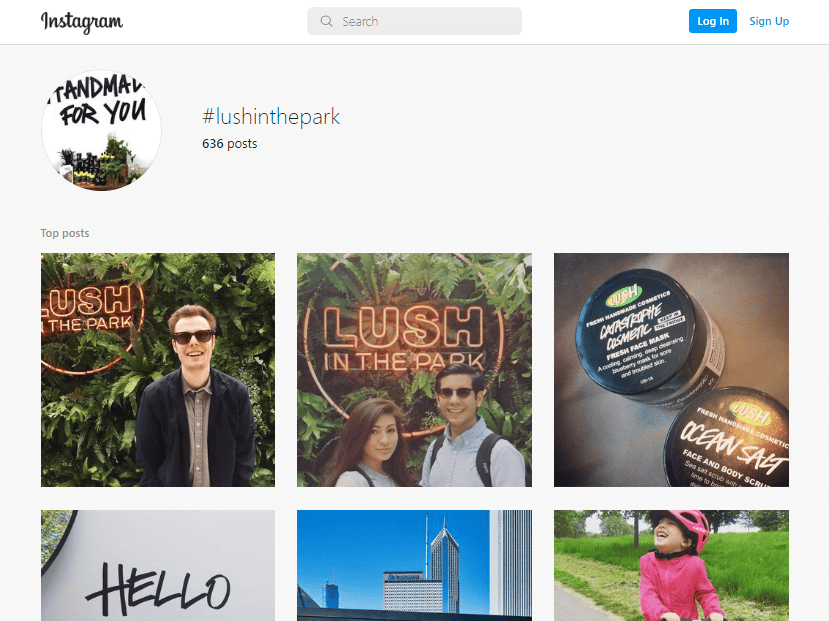 21. Offer multichannel customer service
It has long been understood that providing exceptional customer service can win over customers for life, making it one of the best marketing strategies. However, subpar customer service can cause unimaginable devastation.
Businesses should think about their customer service strategy and transit from standard multichannel customer assistance to omnichannel customer service as speed and convenience become increasingly crucial to customers.
Customer service that is available across all channels goes one step further by ensuring a smooth communication process.
Information can be quickly communicated between the channels because they are connected to one another (often via a helpdesk platform). Thanks to this, customers can contact you through the channel of their choosing and get a prompt, individualized, and dependable answer whenever they need help.
Wrapping Up Ecommerce Marketing
The eCommerce strategies we've mentioned are but a small portion of the possibilities open to your business for attracting more customers online. Every strategy in this article illustrates a concept that could result in sales.
Analyze your website, put our eCommerce recommendations to the test, and find out what works well enough for your business and what could be improved.
Remember that success does not occur by accident. So start taking action and start immediately increasing your revenue.