The widespread use of social media has initiated an era of digitization which makes connecting with people a smooth sail for businesses. Thanks to social media, people can now communicate with each other, express their thoughts, share their accomplishments and do much more at the click of a button.
Businesses too have started leveraging social media to reach out to their target customers and develop personal relationships with them. A report by Stackla revealed that 91% of customers plan to continue shopping more items online in the future. To stay at par with the growing customer base online, many businesses have started to integrate social media marketing into their digital transformation strategy.
Social Media had played an important role in digital transformation across industries. It helps businesses reach a global audience, generate qualified leads, and boost revenue and sales. Further, it strengthens the brand image and improves the businesses' search engine rankings.
Social media also provides businesses with an opportunity to personalize their marketing efforts and ensure excellent customer satisfaction.
What Is Personalization in Social Media Marketing?
Personalization in social media focuses on tailoring custom content for each person
based on their interests and preferences. This tailored social media content specifically addresses the user's needs. It helps audiences gain more value from your content and further, engage with the same. It gives brands an upper hand as the audience will relate to the content shared with them.
According to this presentation by Epsilon, 80% of customers prefer buying from a company that provides excellent tailored experiences. Customers expect a personalized experience when interacting with your brand.
The best example of personalization that can be cited here would be that of Amazon.
If you purchased a phone, Amazon would probably show you accessories you might want to purchase in your recommendation items lists for a short period. There are also fair chances that you might see some of these Amazon ads on social media and other websites as well. By doing so, Amazon is trying to build a personal connection with you while growing its business.
Why Should You Adopt Personalization in Your Social Media Marketing?
Tailoring content to deliver an excellent customer experience is one of the reasons why you should personalize your social media marketing efforts. Here are some more reasons how personalization can help you achieve your marketing goals.
Increases engagement on social media
Personalized content helps you increase engagement on your social media posts. As the audience is more likely to see posts that cater to their interests, they will engage with your content. This will also help you grow your social media following faster.
Fosters better relationships with customers
Sharing personalized content with your social media audience makes them feel recognized and special. Being able to relate to a brand online develops a sense of trust in the minds of the audience. You can showcase your support by responding to their comments, organizing contests, sharing their posts, and making a note of their feedback.
Increases brand awareness
Personalized social marketing can help you create an exciting buzz about your company. It helps you attract and engage your customers while asking them to come back for more. The trust and loyalty that is instilled in them make them recommend your brand to their connections.
Generate leads and conversions
Social media is one of the most effective mediums for lead generation. You can target new prospects with personalized messaging focused on resolving their issues, suggesting tips and tricks, helping them overcome challenges, and a lot more. The more these prospects interact with your content, the bigger are the chances they will convert into successful customers.
The first step towards building an excellent social media strategy is choosing the right social media platforms for your business. Facebook, Instagram, LinkedIn, Twitter, TikTok, Pinterest, Quora, Reddit are some of the most commonly used social media platforms. Now, let us have a look at the six most effective ways in which you can implement personalization in your social media campaigns.
6 Strategies to Personalize Your Social Media Campaigns
1. Study Your Target Audience
Analyzing your audience is the first step towards understanding the ROI of your social
media campaign. Without having a thorough idea about your audience, the efforts you put in personalizing your campaigns will be a waste of time.
Create customer personas and segment your social media audience into various categories by analyzing the same on various social networks. You can categorize your audience based on the demographics, likes and interests, influencers they follow, content preferences, and the stage in the buyer's journey. This will help you craft your content more effectively.
Further, you can monitor their behavior to understand where to use personalized content for increasing conversions. Utilize tools like built-in social media analytics to get insights into your followers, page engagement, and other information. Remember personalization depends on all customer details.
For example, Netflix uses audience data, behavior history, and personalization to recommend the best shows to you as per your likes and watch history.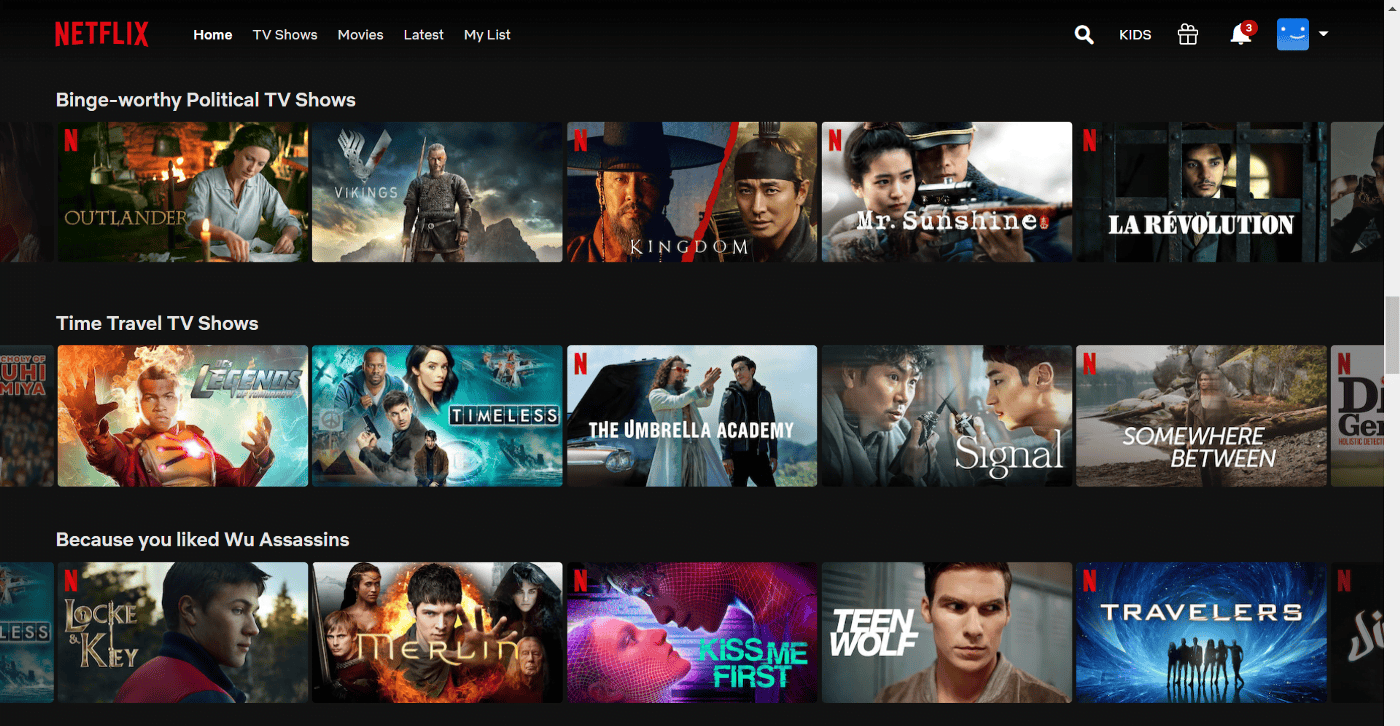 2. Use Personalized Videos
Videos are one of the most used types of content on social media. Further, personalizing your videos with specific audience data takes them to the next level. This data could include their names, company names, website URLs, pictures, and other tidbits.
We are aware of Facebook's 'Friendversary' videos. Those videos are perfect examples of personalized videos. It provides a personal and memorable experience to the audience.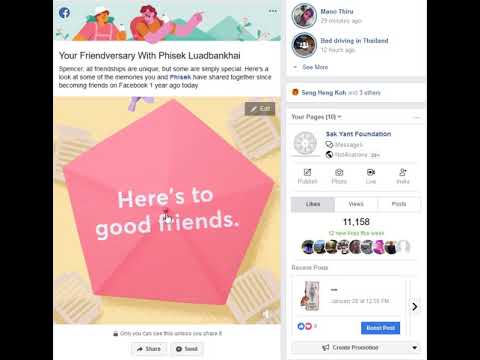 Now, the question is how can you make such videos for hundreds of your customers? You do not have to create separate videos for each customer. There are numerous tools available to help you create personalized videos for your audience.
Vidyard, Rocketium, Imposium, Idomoo to name a few. These tools employ artificial intelligence, machine learning, and automation to generate such videos in no time.
Cadbury, a British multinational confectionery company, launched an exclusive campaign for Diwali in India. This campaign aims to help local businesses to create engagement with their customers.
In the video, you can see Shah Rukh Khan urging people to shop from local vendors during festival time. By leveraging AI-powered technology, the actor takes names of the local stores to tell the viewers that he got certain products from those shops. Many local businesses from India had leveraged this video ad for their advertising.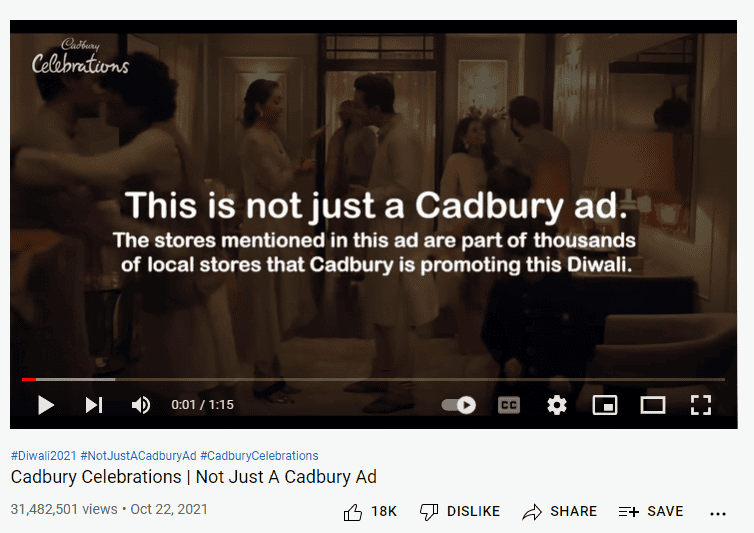 Using these videos for advertising is an excellent practice as it adds a human touch to
marketing campaigns. It makes your audiences feel special.
3. Use Retargeting Tools
Retargeting tools can be used to serve customized ads to your audiences. These tools help you showcase advertisements to your audience based on the actions that they have taken in the past. These actions could be anything from visiting your product page, reading a blog, adding an item to a wishlist, or adding an item to the cart.
You can keep a track of the pages visited and the time spent on those pages by the audience. In this way, you have the right data for personalization.
Amazon is doing retargeting ads excellently. If you leave some items in your cart without
purchasing them, you are most likely to see an ad like this on social media and other sites.
Recommending products to your customers is an excellent way of showing how well you know them. According to this survey by Invesp, 49% of customers said they have purchased a product that they were not intending to purchase after receiving a personalized product recommendation.
As retargeted ads are shown to an audience who knows about your brand, it is fairly easy to gain their attention and stand out amongst the competitors. Further, addressing the pain points of the audience with a powerful copy helps you foster a strong relationship with them.
4. Send Personalized Messages
Messaging is yet another great opportunity for connecting with your audience on a personal level. This can be achieved by configuring your messenger inbox on social media via intelligent chatbots.
According to SmartInsight, 63% of customers expect businesses to offer customer service through their social media pages.
Chatbots have immense potential at engaging audiences with your brand. However, it is observed that personalization in chatbots generally stops at the person's first name. You can configure the chatbot to ask questions, capture information, and resolve queries. Based on the responses you receive, you can further modify the messaging sequences to deliver a tailored experience to the audience.
Pizza Hut offers excellent customer service via its Facebook Messenger. Customers can connect with their chatbot to order pizza for delivery or takeout without any hassles.
Further, the chatbot is also configured to answer customers' queries, share available deals, and also share previous order details in case of reorders.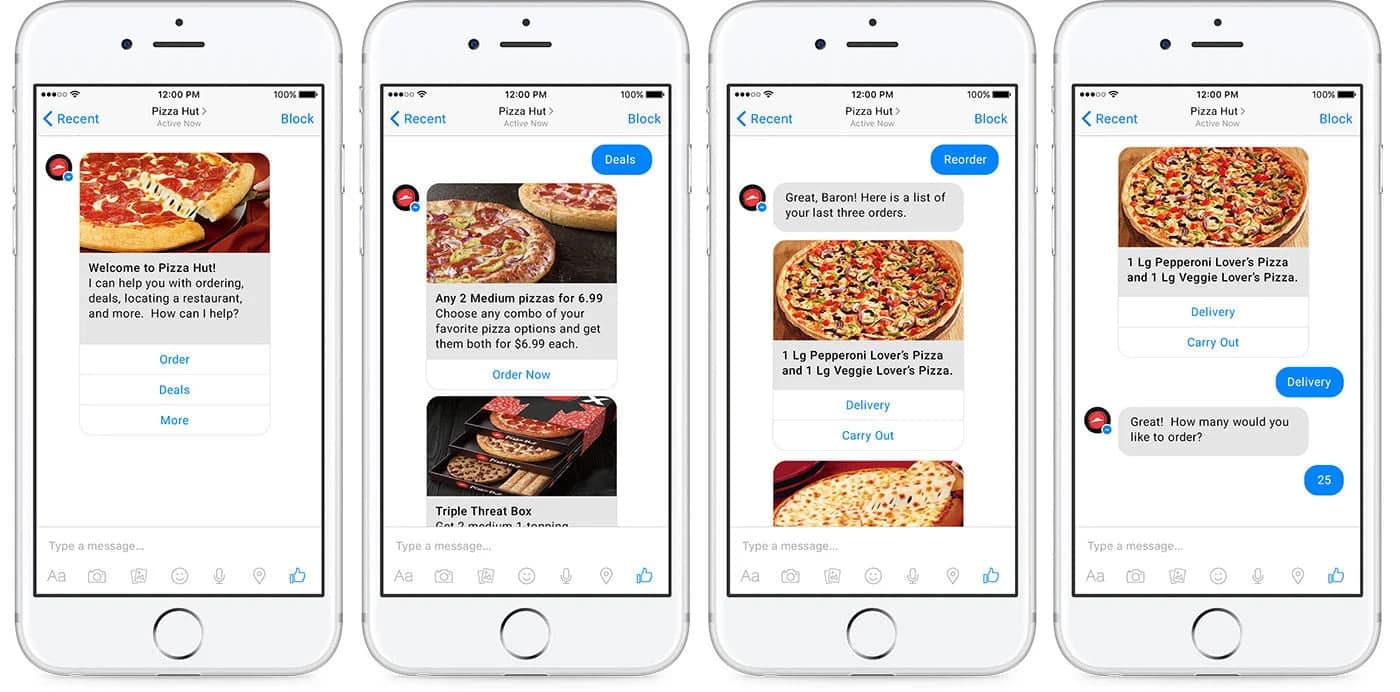 Similarly, Audible offers its users excellent book recommendations via their Twitter chatbot.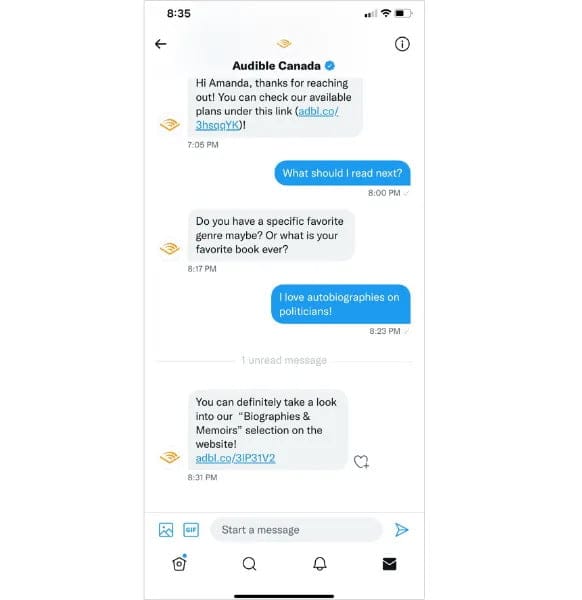 5. Utilizing Interactive Content
Interactive content is gaining all the attention on social media today. Content pieces like quizzes, polls, games, and calculators allow your audience to answer, play, or just engage with your content giving you a chance to understand them better.
These content pieces provide an opportunity to look into their minds and thus, lives.
This post by Meltwater is an example of interactive content. It is crafted intentionally to
receive engagement from the audience.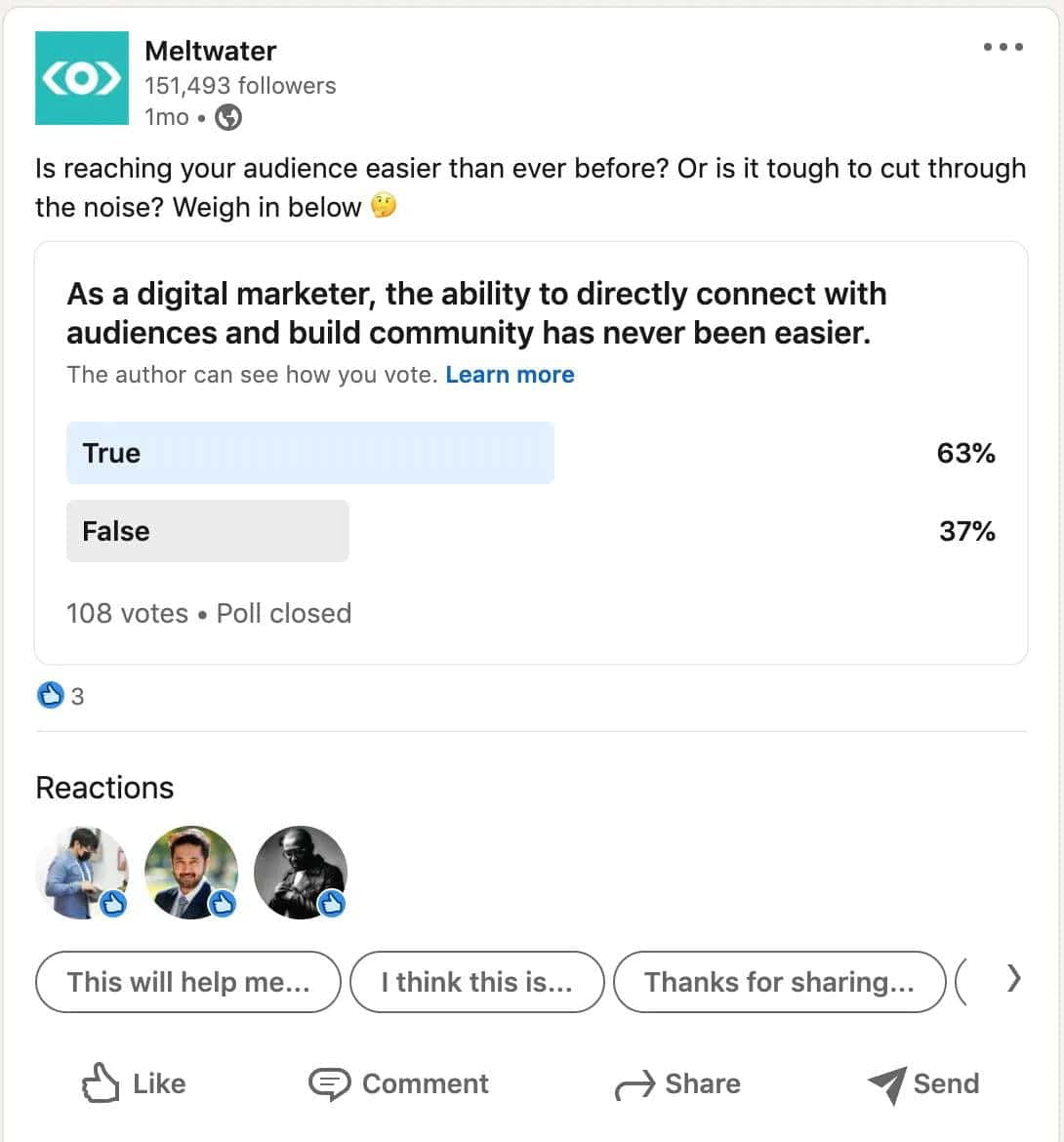 According to Demand Gen Report, interactive content receives two times more engagement as compared to static content. Considering the degree of personalization it offers and its popularity, including interactive content in your social media strategy, is essential for businesses.
Let us understand the types of interactive content you can create for your social
media campaign. It helps the audience understand where they stand thereby allowing you to promote your product or service.
Quizzes
Surveys
Calculators and Tools
Giveaways
Contests
eBooks
Here is an example of the best interactive content on social media.
BuzzFeed is well-known for its quizzes and has a Facebook page dedicated to the same. These quizzes receive excellent engagement because they are providing something different to the audience. They are fun and exciting. And, the audience does not have to navigate to some other site to finish it.
Here are a few such posts from the Buzzfeed Quiz's Facebook Page.
6. Encourage User-Generated Content
The content generated by the audience serves as a perfect source to take your social media personalization to the next level. It is the most effective method to connect with your audience and engage with them.
According to a data report by Stackla, 79% of the audience believe that UGC highly impacts their purchasing decisions.
User-generated content helps you gather social proof that your products or services are
well received by the audience. Although this activity might consume time and require effort, it develops a lasting relationship with your audience.
For example, the Instagram page of MAC Cosmetics features pictures from beauty bloggers.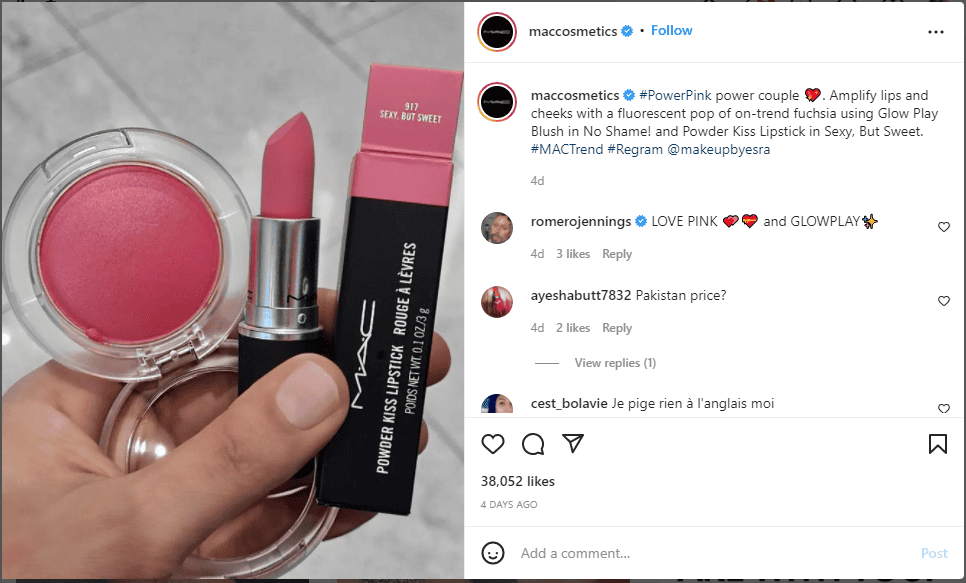 Another example worth sharing is GoPro, a video equipment company. GoPro uses UGC on its YouTube channel.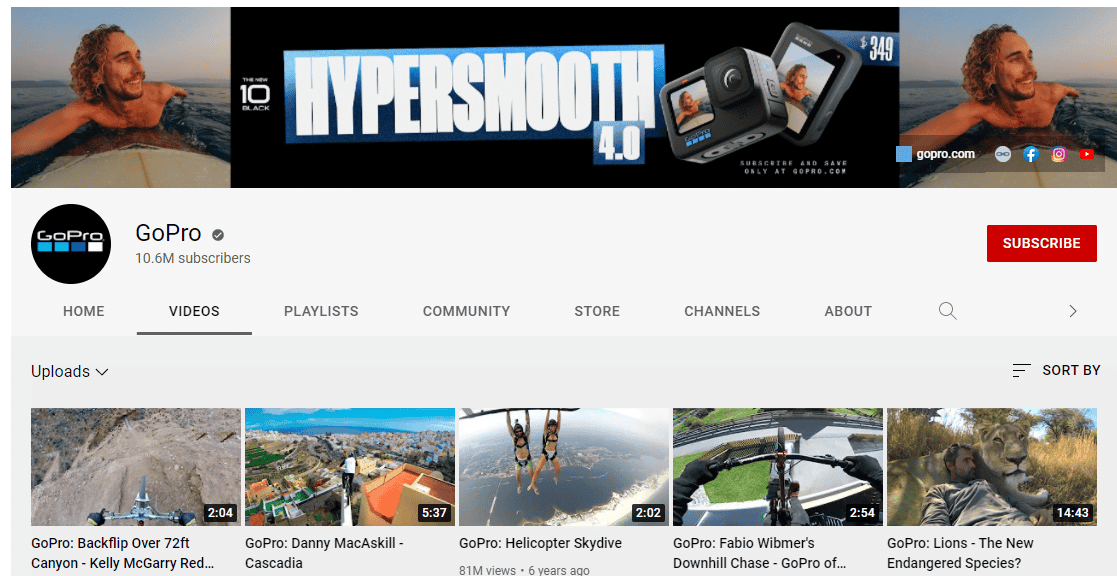 Source
The company also organizes photo contests for its customers to keep them engaged with the brand.
Getting Started With Personalization in Social Media
Personalization offers extensive benefits for growing and engaging your audience on social media. It helps you connect and communicate with your audience on a personal level.
Set your objectives, and plan out your social media strategy to connect with your audiences. Although personalization seems to be a time-consuming task, it will certainly sky-rocket your social media marketing efforts.
By following the strategies mentioned above, you can deliver tailored experiences that enhance customer lifetime value.