Whenever consumers consider a purchase, one of the first things they do is look up online information on the product and service. This is not so they can be bombarded with professional advertisements, but rather learn about the experiences other consumers like themselves have had.
User-generated content (UGC) is often highly regarded and recognized as a genuine source of information from real customers that can be trusted to give unbiased opinions. Marketers have come to notice that UGC can be leveraged to boost social media advertising metrics.
With social media platforms now being the dominant channels for connecting and interacting with consumers, it makes sense to incorporate UGC in online marketing plans. This is more the case when you consider that 75% of people have purchased products because they saw them on social media sites. But what are UGC, social media metrics, and why do they matter?
What Is User-Generated Content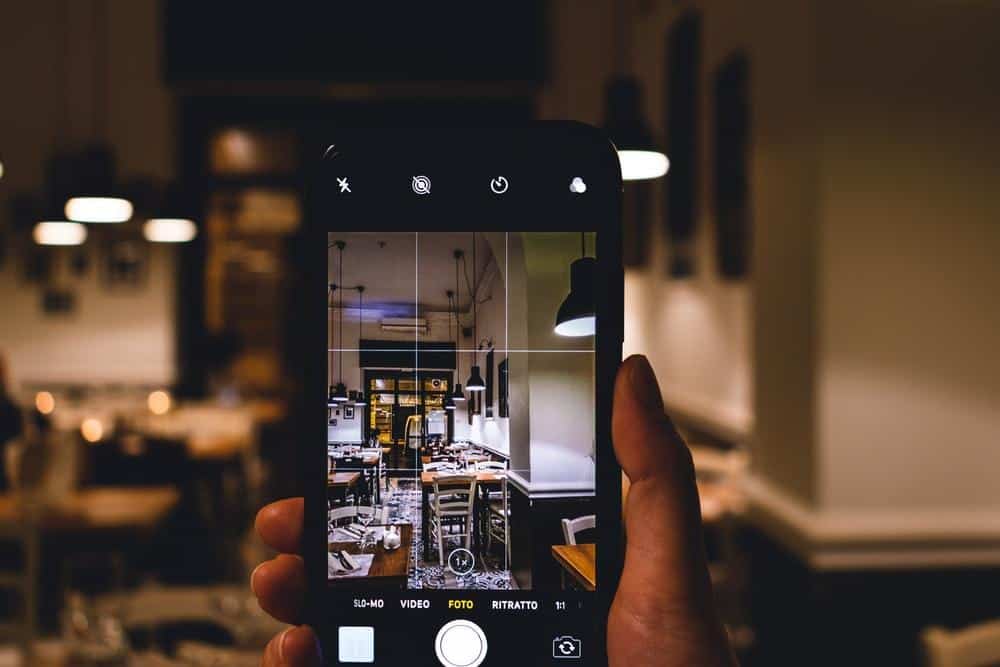 Sourced from Unsplash
This is content that is created and posted online by social users. The content can come in a variety of forms, including videos, images, and text. Most of this content is shared on social media platforms where it can be easily shared with followers.
Think of any product review or demonstration you have seen on platforms like Facebook, Instagram, Pinterest, and so on. This is what UGC is about. A genuine consumer like yourself who is sharing their first-hand experience with a product, brand, or company.
Social users who view this content trust it more than anything professionally made and disseminated by businesses. In fact, according to Stackla, consumers are 2.4 times more likely to consider UGC as authentic than branded content. Organically generated, it has a stronger impact on brand loyalty than commercial advertising.
There is greater trust in UGC, which can help drive greater conversion. And with as little as 16% of brands having a strategy regarding UGC, it is a highly underutilized tool.
What Are Social Media Metrics
Whenever a business undertakes a social media campaign, there is a response from social users. These responses can take different forms, including likes, shares, clicks, and comments. This helps to gauge engagement from audiences when a campaign runs.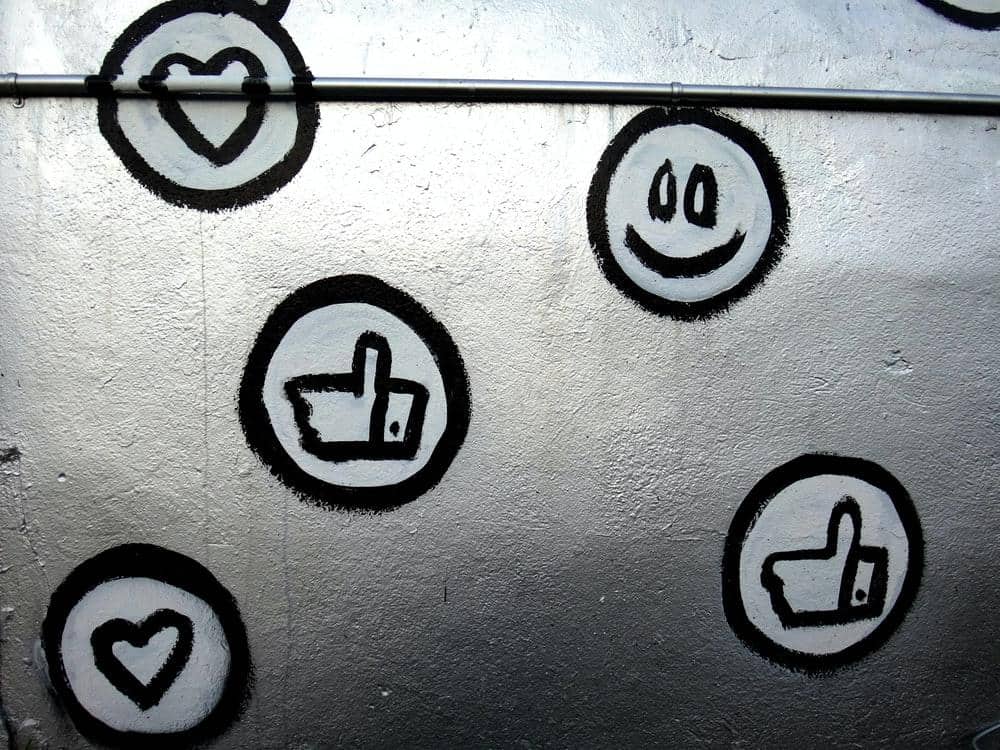 Sourced from Unsplash
Businesses may also be interested in learning how much brand awareness is stimulated by a campaign. This is tracked through impressions and reach. Those who run paid advertisements may also be interested in the volume of discussion generated with a campaign, so references to specific terms related to the brand should be monitored.
Social listening is another concern for businesses. They will want to track how consumers are experiencing their brands and industry and respond quickly to both positive and negative feedback. This calls for metrics that can measure response rate and timing.
Finally, there are metrics for social referral traffic and conversions. These metrics focus on the return the business is earning from its campaigns, like tracking the amount of traffic from social media platforms to e-commerce sites, resulting in sales growth.
It is all this social data that is measured to provide metrics. The choice of metrics a business will pay attention to will depend on the social media goals defined. Certain metrics will take precedence over others, whether it is to grow brand awareness or just launch a product. The performance of the metrics will then determine if the campaign was a success or not.
You can also collect data on the users that provide these responses. Using analytical tools, you can discover the demographics of these users, including their age, location, and gender.
However, it is not just about receiving a high number of likes or shares. The desired result from incorporating this content is that it will lead to greater sales or conversions. So how does a business encourage social users to try their products or services, create content around them, and share this with others?
Using User-Generated Content to Boost Social Media Metrics
When you understand the potential and appeal of UGC, then you will want to figure out how best to use it in boosting social media metrics. That means leveraging it for more likes, shares, follows, and clicks.
Define the content
Social users do appreciate clarity on what kind of content the brands they love would like them to contribute. This can give them a theme to focus on and generate the kind of content that will serve the social goals of the business.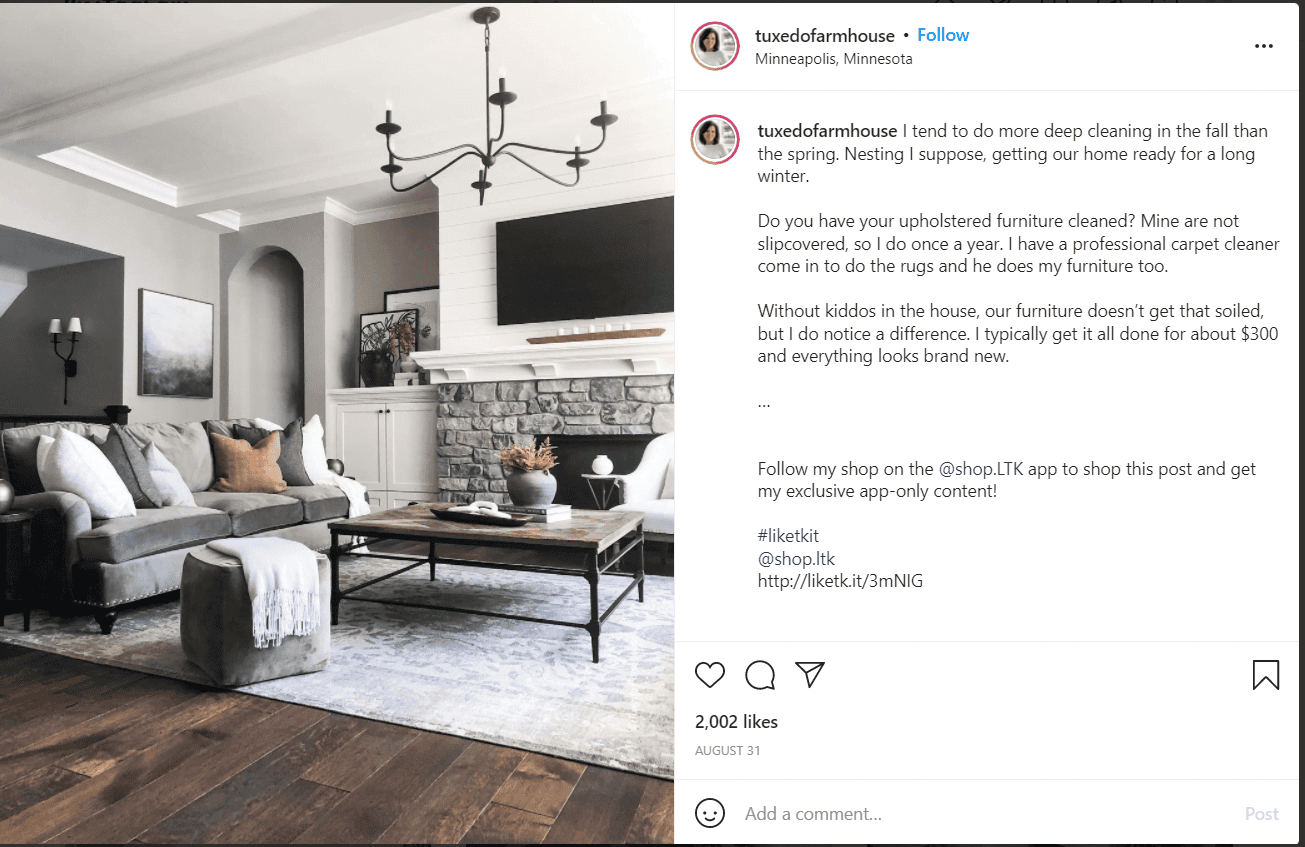 Sourced from Instagram
Wanting to showcase their products in actual customer homes, the #wayfairathome campaign encouraged contributions displaying their furniture already set up and in use. Without having to pay for the content, the company attracted tens of thousands of beautiful high-quality images of their furniture in a wide variety of decors to inspire other potential buyers, alongside customer testimonials that added to the authenticity.
Start a hashtag
Hashtags make it easy for contributors of UGC to link up and cross-reference. This tagging is a big help to businesses using UGC as it helps build a theme and establish a library of the said content. This makes for a rich online source of content to be shared.
Display this hashtag prominently wherever consumers are likely to encounter your brand, both online and in the real world. This prominent display will help to associate the hashtag with your brand better and encourage social users that are loyal to start using it.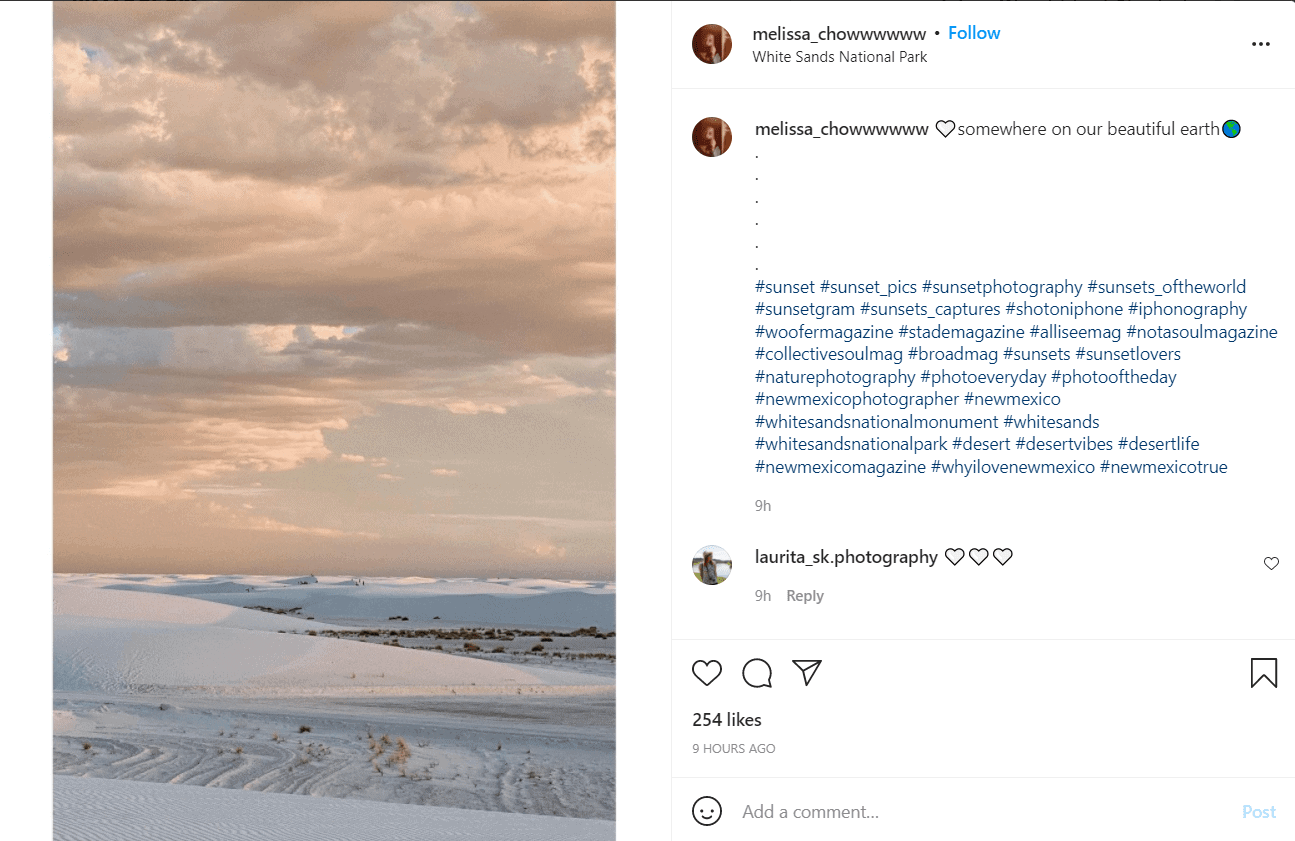 Sourced from Instagram
Apple's #shotoniphone campaign did a great job of bringing attention to the phone's incredible photo and video quality by crowdsourcing content that would be used for marketing. This was at a time when photo and video-based platforms like Pinterest, Instagram, and TikTok were gaining stronger popularity.
However, even if the business is the creator of the hashtag, it is still important to request permission to use the content that is tagged. Simply because you put a hashtag out does not mean any content that is tagged is your own.
Offer Incentives
One of the top reasons businesses are getting on board with UGC is the low cost involved. There is hardly any investment that is needed to attract such content. Moreover, where you have a strong brand following, you will often find that the contributors are happy to freely permit said content for advertising.
It is however good practice to offer some reward. This can help encourage a larger amount of contributions and will make your contributors happier.
The incentives do not need to be costly at all. You can turn it into a contest, so you have just a limited amount of rewards on offer against what could possibly be thousands of contributions.
You can also choose to make non-monetary rewards like loyalty points or an opportunity to try a new product when launched. These are good ways to encourage even more content generation and have the contributors hype your brand.
If the contributor is an influencer with a strong following, it may be beneficial to invite them to product launches or other events. They are likely to help in publicizing your events, adding to social media metrics.
Manny MUA is a top beauty influencer who is renowned for his makeup tutorials and reviews on YouTube, Snapchat, and TikTok. With over 4.85 million followers, his endorsements are highly sought after.
Like many other top influencers, he is often invited to fashion and beauty red carpet events in appreciation. Something he uses to showcase his talents, judge other celebrities, and create content around.
Find strategic partners
To boost social media advertising metrics, it pays to find strategic partners. Influencers are a top choice as they share the principle of authenticity that makes UGC so popular. When they mention brand names, it provides a quick route for more traffic to flow towards those business sites.
Businesses should make an effort to find such strategic partners that can endorse their brand and invite them to post about their products or services. Incentivizing them will likely prompt a faster response, but an emphasis should be placed on providing a genuine opinion.
However, not all types of businesses can easily find influencers as is present in the fashion and beauty industry. The next best option could like in considering their biggest customers. By working with your sales and marketing departments, you can identify your top clients and look into whether they can help create UGC surrounding their use of your products or services.
Many such businesses will be happy to make such contributions, especially when you point out that this will also provide an advertising opportunity for their own business with your followers and anyone else that views the content.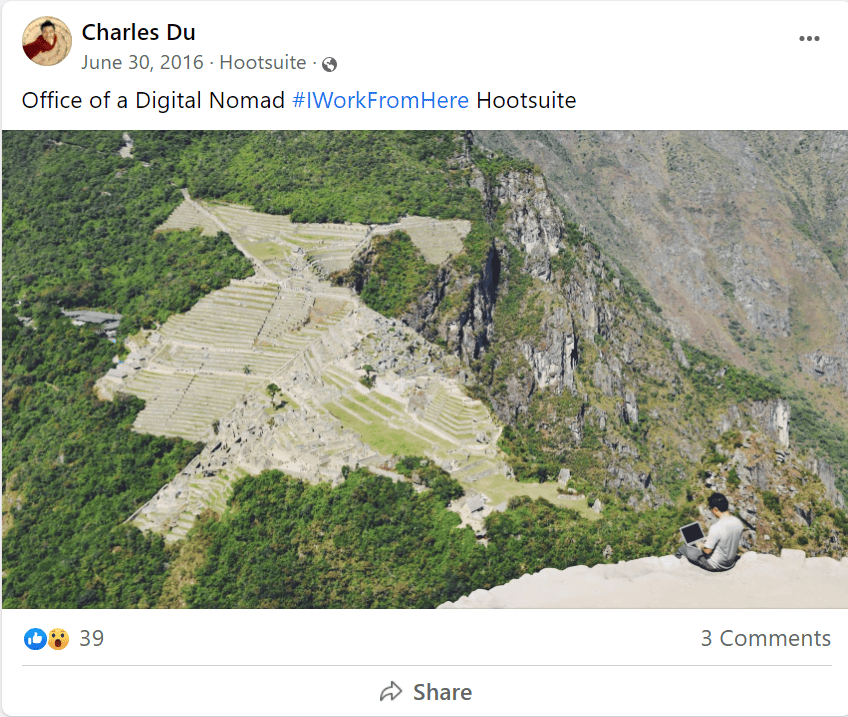 Launched in 2016, Hootsuite's #iworkfromhere campaign offered users the chance to share more about what it meant to work remotely from different parts of the world. As a B2B company providing social media management services, Hootsuite simply tapped into its clientele to generate varied original content that positively referenced the benefits of remote working.
Try video reviews
With high-speed internet and smartphones becoming increasingly popular globally, it makes sense that video content is gaining more traction. 2018 reports indicate that as much as 85% of US internet users watch online video content monthly, with 54% of consumers desiring to see more video content from businesses or brands they support.
Besides social media platforms, consumers can leave video reviews on e-commerce sites like Amazon and business sites that accommodate such postings. This is great UGC content to exploit. Where you may have positive reviews in text format, you can even approach the reviewers to do a video for you. Offer helpful guidelines and tips on how to make great social media videos so they know what to include.
You can easily find longer content on YouTube, but you will find viewers are now coming to appreciate better-condensed snippets like what you will find on Instagram Stories, TikTok, and Snapchat. Be sure to tag your brand and include relevant hashtags when sharing. Also, thank the contributor for their review.
GoPro's action cameras provide an easy way for the company to source UGC from its clients made up primarily of thrill-seekers. They have generated thousands of amazing videos that have become synonymous with the brand and showcased how technology can be seamlessly utilized to capture memorable moments.
Iron production plants make perfect playgrounds if your name is #GoProAthlete @iamthejasonpaul or Dennis Korra #GoProFPV by Birdseye + #GoProHERO10 Black@Weltkulturerbe_ #GoPro #GoProDE #HyperSmooth #Parkour #FreeRunning #FreeRun #Frontflip #VisitSaarland #VölklingerHütte pic.twitter.com/SKfeo2Uf7M

— GoPro (@GoPro) November 28, 2021
Enable your e-commerce platform so it can accommodate video reviews. Recommend this option to buyers so it can attract a comprehensive library that potential buyers can tap into when making purchasing decisions.
It can also be worthwhile to consider leveraging negative reviews. Get in touch with the customer and see how you can resolve their concerns and ask them to make another video review.
If there is already another e-commerce or review site that hosts a good amount of UGC in video format you can use, see how you can embed this on your social media postings.
Feature Events
UGC built around certain events can help to drive more traffic and engagement from online users. These can be events hosted by the company or just industry-related.
From red carpet awards ceremonies to music festivals, there are many events where businesses feature as sponsors or make other types of contributions. Simply being in the same industry can be enough of a connection to warrant featuring the event in your content.
Can you design a dress that thinks? With Watson, @Marchesafashion did. See it now. https://t.co/USecDs9Kgm pic.twitter.com/ZCKebUbyus

— IBM (@IBM) September 1, 2016
IBM has previously used events like the Met Gala and the Tribeca Film Festival as a platform to promote the use of their products and services. Some of the marketing material used from these events are UGC and shared by the company on its sites and social media.
Inviting followers to share highlights from these events is a good way to boost awareness and interest in the occasion and attract more content. More so if you can get influencers that are attending to contribute.
Support a cause
Consumers are becoming more aware of how their decisions can negatively impact the environment, including the products they buy. Many are tempted to remain brand loyal when they see campaigns that support a social or environmental cause.
Whether it is obtaining product ingredients from sustainable sources or seeking to address gender inequality, people love to support a good cause and talk about it socially. It can also contribute towards a business's corporate social responsibility endeavors.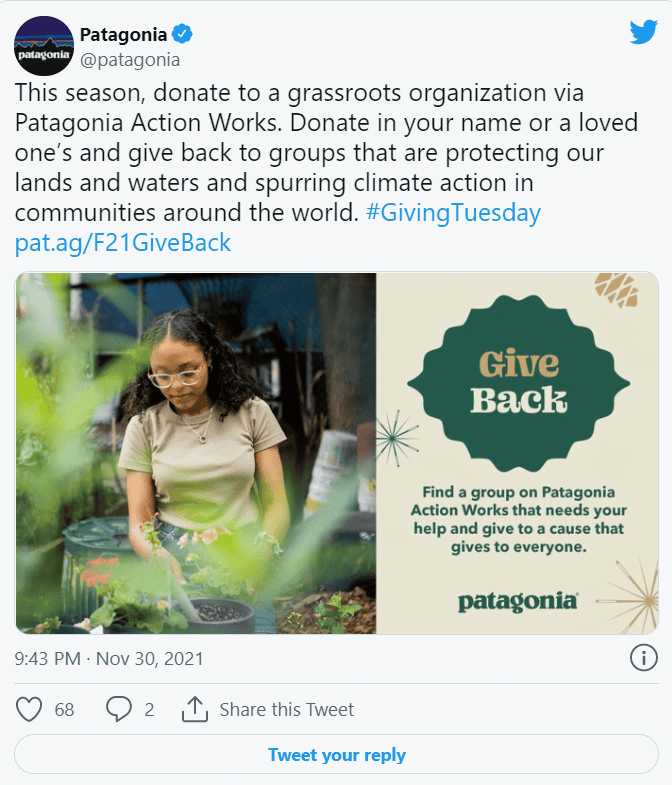 Sourced from Twitter
Brands like Patagonia have made highlighting environmental causes very much a part of their image. This caring and activism has earned them a supportive following and has inspired many of their loyal customers to create content surrounding these issues and share them on social media. Content that they share widely on their sites and social media.
Final thoughts on social media advertising metrics
UGC offers an exciting opportunity to exponentially grow your following on social media channels, build stronger trust with your shoppers, and secure higher conversions. This comes with minimal effort from the business and at often ridiculously low cost.
To recap, the best ways to leverage UGC for social media advertising metrics include:
Defining content so contributors know what themes to focus on
Create hashtags to link content and build a library
Offer incentives that will encourage more contributions
Find strategic partners that can direct more traffic to your sites
Make use of video review content that adds authenticity
Feature events that tie into your brand and industry
Support a cause that consumers will appreciate
Make UGC an essential part of your online marketing strategy, and not only will you see your metrics rise, but also your bottom line as greater brand visibility and engagement is achieved.