Instagram has become the go-to Social Network for the Millennials and Gen Zers. The fact that these two generations form the bulk of the consumers in the market, makes Instagram an important place for businesses and marketers.
With 2 billion active users on Instagram, as of December 2021, it has become an even bigger opportunity for small businesses, E-Commerce, and marketers alike.
Considering all the creative tools at your disposal, it is easy to see why marketers have taken a liking to the platform. Most of the features that users love double up as features that help marketers plan and execute marketing campaigns better.
The best part is perhaps the ability to make marketing content interactive and entertaining which helps break the monotony of the usual marketing campaigns.
Interactive content on social media has further gained importance in the Social Media Strategies of businesses in the post-Covid-19 Pandemic world.
Polls for Instagram are one such feature that lets you do more than one thing while keeping users engaged and interested.
Let us understand how Instagram polls came to be.
The History of Polls for Instagram
Instagram announced the stories feature back in August of 2016 which had mixed reactions as it was a direct ripoff of Snapchat's main feature. Soon though, the use of stories picked up and users of Instagram stories doubled that of Snapchat's in a year.
Seeing how effective the concept of stories was, Instagram decided to add new features to it. In October of 2017, Instagram introduced an interactive sticker for their stories where viewers could vote on one of the two options given.
The objective behind this move was to transform Instagram into a more interactive social media platform, expanding from being a photo-sharing and messaging platform.
Instagram users could post stories and use the polls sticker to reach out to people seeking their opinion by having them vote on the two options you provided with the question. Users could see who voted for which option in real-time in the story statistics.
It didn't take long for marketers to realize the potential of this new feature. The ability to collect organic, unfiltered feedback and data from your audience quickly and in real-time helps businesses make decisions with better accuracy.
Now that you know everything there was to know about Instagram pools, let me tell you different ways in which you can use Polls for Instagram to benefit your business.
8 Great Instagram Poll Ideas For Your Business
Host Surveys
Surveys are an effective tool to collect information but it is a well-known fact that people do not like participating in surveys. The way around this is to conduct a survey in such a way that it doesn't seem like one.
Polls for Instagram allow you to just do this. While you cannot ask open-ended questions, simple yes and no questions are adequate enough to gather useful information.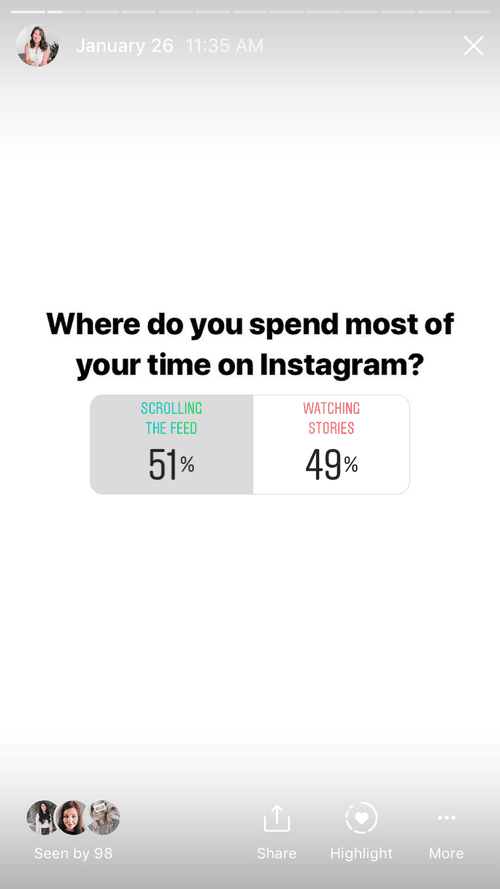 Image Courtesy – Soto Social
There are so many questions that can be answered with a yes or no. Also, you could provide two options and make people choose between the two using the same methodology.
You can use this method to find out the demographic breakdown of your audiences, the topics, subjects, products, etc. that most interests them, ask for their preferences, etc. to understand who your audience is.
Using this information, you can leverage video marketing for SMEs by creating relevant videos for your audience.
Gather creative input
Sometimes, listening to your audience can lead to amazing sales results in the market. Using polls, you can ask people to choose between colors, styles, finishes, etc.
The benefit of doing this is that it allows you to gauge what the collective market prefers in terms of the above-stated parameters. This way, you can tweak these parameters for your product and offer it in the market with relative surety that it will perform well.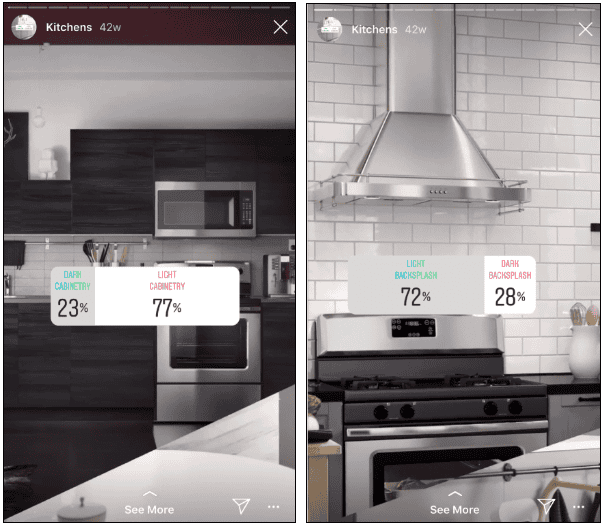 Image Courtesy – Kicksta
Moreover, gathering creative input from your audience is a big positive to your marketing effort as you gain valuable information along with boosted engagement stats.
Another benefit of doing so is that your audience feels that their inputs are being accounted for. A brand that listens to people and makes changes in their products accordingly enjoys positive public perception and a loyal customer base.
Entertain your audience
Only posting about your products and brand can cause marketing fatigue in your audience and lower the effectiveness of your marketing campaign.
You can break the monotony of marketing campaigns by entertaining your audience from time to time. With Instagram polls, not only do you have the option to entertain but you can still have high levels of engagement.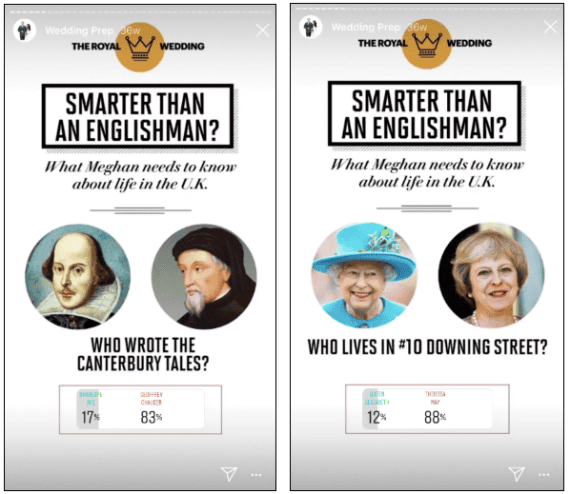 Image Courtesy – Kicksta
You can ask people about their opinions about any pop culture news, make them choose between movies, songs or singers or celebrities. The possibilities are endless.
As a brand, not only do you end up with more information to understand your audience but entertain and engage with them at the same time. There have been instances when such polls went viral earning the brands more exposure and reach.
Make people choose between two products
While this may seem too simple for you, it has other benefits than just understanding which product is more appealing to the audience.
You can extract a lot of information from simple polls, on top of that, polling isn't anonymous, so you know who is voting for what product. It helps you build an understanding about what type of people prefer what product.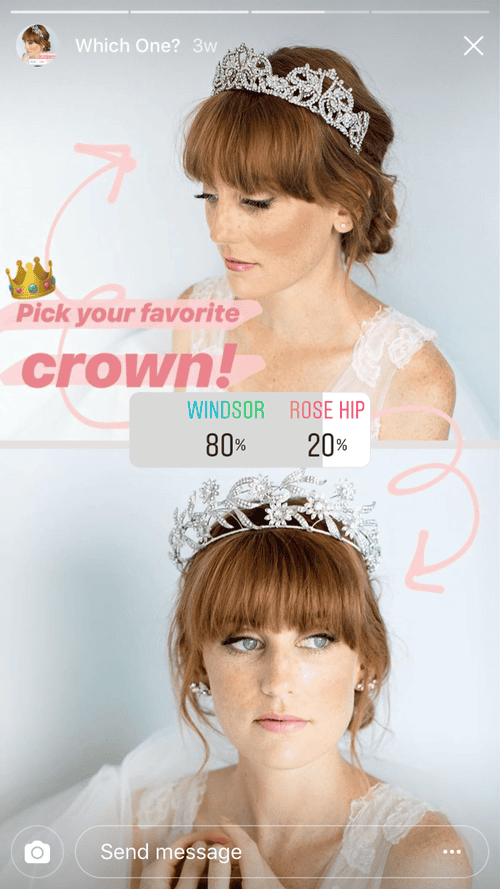 Image Courtesy – Soto Social
This can especially benefit you if you're an online retailer because the number of votes for each product can give you a rough idea about how many orders you can expect. This information is helpful to stock up on products accordingly.
Being directly up to date with people's preferences rather than relying on third parties for market intelligence is the best way to ensure accurate sales forecasts.
Polls to tease your upcoming offerings
Creating curiosity among your audience about your upcoming offerings is one good way to ensure you generate hype before the products go on sale.
Having an interactive way lets your audience participate in this hype generation by giving them an option to guess features, designs, styles, colors, etc. of your upcoming products.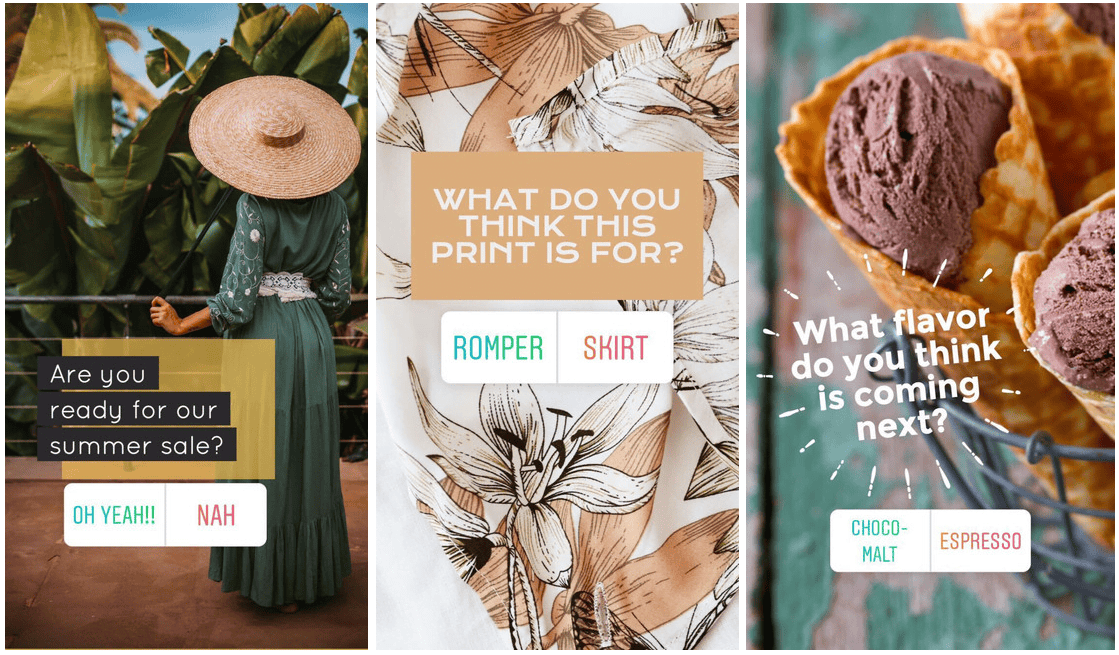 Image Courtesy – Ripl
Moreover, as they see what other people have voted for and how the polls have turned out, it creates a sense of excitement within them for the actual launch event.
If the product is different from what they tried to guess, they will be left surprised but if it is exactly like what they guessed and voted for, then they will be left with a feeling like they've one. Both outcomes generate positive feelings and keep the audience engaged.
Ask them what they need help with
A lot of products on the market require the user to properly install it or service it after set intervals. Many users encounter issues with installation, servicing, or general use.
You can host a poll asking people if they need any help with any form of troubleshooting related to your product and then follow it up with a poll to find out what help they actually need. You can follow it up with posts providing troubleshooting tips about the same.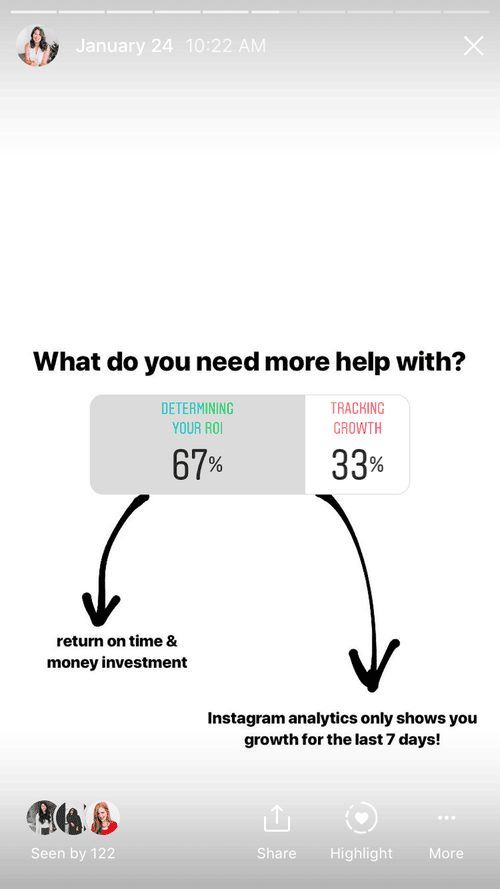 Image Courtesy – Soto Social
There are two advantages of doing this, firstly, you're addressing issues that your customers are facing thereby raising the satisfaction levels.
Secondly, you are able to gather information about what difficulties people commonly face while using your products. You can use this information to come up with better design solutions that completely do away with these issues in your products.
Information collected directly in this manner can help you make your digital marketing campaign a really successful one.
Drive traffic to your website
Driving traffic to your website from social media has always been a tricky business. With Polls for Instagram, however, this becomes relatively easy.
You need to ensure that you design the poll story well and add a link to your website onto it properly. There is science at work here, when you get people to vote for something on such a post, chances are they will follow suit and end up on your website.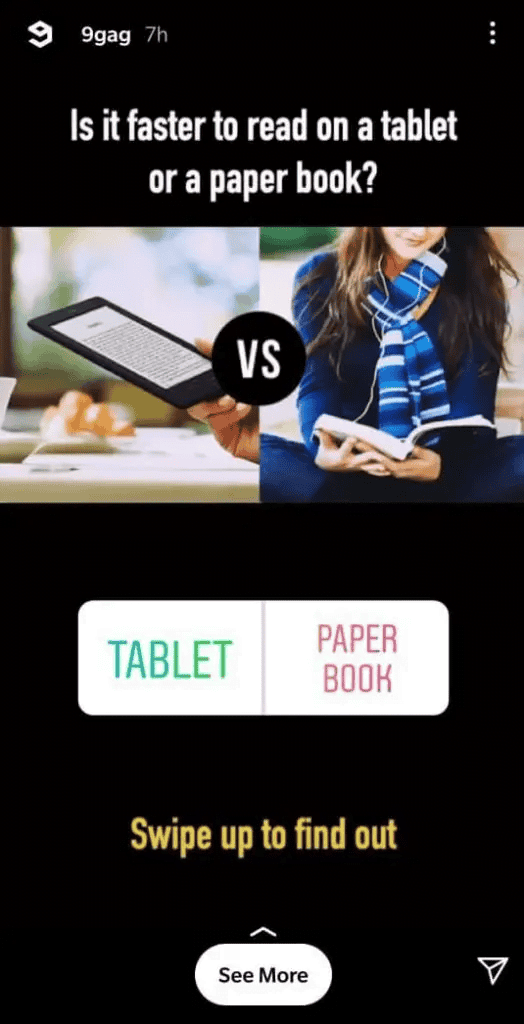 Image Courtesy – Wave Video
When you've already gotten someone to perform some action, they're naturally inclined to perform the next action that you prompt them with. This phenomenon is known as the Zeigarnik Effect and has been effectively used by marketers for a long time.
Shouldering Social Responsibility
Being responsible towards society is always a positive to have for any brand. Not only does the brand carry a positive public perception but this translates into solid sales figures as more people will prefer buying from a socially responsible brand.
You can host polls asking people about which social issues should you address or which ones can be directly resolved using the brand's intervention as a part of CSR.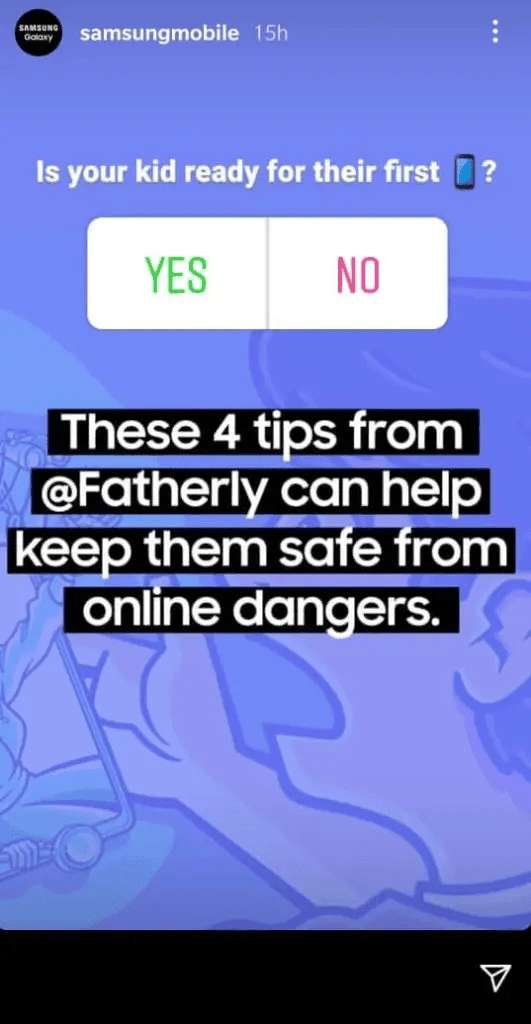 Image Courtesy – Wave Video
This creates a positive feedback loop as more people will interact and vote on such posts, leading to gains in level of engagement and reach as a result of it. Moreover, people knowing that their votes are making a difference to the world through the brand they use promotes a feeling of belongingness towards the brand.
To Sum Up Polls For Instagram
Polls for Instagram are a powerful feature that has endless use cases. You can use Instagram polls to gather information, marketing intelligence, entertainment, marketing, and whatever that can be achieved through asking questions in an intended manner.
We believe that marketers or businesses, whether big or small, should make adequate use of Polls for Instagram and these should find a place in your social media marketing strategy, looking at how much they can contribute to your marketing.
The 8 ways mentioned above can be mixed and matched to achieve any desired outcomes you can have using Polls for Instagram.
So which ones will you start with?