You can't do without social media analytics tools if you want to crush your marketing and revenue goals. Social media analytics tools collect and evaluate data that will help you make more informed decisions.
Sure, Facebook, Instagram, and TikTok provide you with some data and insights. However, to really unlock your earning potential, analyze performance in numbers by tracking trends, wins and losses, bottlenecks, competitors, and ROI. Only social media analytics tools offer this kind of advanced functionality.
To save you hours of research, we compiled a list of 8 noteworthy tools that break down the performance of your current and past social media campaigns and make it easy to optimize, budget, and run future campaigns successfully.
Social Media Optimization
The majority of regular Internet users have heard about SEO, or Search Engine Optimization. The majority of people also know that it has something to do with being visible on Google and Bing.
Just like SEO, SMO is one of the top 4 essentials of digital marketing. The other two that complete this fantastic four are SMM (social media marketing) and SEM (search engine marketing).
However, SMO is a less popular term that refers to Social Media Optimization. If done properly, SMO is a strategy that will make your website, and therefore your brand, event, product, or message, visible to social media users.
Normal practices here include, but are not limited to, adding RSS feeds to your website, forming social news, or embedding social media posts on your website. All these practices have the same goal: to make your website easy to share.
Sound data analytics are a precondition for successful Social Media Optimization. Whether you are promoting events, brands, or personalities, the rules are the same. Similarly to SEO, you need to be informed on what has been going on on your accounts if you want to improve performance.
Social Media Analytics
Social media analytics are based on the vast amount of data publicly available on platforms such as Facebook, Instagram, TikTok, Pinterest, and similar platforms. Based on what people like, comment, and share, we can get insights into their consumer behavior.
And based on those insights, we can guess what they would like us to offer to them and how.
But what exactly can you expect from data analytics? Data analytics can help your business:
Measure ROI (return on investment)
Make data-driven decisions on how to promote your brand online
Understand your customers by providing precise info on engagement, reach, and conversion rate
Understand your competitors
Learn from your mistakes and improve marketing campaign effectiveness
In modern times, there is no marketing without social media. Social media platforms have become the norm for human communication. Therefore, understanding the best possible way to address your customers is a must if you want to survive in the market.
Here are some useful tools you can try in order to create useful analytics reports and build vibrant social media accounts.
HubSpot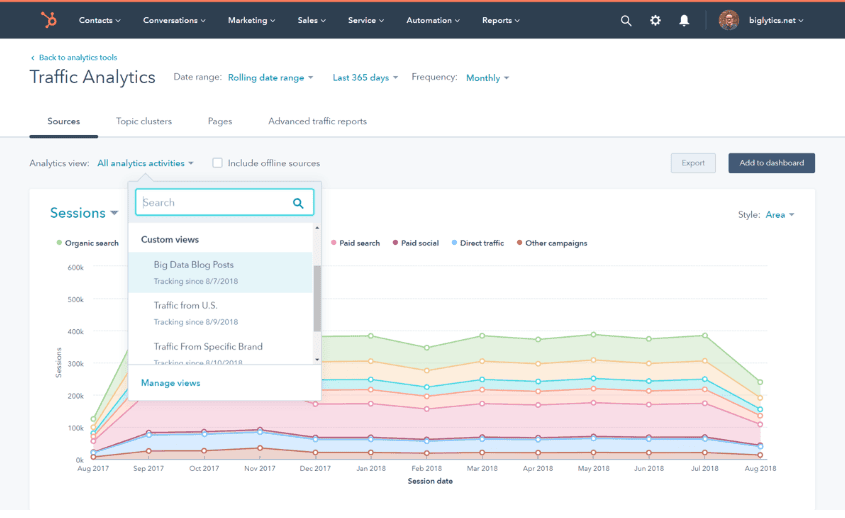 HubSpot is at the very top of the list of the best social media analytics tools. Aside from being a prominent CRM tool, HubSpot also offers social media scheduling and analytics/reporting features.
You can use it to:
Track the performance of your posts and identify key social media trends
Discover channels and activities that bring the best ROI
Track the entire customer lifecycle and get on more friendly terms with your customers
HubSpot works with most social media platforms, Facebook, Twitter, LinkedIn, and Instagram included. This software comes with a myriad of free tools and features as well as paid plans starting from $45 per month.
To discover social media analytics tools that offer extensive features that can facilitate marketers' jobs, take a look at this extensive list of social media analytics tools provided by Socialinsider.
Oktopost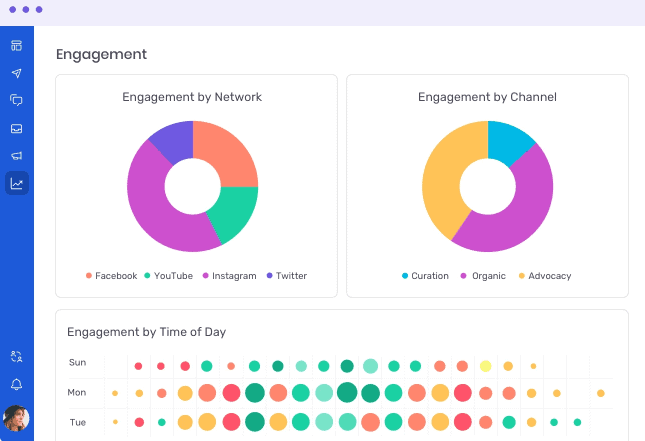 Oktopost is an all-in-one software for all-things-social-media with a huge base of B2B clients. Oktopost works like a charm when it comes to:
Planning and scheduling posts,
Identifying the best-performing content,
Tracking actionable metrics and measuring the performance of each and every post via custom dashboards and other visual components (charts, tables, and maps),
Creating CSV, PowerPoint, and PDF reports and scheduling customized data export,
Increasing your engagement rates, growing social media presence, and expanding social media monetization options.
You can book a demo and explore the tool's advanced features without paying a dime or sign up for a paid plan if the tool checks all of the boxes for you.
Zoho Social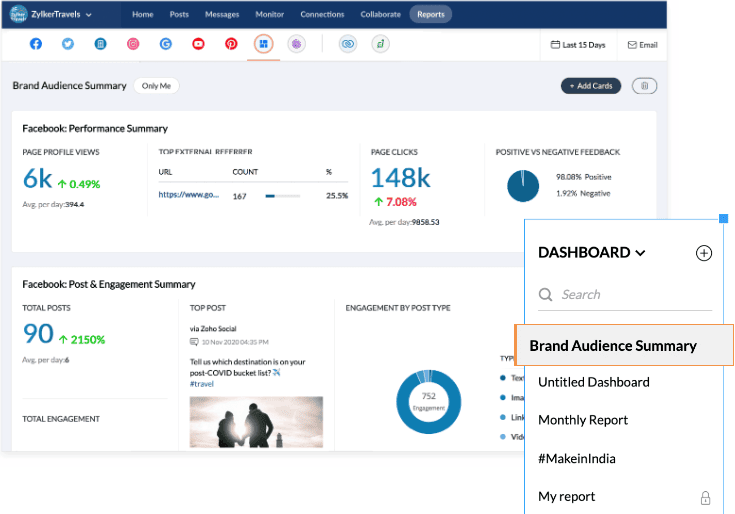 Zoho Social is a flexible and comprehensive social media management tool that features:
Unlimited post scheduling and rescheduling and effortless content curation
Smart social listening and monitoring
Superb analytics and reporting capabilities
It also makes it a breeze to create intuitive social media calendars, time your posts, track and improve engagement, and tap into your audience demographics.
Zoho Social now supports TikTok, Shorts (YouTube), and Stories and Reels (Instagram) aside from the regular social media platforms (Facebook, Twitter, and LinkedIn) and their regular posting formats.
For example, if you want to promote your online course business on TikTok, Zoho Social's insights will take you beyond the platform's native analytics and help you build your brand through smarter social media tracking.
Zoho Social's pricing starts at 10€ per month.
Bulk.ly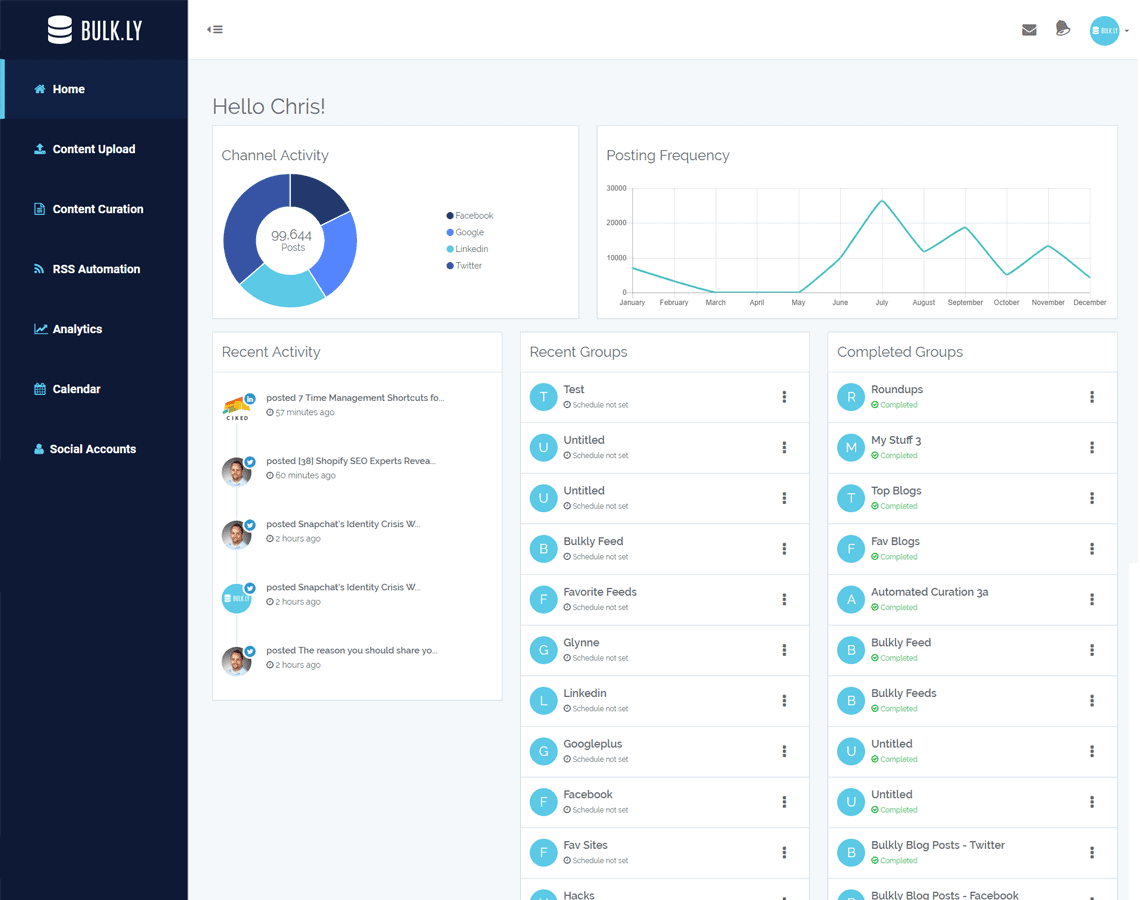 Bulk.ly is a famous platform that automates your social media activity. It has several standard and extremely user-friendly features, including real-time updates, content generation, and post scheduling.
However, Bulk.ly has a hidden super power: it integrates social media and Google analytics. Therefore, if you opt for using Bulk.ly, it will bring analytics from various social media platforms to a single place. The only thing you will need to do is bring conclusions and decide what has to be done. Bulk.ly will do the rest for you. Neat!
Social Champ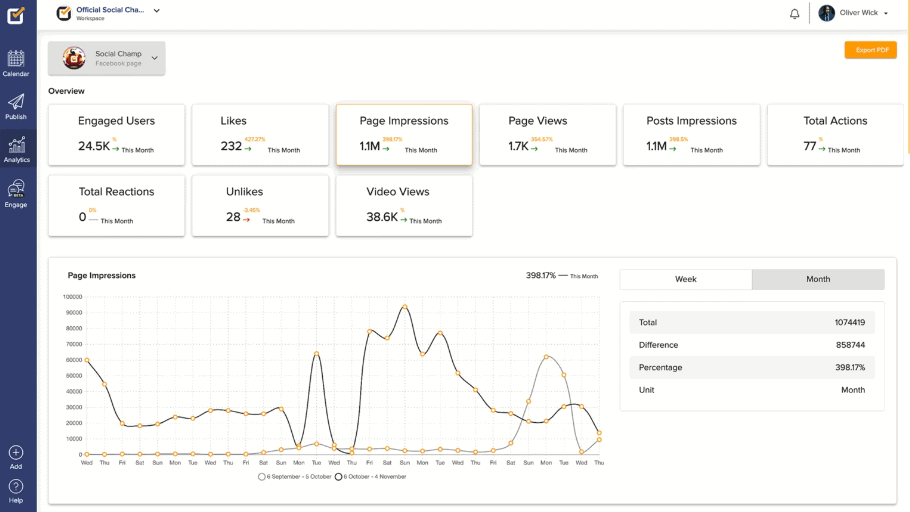 If you want to see your social media efforts finally pay off, check out Social Champ. Although it is first and foremost a social media scheduler, Social Champ is packed with a host of useful features that analyze and improve social media performance.
Aside from making it a breeze to curate and publish content, Social Champ also:
Tracks various kinds of social media metrics and turns them into charts, graphs, and PDF reports,
Tracks best-performing posts and measures and compares performance over a desired period of time,
Creates workspaces for different social profiles run by the team and assigns different roles to team members (admin, editor, author, etc).
Social Champ has a free plan with paid plans starting at $29 per month.
Keela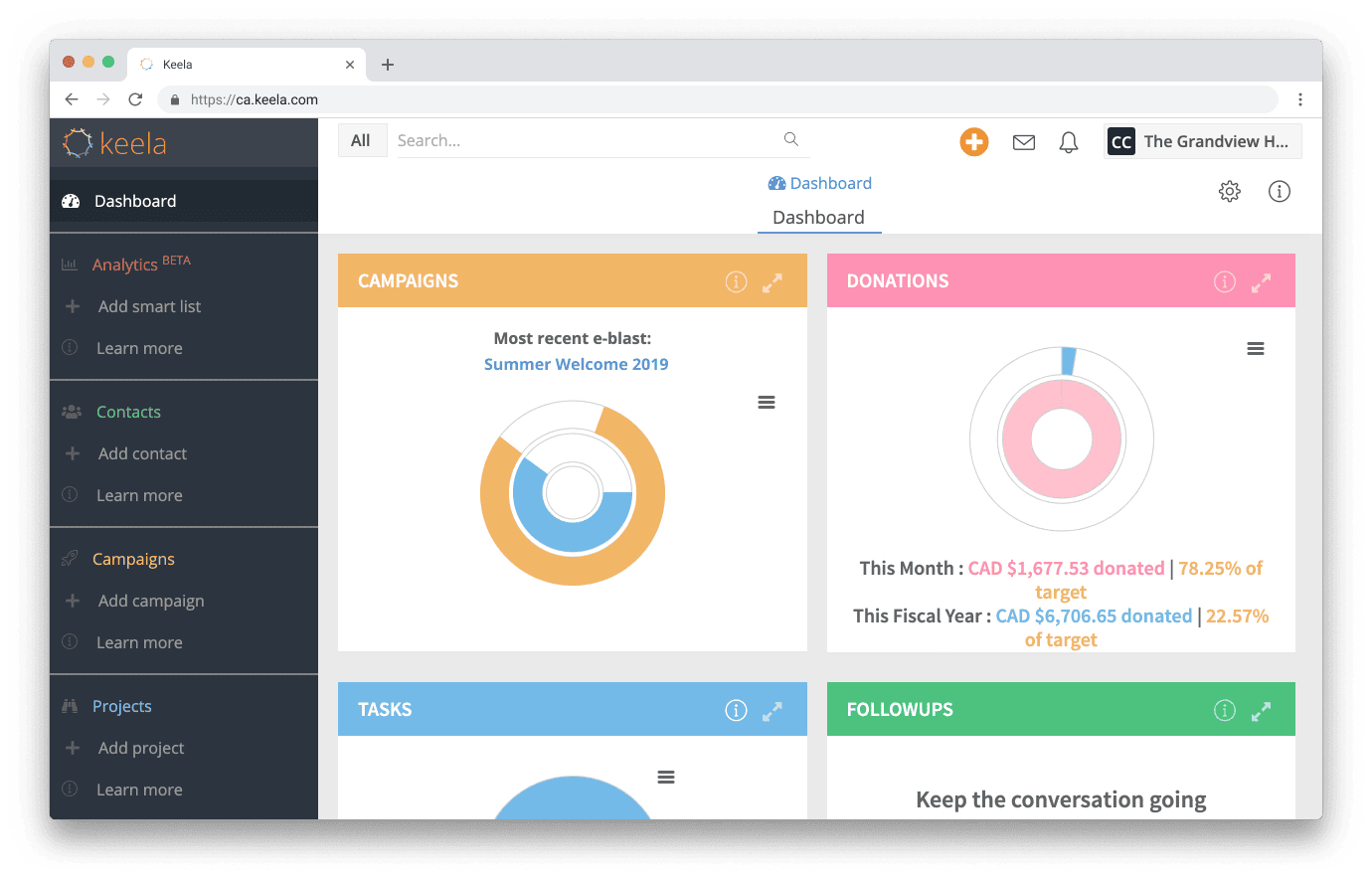 Keela is another social media tool that does strong analytics for you. It not only collects and analyzes data from various platforms, but also creates engaging visuals. Thanks to its graphs and charts, the vast amount of data turns to colors and becomes comprehensive to anyone.
What's special about keela is that it is a particularly popular social media tool among nonprofits.
SocialBee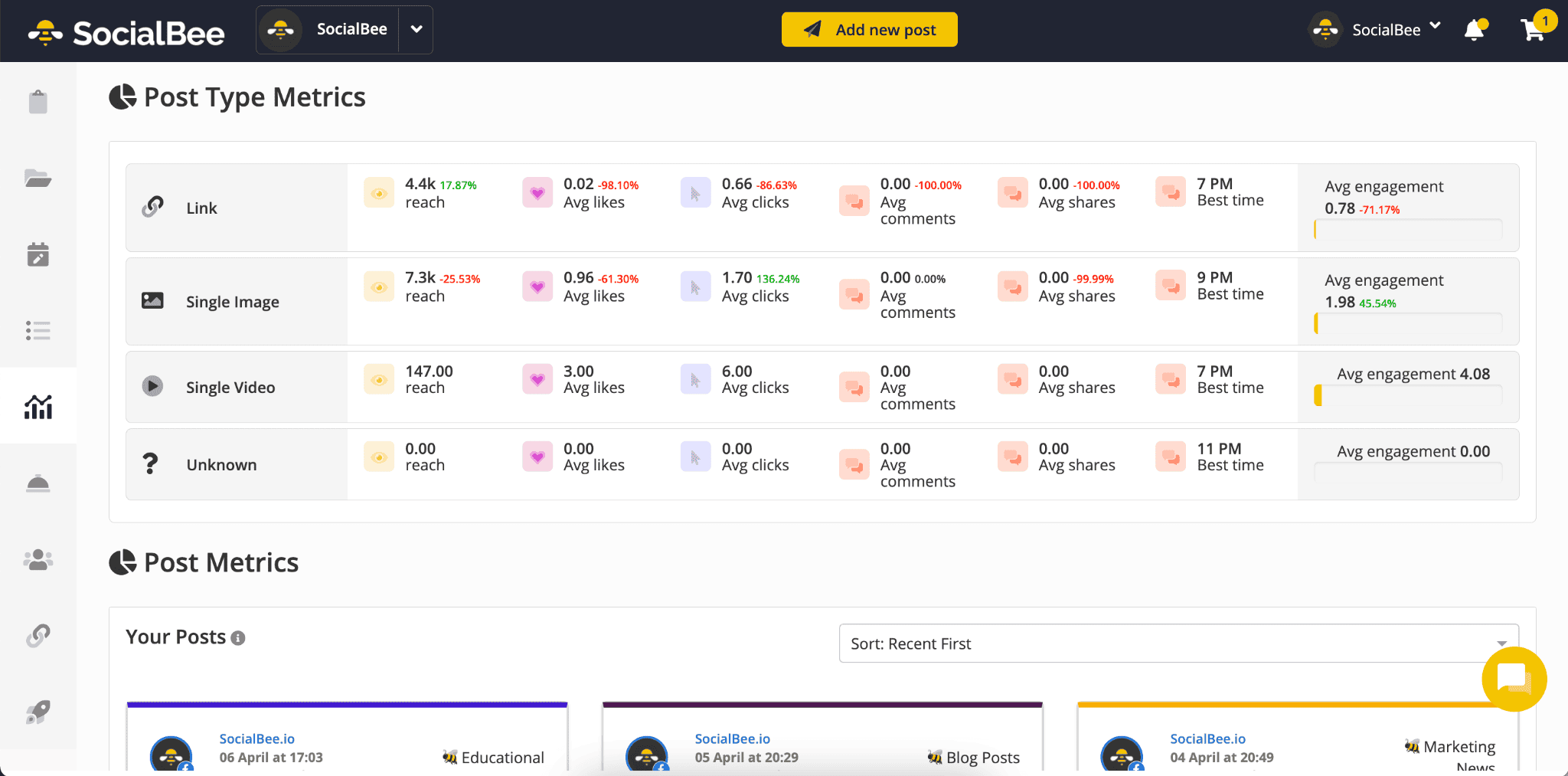 SocialBee is a social media management tool that allows you to easily schedule your posts in a calendar-like view and customize them for each social media platform (Facebook, Twitter, LinkedIn, Instagram, Pinterest, Google My Business, and TikTok). This tool also offers reporting and analytics to analyze the performance of your accounts.
By using SocialBee, you can perfect your social media strategy with insightful social media analytics to track your page growth, audience demographics, and post analytics for each network. These features help you identify improvement opportunities and winning patterns from one dashboard.
Main features:
Learn About Your Audience Status
Evaluate Your Overall Social Media Activity
Monitor Your Post Reach
Discover Top-Performing Content
Identify Best Engagement Levels
Download Your Social Media Analytics in a PDF Format
Audience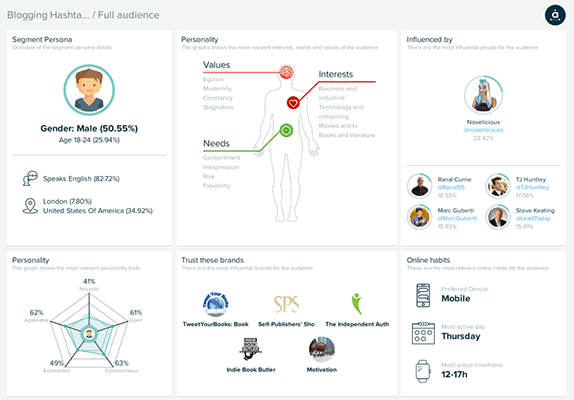 Some say that Audiense is one of the best social media research platforms. You may want to try it out, especially if your marketing campaign heavily relies on Twitter and on Meta platforms. It has no content or post scheduling options. Just pure analytics.
Audiense focuses on the market and explores your customers. It segments the market and helps you understand your buyer personas' culture and core values, interests, and needs.
BuzzSumo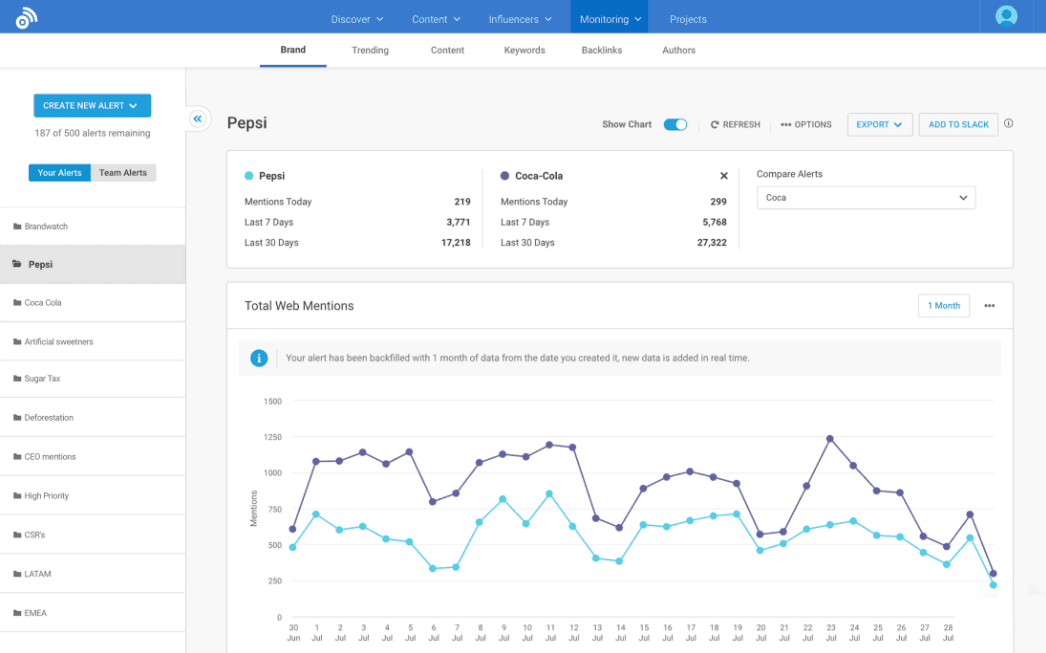 BuzzSumo provides deep insights into how your YouTube, Facebook, LinkedIn and Twitter content performs. Not only can you analyze post performance, but also:
Collect useful data to sharpen your marketing strategy and produce more compelling content,
Identify industry trends,
Monitor your competitors and their performance,
Stay up-to-date with the latest industry updates,
Discover and connect with industry influencers.
BuzzSumo has a free plan and 3 paid plans starting at $99 per month.
Whatagraph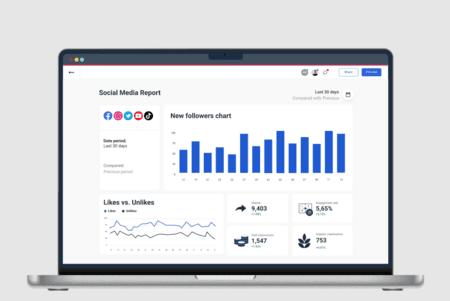 Whatagraph is a powerful, automated social media reporting tool for agencies. If you are juggling multiple clients and their social media accounts, Whatagraph comes in handy by:
Turning raw data into valuable and actionable insights and using them for making data-driven decisions,
Assessing the quality of work done, visualizing results, and improving social media performance,
Bringing data from multiple sources to one place and aggregating reports.
Whatagraph monitors Facebook, Instagram, YouTube, LinkedIn, Snapchat, TikTok ads, and Pinterest analytics and makes social media management incredibly convenient no matter how many accounts you manage.
Buffer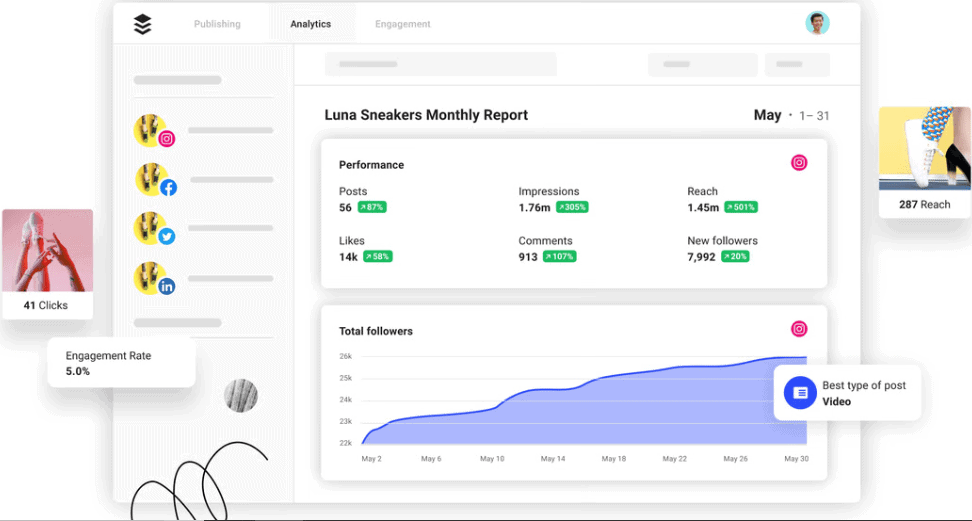 Buffer is a dashboard that provides in-depth insights you need to grow your Instagram, Facebook, Twitter, and LinkedIn accounts. This intuitive social media analytics dashboard helps:
Measurepost, story, and hashtag performance,
Gather inspiration on how to grow engagement, reach, and sales,
Learn more about your audience demographics, when to post, how often to post, and the best type of post,
Compare organic and boosted posts and ads performance,
Create detailed, customized, daily, weekly, and monthly reports.
You can use Buffer for free or sign up for one of their paid plans: $5 or $10 per month and per channel.
Sotrender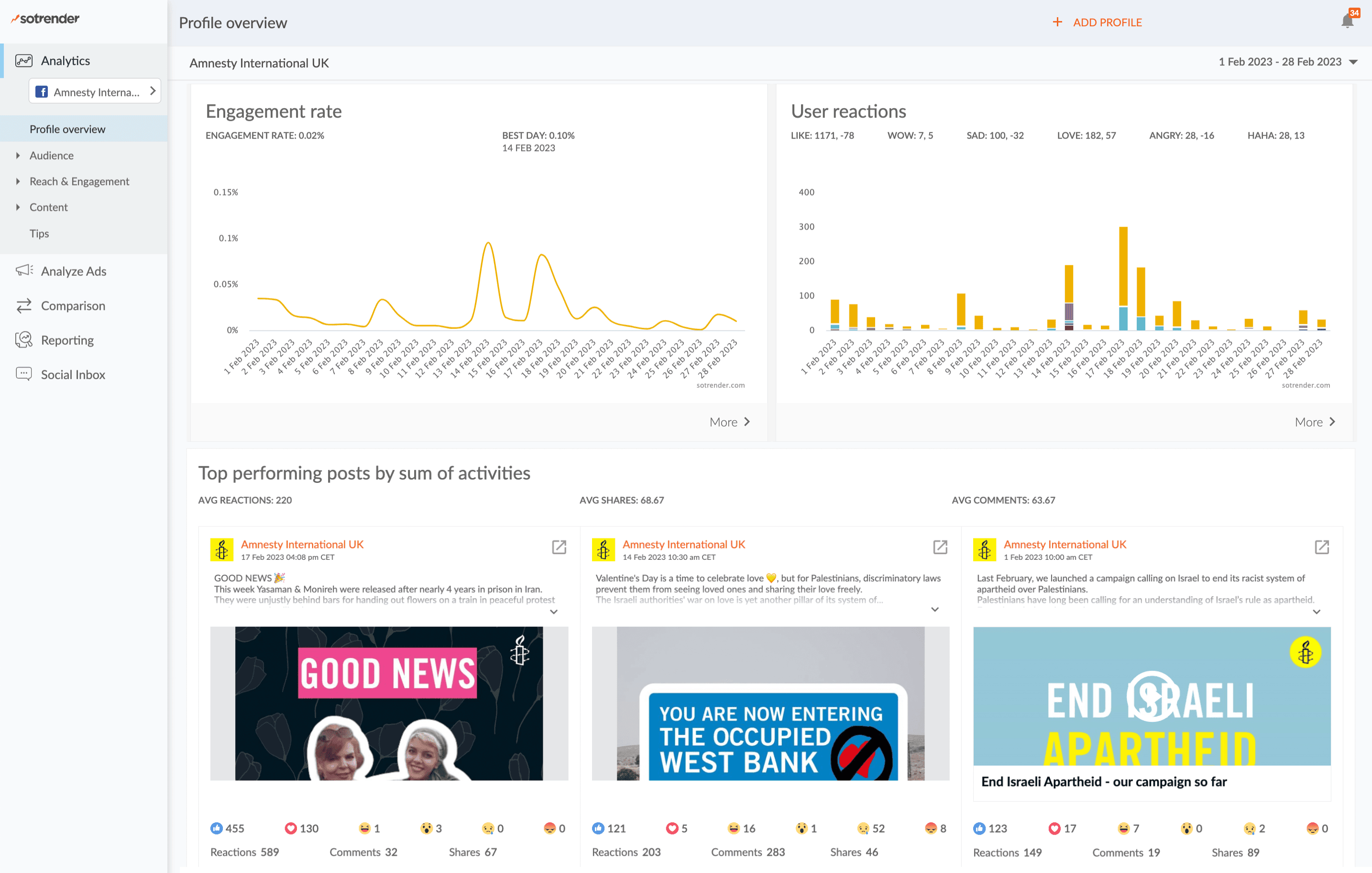 Sotrender is a smart analytical tool you can use to make informed and data-driven marketing decisions. Although a bit complex and sturdy at first, Sotrender will give you valuable insights. It will collect historical data, track your top content, and help you understand the demographics and behaviors of your audience.
Moreover, with Sotrender you can generate white-labeled summary reports literally within minutes. Finally, it will keep an eye on your competition, and let you know about their activities and your position in the market.
Agorapulse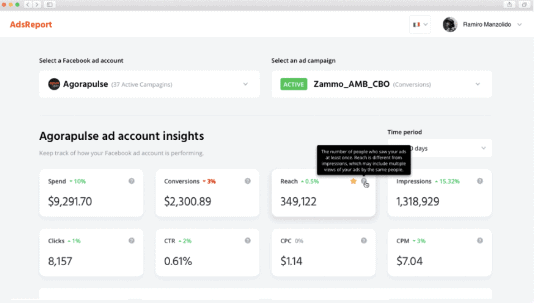 Agorapulse is a social media management tool that covers all aspects of running social media accounts, from publishing, monitoring, and reporting, to measuring ROI. These features help you:
Optimize content for various platforms,
Organize content visually,
Approve, schedule, and reschedule posts,
Listen to conversations and track brand mentions,
Engage with the community by liking, commenting, retweeting, and responding to DMs,
Track post and team performance,
Determine what content performs best, and get recommendations based on user behavior data,
Streamline reporting processes,
Gain accurate insights on how your social media efforts impact the number of profile visits, follows, and sales.
You can enjoy some of Agorapulse's features for free, sign up for a 30-day free trial, or purchase a paid plan starting at $79 per month.
Summary
The tools you use to run your business can help you make it or break it. Some social media analytics tools do collect valuable data but make it hard to interpret. If you plan to rise to the top of your industry without having to step up your data interpretation game, sign up for one of the social media analytics tools we've reviewed. With the help of one of these tools, you'll be able to make smart, data-driven decisions even if you are not an experienced data analyst.