For years, we've been told that content is king. And while a lot has changed since that phrase was originally coined, the basic premise is still very much true: content can help you boost your conversion rates, grow your brand, and connect with your audience on a more meaningful level.
However, the kind of content that will help you achieve all of this has changed. Online audiences no longer want cookie-cutter, 500-word blog posts that merely scratch the surface of a topic. They want the entire shebang: actionable, useful, and well-written content paired with stunning visuals. They want content that helps them solve a problem or that answers a question directly.
With that in mind, let's look at six content tips that will help you enhance your brand perception and attract the right audience.
Be Exceptionally Useful to Your Target Audience
The first fact to bear in mind is that your readers will not be interested in reading an opinion piece that goes into detail about a topic you care a lot about but that is of very little interest to them.
What they are looking for, first and foremost, is content that will help them solve an issue or achieve something. This may be something as simple as brewing the perfect cup of coffee (if we can call that simple) or something as complex as ranking first for a very difficult set of keywords.
In other words: actionable content is what counts, preferably exclusively covering topics that are of interest to your readers. Hop onto Google and start typing some of the questions your brand might be able to offer advice on. The ones that are autocompleted are all in high demand, so you would do well to cover them.
How you structure your content will depend on the topic. As people have gotten used to having an answer readily available at their fingertips, how-to guides are among the most popular posts on the web. Whenever we don't know how to do something, we know someone has likely created a detailed tutorial.
Take a look at this post on installing Lightroom presets. It provides a detailed step-by-step guide with animated images that leaves no room for doubt. Providing these visual aids will always prove to be more actionable than mere words.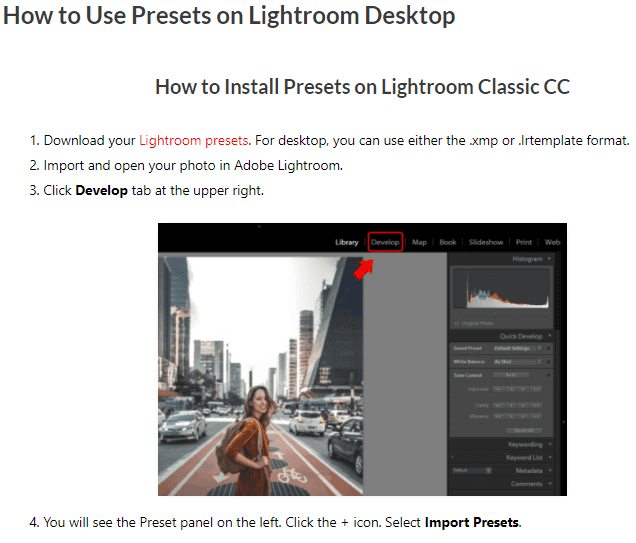 Image source: Presetlove.com
You can also create content around a topic that is of special importance in your industry. For instance, this post on employee benefits is of exceptional value to anyone who runs a company. It's a one-stop resource that lists all the data that a reader might otherwise have had to compile from a variety of sources.
When creating this type of post, always strive to include as much information as is useful, without going overboard. Unless you are writing a complete guide on a certain subject, try to limit your information to the necessary. Point your readers to other sources for more in-depth information.
You can also create interactive content. Quizzes and calculators work very well, especially if they are a fun and easy way to get an answer. Here's a great example of a calculator from a roofing company's website. It's easy to use and undoubtedly the best format for answering the question at hand. All in all, it's much better than a blog post that would list and compare prices.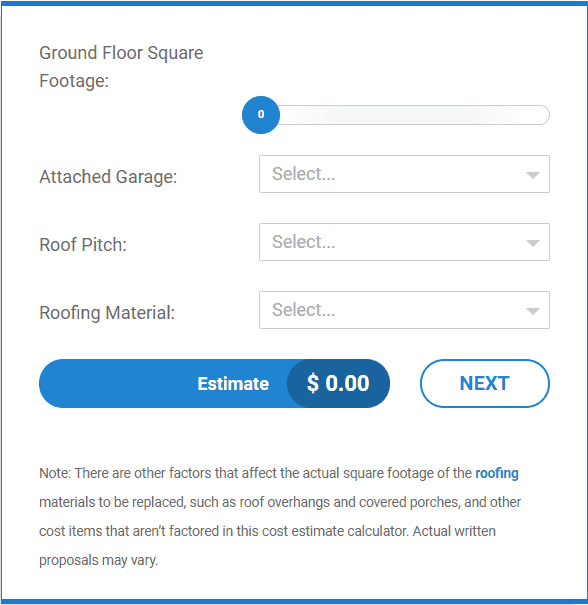 Image source:Bluebonnetroofing.com
In short, when composing your content, make sure you strike the right format and that you are useful above all else. If you aren't solving a problem with your content, refrain from writing it.
Involve External Thought Leaders
Tapping into the experience and knowledge of others can also be a great way to boost your brand's value. After all, you can't hope to become an expert on every topic imaginable that is relevant to your audience, so asking for someone else's opinion is a great tactic.
Plus, the person you host will most likely share the post, so you will also have the added benefit of an interested audience that has perhaps never before been in contact with your brand. If you choose the people you involve carefully, ensuring their audience overlaps with yours, you can direct them down your funnel as well.
The most straightforward way to publish this type of content is to ask a thought leader to write a guest post for your blog. This will also leave you more time to write your own pieces. Plus, the novelty and the outside opinion can attract a lot of interest among your regular readers.
You are bound to get some guest post requests organically, although most of them will be from people looking to build links. Make sure you only let actual experts post on your blog, though, and vet them carefully before saying yes.
You can also transcribe interviews for the blog. AMZ Pathfinder has done an interview with Coran Woodmass and thus ensured that even those who are unable to listen to an interview for whatever reason are still able to get the benefit of his insight. Plus, posts are searchable, whereas audio files are not.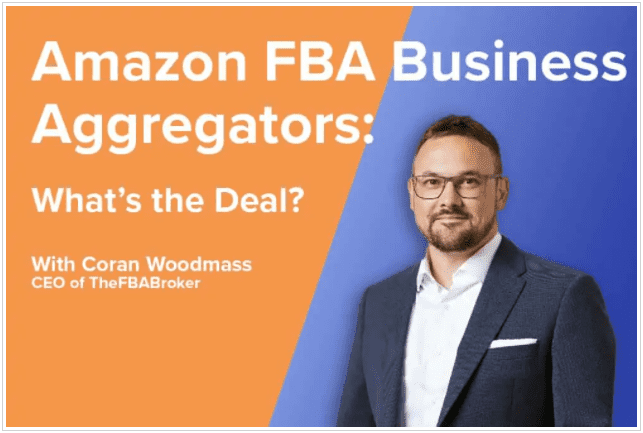 Image source: Amzpathfinder.com
If you want to dive into the world of podcasting, you can check out how Shopify is doing it with their Masters and Vanguard podcasts. Both are quite unique and provide insight into the world of ecommerce. They're there to help the brand's clients make the most of the platform and their own businesses.
Remember Your Existing Customers
While you are trying to attract all these new customers, don't forget that customer retention is just as, if not more important.
Loyal customers become your brand ambassadors, and they can build your business up for you. Brands like Glossier have based most of their business plan on user-generated content and word-of-mouth marketing. Quite simply, they trust their fans to recommend them further. This approach has fostered a community that is among the most loyal in the industry.
User-generated content is just one of the benefits of an engaged fan base. One way to foster an engaged fan base is to publish posts that provide exceptional insight into your products. This kind of content will help your readers get to know you better, enabling them to recommend you. It's also a way to ensure they can truly make the most of your solution, making them additionally appreciative.
SEMrush does great posts in this category. Just take a look at their keyword research post that has managed to answer one of the most popular searches in the industry while also outlining how their tool helps you reach the top of search.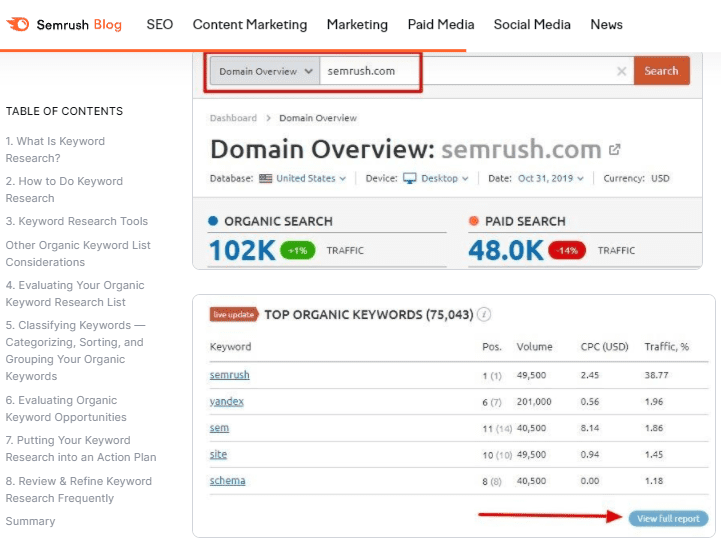 Image source: Semrush.com
Don't Deal in Speculation
To ensure you are perceived as a trustworthy and legitimate brand, never leave any room for speculation in your content. Rather, always provide credible opinions based on extensive research.
Your audience will want to make their decisions based on concrete data rather than vague promises of future success. They don't want to be swayed by clever copywriting or a marketing gimmick. What they want is to be convinced that your offer is the best choice for their specific needs.
This is why conducting your own research and surveys and publishing this data is such a big deal. For example, Brian Dean of Backlinko does exceptional studies and surveys, although he doesn't sell a SaaS product. Take a look at this one on evergreen content, as it's definitely something to emulate.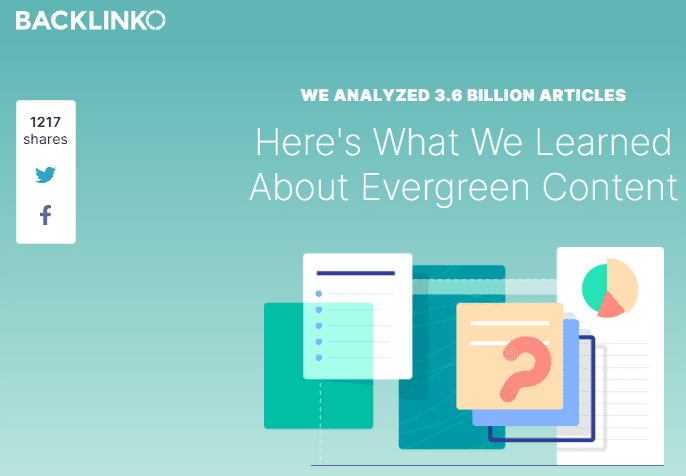 Image source: Backlinko.com
While you may not have access to such a large pool of data, you can always survey your clients, customers, employees, and others in your industry. The main point to bear in mind is that you want your work to help your audience out. So, always consider how they would apply your findings to solve a pain point.
From our above example, we can tell what evergreen content needs to look like and how to create it to ensure it will rank well and attract the right kind of audience.
Promote Your Prestige Content on Social Media
The content you produce is not worth as much (or, in extreme instances, it may not be worth anything) unless you find a way to promote it. The best avenue for this endeavor is, of course, social media. If you take a bit of time to stay up to date with the latest social media marketing trends, you'll be able to promote just the right kind of content at just the right time.
Try to align your content production efforts with your blog content calendar, ensuring you are able to generate some engagement and drive interesting conversations on socials. You don't even need to reference your latest content. You can reach way back and re-promote something you've written as far back as a year ago, as long as the data and the topic are still relevant.
Your social media goal is the same as your content production goal: create actionable and useful posts that your audience will appreciate. However, on socials, you also want to chat to your followers, offer some advice, and focus on getting to know each other.
Mailchimp has a good social media presence you can learn from. They shine a light on some of their customers and share advice. They also make sure to mark important dates and comment on the latest developments in their industry. Note how their posts are branded along the same lines as their website, ensuring cohesion and recognizability.
Supplement Written Content With Video
Producing a video to accompany a piece of written content may seem redundant, but the benefits of doing so are significant.
Not only is video great at engaging your visitors and promoting social shares, information presented in video is also easier to remember.
Video is also great at showing your audience that you take your blog content seriously. It's a way to let your readers know that they're engaging with a piece of content that you deem important enough to spend extra time and budget on.
Most importantly, it's a way to show your audience that you respect the information you're passing onto them. This has an enormously positive impact on how your content (and brand) is perceived.
Take a look at this post on how to use Google Flights. The article takes the standard "ultimate guide" approach, providing the reader with more than enough useful information in a highly readable, engaging way.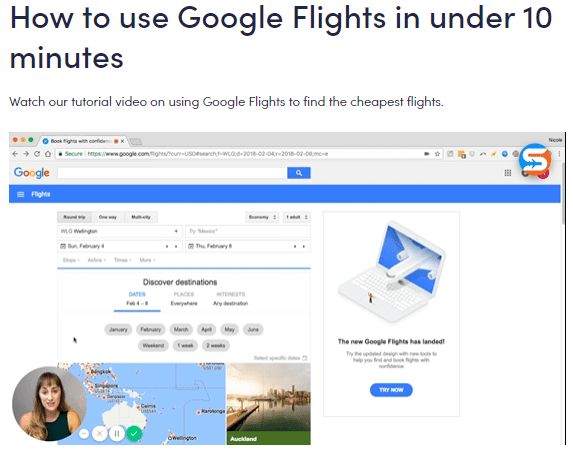 Image source: Scottscheapflights.com
By including the video, however, the publisher improves their post's visibility, engagement potential, and the likelihood that readers will find value in the info being shared. What it also does is tell readers that the brand behind this post genuinely cares about the information they've published. This goes a long way towards elevating the post, and the brand's credibility in the audience's mind.
Final Thoughts on Brand Perception
Creating content that works is never an easy task, especially given the sheer size of the internet. However, if you keep one goal in mind – the goal of being useful to your audience and giving them what they are looking for – you can pour these tips into content that establishes your brand as a force to be reckoned with.