Have you ever landed on an Instagram profile that made you say "Wow"? Do you ever feel jealous of an Instagram profile because it has stunning aesthetics and brand voice?
Then, you are not the only one. Today, brands and influencers use so many different Instagram growth strategies to make their profile pop out that feeling a little envious is common.
But, if you are done gushing over other people's Instagram profiles and ready to revamp your IG profile, this post has a treat for you. This post will show you 8 awesome Instagram profile ideas that can make your account stand out in the crowd.
So, let's not wait and start hustling now.
Why Should I Redefine Instagram Profile Today?
Before exploring the dynamic Instagram profile ideas, let's first understand why it is important for you to redesign your IG profile today–
Large User Base
Instagram is the fourth largest social media platform in 2022, with around 1.13 million user base, which is expected to reach 1.18 million in 2023. Thus, a unique IG profile will help establish your brand authority in the heavy competition and grow your business.
Target Gen Zs
Instagram is the best place to find young people. According to a report, the global internet users between 16 to 24 years are active on Instagram. However, since we all know Gen Zs look for personal and innovative ideas; thus, you have to redefine your IG profile to target young shoppers.
Multiple Outlays to Show Creativity
Instagram is a visually and aesthetically beautiful social media platform. It allows you to use your creativity distinctively to create something mesmerizing. Instagram offers Stories, Reels, AR filters and many other options to connect with your potential customers. In fact, 58% of customers prefer to watch brands' Instagram Stories to know more about them.
Making your Instagram Profile Pop isn't as easy as applying a unique wordpress theme. So here are 8 Ideas to help your Instagram Profile stand out!
8 Cool Instagram Profile Ideas
So, Instagram is the place where you will find a large audience base, young people and different options to show your creativity. That means you can easily establish your brand authority on Instagram using some out of the box profile ideas.
Without any ado, let's check out the best Instagram profile ideas:
1. Personalized photos
Do you have a personal brand on Instagram? If so, your personal photos and headshots are the best way to design your Instagram profile.
On Instagram, people want to connect with the user's real self. They want to know how you spend your day, the secret behind your success, and your likes and dislikes. In short, if you have a personal brand on Instagram, you need to use your photos and personal moments to connect with your users.
Here check out this Instagram profile by Alex Cattoni–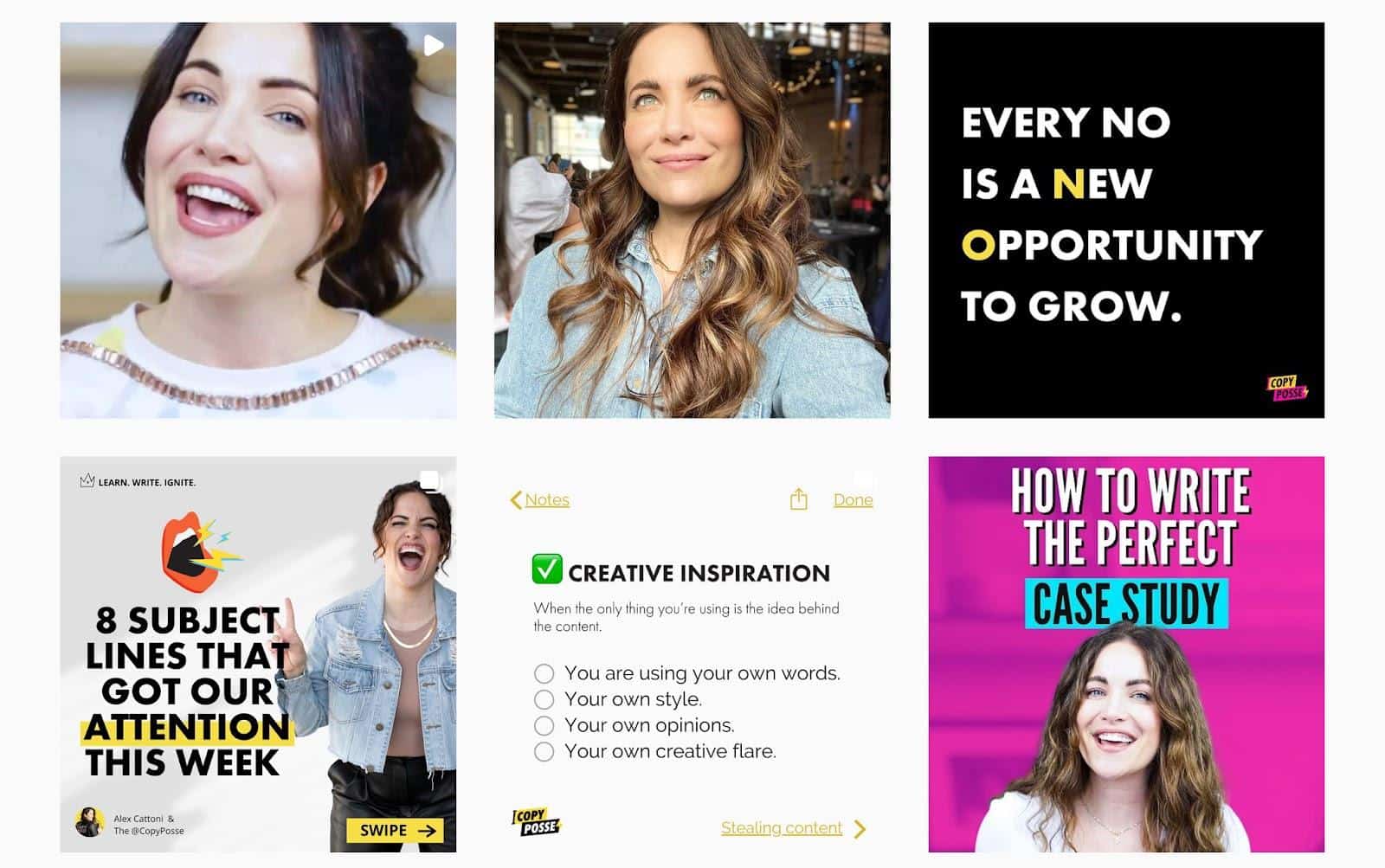 She is a copywriter and entrepreneur. She uses her headshots and random pictures to establish a personal connection with viewers.
2. Pick a relatable username
A username is one of the crucial aspects of your Instagram profile. It's how people will know your brand and mention you in their comments.
Therefore, never use cheesy usernames like @cutiepie or @hotshot for god sake. They simply look unprofessional and amateur.
Brands should use their company name for a username. This way, people can easily recognize and find them on Instagram. In addition, your username also appears in your Instagram profile link. Thus, it is good to use short and relatable usernames from an Instagram SEO perspective.
For example, if you are a popular sales CRM like Salesforce, use your brand name for a username.
Here are some tips for creating your Instagram username:
First, select a user name related to your business industry.
Pick a one-word username without any additional symbols or numbers.
Consider Instagram SEO while creating your IG username.
Keep your username under 30 characters.
3. Highlight your brand's color palette
Instagram is a photo-based social media platform. Therefore, you have to carefully select color combinations for your Instagram profile pictures.
If you want people to identify your Instagram post by just looking at your color palette, you should borrow colors from your brand identity. Most brands have already selected a color palette for their website and logo.
You can use one or two colors from your brand's color palette to create your Instagram profile. Stick to minimum colors because too many colors can spoil the look.
For inspiration, check out HubSpot's Instagram page. They have selected orange and dusky navy blue colors to create their brand ideology pop out on Instagram.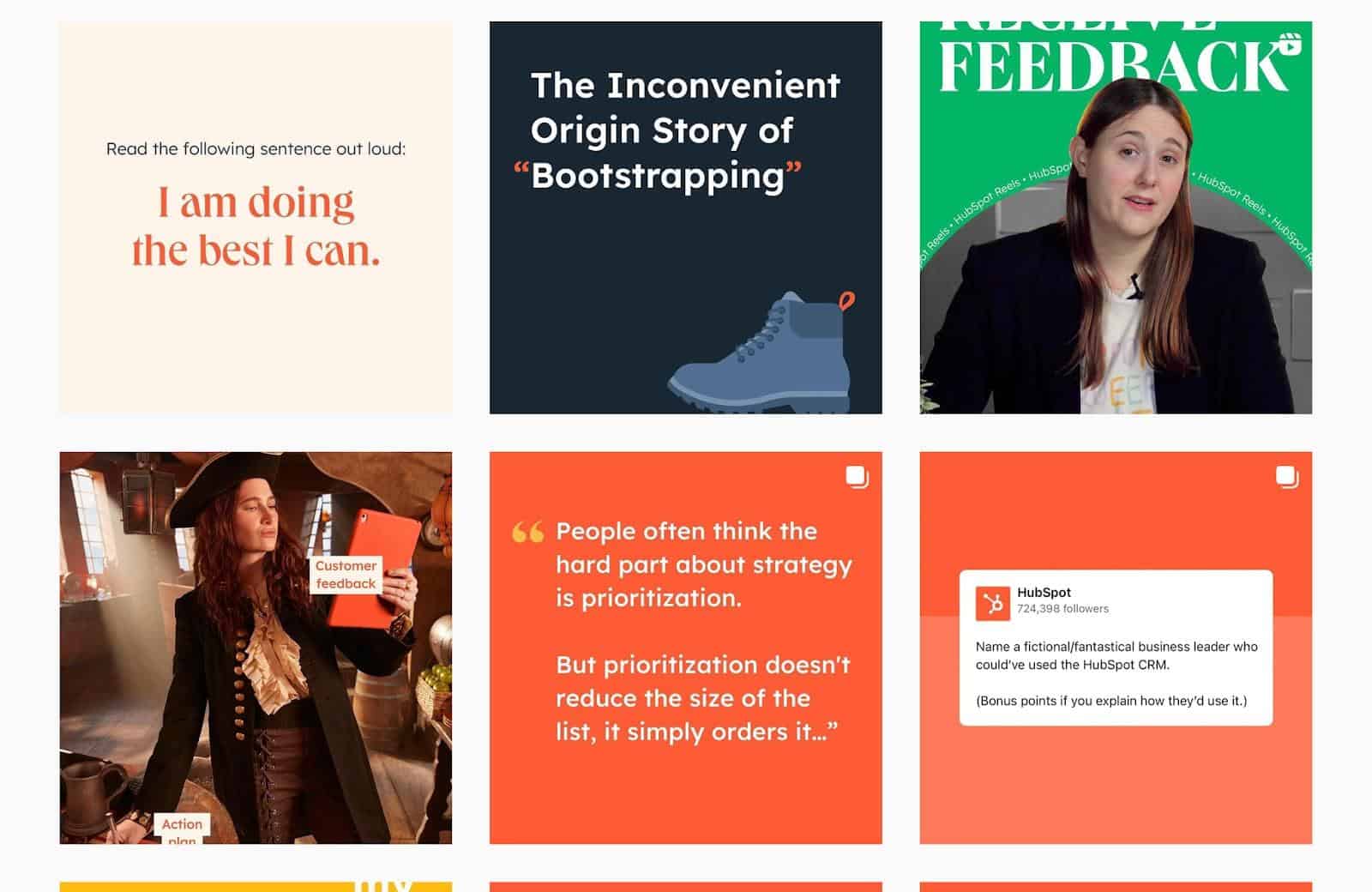 4. Write a perfect IG bio
To make your Instagram profile stand out, you have to focus on creating a dynamic bio. It is a small introduction about yourself, your brand and your services/products.
A well-optimized BIO is among the important Instagram Lead Generation strategies.
Instagram only allows users to write 150 characters of bio. Therefore, you should carefully select your words because you don't have much space to write a comprehensive bio. You need to explain more in fewer words.
It might sound difficult. But, if you use your creative instinct, you can write a catchy yet informative bio using fewer words. Here's how you can write a good IG profile bio—
Clearly explain in your bio about yourself and your services.
Mention who is your potential customer and targeted audience.
Use keywords relevant to your industry in the bio.
You can add branded hashtags to make your profile stand out in search results.
Make your bio interesting with emojis, bullet points and line breakers.
Add your contact information for users who want to connect with you.
Embed your website or other social media links.
This Instagram profile has a perfect bio. It has a personal touch, cute emojis, clear contact information and website links.

5. Go minimal
Do you feel overwhelmed after exploring so many great Instagram profiles? Are you confused about which colors or personal photos to use in your Instagram posts?
If so, take a break and relax your mind. And simply select a minimalist style. Yes, you don't need to use different photos, colors or filters to make your Instagram profile pop out.
By using minimalist photos and content, you can easily make your profile stand out.
There is no one better than The Minimalist brand itself in creating minimal yet meaningful Instagram posts. If you explore their page, you can see that they barely use a graphic or even just a word to explain themselves.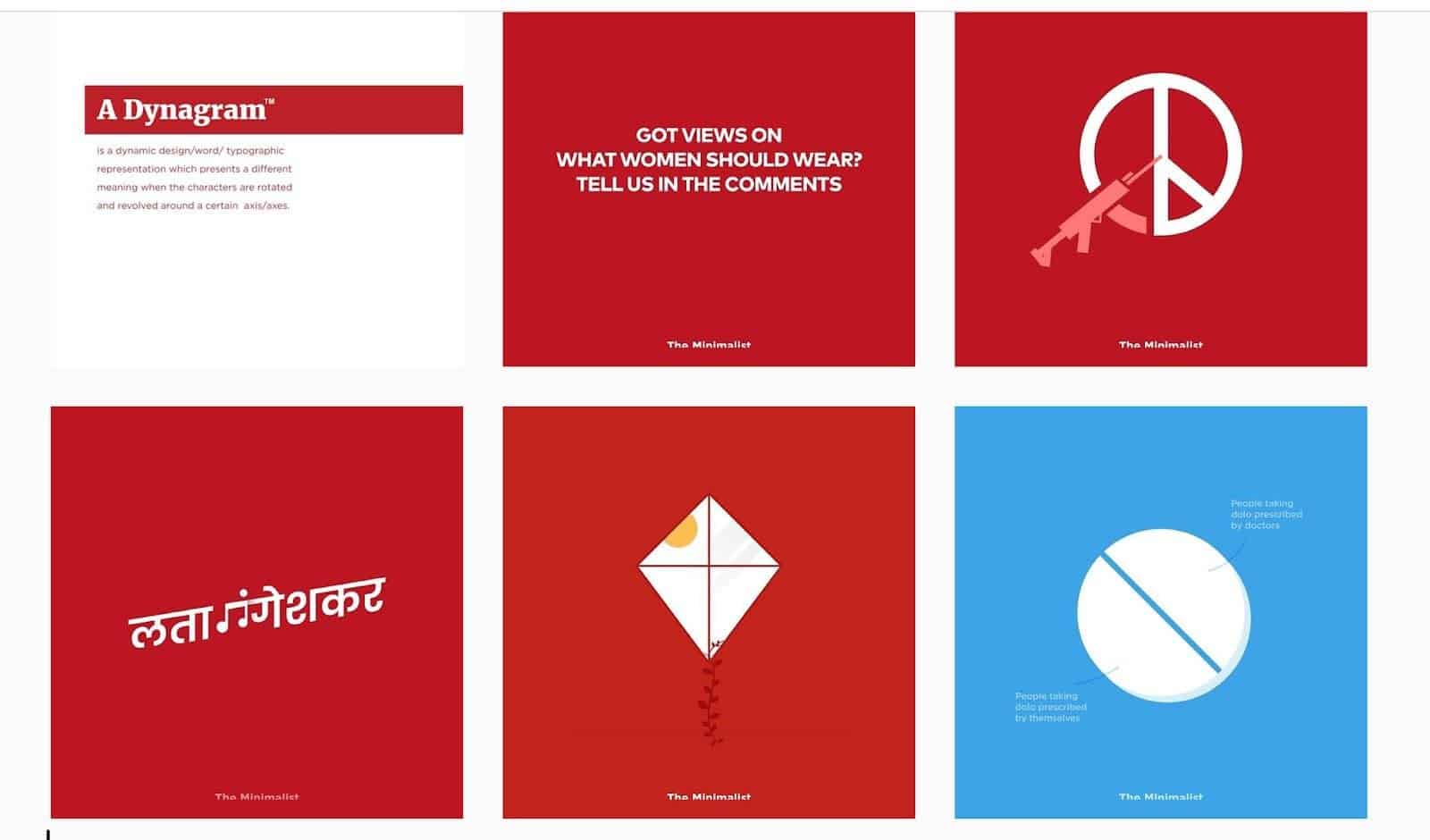 So, when you can't think of an innovative way to make your Instagram profile stand out, simply use minimalist graphics or elements, and your Instagram will automatically look inviting.
6. Be bold or dull
If you want to impress viewers at first glance, you have two options—be bold or dull.
Yeah, you can use bold and vibrant colors to create your Instagram photos that can immediately grab viewers' attention. Or, you can use dull black and white or pastel shades.
Both color strategies have the potential to stop people and scroll down to view all your posts. A simple color splash can help to convey your brand message without much effort.
For example, Lays is a fun and tangy food brand. Therefore, they have used vibrant colors and pictures to explain their brand message. Just looking at their Instagram page, you will start craving to order some chips.
On the contrary, if you are a creative person or wish to send a dramatic message to your Instagram audience, a simple black and white theme is perfect for you. You can look at the Instagram page of Japanese photographer Akihito Nagata.
He has simply captured drama and art through his black and white photos. These kinds of Instagram profile ideas can help you attract users and make them jealous of your minimalist yet creative storytelling methods.
7. Hero your content
What if you are not a traveler, food blogger or fashionista? Or, you are simply too shy to use your personal photos. You still can make your Instagram profile pop out with simple content.
Despite Instagram being a photo-based social media site, content still rules it. Using relatable and interesting content, you can easily create space for your brand on Instagram.
However, you have to make the content hero of your image. Your content has to be simple, short and attention-grabbing. You can use tools to create content-based images like Adobe Photoshop, PicsArt, Canva, etc.
While heroing content on your photos, make sure to select your font after full consideration. You should select a font style that is easily readable, even in small grid-style searches that Instagram offers. If readers cannot see your content clearly, they will not tap open your post.
For the content-based images, you can take inspiration from Marketing Solved IG Page. This brand has shared marketing tips, strategies and relatable content to create its unique Instagram profile.
Besides this, they have used clear background and visible fonts to make their content a hero of the entire profile.
8. Make it all about your product
Have you created an Instagram profile to promote your product? Are you proud of your product?
Hell yes!
In that case, you don't need anything other than your product to optimize your Instagram profile. You can use your product pictures and stories to attract viewers.
This strategy has been used by many popular brands like Rolex, Dove and many more.
Looking at Rolex's IG page, you will only see classic watch pictures in an elegant color palette. This is because Rolex purely celebrates its legacy products on Instagram.
On the other hand, Dove also uses product photos to adorn their Instagram profile. But they also partner with influencers and customers to share their stories.
The Best Instagram Profile Idea — Just Be Yourself
In the end, we just want to say that be yourself, and your Instagram profile will automatically stand out. Don't try to follow or copy someone else's Instagram profile idea.
Good branding is an evergreen Digital Marketing Trend and being yourself is the ultimate branding statement.
It looks unprofessional when your customers find that you have copied your Instagram profile idea from somewhere else. Plus, it is no guarantee that if one idea has worked for one brand, it will also work for you.
So, you can take inspiration from all the different Instagram profiles out there. But, in the end, you should think of your personality or your brand identity to create a unique profile.
Just be yourself. People will love you on Instagram!