Paid ads often take a backseat to organic traffic, and it isn't hard to see why. Ads are expensive, aren't really scalable, and aren't as effective as search engine optimization (SEO) over time.
But Instagram ads aren't here to mess around, especially when you leverage Instagram ads tools. Not only are Instagram ads incredibly effective at boosting company ROI, but the platform is hardwired to encourage users to browse and shop.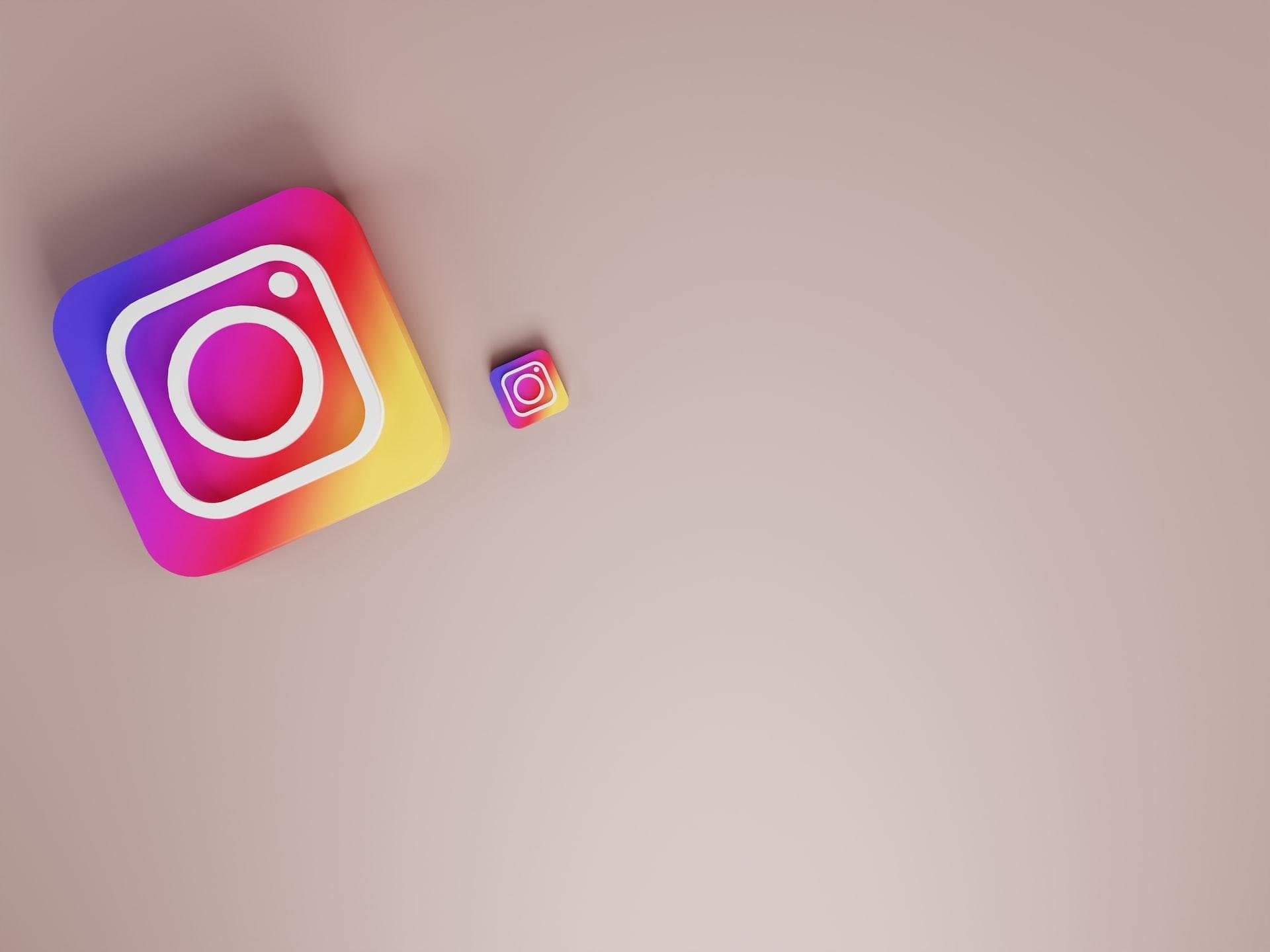 Image Source: Unsplash
What's Instagram's secret weapon? Ad Tools! With this feature, businesses and creators can target their specific demographic and track their analytics directly from the app. You can even partner with other brands and creators to create sponsored content or approve sponsors.
Coupled with Facebook Ad Manager, the possibilities for promotion are nearly endless.
In this article, we'll show you how to set up both tools in a way that maximizes your growth.
What is Instagram Ad Tools?
Instagram Ad Tools is a feature available to business accounts that allows creators to post sponsored or paid ad content. If one of your social media goals includes generating new leads, increasing brand exposure, or attracting more website traffic, paid ads can help you reach them.
Since Instagram is a visual platform, Ad Tools will use an image, set of images, or videos to reach your audience. And based on research by Kargo, 77% of users will look at an Instagram ad at some point during their session, which is 8.3 times more effective than gaming ads!
While visuals play a part in the effectiveness of Instagram ads, the nature of the platform sends it home. According to Instagram, 70% of shoppers visit the platform for their next purchase.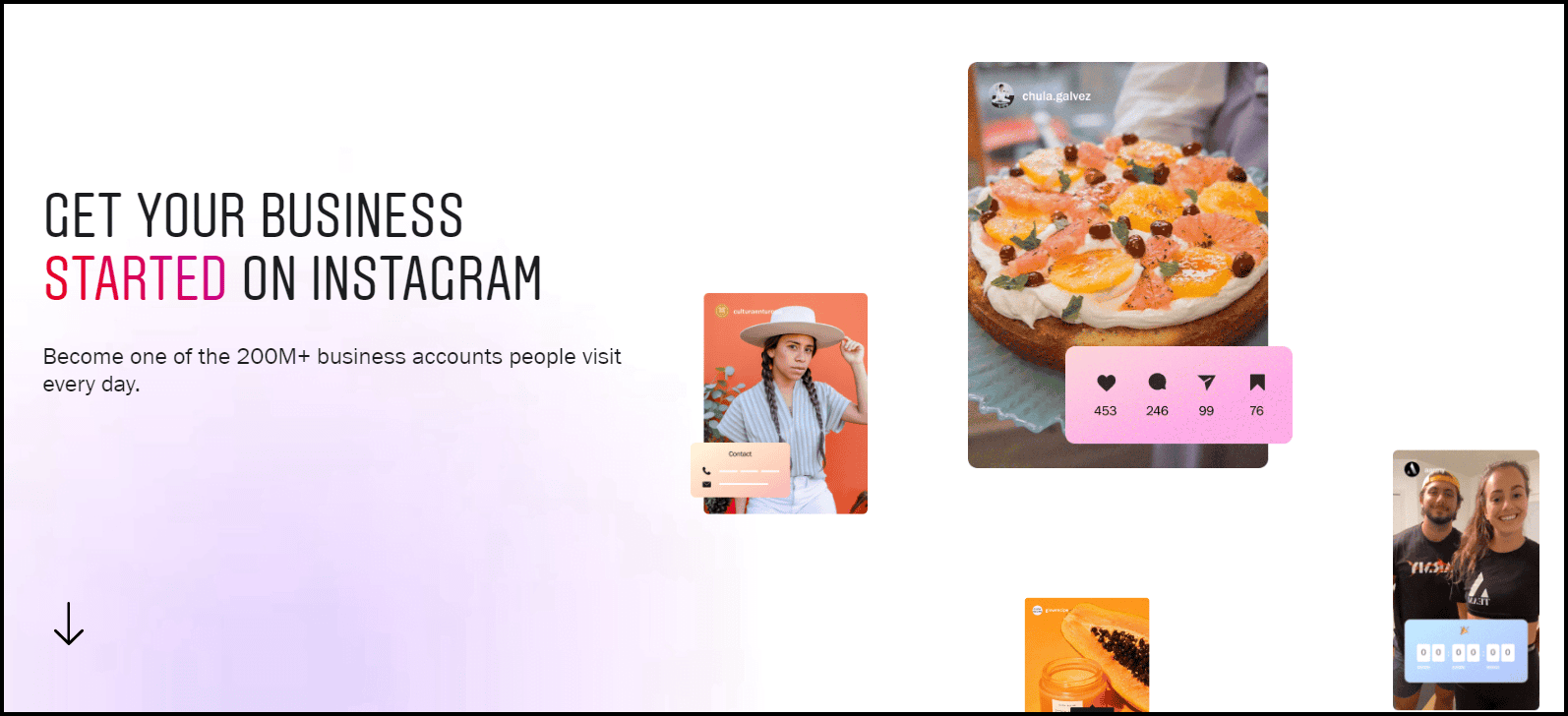 Image Source: Instagram
Powered with Ad Tools, Instagram advertising can lead to more exposure for your brand and products. At the same time, companies should invest in graphic design, content marketing strategies, and lighting fast customer service to keep their followers happy in the long term.
Is Instagram Advertising Right For Your Business?
Instagram is a popular social media site, but not with every demographic. You're probably wondering if Instagram is the best option for specific age groups, genders, or industries.
Here's a graph from 2016 showing global brand adoption based on industry: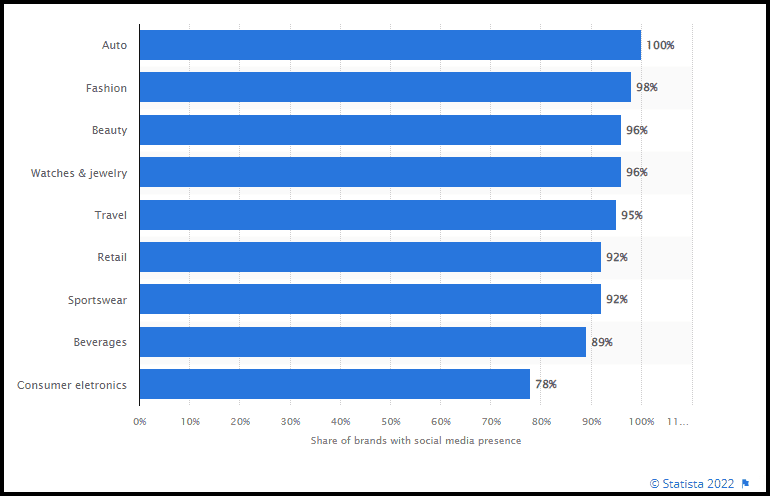 Image Source: Statista
While this graph is a bit outdated, it shows that any industry can thrive on Instagram using paid ads. However, it's important to note that some industries thrive better on other platforms. For example, B2B companies really excel on LinkedIn because they're constantly coming into contact with business professionals—their prime demographic.
But if you already have a demographic in mind, make sure Instagram caters to the people you want to target. The graph below shows that Instagram is more popular with men and women aged 18-34. 28% of women and 34% of men in this age group used Instagram in 2022.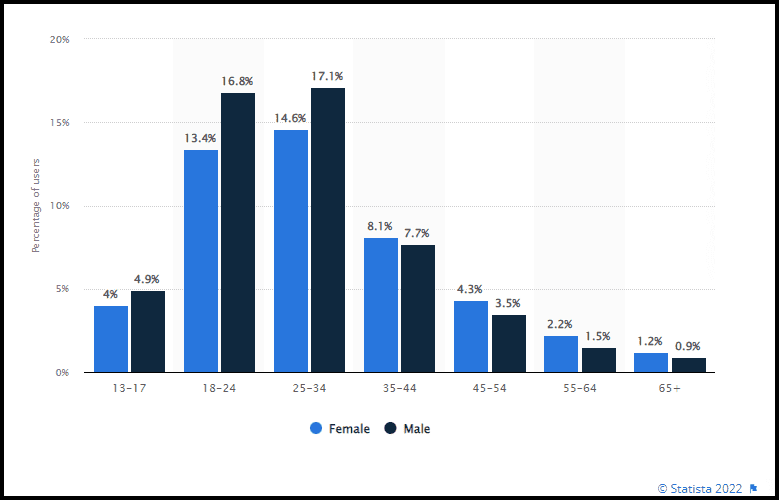 Image Source: Statista
It's also true that 43% of Instagram users hold a college degree, 45% of urbanites have used the app, and 60% of users bring in $100,000 or more a year. Instagram's primary audience includes Gen Zers and Millennials who live in the city and make at least a 6 figure salary.
But what about content? Selling on Instagram isn't all about having the coolest Instagram logos (but it helps!). If you want to sell, you need to create fun, valuable content for your audience.
People use Instagram to delve into their interests. Facebook found that 91% of users log onto Instagram for this reason. This same study showed that travel (45%), music (44%), and food and drink (43%) were the most popular interests to follow in the United States and Canada.
Content that's funny (51%), creative (48%), and informative (43%) is incredibly popular. The graph below also shows a love for inspirational, relaxing, and trendy Instagram posts: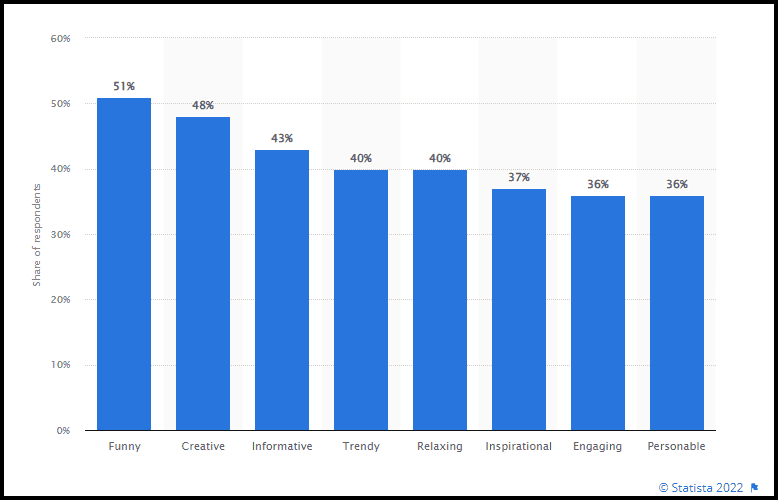 Image Source: Statista
The last thing you need to consider is cost. It's expensive to use paid ads to attract traffic to your social media or website, but they're good to use while you're getting your SEO strategy off the ground. At the same time, you can easily control your ad spending inside Instagram's Ad Tools.
According to a report by AdExpresso, the average cost per click (CPC) for Instagram ads range from $0.70 and $0.80. AdExpresso found that Instagram ads are pricier than Facebook ads, but Instagram ads are highly targeted and tend to attract more eyes than ads on other websites.
Another way you can control spending is by setting a different ad schedule, setting your bid amount (manual or automatic), and using useful lead generation tools like LeadFeeder.
How to Set Up Instagram Ad Tools
To use Instagram Ad Tools, you need to set up your Instagram account for marketing. That means switching your personal Instagram account to a business account. Without doing this step, you can't access the professional dashboard, which you need to track your campaigns.
How to Switch To a Business Account
To switch to a business account, log onto a personal account and select Settings > Account > Switch to Professional Account. Simply follow the instructions on the page and click "Okay."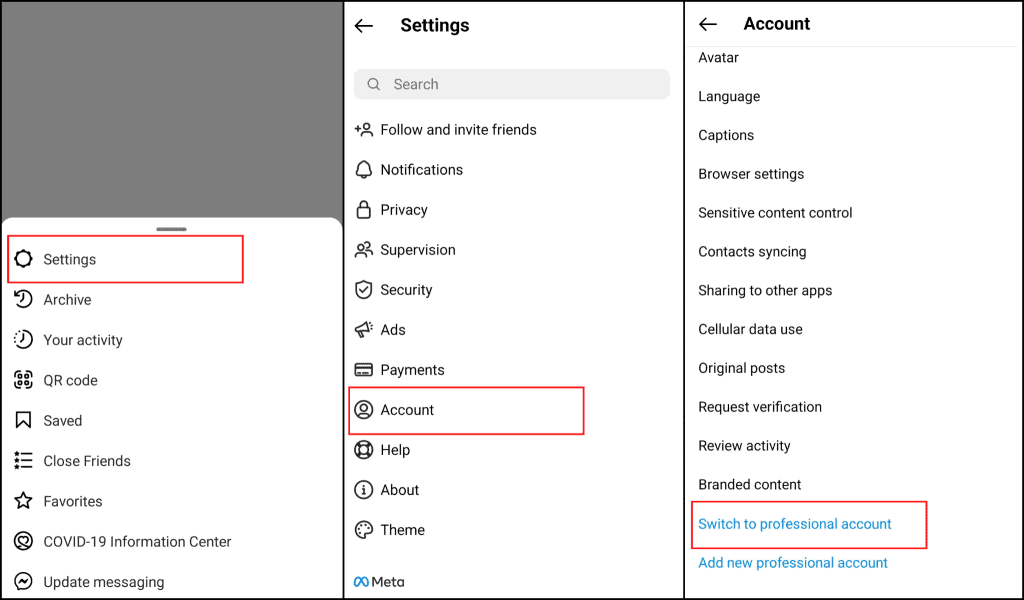 Image Source: Instagram
Once you've switched to a professional account, you can choose to get your account verified.
How to Switch To a Verified Account
Verified badges help brands and creators look credible, which improves consumer trust. Stat or evidence-based social media post ideas hold more weight when they're from a company that's generated enough social proof. Plus, your popularity can attract more followers and shares.
In fact, only 26.6% of accounts that have over a million followers are even verified. If you want to partner with more brands and promote branded content, getting verified is a good idea.
To get a verified account, log into a personal, creator, or business account and select Settings > Account > Request Verification. The app will then ask you for verification to prove you're you.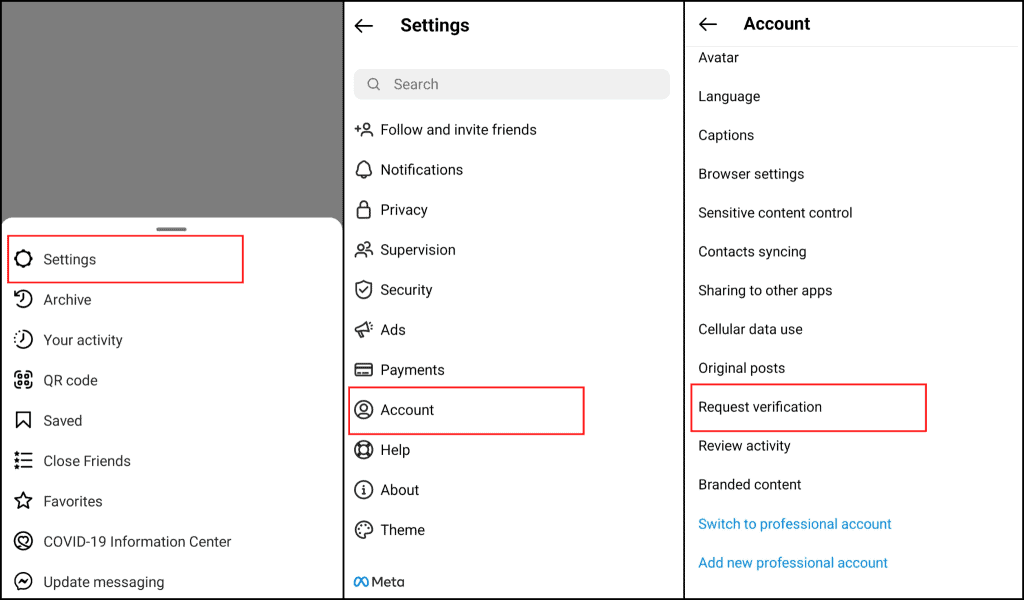 Image Source: Instagram
The more information you provide, the more likely you are to be approved by Instagram.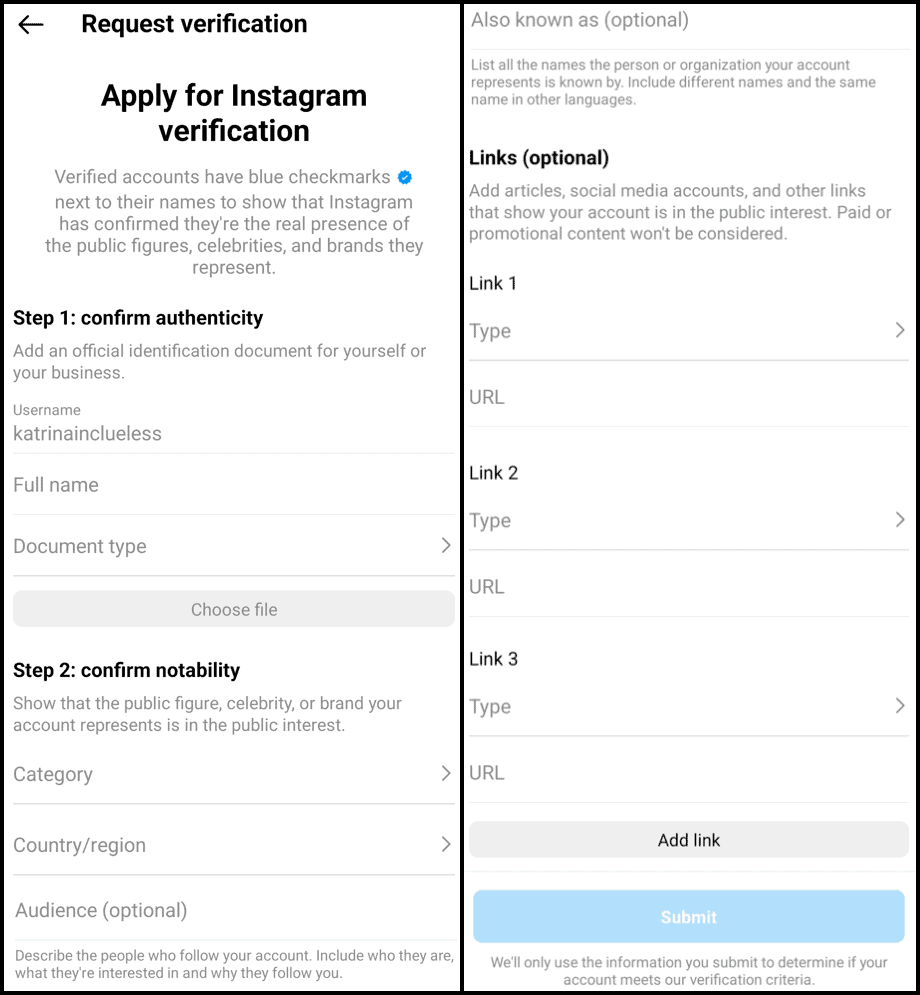 Image Source: Instagram
Keep in mind that your application may be denied, even if you include all necessary information and documentation. Instagram is more likely to approve high-profile influencers and celebrities.
Still, it's worth it to reapply after 30 days if you want to boost your content marketing strategy.
For example, getting verified is a great real estate Instagram tip because their industry is reliant on trust. Homeowners want to make sure their agent is reliable, experienced, and backed by a legitimate company. However, virtually any industry would benefit from becoming verified.
How to Maximize the Effectiveness of Instagram Ad Tools
With a business or creator account, you can start using Instagram Ad Tools. To access Ad Tools features, go to your profile and click "Professional Dashboard" below your account caption.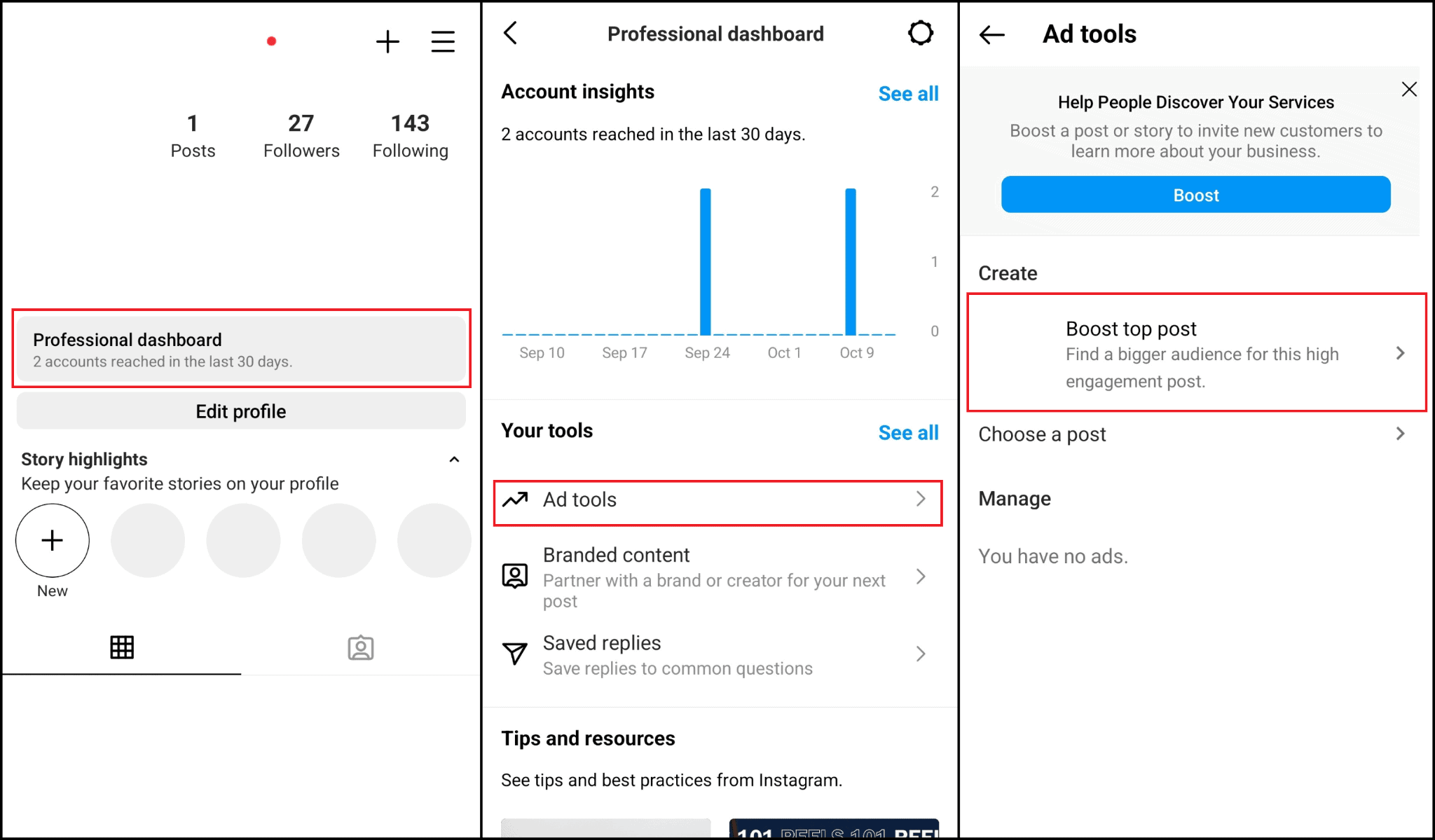 Image Source: Instagram
On the Professional Dashboard, you'll see "Account Insights," "Ad Tools," "Branded Content," and "Saved Replies." Click on Ad Tools, and you'll have the option to boost your top post or choose a post to boost. You can also boost posts by selecting an image on your profile.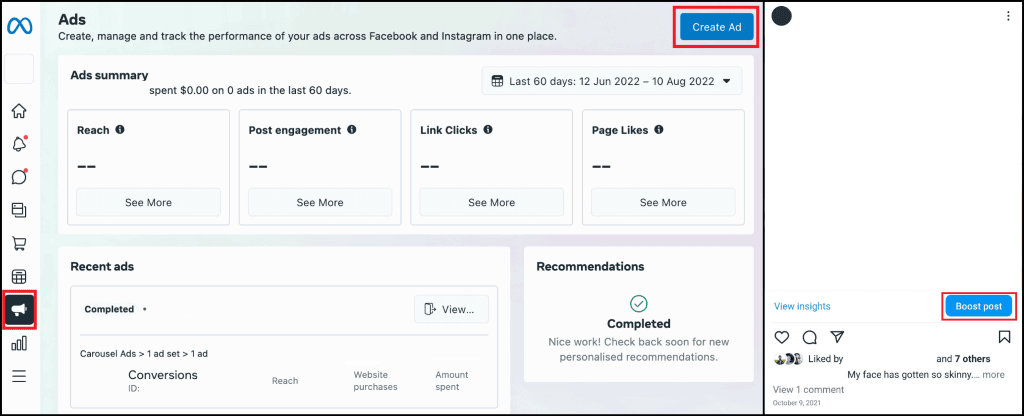 Image Source: Meta Business Suite, Instagram
If you want to create a campaign instead, you'll need to use Meta Business Suite or Facebook Ad Manager. Both tools also give you more advanced and creative options for advertisements.
How to Select a Goal
At the Goals menu, you have three options: More Profile Visits, More Website Visits, and More Messages. More Profile Visits and More Messages will take you directly to the Audience menu, whereas More Website Visits will ask for a website and an action button type, like "Learn More."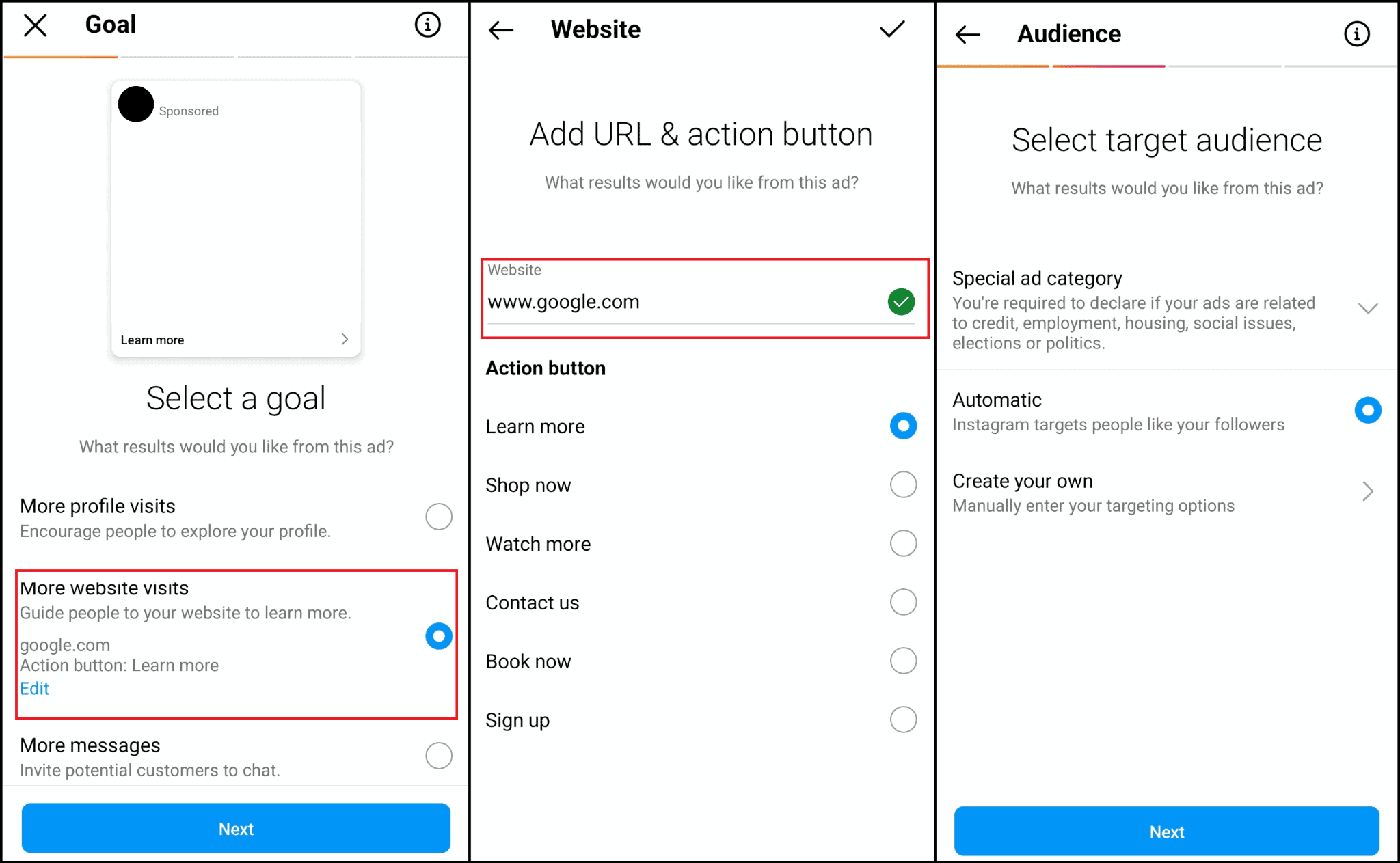 Image Source: Instagram
Selecting the right button type will increase your opt-ins because your audience knows what to expect. For example, "shop now" is the best option for an eCommerce site or product catalog.
How to Select an Audience
When you've picked your goal, click "next" and pick your target audience. "Automatic" is the easiest option, as it automatically targets your followers and people who are similar to them.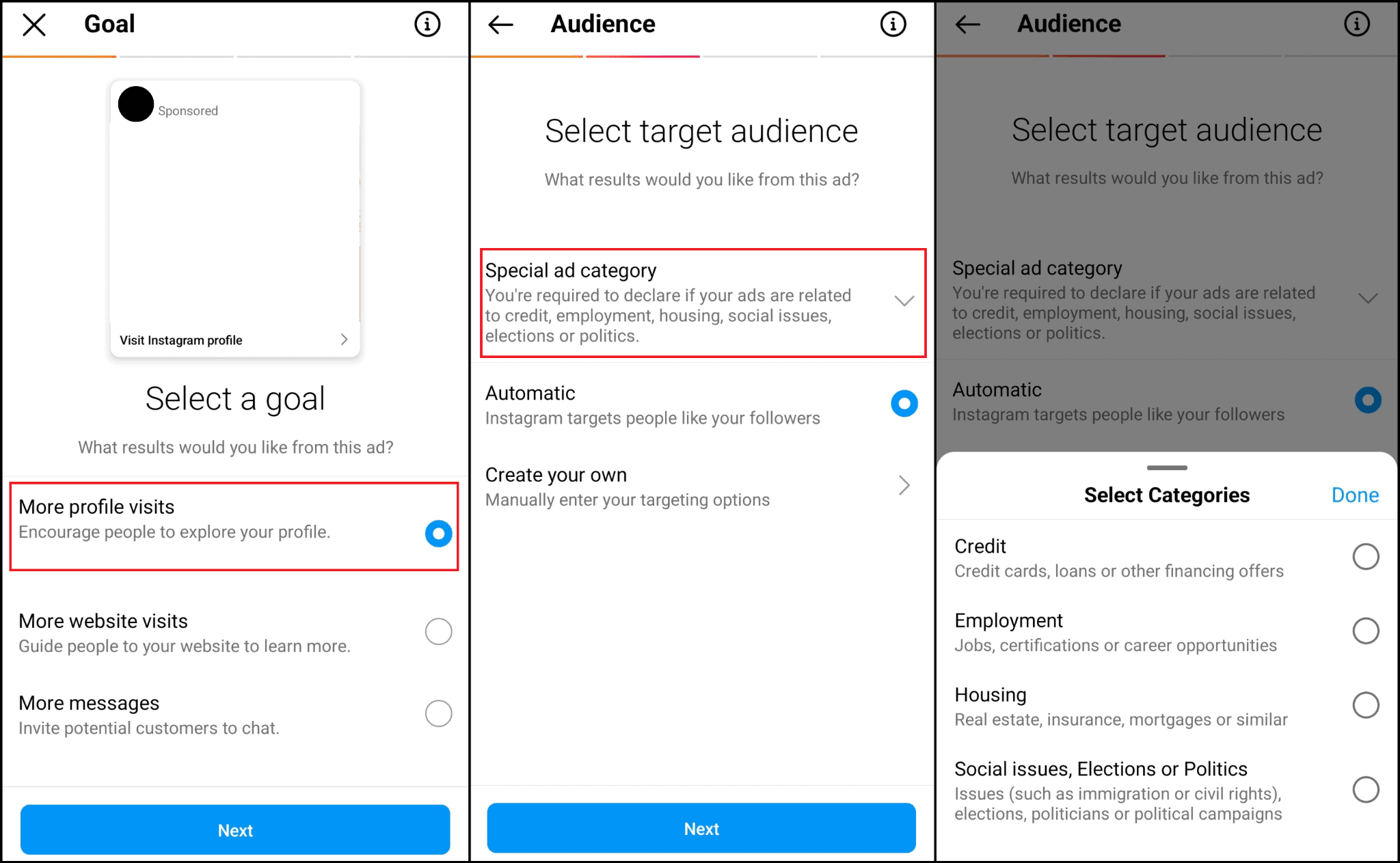 Image Source: Instagram
However, creating your own audience or selecting a special ad category is much more effective. Targeted ads are more interesting to customers and change how said customers preserve themselves. According to studies, customers who received a targeted ad rated themselves as more sophisticated after seeing an ad they thought was individually targeted to them.
While targeting popular audiences is more expensive, it'll save you a lot of time and money in the long run. General ads or broad audience targets won't connect with your consumers.
How to Create an Audience
If possible, try to select a special ad category first. These include "credit," "employment," "housing," and "social issues, elections, or politics." Look at your industry or products and consider if a special ad category is appropriate for your brand. If it isn't, create your own.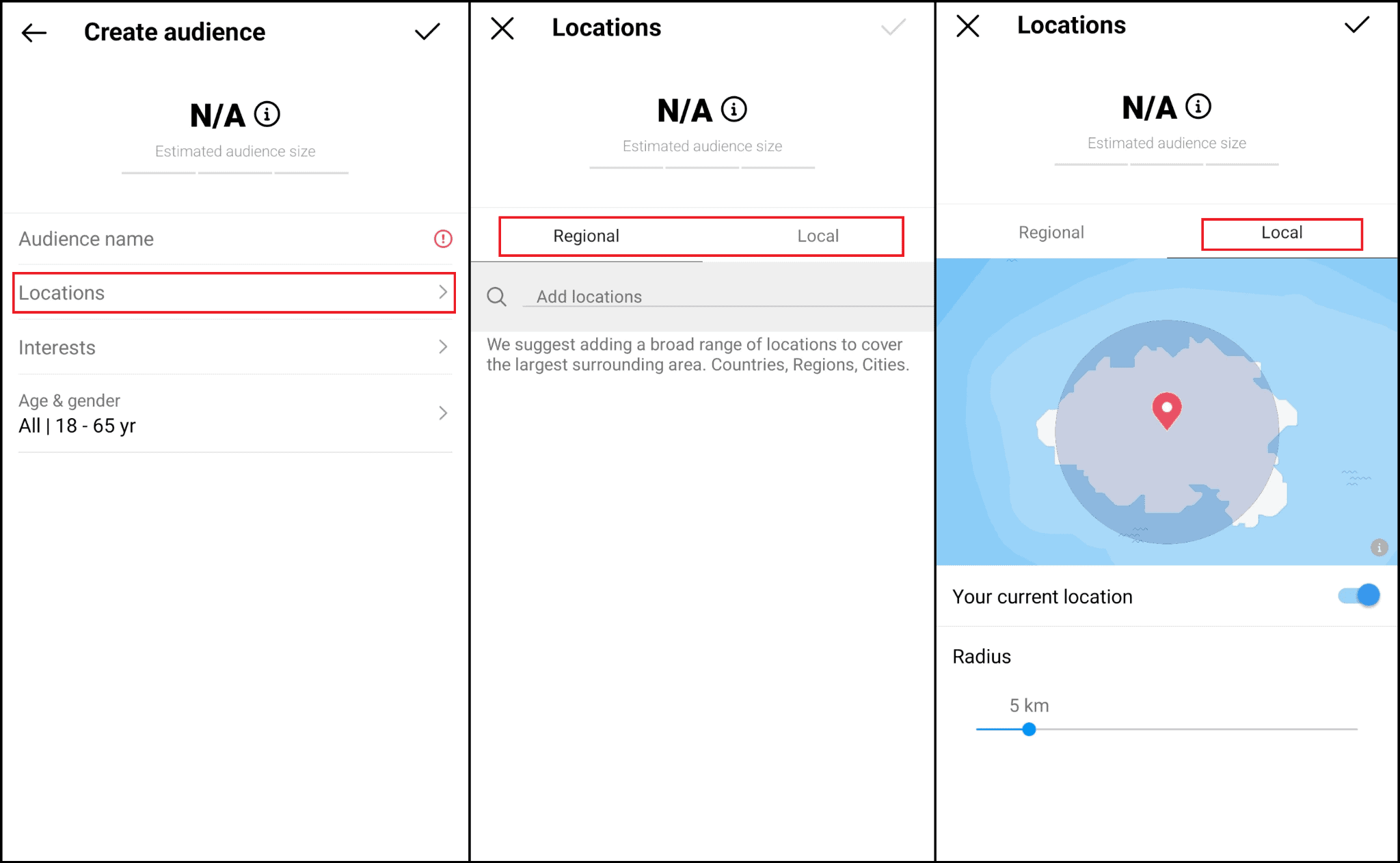 Image Source: Instagram
In the "Create Audience" section, choose a location. Select between "Regional" or "Local."
Regional offers a broader range, which is perfect for online-only creators and shops, whereas local online marketing is great for brick-and-mortar shops with an eCommerce equivalent.
With regional, you can add multiple countries, regions, and cities. As you add more locations, your "Estimated Audience Size" will increase. You'll want to achieve a "Great" audience size, but your likelihood of getting that score depends on region, age, gender, and interest choice.
With local, Instagram will use your current location and a radius bar. If you deliver directly from your store with a single vehicle, we recommend lowering your radius to a few city blocks.'
Select "X" to remove all changes or "✓" to save changes. You'll be back at "Audience."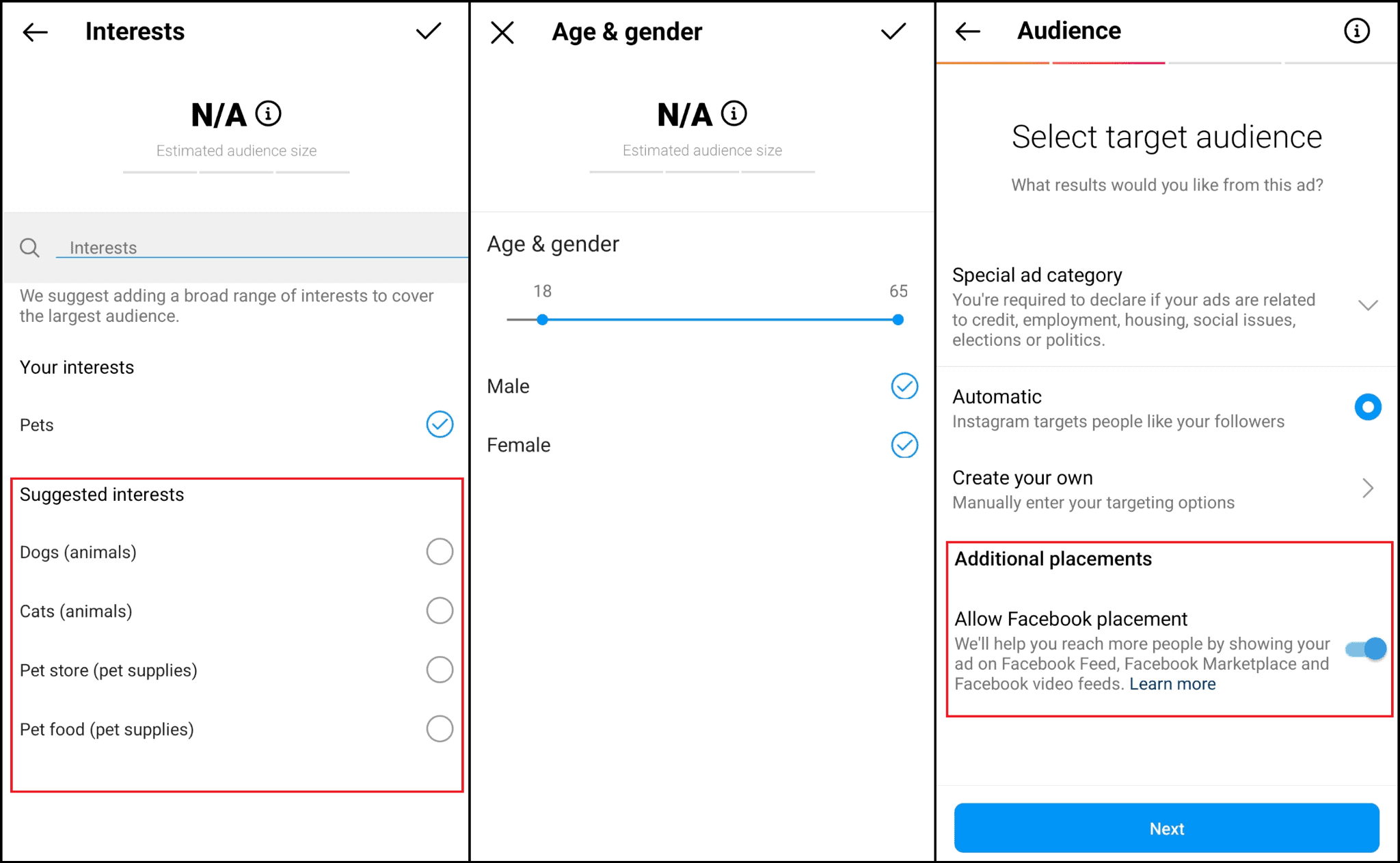 Image Source: Instagram
On the "Interests" page, select an interest that corresponds best with your target audience. For example, if I wanted to target people who like Pets, I can do so. But, if I own a website about dogs, I'll want to narrow down my targets to "Dogs (animals)" and "Pet Supplies."
At the same time, brands should include multiple interests to reach as many people in their target audience as possible. Consider what your audience likes besides dogs and pets.
On the "Age & Gender" page, choose a range. As stated, Instagram is really popular with ages 18-34, so sticking in this range will target 1/4 of Instagram's 2 billion active users worldwide. Unless your product or profile targets a specific gender, select both "Male" and "Female."
Back on the audience page, you can choose to place this ad on Facebook to reach more people. You can either place the ad on your Facebook Feed, Marketplace, or Video Feed.
If you have a hard time filling these sections out, conduct a social media audit. An audit will help you understand your audience better and optimize your social media profiles quickly.
How to Set Your Budget
After creating your audience, select "Next" to get to "Budget & Duration." Instagram will suggest a $5 daily budget and a set duration of 6 days, but you can change these parameters.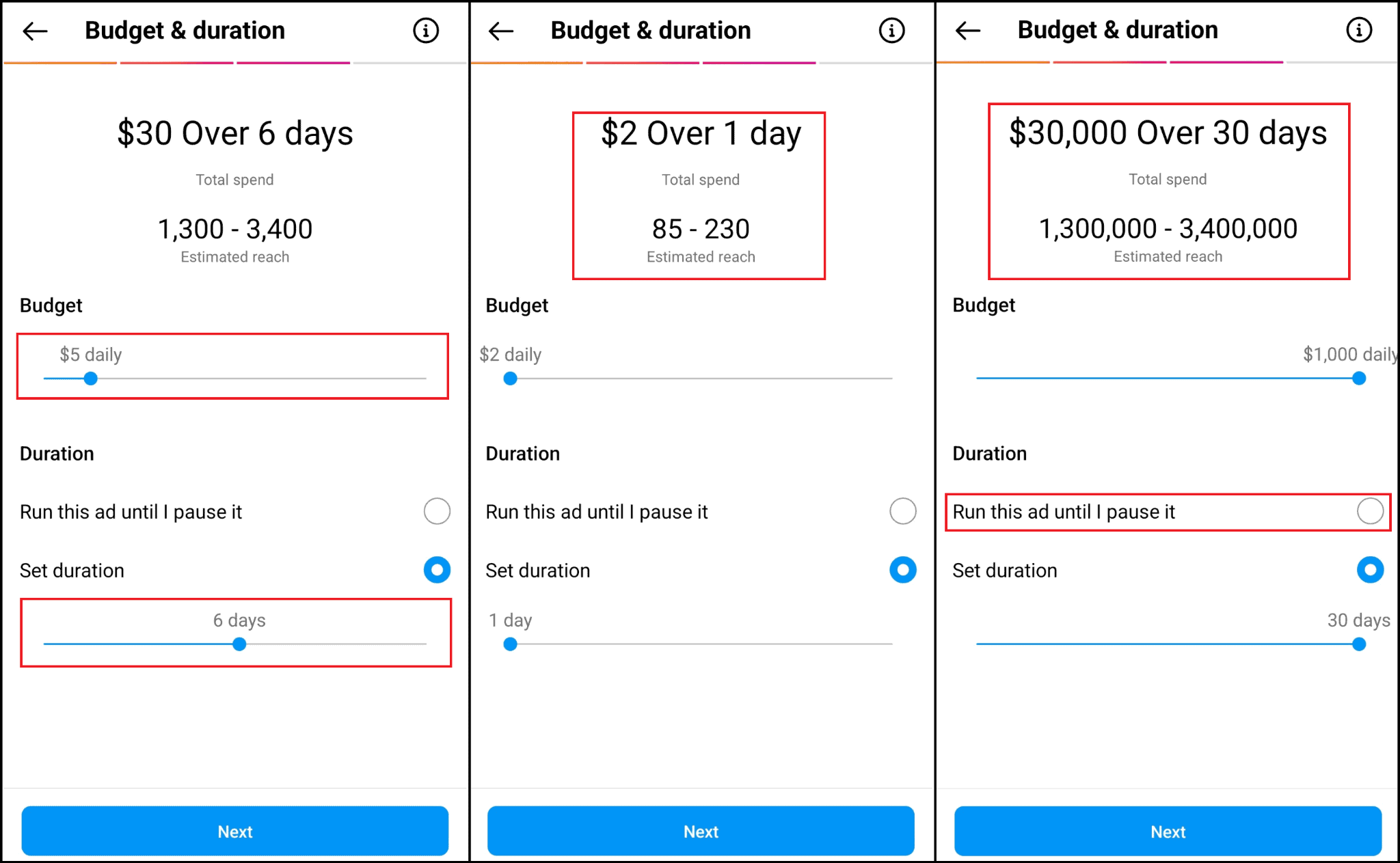 Image Source: Instagram
The budget determines how often Instagram users will see your ad, whereas the duration determines how long your ad will appear on Instagram. Your ad goal, audience size, and special ad category will change your estimated reach but not your budget or duration.
Consider testing A/B testing your ads or selecting one ad and setting a 7-day duration with a $10 daily budget. This will give you an idea of when your audience is more likely to see your ad.
Be careful when setting your budget and duration. Financial issues, inadequate management, poor business planning, and marketing mishaps are the top four reasons why businesses fail. Expensive ads check off all four boxes, so make sure you're paying attention to your cash flow.
The final page, "Review," asks you to review your ad. Select "Boost" when you're ready.
How to Use the Rest of the Professional Dashboard
"Branded Content," "Saved Replies," "Account Insights," and "Tips and Resources" aren't a part of the "Ad Tools" section, but they all help increase its effectiveness. Let's take a brief look at these sections and how you can use them to promote consistent social media growth.
How to Use Branded Content
Below "Ad Tools" is "Branded Content," which allows you to partner with brands to create sponsored content. All business or creator accounts start with the status "Ineligible," meaning they can't use the paid partnership label. However, they can still approve content creators.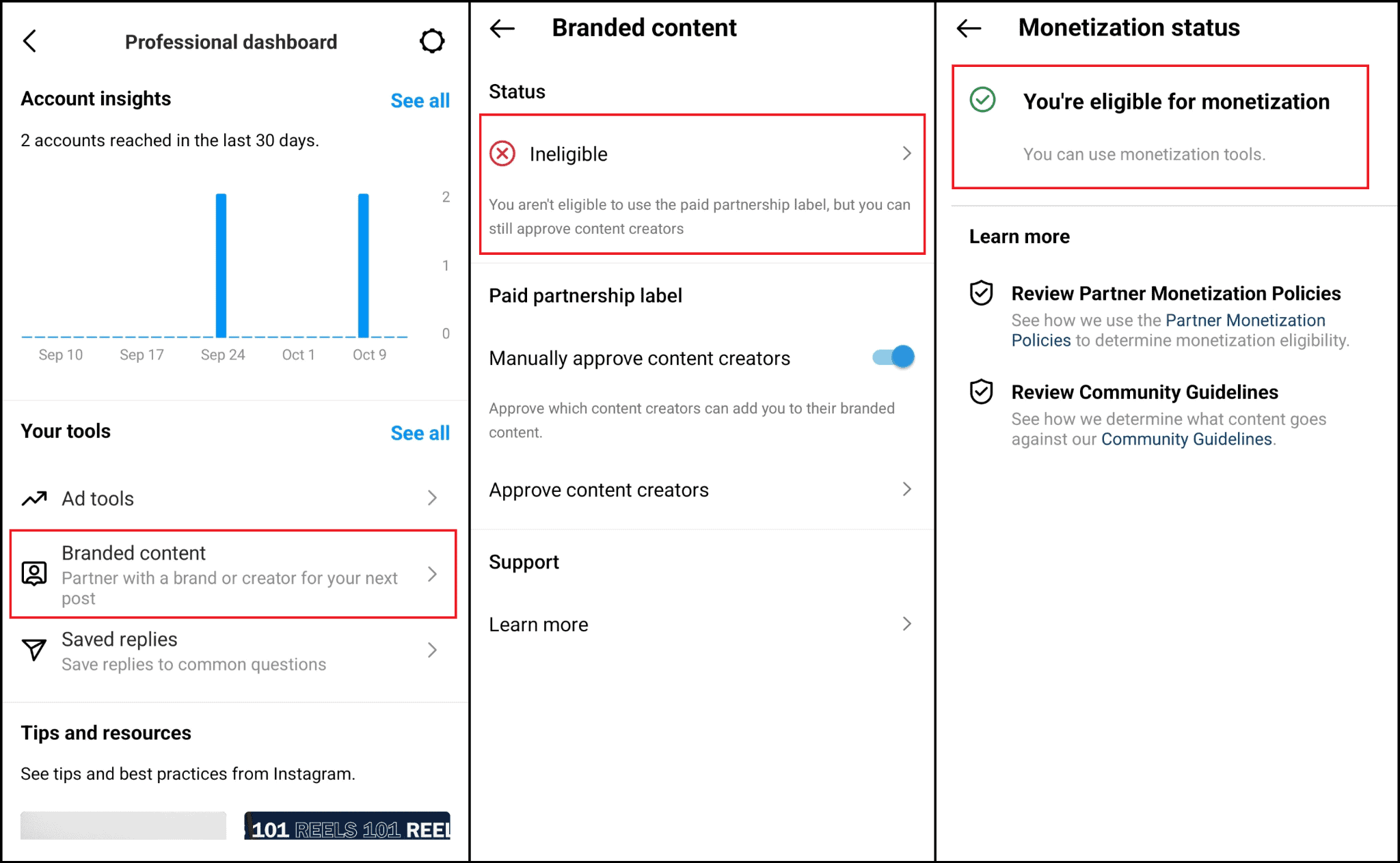 Image Source: Instagram
Businesses are also able to use monetization tools and make money off of their own posts but can't pay other creators unless they do so off-site. To become eligible for the paid partnership label, you must submit a proposal to Instagram and follow their policies and guidelines.
And you'll want to go through all that trouble to use branded content, as it helps businesses and creators sell. Branded content results in 86% higher brand recall and 50% higher brand lift. Plus, customers consider branded content 22x more engaging than display or banner ads.
Once you're approved to run branded content, you can create a content ad using an existing organic post and track branded content insights by going to Activity > Monetization > Insights.
How to Use Saved Replies
Directly below "Branded Content" is "Saved Replies." In "Saved Replies," businesses can write messages that send when followers comment or reply with a keyword. For example, if I write "store hours" in a message, the brand will automatically respond with their store hours.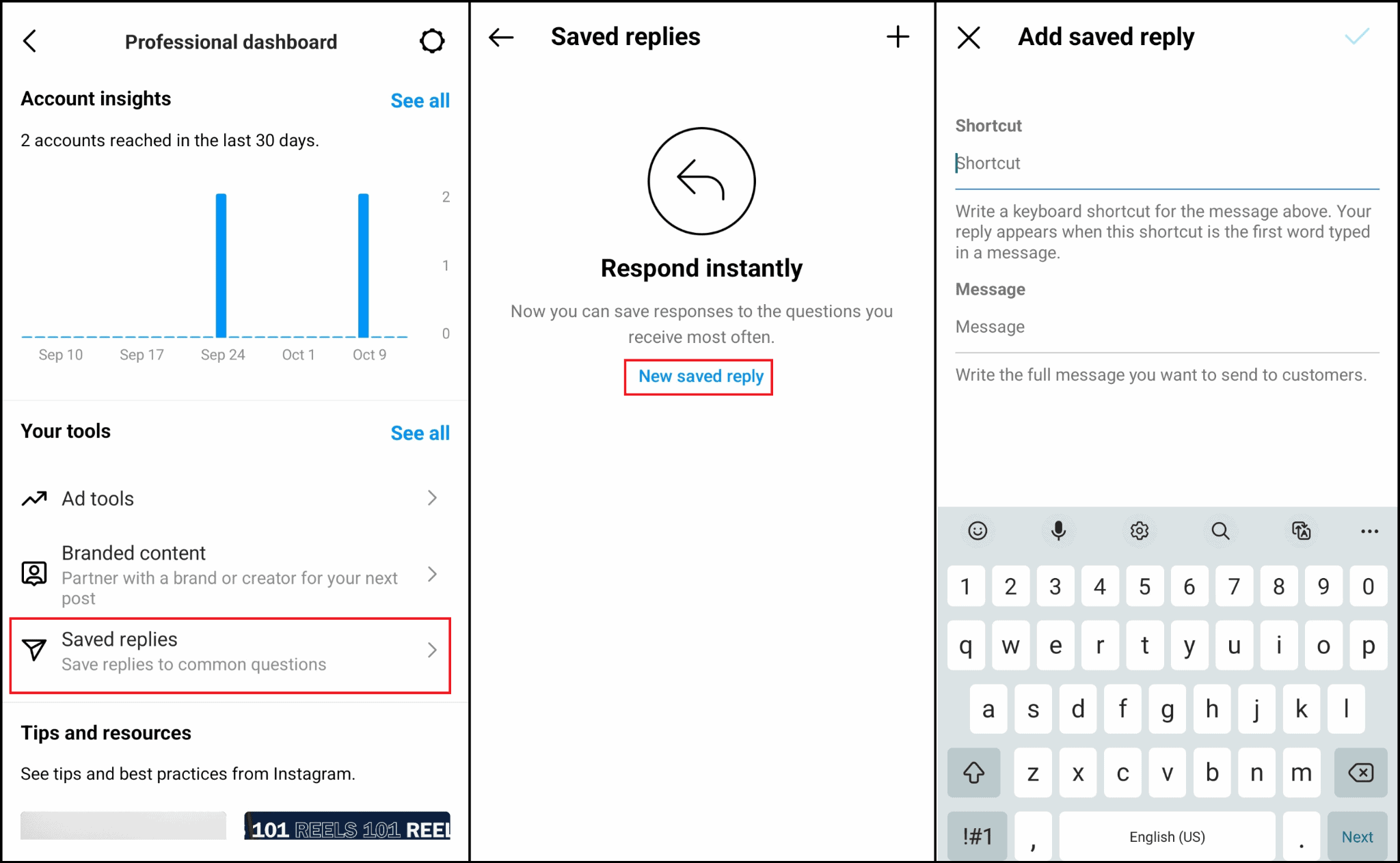 Image Source: Instagram
According to Super Office, 46% of customers expect a reply in 4 hours, whereas 14% want a response in 15 minutes or less. Responding promptly is incredibly important for brands. Your saved replies will cut down on your inbox while simultaneously keeping customers happy.
Before creating a batch of saved replies, pay attention to how your audience responds to you. If you notice a lot of words or phrases appearing in their messages, put it on your reply list.
How to Use Account Insights
At the top of the page is "Account Insights." This graph shows you how many accounts you've reached in the last 30 days, but you can select "See All" to expand your profile's insights. You can expand it even further by selecting the sections on the page or the calendar at the top.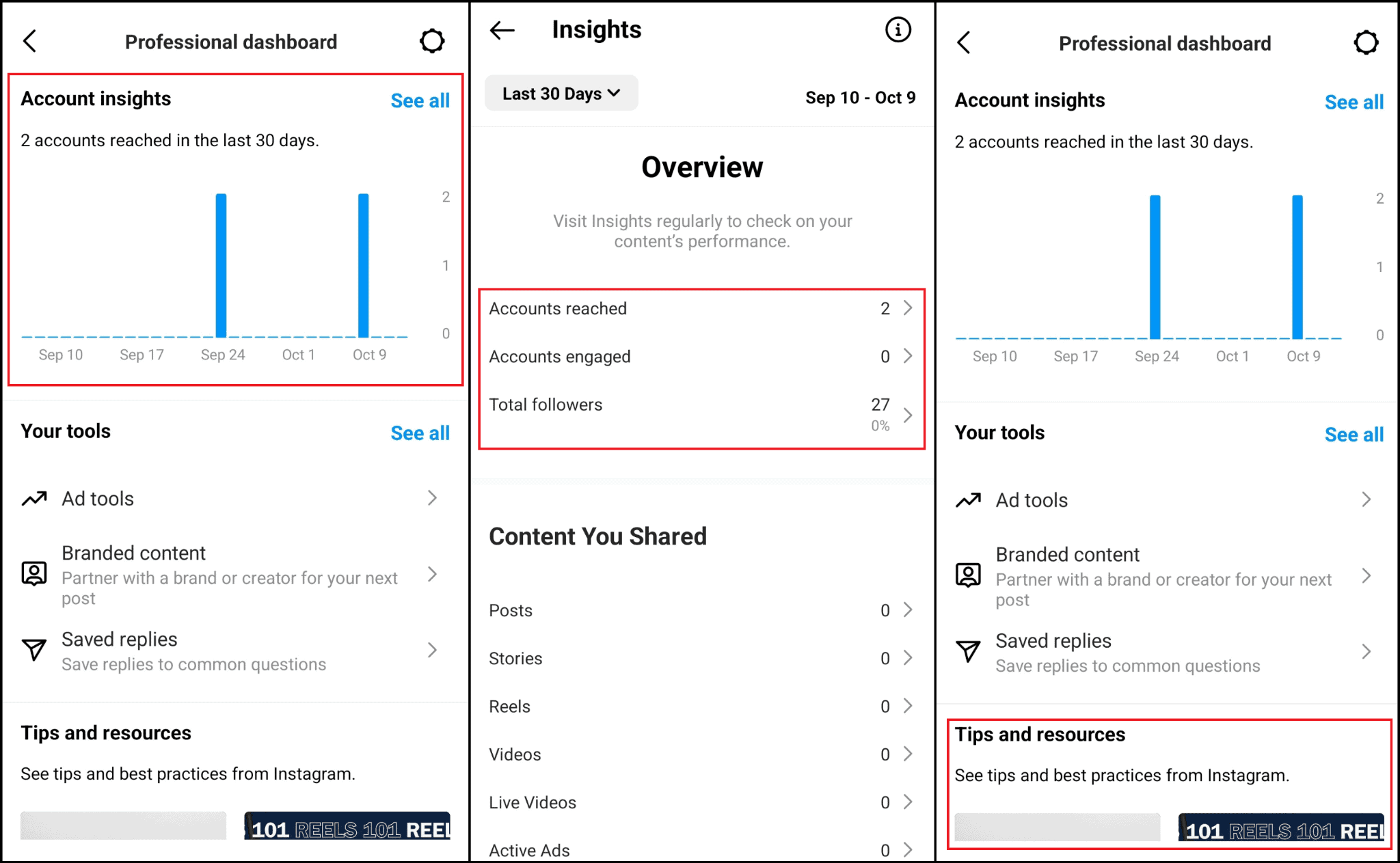 Image Source: Instagram
Profile data and analytics are necessary to create social media reports and make better marketing decisions. If you know what works and what doesn't, you can adjust your strategy.
The "Tips and Resources" section can help you improve your ads. Instagram provides a lot of tips and tricks that any professional in nearly any industry can use, so review them if you want.
While Instagram Ad Tools can create ads directly from the app, we're still missing core aspects that make your ads click-worthy. Click here to learn how to promote your business on Instagram.