Instagram giveaways are one of the most popular and viral pieces of content on social media today. Massive brands like Domino's Pizza and Lays have hosted successful giveaways on Instagram.
Now, even smaller brands are finding extraordinary amounts of success with Instagram giveaways.
The reason being: People are enthusiastic when it comes to giveaways, because of the opportunity to win something for free.
This enthusiasm leads to more entries, which means an instant increase in engagement and followers, something all brands yearn for on Instagram.
So, how can your brand replicate this success? How do you host an Instagram giveaway?
Read on to learn more about Instagram giveaways and the strategies you should use to increase your chances of success.
Why Brands Host Instagram Giveaways
Instagram is one of the largest social networks with over 1 million monthly active users. It's a platform that's adored by content creators and continues to strengthen globally.
Brand's looking to build their online presence have found considerable success on the platform. E-commerce brands love Instagram for its "store" features that allow you to sell your products directly on the platform.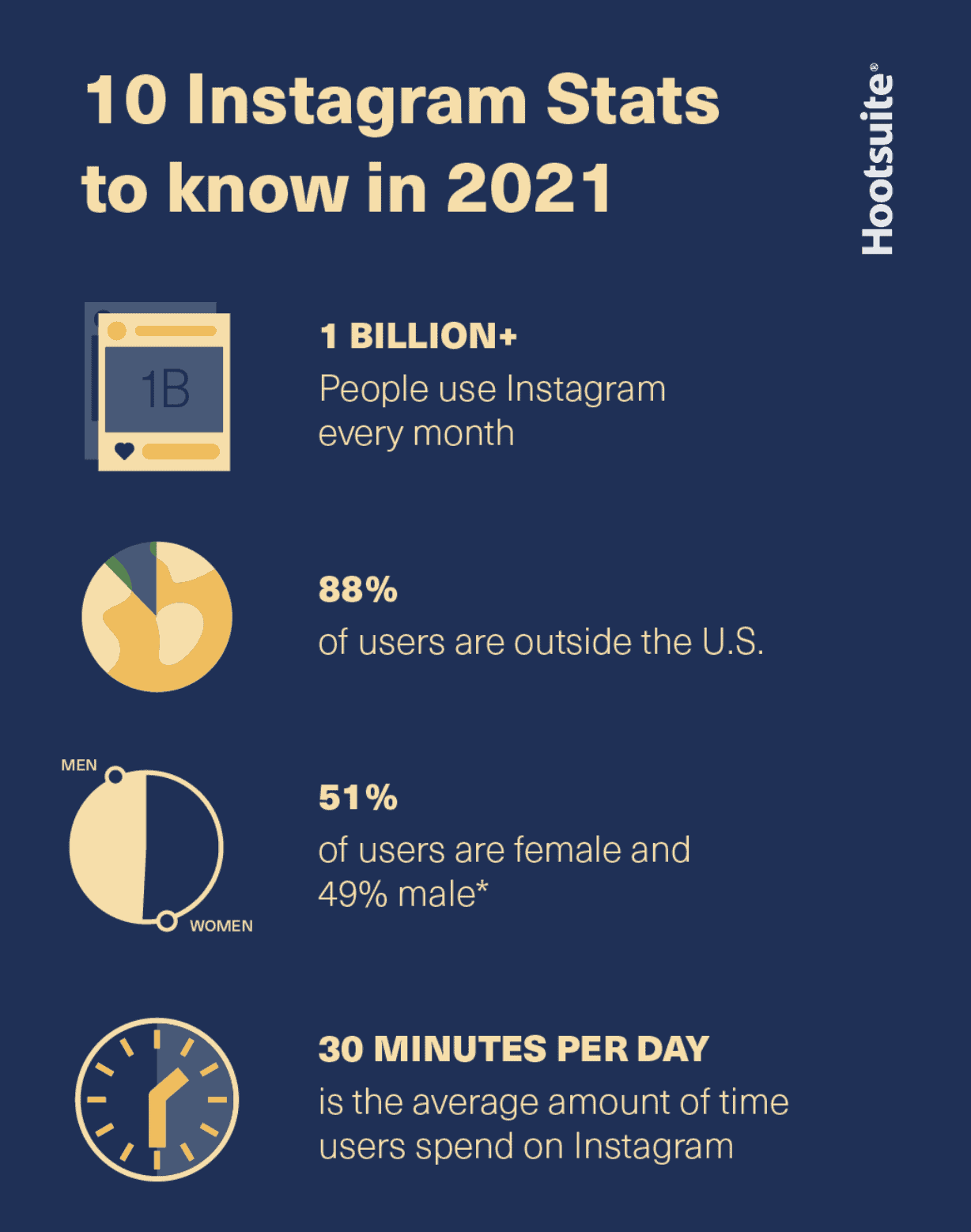 Source: https://blog.hootsuite.com/instagram-statistics/
Because Instagram is great for brands, it can be challenging to stand out in your niche and effectively promote your campaigns. Instagram giveaways are an ideal solution for this.
People love giveaways, which is why Instagram giveaways usually go viral. A viral Instagram post with your brand's name on it is certainly a sure-fire way to stand out from the rest.
Now, imagine using a viral post on Instagram to achieve other marketing goals, like more followers, new email leads, website traffic, and more! Find out how in the next section.
How Do Instagram Giveaways Work
The concept of an Instagram giveaway is simple. Your brand sponsors a prize and requests Instagram users to enter your giveaway to win that prize. Winners are then randomly selected.
The entry method for an Instagram giveaway is decided by the brand hosting the campaign. A brand will choose an entry method that will help them to achieve their current marketing goal.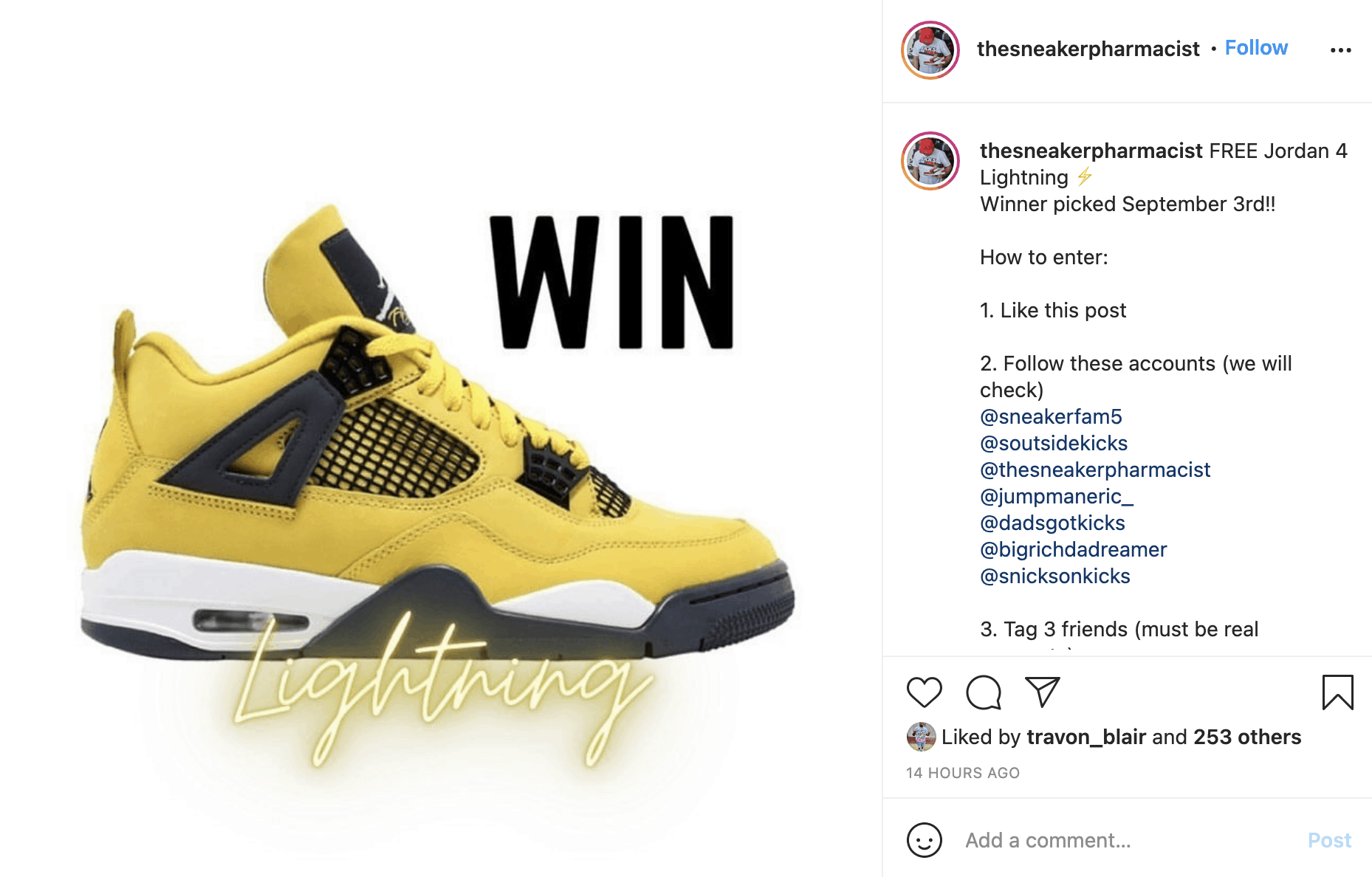 Source: https://www.instagram.com/p/CS5JkDDpvqk/
In the above giveaway, users must follow multiple Instagram accounts and tag friends to enter the giveaway. The Sneaker Pharmacists' goal for this campaign is to boost followers and engagement, which is why he is asking users to follow him and tag friends to enter.
Achieving Marketing Goals with an Instagram Giveaway
Another example (of creating an entry method to achieve your goal) asking users to submit their email address to enter your giveaway. This entry method will help you build an email list.
However, you will have to direct those users away from Instagram to the giveaway signup page. You can use a tool like Hypage to drive traffic from Instagram to your giveaway signup page.
We go more into the goals and how to achieve them later on. But first, let's have a look at how an online store managed to achieve astonishing results from an Instagram giveaway.
How Coconut Bowls Generated Thousands of Leads with an Instagram Giveaway
Shopify e-commerce brand, Coconut Bowls, successfully hosted an Instagram giveaway. That campaign helped them to acquire 37k Instagram followers, 41k email leads, and over 222k website visitors!
The spike in website traffic also resulted in a major sales boost during that period.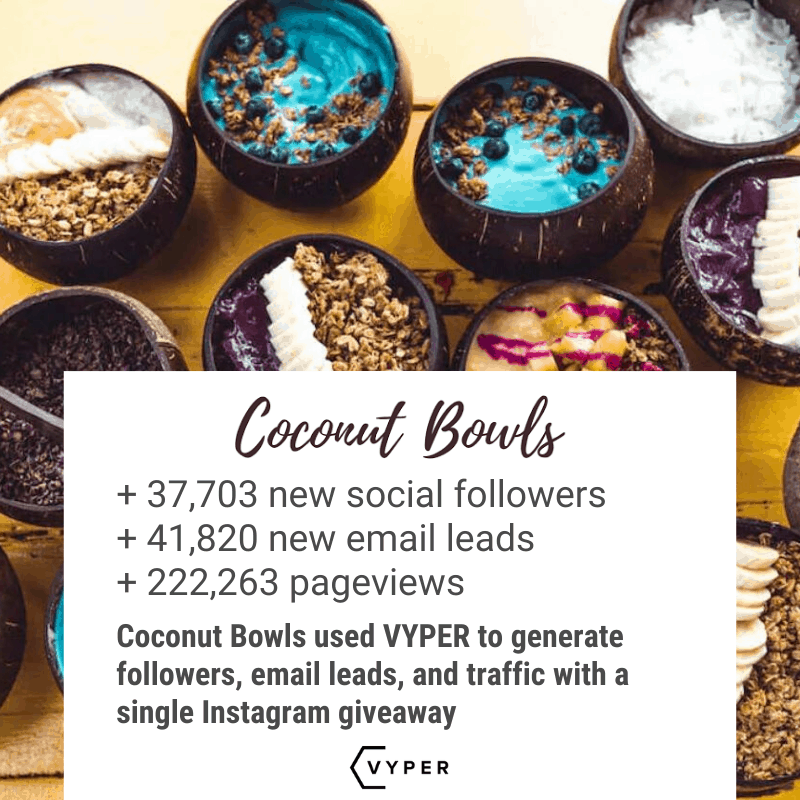 Source: https://vyper.ai/blog/instagram-giveaway-case-study-collect-37k-followers-41k-emails-15k-shares/
The prize Coconut Bowls offered was simple yet effective. A Vitamix Blender bundled with their own Coconut Bowls. This prize attracted a large audience of Instagram users with interests that are directly aligned with Coconut Bowls' target audience.
Once the campaign was wrapped up, Coconut Bowls then continued to promote their brand to their newly acquired leads and followers.
Hosting Your Own Instagram Giveaway
As mentioned earlier, the concept of an Instagram giveaway is rather straightforward. However, if you want to get the best results out of your giveaway, you will have to carefully plan and execute your campaign.
There are 3 crucial areas of a giveaway that you should focus on:
Your goals
The prize
Promotion
By carefully planning out the above, you will increase your chances of achieving better results from your giveaway.
Here are some tips to get you started:
Setting a Goal for Your Giveaway
We briefly touched on how brands use giveaways to achieve marketing goals (building email lists and social media followers). You can certainly do the same with your Instagram giveaway.
Set a goal for your campaign, then structure your giveaway accordingly. For example, if you are looking to increase engagement on Instagram, ask users to like, comment, and tag friends to enter.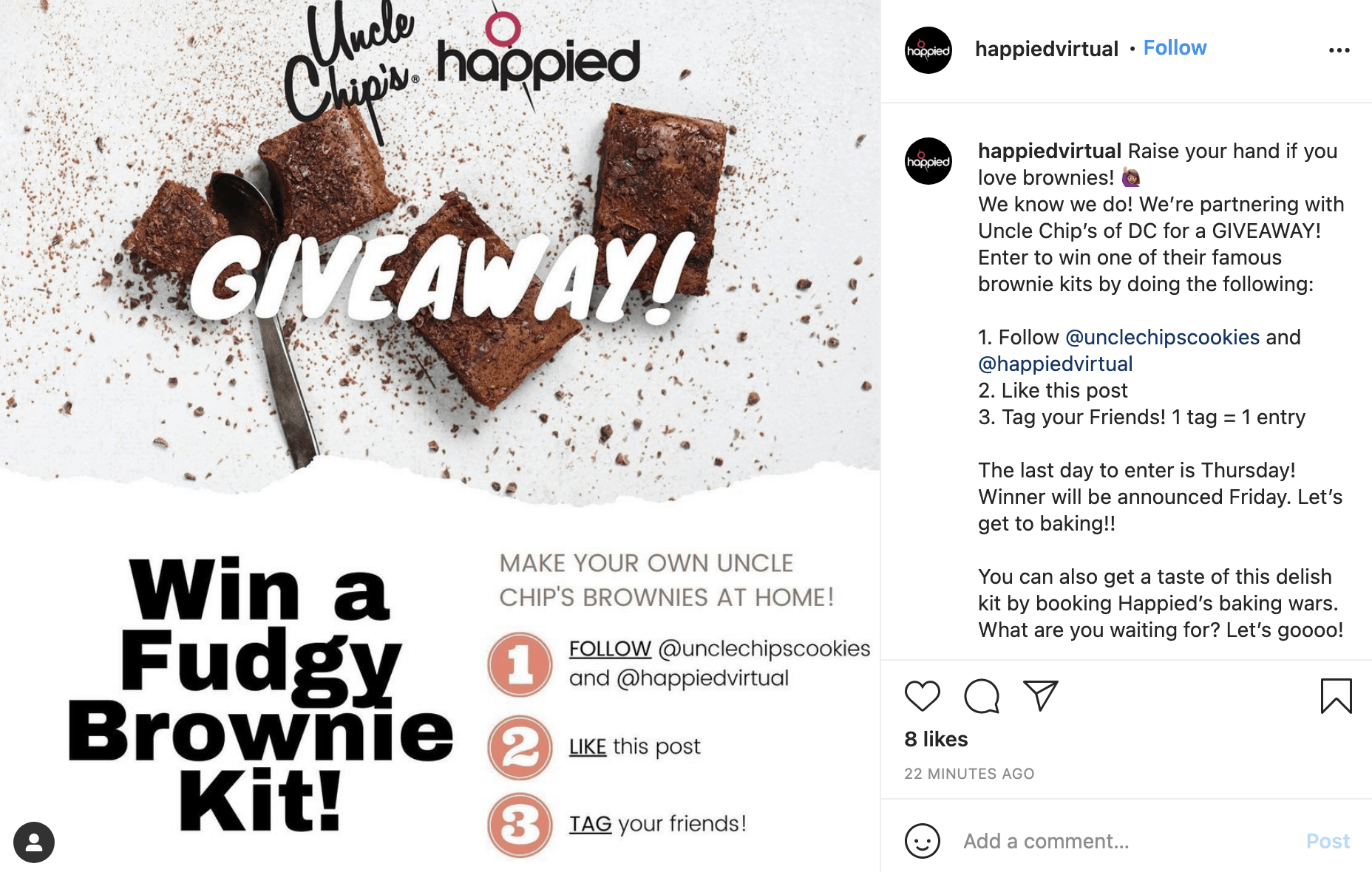 Source: https://www.instagram.com/p/CS9aP0drp9R/
Here are more examples of goals you can set for your giveaway:
Grow your email list – 'Submit your email address to enter'
Website traffic – 'Visit our website to enter'
Boost Instagram followers – 'Follow us to enter'
Increase app or software downloads – 'download our software to enter' or 'download and use our app to create your entries'
Increase user signups – 'Signup to our service/platform to enter'
You can also choose multiple goals for a single giveaway. For example, requesting users to follow you on Instagram and visit your website to enter will achieve two goals – An increase in followers and website traffic.
Next up: Finding your target audience with a relevant prize.
Choosing a Prize
It's great acquiring a ton of leads from a single giveaway. However, if most of those leads have little to no interest in your brand and its products, it will be challenging to convert that audience into customers.
Giving away an iPhone might sound like a good idea for attracting a broad audience. But, will that audience have an interest in your brand? Or, are they just looking to score a free iPhone?
To avoid having to sort through all your poor leads, rather choose a relevant prize that your audience will find appealing. For example, if your target audience is gamers, then a PS5 giveaway will certainly appeal to that audience.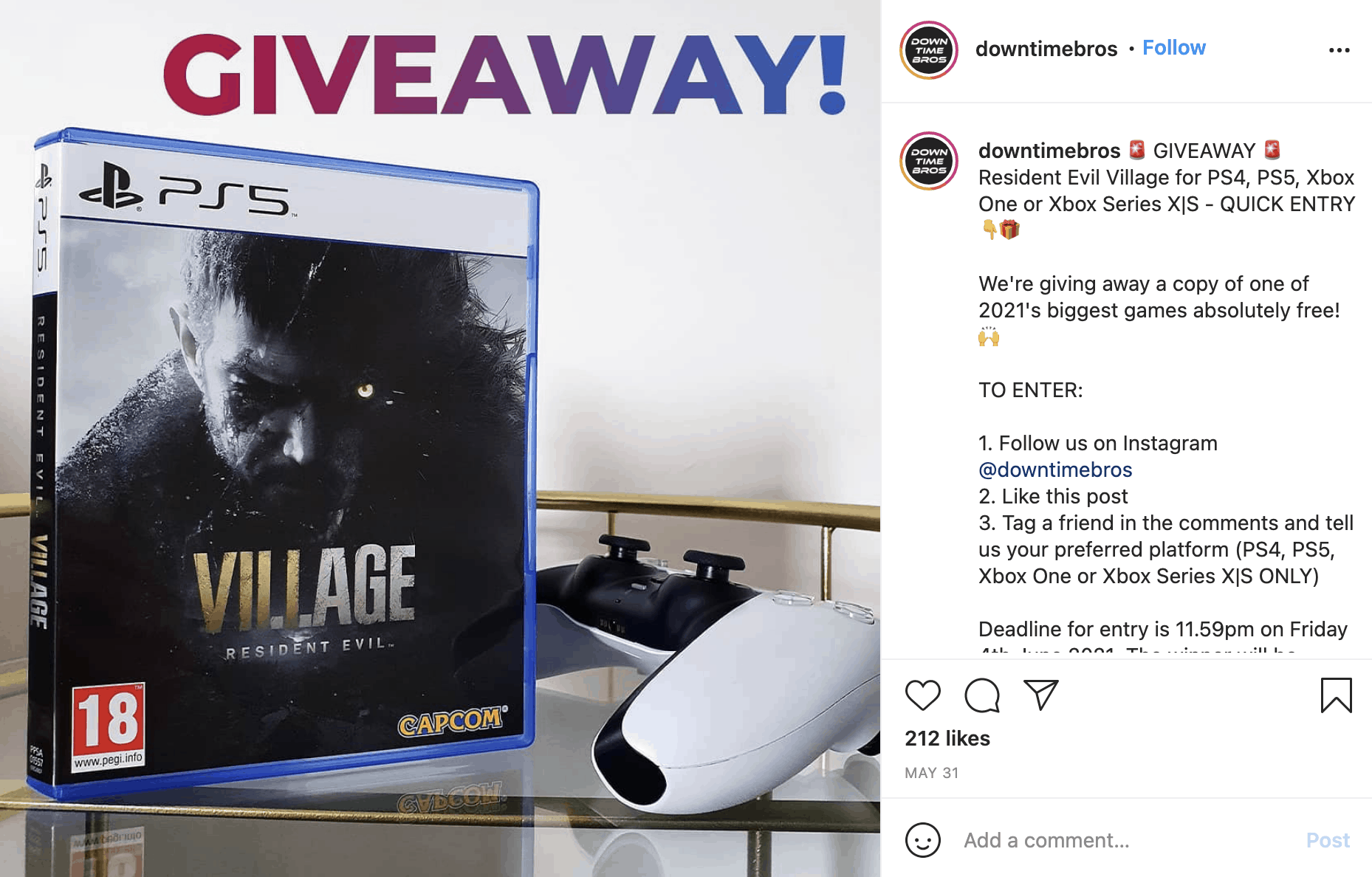 Source: https://www.instagram.com/p/CPiH8TNn4Vr/
If your target audience is PC gamers, then you can attract this audience with PC gaming peripherals like gaming mice and keyboards.
More examples of Instagram giveaway prizes:
Photography giveaway – Photo editing software, drones, camera backpack, cameras, etc.
Bridal giveaway – Wedding bands, wedding gowns, suits, makeup, etc.
Camping giveaway – Portable camping gear, tents, backpacks, survival gear, etc.
It's a good idea to give away your own products which will naturally attract your target audience. A gift card giveaway is perfect for online stores. Winners can simply use the gift card they won to shop at your store.
Promote Your Instagram Giveaway
It's simple, the more effective your promotion efforts are, the better your giveaway results will be.
Instagram giveaways are considered viral content on the platform. The more people you get to engage with the giveaway, the higher the chances are of your Instagram giveaway post going viral. Especially if you are asking users to refer (or tag) friends to your giveaway.
For obvious reasons, the best place to start promotion is with an Instagram post.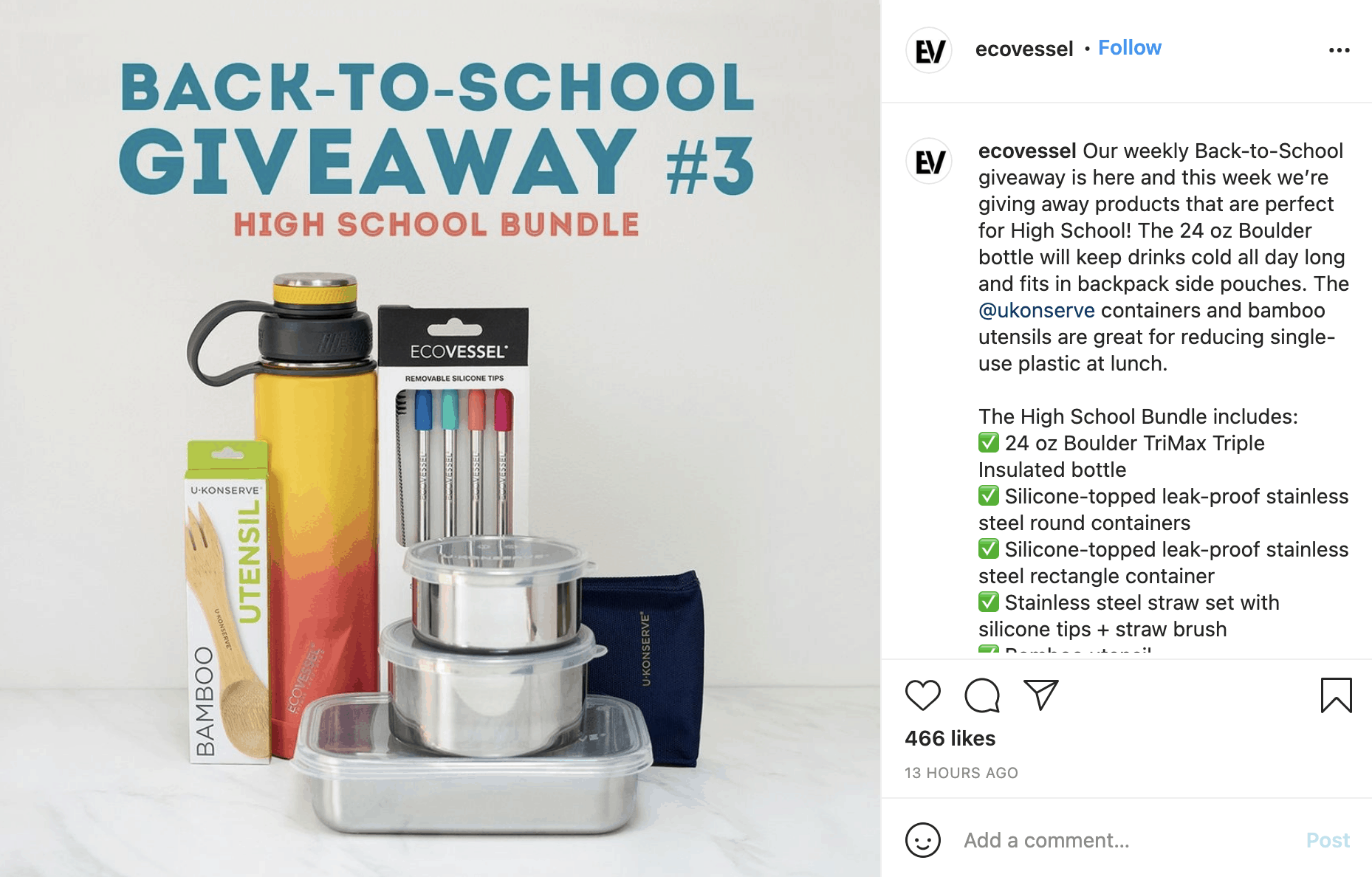 Source: https://www.instagram.com/p/CS92VzALlbB/
Create an eye-catching image that displays the giveaway prize. Your target audience on Instagram must immediately be drawn to your giveaway post.
Always encourage users to like, comment, tag, and share your post. This is the first step towards achieving a viral Instagram giveaway post.
The next step is to promote your giveaway on other marketing channels. You can start with the channels that your brand has already established itself on.
Here are examples of marketing channels to promote your Instagram giveaway:
Email – Send out an email on day 1 to your email list to inform them of your giveaway and to request that they encourage their friends to enter. You can send another email a week before the campaign ends to remind users to enter the giveaway.
Blog – A blog post is an ideal place to keep every bit of information regarding the giveaway. If your blog sees a considerable amount of traffic daily, then it's surely worth creating a blog post for your giveaway. Alternatively, you can submit a guest post to other popular blogs in your niche.
Podcast – Sponsor an episode of a popular podcast in exchange for a mention from the host.
YouTube – You can sponsor/hire an influencer to create a video on YouTube and promote your giveaway on their channel to their subscribers.
Paid ads – Boosting your giveaway post with Instagram ads early on might just be the sort of reach your post needs.
Instagram Influencers – You can get an Influencer to manage or host your giveaway. You can also run paid ads on an influencer's channel in what's called a "channel takeover."
You must push hard with your promotion efforts on launching the campaign. This will ensure that your giveaway finds plenty of traction early on. Generating massive amounts of leads early will make room for more referrals and more new leads.
TL;DR
Instagram giveaways are viral campaigns that demand massive amounts of attention from users on the platform. These campaigns have the potential to skyrocket engagement and increase followers.
Not just any sort of giveaway will work. You must carefully plan and execute your giveaway if you wish to find the best results. It's crucial that you define the goal of your giveaway and select a prize that will mostly appeal to your target audience.
Have you ever taken part in an Instagram giveaway? Or, did you host an Instagram giveaway before? Share your thoughts with us in the comments.