To make the most out of your digital marketing, you must ensure the various channels and platforms work in tandem. A holistic approach creates personalized experiences for your customers with respect to your brand that can lead to engagement, then subscription, and then conversion and re-conversion, along with a few of your customers turning into brand evangelists.
The game, however, is not that simple. To get a buyer all the way through your sales cycle, you'll need multiple touch points. Studies show that in order to have the highest level of responsiveness, customers require at least 12-16 touches. If companies repurpose social media content into email marketing, the results can be achieved relatively sooner than expected.
Before we come to that, let us first look at the two marketing channels individually.
Social media allows you to target a broader spectrum of audience. Each day you'll have new customers in large numbers giving real-time feedbacks, likes, and comments. There is a barrage of user-generated content, testimonials, and reviews about your products and services from which you can get valuable insights. The catch, however, with social media is that neither you own the platform, nor you have any control over the numbers.
Email, on the other hand, is more reliable when it comes to connecting with your audience. This is because you are setting up the relationship with your customers while they are in transit along the customer journey. It wouldn't be, therefore, inappropriate to say that social media is brilliant with its outreach, while email is brilliant with its capability to convert.
Combining the two will not only be effective, but also time-efficient since the effort required in devising separate campaigns with each channel can be significantly minimized. But how do we combine the two? One of the most feasible ways is to repurpose your social media content in emails. And here are 11 ways of doing that.
1. Craft a stunning Infographic out of your social media content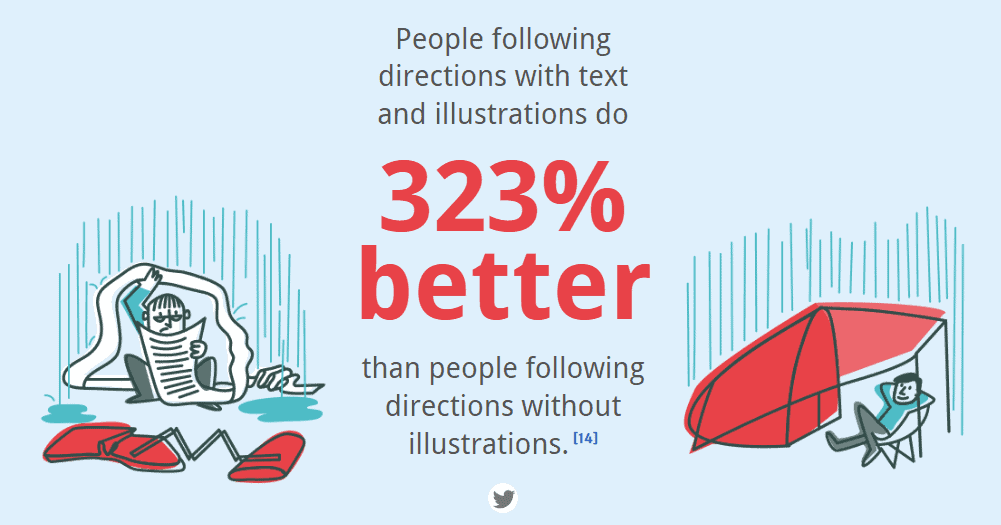 Today, the populace is suffering from an information overload. No doubt Infographics are more engaging because they counter act information overload by delivering easy-to-digest, bite-sized information with cool graphics. That is why, it's a good idea to include visuals in your social media marketing campaign and infographics in your emails carved from your social media posts.
Example:
Dunkin Donuts sends out an email made into an exquisite infographic created with user-generated social media content.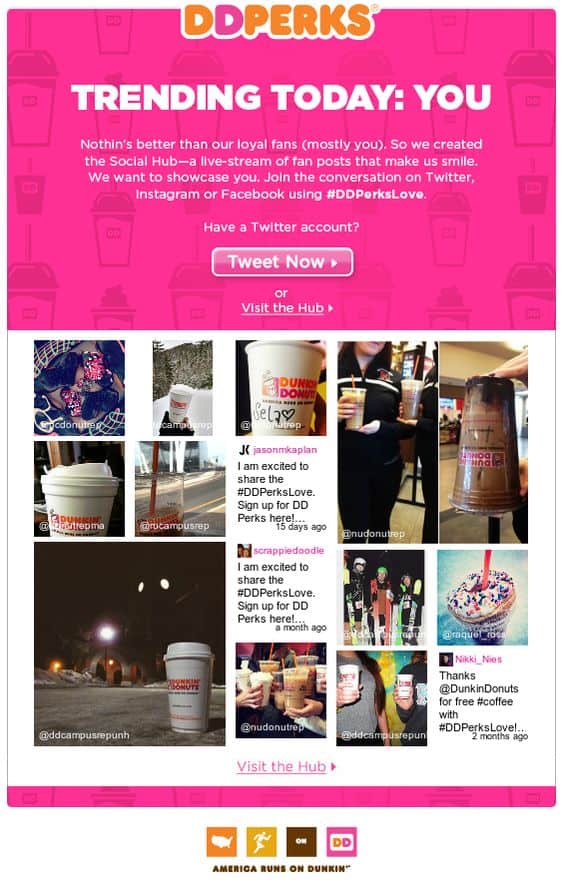 Source: Dunkin' Donuts
2. Include the best pictures of your social media handles in your emails
A great product photo has a great power in convincing a prospect into procuring. And this is the reason why, from just a photo sharing app, Instagram has transformed into a formidable B2B marketing channel. So why not use your best photos on Instagram and other social media channels in your emails?
With the help of analytics tools, you can easily determine which photos generated the highest engagement, which can help you to figure out what kind of photos resonate most with your audience. That's the type of information you should send in your emails because you've seen it work already.
Example:
Starbucks, in one of their emails, reused a popular, eye-catching Instagram photo with the caption, "Ready for the holidays!"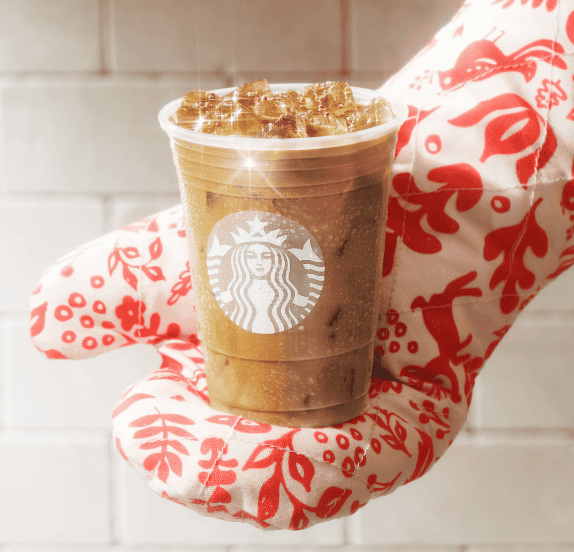 Source: Starbucks
3. Offer your best posts in the form of email digests
Taking the previous point a step further, you can exploit your audiences' FOMO (Fear Of Missing Out) by delivering some of your best posts in the form of weekly or fortnightly digest. As mentioned before, the information overload can overwhelm your audience resulting them in missing out some of your posts over a certain period of time.
So go on with your email starting with "Just in case you didn't see…" and engage those who missed out and re-engage those who didn't press the "Like" button!
Example:
A prospect who hadn't subscribed to Tubik Studio was able to see one of their blog posts in the Medium Weekly Digest. Since Tubik's marketers were active in Medium, their article was consumable by even those who were not in their subscribers' list.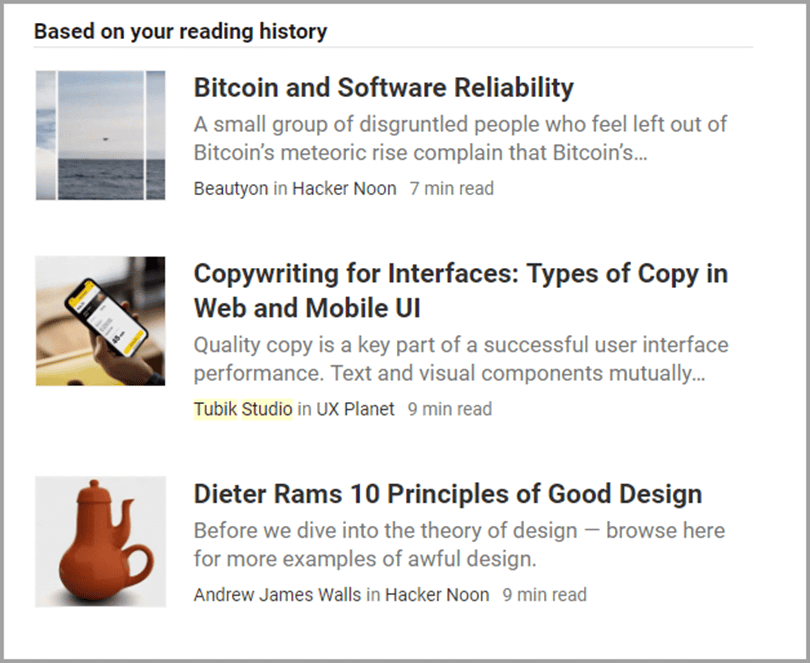 4. Give your Instagram Stories a second life in your emails
Stories have a lifetime of only 24 hours. So, the motivation for making efforts on Stories might be scarce. Absolutely wrong! Every day, about half a billion people use Stories. Moreover, the completion rate of Brand Stories is about 86%. These numbers show that Stories are an extremely popular marketing medium.
And the 24 hours' limitation can be overcome by using the stories in emails. But there is a catch in doing so. Most of the email clients do not allow embedding videos in email. The most feasible solution is to post the videos of your Stories in YouTube or any other external player, and then link it with a screenshot with play button in the mail.
Example:
Shopify encourages audiences to click-through to an external player by adding a static image with a play button.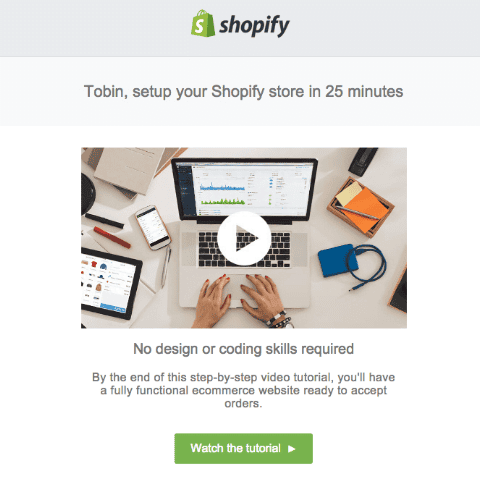 Source: Shopify
5. Embed GIFs of videos in emails
Instead of using static screenshots with a button to link, you can take a step further and embed GIFs in the form of short teasers for the videos; and attract customers by stirring their interest. And the good thing is most of the email platforms allow embedding GIFs.
Once you have included an exquisite GIF, then driving engagement is all dependent on your finesse to come up with novel ideas. For instance, you can plan a "First Time Ever" video exclusive to your subscribers. You'll, thus, see your email list expanding as well.
Example:
Adrenaline Travel used an animated GIF image with a play button that seems like the video is embedded in the email.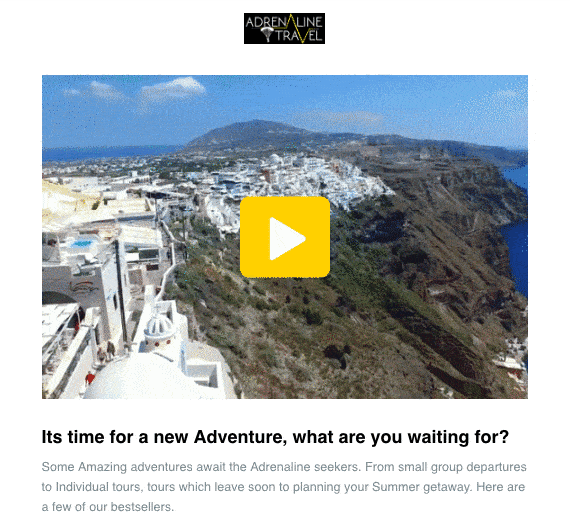 6. Leverage social media polls to strike conversation
Social media polls have been found to be quite engaging. You can take advantage of this fact and create a social media strategy including polls to attract audiences in large numbers, and then summarize the result or the inferences drawn in emails. You can also offer results in exchange of email addresses to grow your subscribers list.
Example:
Eventbrite conducted an online survey to gather information from followers on holiday seasonal behaviors. It can use this information in an email campaign to begin a conversation with its audience with, "Why do 58% of the people do not attend a paid event on New Year's Eve"? And go on to offer a resource or service related to it, thus, nurturing engagement and conversion.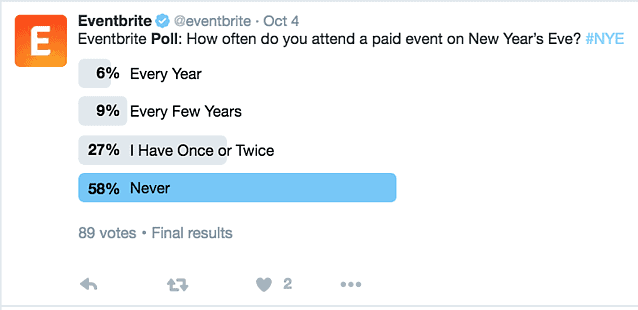 7. Reuse social media giveaways in emails
Who doesn't enjoy freebies and gifts, especially in the holiday seasons? Businesses increase engagement and lead generation during holiday seasons by offering giveaways. And so, every marketer's bucket list includes organizing a social media giveaway to grow an email list.
You can launch a contest on social media where winning is highly probable if your followers are including more subscribers through, say, tagging and likes. From the ones who have tagged most of the people, choose the winner. And don't stop there! Reuse the whole concept in emails with, "Here's another chance to win, in case you missed it on Instagram or Twitter."
Example:
Running Warehouse holds promotions on their social media platforms called "Freebie Fridays," where they give away new and popular running shoes.
Whether on social media or emails, you must demonstrate how fantastic your product is and why they're worth winning. In the Freebie Friday example, a product description like that, which you must also use in your email marketing, viewers get the impression that these aren't just ordinary running shoes for sale; they're professional-level running shoes.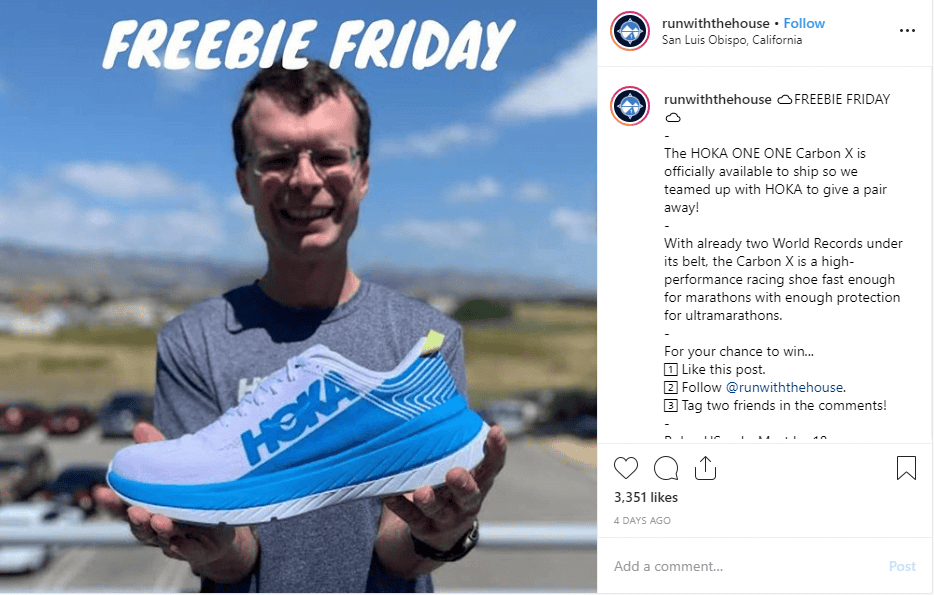 Source: Running Warehouse
8. Showcase user-generated content from social media in emails
Social media referrals account to almost 71% of purchasing. And, people like to display the products or services they procure, especially the ones trending on social media. You, as a brand, can take advantage of these two aspects and showcase the valuable content that your users generate collaged into an exquisite image in your email body.
By showcasing user-generated content, you're allowing your audience to see your brand through the eyes of others. This has a big impact because it makes your company appear more genuine and popular. Be very cautious, however, to take permission before you repost anyone's content onto your emails, and always include a link back to the post's original creator.
Example:
Seeing user-generated images in the emails from a certain chain of coffeehouses, subscribers get a positive feeling that the brand is not only interested in hearing from their users, but it also respects their contribution to its story.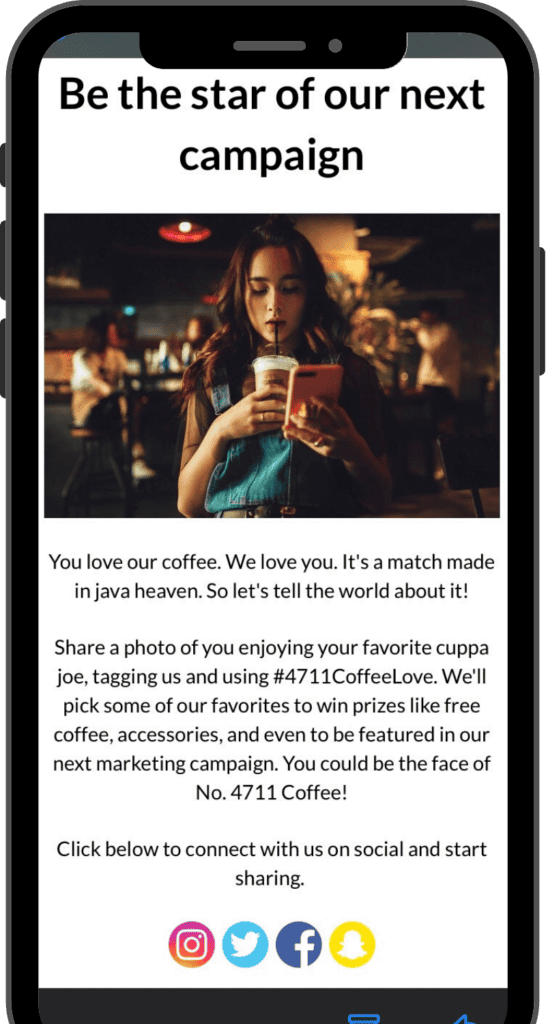 9. Use "Why customers love our brand?" type content in emails
Testimonials and reviews, in other word; since they are one of the best ways to showcase your products and services without being too promotional. Select the most authentic and appealing comments and reviews from the social media handles and include them beautifully in the emails that you send to your subscribers.
This will enable you to earn your customers' trust because the vast majority of consumers today prefer non-paid reviews or recommendations over those that are sponsored.
You may also reward your customers who have left positive reviews on social media channels. Offer them a special discount or promotional coupon through email. This increases the likelihood of them ordering from your website again.
Example:
Everlane includes social media testimonials that might help customers trust their brand. Testimonials from real consumers show that your items are used by a large number of individuals and some of them are really liking your deliverables.

Source: Everlane
10. Have social media contests and include information about them in emails
Contests in the form of quizzes, games, puzzles, etc. are highly engaging. And it's a good idea to include them both in your social media strategy and in email marketing. The chances of the success of such campaigns are also multiplied by combining the maximum reach of social media with the maximum engagement of email.
You already have the people who are most likely to engage with your business on your email list. These are the folks who are most likely to ingest your email and complete the various steps required to enter such contests.
You can also reverse this process i.e. have both the contest and advertisement on social media handles, and send the results only via emails. This will enable you to expand your subscribers list.
Example:
Quiz Clothing leverages social media and email marketing to engage and convert users through a social media contest. All the information about the contest is provided to the subscribers via emails. In this way, Quiz Clothing ensures that it's most devoted and dedicated fans don't miss out on the chance to win.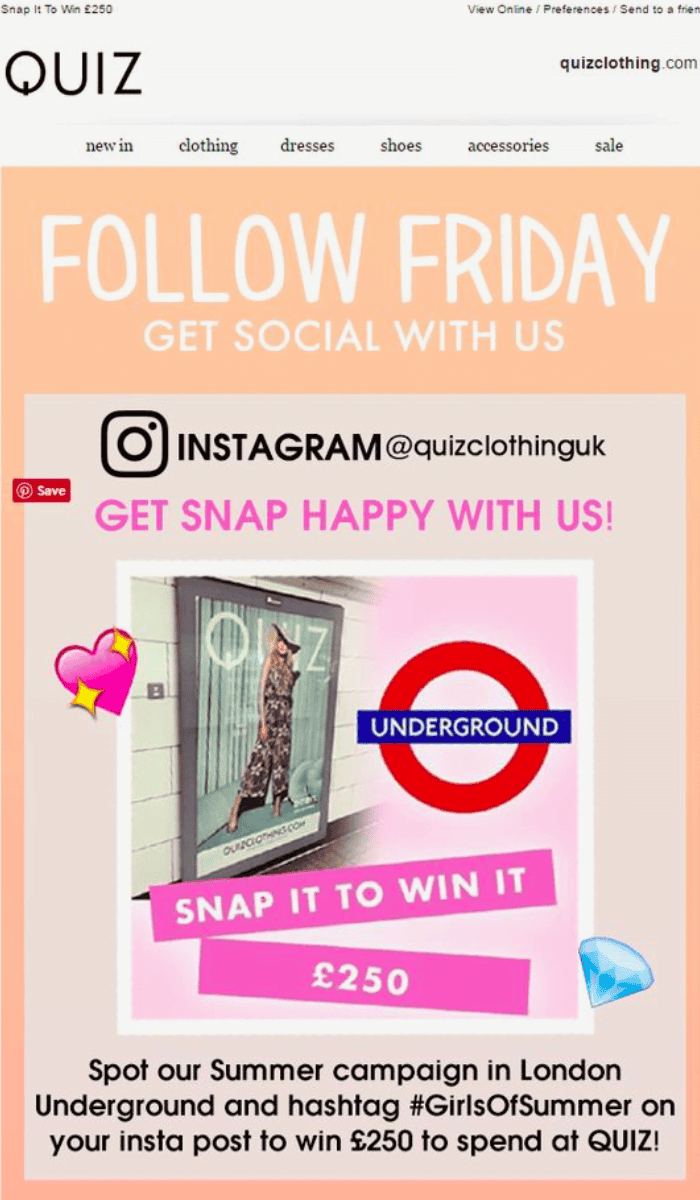 Source: Quiz Clothing
11. Choose content from the apt social media platforms for repurposing in emails
We all may have our inclinations when it comes to using social media platforms. But as a marketer, you must shed this partiality and utilize the most appropriate platform meant for a certain type of content. You'll, therefore, need to choose the correct platform to display your content before you start planning an email campaign.
For instance, Instagram is your best bet if you want to showcase pictures from a recent event in which your organization had participated. YouTube Live, a terrific tool for webinars, allows all users to see your live event while you're recording it. It's also your go-to platform if you want to conduct an interview with someone in your field.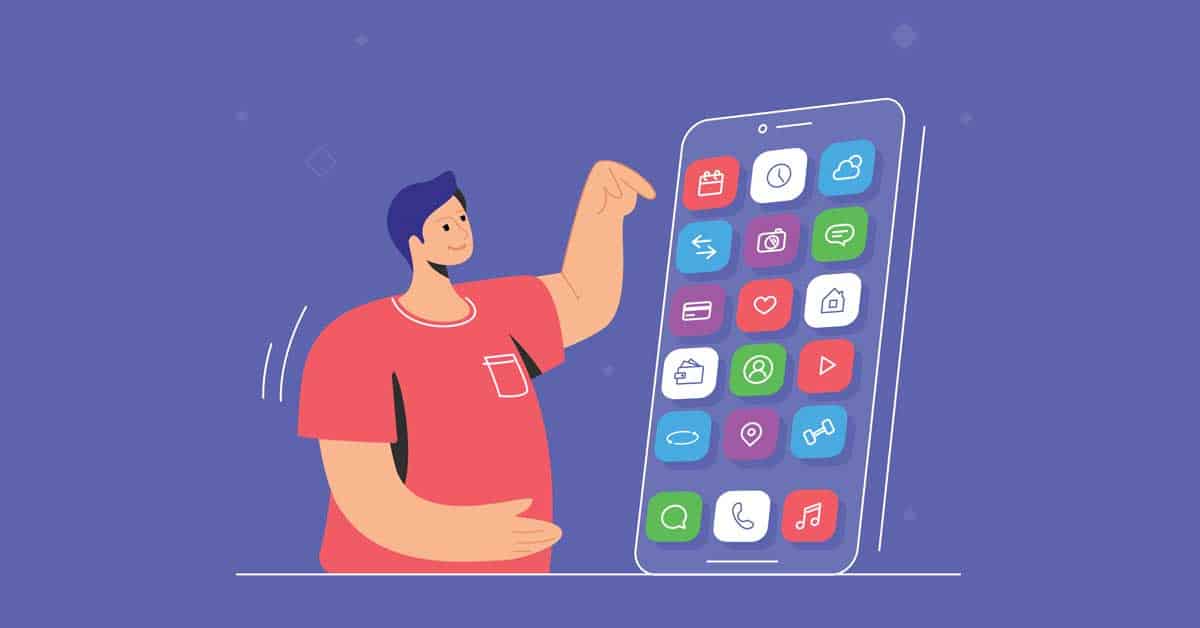 Source: Bulk.ly
Will you repurpose social media content in emails?
If social media marketing is a fantastic way to reach out to new people, email marketing is awesome at conversions. As you invest your efforts into your social media marketing, repurposing that content in your emails can get you more value out of it, without additional efforts in creating new content.
To repurpose social media content in emails is not as simple as copy-paste work. There's a strategy involved, and we believe the 10+1 ways of doing it that we have discussed will enlighten you to get started. If you want to know more about how to use social media efficiently for your business, you can follow Bulk.ly's blog and keep the lamp of learning alight.