If a beautiful picture is worth a thousand words, think about how a short video offers you priceless benefits.
Undoubtedly, traditional forms of marketing are no longer attractive and effective to entrepreneurs and customers as well. Due to the wide access to the Internet and increasing smartphone usage, modern patrons need something fresh, unique, and innovative from brands. Therefore, marketers leave no stone untouched and formulate internet marketing strategies that accelerate business growth and grab maximum eyeballs.
And social media sites have become hotspots for brands as social media users increased by more than 13% within a year. Millions of people are scrolling Instagram, Facebook, YouTube, and other social media platforms, and they wish to engage with content that suits their interests and keeps them engaged.
In the last five years, the amount of daily videos published on Instagram has quadrupled, and YouTube viewers watch over plenty of hours of material every day. It's no surprise that 87 percent of internet marketers are investing in video content because these statistics are not something one can overlook.
Social video marketing holds a key position, and in today's world, marketing for the taxi industry has proven to be a significant challenge. As a result, the company must devise marketing techniques that will attract the target audience and expand the prospective client base. Marketing strategies must be developed in such a way that they outsmart close competitors.
Though the social media marketing landscape keeps evolving, we have covered everything. Check out the detailed guide about social video marketing for your transportation business and keep riders engaged with your brand.
What is Social Media Video Marketing?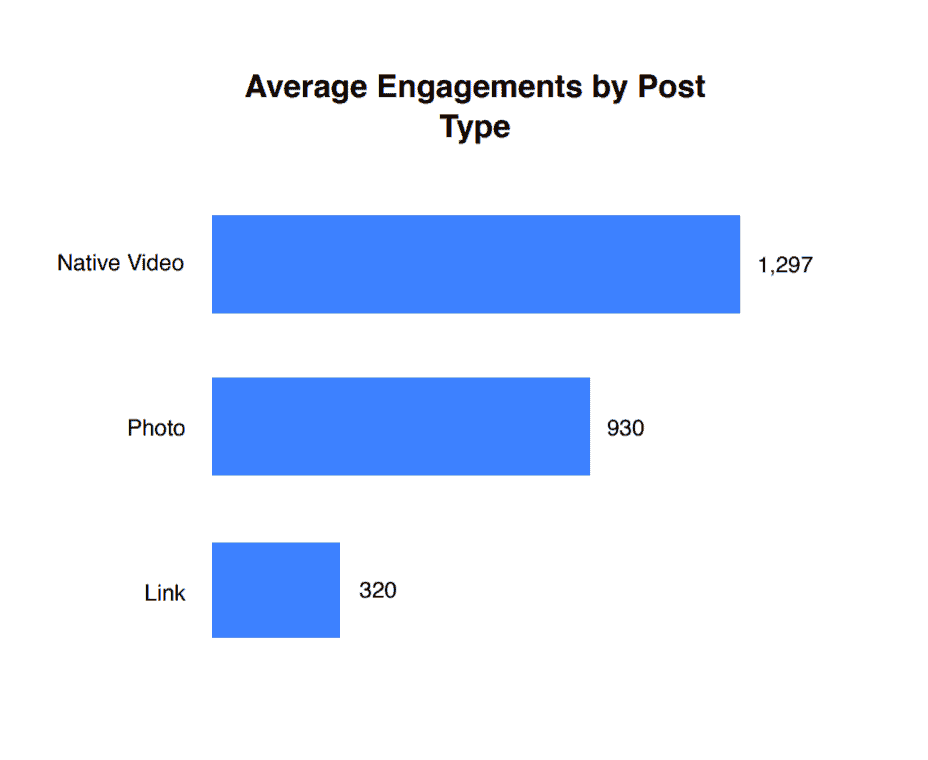 Source: Digital Information World
Social video is a type of video marketing that takes place across a variety of social media platforms. Facebook, Twitter, and even YouTube are popular platforms. Remember, social media marketing is unique from typical video marketing techniques, which focus on using video mainly on websites or landing pages.
Snapshot of Social Media Video Marketing
Source: WordStream
Earlier, the social media video marketing concept was popular among eCommerce where brands were used to feature models to promote their products and services. But now, the competition has become fierce in ride-hailing marketing, which compelling transportation entrepreneurs to try and implement various marketing techniques.
Well-known ride-hailing companies such as Uber, Lyft, Ola, Bolt, etc., have capitalized on social media video marketing because people tend to remember visual content more than text and image-based.
We all witnessed how entrepreneurs globally promoted contactless payment and touchless ride concepts within their taxi application amid the pandemic to ensure safe rides to customers. After getting inspired by them, so many brands are now investing in a social video marketing strategy because it keeps users hooked with brands. Still not convinced?
Here we are going to present some numbers that prove social media video marketing plays an important role, irrespective of business type and size.
90% of marketers thinking to leverage YouTube in coming years
58% of brands using Instagram videos to engage with users
70% of marketers were adamant about integrating Facebook video in 2021
Sounds impressive, isn't it?
Transportation businesses are now using social media video marketing strategies and coming up with unique video content because the impressive short video forces people to watch and take notice. By engaging passengers, videos establish a strong bond between brands and customers and foster credibility.
Video allows businesses to present themselves as leaders in their field while at the same time giving consumers a glimpse of their company.
6 Ingredients of a Perfect Social Video
With 86% of online advertisers using social media videos as part of their marketing strategy today, social media videos continue to push the boundaries of advertising. As a result, consumers are getting more information about the brand's products and services. Furthermore, it increases the number of visitors to businesses' social media accounts, helps them grow their followings, and increases sales.
But how to create a perfect video? Is there any shortcut? No, there is no shortcut, but yes, we will share the secret sauce to make a perfect video of your transportation business for all the social media platforms.
Think Twice Before Choosing Platform
From YouTube to TikTok (banned in some countries), there are numerous video platforms. So choose the platform according to your audience. Here are some tips that might help you while choosing the best platform:
Choose the platform that engages your customers
Create the first video and come up with the unique concept
Facebook, Twitter, Instagram, etc., are popular social media platforms and usually attract all ages of people. So targeting all these platforms can reap some benefits. Even ask yourself a couple of questions before you pick up a camera,
For instance, if you have launched a discounted offer on corporate rides, consider posting a video on LinkedIn. Besides, if you are simply promoting your products and services, Facebook and Instagram might be a better bet.
Keep Your Video Short Yet Impactful
Video content that lasts more than 15 to 20 minutes is unlikely to be watched on social media. Because of this, it's important to make your videos short, sweet, and providing value to your audience while also being bite-sized. All the unnecessary elements are removed in this step, and only relevant, engaging parts are kept.
For instance, if your transportation brand has collaborated with someone or launched new policies regarding tracking and delivery, it is okay to break down complex topics into smaller topics if you want to explain the entire journey more in-depth.
Rather than covering all the aspects in one video, make a series that discusses the various aspects.
Choose Your Video Types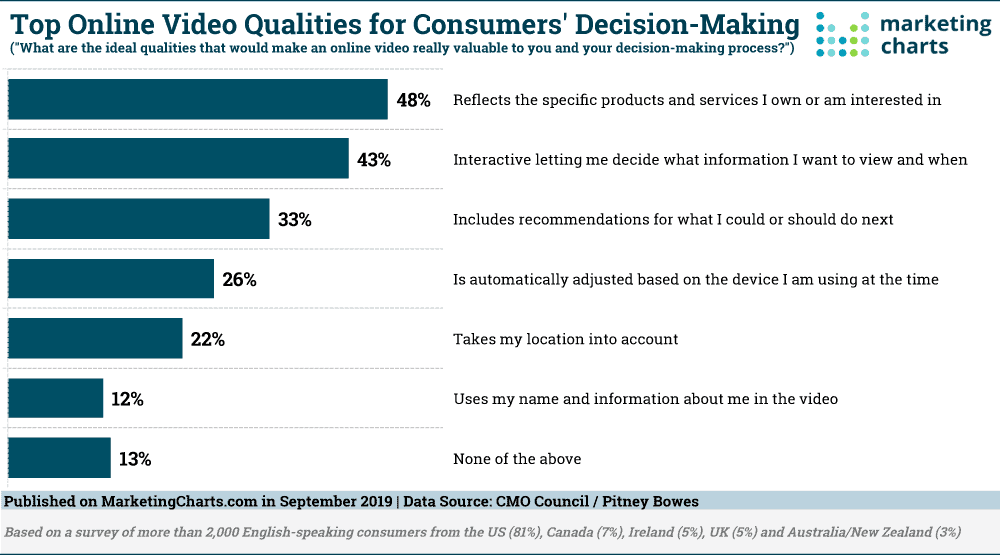 Source: MarketingCharts.com
The video comes in many forms, and we are not referring to where you place the videos. Social media videos can support many different content strategies across different platforms and contexts. Making a video marketing strategy that works for your brand requires determining the most effective video type.
Here are the few video types that you can try out,
Informative
Behind-the-scenes videos
Interviews
Modification in product
Testimonials
In a recent study, 48% of consumers said they wanted the video to reflect the specific product or service they owned or were interested in. Focus first on this type if you're having trouble choosing. After choosing the type of video you want to create, you need to plan the actual video.
Make First a Few Seconds More Interesting
Brands should get their audience's attention within the first few seconds of the video, or else they'll move on. Make your hook compelling so that your viewers can't resist watching. A strong hook will give a glimpse of your video to the audience.
Brand's video hook should be clear, concise, and enticing so that the audience keeps watching and allows you to ask a question or share a key takeaway.
For instance, ask the audience whether they enjoy a touchless journey and or faced any issue. Based on answers, you can bring improvements to your service and make it more exciting for riders to choose your service over anyone else.
Add Subtitles or Text
Videos on social media give your content a global audience, which is one of the greatest advantages. Therefore, your videos may be found even by those who have no idea what you're talking about.
Watching videos on social media is something people do all the time – whether travelling, working, or eating. The environment in which they watch videos with sound on is not always conducive to watching videos with it on. At such times, subtitles come into the play and allow the audience to enjoy videos.
There is numerous video editing software that makes adding subtitles and text easier. Furthermore, you should consider how videos autoplay on social media platforms as another reason to add subtitles to your videos. You can attract people using proper subtitles. Fonts of subtitles should be visible. You can choose stamp fonts for maximum readability. Using subtitles makes it easy to communicate if the video is muted.
End With Powerful CTA
Your video should end with directions or information about what to do next to give people a sense of what to do next. Here is your opportunity to provide the answer. Inspire your viewers to act upon what you want them to do by leaving them with purpose.
Make sure your CTA isn't too sales-focused since people tend to get turned off by that. It must, however, be closely tied to the campaign objectives and business objectives you set during the planning phase.
Ready to Start a Social Media Video Campaign?
The transportation business is facing huge competition, and getting user attention has become cumbersome for some brands. Business results and audience engagement can both be enhanced by using social media videos.
So there you have it: there are myriad powerful reasons that demonstrate the importance of social media video marketing. To differentiate yourself in the crowded market, you should incorporate video content into your marketing campaigns and keep these tips in mind.
Learn from the experiences you have with social video, as it can engage customers and convert them.